8 - Burnt Orange & Rust Flower Crown
If your colours are on the autumnal spectrum, then this burnt orange and rust dried flower crown is for you! The perfect addition to your rustic boho bridal look. Stunning!
Floral design by our very own valued approved supplier Bluebelle Flowers
9 - Festival Flower Crown
This fun, fresh flower crown made up of florals, ferns and poppy seed heads is perfect for the festival loving bride-to-be looking to make a statement. Think bold florals and warm summer tones and styled beautifully with long waves or messy braids and a pair of WOW factor fringdeg dangly earrings! LOVE LOVE LOVE!!
10 - Elegant Earthy Boho Flower Headband
11 - Jewel Coloured Flower Crown
Looking for a bridal look that reflects your inner boho hippy? Then why not go for a jewel colour palette, and accompany with gold metallic accents. Big florals that will create a showstopper of a wedding day look that enables you to feel your best self ready for the celebrations ahead! Check out the full editorial feature London Urban Boho Wedding
12 - Fedora Dried Flower Crown
Designed with free spirited, bohemian souls in mind, Luna and Wild create stunning bridal accessories to create a look that reflects your wild and free personality. These dried flower fedora hats are the perfect modern bohemian accessory to wear on your special day. Think western desert boho. YASSS!
.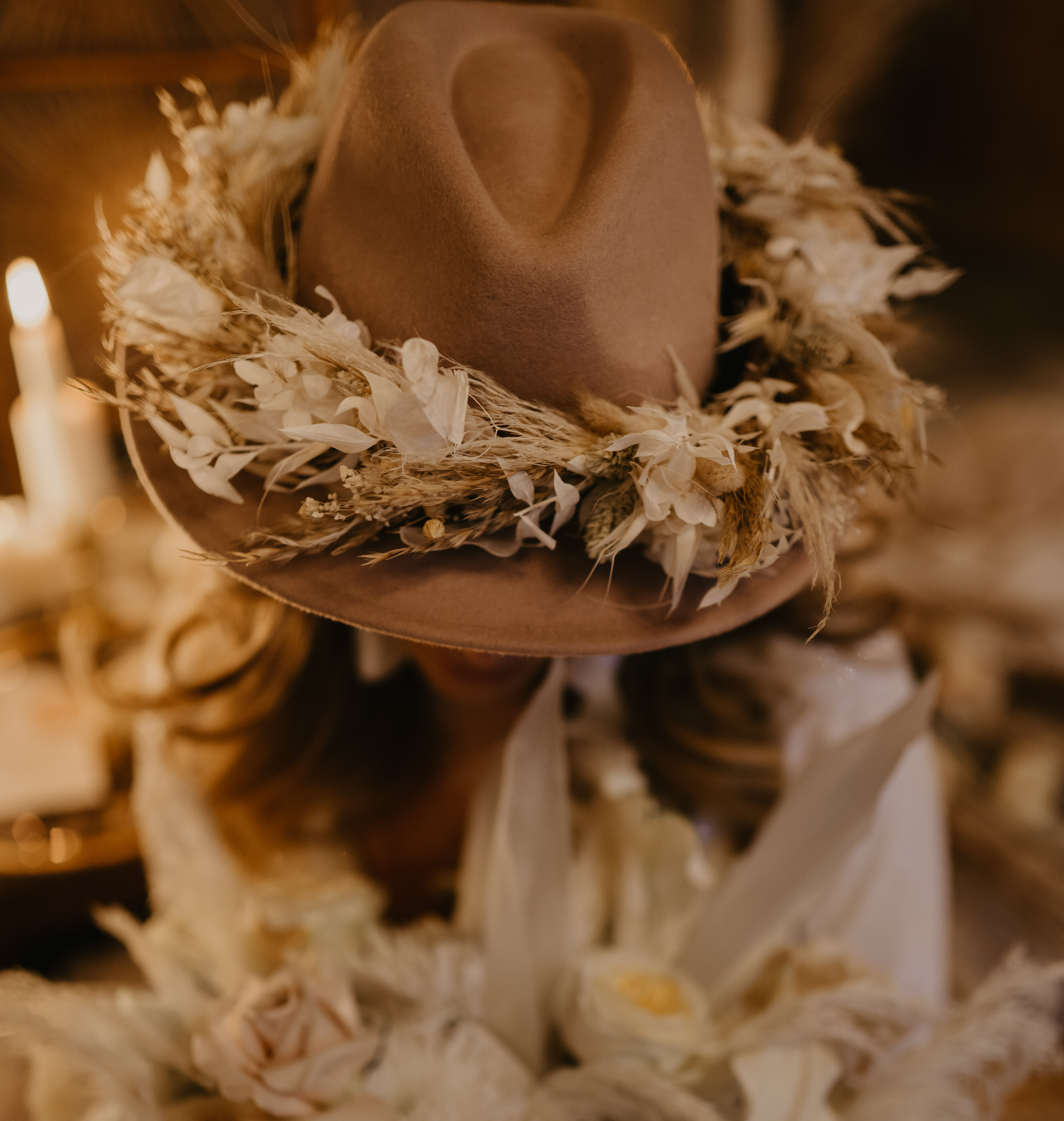 13 - Beach Wedding Flower Crown
This editorial shoot captures the very best of beach weddings; the golden light, the barefoot vibes and the sense of freedom. Featuring this stunning floral headpiece of nude pink and champagne blooms. Roses, pampas, barley, and dried ferns and forna make up this super stylish, organic beach flower crown.
14 - Twisted Willow Flower Crown
The delicately entwined twisted willow flower crown design, creates a perfect structure for a unique bridal look, completed with foliage and nude roses. Featured in our 'Boho Luxe Wedding' inspired shoot at the beautiful Swancar Farm Country House. The inspiration behind this shoot was the venue itself and its Glass Barn, with its beautiful wooden frame.
15 -
Gold Metal Flower Crown
This utterly gorgeous 'Areli' halo, worn by the bride, was made by Elizabeth Brown at Saint Beth Official. The halo is made from up-cycled golden floral and leaf filagree, metal beads and hand painted to perfection. A stunning addition to an edgy bridal look.
16 - Autumn Inspired Flower Crown
For an autumn inspired look, think mixed greenery with warm earthy tones, just like this show-stopper below.
17 - Pampas Dried Flower Crown
.
18 - Bridal Party Flower Crowns
Introduce pops of floral colour for everyone in your bridal party with relaxed flower crowns for a fun filled time with your besties.
.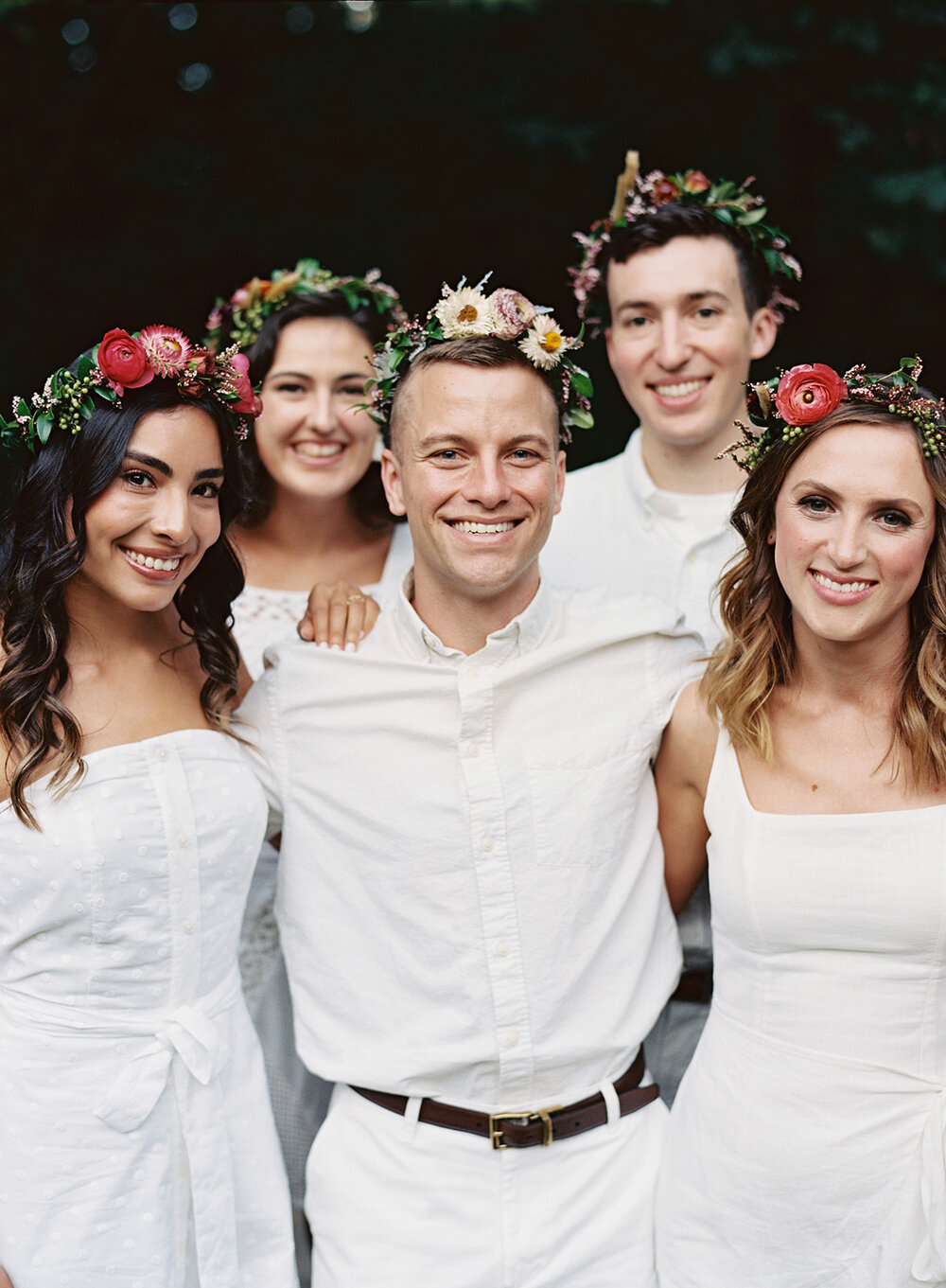 19 - Foliage and White Flower Crown
A floral crown made using forest greenery and white blooms. finished off this bridal hair look. The white flowers popping against Bekki's fabulous purple hair.
.
Photography by Moon Gazey Hare | Hair Flower Crown by Bude Blooms | Featured on The Boho Bride Guide, Fairytale Woodland Wedding
20 - Winter Flower Crown Cascade
21 - Feather Flower Crown
The earthy color palette from brown to green of this feathery flower crown completes this trendy bohemian look.
.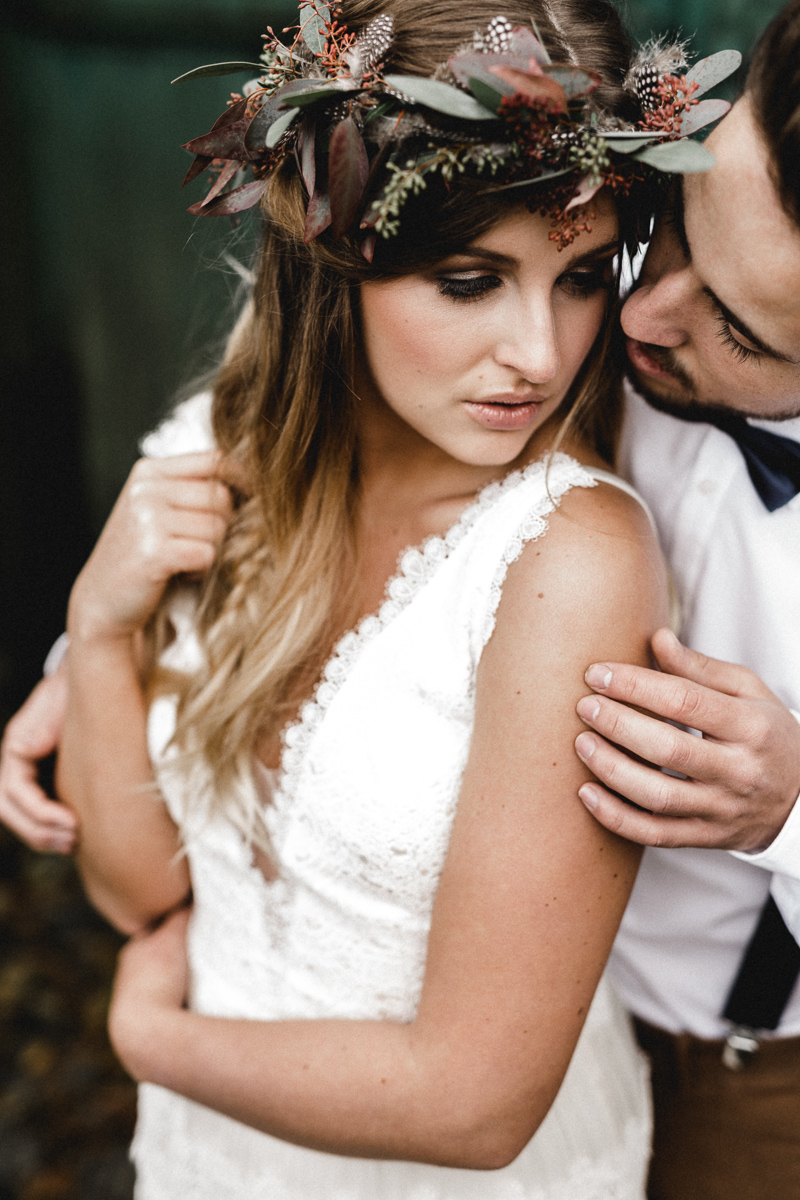 Photography by Kathi & Chris Vanlight Photography | Hair & Make up: Julia Götz Brautstyling
22 - Locally Sourced Flower Crown
Wildly romantic, locally sourced flower crown, perfect for a spring or summer wedding. All florals were sustainabley sourced from the brides mothers garden.
.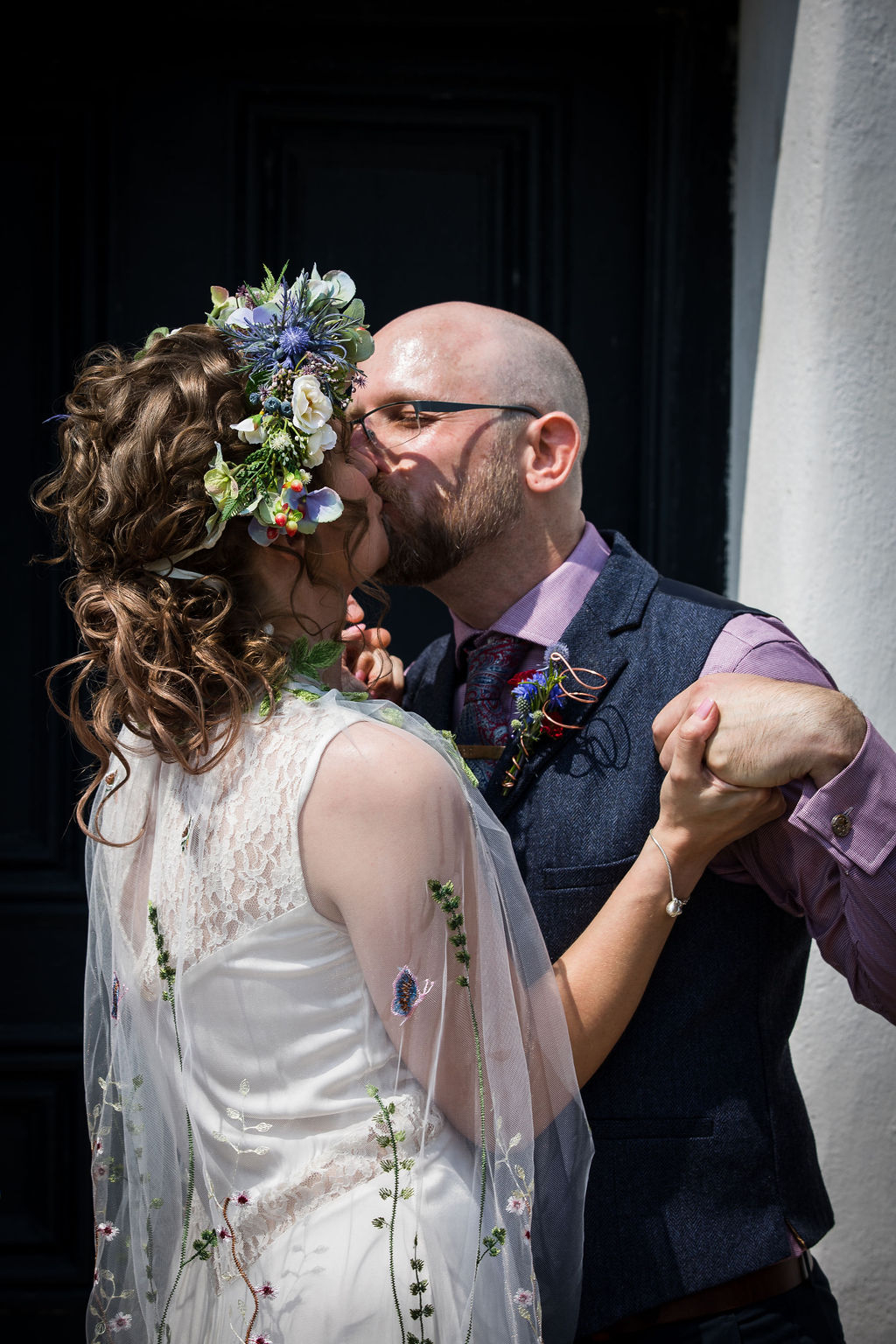 Photography by FreeForm Images Photography | Featured on The Boho Bride Guide, Sustainable Wedding
23 - Simple Flower Crown for Short Hair
This beautiful brides crown was made from real flowers and looks perfcect with her short pixie hairstyle.
.
Lot's of love,
ON 3rd June 2022 / BY Jessica Tetstall
Leave A Comment