Deep hues of terracotta, rust and neutral tones set the scene for this stunning modern boho styled shoot.
This stunning wedding editorial uses tones of blush, terracotta and nude to bring warmth and vibrancy to the industrial backdrop of the venue, juxtaposing against the greys of the Yorkshire stone that covers the floor. We are delighted to share with you the stunning details of this wedding day concept, curated by Faye from Aphelion Event Hire and Gemma from Gemma Suckley Photography, together with their a fabulous team of wedding suppliers based in Yorkshire, UK.
Faye said, 'Terracotta Day Dream' is inspired by the early evening sunset, when winter transitions to spring. Deep hues of rust, pink and terracotta saturate the sky as the night draws in, creating a magical golden warmth that sinks into the horizon.
We hope this shoot offers inspiration to couples, giving them confidence to add their own boho style to any venue, adding colour to their day while being authentic to their bohemian roots.
Enjoy boho lovers!
.
.
An Industrial Wedding Venue in Halifax
The Arches, a stylish industrial venue situated within the prestigious Dean Clough Mills site in central Halifax is a breath-taking venue. A huge open space filled with natural light and bursting with character. It is the perfect wedding venue for couples looking for a blank canvas in which they can add their own personal style and touches.
.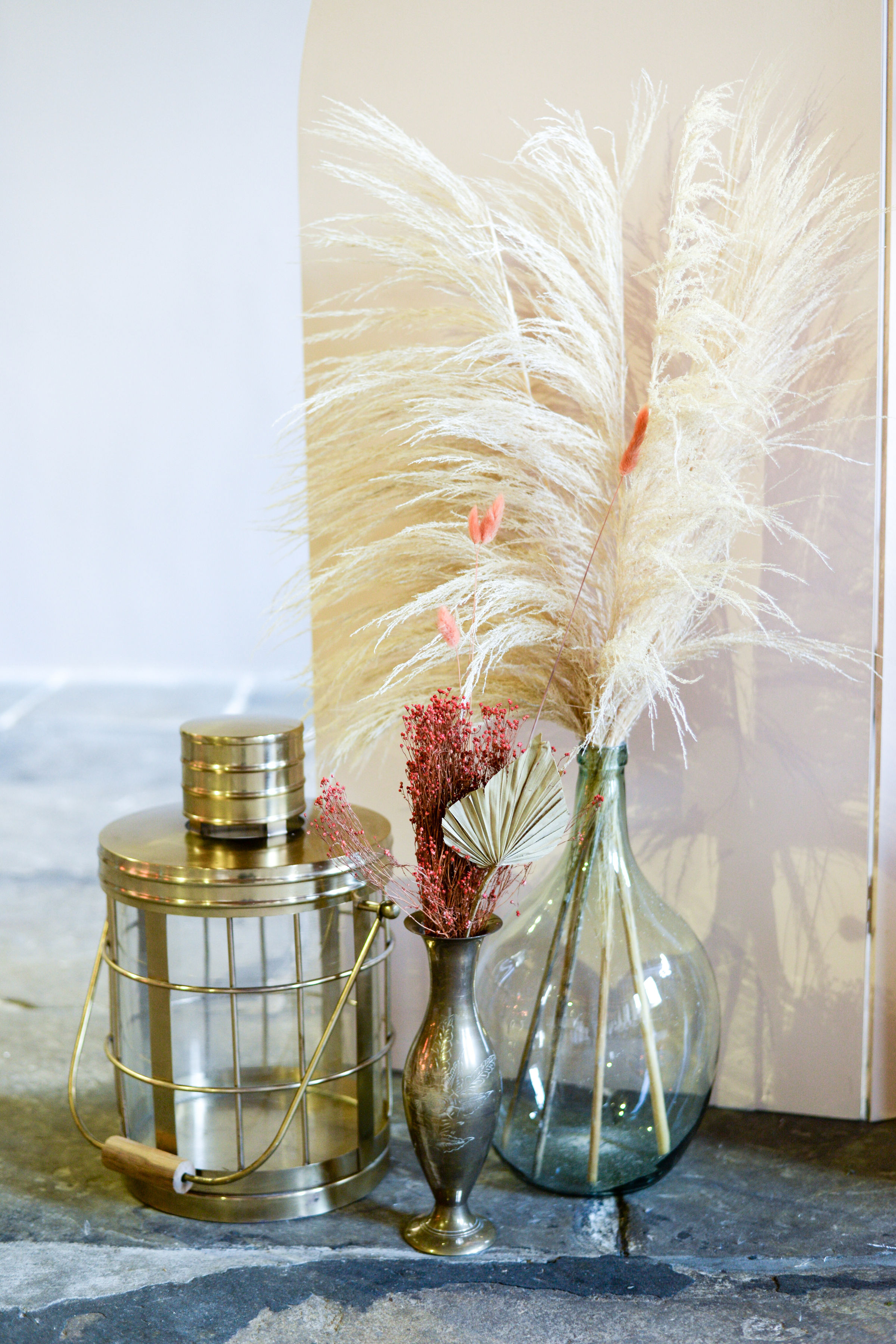 .
.
Wedding Arch & Boho Styling
All styling and props (excluding table and chairs) were completed by Aphelion Events; who specialise in eclectic, authentic and boho styling for weddings and events.
The three panel arch backdrop created such a stunning focal point for the entire shoot, painted in nude it was ideal for the deep rust & terracotta chiffon that effortlessly draped over each panel and over the unique bamboo stool in which acted as the perfect stand for the wedding cake.
Aphelion Events brass trinkets, vases and candle sticks give the tablescape a look of opulence, while the amber stem vases, vintage champagne flutes and wine glasses added an authentic touch. We love how the mixed stems of bunny tails, pampas and dried palms looked in the brass vases providing a super boho luxe vibe.
These, mixed with the stationery and favours, as well as the draping of the runner, all worked perfectly together for a soft modern take on boho.
.
.
.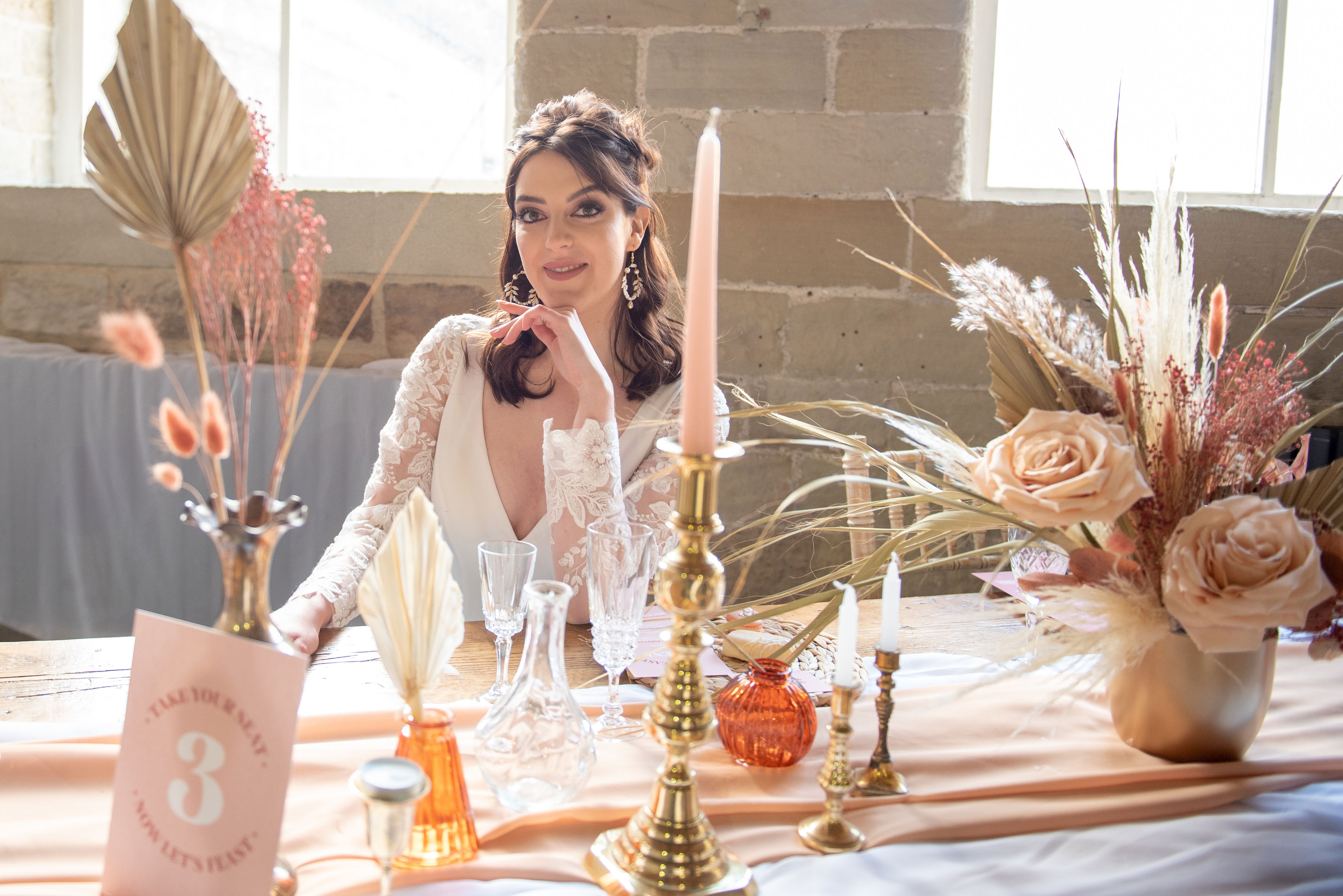 .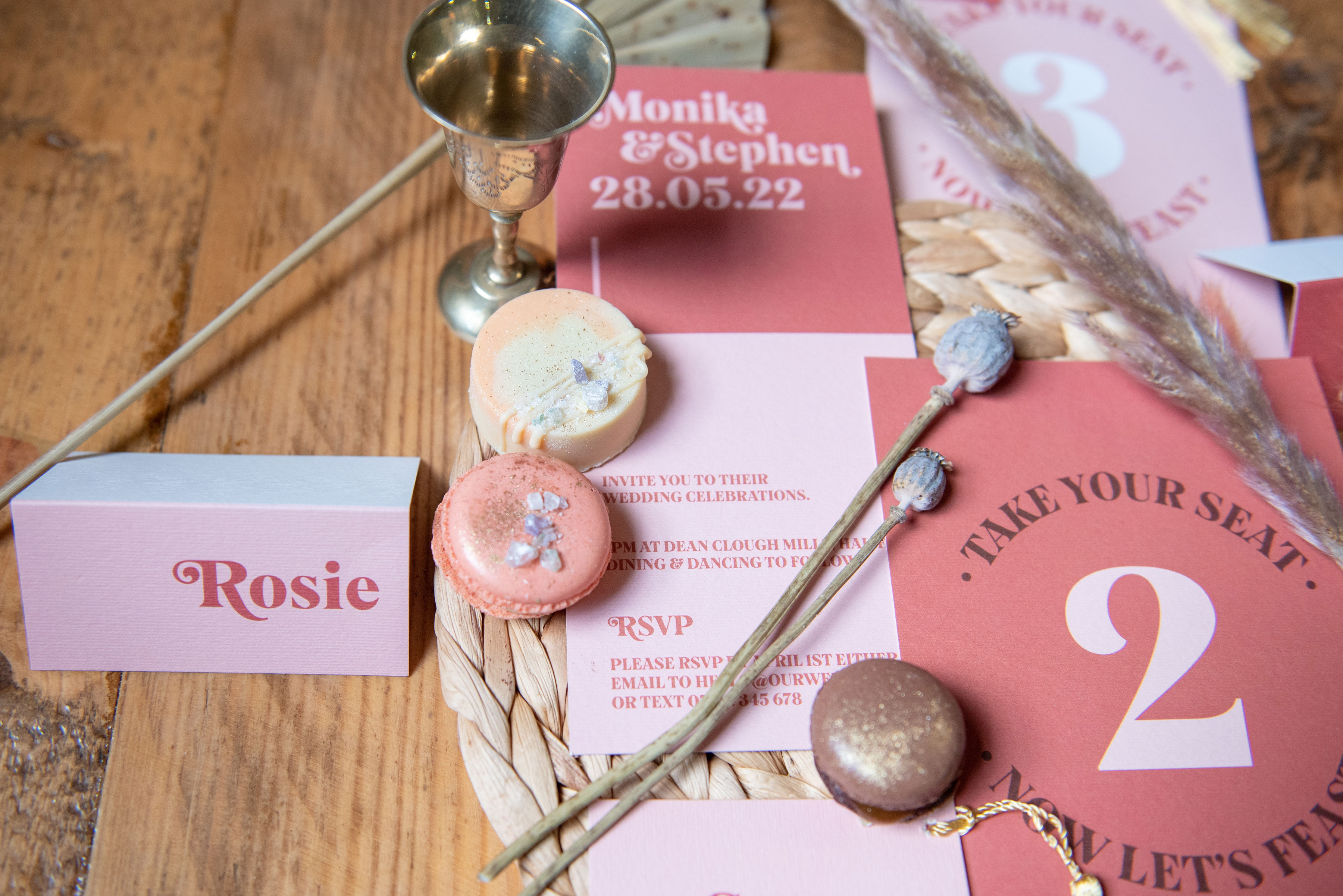 Modern Boho Wedding Stationery
A mix of soft blush and deep dusky pink, with a super cool modern typography gave the wedding stationer that modern boho vibe. The menus, table numbers and placenames created by Blush & Blossom looked beautiful.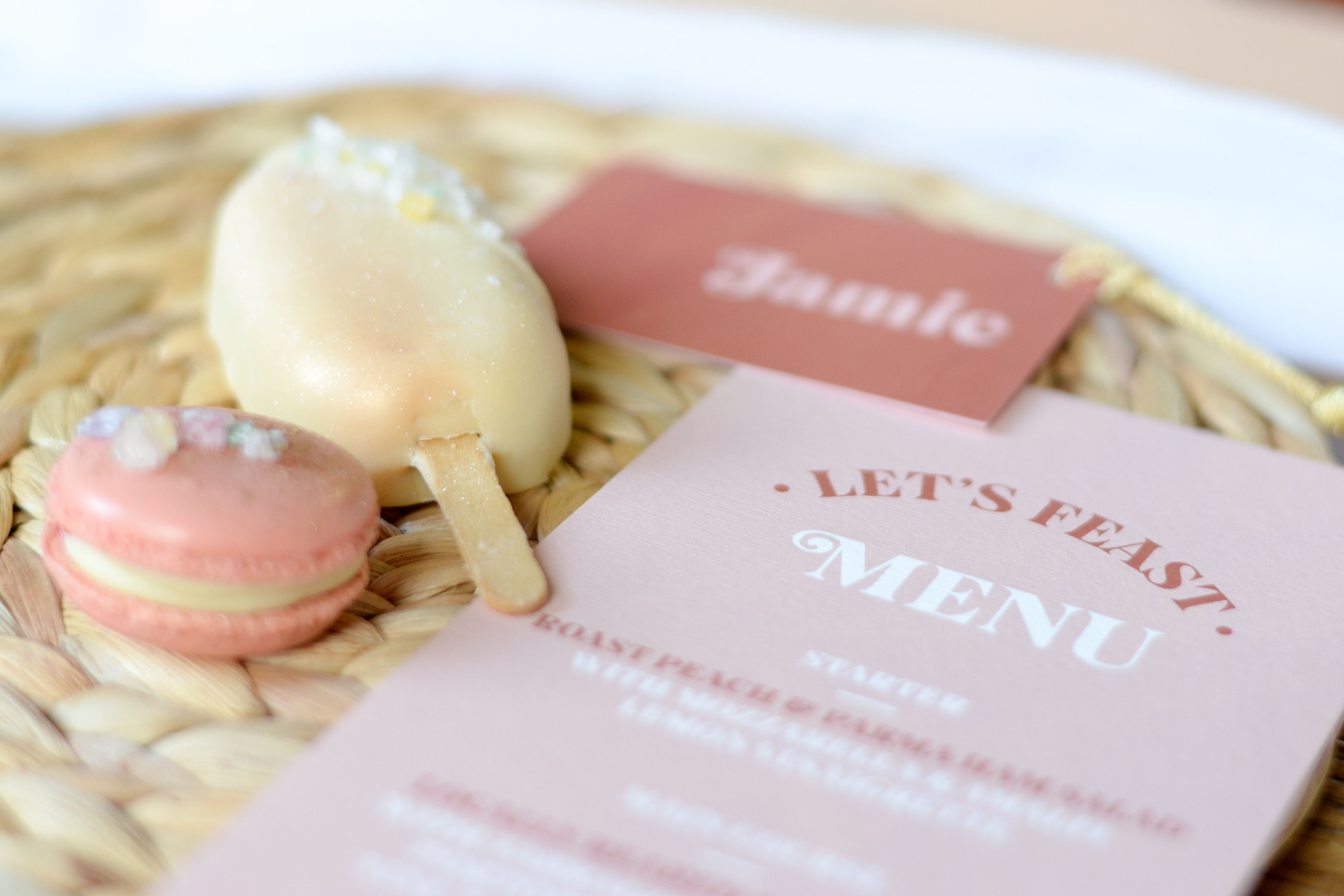 .
.
Dried Wedding Flowers with Pops of Rust and Pampas Grass
Ivy Avenue are specialised in artificial and dried floral arrangements and they met the brief perfectly with their bespoke table arrangement and loose stems. The colours, were spot on and really pulled together the colour pallet for the shoot. Absolutley Pampas, created a showstopper pampas installation at the top of the aisle, that set the stage for the entrance to the ceremony, ideal decor for ultimate boho wedding aisle style.
.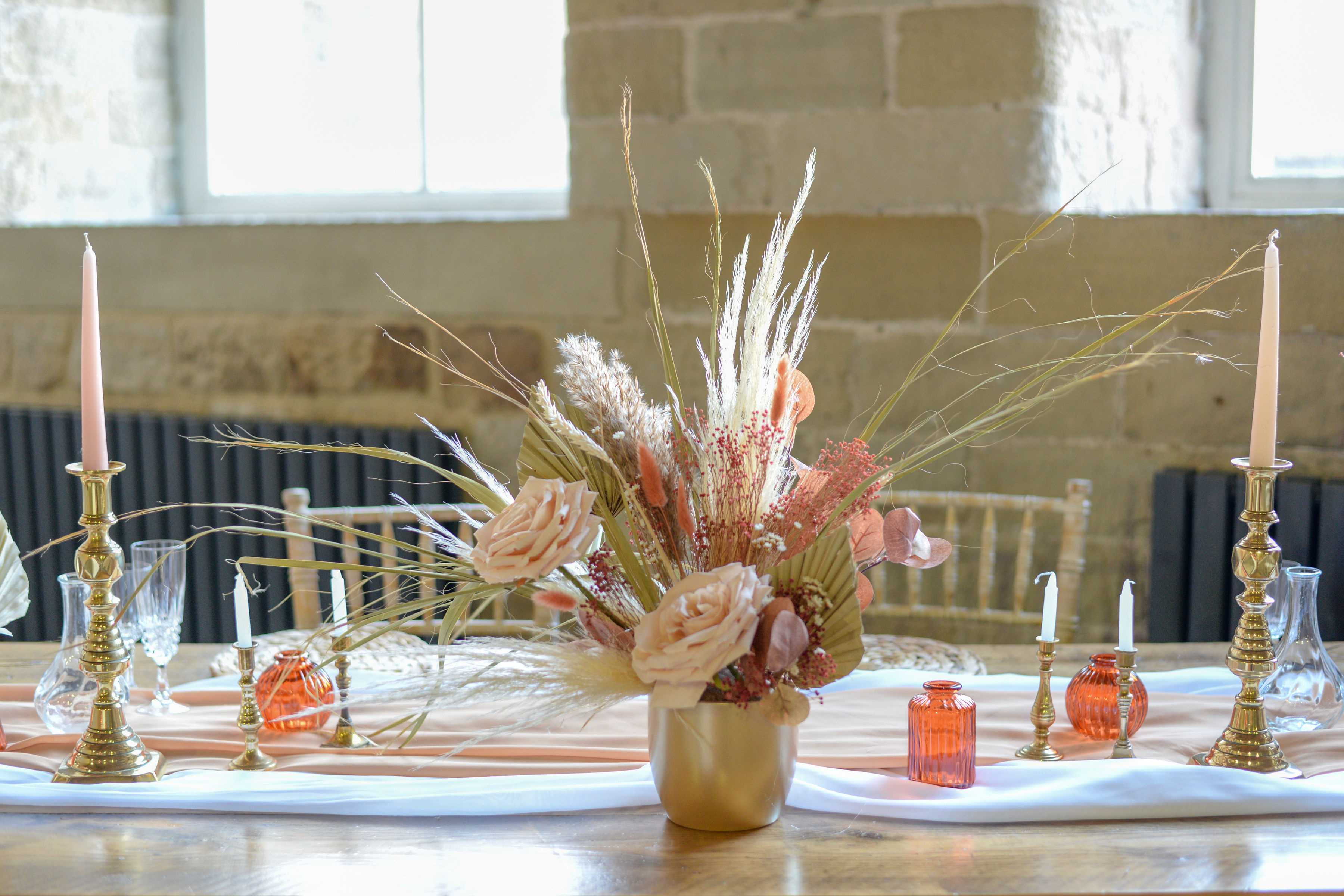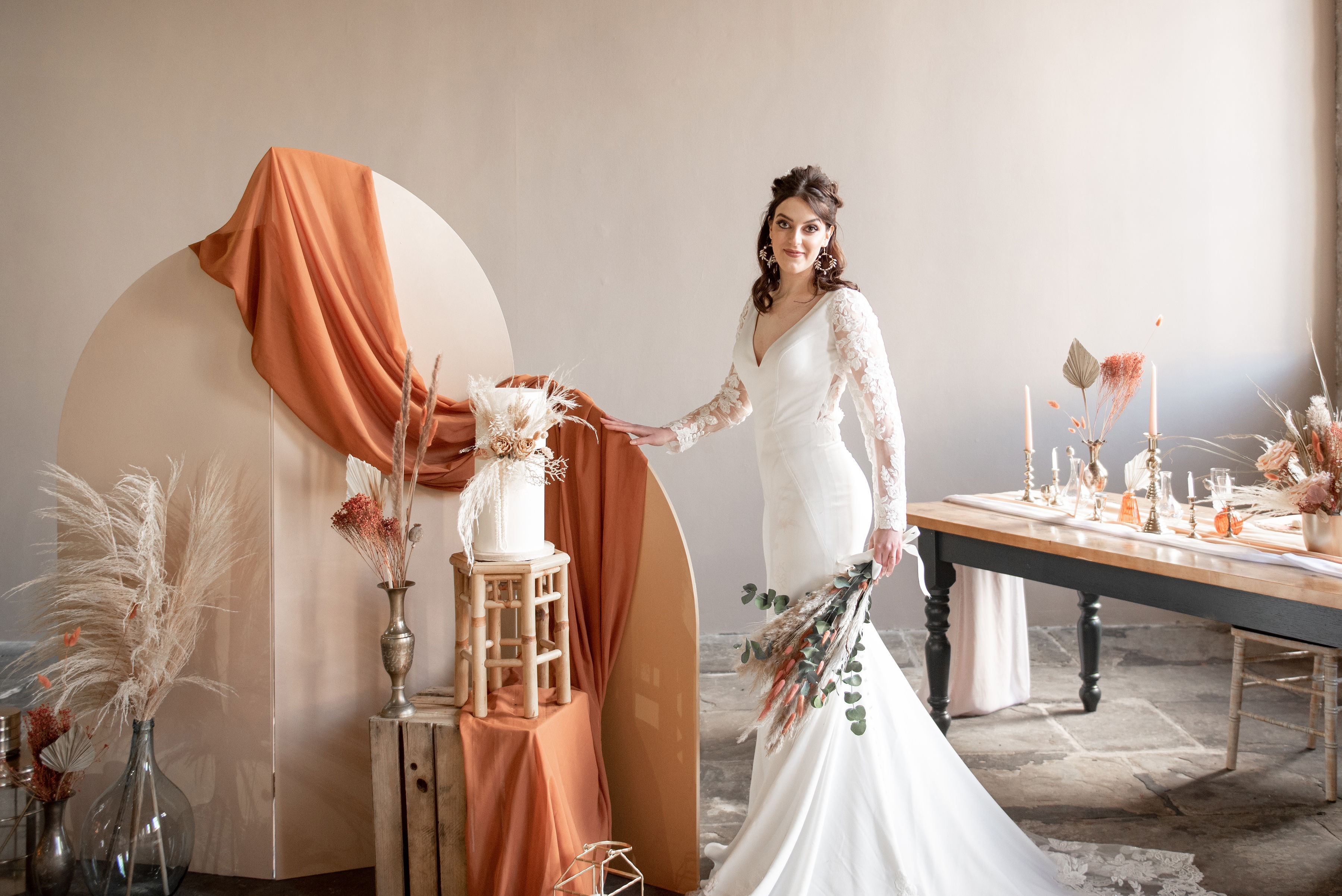 .
.
.
Modern Boho Wedding Cake
Rosehill Cake Studio's super luxurious two-tier cake was the perfect addition to the backdrop setting. A modern twist on the traditional wedding cake, it was intricately decorated with dried florals that stood out beautifully against the ivory coloured icing.
Rosehill Cake Studio also provided a number of sweet treats for the tablescape, with cake lollies and macaroons in decadent flavours of chocolate and caramel.
.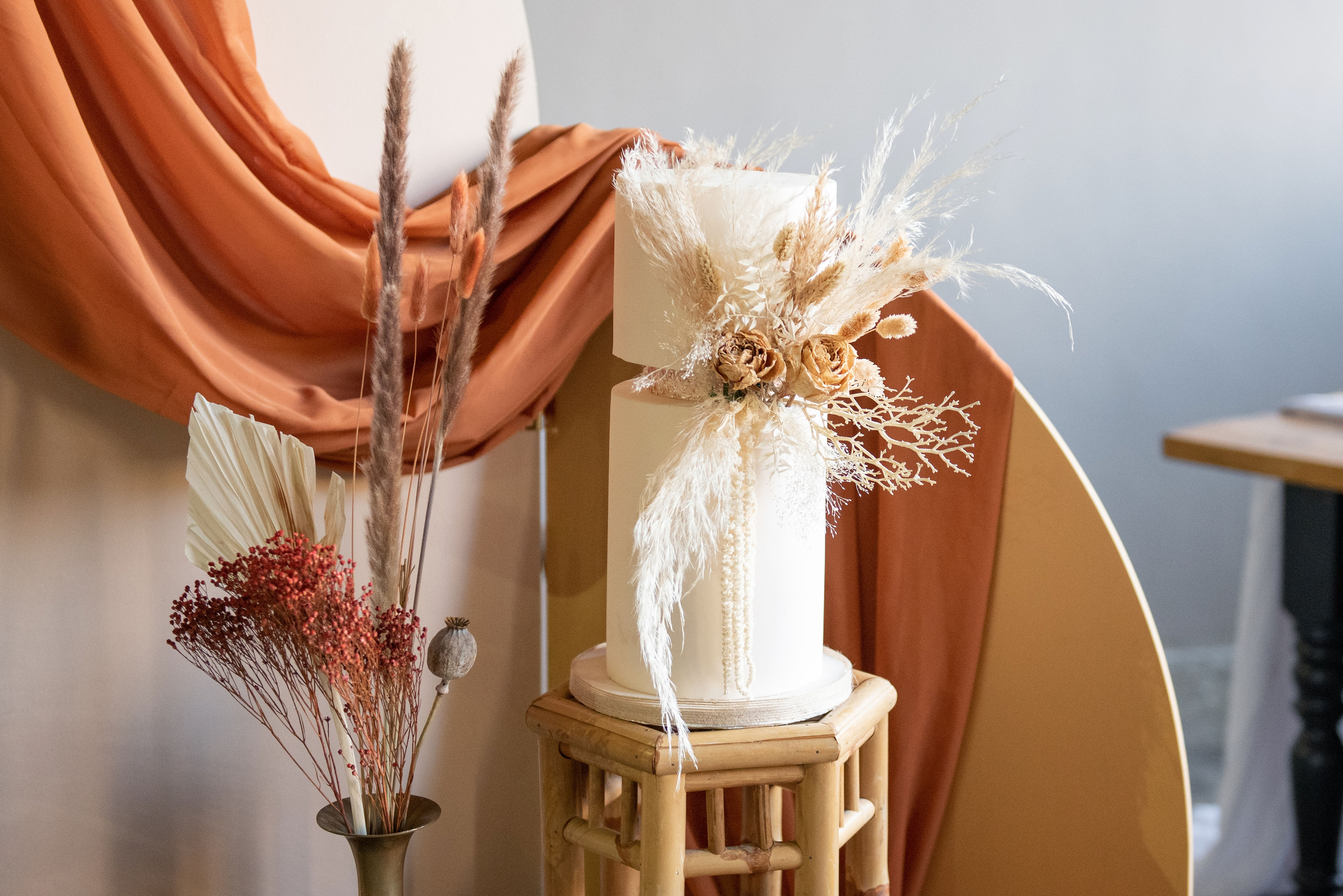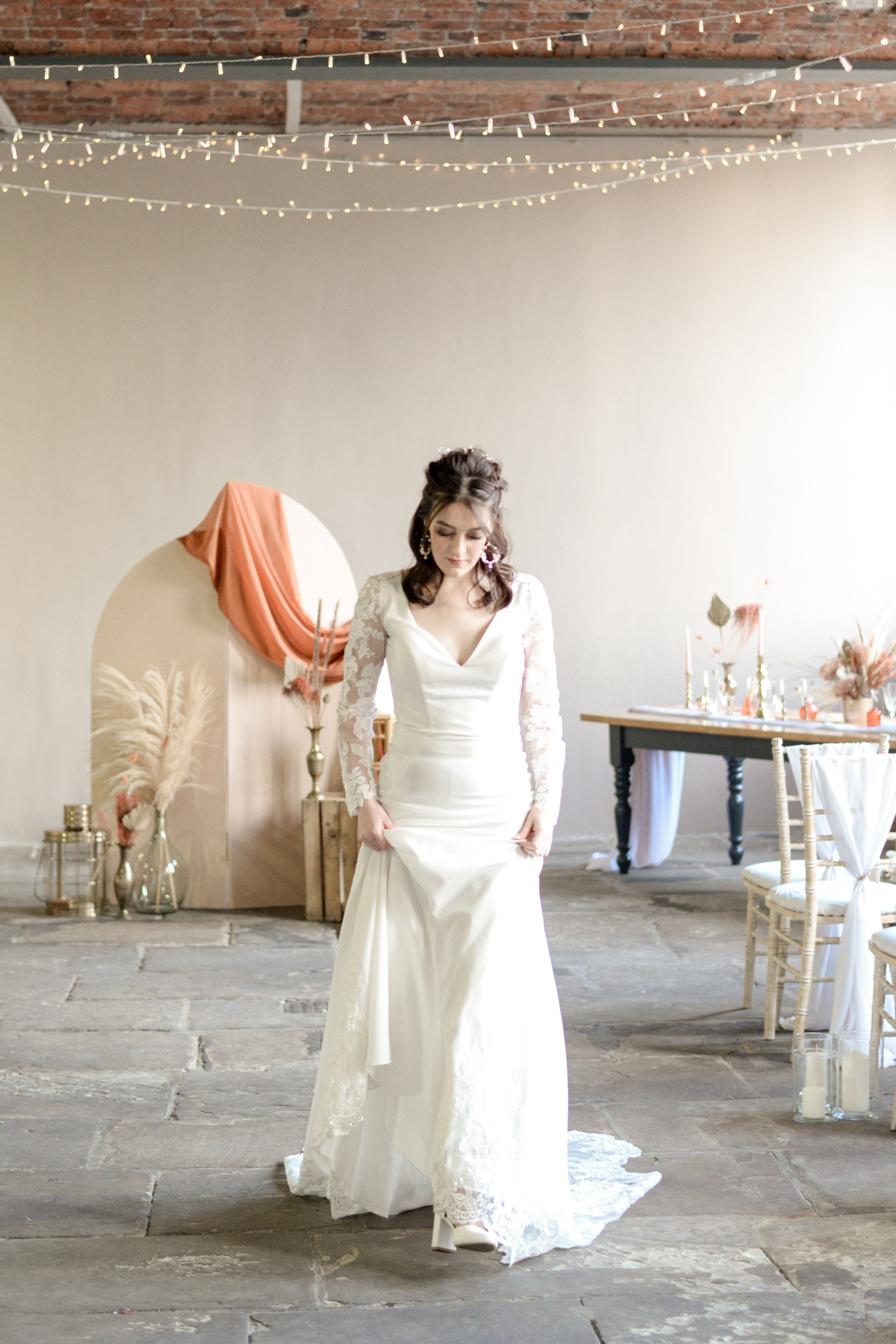 .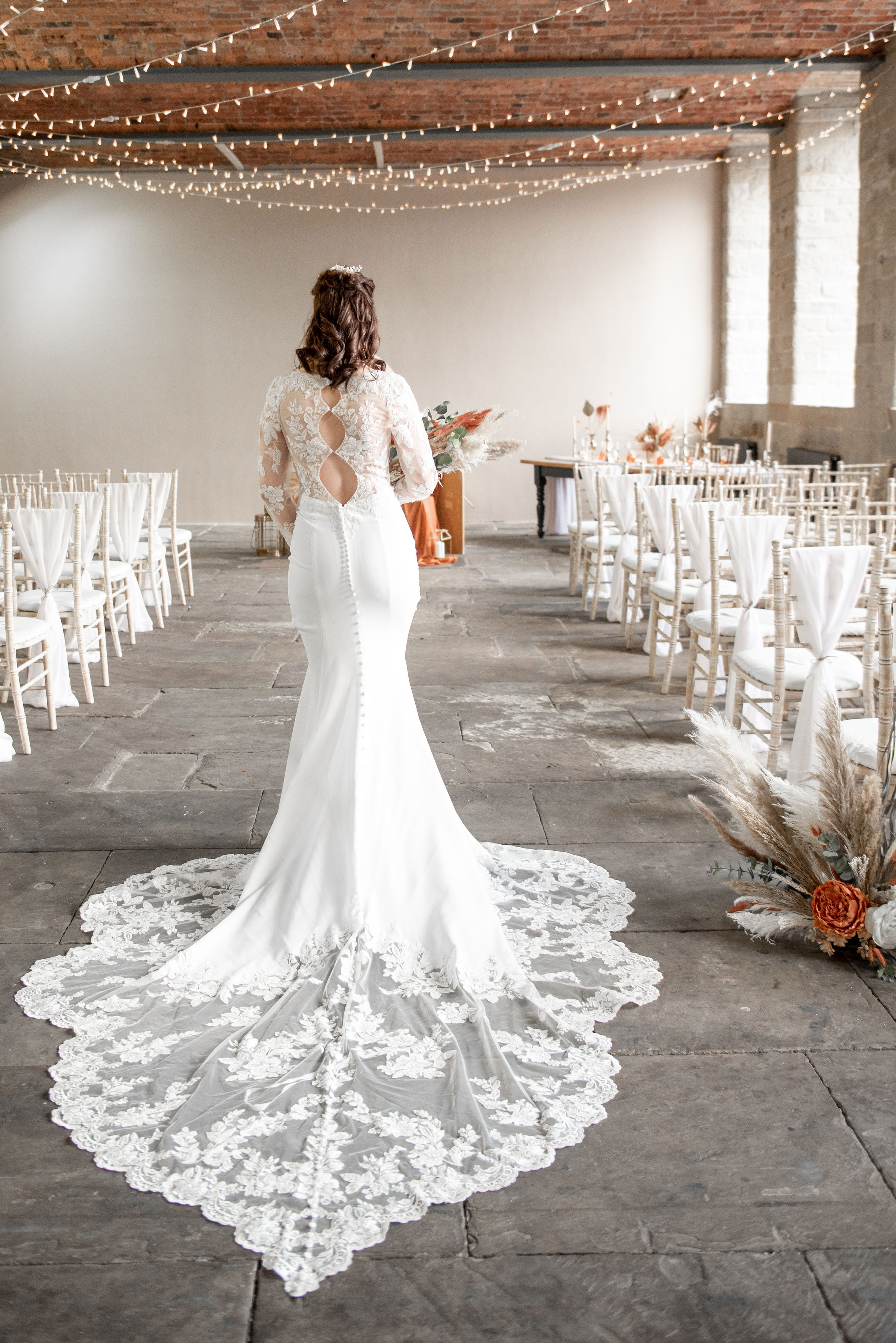 .
Flawless Skin & Smokey Eyes
Mary's Bridal provided an exquisite wedding dress for this shoot that gave the model a boho-glam look, the gown had beautiful lace sleeves and a train that fell elegantly behind as she walked.
Bunny Loves Evie provided a selection of delicate jewellery and hair accessories inspired by nature.
Helen Armstrong MUA ensured the model had flawless skin, with a soft smokey eye. She created a tousled plait for the bridal hair which looked perfectly imperfect, the dream boho hairstyle for a free-spirited bride.
.
.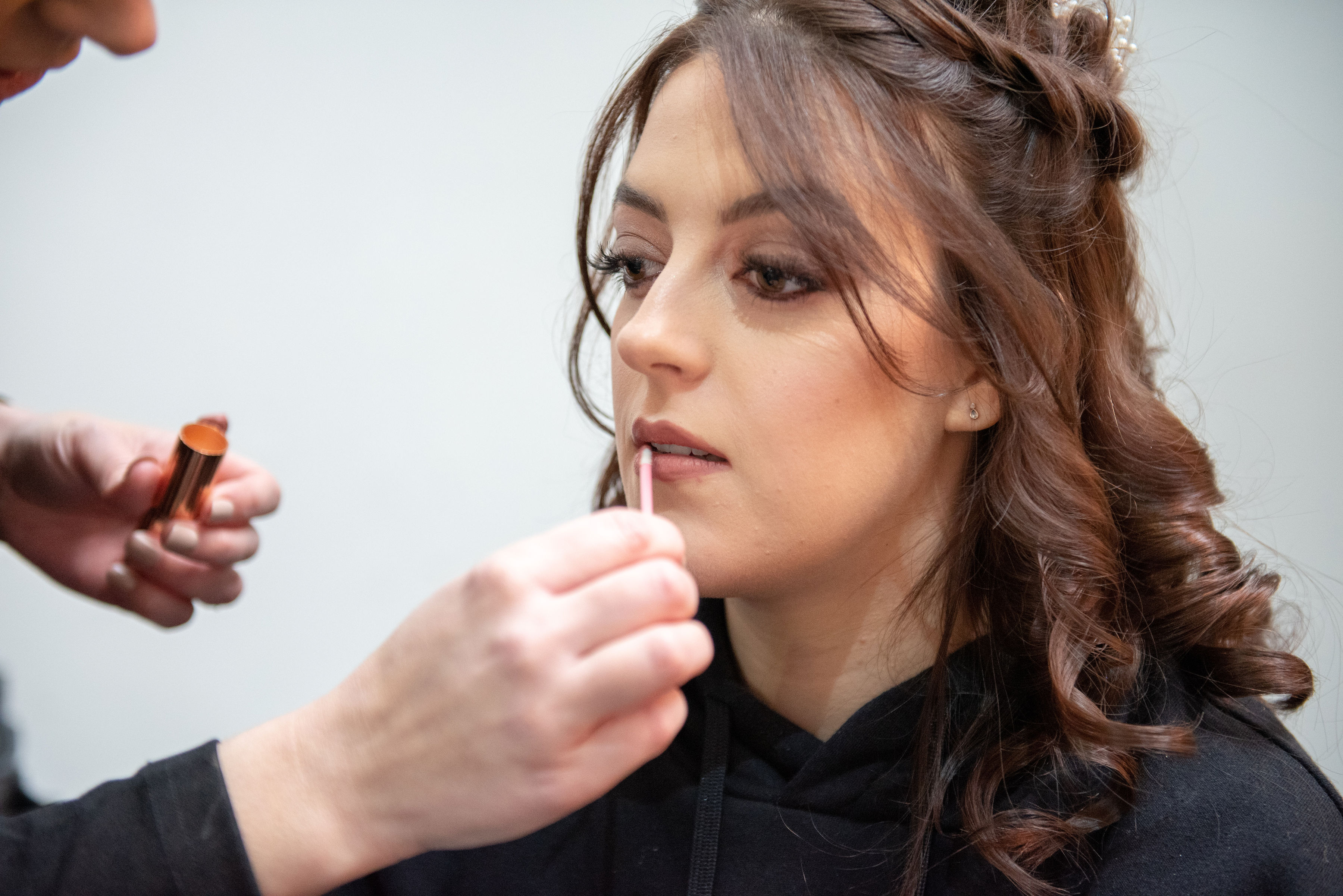 .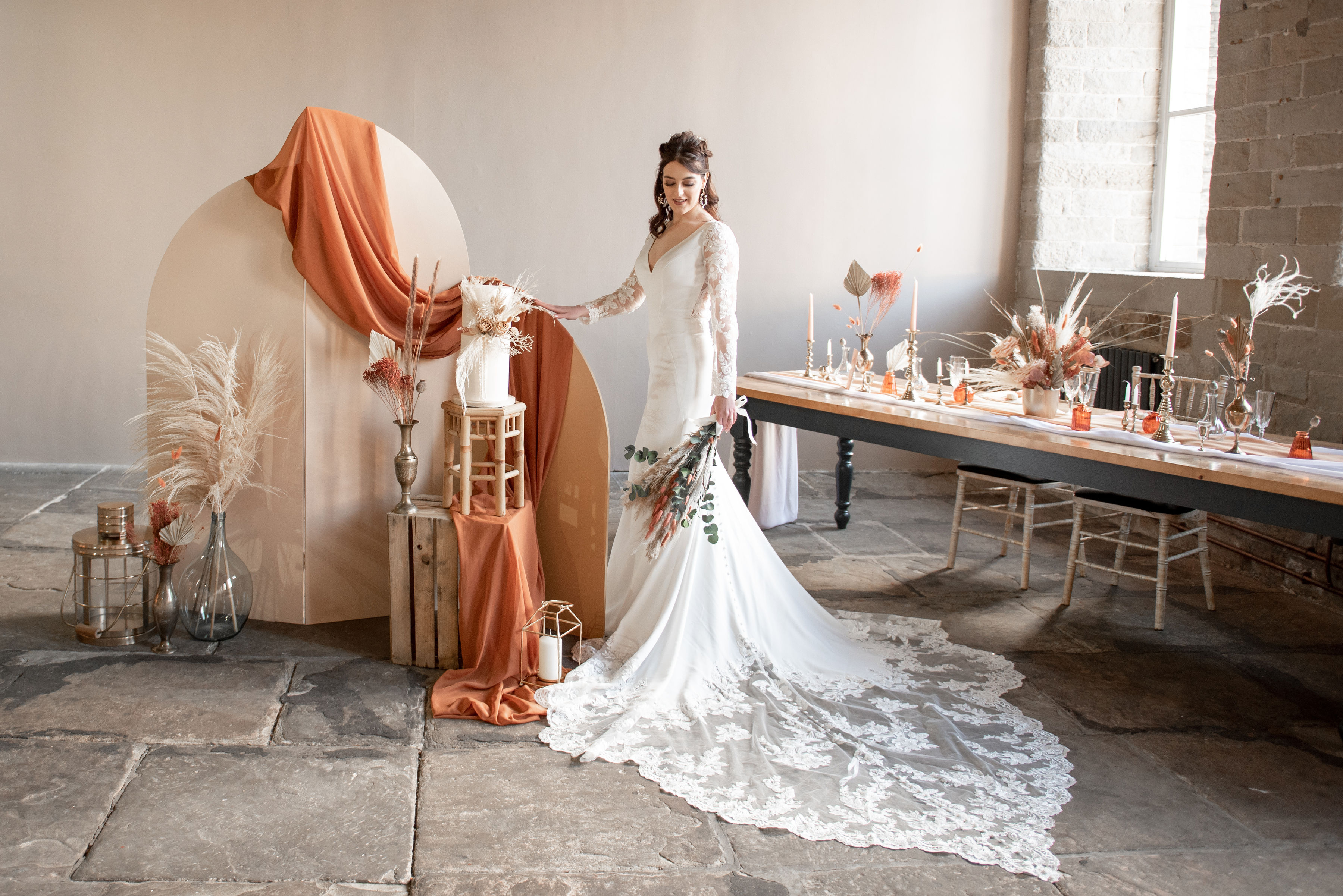 Yorkshire Based Wedding Photographer
As well as being one of the editorial curators, Gemma Suckley Photography captured the images of this shoot perfectly. Gemma creates such clean and fresh images that tell the story throughout each and every beautful wedding day.
.
.
Looking for some more boho wedding inspiration? Check out our latest blog posts here.
Lot's of love,
Jess
VA to The Boho Bride Guide
@digitalwithjess
The wedding supplier team:
Gemma Suckley Photography - Photography
Aphelion Events - Styling and Event Prop Hire
The Arches Dean Clough - Venue
Mary's Bridal - Wedding Dress
Helen Armstrong - Hiar & MUA
Ivy Avenue Floral Design - Flowers
Absolutely Pampas - Pampas Fan
Bunny Loves Evie - Jewellery & Accessories
Rosehill Cake Studio - Cake
Blush and Blossom Weddings - Stationery
Milly Rose - Model
ON 30th May 2022 / BY Jessica Tetstall
Leave A Comment