A fun and colourful outdoor wedding ceremony with a vibrant festival disco after party to rival the 70's, we are delighted to share the unconventional wedding of Lauren and Evan on the blog this month. You are gonna want to keep reading, its a gooden!
Lauren and Evan encouraged colour on their wedding and knew that they wanted this theme from early on, bright and vibrant was the memo and their guests interpreted it perfectly, from hints of colour within formal dress to full on rainbow catsuits and feathery headgear. This wedding was certainly fun and vibrant.
Keep reading to find out more and get some colourful festival wedding inspiration of your own!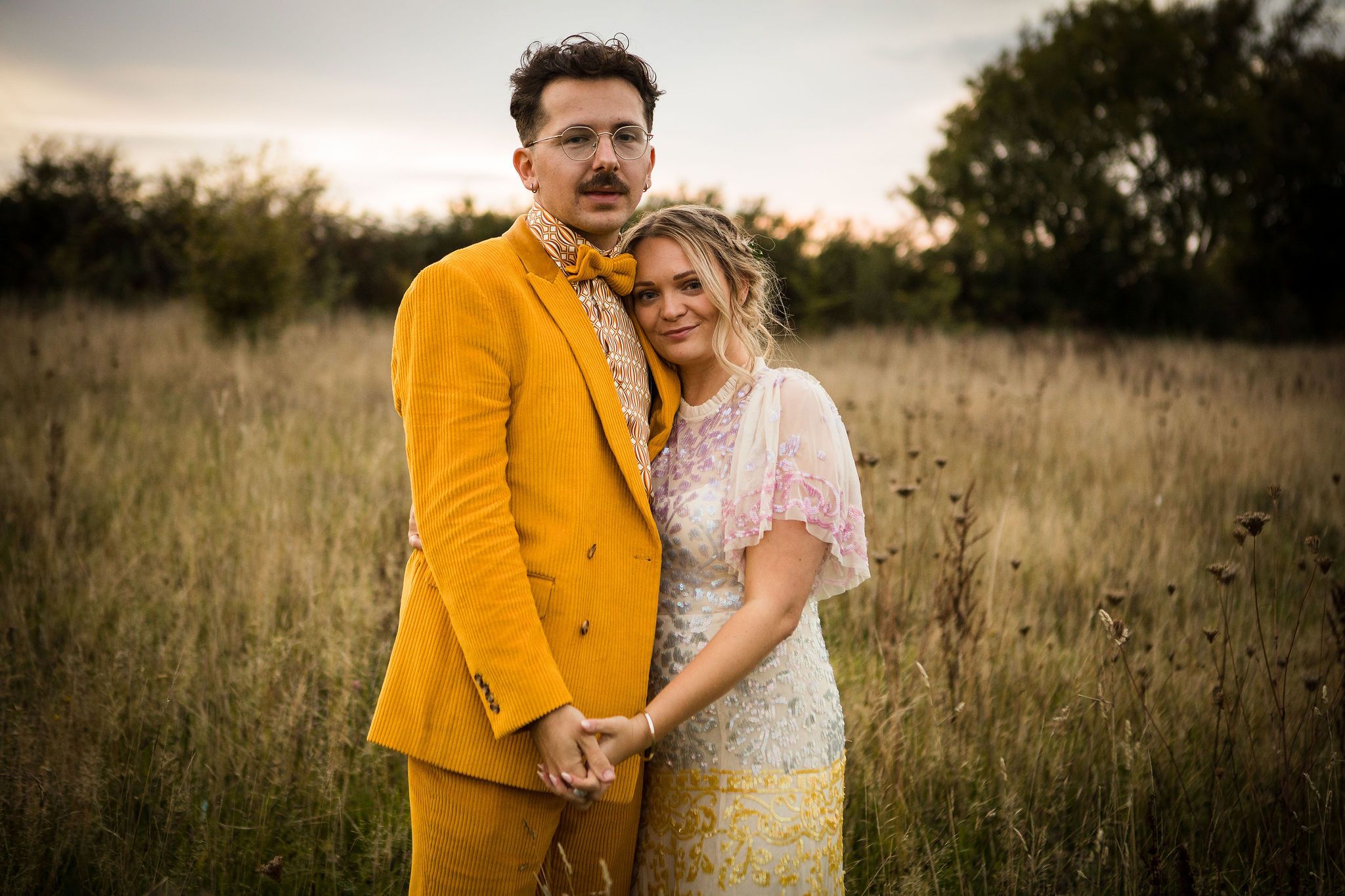 .
.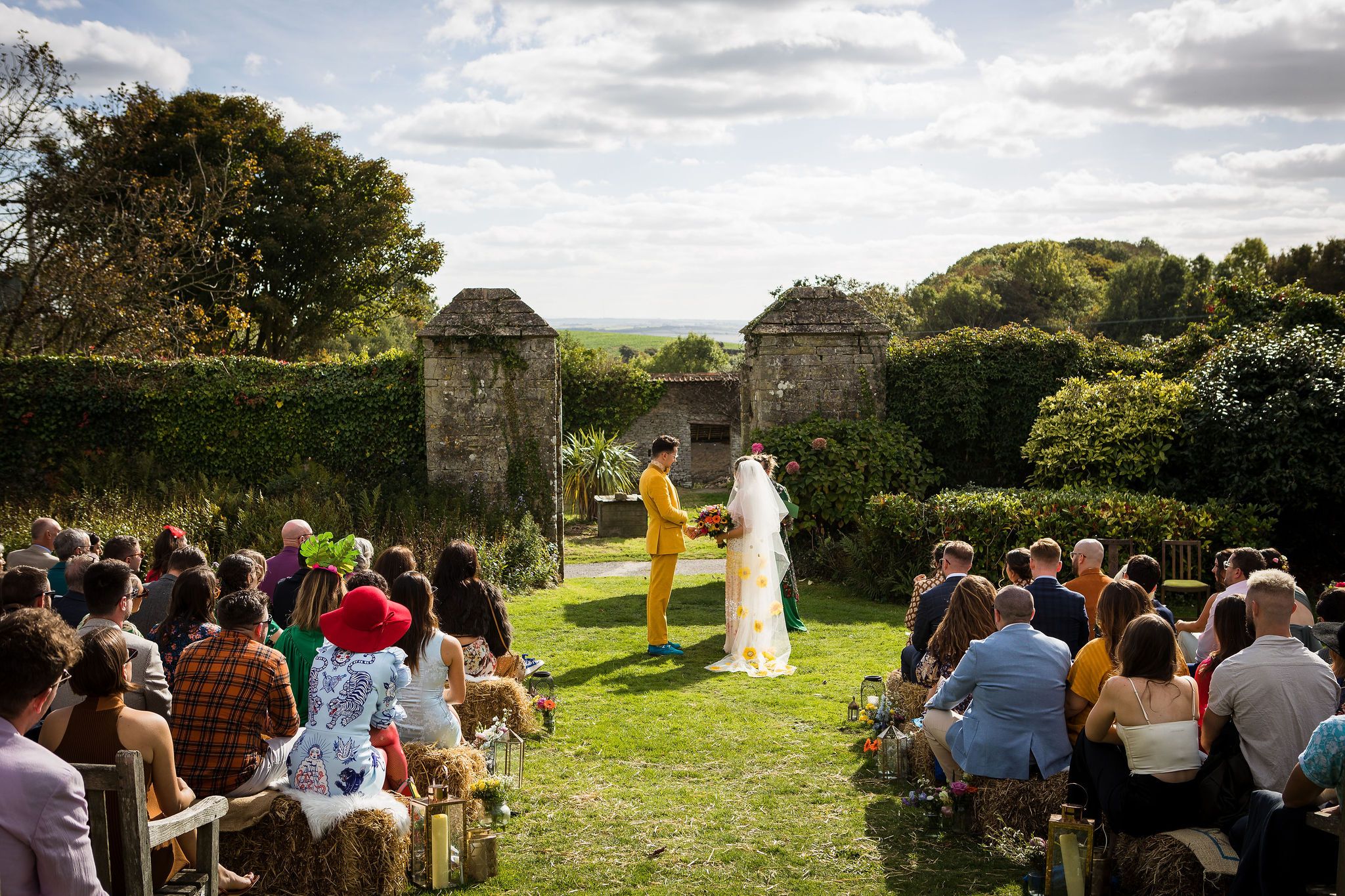 .
The Wedding Venue & Ceremony
Lauren and Evan married in the gorgeous grounds of the Ash Barton Estate, a Devon wedding venue known for it's laid back atmosphere. The couple stated that they loved the general vibe of Ash Barton the house, camping area, the stunning grounds, location and the party barn for their disco dance rave.
The couple chose a celebrant led wedding ceremony, our fabulous approved supplier Juliette by the Sea. Lauren mentioned that "Juliette totally understood who we were and what we wanted from the beginning. The ceremony was so special and our family really felt the same."
.
.
.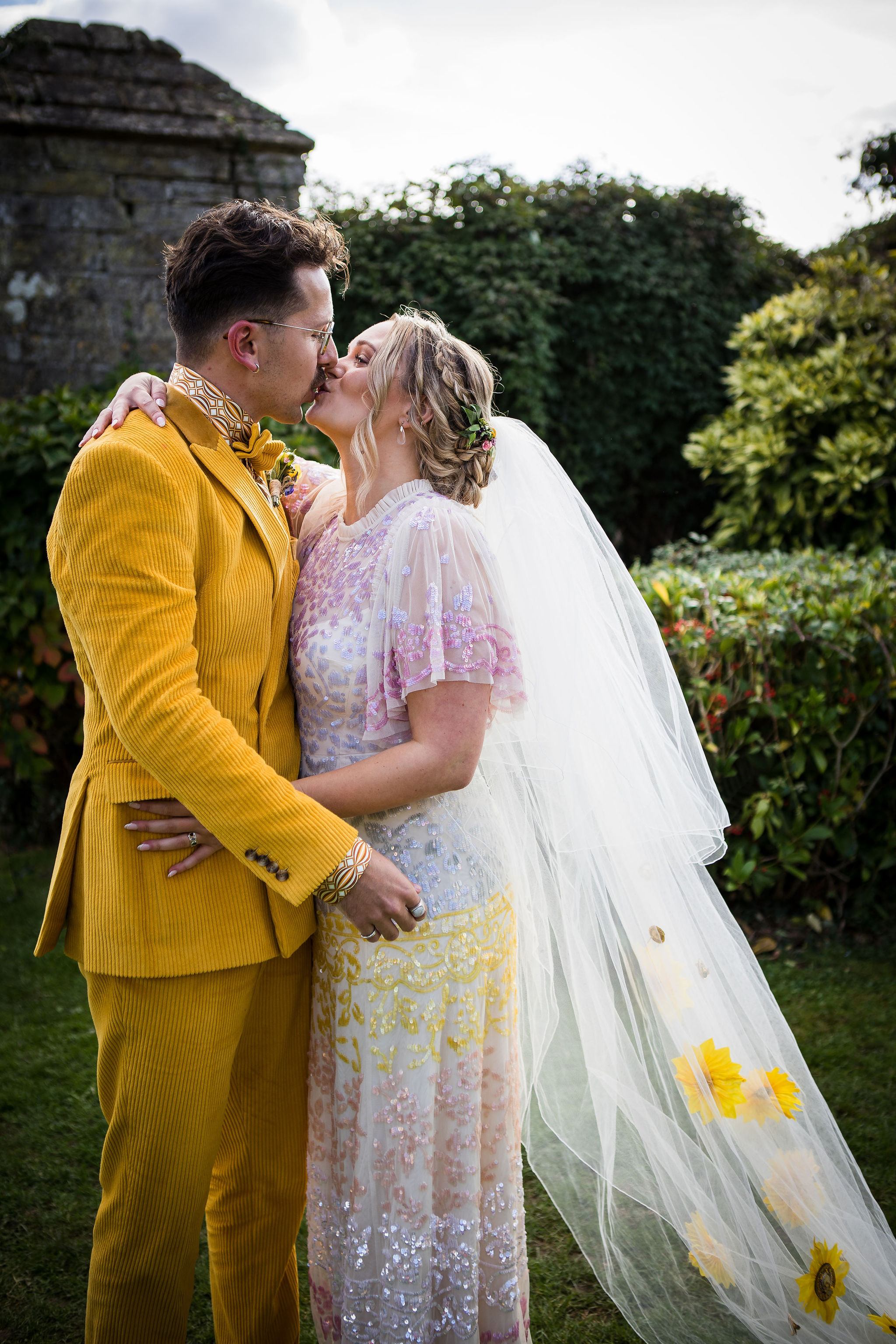 .
.

Festival Wedding Reception & Decorations
For the styling and decor, Lauren and Evan had a lot of help from friends and family, and they also hired Katie and her team from Best Day Ever for the first half of the day. They helped with the tables, ceremony set up as well as the drinks reception and were a huge help! Lauren's sister Olivia did the table names on slate which were a lovely authentic touch.
The couples friends The Provibers took over co-ordination for the second half of the day/night and were their MC's for the day, helping to get the party started in the evening.
All the tables were named after festivals to reference the beginning of the couples relationship, they met whilst working at a festival 10 years ago.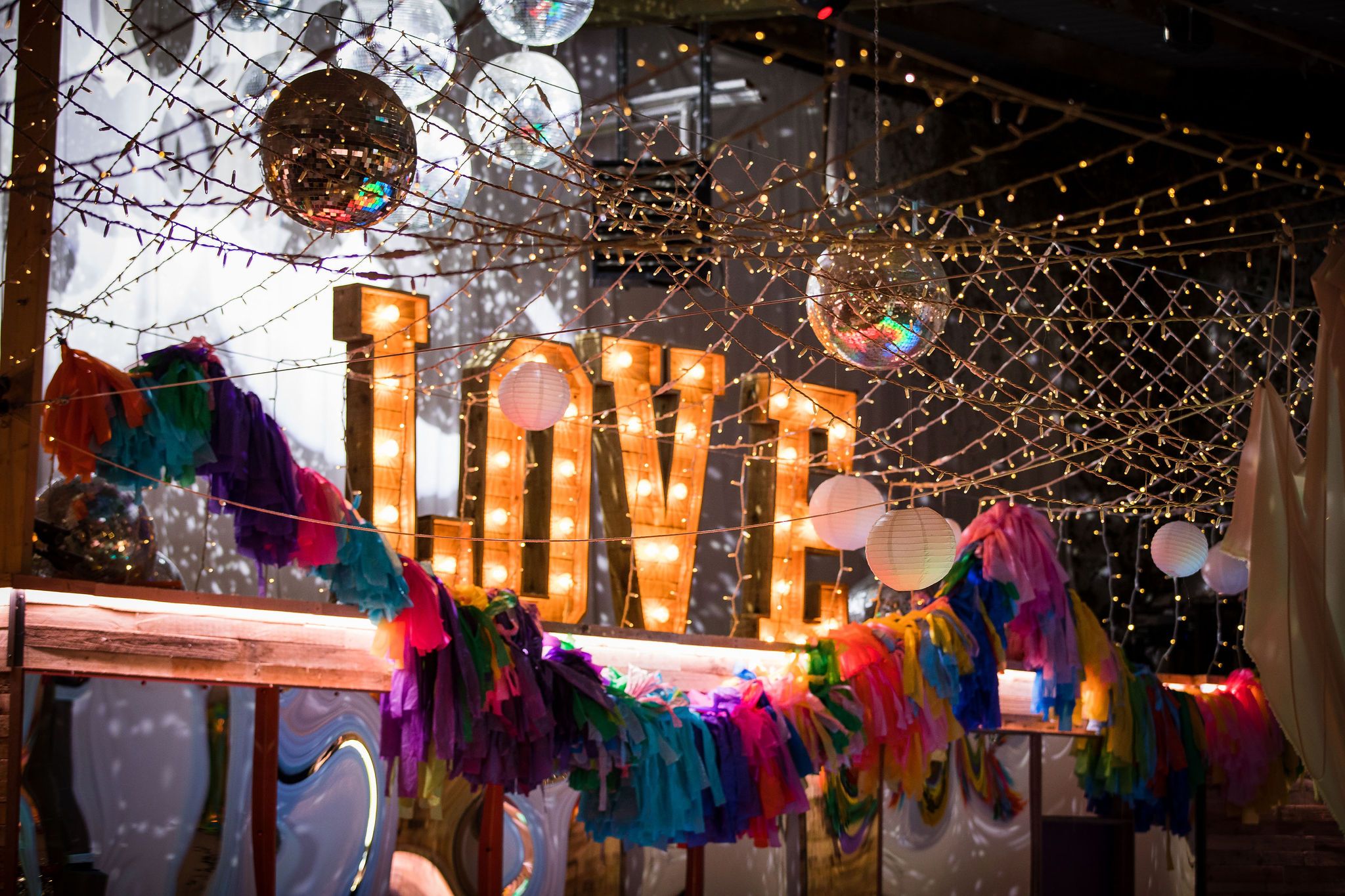 .
.
.
.
Unconventional Wedding Dress & Mismatch Bridesmaids
Lauren chose her gorgeous colourful wedding dress from Needle and Thread after seeing it online soon after her engagement. Lauren mentioned that she loved how sustainable their clothes are, they use recycled sequins, and the name of the dress really stood out to her too - 'the chakra dress'.
"I knew I wanted something sparkly and something with colour and it ticked all the boxes. Plus I didn't have to go for a fitting or anything so it was a very easy process!"
Lauren wore her mum's veil from her own wedding day and her talented friend Susanna gave it a bit of love adding sunflowers details and embellishments from India, all sewn on by hand.
We love the mismatch bridesmaid dress vibe and Lauren's bridesmaids all chose their own dresses with a colour theme given by the bride. The florist created fresh flower hair pins for the bridesmaids, which added a nice dash of colour to their outfits.
Bride Lauren opted for a loose, boho up-do for her wedding hairstyle and her bridesmaids had a half up half down hairstyle, all styled beuatifully by Hannah at Brighteye Beauty.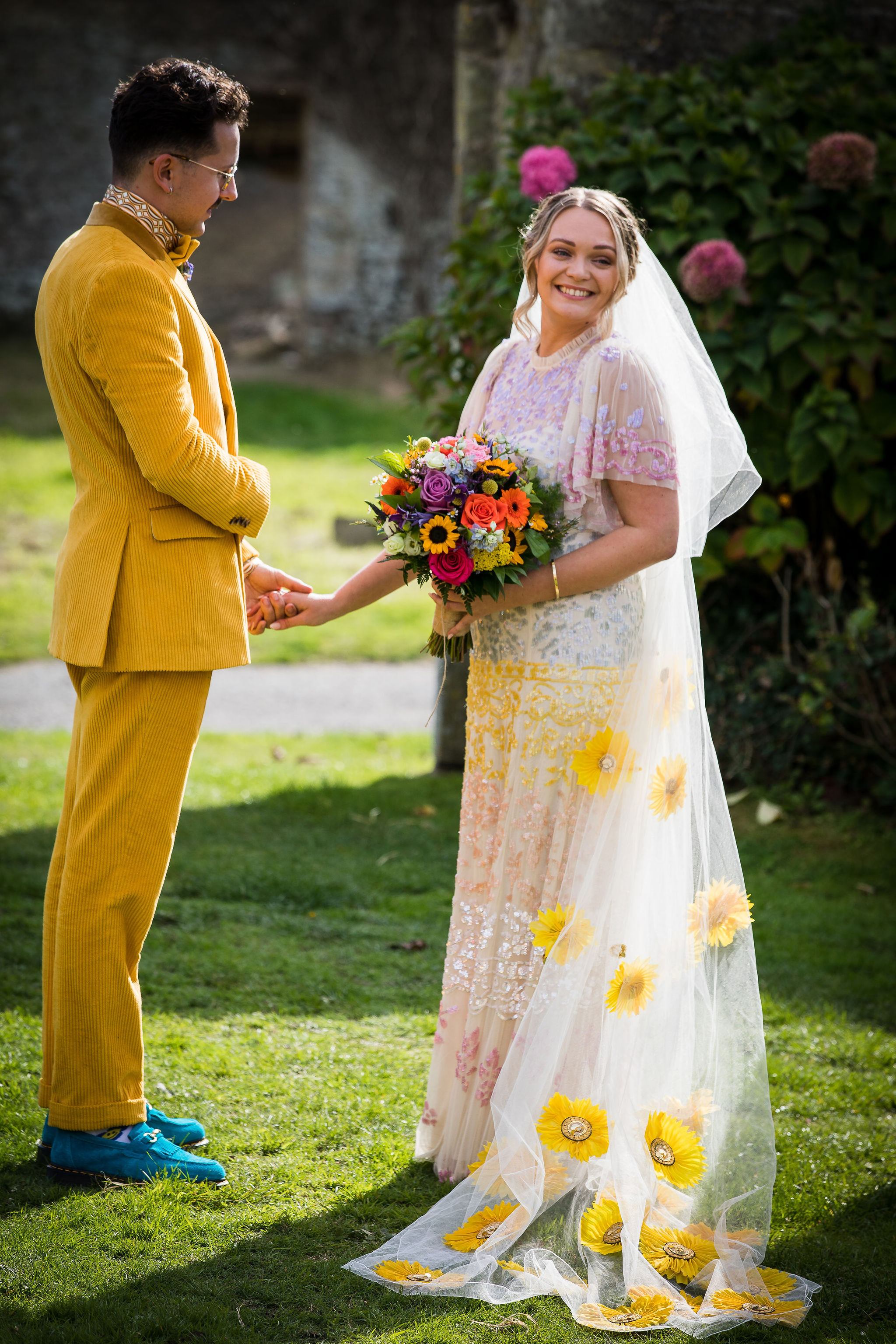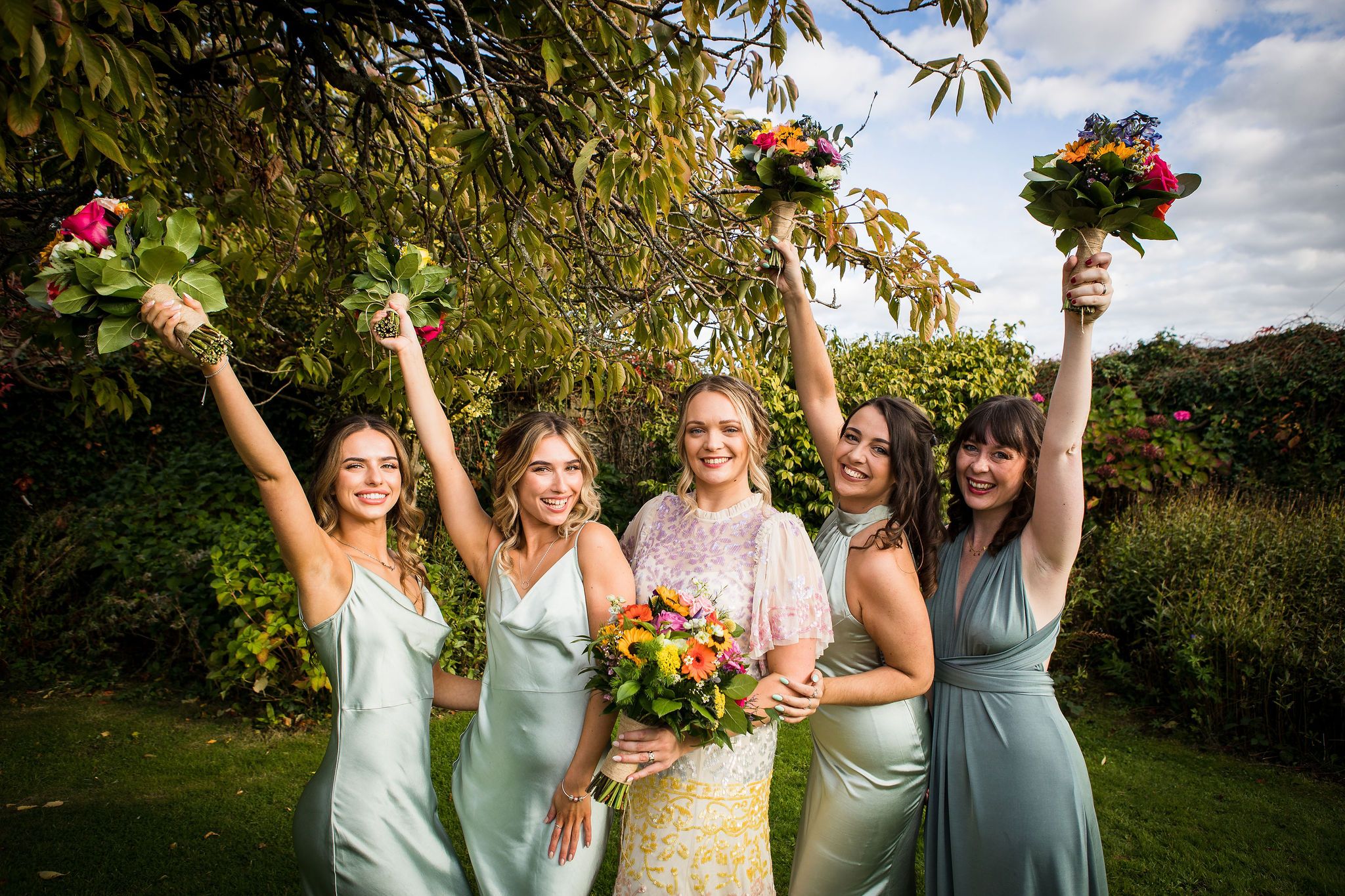 .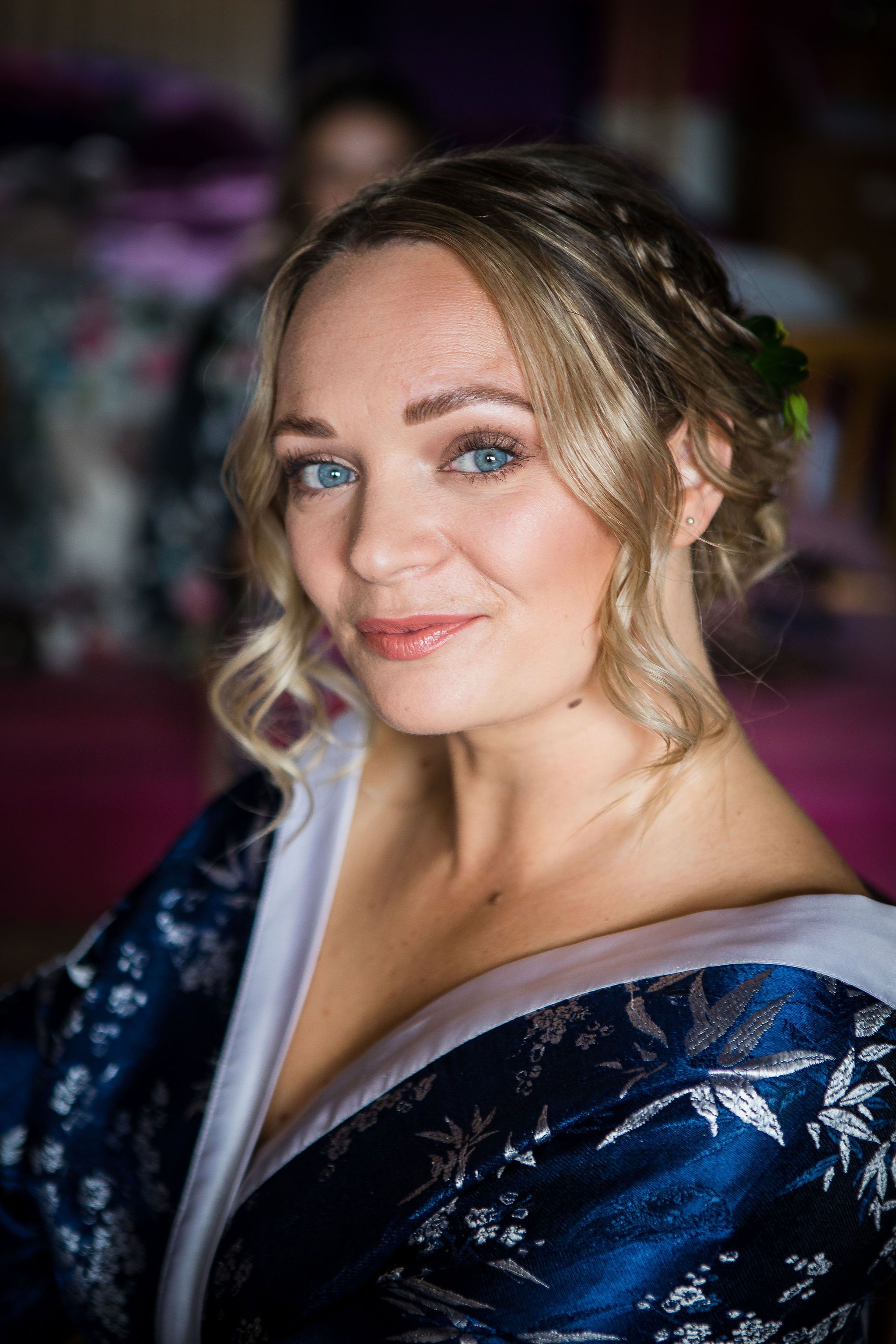 .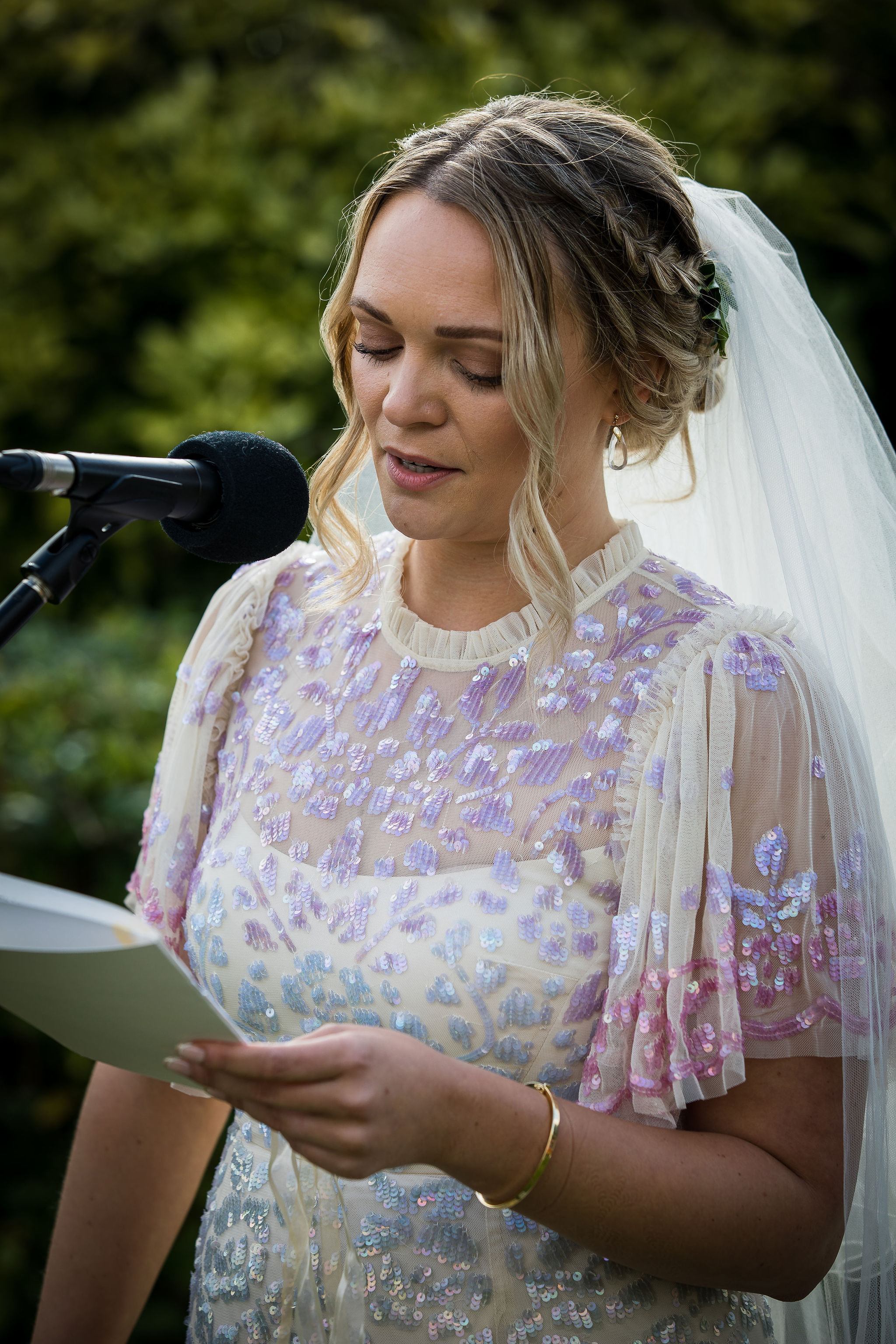 Wildflower Wedding Bouquets & Sunflower Wedding Cake
Twigs Flowers took care of the arrangemnts and bouquets with a vague colour scheme from bride Lauren, she also added a few of her favourite flowers into the description. Lauren's memo was colourful and bright, we think they nailed the brief!
This gorgeous semi-naked sunflower wedding cake was made by one of Lauren's good friends, Ella.
.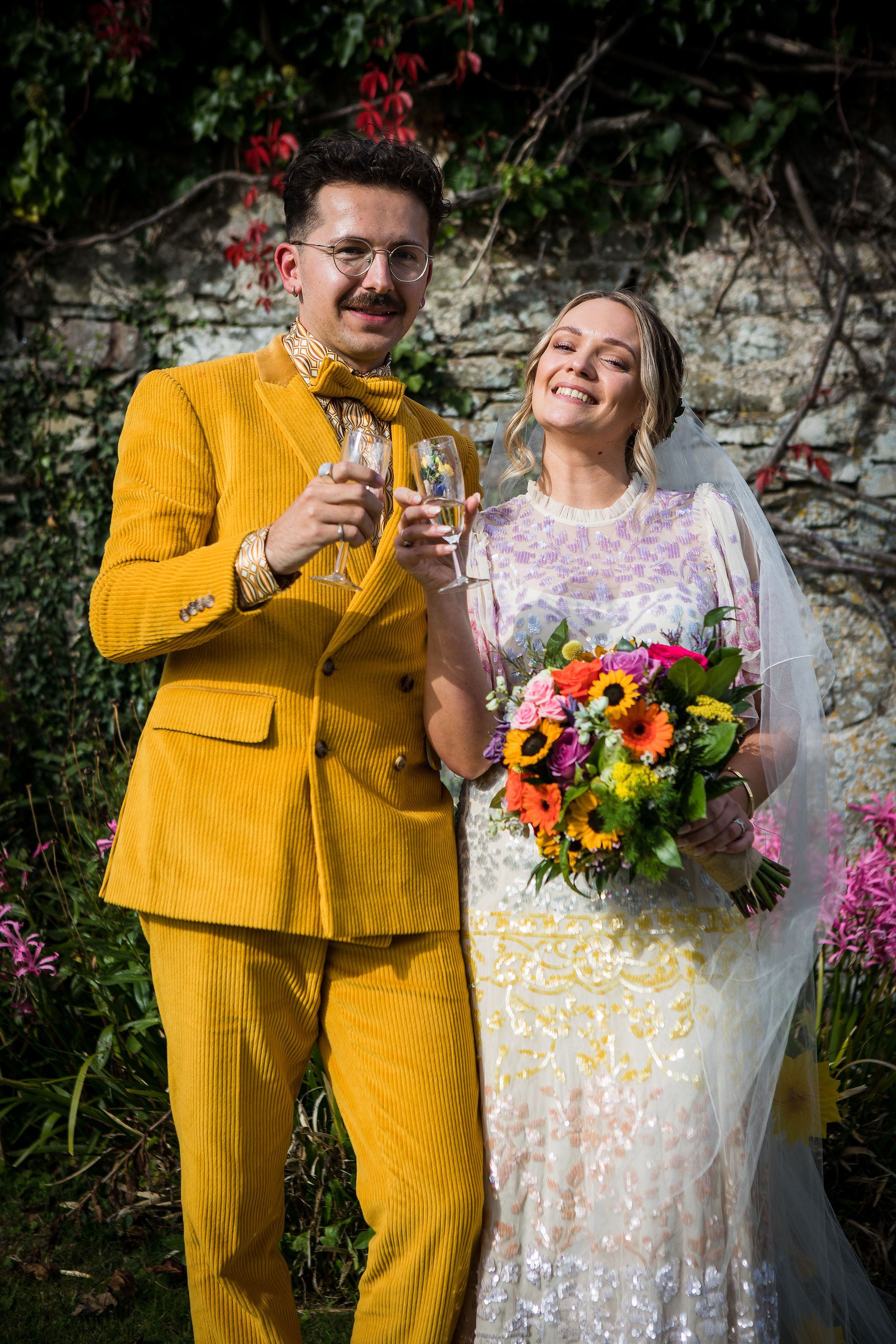 .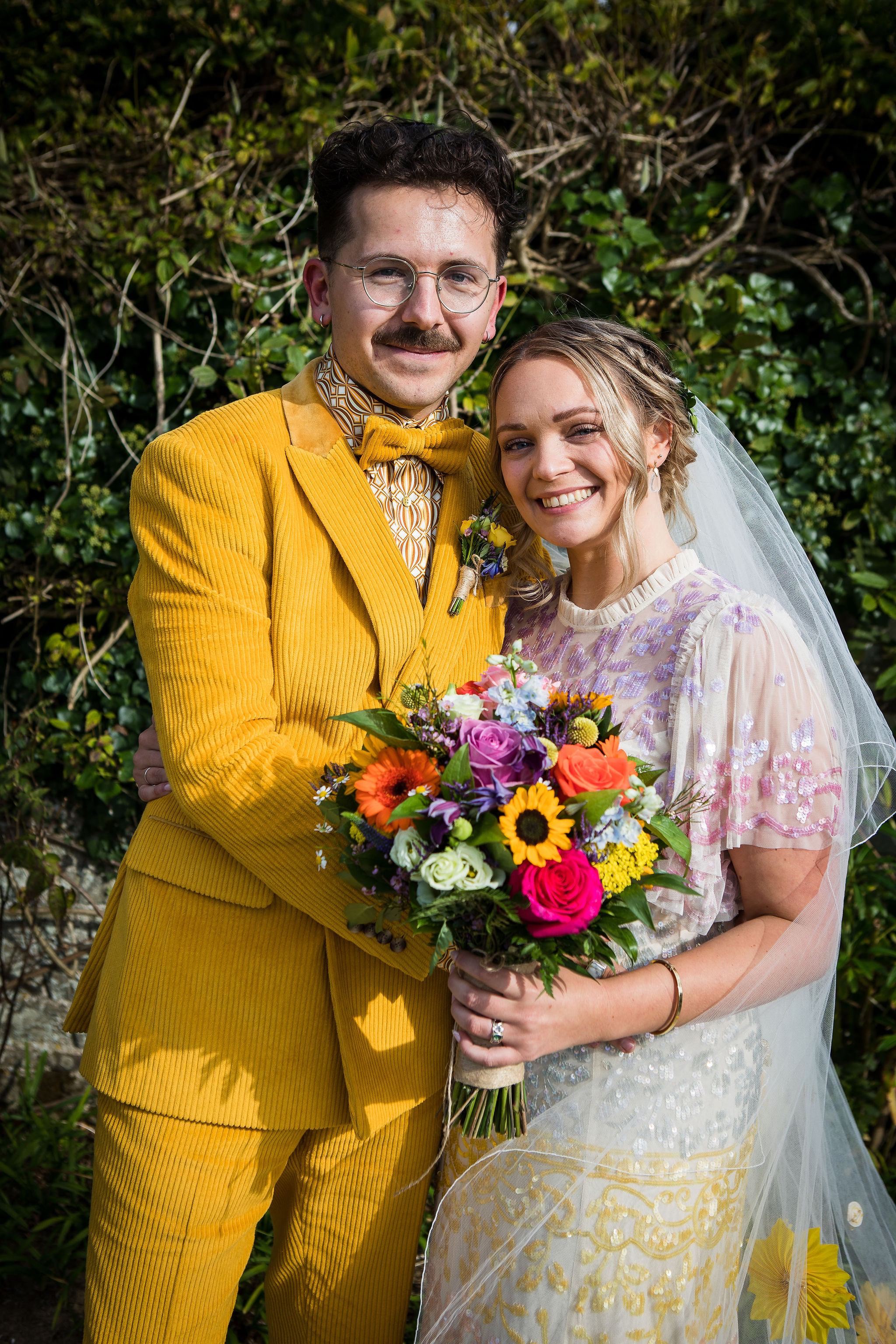 Wedding Food & Bar Hire
Lauren and Evan chose the Big Pot Kitchen for their wedding catering, the whole menu was vegetarian, they enjoyed massaman curry, cider potatoes and veggie sausages, followed by mac and cheese and veggie chilli nachos. Yum!
Their friends put together a beautiful dessert table full of fruit, brownies and meringues along with the wedding cake.
The mobile bar hire was arranged by FlyBar, and the couple had a cocktail named after each of them called 'The Loz' and 'The Ev Delicious.'
.
.
.
Wedding Entertainment
Lauren and Evan have alot of talented friends and family who provided different entertainment throughout their special day. Their friend Charles not only sang as Lauren walked down the aisle, but he performed during their group song and then for the outro song too as they walked out of the ceremony.
The couple also had their friend Tim Hurst, from the band Loud Noises Brass, perform a live looping show which really kicked things off.
The party continued in the 'rave cave', with 5 DJ friends plus the groom himself taking to the decks in true festival style. The whole wedding party danced all night long until the sun came up!
.
Colourful Wedding Photography
These fabulous photos were captured by our talented approved supplier Laura from Freeformimages Photography.
Lauren added "Laura was a big part of the day and made us feel so relaxed. Then we got the stunning photos back and there were over 2500 of them! It was so nice to put them on the TV with a beer with some family and look through them all and re-live it. We are obsessed with our photos and can't stop looking at them!"
.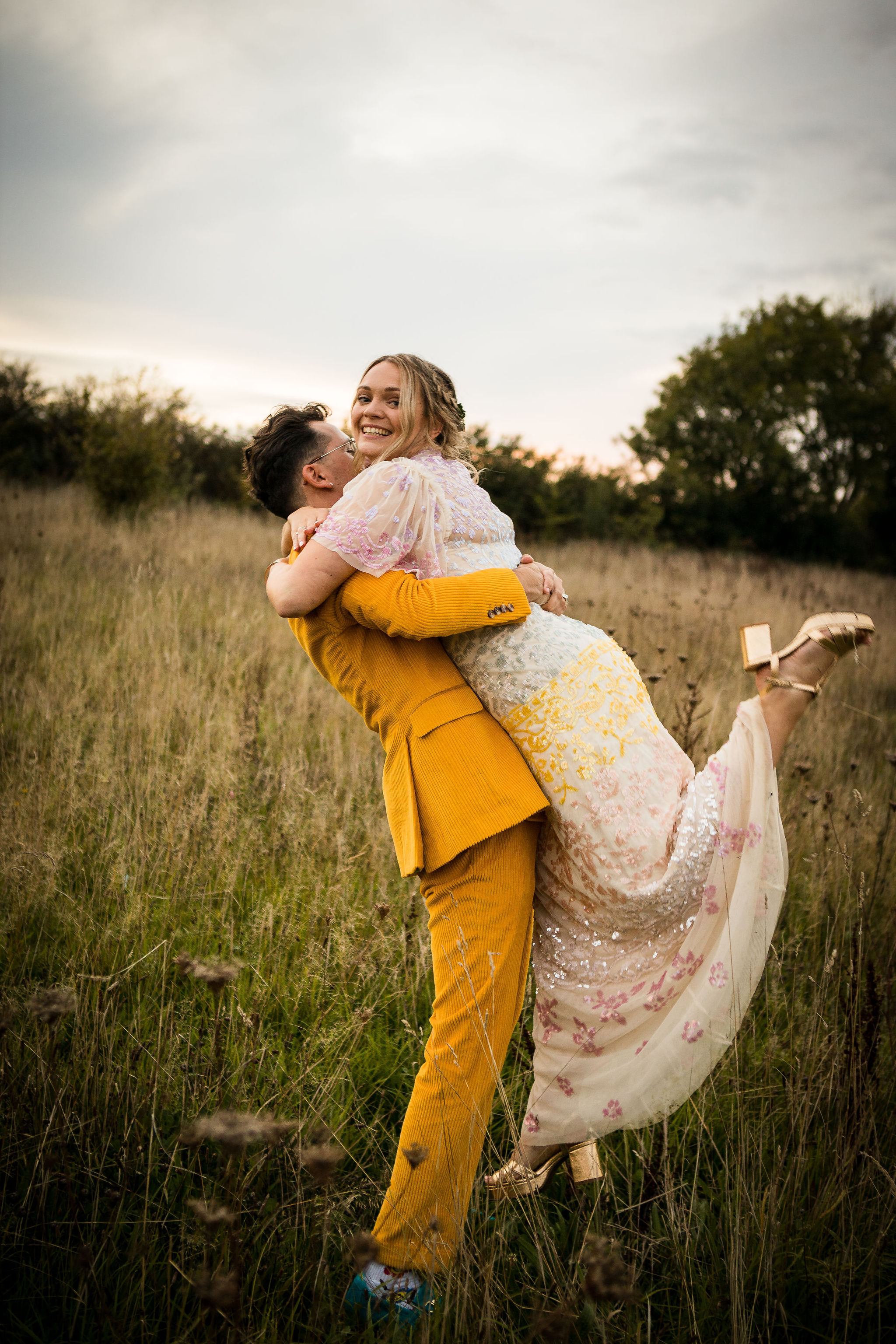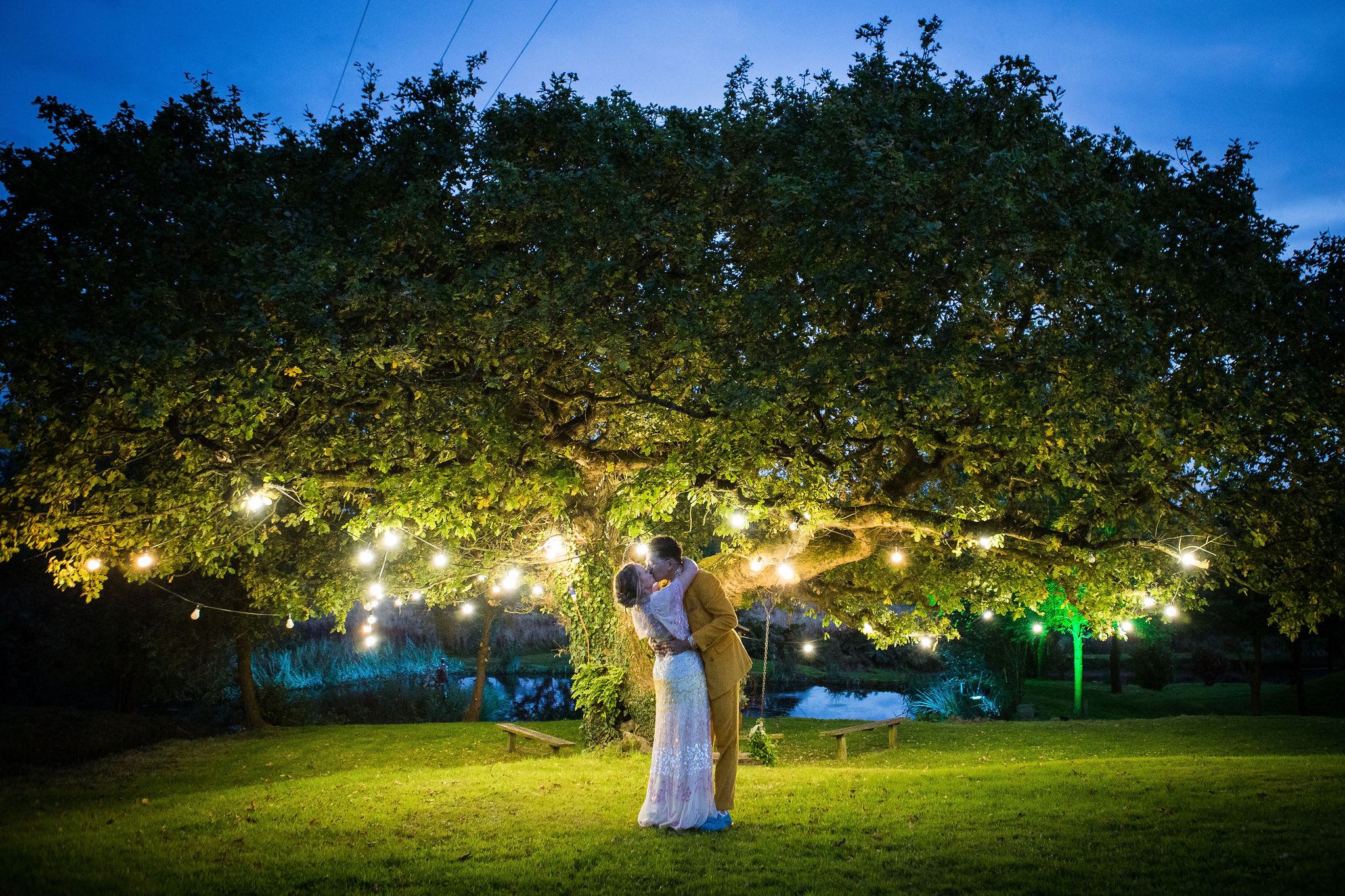 .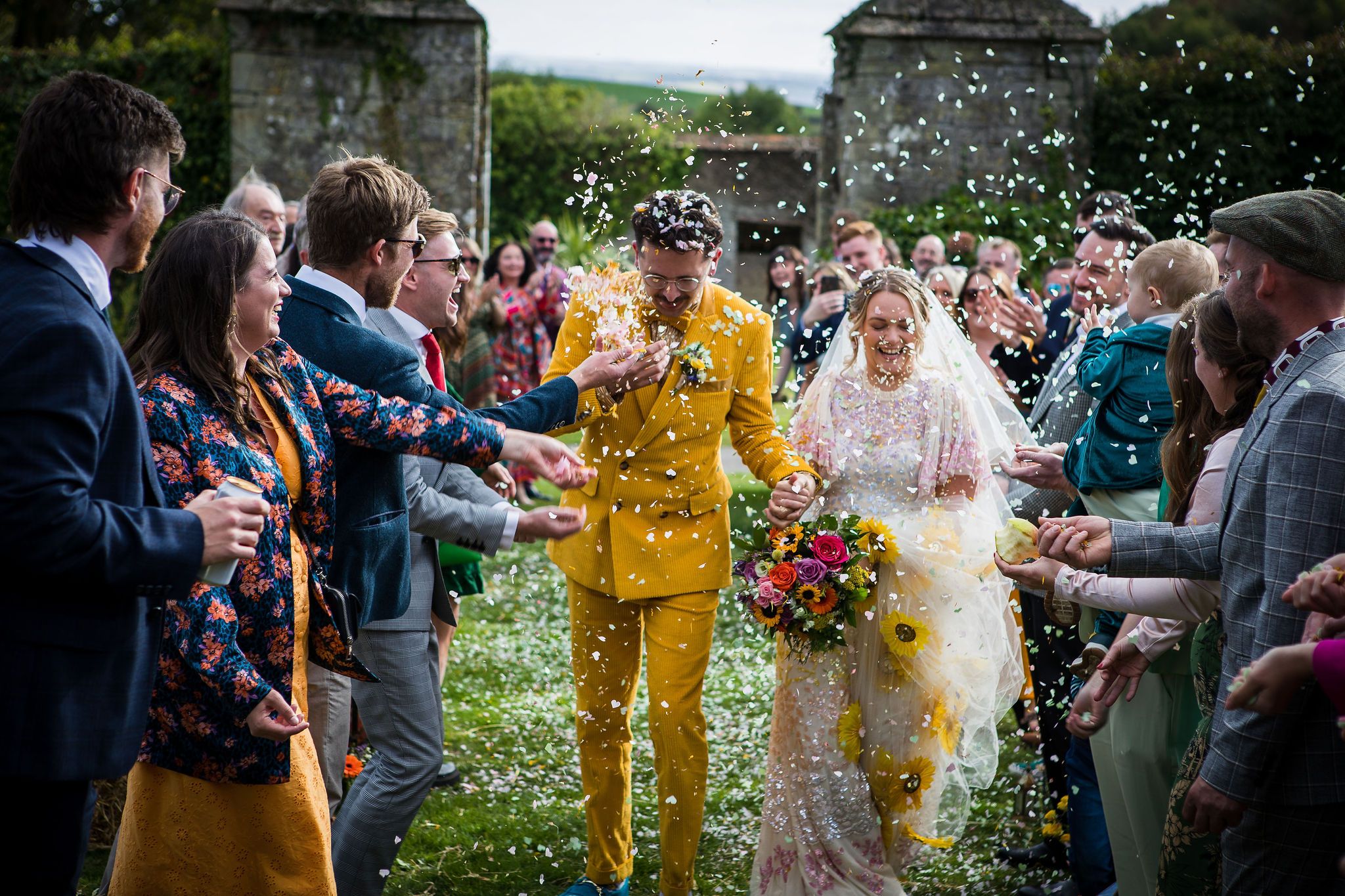 Lauren added that they didn't stick to many wedding traditions but they felt that their whole day was completely authentic to them and they loved having so many friends and family help them out which made things that extra bit special.
We hope you have enjoyed reading all about Lauren and Evan's special day and hope that it inspires you to have a wedding that is unconventional, fun and completely authentic to you as a couple, if that is what you truly desire. Remember there are no wedding rules!
Lot's of love,
Jess
Blog & Pinterest Manager
Fore more colourful wedding inspiration you can check out this flower filled Cornish wedding
The Team of Wedding Suppliers:
Freeformimages Photography - Photography
Ash Barton Estate - Venue
Juliette by the Sea - Wedding Celebrant
Best Day Ever - Wedding Styling
The Provibers - Evening Co-ordination
Twigs Flowers - Wedding Flowers
Loud Noises Brass - Wedding Band
Needle and Thread - Wedding Dress
Brighteye Beauty - Hairstylist
Big Pot Kitchen - Wedding Food
FlyBar - Mobile Bar
ON 15th February 2023 / BY Jessica Tetstall
Leave A Comment