We no longer have to compromise. We CAN have our dream big day wedding flowers without harming our Earth. By choosing eco-friendly wedding flowers we can even help add biodiversity into our environment!
In this blog, we'll look at what eco-friendly flowers are and why they matter. We'll also give you some tips from the experts on how to incorporate them into your own wedding plans so that you can make sure that your special day is as beautiful as possible while also helping out our planet!
.
What are Eco-friendly Wedding Flowers?
In simple terms, they are wedding flowers that do not negatively impact our Earth in the growing, transport and creation process of your big day florals, from soil right through to your wedding table.
.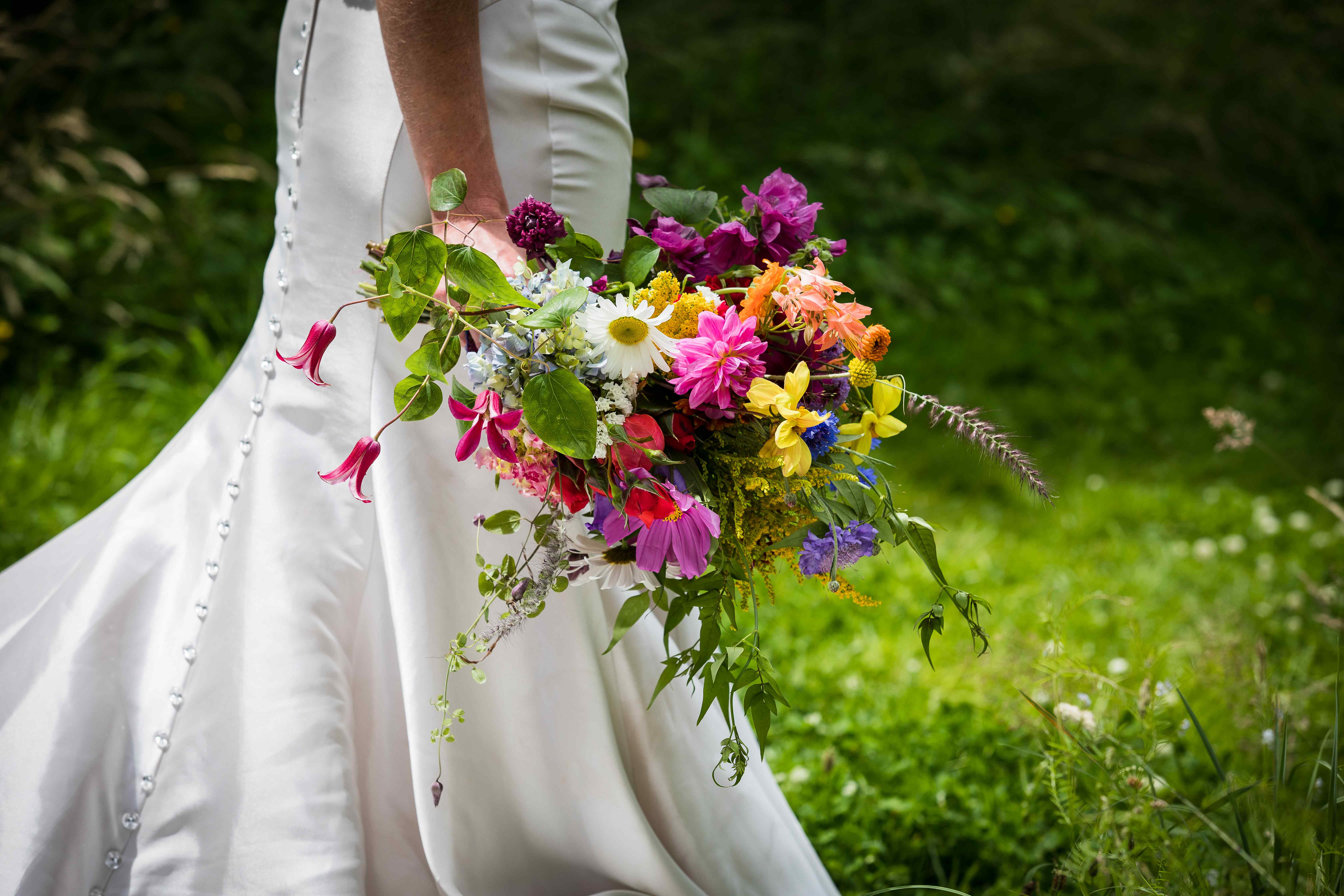 How do Eco-friendly Wedding Flowers Benefit the Environment?
By choosing to go green and selecting a wedding florist that uses eco-friendly flowers from a local flower farmer in your area. Your custom could actually be helping the environment by adding bio-diversity to the flora and fauna grown in your local area.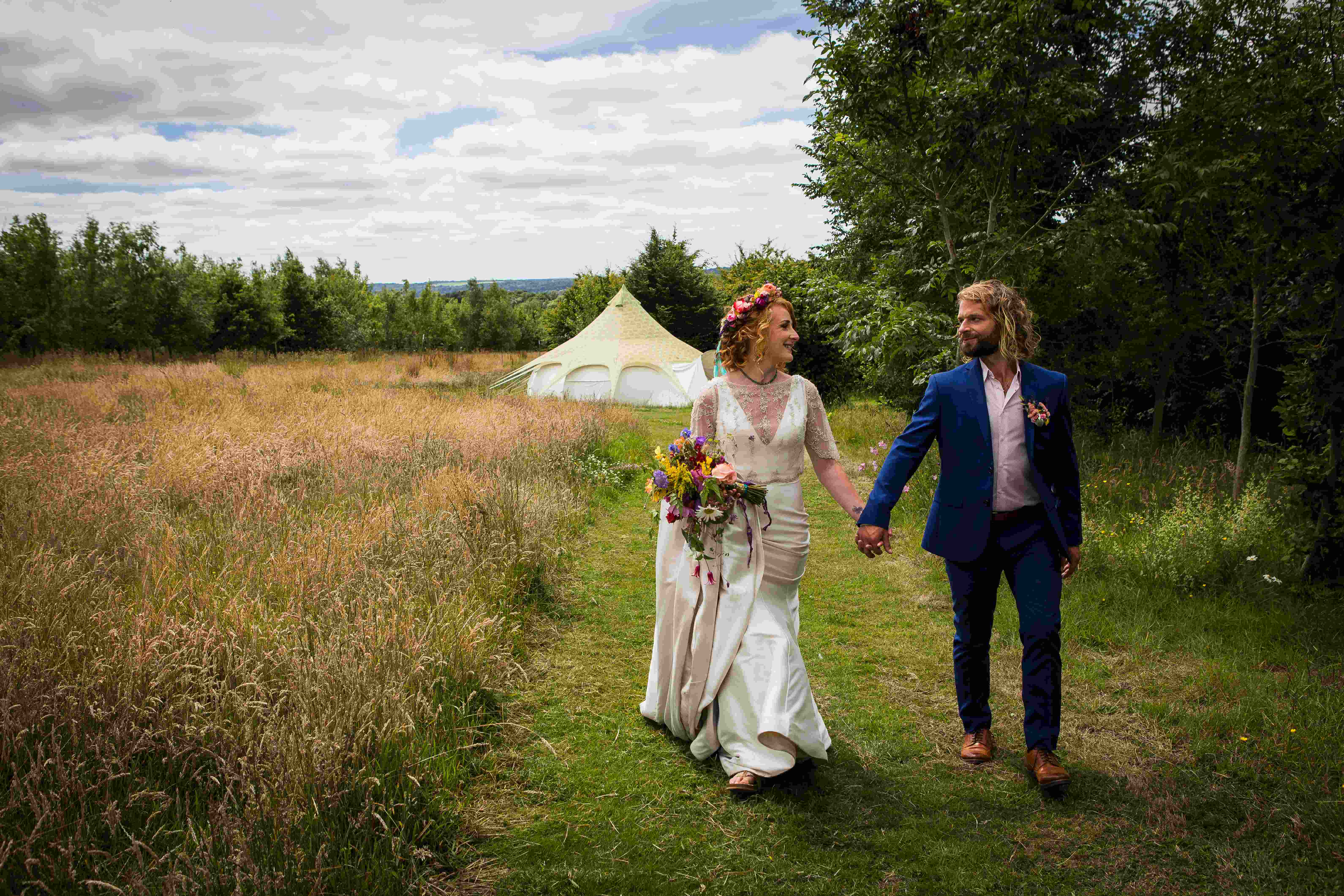 .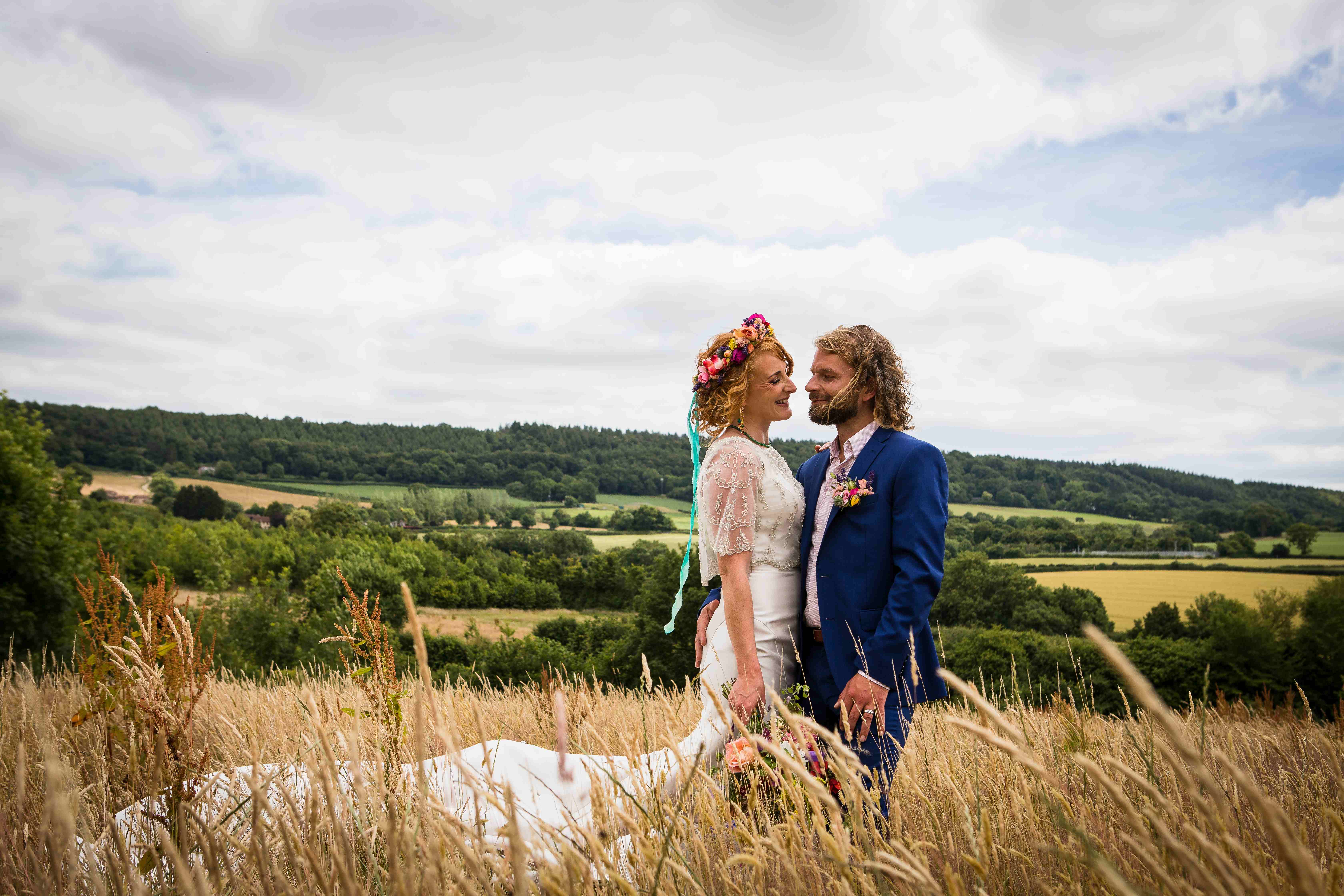 .
The Flower Filled Wedding at Higher Holcombe
We are super excited to feature a recent Eco-conscious Wedding Shoot that took place at Higher Holcombe, East Devon UK with recently wed couple Bex & Oliver. The vibrant shoot was captured by the super talented Laura from Freeformimages. Laura's ability to put her couples at ease and capture the most natural and fun filled photos can be clearly seen across this wedding.
Higher Holcombe is a stunning wedding venue, nestled in the beautiful Devonshire countryside. Over a 15 year period, Joanna and her family have planted over 15 acres of trees on their land, and shows an insatiable passion and commitment to positively impacting their local environment for the long term.
I asked Joanna, owner and manager of Higher Holcombe more about their commitment to promoting a more eco-conscious approach to wedding celebrations.
Jo how do you help your couples getting married at Higher Holcombe to minimise their impact on our Earth when holding their wedding at your venue?
'We encourage couples to forage in our hedges, copses and meadows for flowers and foliage to decorate the venue, to add to bouquets and buttonholes, as well as their feasting tables, place settings and window sills.'
'We have an ever growing 'prop cupboard' (actually a shipping container) of decorative items that couples can borrow to include in their styling that includes; 240m of lace and ribbon bunting, woven picnic-style baskets for cards and confetti, wooden apple crates and vintage coke boxes to style an outdoor bar, enamel milk jugs and glass vases to fill with flowers, a wooden wheelbarrow for serving beers and soft drinks, and much much more! All with a view to promoting the reuse of decorative items and avoiding single purchase items, saving the expense as well as the waste.'
'For each wedding, we offer a range of accommodation in the farmhouse, glamping tents and shepherds' huts which means that guests can stay at the venue for the weekend-long celebrations and thus reduce the need to travel back and forth each day.'

.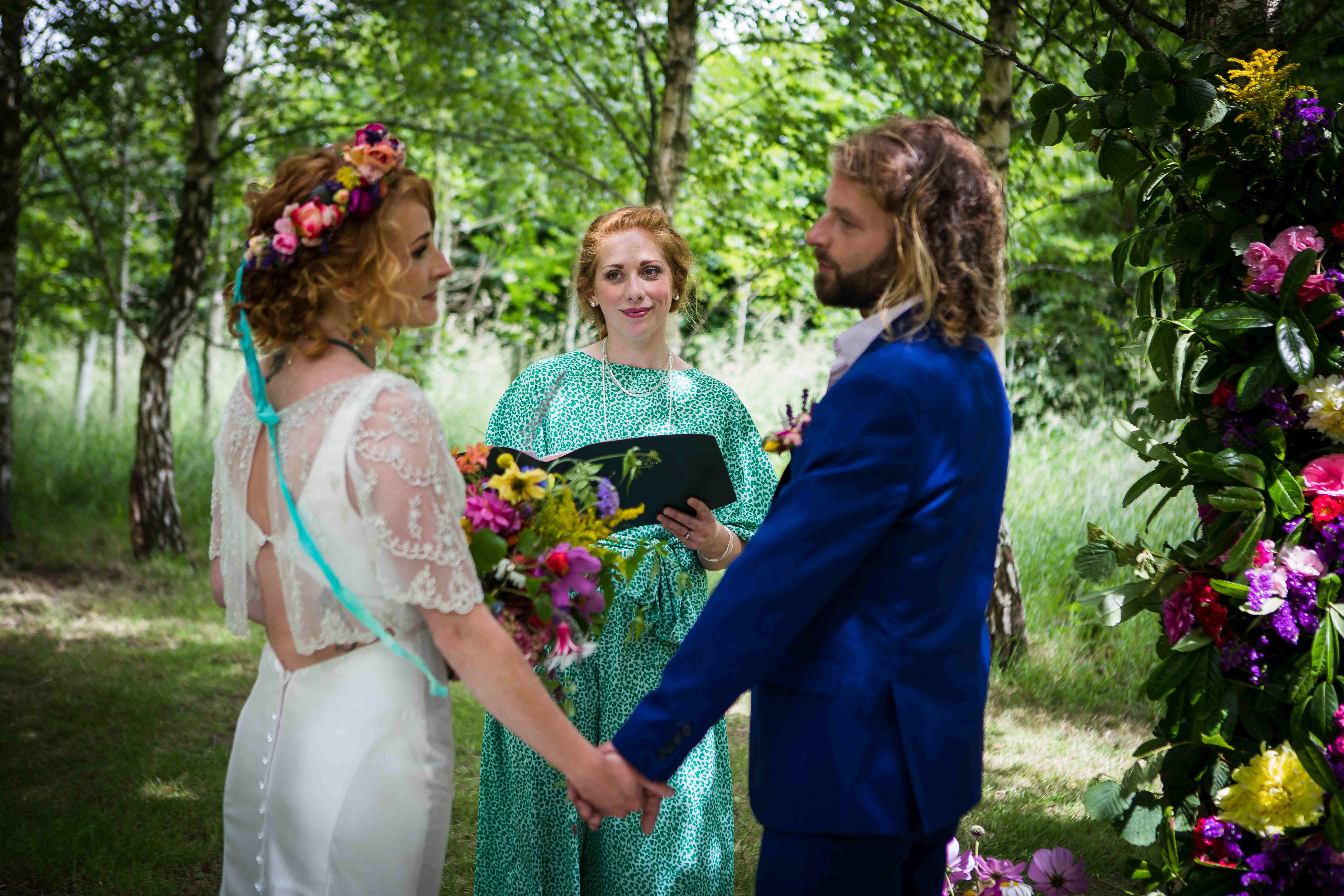 .
The Celebrant Led Ceremony
Higher Holcombe offers a number of beautiful outdoor options to hold your celebrant-led ceremony. For this styled shoot the team opted for the magical Silver Birch Church to hold their ceremony. The amazing George from Hestia and Iris Ceremonies conducted the intimate ceremony, nestled in amongst the trees and surrounded by nature.
.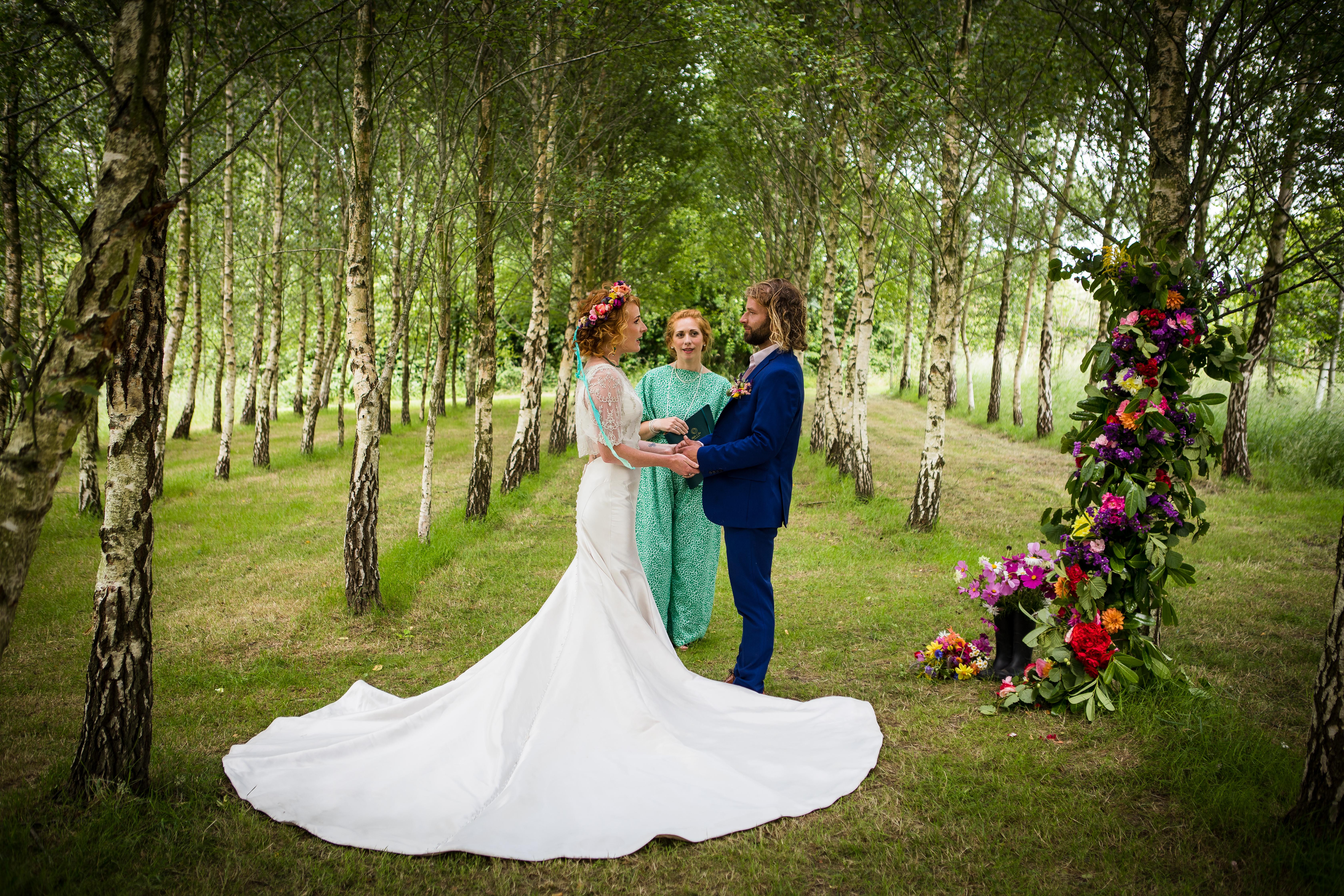 .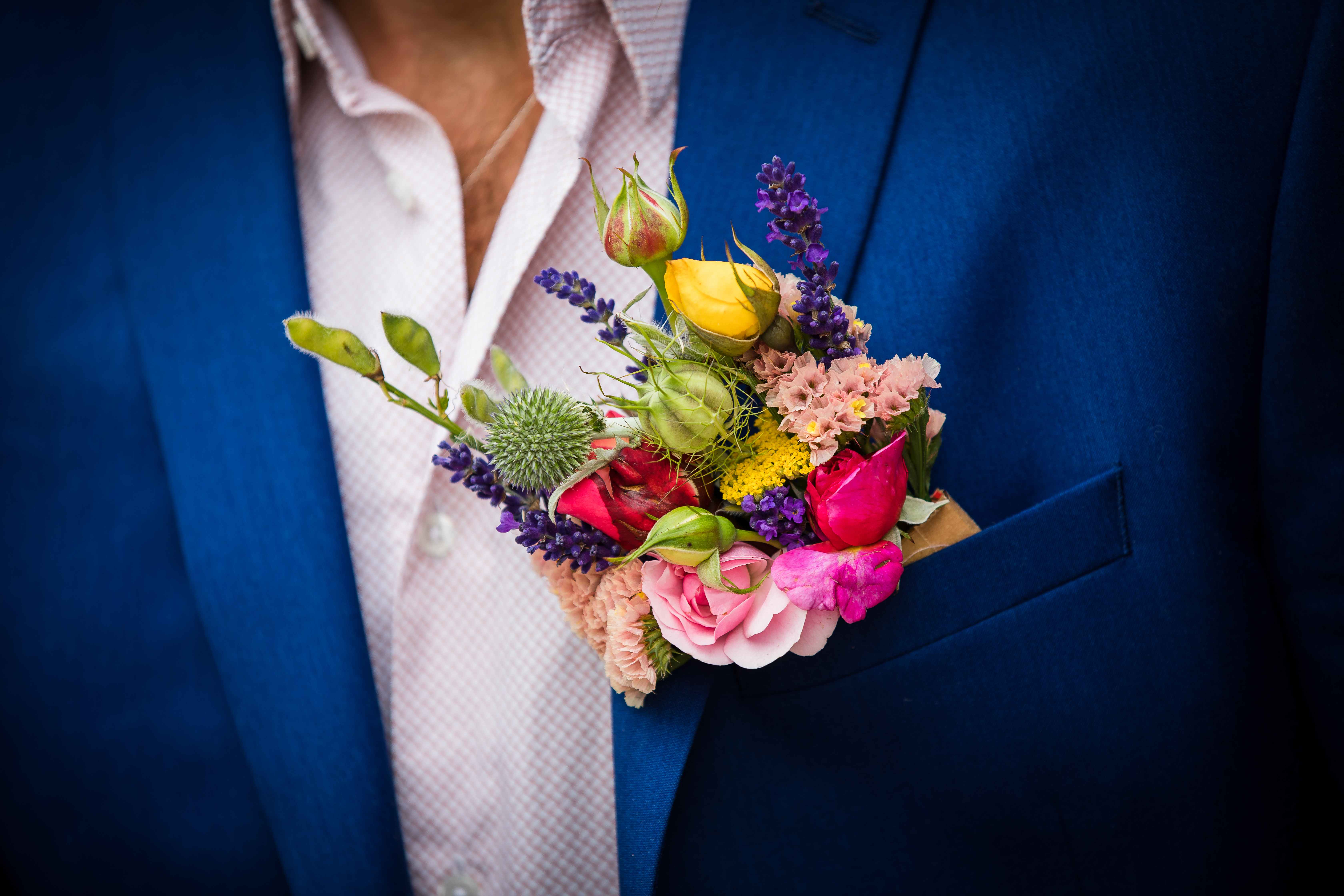 The Eco-friendly Wedding Flowers
Throughout the shoot the bright and beautiful locally grown and seasonal wedding flowers added a pop of vibrancy and excitement to the backdrop of the day. The floral arch was reused for both the outdoor ceremony and then to decorate the campervan photobooth from Vintage Camper Booths, making the most of each floral installation created.
We spoke to the eco florist and flower farmer that created the WOW wedding flowers, Cassie Cannon from Bude Blooms
What is important to you when creating a couple's wedding flowers?
My top priority is to understand the couple's preferences and style. It's important to help them choose flowers and arrangements that reflect their personality and vision for their special day. I also take into consideration the season and location of the wedding, as well as the couple's budget and any specific requests they have. Ultimately, creating beautiful wedding flowers that bring joy and happiness to the couple is my main objective.
.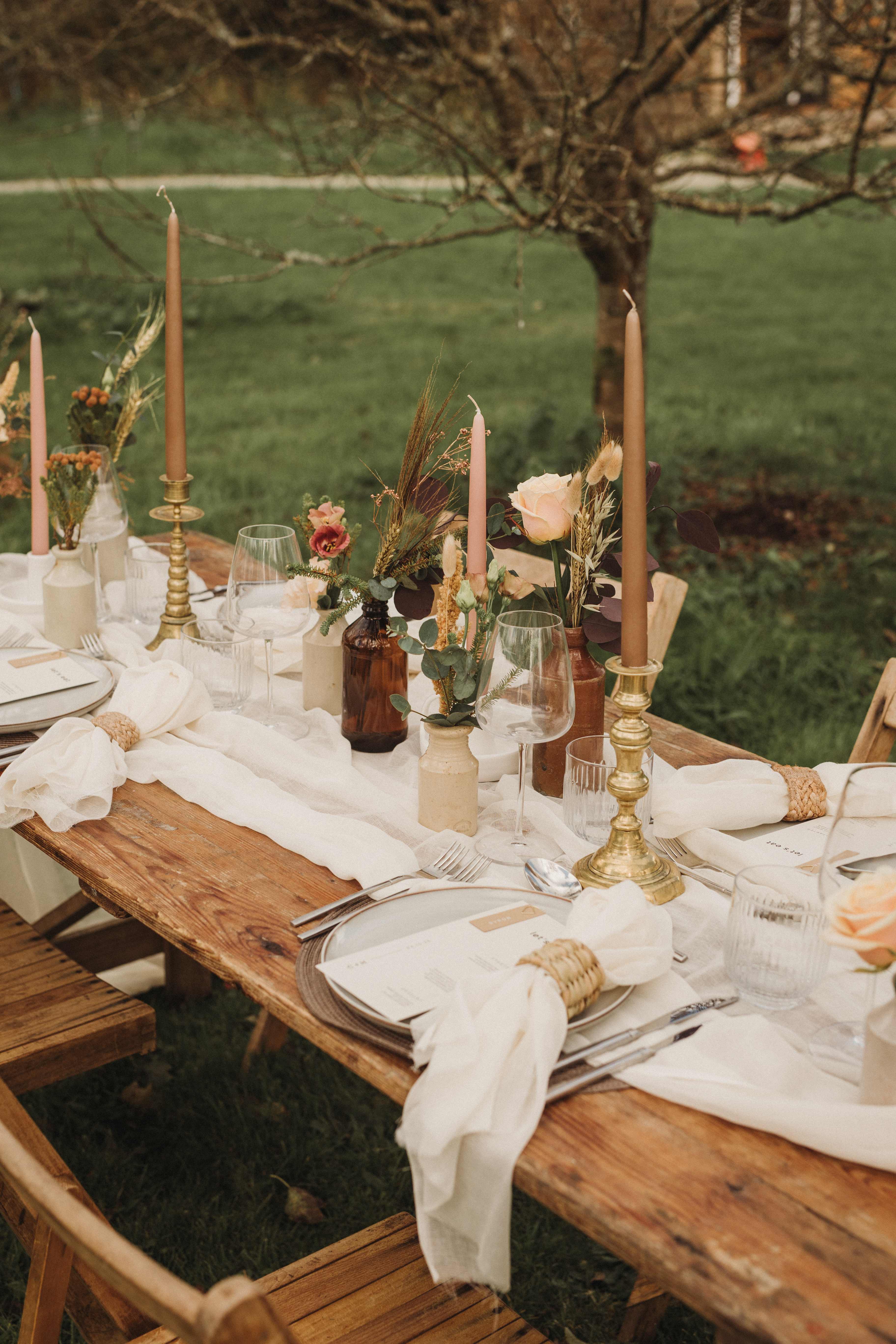 What is the secret to creating WOW wedding flowers without negatively impacting our Earth?
The secret to creating breathtaking wedding flowers while minimising the impact on the environment is to focus on sustainability and eco-friendliness. Here are some ways to achieve this:
1. Source locally grown flowers that require fewer emissions for transportation. Check out www.flowersfromthefarm.co.uk to find your nearest grower.
2. Choose flowers that are in season to reduce the environmental impact of greenhouses and refrigeration.
3. Use reusable or recyclable materials for vases and other floral decor.
4. Consider alternative options such as potted plants or living centrepieces that can be enjoyed long after the wedding.
5. Use floral foam alternatives that are biodegradable or compostable, or even opt-out completely and utilise more Earth friendly materials for structure and water storage.
6. Repurpose flowers from the ceremony in the reception venue.
By being mindful of these factors, you can create stunning, eco-friendly wedding flowers that leave a positive impact on the environment, while still WOWing guests with their beauty.
What is the one piece of advice you give to all of your couples when planning their wedding flowers?
Have a search around to find the right florist for you. We all have different styles and personalities. Check out our social media and websites and see what matches with you.
Ask your venue for recommendations as they've seen everyone's work first hand. Planners and stylists are great at matching people up too.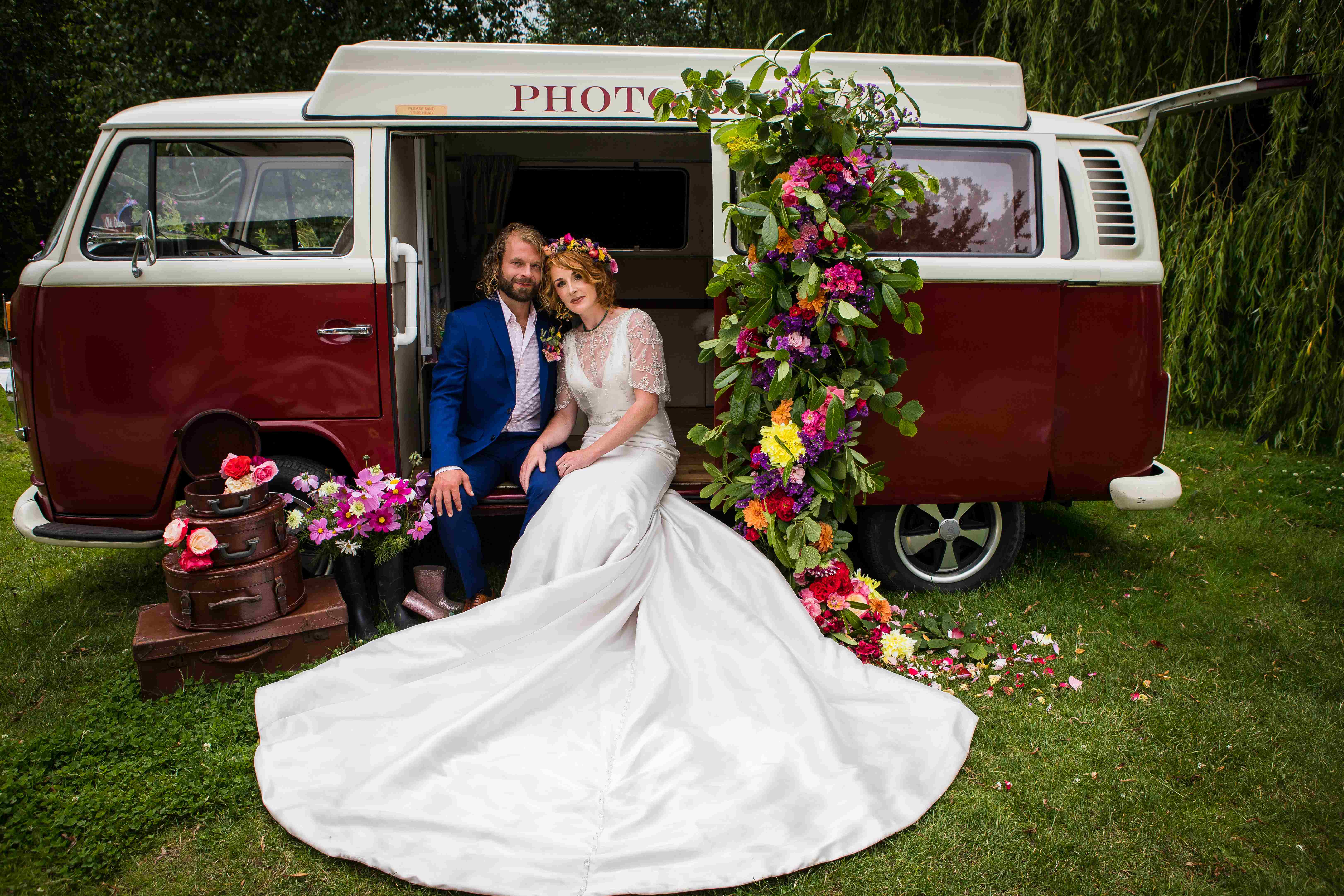 .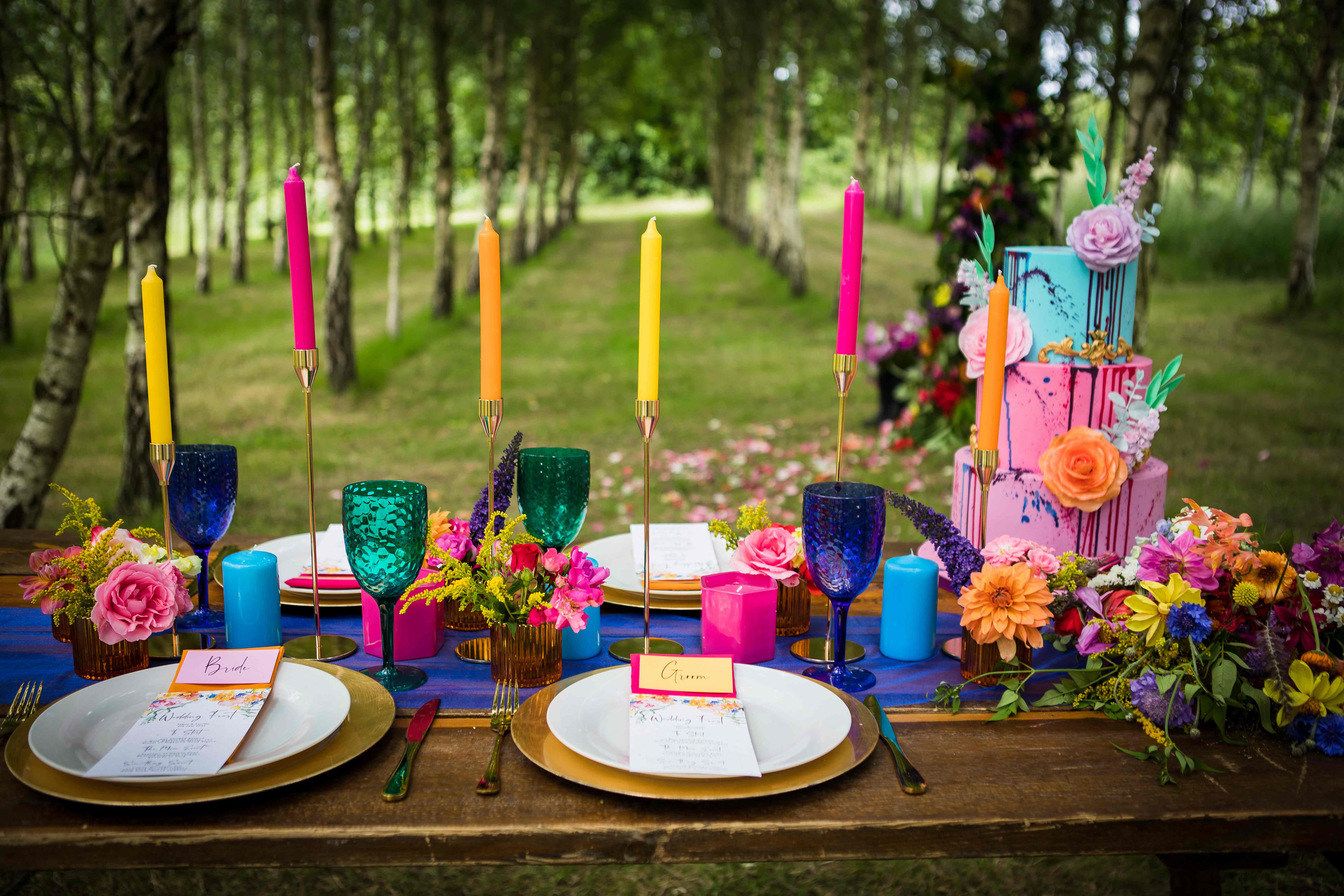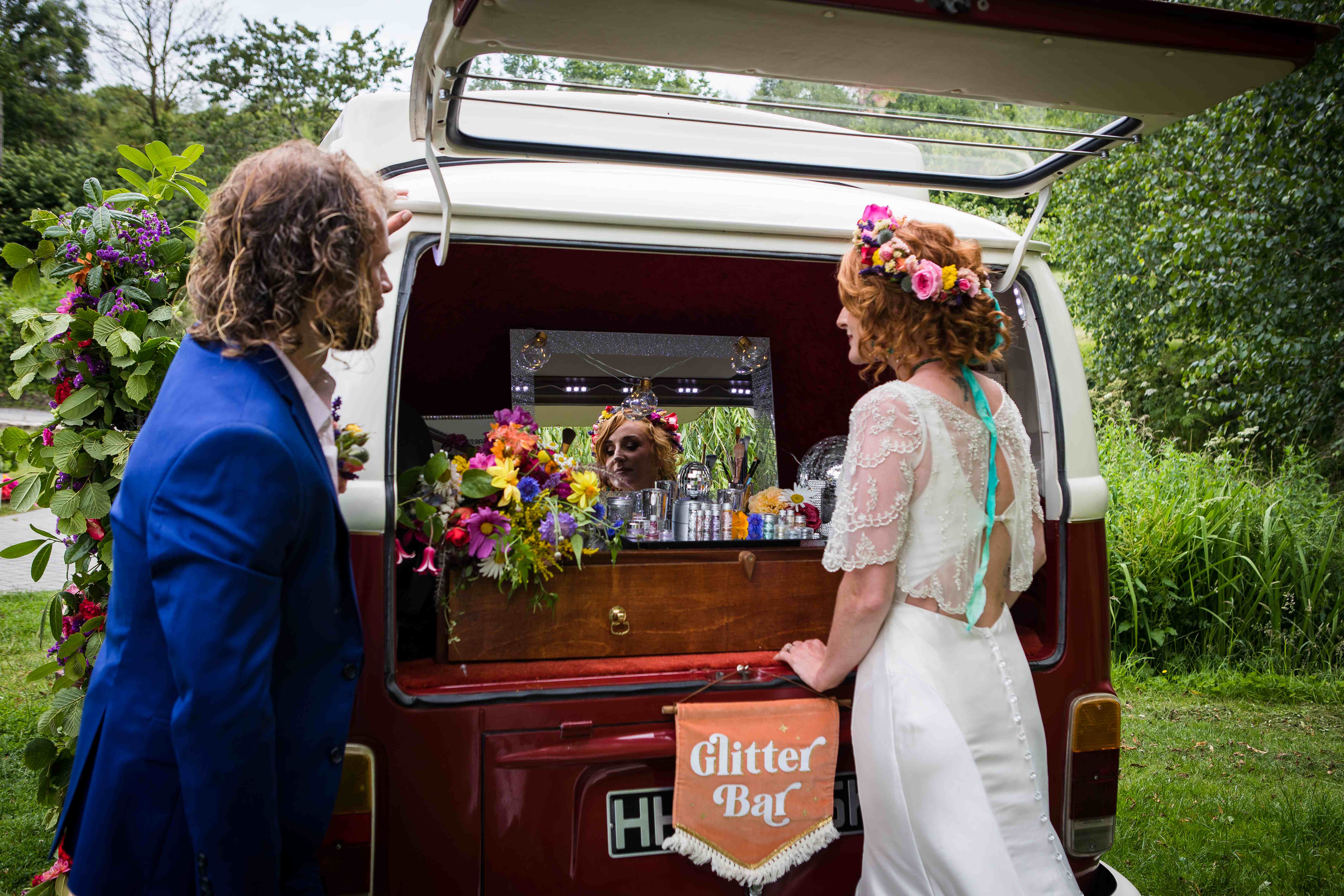 .

The Styling Details
This stunning bright and bold colourful tablescape, styled by Peony & Lace Weddings, featured jewel toned glassware, a shimmer blue table runner and a pop of brightly coloured candles and napkins.
The stationery was provided by Laura Likes, a sustainable stationery designer who features alot of botanicals in her work, often using seed paper and recycled materials too. Laura took the colourful floral theme and designed the stationery to match perfectly.
This bright and beautiful show stopper wedding cake was created by Peboryon featuring flowers, gold embellishment detailing and bold colours with a splash effect to match the colourful floral wedding theme.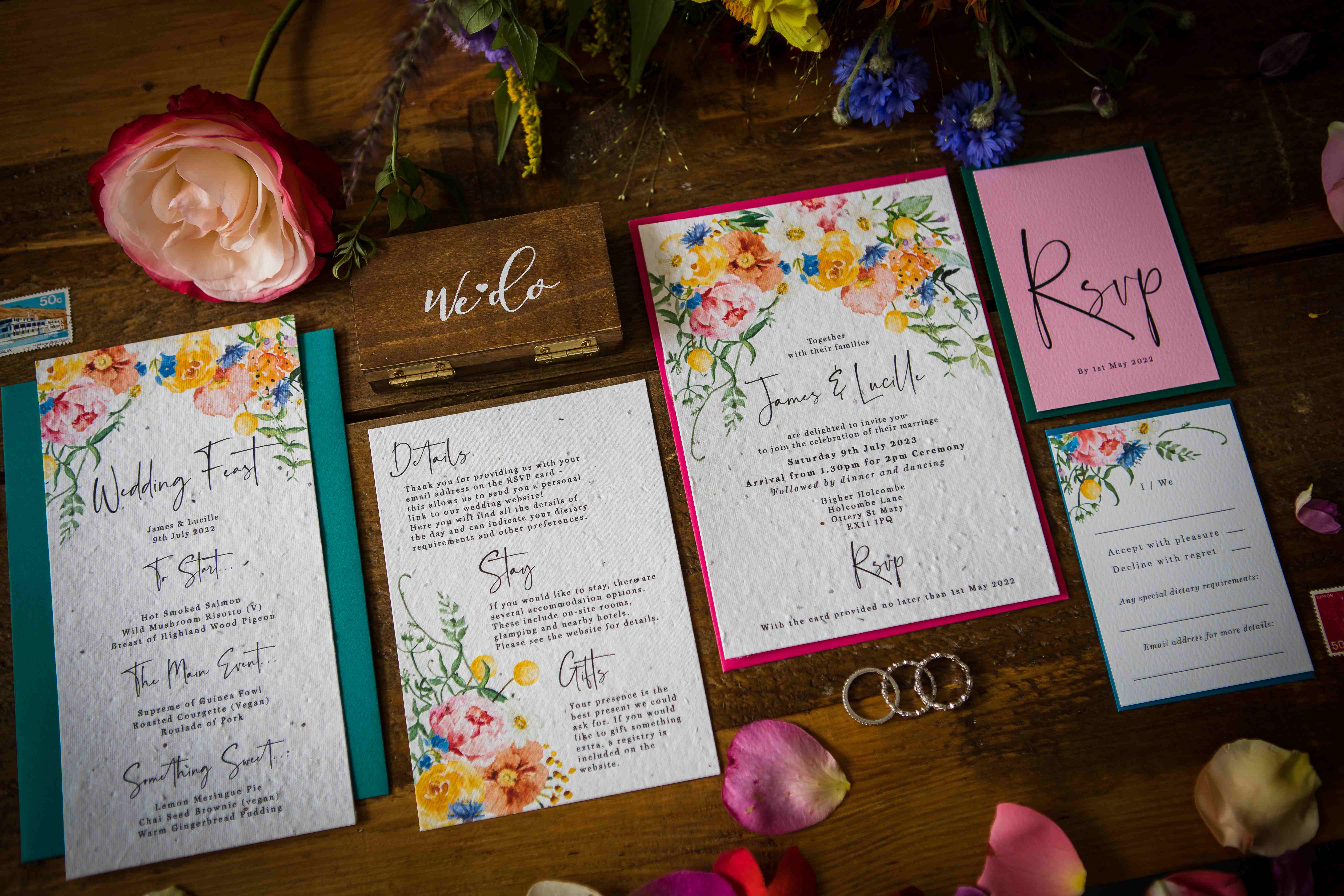 .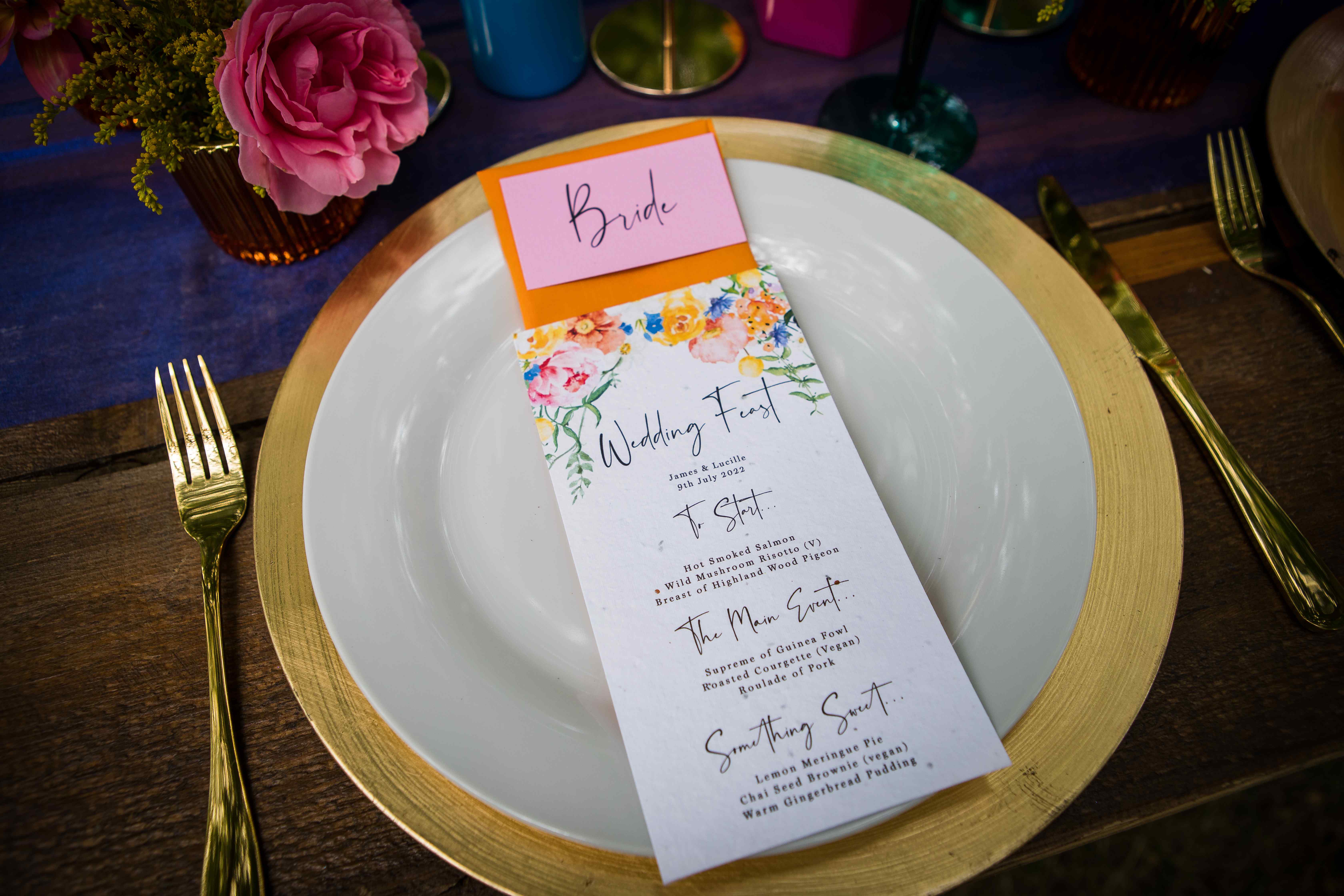 .
The Floral Bridal Wear
This real life couple wore the outfits from their real wedding a few months prior to this styled shoot. The bride's simple and elegant wedding dress was by Madison James from La Boutique in Exeter and partnered with a sparkly silver shawl. The groom's vibrant blue suit was from Ted Baker.
Kyrelle from Devon Wedding Hair pulled the bride's natural curls into a loose, boho low bun and topped it off with a colourful flower crown created by Bude Blooms. Makeup by Zoe created a natural make up look adding pink lipstick and eyeshadow for a pop of colour.
The fabulous and colourful bridal jewellery, hoop earrings and 'WOW' necklace were supplied by, Bish Bosh Becca.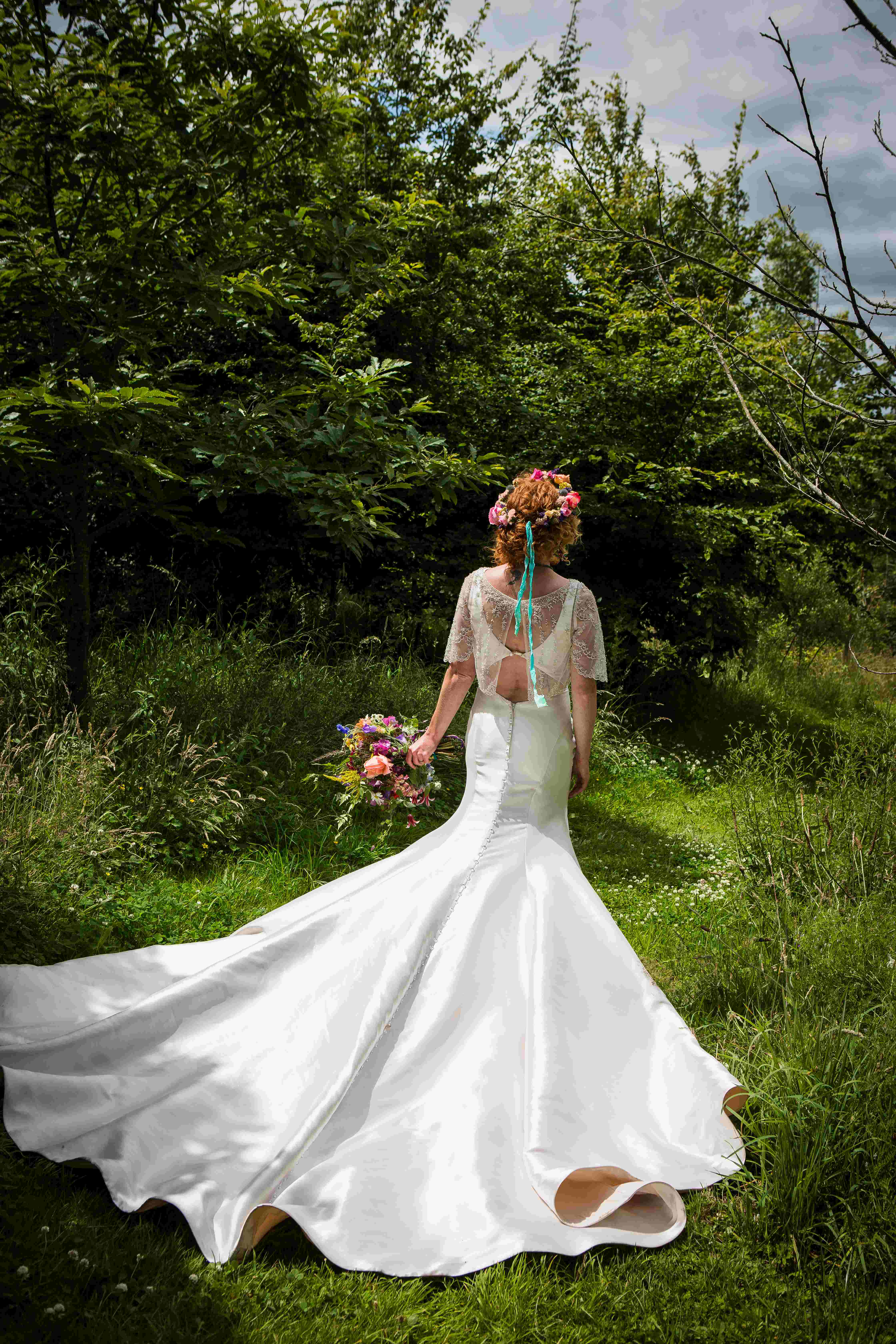 .
.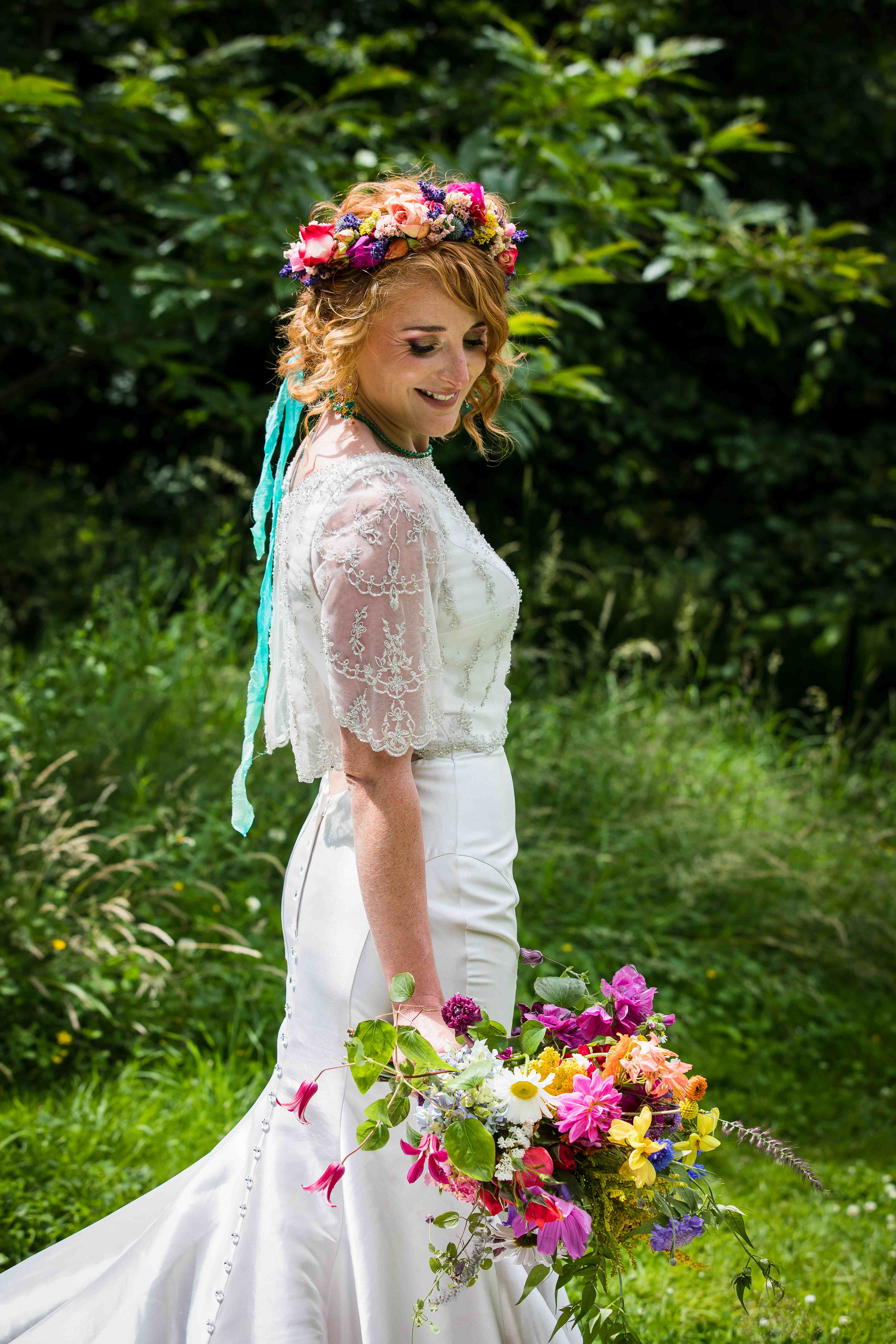 Wedding Photography
This gorgeous shoot was captured by our fabulous approved supplier Laura from
Freeformimages Photography
, Laura added that she favours this type of natural/outdoor photography.
"I find flash photography indoors harsh, I know that's just my opinion, but there is something soothing about being outdoors. Over all of the venues that I have captured my couples at, the ones that have a conscious ethical view point, these have turned out to be the most relaxed! To be in the outdoors, it makes my couples de-stress from the day, settling their nerves and when I take them for a walk in the grounds of their venue they get those moments that are just for them and no-one else.
I started my journey into photography by capturing nature. So when my couples tell me they are making their day as eco friendly as possible it makes me happy too! You don't have to compromise on your style or wedding aesthetic when choosing more eco-friendly alternatives, especially when it comes to choosing local eco-minded suppliers. There are more and more wedding suppliers that are on board with this ethos. I have seen very luxurious weddings and style in my time as a wedding photographer."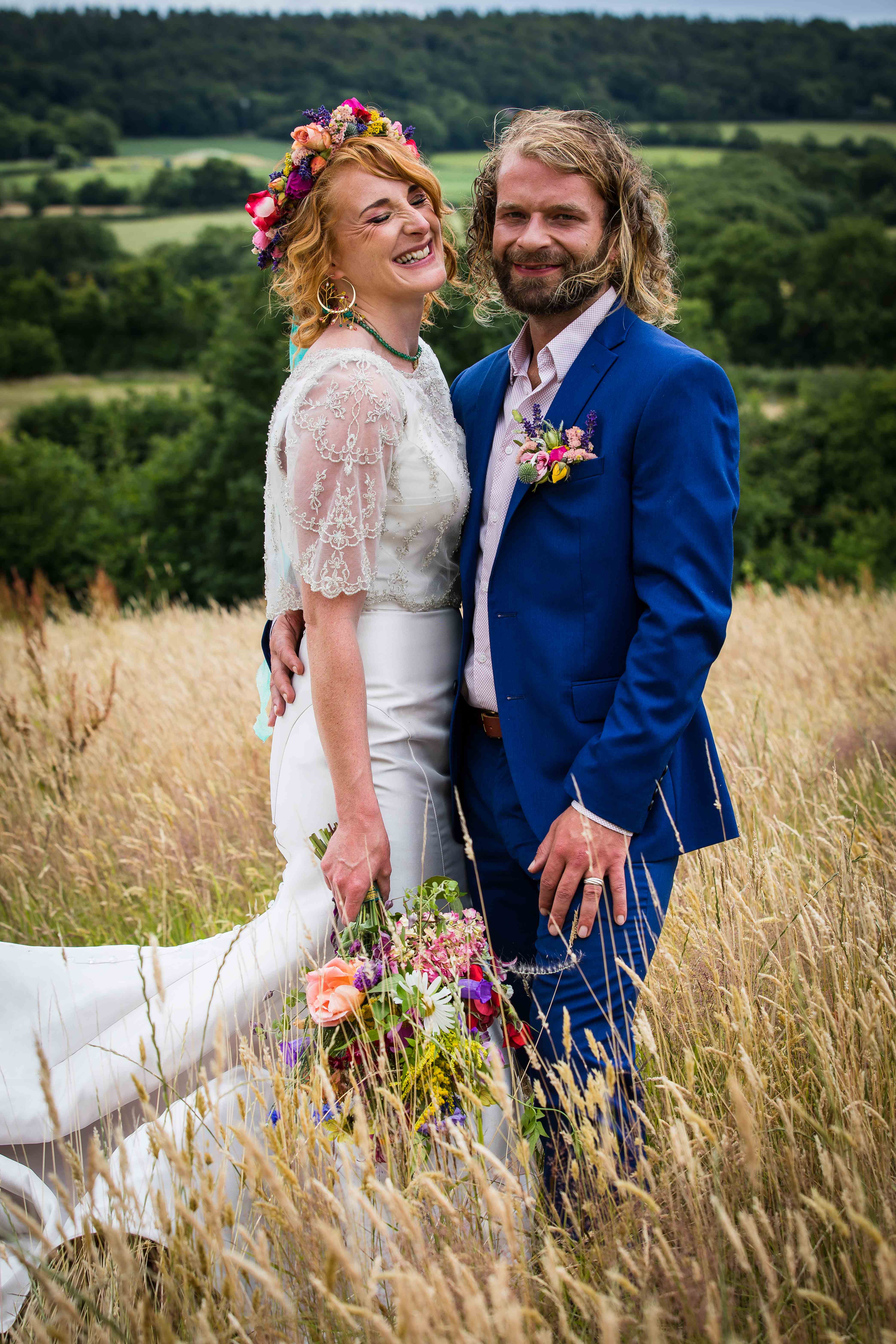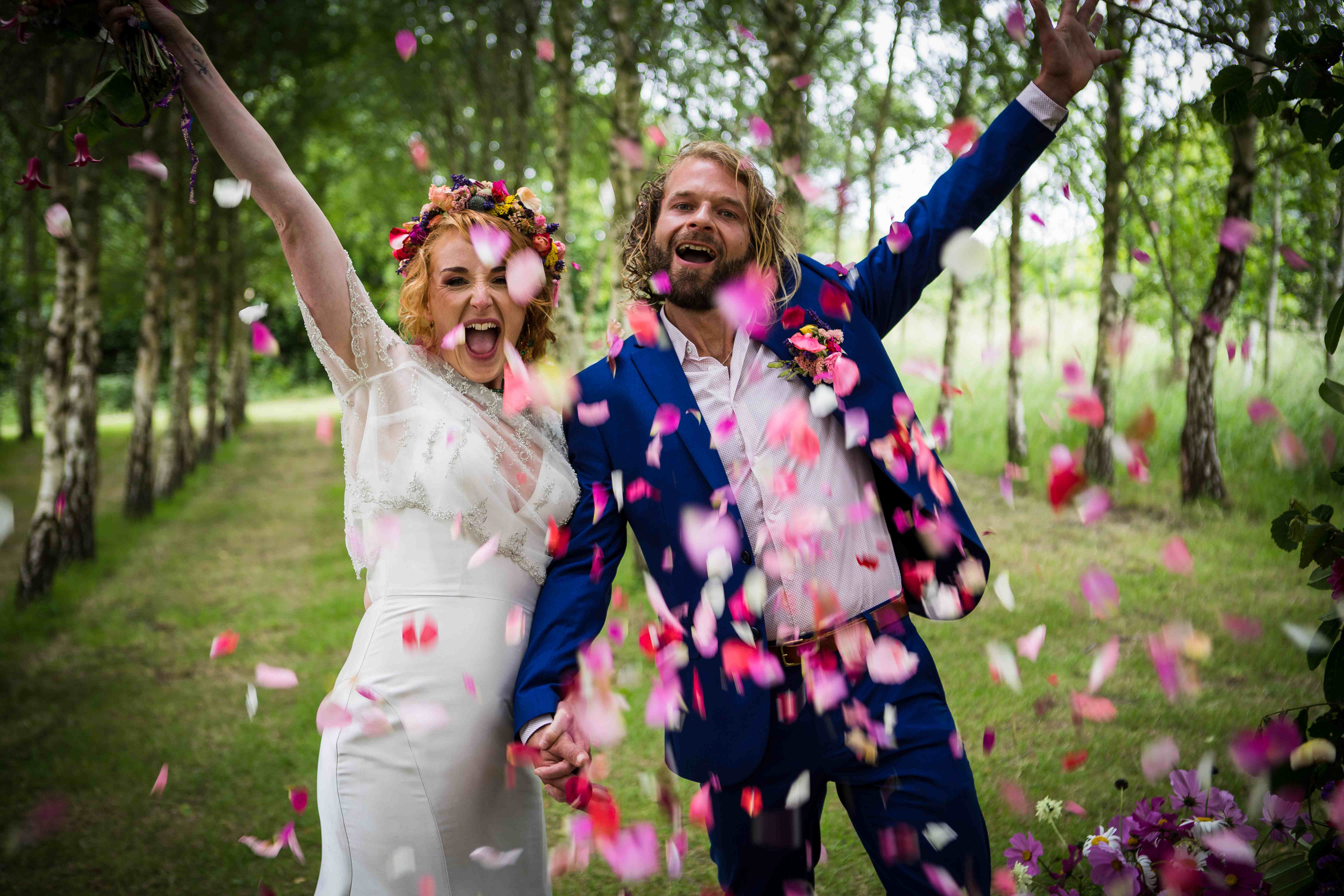 .
It was an absolute pleasure featuring this outdoor wedding styled shoot with newly weds Bex & Oliver! I think you will agree this inspirational shoot just proves how to incorporate eco-friendly wedding flowers that will WOW!
Lot's of love,
Jen
The suppliers involved:
Photographer: Freeformimages
Venue: Higher Holcombe
Planner & Styling: Peony & Lace Weddings
Celebrant: Hestia & Iris Ceremonies
Floristry: Bude Blooms
Accessories: Bish Bosh Becca
Stationery: Laura Likes
Campervan Photobooth & Eco Glitter Bar: Vintage Camper Booths
Makeup: Makeup By Zoe
Hair: Devon Wedding Hair
Cake: Peboryon
Wedding Dress: Madison James from La Boutique Brides
Bridal Shoes: Paradox London from La Boutique Brides
Grooms Outfit: Ted Baker and Marks & Spencer
Models: Bex & Oliver
ON 10th April 2023 / BY Jenny Maynard
Leave A Comment