Are you a newly engaged couple looking for your dream wedding venue? Looking for somewhere that minimises their impact on our Earth, but doesnt compromise on style and experience?
Well, you are in the right place! As we are super excited to be featuring a number fabulous eco conscious wedding venues from across the UK that share with us their earth friendly ethos, and top tips on how you can 'plan in' activities that will minimise your big days impact on the environment and people within your products supply chain.
If sustainability and reducing your wedding impact on our Earth is important to you as a couple, then make this a priority conversation when visiting potential wedding venues. The place you choose to hold your wedding ceremony and celebrations will have a massive bearing on your ability to create a more eco-conscious wedding day, so choose wisely.
Read more here about other ways to make your wedding more eco-friendly with other simple swaps you can implement on the run up to, and throughout your big day.
So let's jump straight in to it, we have interviewed 6 stunning wedding venues that are continiously looking at ways to become more eco friendly and sustainable within their wedding celebration activities.
1 - Wellington Wood Wedding Venue, Norfolk
Wellington Wood is nestled in 70 acres of beautiful private wildflower meadows and woodlands in Norfolk, UK, providing outdoor and tipi weddings for the dreamers.
When it comes to minimsing their impact on earth, Vicky from Wellington Wood sure knows a thing or two. As a venue they have renewable energy systems in place, air source heat at their Green Award wedding cottage and solar & mini wind turbines for their shepherds huts. There are no single use plastics and they are conscious wherever possible to recycle. Wellington Wood are proud of their moveable props including large churns for flowers & ceremony backdrops, they have recycled, upcycled and re-used all sorts of props here for their style-savvy sustainable couples to enjoy.
.
The fabulous tipis they supply for weddings, were made in England from sustainable wood with local craftsmen to make the sustainable canvas structures. The ceremony area 'The Larch' and their bar 'The Noggin' were built with local wind fallen trees and all of their couples must agree to a 'leave no trace policy' and be more mindful of their choices with seasonal produce, local suppliers and catering choices to last much longer with less waste. Wellington Wood champion seasonal local produce and seasonal flowers from the local flower farms or from their own woodlands
By providing props, local florals from their meadows and woodlands and encourgaing their couples to use local produce, Wellington Wood have been able to significantly reduce their carbon footprint and we're all here for it!
Some advice from Vicky on planning an eco-friendly wedding at Wellington Wood:
Think about less wastage all round - seasonal and sustainable food for your wedding that can be shared, grazed or slow cooked so that it lasts longer and caters for different dietary needs.

Less can be more, just do the things for your wedding that mean something to you as a couple.

Flowers, plants, dried flowers and decor that can be moved around and taken home or gifted too - no need to throw away.

Personalised props that you can make, keep, gift or sell on afterwards.

Look for sustainably minded wedding suppliers and hire things like outdoor games from sustainable prop hire companies. We have such a beautiful natural backdrop already for relaxed weddings surrounded by nature with most key things ready for couples to add their personal touches in creative eco-friendly ways.
To learn more about Wellington Wood, click here.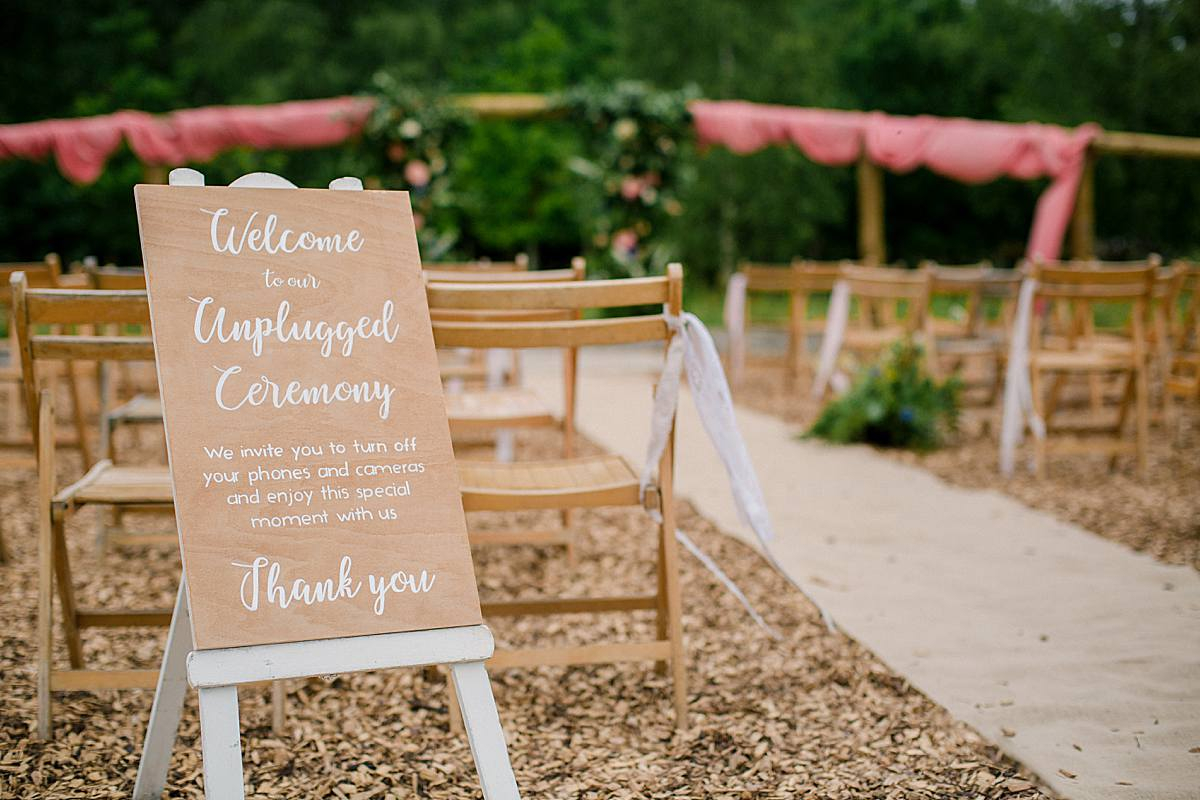 .
.
2 - Bysshe Court Barn Wedding Venue, Surrey
Bysshe Court Barn is set in Suffolk, in the centre of a family-run farm, and has always been run in a very eco conscious way. The cows on the farm, are all home bred shorthorn cattle which are a rare native British breed & they raise all our own calves. The farm has 400 acres of land which comprises of pasture (grass), woods, hedges & ponds and is traditionally run by using non intensive farming methods.
Tracey who runs Bysshe Court Barn with her husband Mark, like to keep the same values to their barn wedding venue. When couples come to view the barn, they like to discuss ways in which they can keep the wedding celebration as eco conscious as possible.
This can be achieved by the option of having the wedding outside on the farm or inside the traditional beamed barn. The barn is already decorated with hops complementing the beautiful brickwork and wood, along with led fairy lights and led cartwheel chandelier lights as a permanent fixture so there is no requirement for non eco decorations.
Linen is available to hire for the tables and an extensive prop hire package for the couple to browse through reducing the need to buy single use items and causing waste. Couples are recommended to have glasses hired for their wedding rather than disposable ones as well as re-useable tableware hire. All our Bysshe Court Barn's recommended catering companies use locally sourced food.
Waste is collected by a recommended supplier who recycles glass, cardboard etc. Food waste is kept to a minimum due to careful planning at the start, however, if there is any food waste, this can be recycled by the farm.
If confetti is used, this is made from dried petals from native plants in the area and any floral arrangements can also be created by using foliage from the considerable onsite farm hedgerows & woods.
To learn more about Bysshe Court Barn, click here.
3 - Wickerwood Farm Wedding Venue, East Sussex
Tucked away in a quiet little corner of East Sussex is a unique, tipi wedding venue with a difference. Wickerwood Farm offers couples an exclusive slice of rural farmland with a wild woodland and large lake dotted with water lilies for un-licenced ceremonies.
.
We had the pleasure of chatting to Jude, who runs Wickerwood Farm, to discuss ways in which they are working towards minimising thier impact on earth.
Wickerwood Farm are passionate about protecting their farmland and the planet from the possible impacts weddings and other events may have, there are many ways in which they are doing this with careful thought. A few fundamental issues they find important to share with couples when planning a sustainable wedding is the importance of working towards keeping your carbon footprint down, this is a sure way of having a positive effect on minimising the impact each wedding has on the planet and our farmland. Choose local where possible, this applies to your venue through to your suppliers.
At Wickerwood Farm they like to recommend caterers who are selective and careful about sourcing their produce locally, local florists and flower farms who produce the most incredible British flowers and let's face it why pay for your wedding flowers to be flown in when we have the most beautiful selection right here on our doorstep feeding our local bees!
Avoid plastic confetti, this is a sure way of damaging the environment as well as being dangerous to wildlife and it's such a simple swap to using natural, biodegradable confetti grown right here on flower farms throughout the UK, it looks beautiful and smells divine! We totally agree!
Jude decided that it would be best if Wickerwood Farm offerd limited dates throughout the summer months allowing the farm time to breath between each event. It would have been easy to offer Wickerwood for weddings every week throughout the summer months but protecting it from the impacts of a conveyor belt style venue far outwayed the alternative option. We think this is a brilliant decision!
Wickerwood Farm is also in the initial staging of preparing a large area of land next to their wedding venue as a large flower meadow, providing habitat and food for insects, birds and of course a sure source of food for our all important honey bee.
To lower the impact of their carbon footprint, Wickerwood Farm offer their clients a variety of in-house services, such as styling, planning and a boutique furniture/prop hire company. By offering these services in-house, they not only offer couples peace of mind that all is provided to them under one roof but also that they are doing their bit to reduce their own carbon footprint too. In order to support their clients in minimising their celebrations upon the venue they don't allow fireworks, Chinese lanterns or balloons all of which can be deemed harmful to the environment and wildlife.
Some advice from Jude on planning an eco-friendly wedding at Wickerwood Farm:
Think carefully about your choice of suppliers, do your research, think local and check

they also have a sustainable ethos.

Try to minimise the volume of materials you use to bring

your day together and remember its virtually impossible to create a wedding that is 100%

sustainable but by doing your bit your helping the environment and that's got to be a good thing.

We are always happy to advise potential couples here at Wickerwood Farm of suppliers we have

worked with in the past who are eco conscious, reliable and of-course good at what they do!
To learn more about Wickerwood Farm, click here.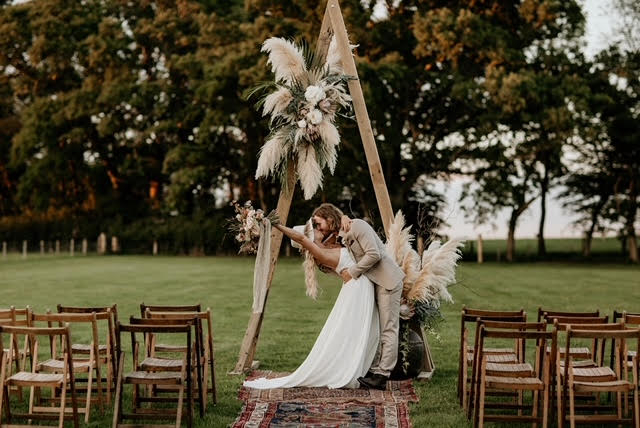 .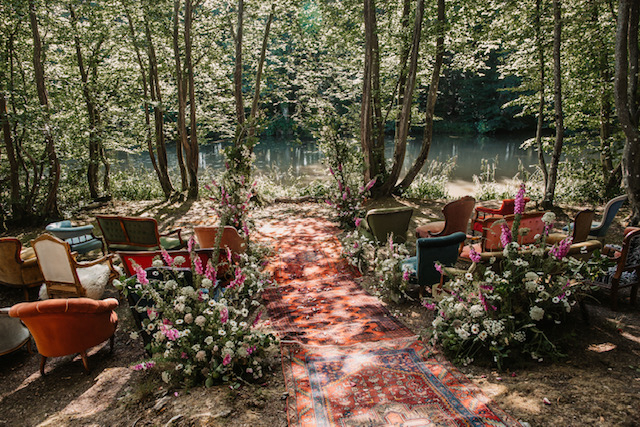 .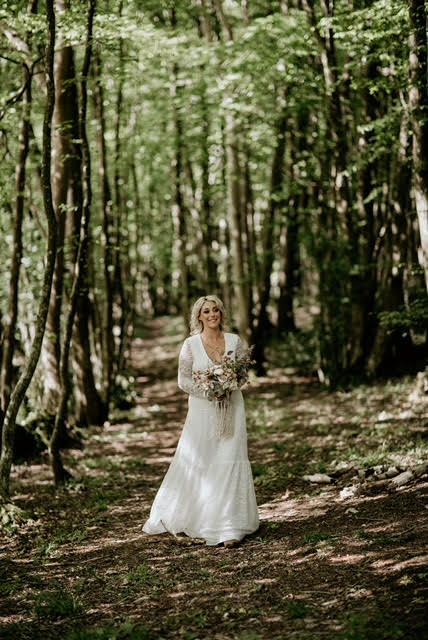 Sammy Taylor Wedding Photography
@sarahcarmodyphotographyuk
4 - Upthorpe Wood Wedding Venue, Suffolk
Set amongst beautiful countryside on the border of Suffolk and Norfolk, rests Upthorpe Woods, a unique woodland wedding venue for the cool, non-traditional couple.
We had a chat with Sarah who, along with her family, runs Upthorpe Wood. We asked Sarah a few questions regarding ways in which they consciously protect our environment when it comes to weddings at their beautiful woodland wedding venue.
Sarah is mindful, wherever possible, not to use single use items. Instead they use glass behind the bar, ceramic plates and proper cutlery at the venue during event days. Outdoor lighting at the venue is powered by solar when possible too and they use a rainwater harvesting system for watering during the summer months and avoid using chemical pesticides and weed killers throughout.
Upthorpe Wood plant the venue up so that if couples choose to use less cut flowers it won't impact on their day. In areas that are great for photos they make sure they plant accordingly, honeysuckle and clematis around doors and arches and perfumed roses around the barn doors. They have planted hundreds of buddleai (butterfly bush) throughout the venue which attracts bees and butterflies throughout the summer which is just beautiful for photos too.
Sarah is conscious of making simple swaps, such as switching bamboo plates and cutlery for proper ceramic and stainless steel, which can be used indefinitely and hired in at a cheaper rate than it is to buy bamboo or plastic one use tableware.
To give you some more ideas on ways to make your wedding more eco-friendly, we wrote a whole blog on simple wedding day swaps to help heal our planet which you can read here.
Upthorpe Wood also ask all their couples to use natural petals for confetti and advise their couples that it's much easier for guests to organise minibuses to get everyone to and from the venue, thus minimising their carbon footprint.
Some advice from Sarah on planning an eco-friendly wedding at Upthorpe Wood:
Re-use and recycle as much as possible.

Those throw away, single use paper decorations are the cheapest way to decorate but are always the things which are wasted and thrown away the most the next day.
Have a think about your re-cycling when throwing away items from your wedding day or use social media to pass it on to other brides.
Think about what's really needed for your day, those favours which you've spent time and money on, will usually end up in the bin the morning after.
Think about using flowers which can be taken home after the big day, such as succulents planted in small pots for table decor or maybe even some dried florals. Those beautiful cut flowers, which have cost a fortune, are often binned the next day... such a shame!
Choose flower decorations which can be moved around the venue at different parts of the day, use your bouquet as decoration for your top table and bridesmaids flowers on guests tables. This will also save you money.
Hosting only a maximum of 10 exclusive events each year, between May & September, Upthorpe Wood is truly a desired location for the wild at heart and conscious couple, so be sure to book your date fast!
Learn more about Upthorpe Wood here.
.
.
5 - Higher Holcombe Wedding Venue, Devon
A unique, relaxed and fun outdoor and barn wedding venue in East Devon, Higher Holcombe is the perfect spot for a quirky, nature loving couple.
Higher Holcombe is one of our valued approved suppliers on The Boho Bride Guide Directory and Joanna, who runs this fabulous wedding venue, has shared her expert advice and tips on how they try to be as eco-friendly as possible.
One of their most significant activities is the on-going tree planting programme, which is edging towards having planted 10,000 mixed deciduous trees so far! One of the woodland glades (the silver birch 'church') is a totally unique feature of their outdoor wedding venue and by planting sacks and sacks of British grown wild flower seeds, they are continuing to add to the biodiversity of their land. Adding to an increase in the type of birds, butterflies and woodland animals including deer and badgers that pay Higher Holcombe a visit.
Higher Holcombe are super keen on supporting their couples to recycle and so provide their own on-site recycling facilities for paper, card, plastics, cans and bottles. They really don't want any landfill to be produced as a result of a party taking place if it is at all possible.
By paying their staff an extra £1 per hour if they travel to work on foot or by bicycle, encourgaes them to reduce their own carbon footprint which we think is a fabulous idea!
The water system at Higher Holcombe contains no chemicals as water is pumped from their specially dug borehole and the Old Dairy party barn runs on an eco-friendly air source heat pump, which uses a lot less energy.
Encournaging couples to forage for foliage from their hedgerows, meadows and glades and to source their flower supplies from some of the local growers nearby, rather than buy air freighted flowers.
Food waste can be a real issue at parties and other celebrations, this can be a tricky one for couples as they really want to be generous with their wedding party planning. Joanna suggets to consider veering away from a set menu 3 course wedding meal which can be very wasteful, she also suggests to serve your wedding cake instead of a separate dessert.
When it comes to alcohol, instead of buying in crates of beer and cider (that's a lot of bottles and cans being driven around), consider getting in kegs or 'pins' of your favourite brews.
Higher Holcombe also recommend that brides get their special dress from a local not-for-profit bridal studio
La Boutique
in Exeter. The dresses are ex-catwalk or show case models and the revenue supports The Wedding Wishing Well Foundation.
Some advice from Joanna on planning an eco-friendly wedding at Higher Holcombe:
Hire rather than buy (or make) wedding decorations and props. This will save time and money as well as resources!
Try not to be tempted to give your guests wedding favours. They are very often left behind and usually end up in landfill (unless they are recyclable). They can look very pretty but are an 'extra' that cost money and can generally clutter up the tables (as well as being thrown away).
Throw confetti (made of petals and other natural botanicals). Not paper or plastic - for obvious reasons. And not rice either (it swells in birds' tummies and makes them unwell).
To learn more about Higher Holcombe, click here.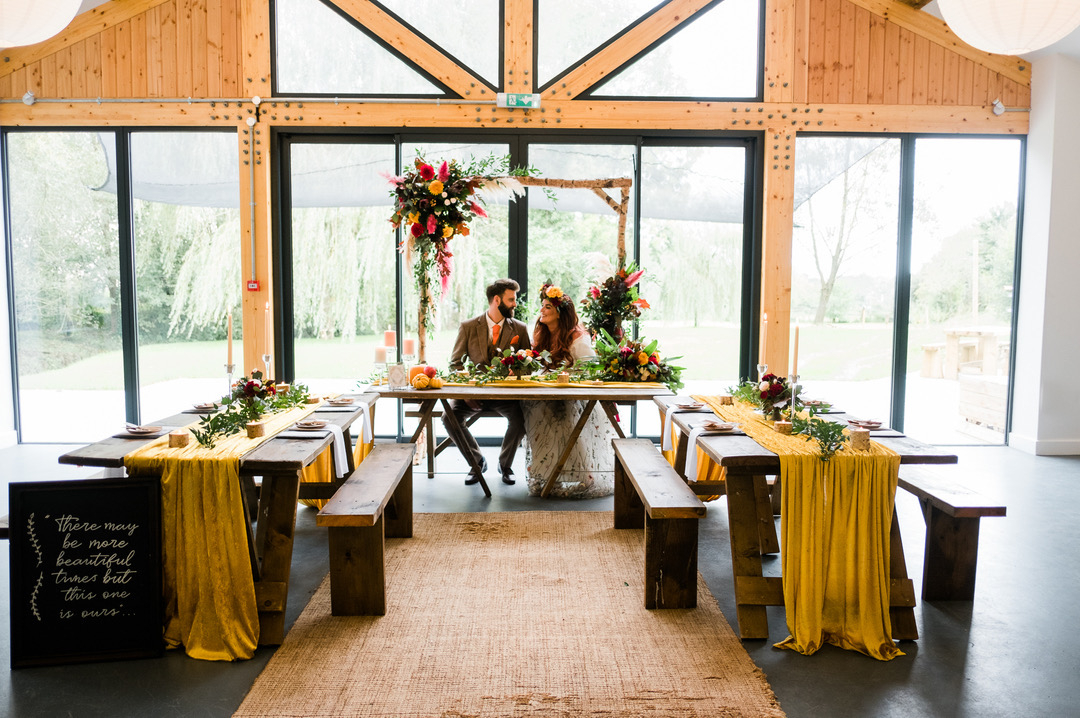 6 - Willow Grange Farm Wedding Venue, Cambridgeshire
Willow Grange Farm is a rustic, working farm offering private wedding ceremonies in the heart of Cambridgeshire.
We had a chat with Clara, who runs weddings at Willow Grange Farm, to learn about ways in which they try to be as earth conscious as possible, starting with the building materials of the farm. They have chosen safari lodges and shepherds huts for accommodation offerings as these don't require a concrete base, everything in the shepherds hut is local to where they were made in Somerset, from the light fittings being hand crafted locally, to local wool for insulation. Their silo barn has reclaimed wooden floorboards as well as wall cladding and organic paint on the walls.
Willow Grange Farm provide a food bin and a recycling bin to the wedding caterers to ensure the food and party waste is separated and recycled where possible. Offering farm to folk with their own beef and pork and their preferred caterers only uses Willow Grange Farm beef for weddings with them, also using a lot of local suppliers for their bar stock such as Moonshine Brewery, Pinkster and Cambridge Gin.
When it comes to minismising their carbon footprint, Willow Grange Farm have alot of amazing processes in place. They decided on a concept that includes a marquee and toilets so that there isn't a carbon footprint of structures being transported, erected, and dismantled weekly. As well as all of their lighting within the showers and toilets being on a sensor so they can't get left on. They also offer a minibus shuttle from the local train station as well as electric charging points and bike storage and they plant a tree for every wedding that takes place at the farm! The venue has lots of water butts around the farm, harvesting rain water to ensure they can water their lovely trees and plants sustainably.
Clara also mentioned that they are in the process of installing solar panels and ground source heat pumps to generate their own energy, always looking at ways to minimise their impact on our Earth.
.
Clara and her team support their couples to minimise their imapct by recommending suppliers, all of which are local to them and promote local, good quality, seasonal produce.
Suggestions such as: Think about your decorations, for example, dried flowers can be bleached and coloured using harsh chemicals – you can get beautiful dried natural flowers. Potted plants can be a really nice touch as they can be given as favours or thank yous and you can take them to plant in your own garden as a wedding keepsake. Other reusable decorations such as bunting, using bottles for flowers (and you get to have fun drinking the contents!), reusable glass and vintage items.
Asking for reusable mugs and glasses from suppliers rather than disposables. Unfortunately, many disposable products proclaim to be compostable, however, in reality, there are only a couple of places within the UK where these can be composted and ultimately the products end up in landfill.
Couples and their guests are requested to use natural, biodegradable confetti only and they advise against balloons at the venue.
Some advice from Clara to couples planning a sustainable wedding at Willow Grange Farm:
The first piece of advice would be less is more. There is a lot of waste produced from a wedding from food, to flowers to favours, don't feel the need to have favours for your guests or lots of disposable decorations. Hunt around for decorations that are no longer required from previous weddings, this will save you money and is reusing items already in circulation. Reuse and recycle as much as you can.
I would suggest to a couple really trying to have as little impact on the environment as possible is to challenge their suppliers – Insist that evening food trucks are using recyclable or reusable serving materials, how do they source their food and drink, where are your suppliers based and how far are they travelling. What is their waste removal policy (are they separating and recycling). What products are your hair and make up artists using?
Look at reusing and recycling of decorations, waste disposable etc as much as possible.
Learn more about Willow Grange Farm here.
.
.
So that wraps up our top tips shared by our stunning eco concious wedding venues featured today on The Boho Bride Guide Blog . There are a number of running themes throughout the super helpful advice shared by our venue owners, and loved hearing about all of the ways they are working hard towards minimising their impact upon our Earth. Through 'planning in' more eco concious decisions and practises, and off-setting our wedding day activities, you are able to create your dream wedding day without compromising the health of our environment.
We hope this blog post has inspired you to consider ways in which you can make your own wedding day more earth friendly and become more mindful of how simple swaps can make a huge difference to our environment!
Lot's of Love,
Jess
VA to The Boho Bride Guide
@digitalwithjess
ON 18th March 2022 / BY Jessica Tetstall
Leave A Comment