The Boho Bride Guide is a blog and directory that shines a spotlight on the many hidden gems of extraordinary wedding vendors and services from across the UK.
We will uncover Top Tips, hints and advice from the experts that specialise in creating your dream boho inspired wedding day, and how to stick to your guns and get the day you really want. Get inspired, be bold and blaze your own trail and make your day unique to you.
Today we will be covering the topic of how to select unique wedding jewellery without it costing the earth and we will also be taking a closer look at handmade fair trade and ethically sourced jewellery with the fabulous Julia Thompson, a British jewellery designer and silversmith based in the southwest of England and one of our approved suppliers on The Boho Bride Guide Directory.
I've actually been really excited myself to learn a bit more about this subject not only from sort of a cross craftsman creative point of view, but also I'm looking forward to learning about the ethically sourced jewellery trade and how we as consumers can make more informed choices around wedding jewellery purchases.
So I was lucky enough to meet the very talented Julia from Julia Thompson Jewellery when I came across her work online and I thought her unique style would be perfect for a wedding editorial I was organising with the theme of boho botanical Victoriana.
You can read all about this blog post and editorial wedding shoot here.
Julia's expressive selection of unique statement necklaces, stacking, nest rings, and elegant drop earrings, all built on a strong ethos of fair trade ethics had me totally sold into the idea, and I couldn't wait to work with her. And this is why I wanted to also dedicate an interview with her and the causes she promotes so passionately. So join us as we delve into the world of bespoke jewellery design, fair trade materials and ethically sourced gemstones and how we as consumers can make more informed choices about our wedding jewellery purchases.
So get comfy and enjoy a cuppa whilst reading this interview.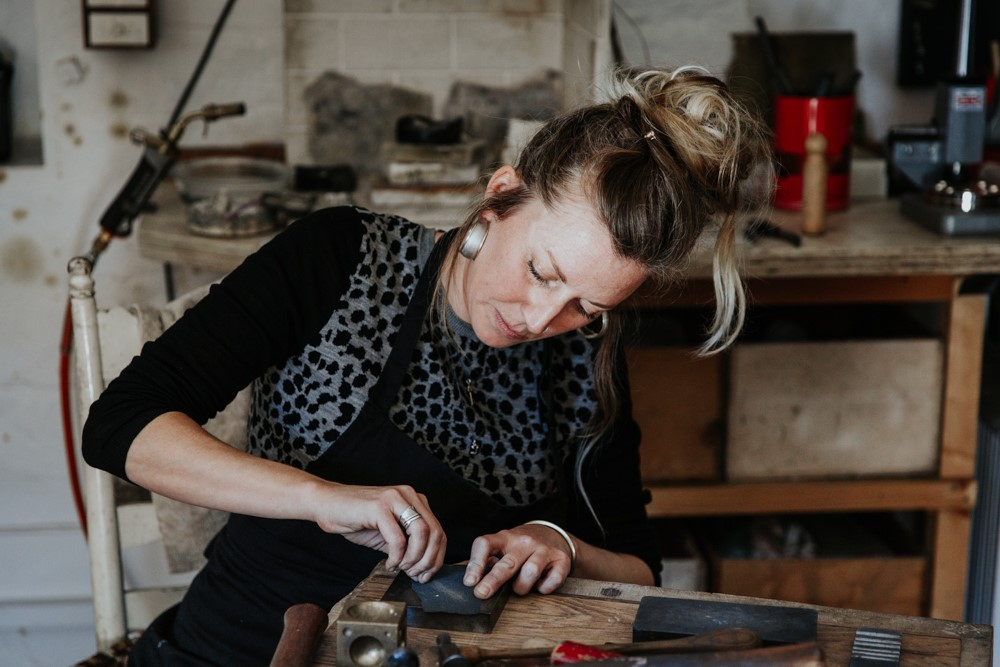 .
I wondered if you could start off by sharing a little bit about yourself and your business, Julia Thompson Jewellery and what brought you to the world of jewellery making?
I'm based close to South Petherton in South Somerset, and I've been in my current workshop, which is on a lovely Victorian gold farmstead which has few other creative businesses in the yard too. This makes it a nice social place to work from, I've been here about six years. Before that I had a little classic caravan, that was my workshop. I still do take it out and about in the summer to festivals and I run workshops at events and festivals this summer. I live not far from here with my son and my one year old pup, my little Whippet collie cross called Peanut Butter.
So you say you've been jewellery for snow here for six years?
Yeah. I've been in this current workspace for six years, but actually, I've been making jewellery 2004.
And what brought you to this point?
I've always been a lover of art. I guess when I was at school, I was always in the art room painting. My grandmother was a sort of realist oil painter, so I think I get that kind of love for painting from her. But then I went on to do foundation and then on to do a degree in three dimensional designs. So I knew it wasn't all about fine art for me. I wanted to bring an element of design into a career.
I specialised in ceramics funnily enough for my degree, but it wasn't floating my boat. I discovered the art of jewellery making through an overseas course in Mexico and because I went to Latin America, after my wife and travelled, I really found that jewellery really crossed those two, the art and design realms brilliantly for me. I could create something that was functional. So it has that design element, but at the same time, I can be as expressive as I want with my creative eye. So I really felt like, it's wearable art.
I came back from Mexico, back to Somerset. I did my degree in Devon. I did my art foundation in London. So i'm actually from the southeast, I came down to the West Country because I love it. I think it's the natural world. I think it's the rural idyllic pneus of Somerset in the West that I love.
After my travels to Latin America, I I met a jeweller in Lamport message, who trained me and took me on as an apprentice for four years. It was brilliant, she taught me everything she knew, then started to gain my own custom style. I mean, it's taken me quite a few years to really find my signature style and where I'm coming from with my jewellery.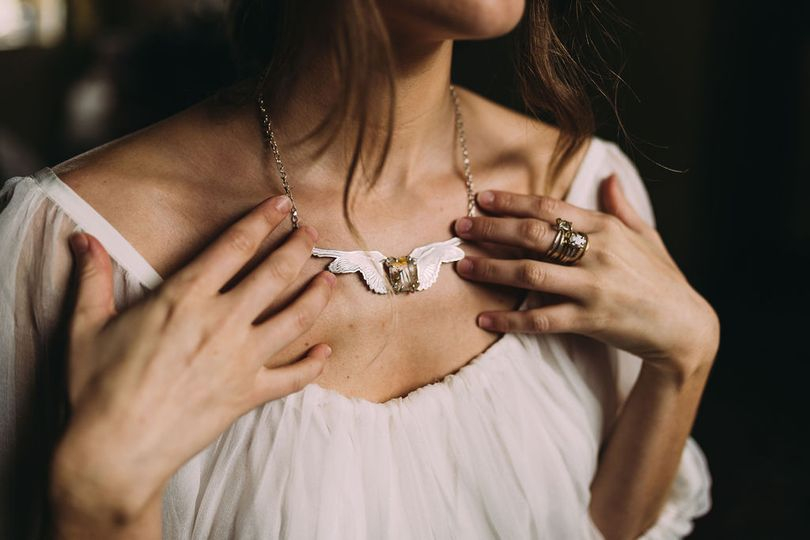 What is your ethos at Julia Thompson Jewellery?
I very much believe in coming from a place of work from an ethical standpoint. I like to be able to offer full traceability where I can and show that someone has laboured for my material. I am just at the end of a very long chain supply chain.
I want to offer my customers peace of mind in knowing that there has been no child labour involved and that the miner has been paid a fair wage for extracting the material I work with. So for me, that is the real standpoint. I want my customers to love my designs, ofcourse, and buy the piece because of that but also the fact that it's made from Fairtrade gold, or has ethically sourced stones. I do like to inform my customers, if they would like to know where their pieces originated from. I think that's quite cool.
And what about the craftsmanship side of your ethos?
I'm very much traditional hand fabrication lead. I use very traditional tools, the majority of them handheld. These are skills that have been used for centuries in jewellery making, so I'm very keen to keep those alive. I also teach those skills in order to keep them alive.
I wanted to talk a bit more about the materials and your sourcing methods from the jewellery industry point of view. If you're able to give a bit of an insight into what the global jewellery market looks like?
I can really only tell you what I know from where I source my stones from, so for example, I'm a fair trade registered jeweller. Fair trade gold is mined on a very small scale, hand mined in small scale artisanal mines. So it's very labour intensive and it's dug by hand using kind of basic rough methods. You've then got, big open cast machinery mined metals. Probably more so in more westernised countries like America, the US, Canada, and the same with stones. So you've got diamonds that are actually, raked from the seabed with multi-billion pound machines. Or you've got, a guy in Uganda down a pit digging for them with his bare hands. Within the fair trade sector, it's all very much hand mined.
So it's the small scale and the impact on the earth.
Yeah, it is small scale, artisanal mining that is more low impact, for sure. You've also got artisanal mines that are not fair trade certified and sometimes they're often called illegal mining. I don't like that term, because they are just uncertified fair trade. These are people who are trying to make a living like we all are. So I think uncertified mines are more dangerous to the environment, because to separate the ore of gold from its rock, you use chemicals such as mercury and cyanide, very dangerous to the mine and very dangerous to the environment.
In a fair trade mines, it's still very low scale, things like the use of mercury and cyanide or using control conditions are eliminated completely. There's no child labour involved, and the miners get paid a fair wage. There's loads of pluses for fair trade.
So I believe that on a global scale, there's obviously loads of different ways that mining occurs and different ways to mine. I just like to ensure that the man on the ground digging is getting paid and supported, without it harming the environment.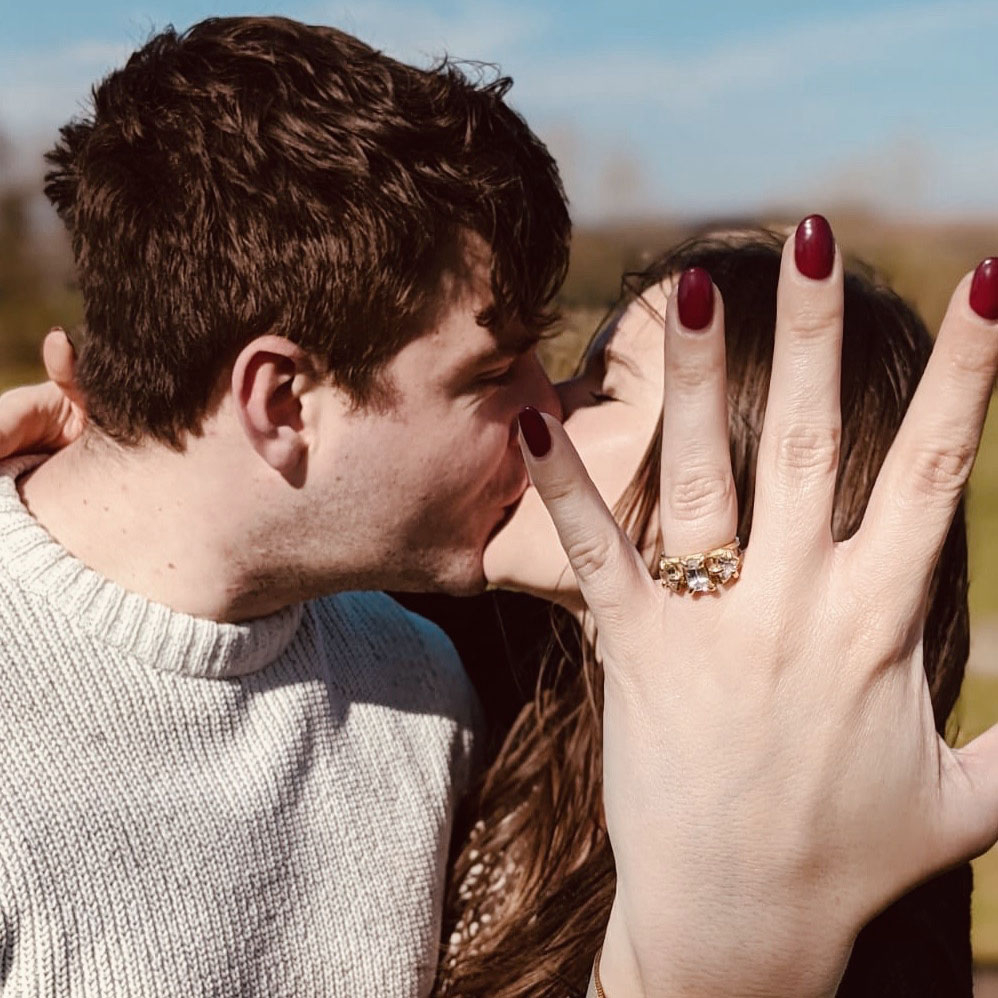 .
Could clarify what we mean by the term 'ethically sourced' when we're looking at jewellery and gemstones?
Fairtrade really only applies to gold because when Fairtrade standards are put into place within the gold mining sector, it is incorporated with the fairtrade foundation. So everyone's probably familiar with the little green and blue person or the black and white sign that's on your coffee, chocolate or tea? This also applies to gold. Greg Valerio, the MBA, who actually put fair trade standards into place through his company cred jewellery will confirm that fair trade is only related to gold in this case and silver.
Gemstones are a whole other ballgame. There is no fair trade stamp like gold.
Within the diamond industry, there's the Kimberley Process, which does its best to screen diamonds coming in from various mines and to certify that they're conflict free.
In regards to gemstones, ethically sourced means that the suppliers for instance, are a gemstone company that supply me with sapphires from Sri Lanka. They own the Sri Lankan mines that are small scale artisanal mines. The sapphires are dug out of the ground by hand and certain conditions have been put into place to make sure those miners are paid a wage whether they find sapphires or not. It's not commissioned base, so they're getting paid for their labour either way.
They get paid a fair wage and there's no children involved. The stone is then taken to a cutter within Sri Lanka, there's no middleman. This company who I operate with, they're very small scale, they then bring the stones directly back to the UK and they have a gemstone fair or they sell directly to me and other jewellers and they can offer full traceability on that stone. They can tell me it's come from a certain region at a certain time and provide me with the name of the group of stone cutters, it's brilliant. It's also affordable as well because there is no middleman inflating it.
How can the consumer check where they're buying their fairtrade or ethically sourced jewellery from? What would they be asking or looking for?
Good question. So let's start with fairtrade, I'm Fairtrade registered and there's a strict registration scheme that I sign up to. I'm only allowed to use a set amount of Fairtrade gold a year because it's not a ubiquitous source. Sometimes it's unavailable because it's very small scale. Through that registration, I am then allowed the fairtrade foundation emblem on my website and I use their marketing that says we support their goals by building a secure future for minors, their families and communities, then there's a link to the fairtrade gold website. So consumers should look out for this stamp of approval.
I am also buying Fairtrade gold in a couple of different ways. There's one main source that comes into the UK, mainly from Peru from a mining community called Matt DESA, who initially put fair trade standards into place and then cred jewellery will take that pure gold and have it alloyed into 9 karat, 18 karat etc through a few different bullion companies. One of which supplies me with it. I can also check through the supply chain to ensure it is fairtrade certified.
So I suppose there's two points to fair trade, you're either looking for them to be registered as fair trade on their website and you'll see that logo, then the next level is licensed as fair trade.
With gemstones, it is sort of done on trust. I trust my gemstones. I could potentially go and visit the mines, which is what I plan to do at some point. Then I can say with my own eyes, that these miners are being treated fairly, I can ask them, are you happy? Are you getting paid a fair wage? all of that. There is also proof to show in forms of videos and photography that these companies are legit.
So from a reader's point of view, regarding looking for ethically sourced gemstones, it would be asking that question and just doing a bit of digging around, for instance, where they might get their gemstones from. What other stones do you use in your work?
I use rose quartz, green tourmaline, australian boulder opals, which I can trace back to an Australian family.
.
You mentioned that you use sapphire if someone's looking for something extra special?
Yeah, because it has a real presence. If someone wants a really special piece or engagement ring, I offer sapphires as an alternative to diamonds. The main reason is because I've got a traceable source and they come in all different shapes and sizes and colours from green to pink to yellow to white. I think of it more as a diamond, they are classed as precious stones and set into fair trade gold, you've got yourself an exquisite piece.
So Julia, what is your inspiration for your jewellery design? Where does all this amazingness come from?
Well, I've got quite a strong theme that runs through my work. And it is the theme of the magpie, that's my narrative. It's more about the narrative really. So I sort of came from this fine art background, and I wanted to create a line of jewellery, like a collectible line, that had a story behind it. I wanted to pick a narrative that I could illustrate. Two little cheeky magpies were sat by my workshop doorstep one day, chattering away and that became my narrative.
For anyone who doesn't know, a magpie is supposedly, as legend has it, attracted to shiny objects and curious about things like shiny keys. There's a folkloric rhyme where you count if you see a group of magpies, you count them to tell you a fortune and I decided to make a piece of jewellery for every line of the rhyme.
The rhyme goes two for joy, three for a girl and four for a boy, so I made baby spoons. For silver I used five magpies on a silver necklace and then six for gold was an all gold brooch with six gold magpies, they are one off pieces. I've got seven for secret, which is my big centrepiece. And then from that, I took the two for joy element and have now created a range of jewellery that celebrates the love between two wild beings basically because they mate for life.
There's lots of elements within that I like to play on, like with the gemstones that I choose. Some of my pieces don't contain the magpie motif, they might just have a beautiful quartz centrepiece stone with nest inclusions, surrounded by Golden twig like settings, a bit like a jewel. It's figurative and quite illustrative.
Do you want to go into the specific collections?
The two for joy theme, I have broken that into three collection pieces titled elegance, impact and wild. Elegance is a more refined fine style type of collection, twig like rings and necklaces, It's the finer end of what I do.
Impact is the opposite, it's bold and a lot more of a cooler colour palette. Impact is very much just silver with impact stones, heavier settings.
Elegance is more for a special red carpet event, or your wedding day. Whereas impact is a bit more stylish and more edgy.
So from the recent shoot that we did, which collection would that be from?
Due to the stones involved, it's kind of got a bit of a crossover. The necklace design was taken from a piece I made for the impact collection because the stones have got a warm, kind of pyrite in it, so goldy tones. It could be pulled off as elegant, it looked lovely with the wedding dress and with the earrings. The earrings were definitely elegance. The collections do crossover, there is a theme that runs through them. My wild is my big, big completely one off creative bespoke pieces, a little bit more out there, you know, is wearable art, basically more poetic.
.
If you are interested in reading more about Julia's work or want to work with Julia on a bespoke wedding piece for your special day, you can contact her through her profile on The Boho Bride Guide Directory here. The Bohemia meets Victorina Luxury shoot is a stunning collabortaion with some of our super talented suppliers and you can read all about this here.
Lot's of love,
Jen x
ON 14th January 2022 / BY Jen Maynard
Leave A Comment