For the ultimate bohemian themed outdoor wedding, a tipi wedding is certainly the way to go.
We had a chat with the lovely Kathryn who runs Tribeca Tipis, a stunning unique events company who supply nordic giant hat tipis and luxury bell tents for festival weddings, bohemian brides, parties and corporate events in Sussex, Kent and Surrey.
Tribeca Tents originate from Lapland, Sweden and are manufactured by Tentipi, who have been developing and refining the style for the last 32 years. Having worked outdoors in all weather conditions, Kathryn and her team knew they needed the best quality and strongest structures on the market to cope with our great British summer and that's why they chose Tentipi. Every spruce tipi pole is unique, as nature intended and not artificially stained, so help to give the tipis their natural feel.
Kathryn shares her concept behind this shoot, stating that she was inspired by their natural giant tipis and the Autumnal landscape and colour palettes. We think the images are just stunning and Tribeca Tipis really give the wow factor when it comes to alternative bohemian wedding venues.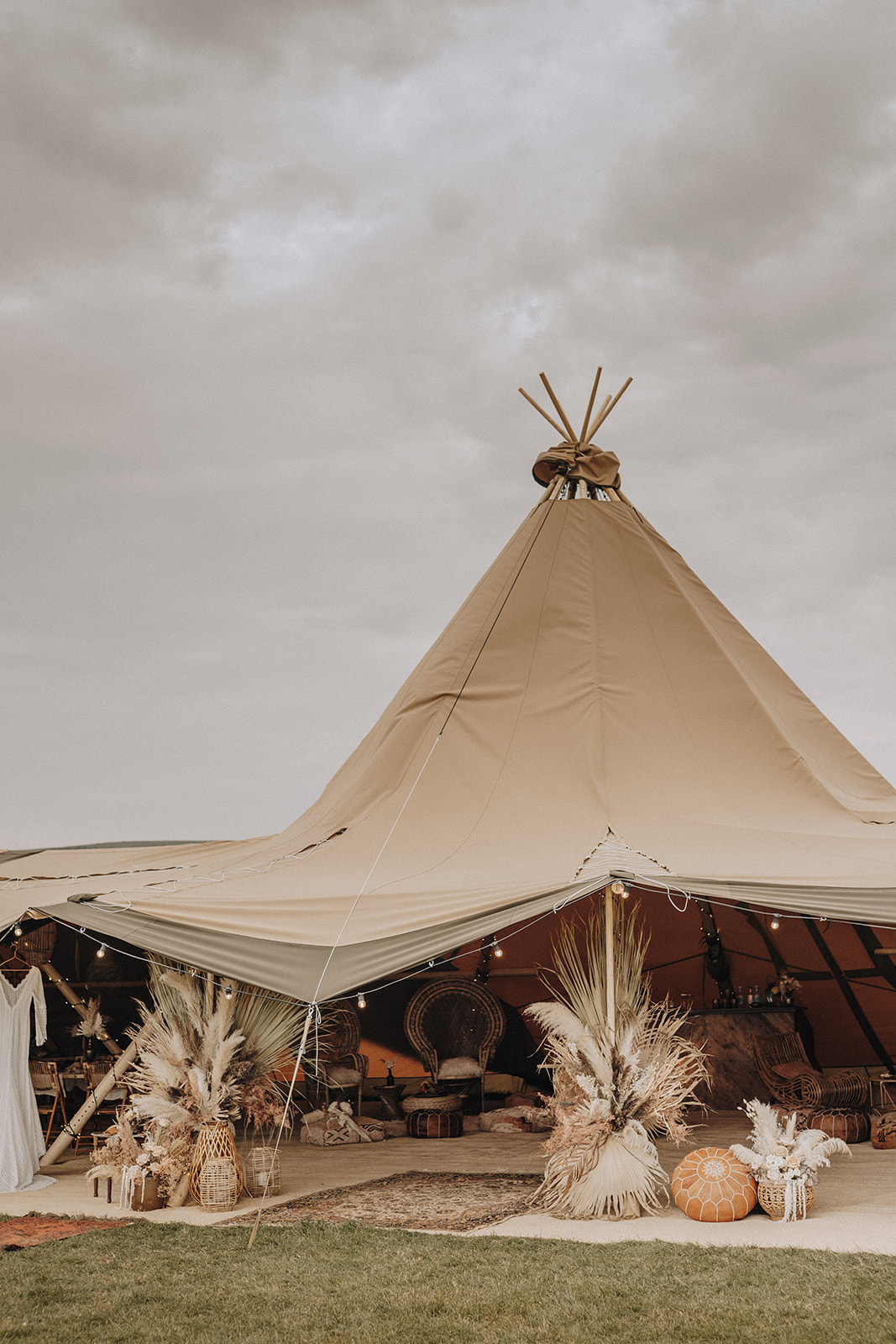 .
.
So why choose a Tipi Wedding?
Tipis are a blank canvas where you have complete control on the style, look and feel of your tipi. You can choose your own location (including the view) and suppliers within your area. Flexibility is key for a stress free wedding!
The natural style and design of the tipis lend themselves to a more boho and rustic feel, which is incredibly popular. Many of Tribeca Tipis weddings are festival style weddings with tipis and glamping which take place over a weekend - perfect for that glasto vibe!
Tipis are also a great option for an outdoor ceremony or reception, especially if you want something a bit unique.
Kathryn was inspired to start her tipi wedding business as they love the classic design and layout of the tipis. They look stunning in any environment, especially at night and they are incredibly versatile and practical too.
.
The Location
The shoot took place at The Party Field, an outdoor venue that provides incredible light for photos, due to it's exposed nature with panoramic views of the South Downs National Park. A perfect, and popular, location for festival and boho tipi weddings.
.
.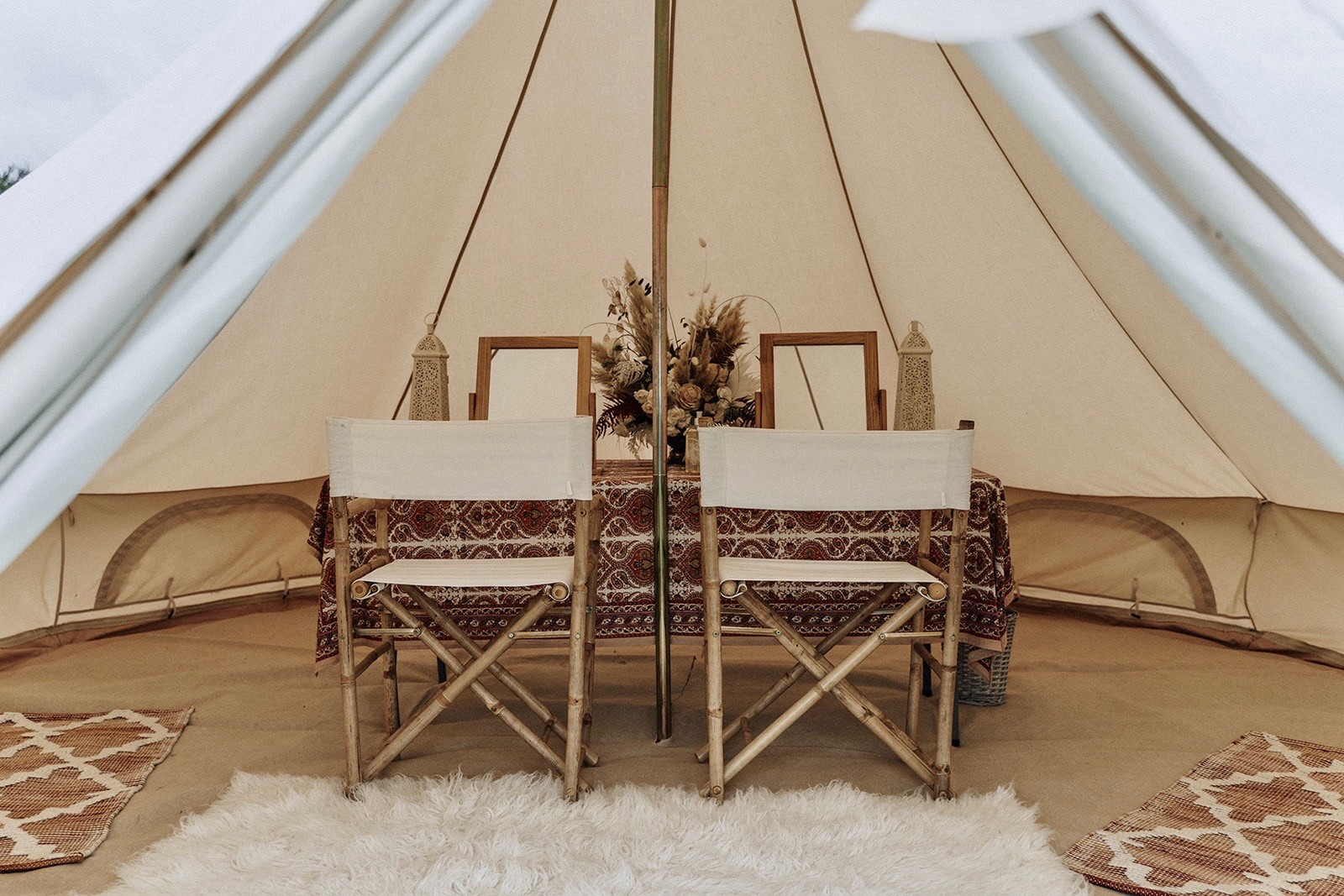 .
The Styling
Kathryn told us that they were planning a Tipi open day last September, so they wanted to combine this with a shoot to reflect their tipis individual style and interiors to showcase what Tribeca is all about.
Kathryn worked with Claire from Butler and White, stating that she has impeccable style and vision. Kathryn reached out to Claire to help with the planning and organising of the shoot, from the mood boards to the model, dresses, photographer and styling. The shoot was very relaxed and they were blessed with fine, sunny weather.
.
.
The Grazing Platters
Michelle from Grazing Gracefully supplied some yummy looking food and grazing platters for the shoot to give couples a idea of what type of catering they can offer thier guests at a tipi wedding. Gracefully Grazing is a Sussex based Grazing Caterer offering beautifully bespoke and ethical Grazing Tables, Platters and Boxes. They pack their Grazes full of foods such as, Italian Meats, English, French and Spanish Cheeses, Homemade Sausage Rolls, Dips and a whole host of other mouthwatering goodies. YUM!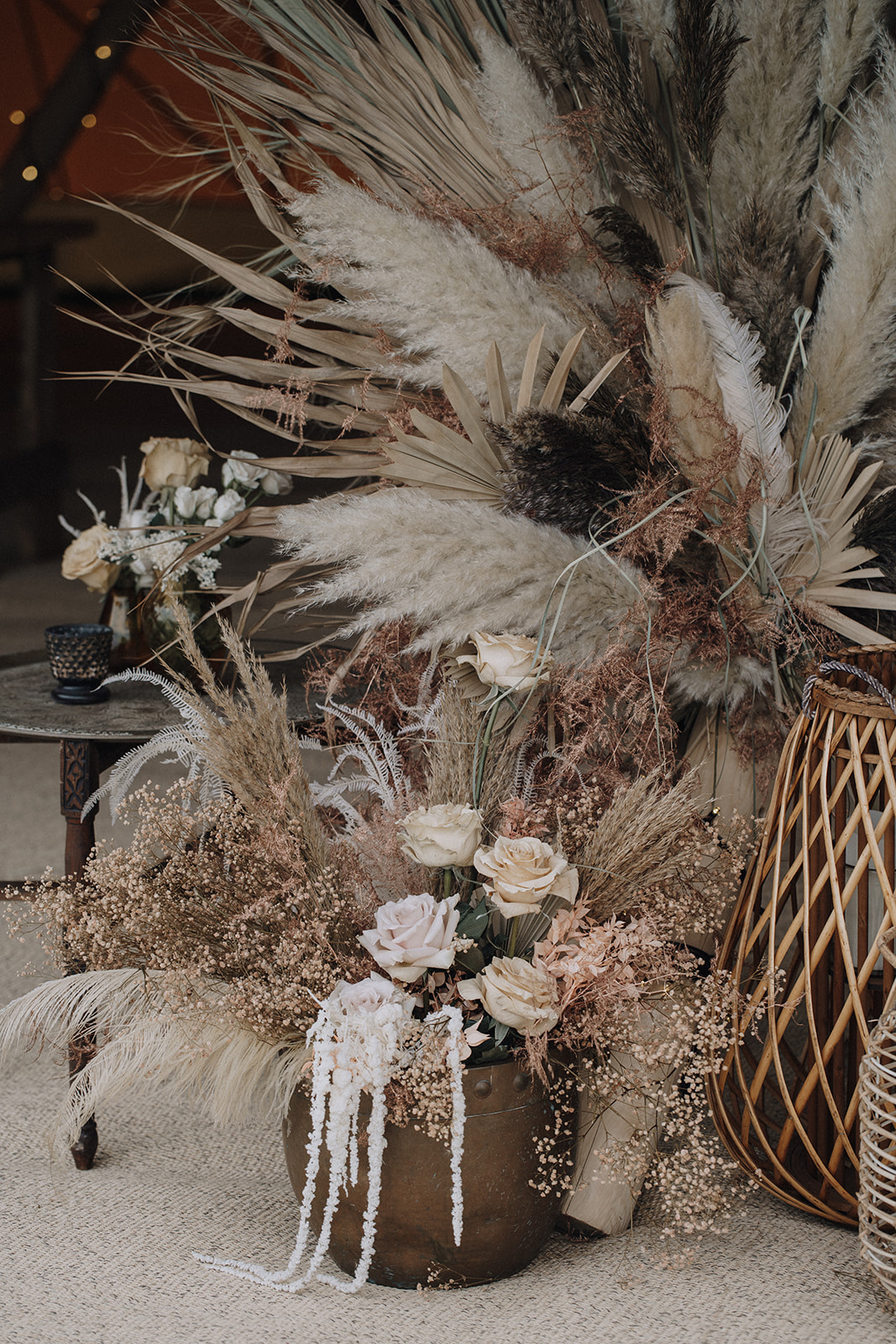 .
The Stunning Bohemian inspired Wedding Florals
George from Rust Bloom, helped with the selection of the flowers and palms and also provided the stunning boho floral display on the Tribeca honeymoon bell tent. Stunning!
.
.
.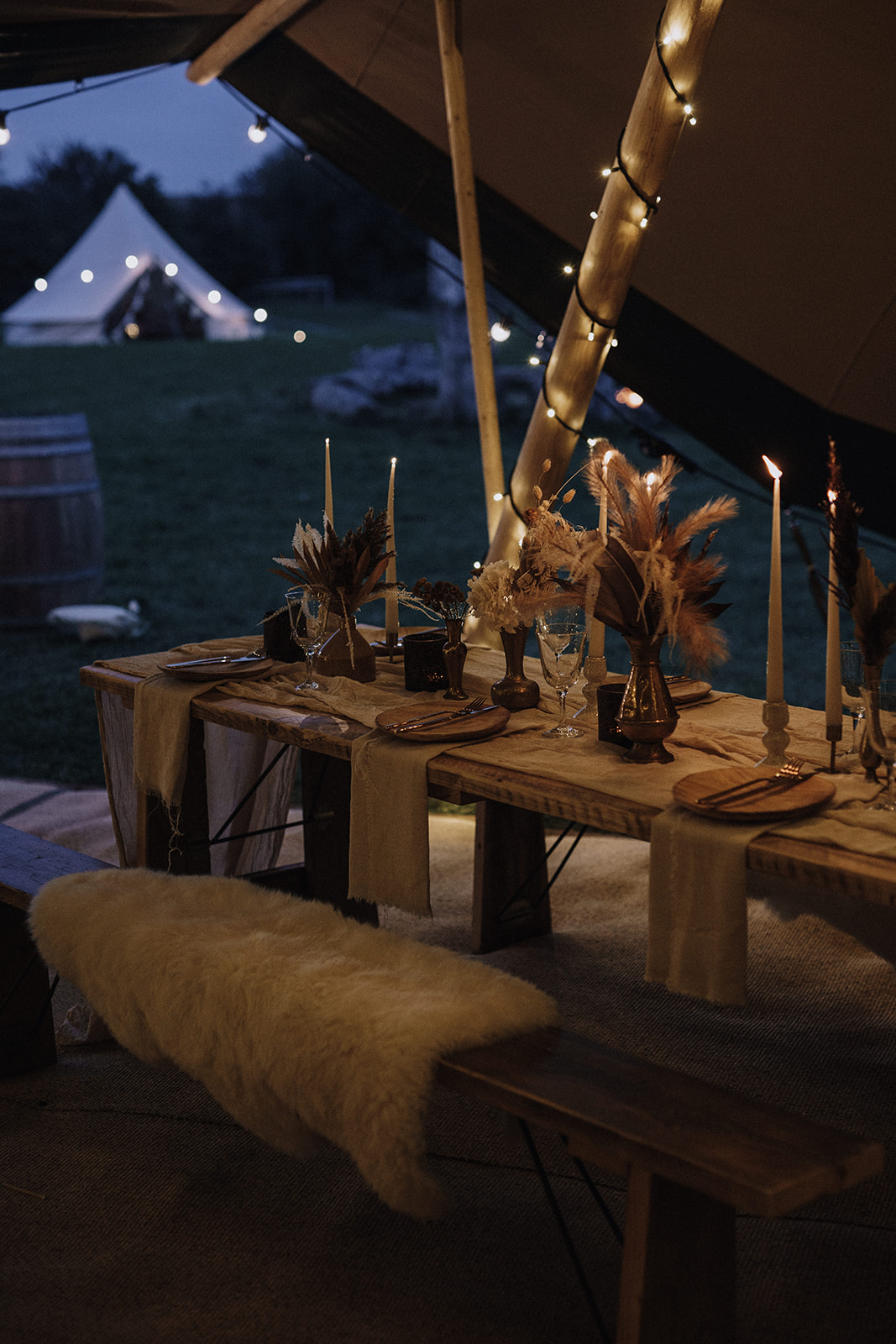 Shoot Photography
Rachel from Rachel takes Pictures, captured the whole intimate bohemian feel of this shoot perfectly and Dave from Wildfire Wedding Films is a very talented videographer who shot the film for this shoot too.
.
Here at The Boho Bride Guide, we are all about finding ways to make your wedding more sustainable and as eco-friendly as possible.
Kathryn has provided her 3 tips to make your tipi wedding more sustainable?
1. Book local suppliers within your area where possible and hire in items including cutlery, napkins, crockery or go natural with eco friendly compostable palm plates and cutlery. We also have a selection of items to hire which are a mixture of natural materials and vintage finds.
2. Use eco-friendly materials for wedding decor, avoiding using any plastic. Some of our couples are very inventive using organic & recycled props and it's great to see personal touches at weddings.
3. Dried florals are a big trend at the moment - they look amazing in tipis too. Hunt around for local suppliers and flower farms nearby or forage yourself.
.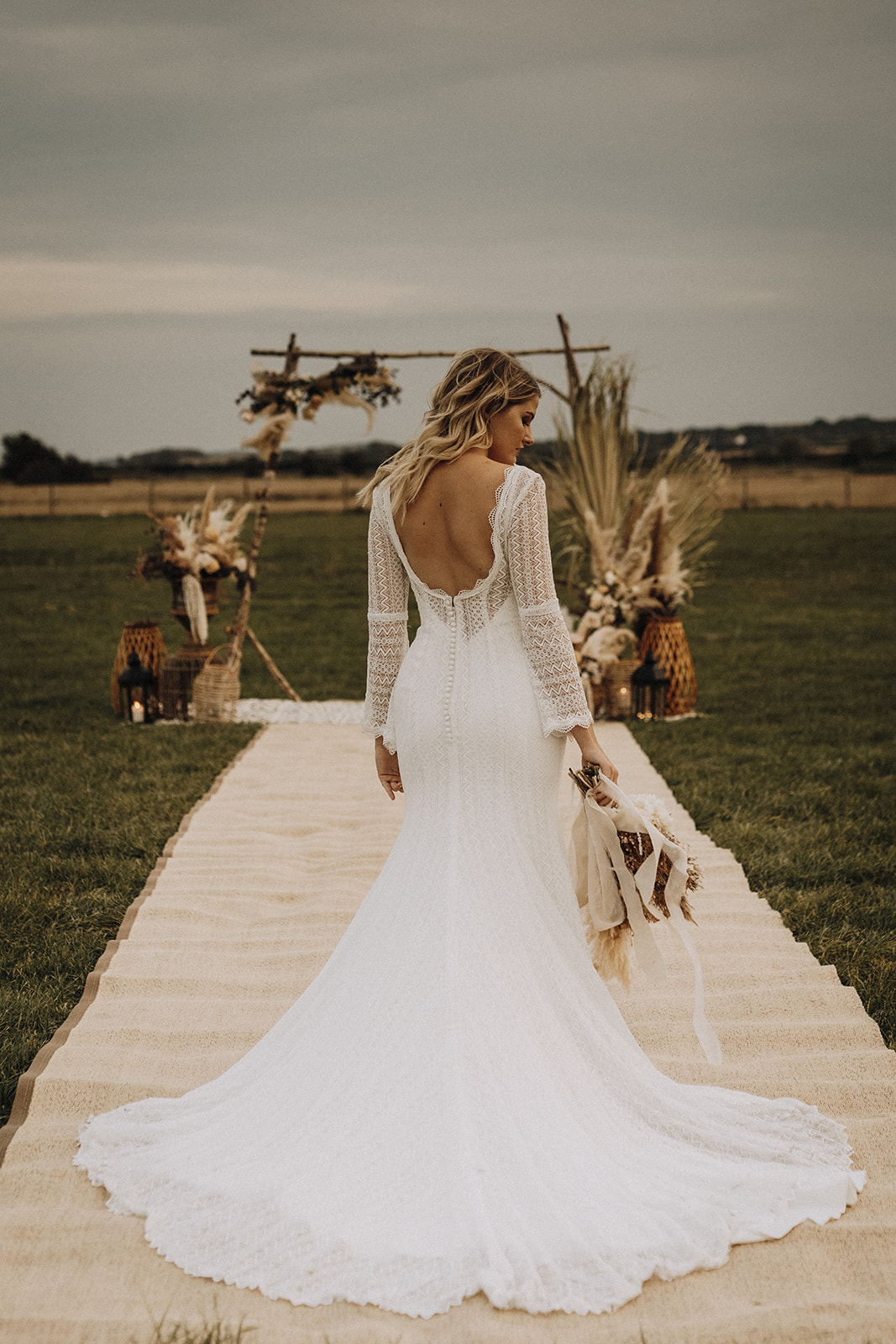 .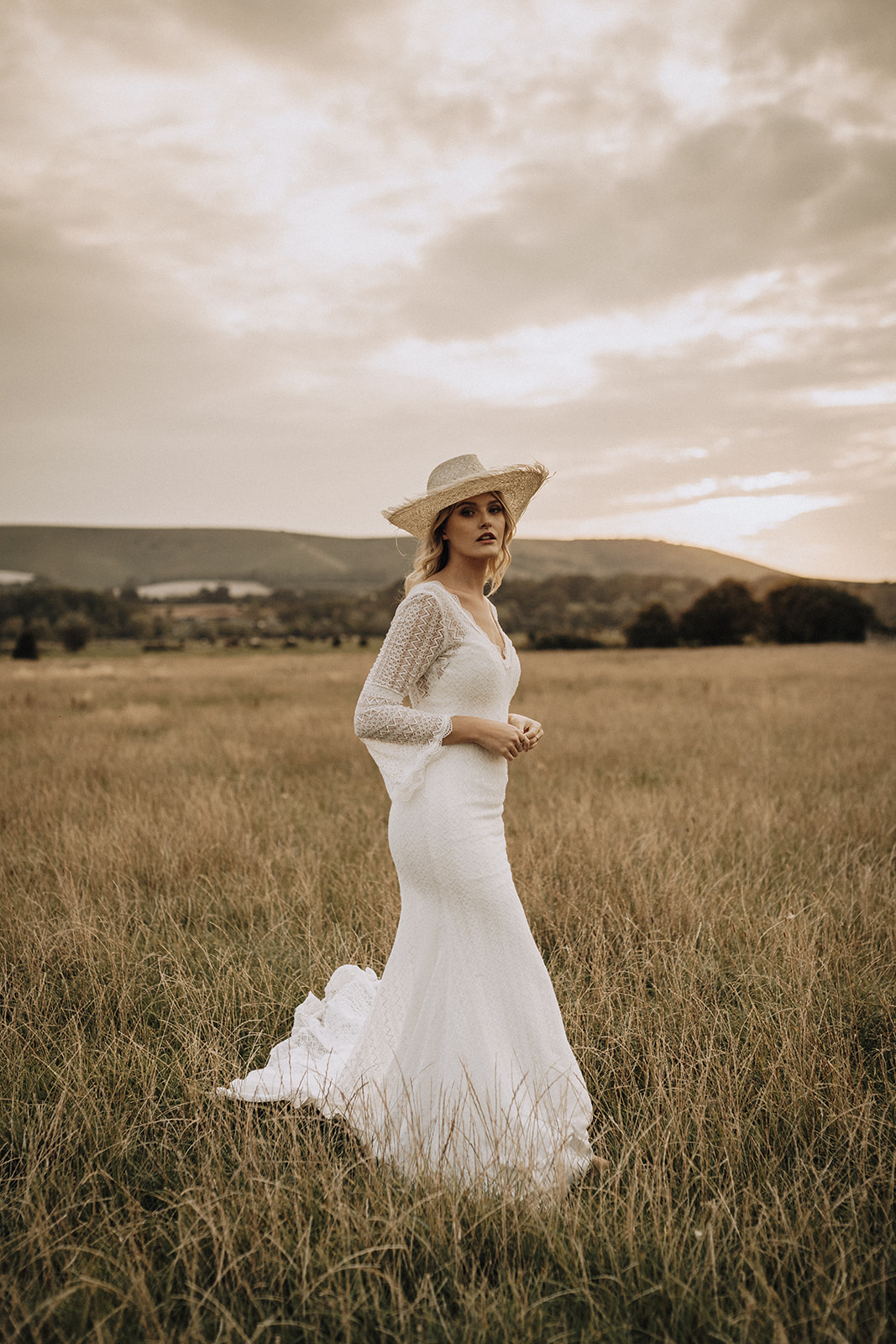 Kathryn also provided us with her top tips for planning a tipi wedding:
1.Start planning early (at least 1 or 2 years), most tipi companies are booked up in advance, so it's advisable to contact them during the winter months, when you can.
2. Set up a spreadsheet to keep track of costs and quotes from suppliers and budget for things such as generators, toilets, chiller trucks, festoon lighting, glamping, as well as florists, catering and sound/music.
3. Estimate how many guests you require in total for your quote - this is key, as this will affect how many tipi's you may require + it helps you to plan out the space and table layouts.
For couples who want a wow factor at their wedding, then a tipi wedding is definitely the way forward. Tipis are very photogenic and offer a unique experience outdoors. Tribeca Tipis couples love festival style weddings full of colour and others prefer a more laid back, rustic boho style. Both work perfectly with tipis.
We hope you enjoyed this boho tipi wedding feature, let us know in the comments below if you are planning a tipi wedding?
Lot's of Love,
Jess
VA to The Boho Bride Guide
@digitalwithjess
The dream team of suppliers that made this shoot happen:
Tribeca Tipis - Tipi and interior furnishings
The Party Field - Outdoor Venue
Butler and White - Styling and planning
Rachel Takes Pictures - Photography
Wildfire Wedding Fiilms - Videography
Gracefully Grazing - Catering
Rust Bloom - Wedding Flowers
Poppy Tallulah - Hair & MUA
Forever Soles - Anklet jewellery and shoes
Outdoor Event Equipment Hire - Generator
Six Fold Studio London - Stationery
Shikoba Bride - Wedding Dress
Charlotte Godfrey - Model
ON 11th March 2022 / BY Jessica Tetstall
Leave A Comment