This stunning botanical filled, industrial disco ball shoot is giving us all the tropical urban fiesta vibes and we are here for it.
Who said disco balls were just for 70's dancefloors, this hot new trend has been sweeping across the wedding industry this year and by hiring in your very own sparkly decor, you can create this fabulous look too! Think retro colours, bohemian florals and a whole lotta tropical greenery, this urban boho editorial shoot is where the city landscape meets the tropical rainforest.
Brought to you by a team of talented North West UK wedding suppliers, Sophie Jakeman of SJ Faces, the shoot organiser was inspired by the venue itself and what a beauty of a venue it is. Keep reading to find out more!
.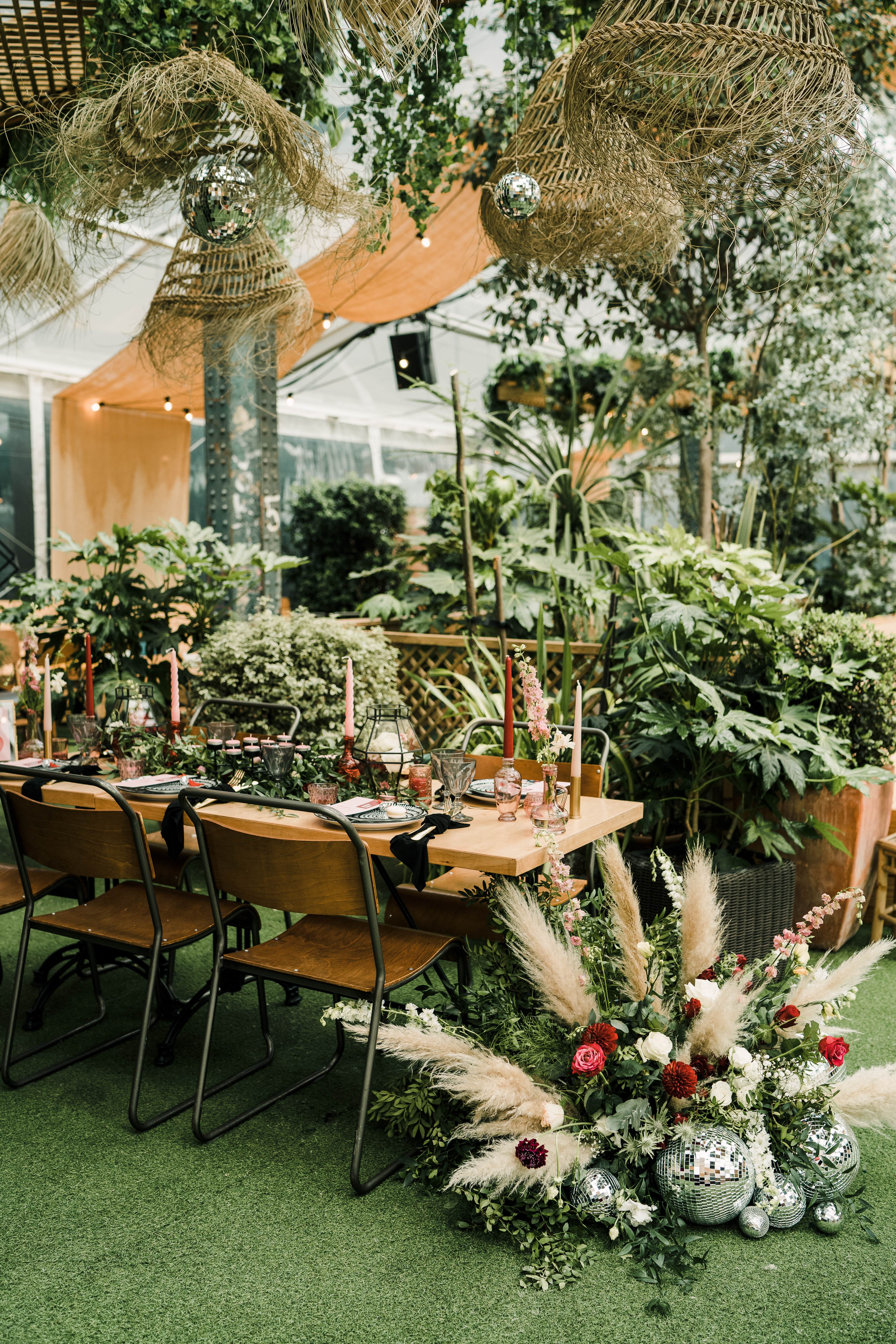 .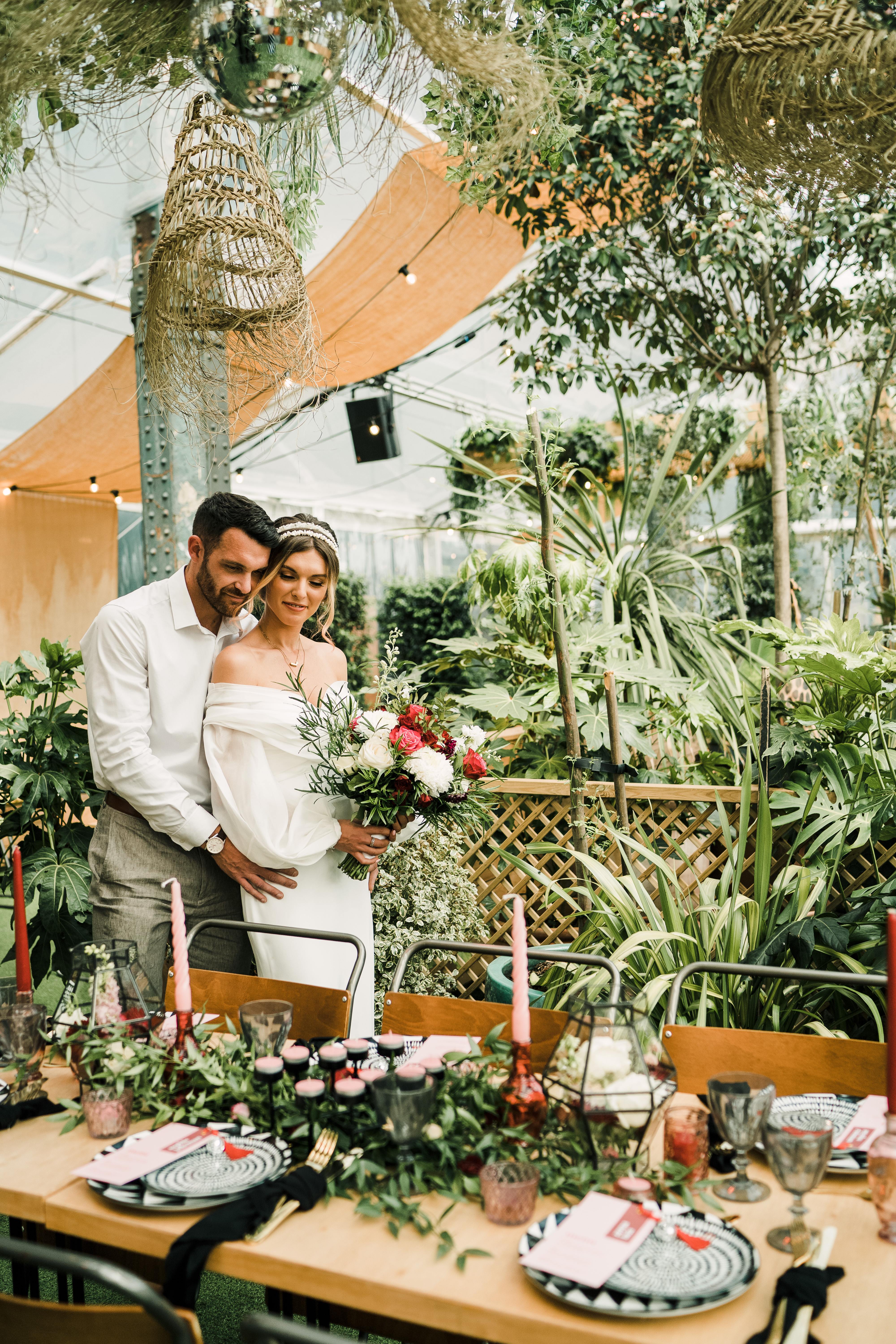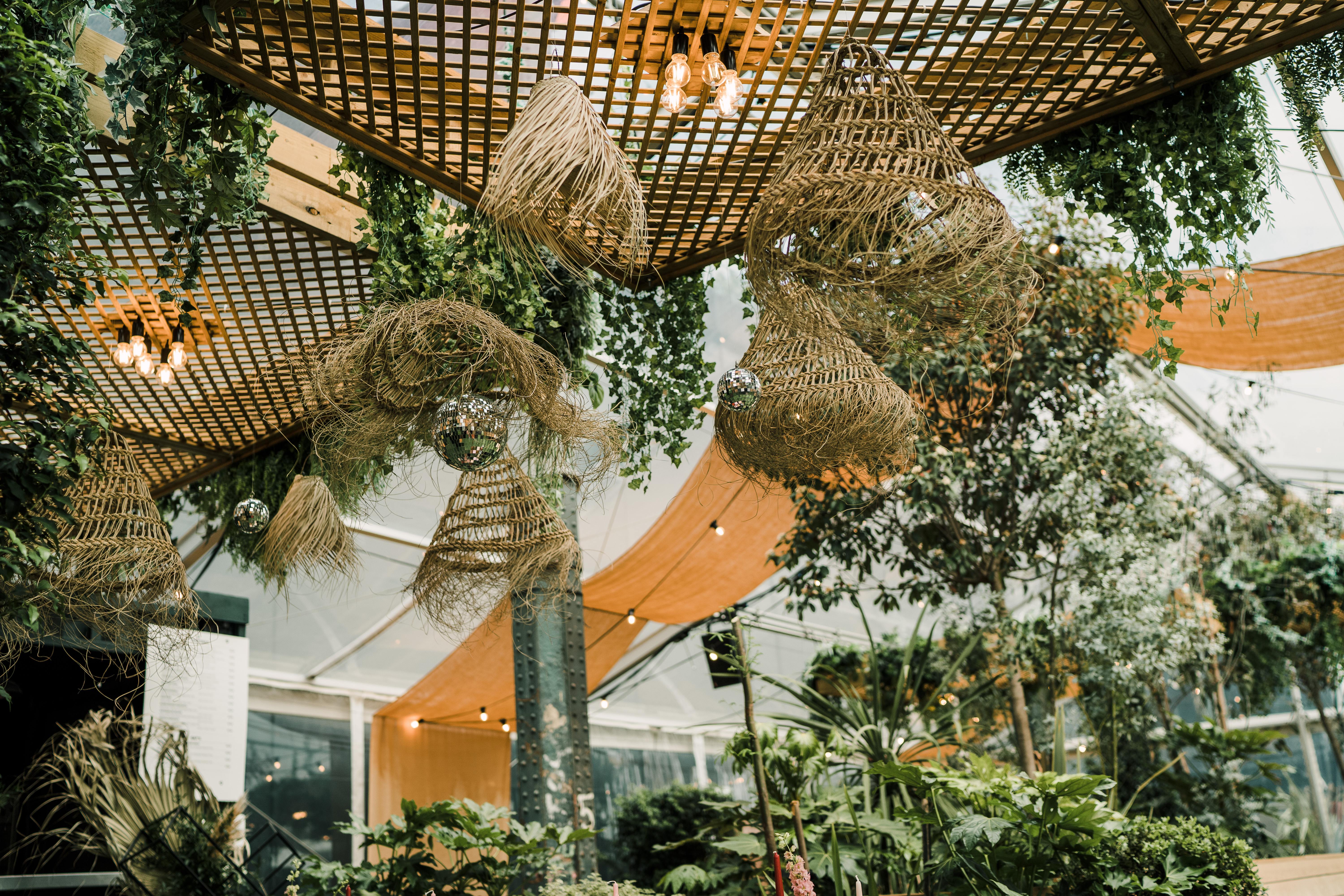 .
The Urban Wedding Venue
The venue really was the magnet that brought the team together. The Plant Room at Escape to Freight Island, a new urban landscape carved from a long-forgotten freight depot based in Manchester, is a popular tropical, urban oasis provided for private hire. With it's own private entrance and bar, it offers beautiful exclusivity within its own, heated and fully covered surroundings.
It was the perfect location for this urban tropical shoot with a retro twist.
.
.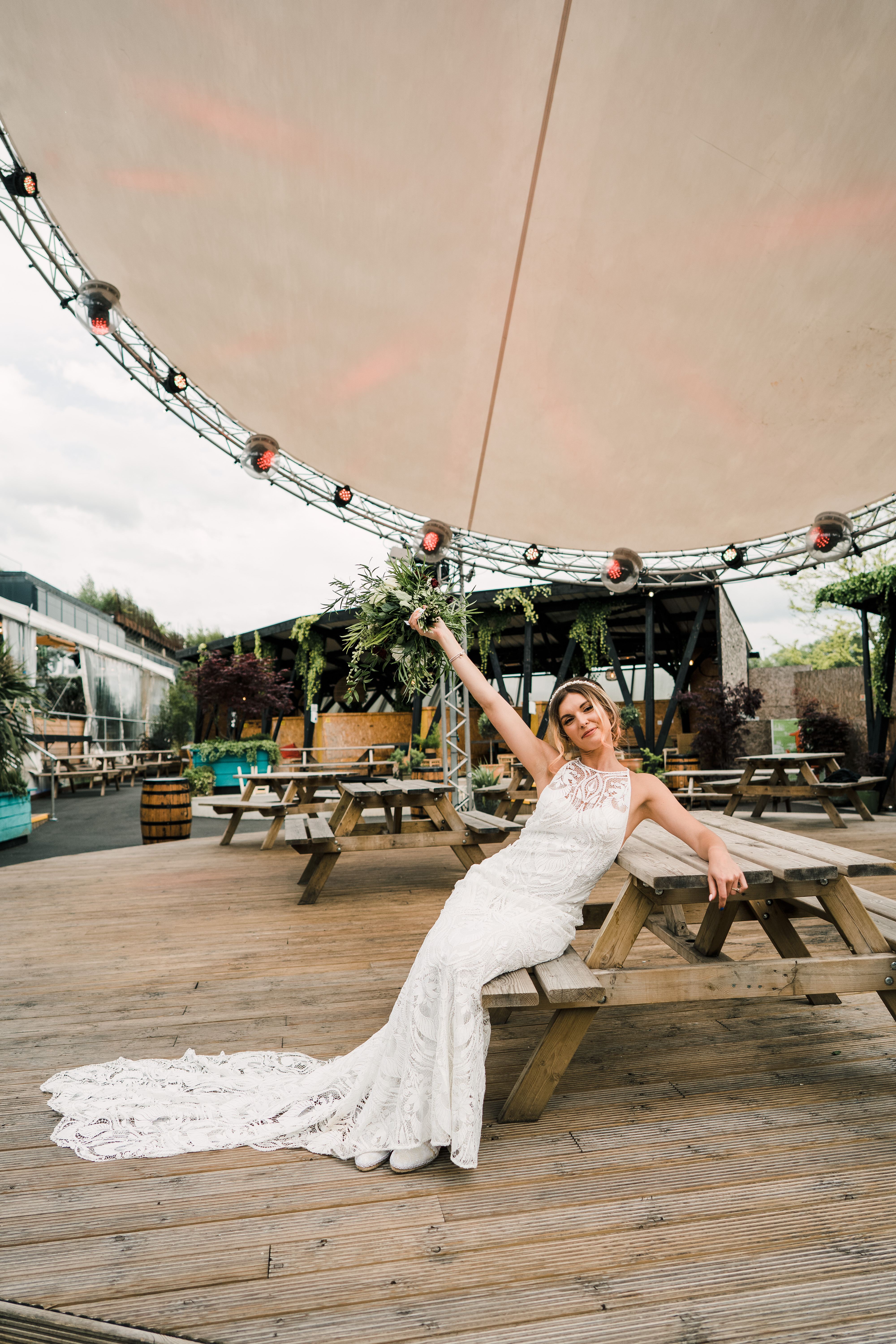 .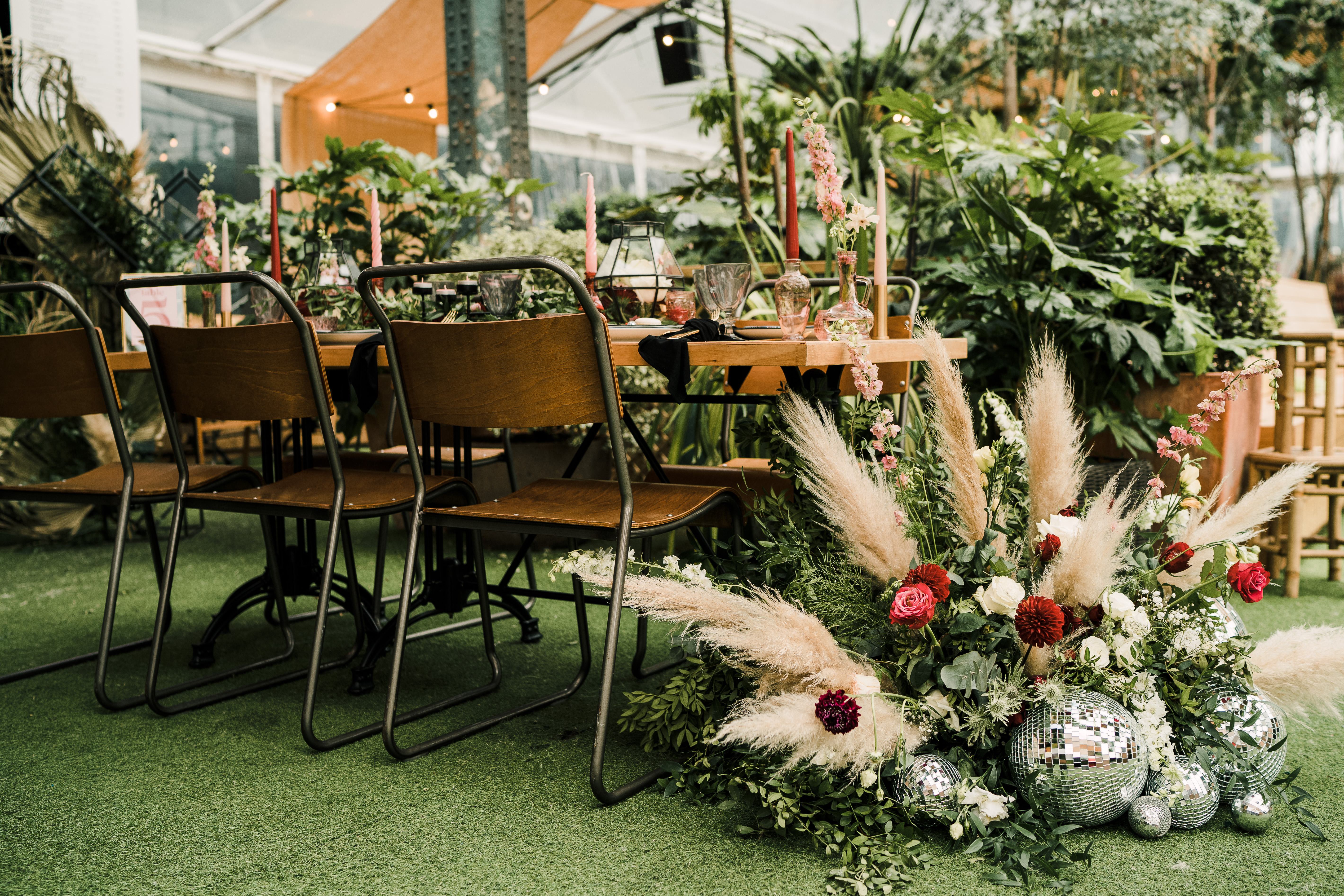 .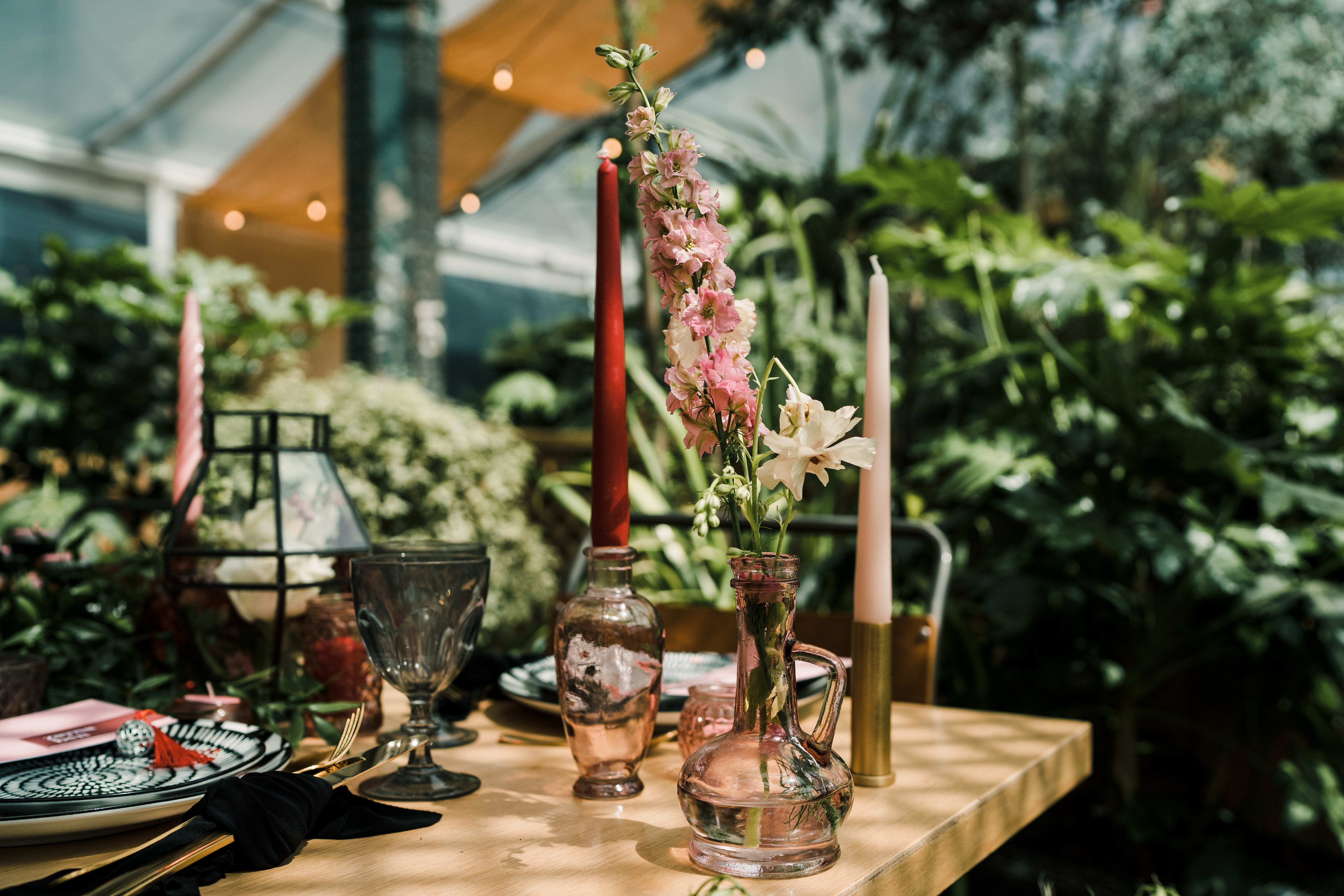 .
Modern Boho Wedding Decor and Venue Styling
When looking for suppliers, Sophie felt that Zaz Events would be perfect to style this shoot as her Moroccan inspired vibe worked so well with the venue.
With the help of Fiore Dorato Flowers, Harriet & Joel and Natalie Cake Studio, Zayna created the table setting & lounge area, and everything fit together in perfect harmony, giving us major modern boho vibes.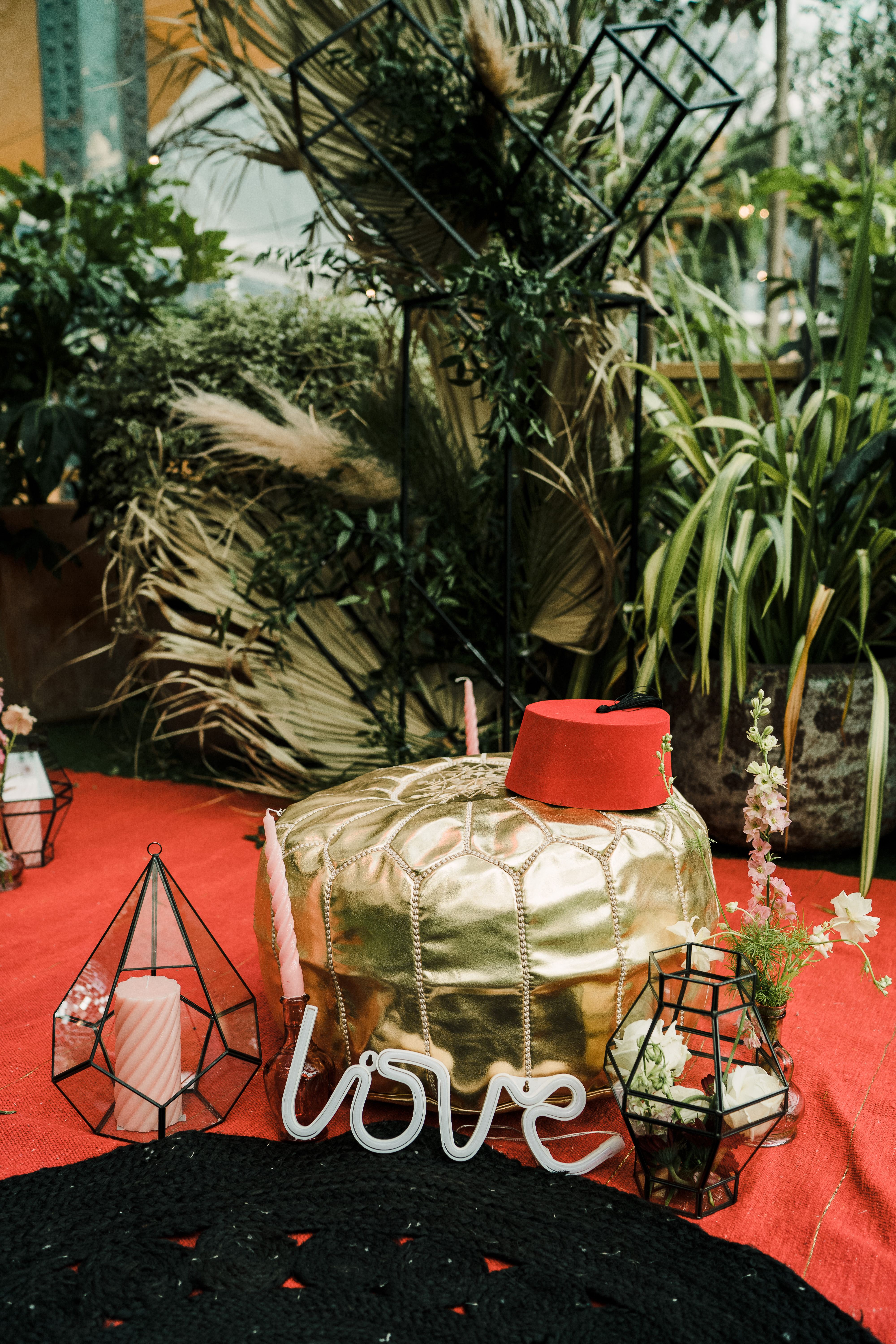 .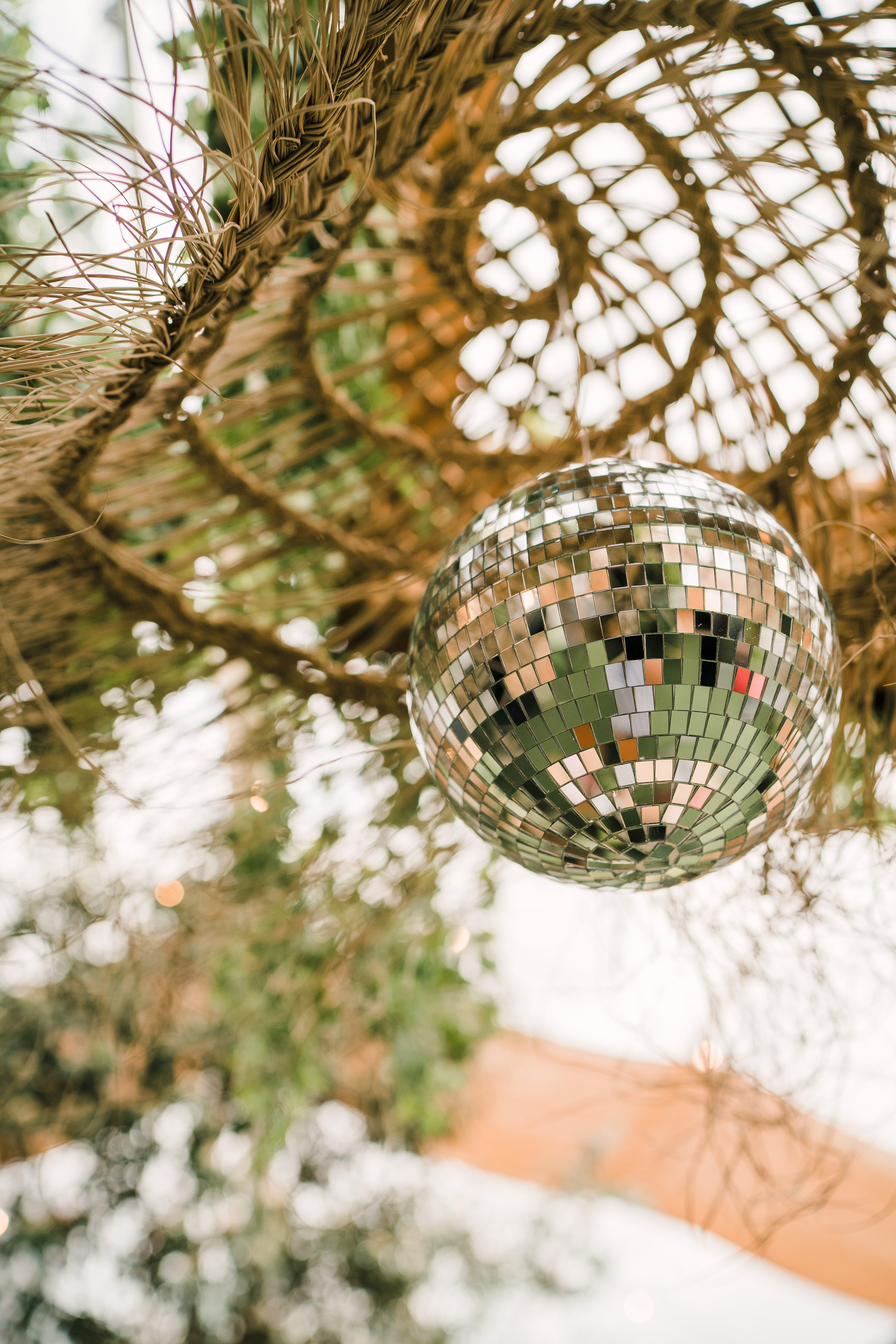 .
.
.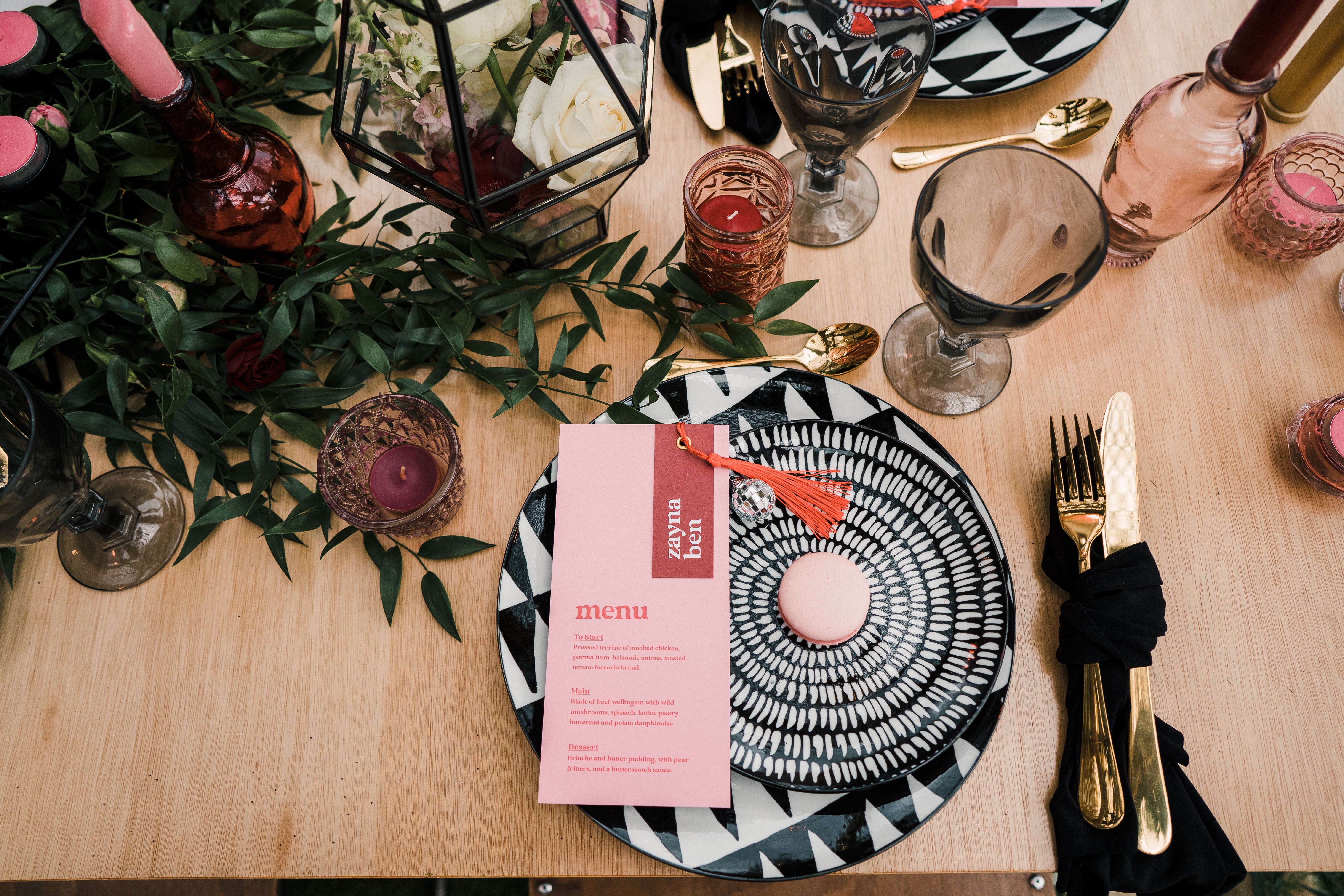 .
Retro Inspired Wedding Stationery
The fabulous wedding stationery and signage for this shoot was designed and created by Lauren from Harriett and Joel, a design studio based on the outskirts of Manchester. Lauren loves designing wedding stationery for cool couples and she has certainly achieved that with this editorial shoot.
This modern boho stationery design with a pop of colour matches the tones of the glassware and florals on the tablescape perfectly, whilst contrasting with the monochrome tableware. We are obsessed!
.
.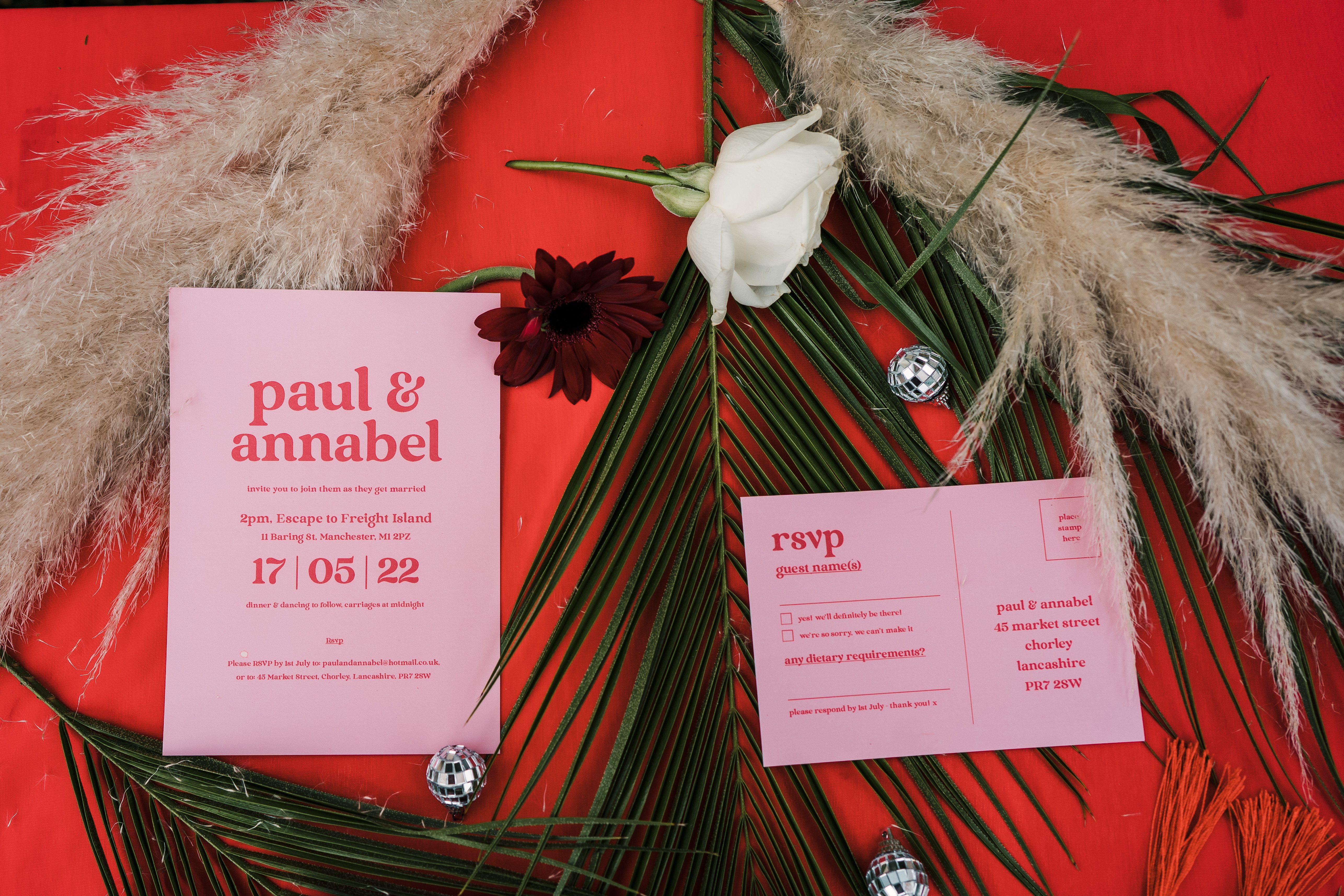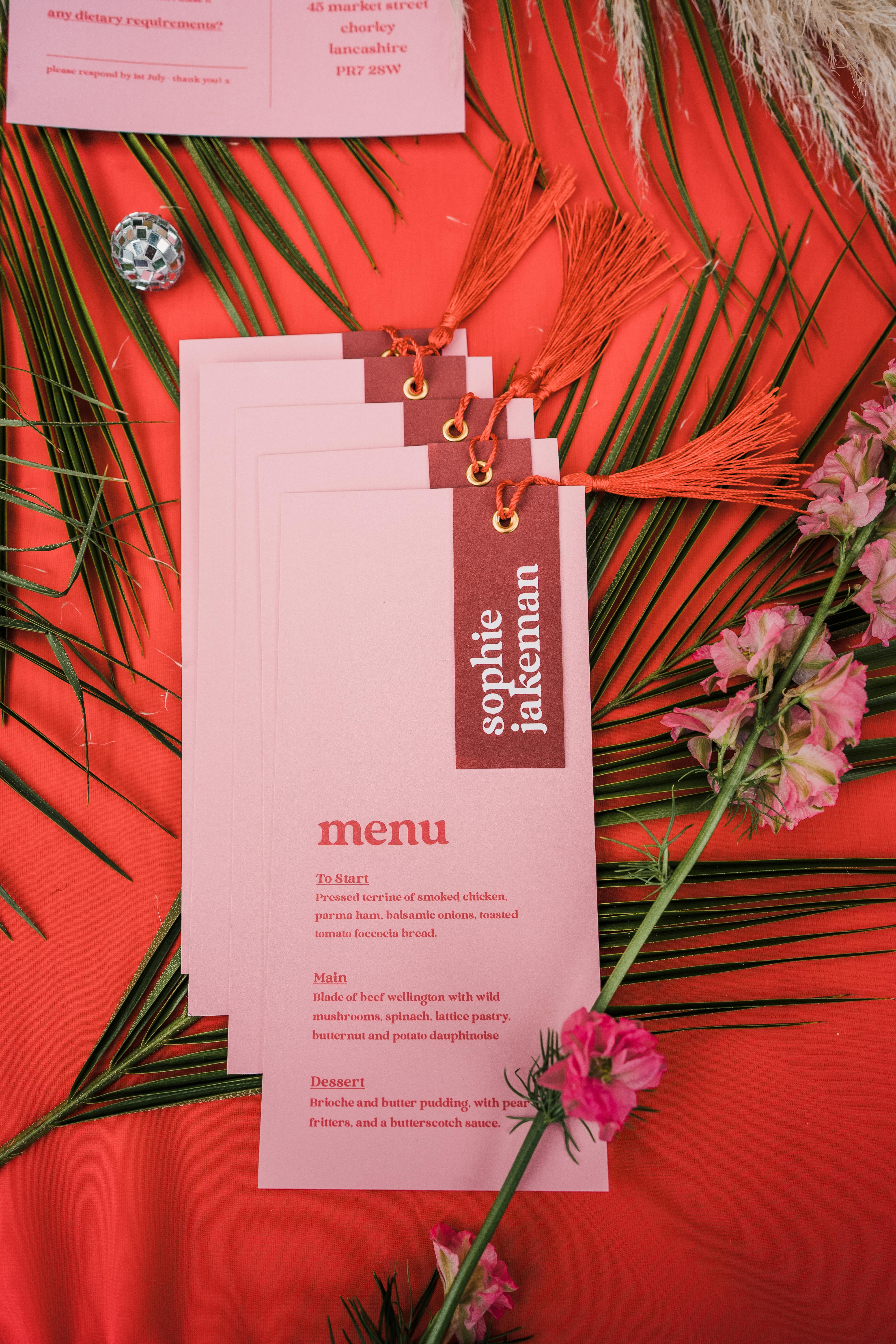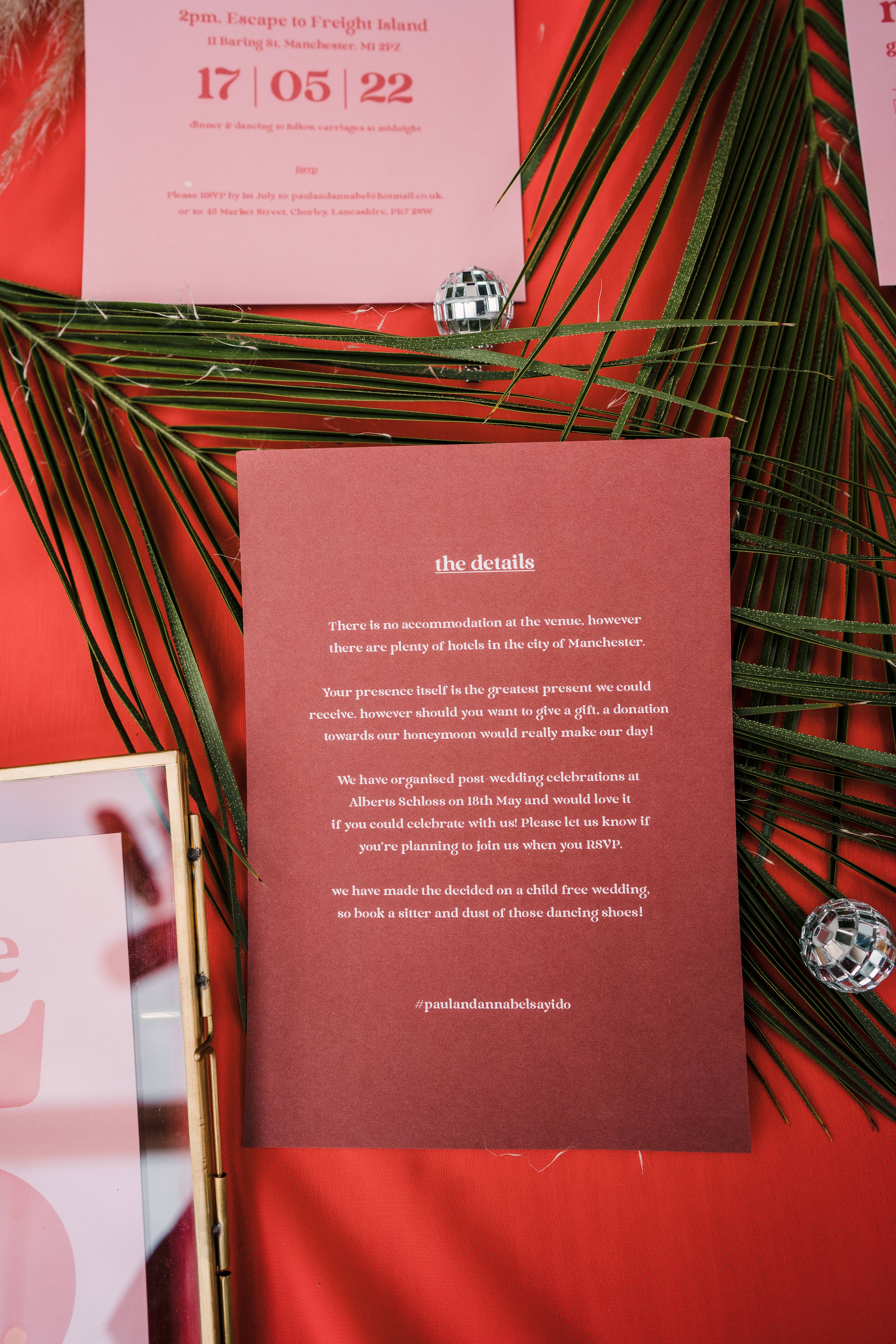 .
Statement Wedding Flowers Full of Greenery and a Colour Pop
The flowers by Fiore Dorato Flowers complemented the colour palette of the stationery which enhanced the crockery & favours, modern boho at its finest.
Gemma used a mixture of bohemian florals such as pampas, dried grasses, palms, chryrsanthemum blooms, roses and delphiniums to create the flower arrangemnts for the venue and the statement bridal bouquet.
.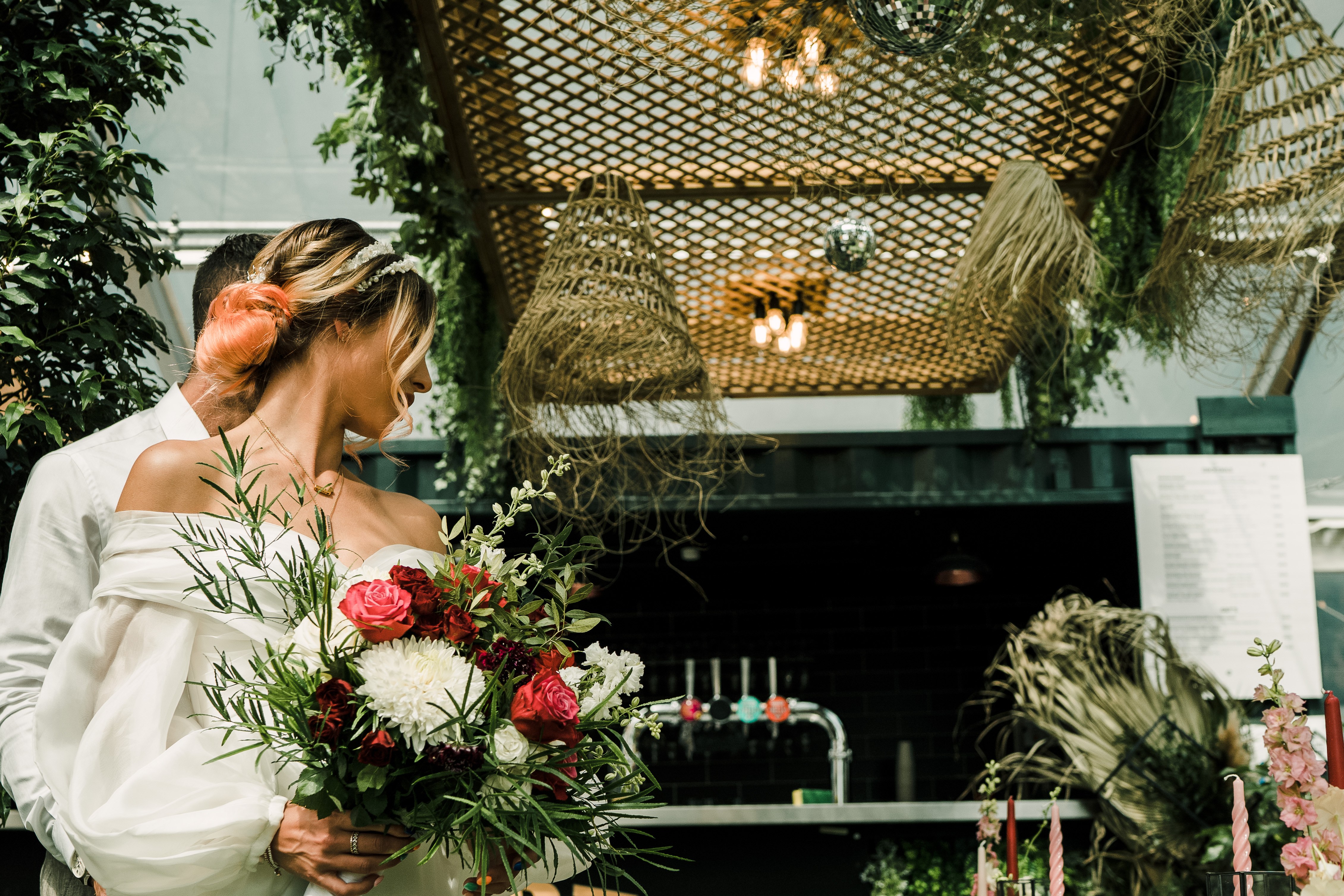 .
.
.
2 Tiered Wedding Cake & Macaroon Favours
Natalie Cake Studio created this stunning contemporary masterpiece of a wedding cake for the shoot. Focusing on a textured 2-tier base adding colourful florals to match the rest of the modern boho vibe. Natalie likes to use different edible materials and textures to achieve a more artistic and stylish look and we think she has done just that.
Natalie also made the edible macaroon wedding favours. Yum!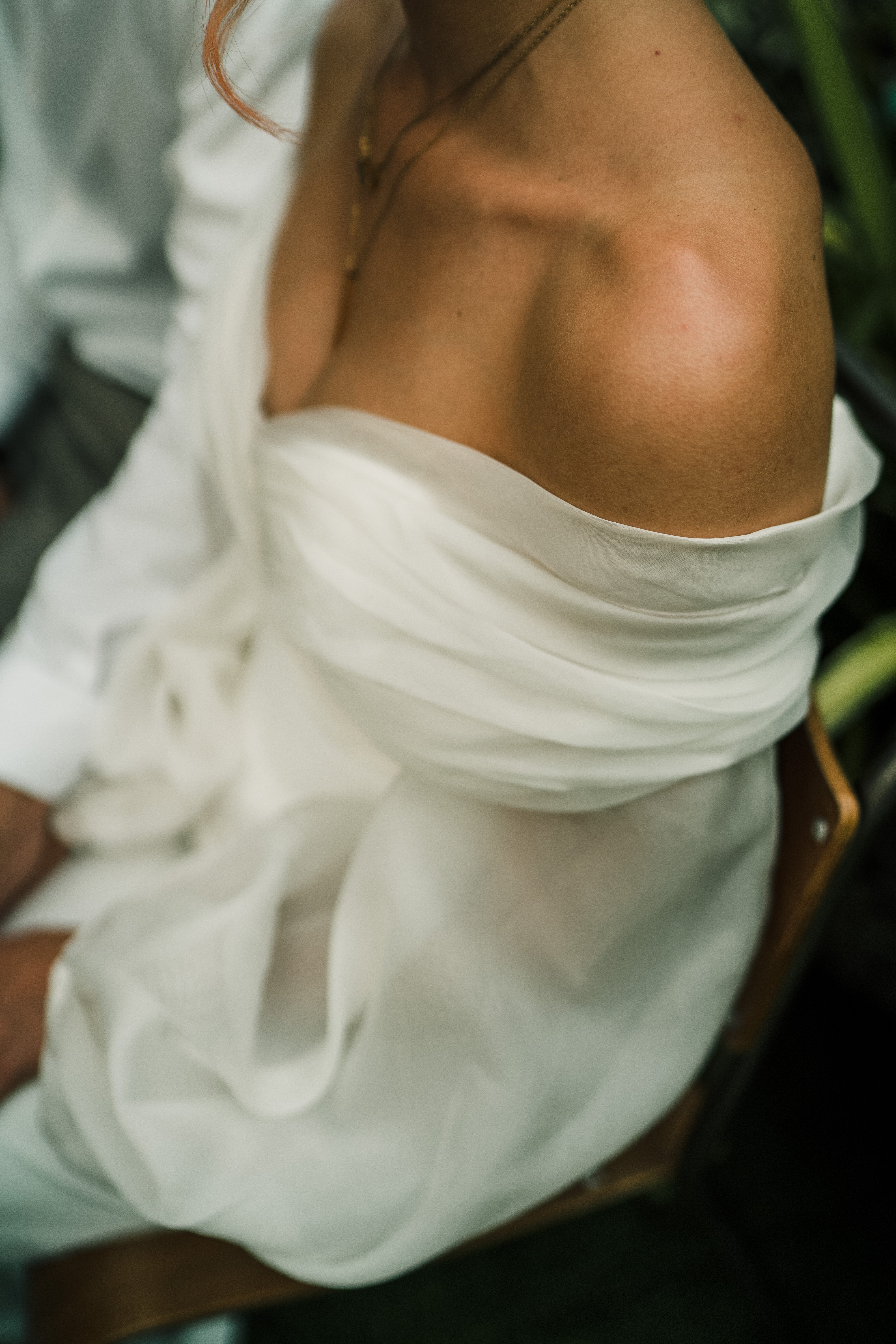 .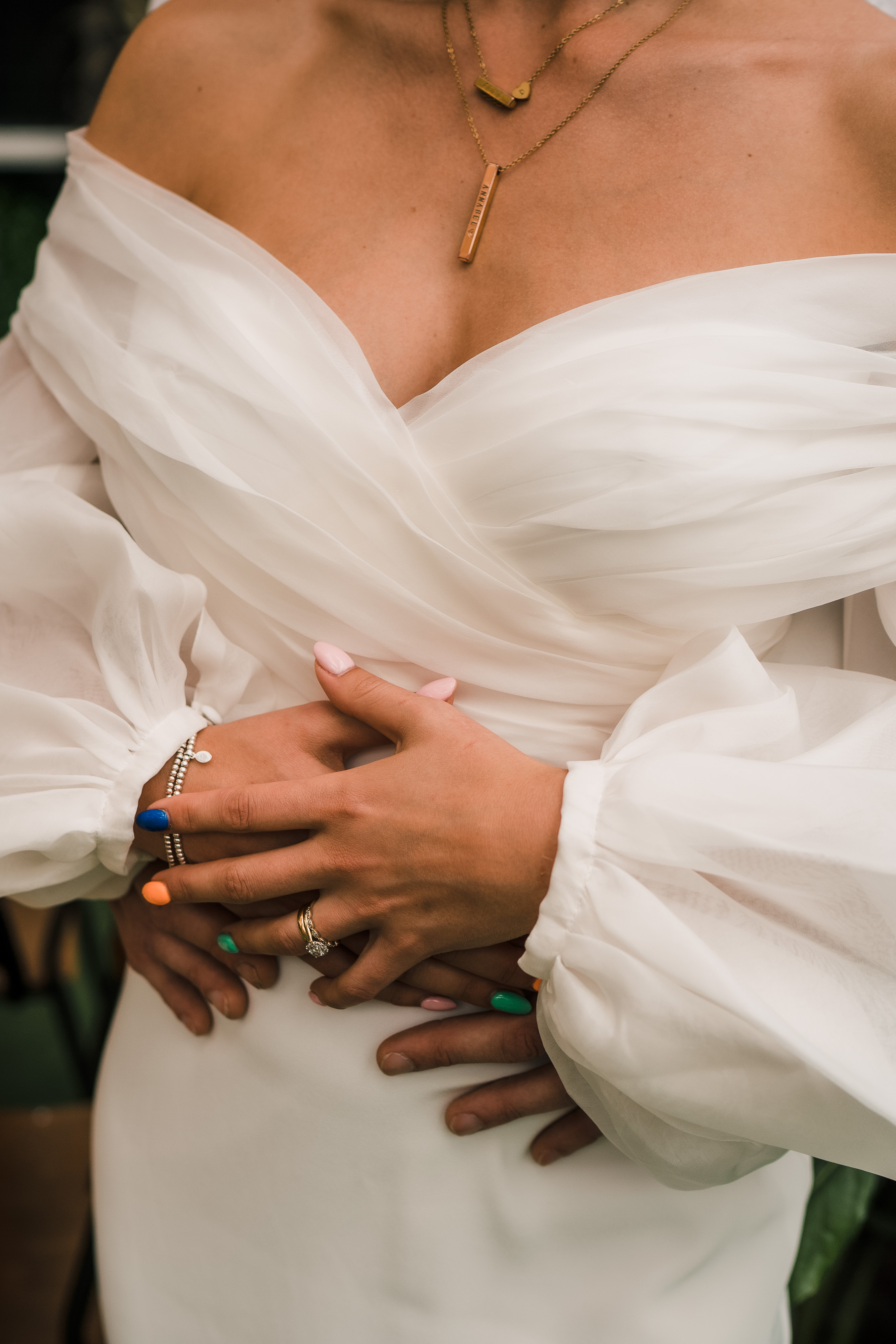 .
The Urban Boho Bridal Looks
The bride wore three stunning dresses for this shoot, all of them supplied by bridal boutique, Willow & White Bridal Atilier.
The team wanted to showcase three separate bridal looks for this shoot to show versatility.
Silver Sixpence in her Shoe created these stunning handmade bridal headbands and headpiece which can be worn alone or doubled up for a modern & chic look. The headbands were styled beautifully with a twisted bridal updo created by SJ Faces Bridal Hair & Make-up. Sophie also created a soft subtle make-up look to compliment the statement headwear.
.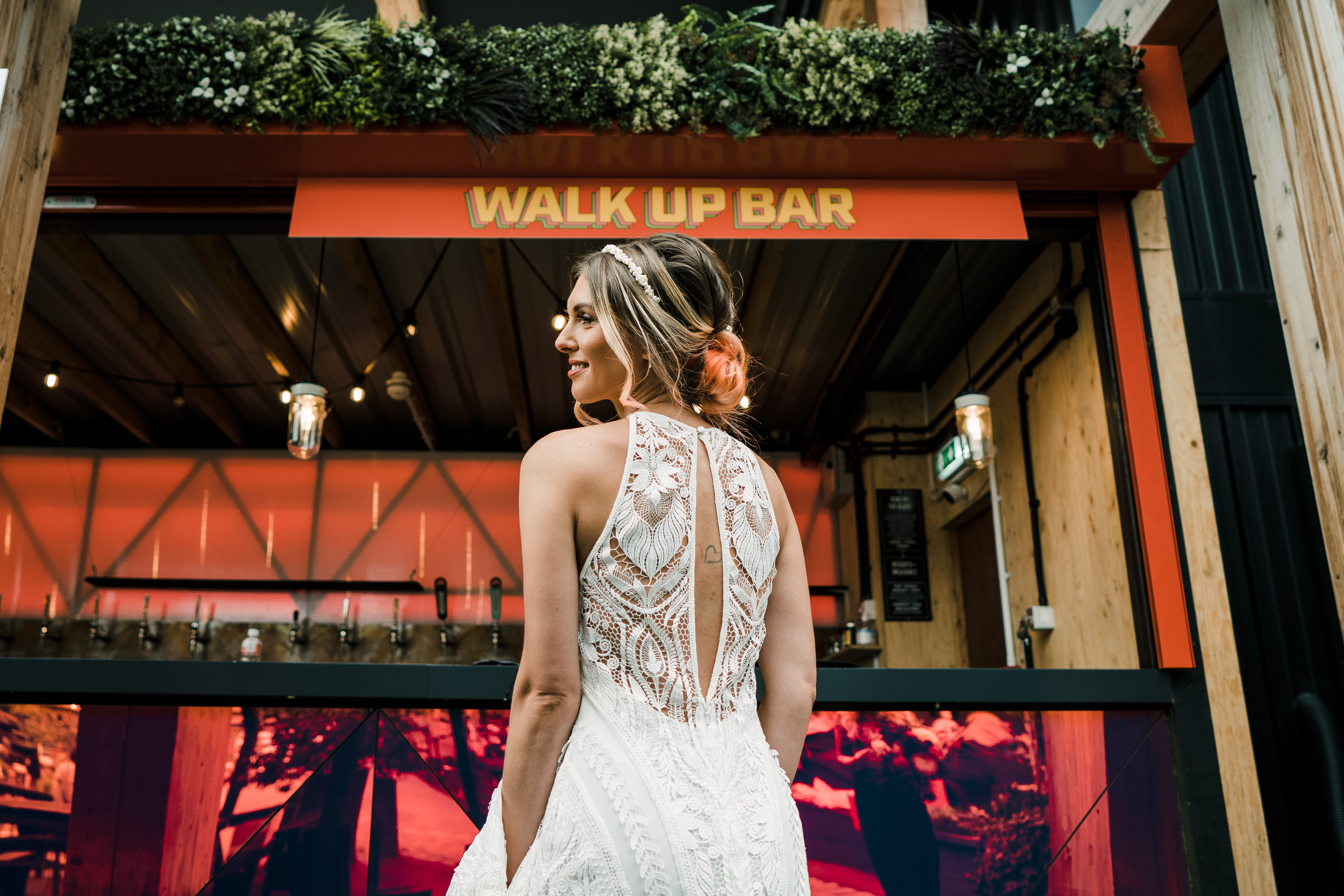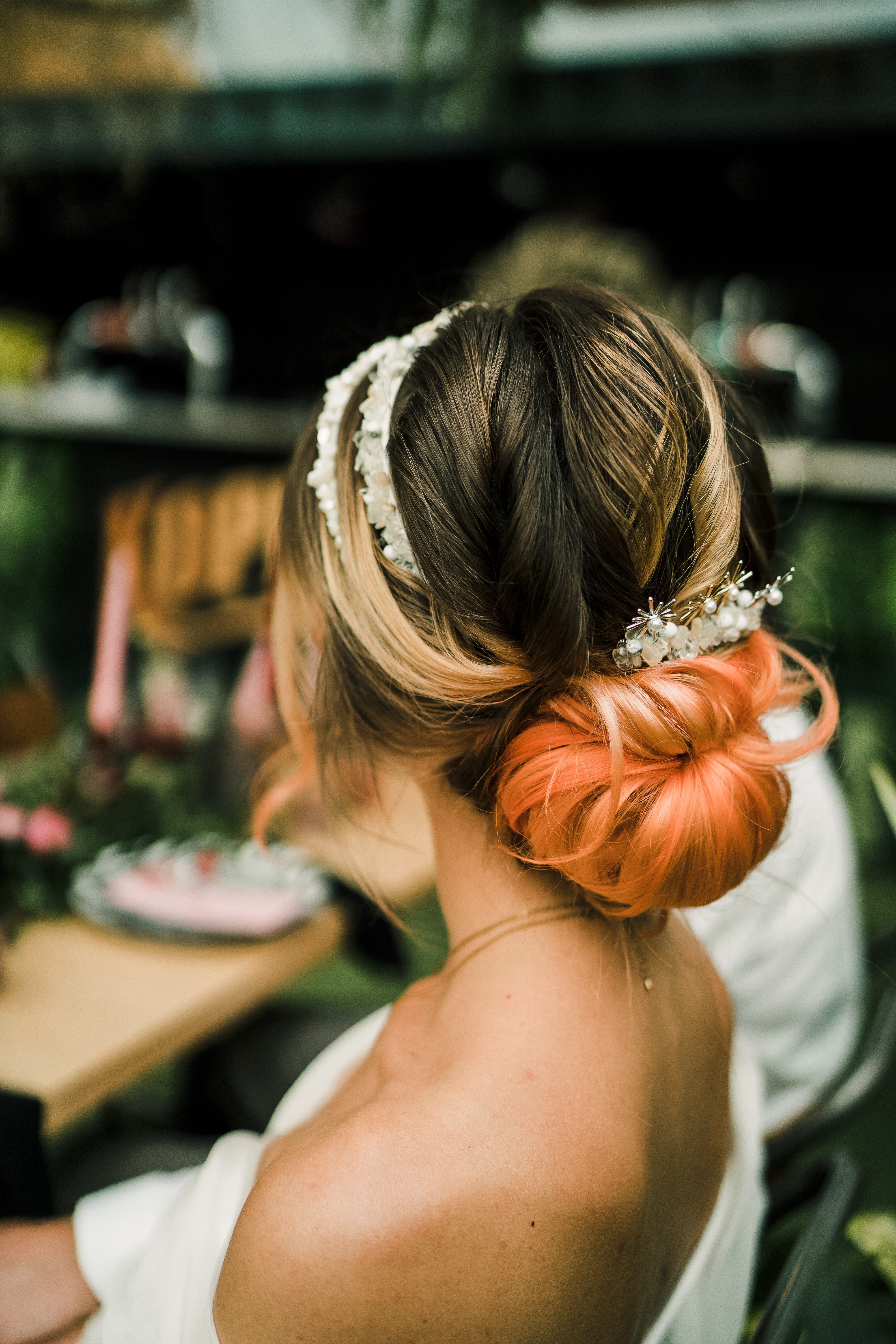 .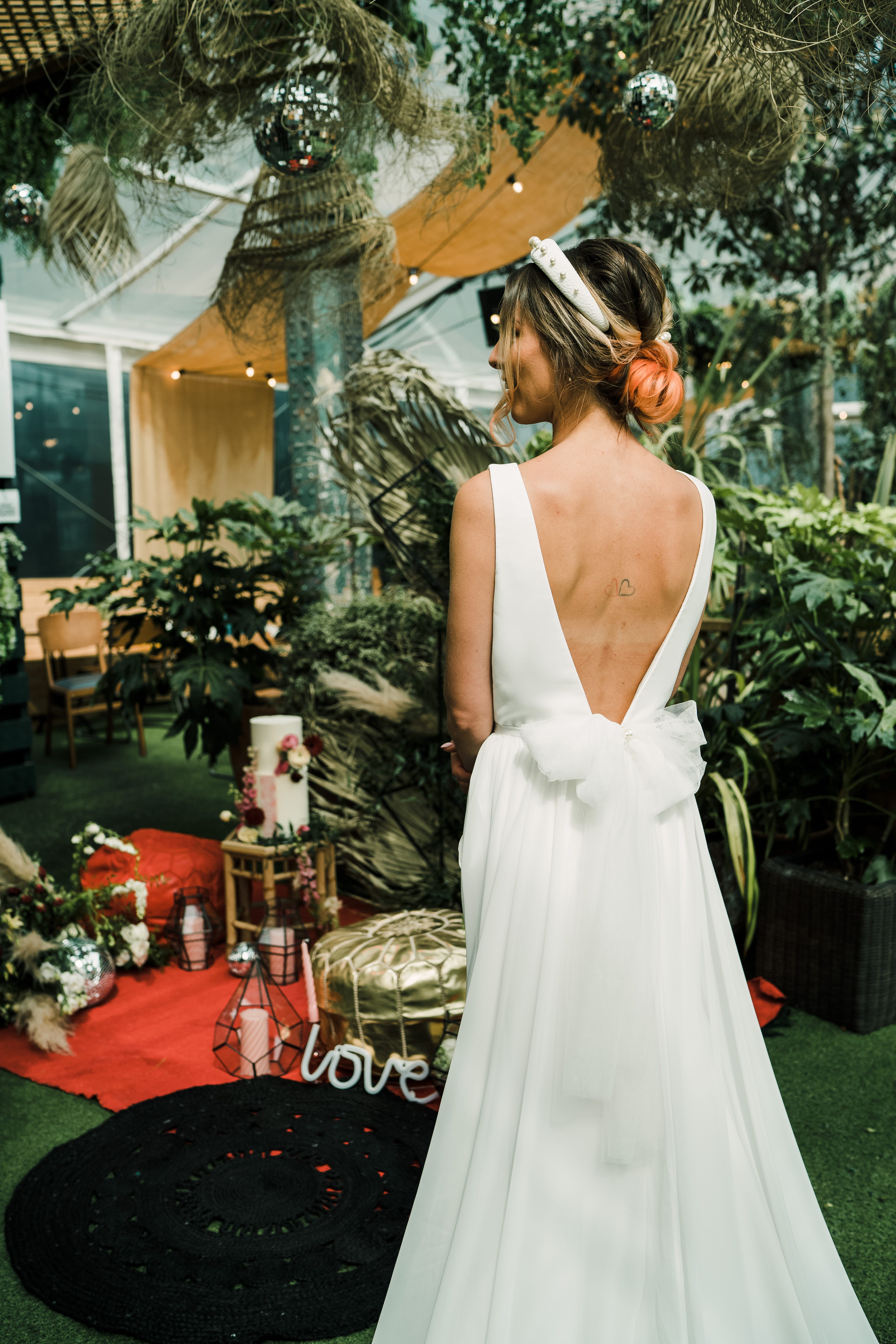 .
.
Colourful, Fun & Stylish Wedding Photography
Zayna, the stylist on the shoot, recommended Ayesha Photography as she really makes her work come to life, capturing finer details & the emotion from her couples. Feeling like you are right there with them and this was certainly the case for this shoot. We deffo wanted to join in with this party!
Ayesha loves to create colourful, fun and stylish photography for modern, fun couples. Travelling across the UK and Europe, Ayesha also specialies in destination weddings particularly in Italy and Spain.
The disco balls brought so much fun to the shoot & with Jade serenadeing the crowd, the party was in full swing!
.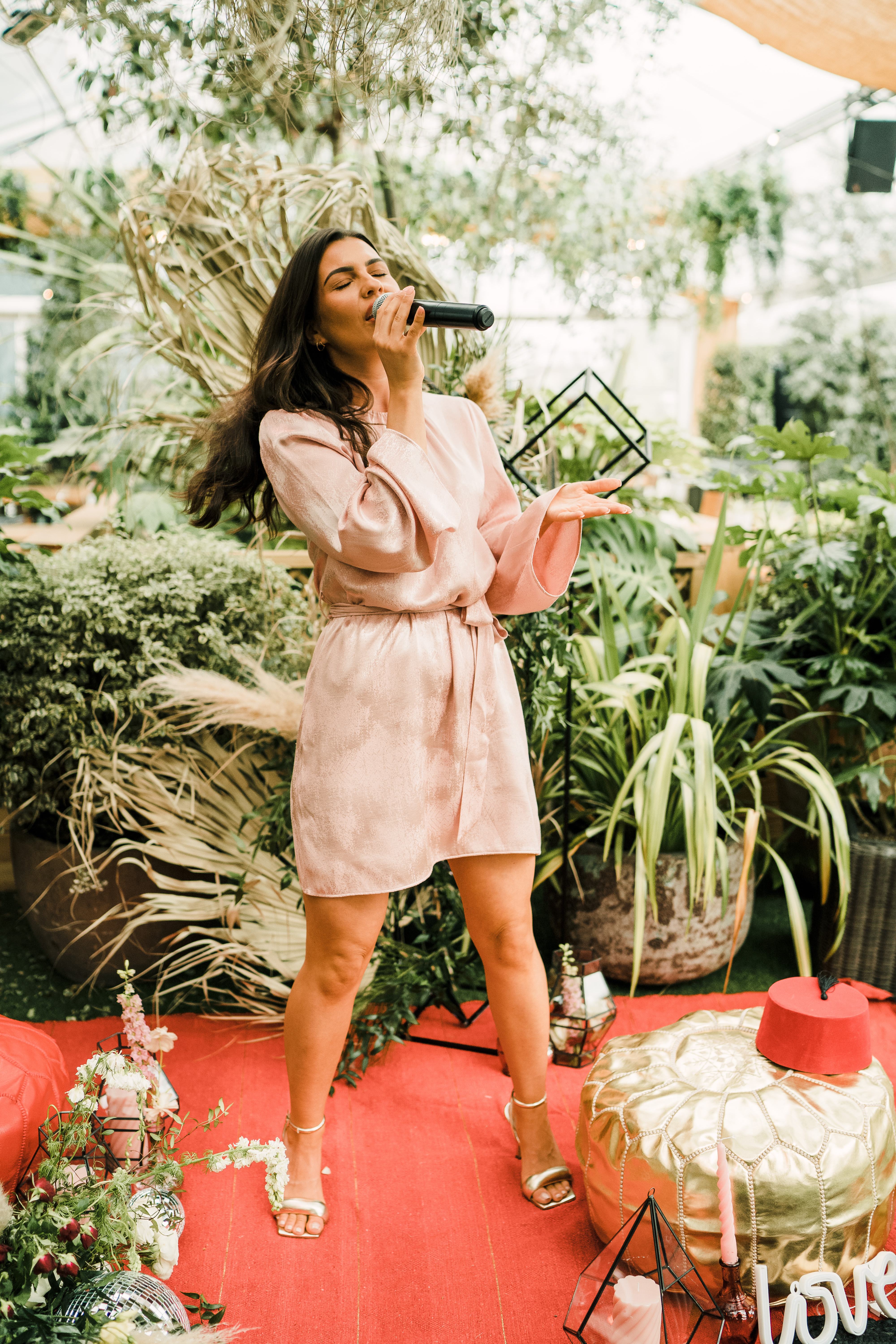 .
We hope you enjoyed reading all about this fabulous urban tropical fiesta shoot and it provided you with some inspiration and ideas for your own wedding, let us know if it did in the comments below!
For more urban boho wedding inspo read this boho industrial chic barn wedding or this Urban Boho Intimate London shoot
Lot's of love,
Jess
Blogger, Social Media & Pinterest Manager for The Boho Bride Guide
The dream team of creatives who made this happen:
SJ Faces - Shoot Organiser, Bridal Hair & MUA
ZaZ Events - Wedding Stylist
Ayesha Photograhpy - Wedding Photographer
Escape to Freight Island - Wedding Venue
Harriet & Joel - Wedding Stationery
Natalie Cake Studio - Wedding Cake & Favours
Fiore Dorato Flowers - Wedding Flowers
Willow & White Bridal Atilier - Bridal Dresses
Silver Sixpence in her Shoe - Bridal Accessories
Jade Leigh Parr - Wedding Singer
ON 23rd August 2022 / BY Jessica Tetstall
Leave A Comment