Don't you just love an early outdoor Autumnal wedding?! Warm earthy natural colours and crisp clear days, it's certainly a popular time to get married. We have a beauty to share with you today on the blog and give you some major bohemian wedding inspo!
The inspiration behind this shoot is woven from a romantic colour palette inspired by the rich hues of Autumn, thoughtfully blended with bohemian style. Picture terracotta, blush pink, and soft, earthy tones painting a romantic canvas. In the backdrop of a rustic barn, every element, from décor to fashion to intricate details, resonates with the essence of the season and a bohemian touch. We know you are gonna love this one so keep on scrolling to have a browse.
.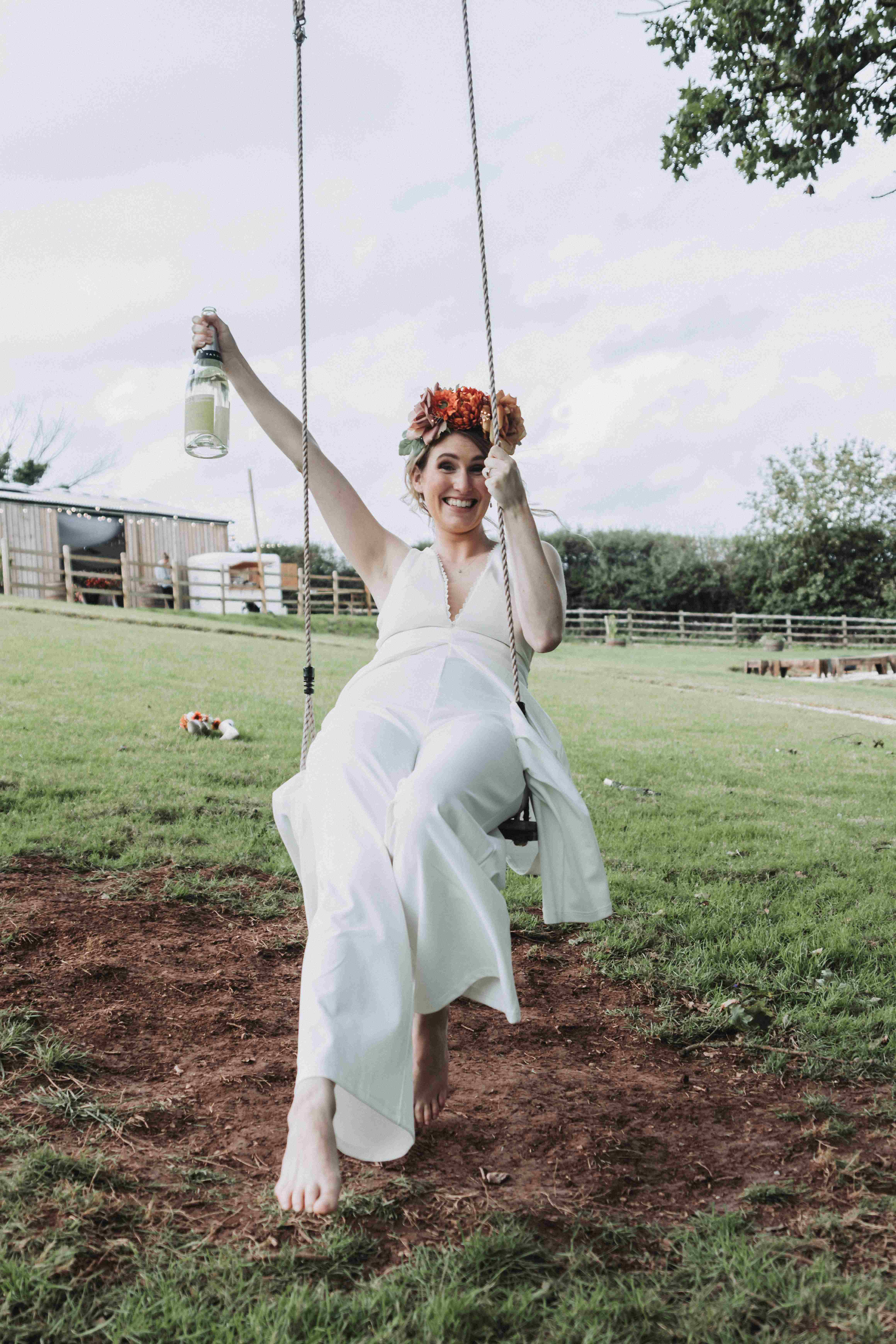 .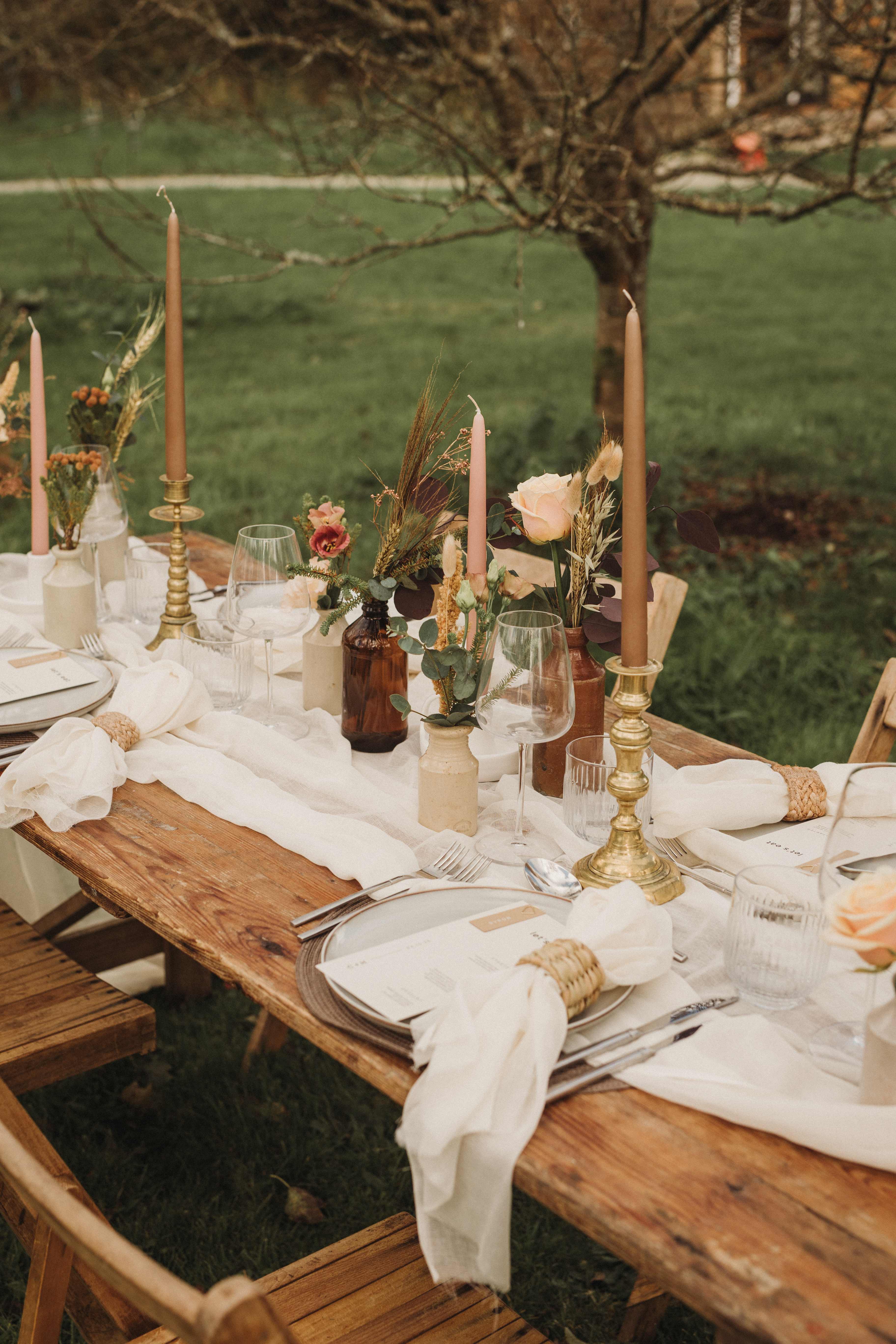 Outdoor Autumn Wedding Venue
This stuning shoot was held at the fabulous Battleford Farm, a beautifully unique and rustic wedding venue in the heart of South Devon giving you the freedom of perfection, they provide the the space, location, stunning views, power from their solar panels, water from their borehole and give you the flexibility to design the rest.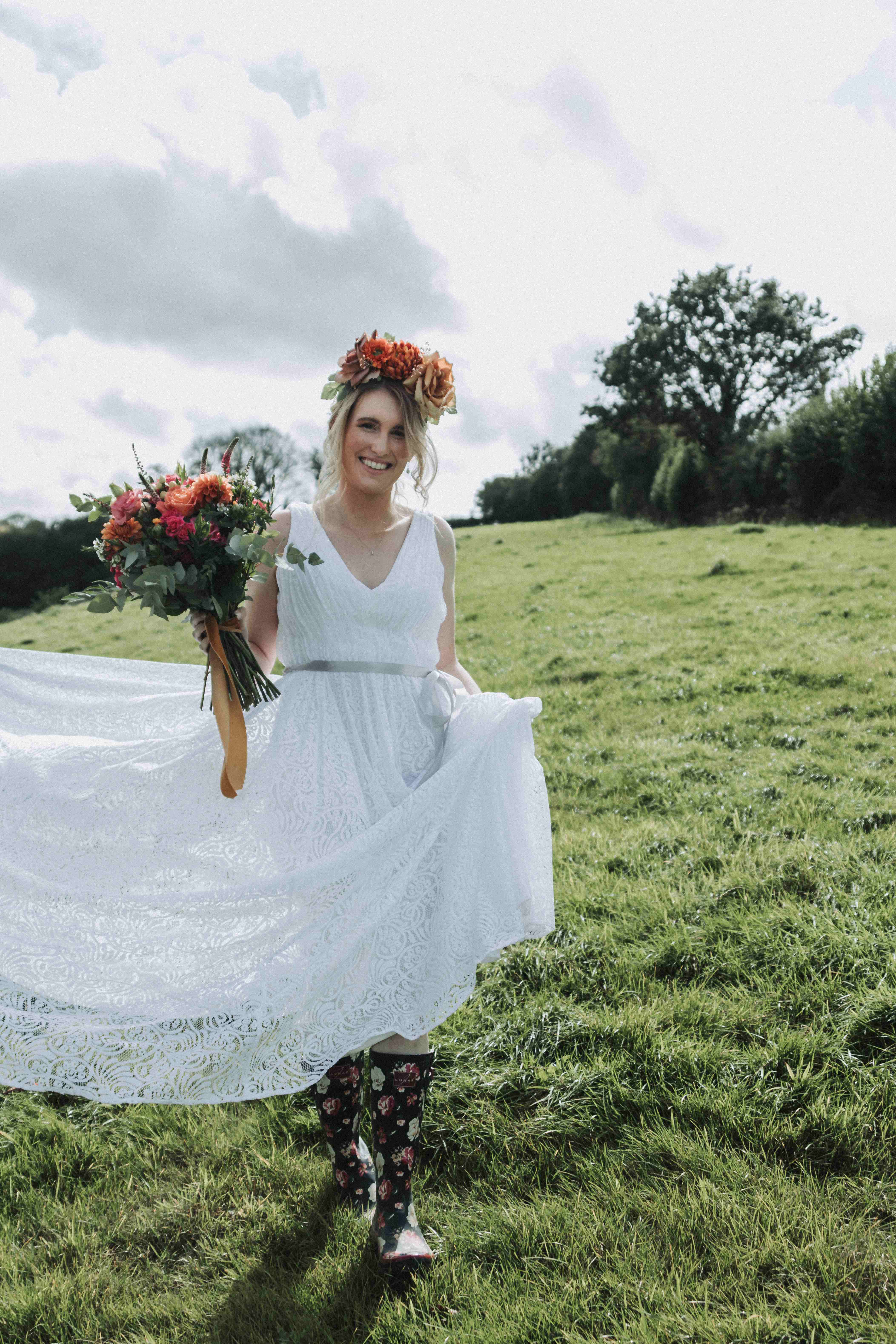 .
Bohemian Bridal Look
The selection of bohemian wedding dresses and autumnal headband for this shoot were supplied by Lacey Lou Bridal, focusing on lace textures and unique styles for boho brides.
Becca Ives of Ocean Waves Hairstyling, crafted a low, on-trend, boho bridal hairstyle full of texture to complement the rustic barn venue and to work in harmony with the rest of the bridal looks.
.
Autumn Boho Wedding Stationery
Embracing Boho-inspired elegance, the stationery for this Autumnal concept showcases blush pink and terracotta tones. Crafted on FSC-certified cardstock, it marries environmental responsibility with luxurious quality. Created by professional graphic designer, Natalie from Wedbury Creative, the suite features elegant fonts and a curved die-cut design, perfectly marrying rustic charm with whimsy. At Wedbury Creative, you have the freedom to match your wedding colours to suit your stationery, making it uniquely yours. You can shop this gorgeous full suite online at Wedbury Creative.
.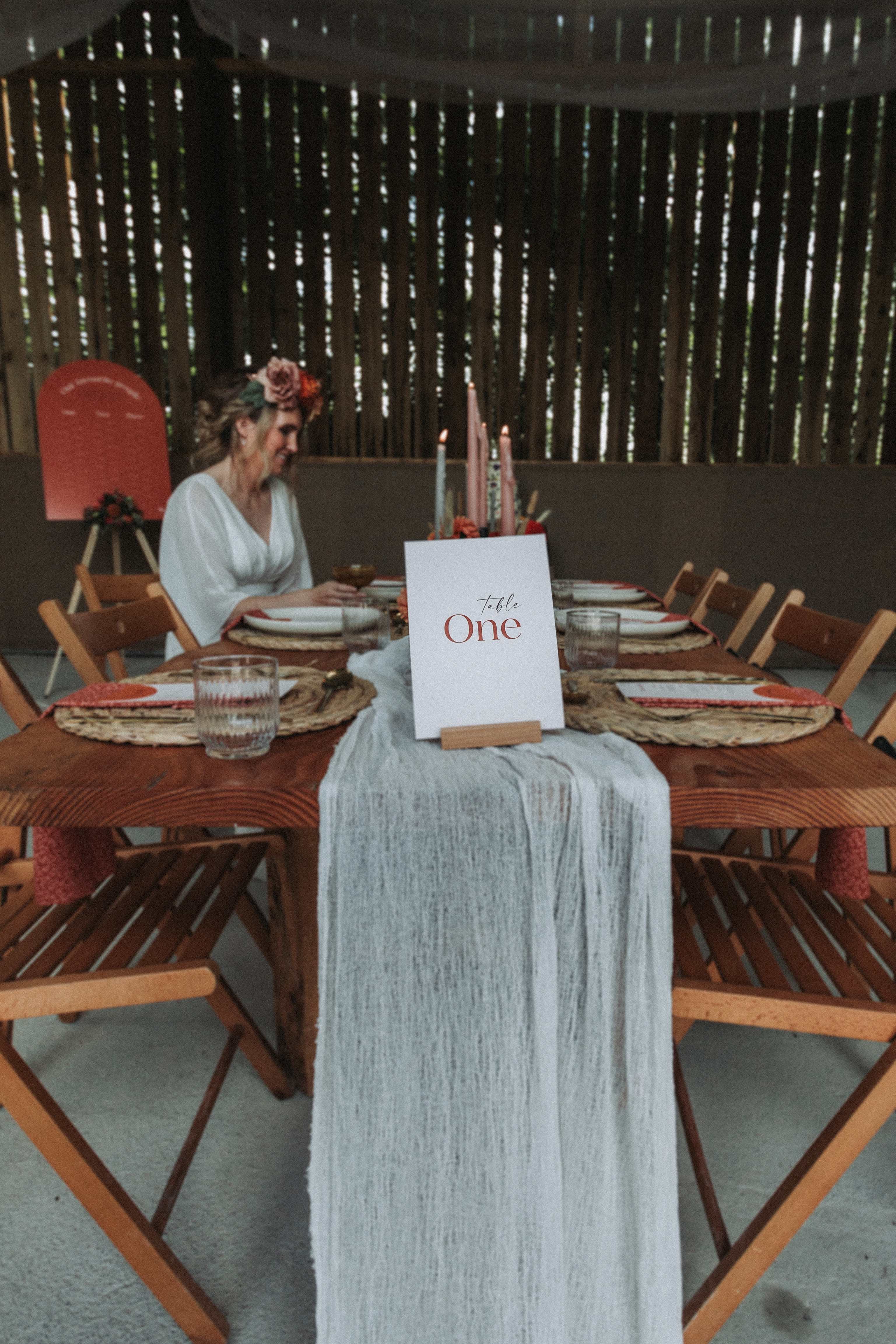 .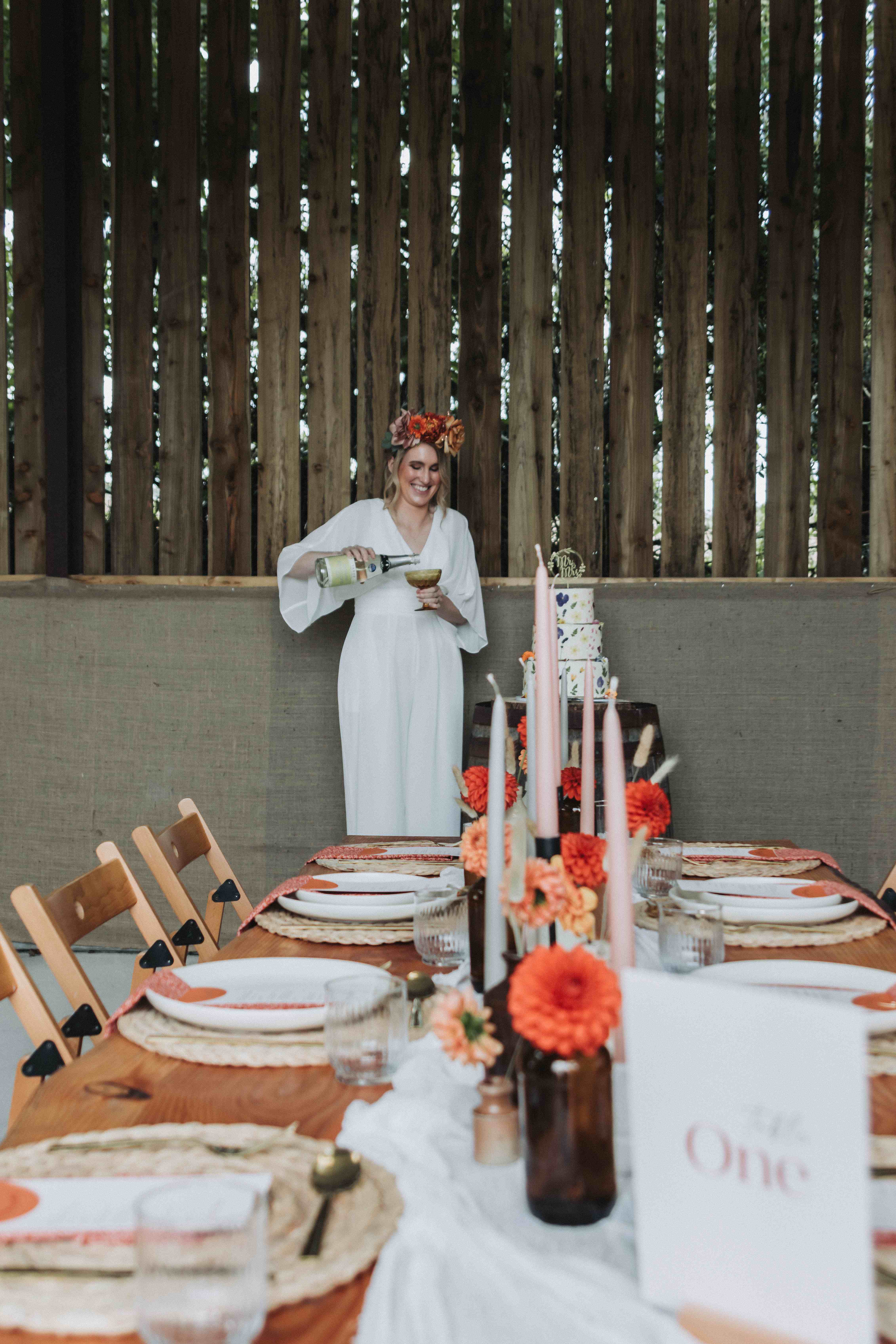 .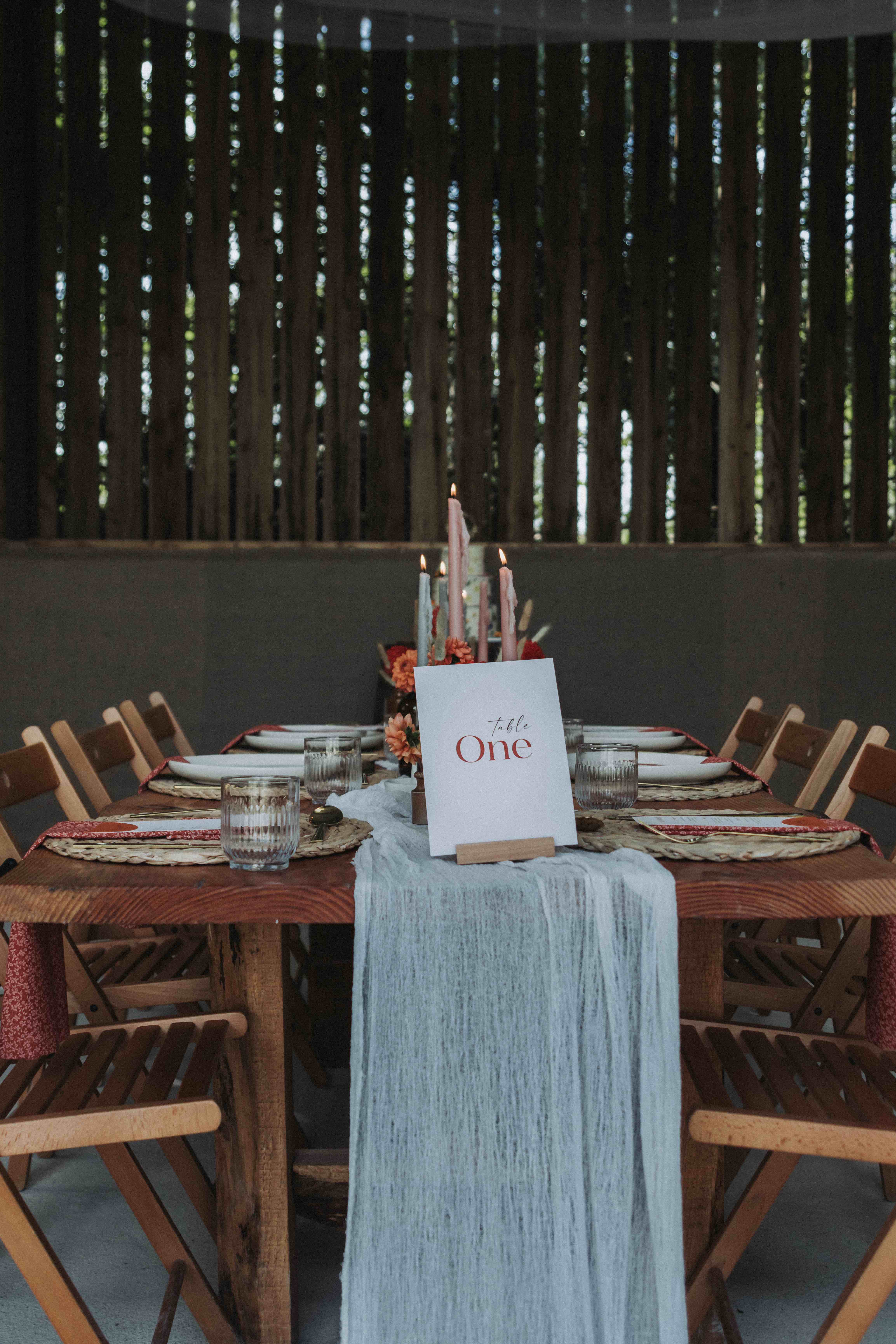 Natural Earthy Table Decor
An Autumnal table set up with a haze of blush florals and dusky pink candles, styled by Tide the Knot Wedding and Events Planning. The team wanted to capture a natural earthy palette to compliment the venue and its surroundings, using grey ceramic pottery, brown glass and a pop of terracotta for a warm and romantic feel. Table props were hired from Stargazey Decor Hire.
.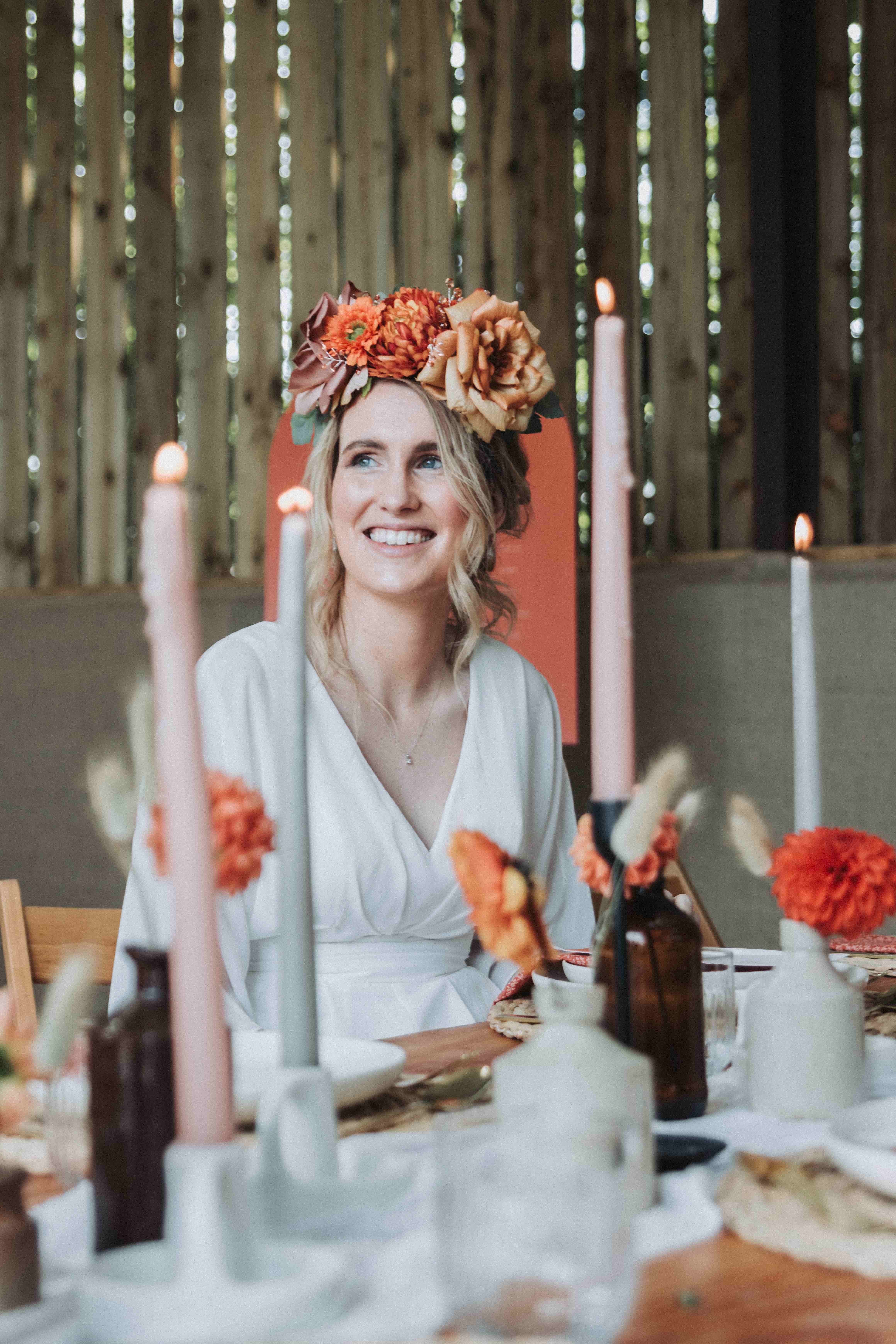 .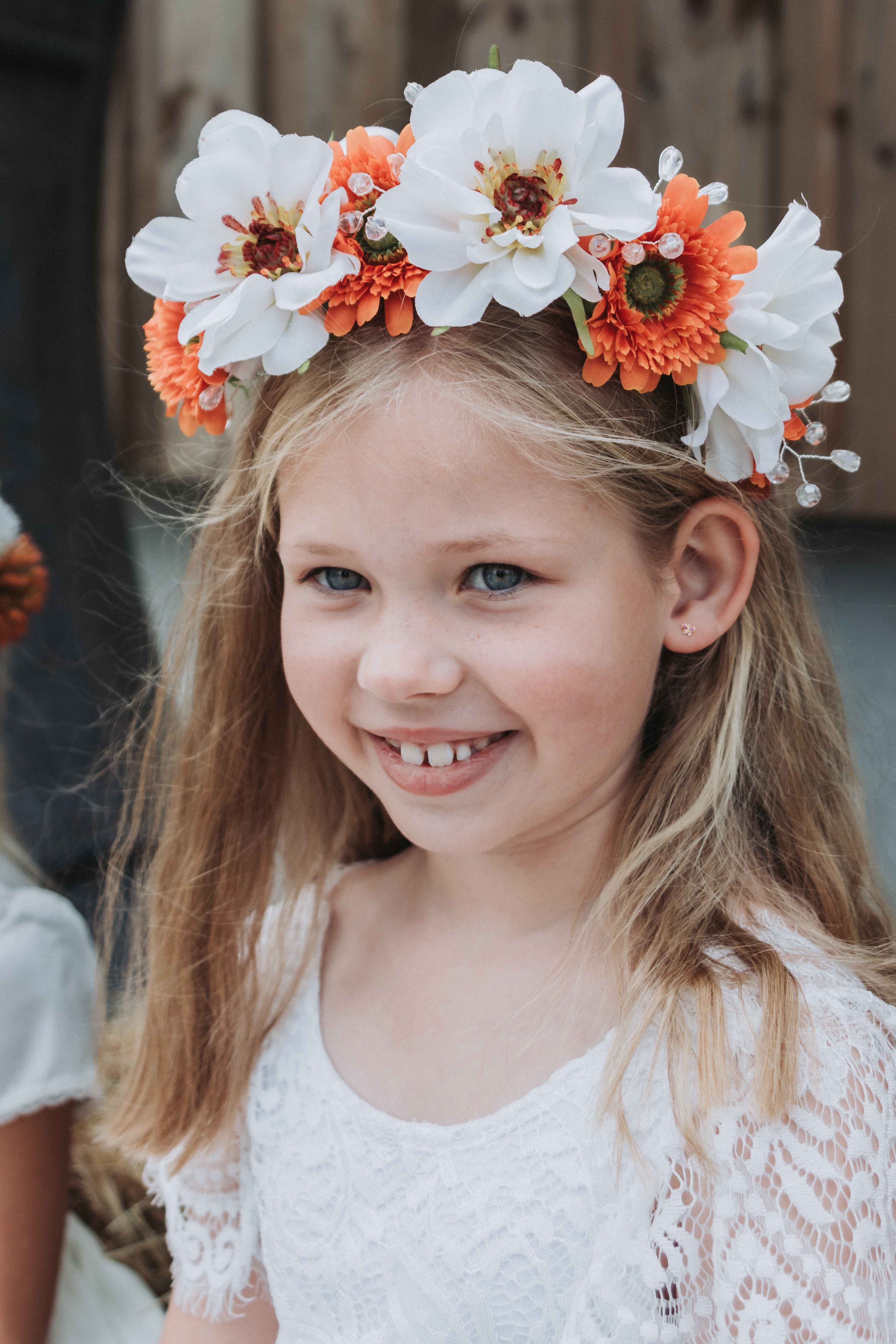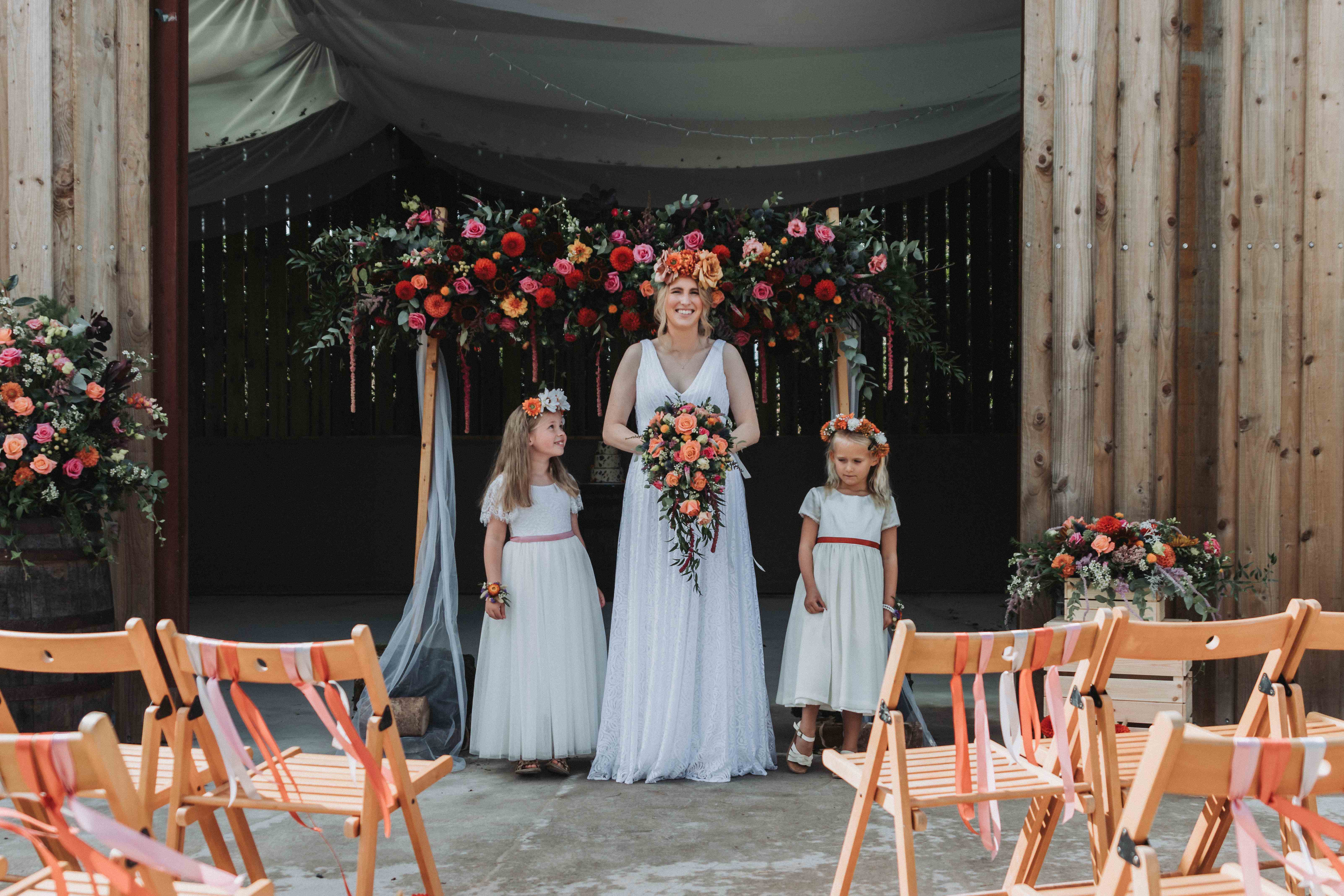 .
Autumnal Floral Display + Bouquets
Autumnal tones were used to create the floral displays for this autumnal photoshoot, linking with the stationary, cake & the layout of the wedding set up with a rustic touch to complement the beautiful country venue. The floral displays included a pedestal and an arch way which included dahlias, red sunflowers, roses, hypericum berries, orange carthamus, astilbe, wax flower, Veronica, leucedendron, red antirinhum and eryngium thistles to give texture and deep burgundy hanging amaranthus.
The bride had two types of bouquets, a shower teardrop bouquet with beautiful miss piggy roses and a hand tie bouquet which followed the autumnal feel, all beautifully created by Ipplepetals.
.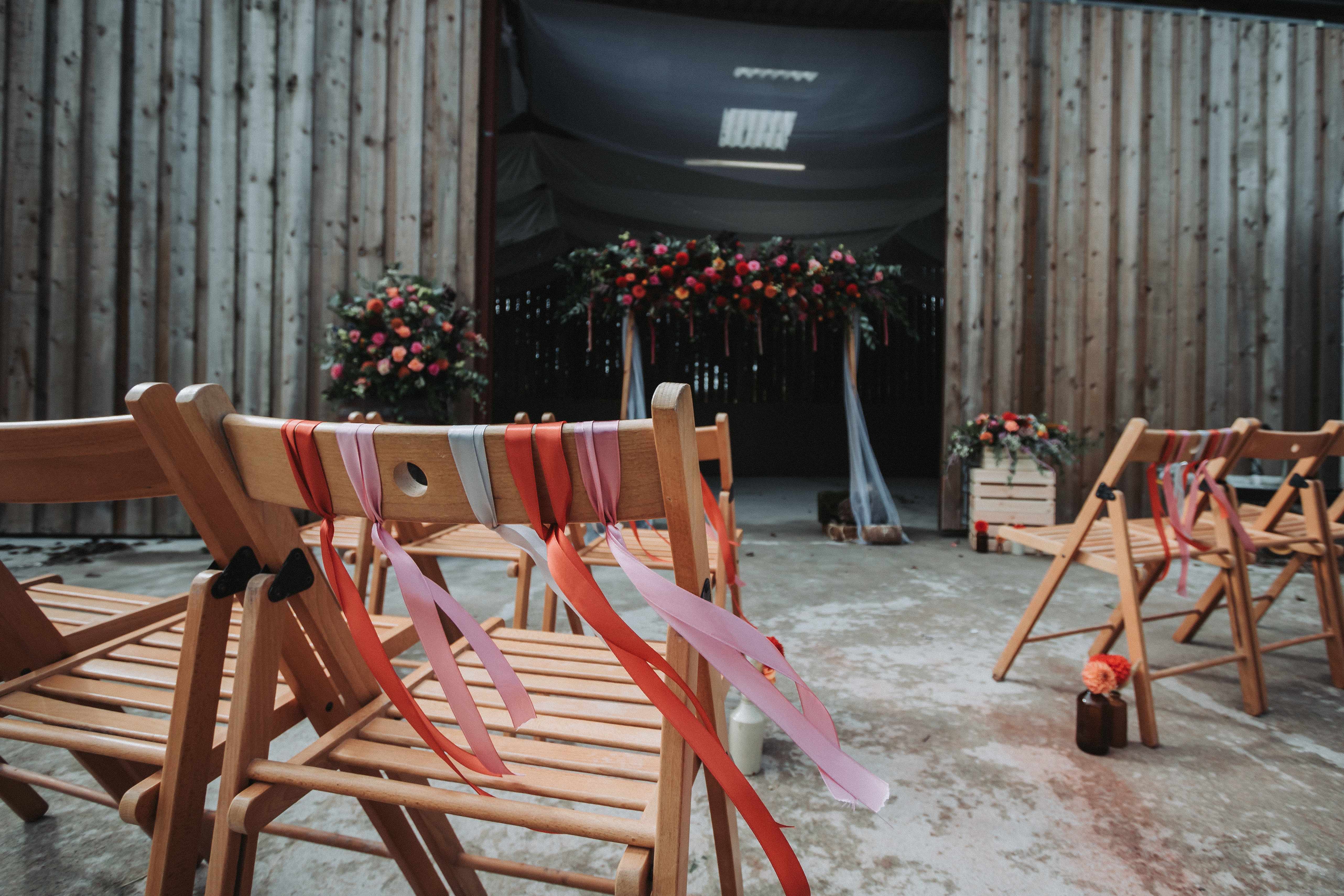 .
Autumnal Wedding Cake
A three tiered autumnal wedding cake was made by Annabelle's Cake Boutique. Traditional flavours were chosen including a vanilla and raspberry cake, a rich chocolate fudge cake as well as a zesty lemon cake. It was adorned with both dried and fresh flowers for contrast and were of a natural colour palette to complement the rest of the wedding decor.
.
.
Wedding Photography
A few words from photographer Jake Janes Photography "This was my first styled shoot and I absolutely loved it. The style was fantastic, the people were incredible. I didn't do much except take pictures! Everyone else did all the work and made everything look super pretty, I simply documented it in an artistic way!
Working with other creatives is always great fun, and all of these guys are true masters at what they do. I loved working with all of them. The images turned out really well. Most 'barn/boho' images have a brown tinge, I didn't want that, I wanted the full vibrancy of everything around us to show off the beauty of the suppliers work, the details, and that stunning venue"
Lot's of love,
Jess
Digital Marketing at The Boho Bride Guide
The supplier dream team:
Battleford Farm - Venue
Jake Janes Photography - Photographer
Wedbury Creative - Stationery
Tide the Knot Wedding and Events Planning - Planning + Styling
Stargazey Decor Hire - Props + Decor
Lacey Lou Bridal - Wedding Dresses
Annabelle's Cake Boutique - Cake
Ipplepetals - Flowers
Ocean Waves Hairstyling - Hair
ON 30th October 2023 / BY Jessica Tetstall