We are absolutely delighted to feature the beautiful wedding of Ellie & Tim on The Boho Bride Guide Blog this week. The newlyweds got married at River Cottage HQ in Devon on 22nd July 2021 and what a magical day it was.

The styling inspiration for Ellie & Tim's wedding reflected the ethos of River Cottage, with food from the local area and the garden taking centre stage.

They wanted it to be relaxed and not too formal, so their guests could really enjoy themselves. There was a real focus on home grown and locally sourced goods adding a touch of sustainability to their wedding.
Where it all began
Ellie and Tim met online in April 2019. They clicked instantly and after a few dates it was clear they were meant to be together. Tim proposed up Machu Picchu on a once in a life time trip to Peru, a truly incredible and unforgettable experience.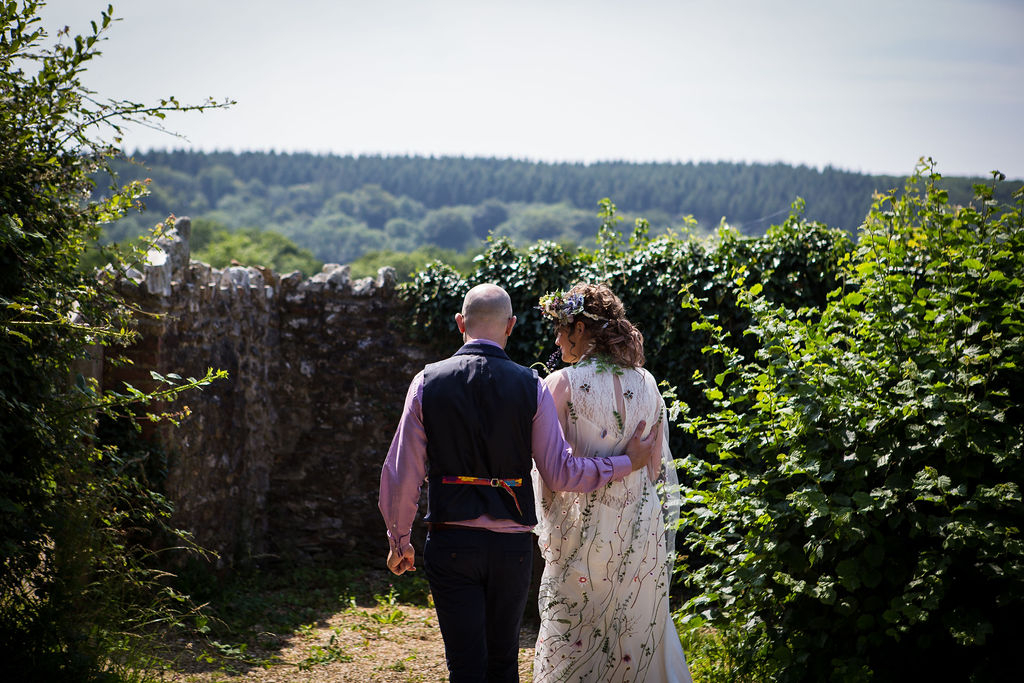 How COVID affected their Wedding
Unfortunately, like many couples in 2020 and 2021, Ellie & Tim had to change the date of their wedding 3 times.

Ellie explained that postponing the first time was devastating as they felt they would never get the wedding they wanted. But actually their feelings about the wedding changed whilst waiting for their day to arrive.

Covid made the couple value their nearest and dearest even more so, and brought them closer together. They decided to keep their numbers small with only 40 people there on the day. This allowed them to spend time with everyone and made their time with family and friends even more expectional. They were even allowed to sing and dance with all their guests as Covid restrictions had completely eased.

We think that this will impact a lot of couples getting married in the future and make them re-think what really is important to them on their wedding day. Intimate and micro weddings may be a big thing for the future and we are all for it!
Special Touches with a focus on sustainability
There was a theme of trees and wood for this countryside wedding, and the tables were all named after British Trees. Tim made the candleholders from locally sourced wood and each table had a flower arrangement centred on a log.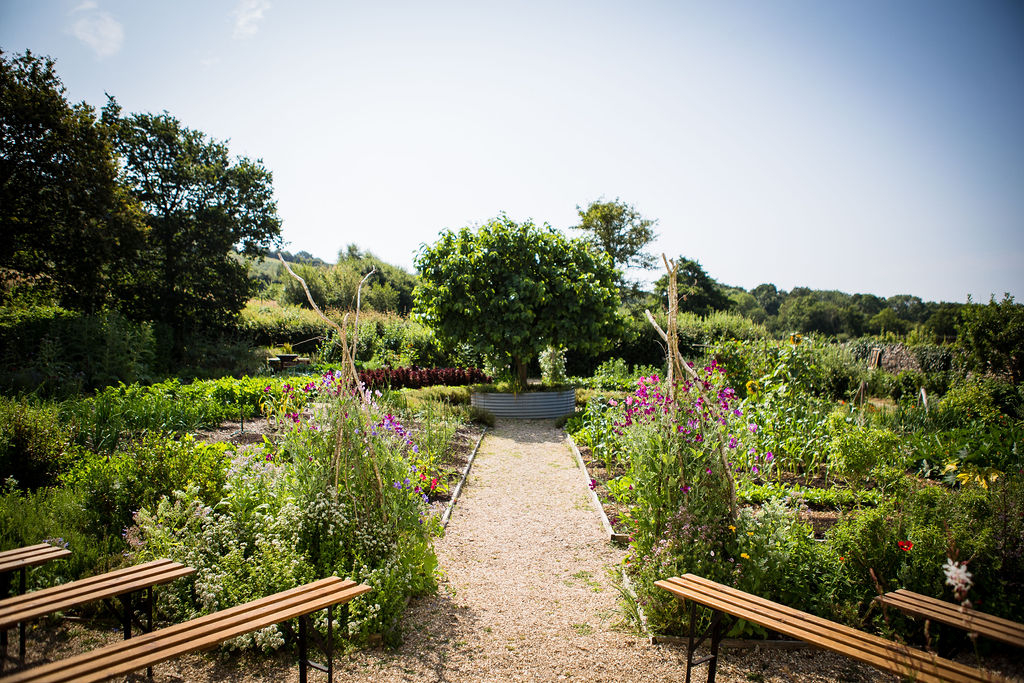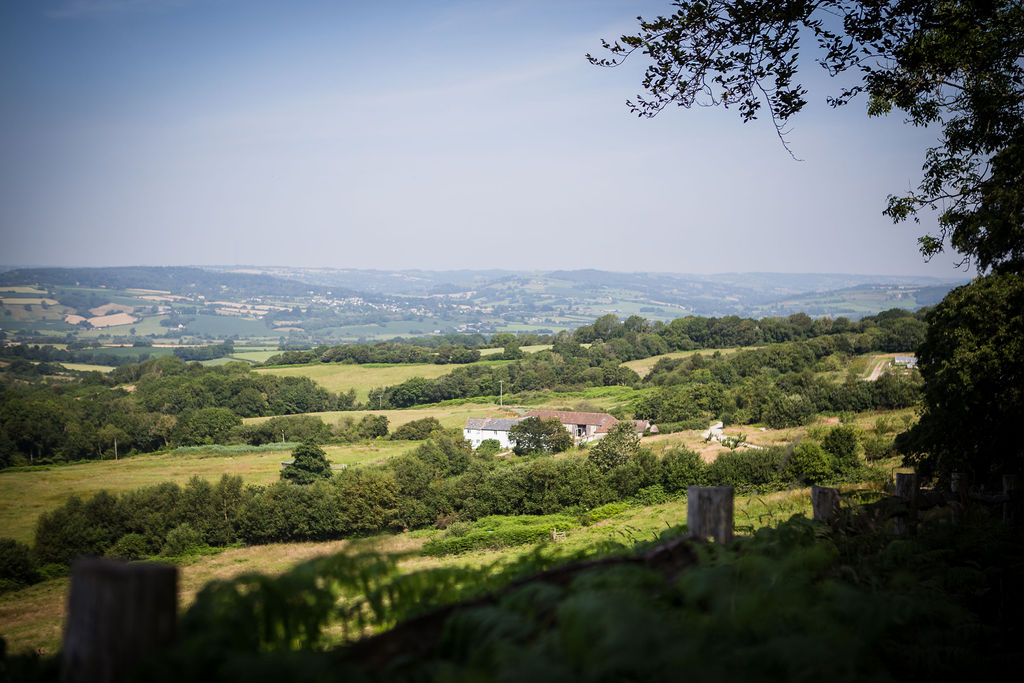 Local & Home Grown Wedding Food by River Cottage
Ellie loved the fact she could select a venue that showcased their ethos of home grown, locally sourced and produced food. They also designed their own personal menu with the chefs at River Cottage, including local Lyme Bay scallops, Lamb and all the veg was picked that day fresh from the River Cottage garden. Now, you can't get more local than that!
Dessert was a yummy Chocolate and Cider brandy ice cream, with fennel seed brittle.
Handmade Floral Wedding Cake
The beautiful floral inspired wedding cake was designed by Angel Chops Cakes, all of which are lovingly hand made by Laura, the owner, in Scrumptious Sidmouth.
Locally Grown Wedding Flowers
The flowers, were created by Ellie's mum and were all from her own garden or locally sourced. There was no fixed colour theme and they embraced what local flowers were available at the time. We love the heavy floral focus of this wedding too, so natural and wildly romantic.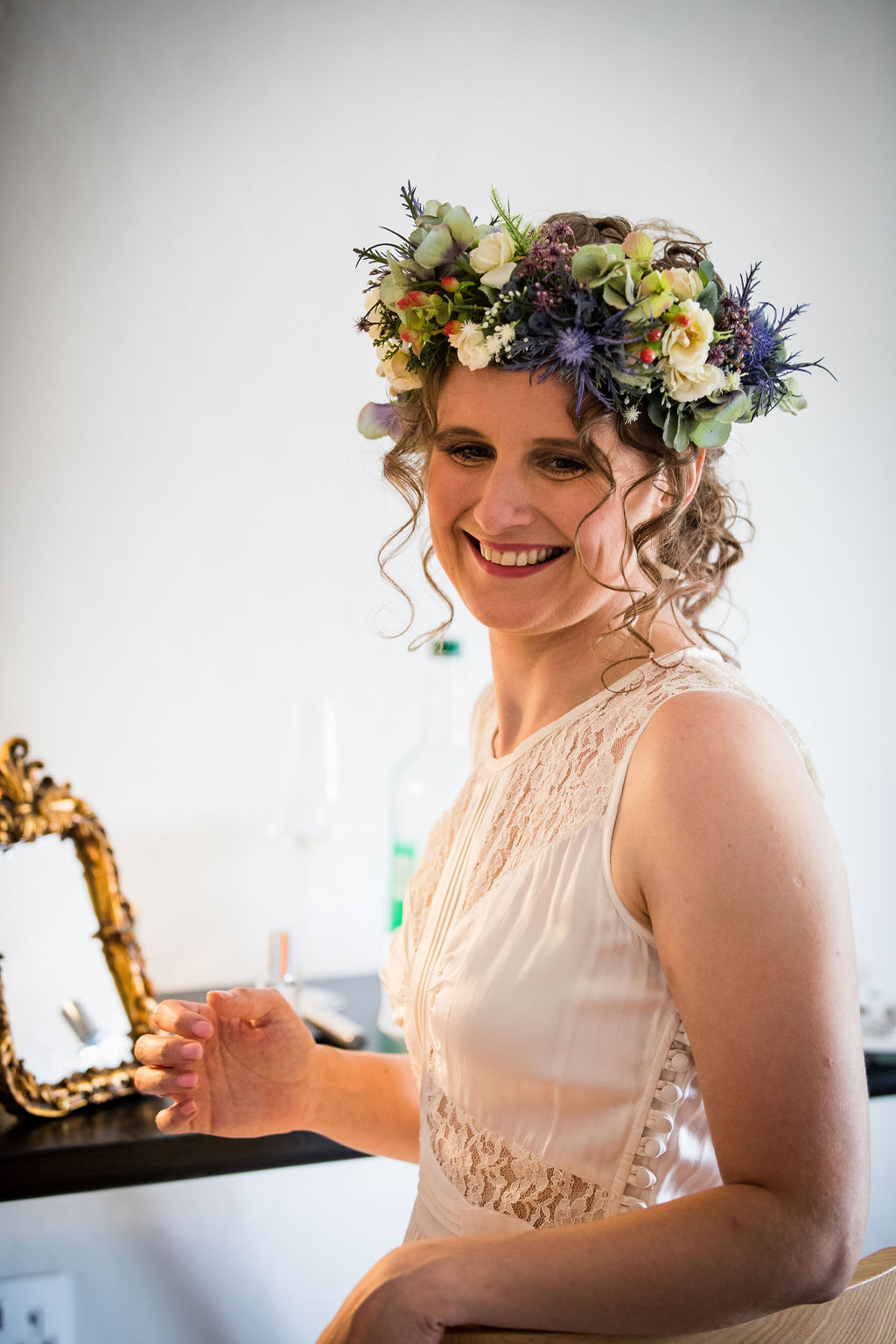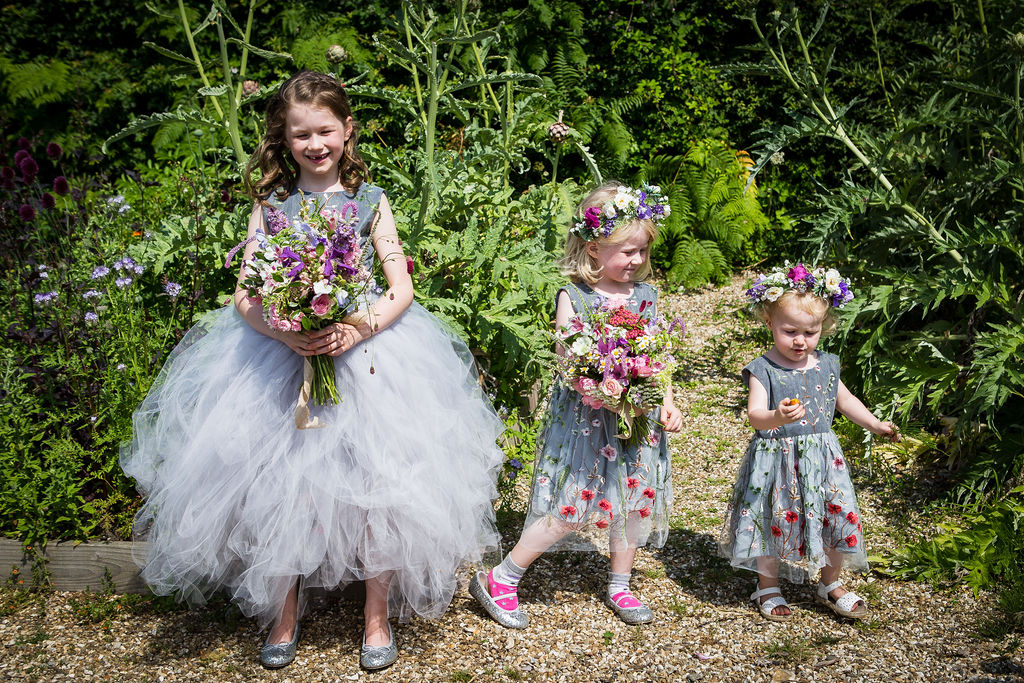 Sustainable Handmade Wedding Stationery
Laura Likes created the couples wedding invitations out of seed paper meaning they could be planted and grown by the guests. They were based around their wildflower, floral theme.

The couple also had a bespoke wedding newspaper made by Photopress UK, featuring photos, a crossword and the order of the day.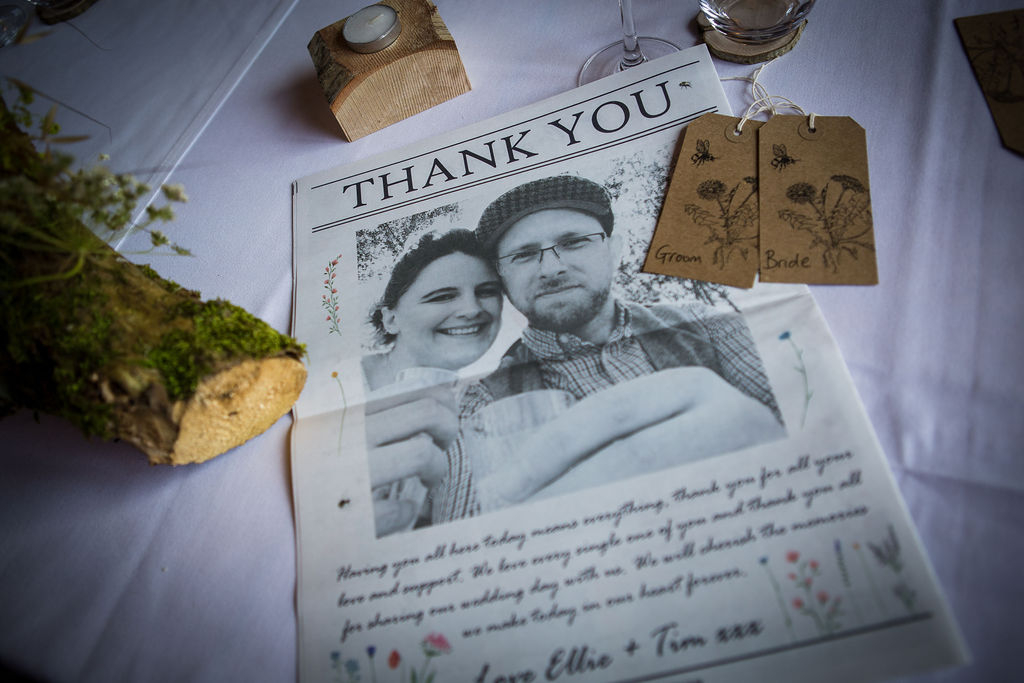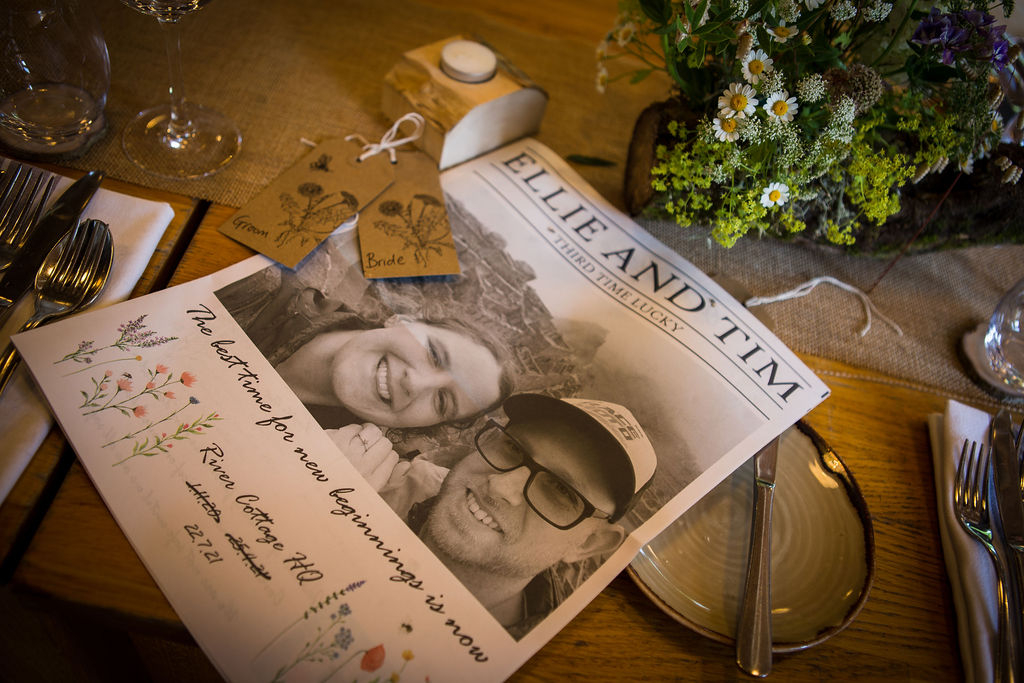 Vintage Bridal Dress and Handmade Touches
Ellie explained that she struggled to visit any bridal shops due to lockdown so she had to order something online. She ordered various dresses from John Lewis and tried them on at home with with her Mum, eventually finding her dress by Ghost with a vintage feel.

Ellie chose some Love from Hetty and Dave shoes to accompany her vintage bridal dress. Ellie opted for flats with an amazing Bowie themed Ziggy Stardust to match with her entrance song.
The bridesmaid dresses, bridal headpiece and bridal cape were all handmade by Ellie's very talented Mum.
Tim also made his tie clips from recycled cymbal. Amazing!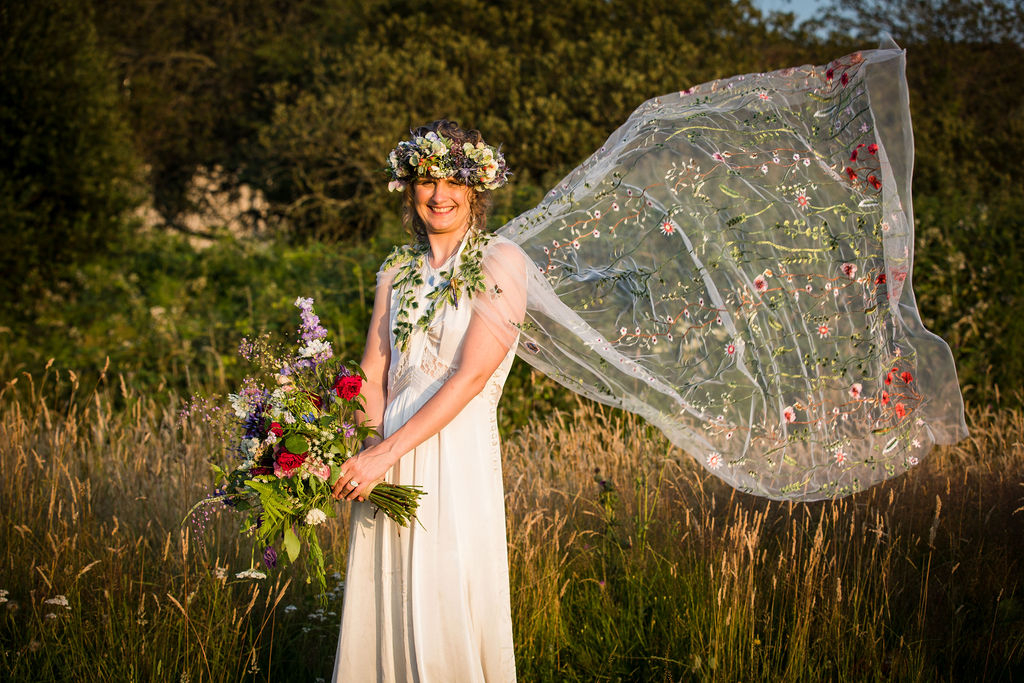 VW Vintage Camper for Event Hire
Little Red Bus Photobooth is a red VW camper and they provide amazing headdresses and props to take some truly memorable photos with your guests. Ellie and Tim said this was brilliant fun for their guests and the kids just adored it.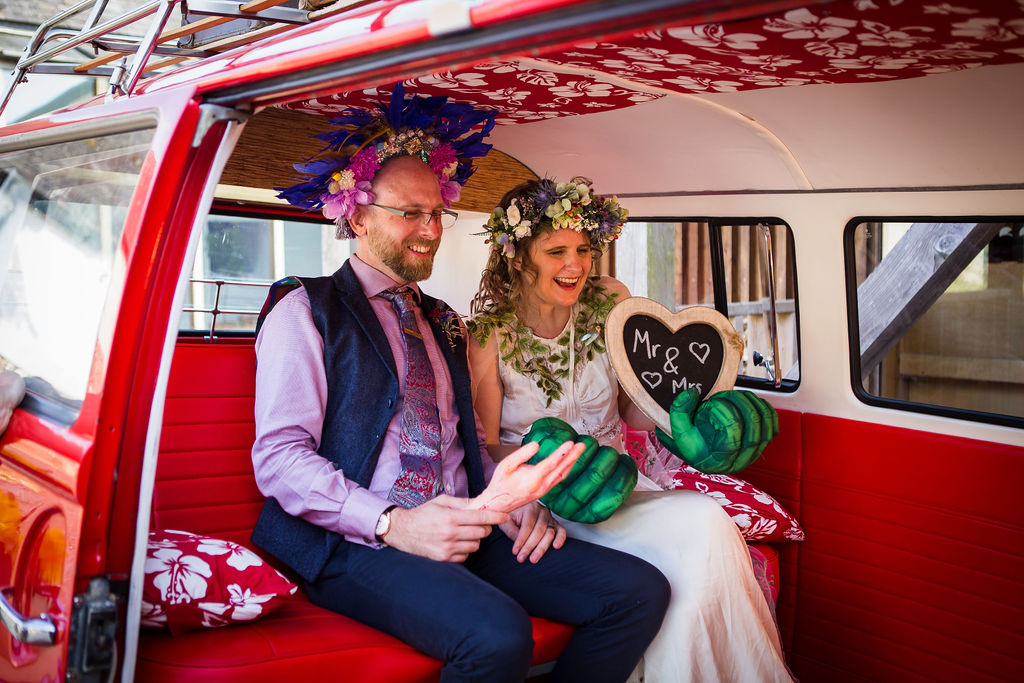 Natural & Relaxed Wedding Photography
Ellie praised her wedding photographer Laura from FreeForm Images Photography, stating that she was amazing from start to end and gave such a personal service. The photographs were absolutely perfect and we totally agree!

Laura is one of our fabulous UK approved suppliers and offers a bespoke service in a documentary style. Ellie added that Laura 'captured all our guests and wedding details perfectly.'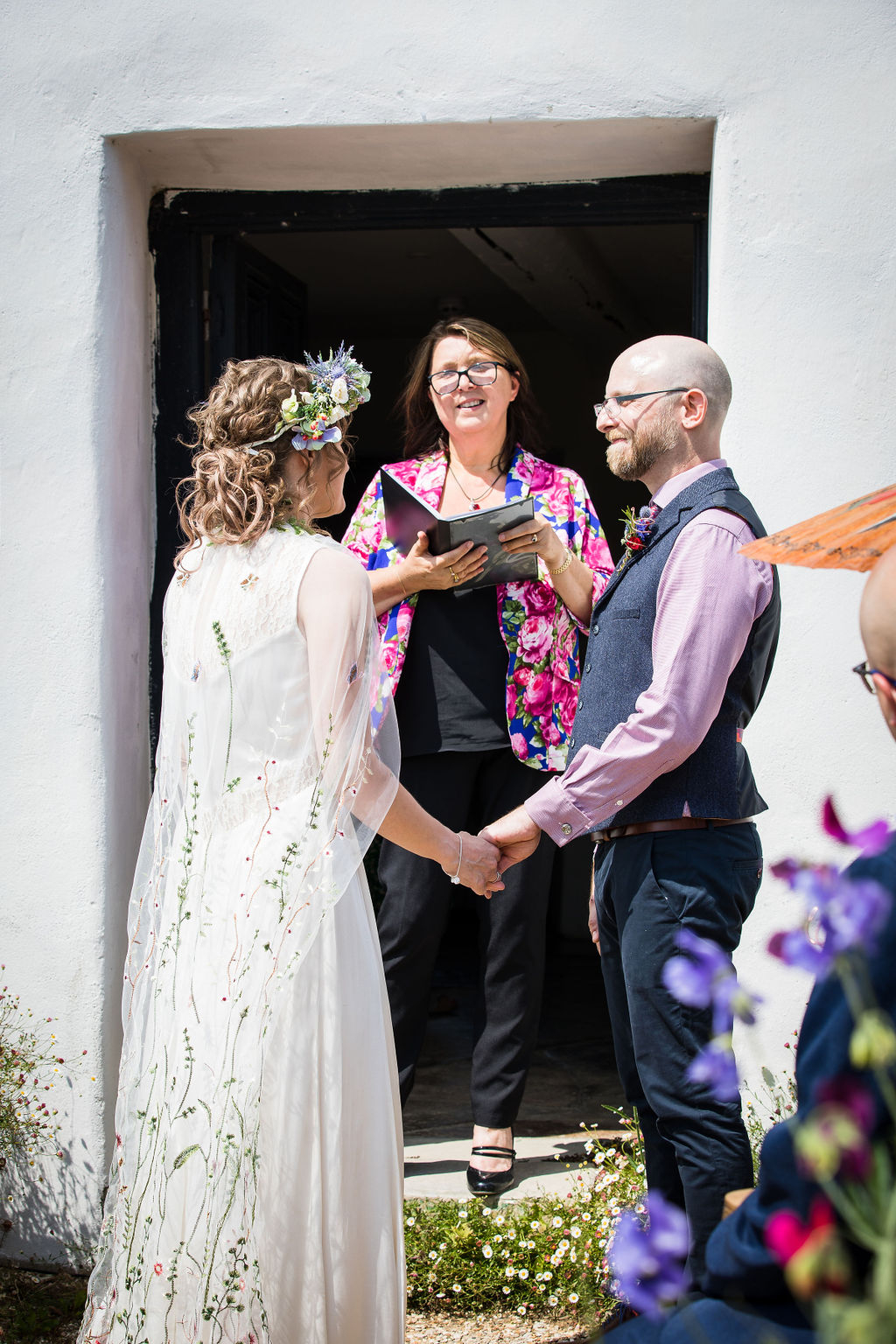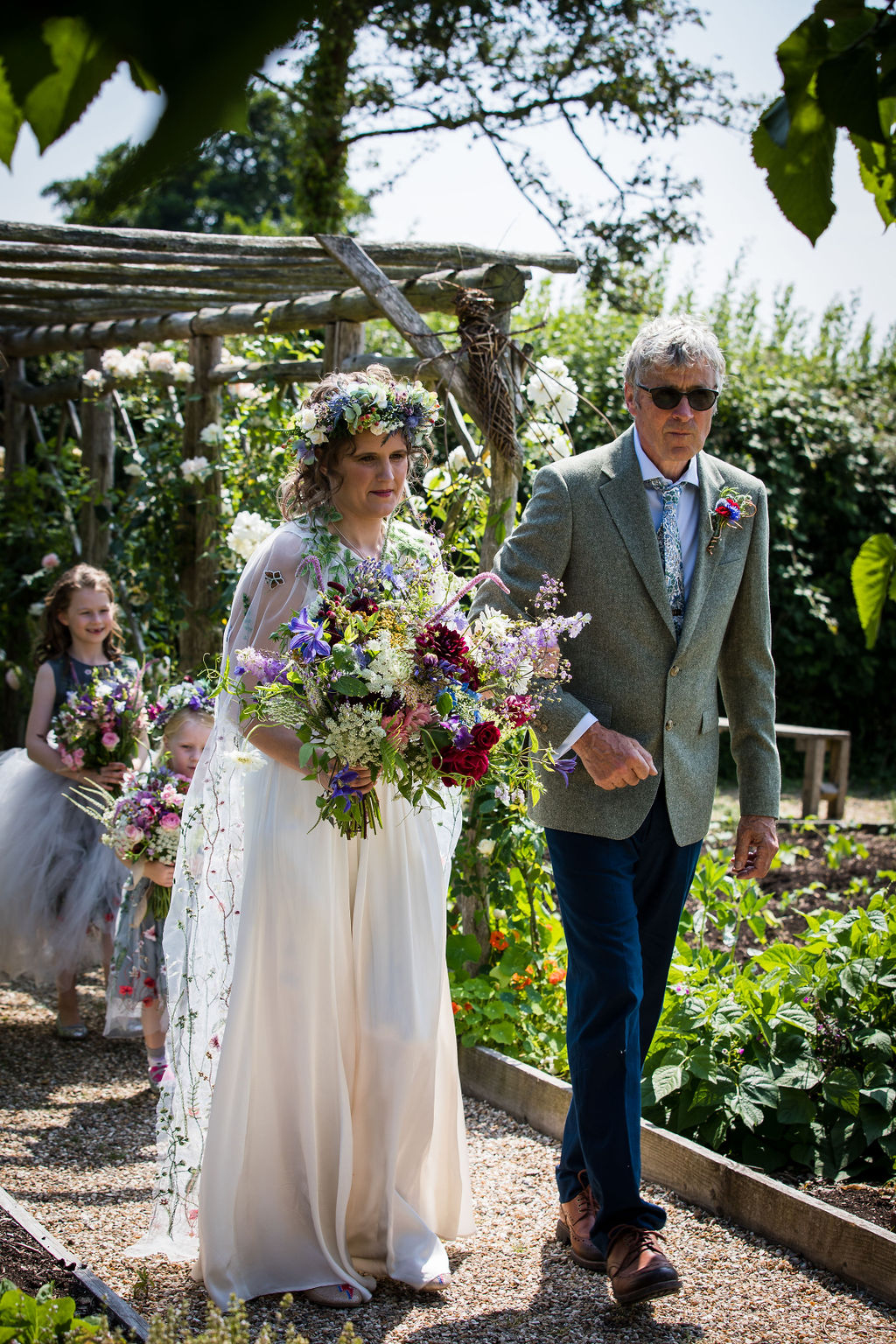 Special Wedding Day Moments
This is what Ellie had to say about the favourite parts of her wedding day.

'The ceremony was truly fabulous. I walked down the aisle to David Bowies "Heroes" and we stood in front of the iconic River Cottage in the blazing sunshine saying the vows we had written for each other.'
Ellie also added, 'Sitting down to eat the menu they designed with the chefs at River Cottage and seeing all the local food and garden vegetables on the plate, was all truly delicious!' This really reflected their ethos about eating locally and growing your own produce.

Dancing and singing with their friends to Bohemian Rhapsody after all being apart for so long, and taking selfies in the Little Red Bus Photo booth, was a perfect ending to a perfect wedding!

Congratulations Ellie and Tim!
We hope you have enjoyed reading this post on Ellie and Tim's relaxed, sustainable Wedding.

Thank you so much Ellie & Tim for sharing your sensational and sustainable wedding day with us!
Lot's of Love,
Jess
Virtual Assistant to The Boho Bride Guide
@digitalwithjess
List of suppliers - Ellie & Tim's Wedding
FreeForm Images Photography - Photography
River Cottage HQ - Venue
Lily of the Valley Hair Design - Bridal Hair
The Little Red Bus - Event Hire
Love from Hetty + Dave - Bridal Shoes
Photopress UK - Wedding Newspaper
Laura Likes - Wedding Stationery
Goldfinger - Wedding Rings
Angel Chops Cakes - Wedding cake
Julia Flatman Flowers - Flowers, Bridal Headpiece, Bridesmaid Dresses, Bridal Cape
ON 4th January 2022 / BY Jessica Tetstall