Set amongst the stunning Albula Alps in the picturesque landscape of Switzerland, this intimate and adventuruous elopment styled shoot has us drooling and wanting more. Featuring rugged mountains, rustic boho florals and warm autumnal tones to feast your eyes upon, you will not be disappointed!
A collaboration between two super talented photographers, Laura Seitz Fotografie based in Germany, and Miri Roth Photography , based in Switzerland, and their amazing team of wedding suppliers from across both countries. Enjoy!
.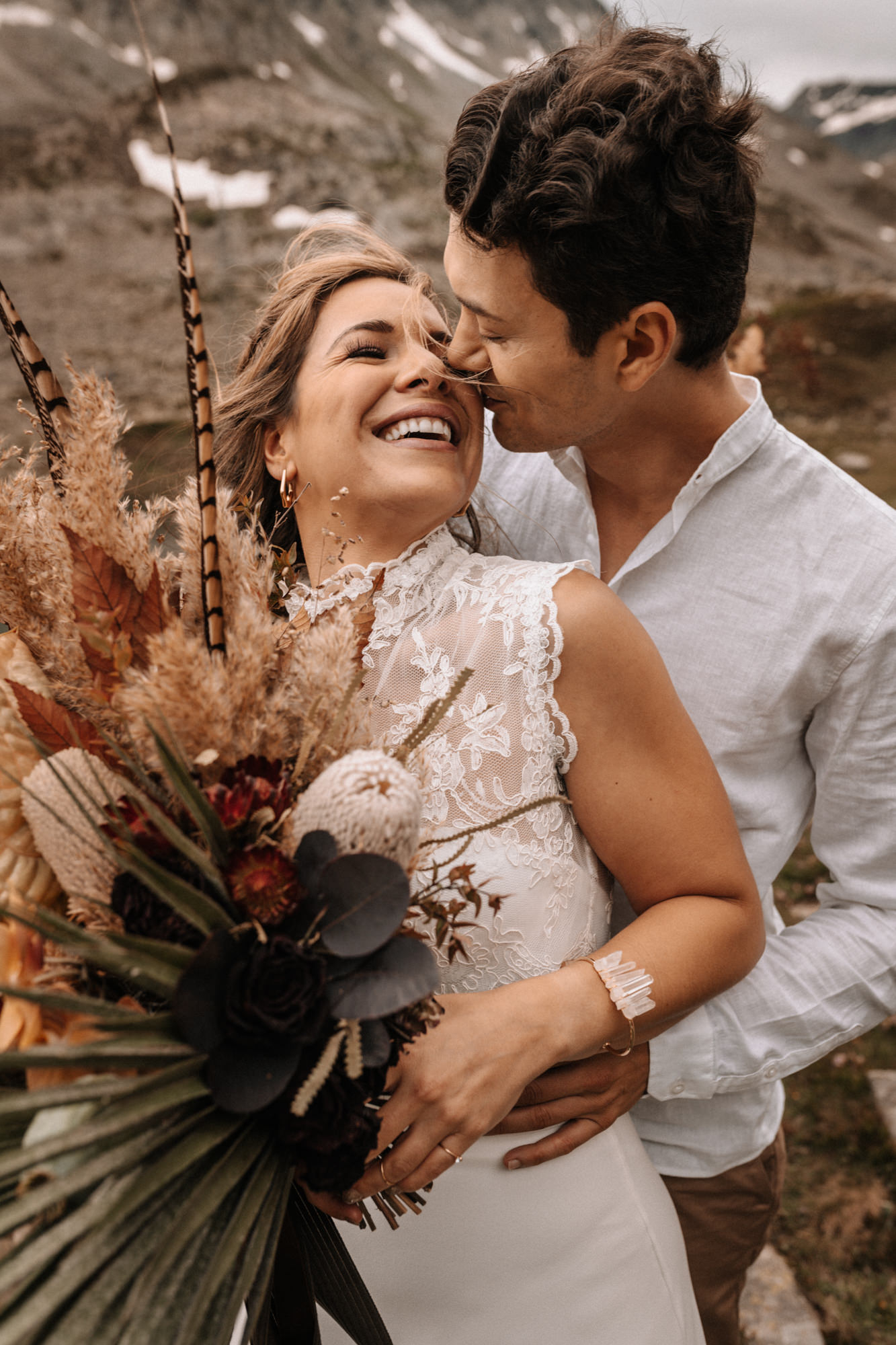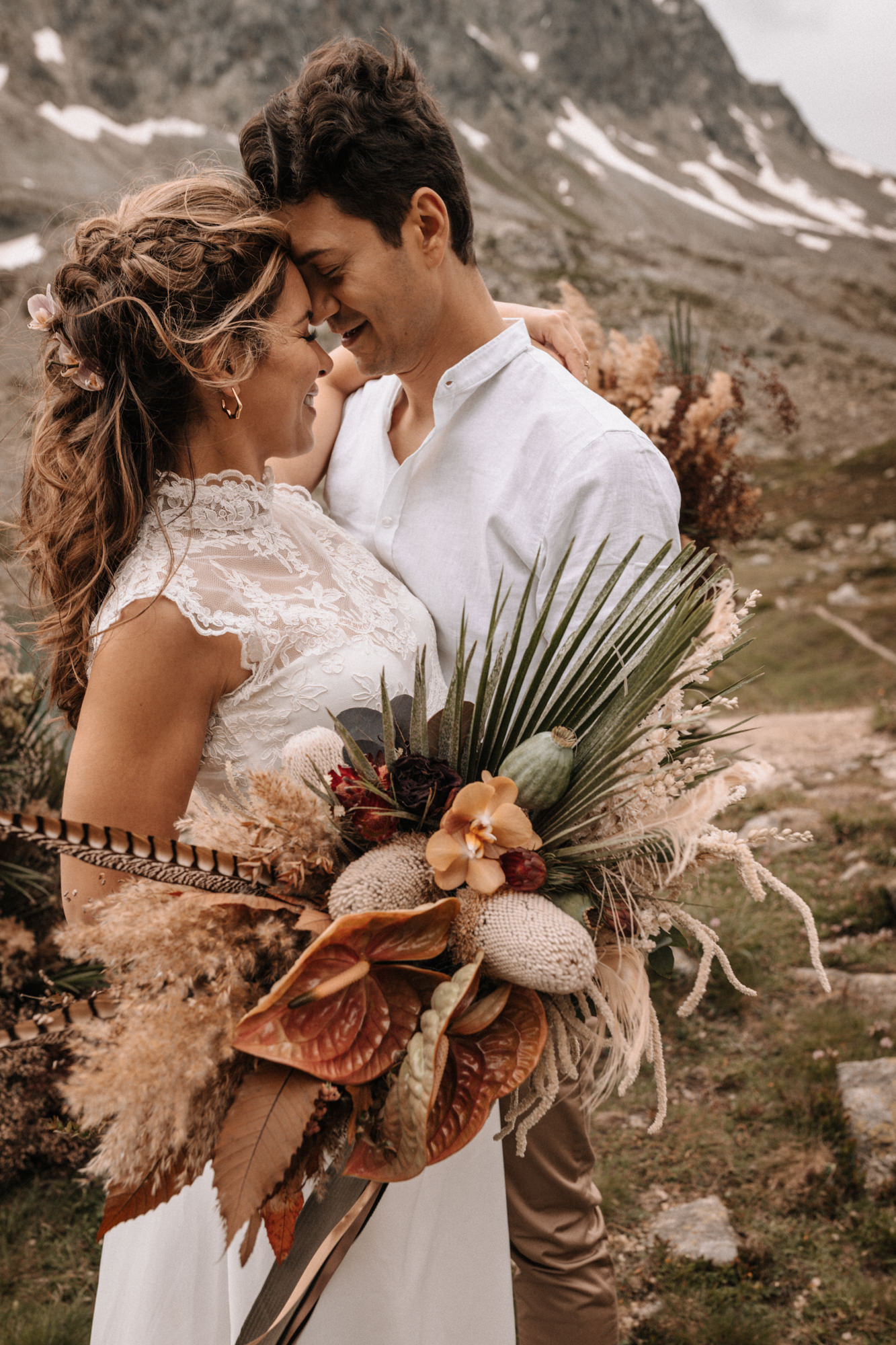 Break Free of Tradition: The Shoot Inspiration:
Laura is totally in love with adventurous ways of getting married, and is inspired by awesome spots around the world, especially mountain ranges. The concept of this editorial aims to inspire and encourage couples to get married in an intimate way with an elopement at any place they desire. 'Engaged couples should be able to let go of the fear of breaking wedding traditions, and celebrate their love for each other excatly how they want to, even if that is just between themselves.'
Laura was assisted by Mel's Weding World for the coordination and styling of this shoot.
.
.
'Road to Happiness' - The Stunning Elopement Location:
Switzerland offers many possibilities for an intimate and adventurous wedding, with its mountain regions and breathtaking landscape. That's exactly what the team wanted to show with this shoot and that's why they chose the Julier Pass in the Engadin, Albula Alps. known as the 'Road to Happiness'. Engadin boasts magnificent landscapes and glorious views making it the perfect spot for a truly adventurous and wildly romantic intimate elopement spot.
.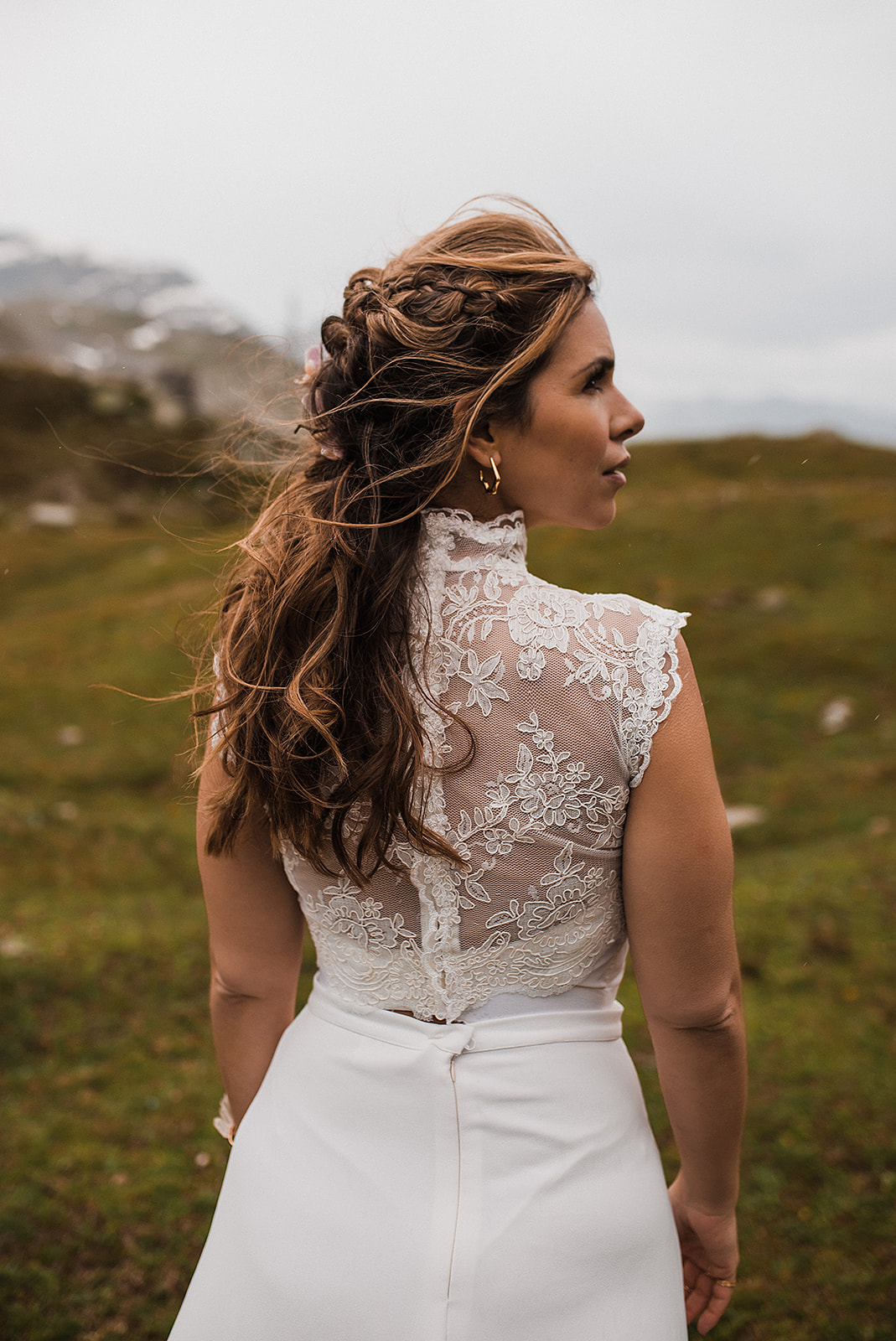 .
Traditional Swiss Inspired Bridal Outfit:
The striking short-sleeve lace bridal dress supplied by All Around You was actually a three piece consisting of a skirt, a corsage and a lace top. The outfit was kept simple and elegant, and the choice was inspired by traditional clothing from the region, so fitted into the rough counter of the mountains perfectly. The dress was partnered with modern walking shoes to make it easy for the bride to navigate over the rugged landscape, not to mention making the overall outfit look SUPER cool too!!
The wild and organic bridal hair styling consited of a half-updo with a part that was braided beauitifully executed by Nina Morin . The bridal makeup was adapted to reflect the earthy tones of the location and emphasis the natural attributes of our radiant bride. Refined Bohemia handmade a number of stunning boho inspired jewellery pieces to showcase within this editorial. Their jewellery is made in small batches and follow traditional jewellery patterns from across the World and inspired by nature and all the beauty it has to offer.
.
.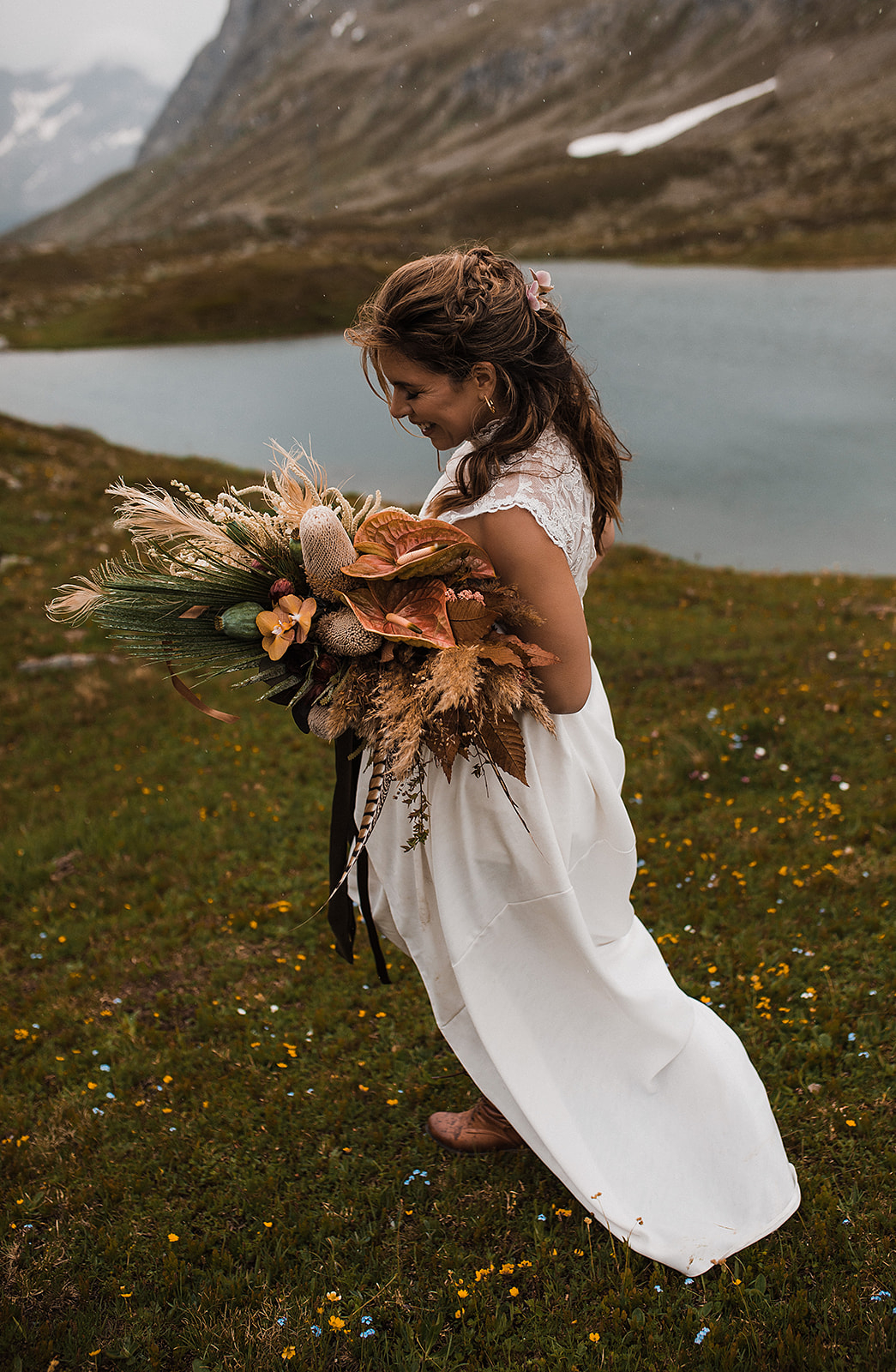 .
The Relaxed Groom
An adventurous elopement is to celebrate your love for each other, out in nature, where you feel most free, and feeling 100% authentic to yourself, including what you choose to wear should feel right to you. The Groom, wore plain camel chino pants that sat over brown walking boots and a crisp white band collared shirt, that was comfortable and stylish in equal measure, enabling the Groom to feel totally at easy, whilst enjoying the mountain views.
.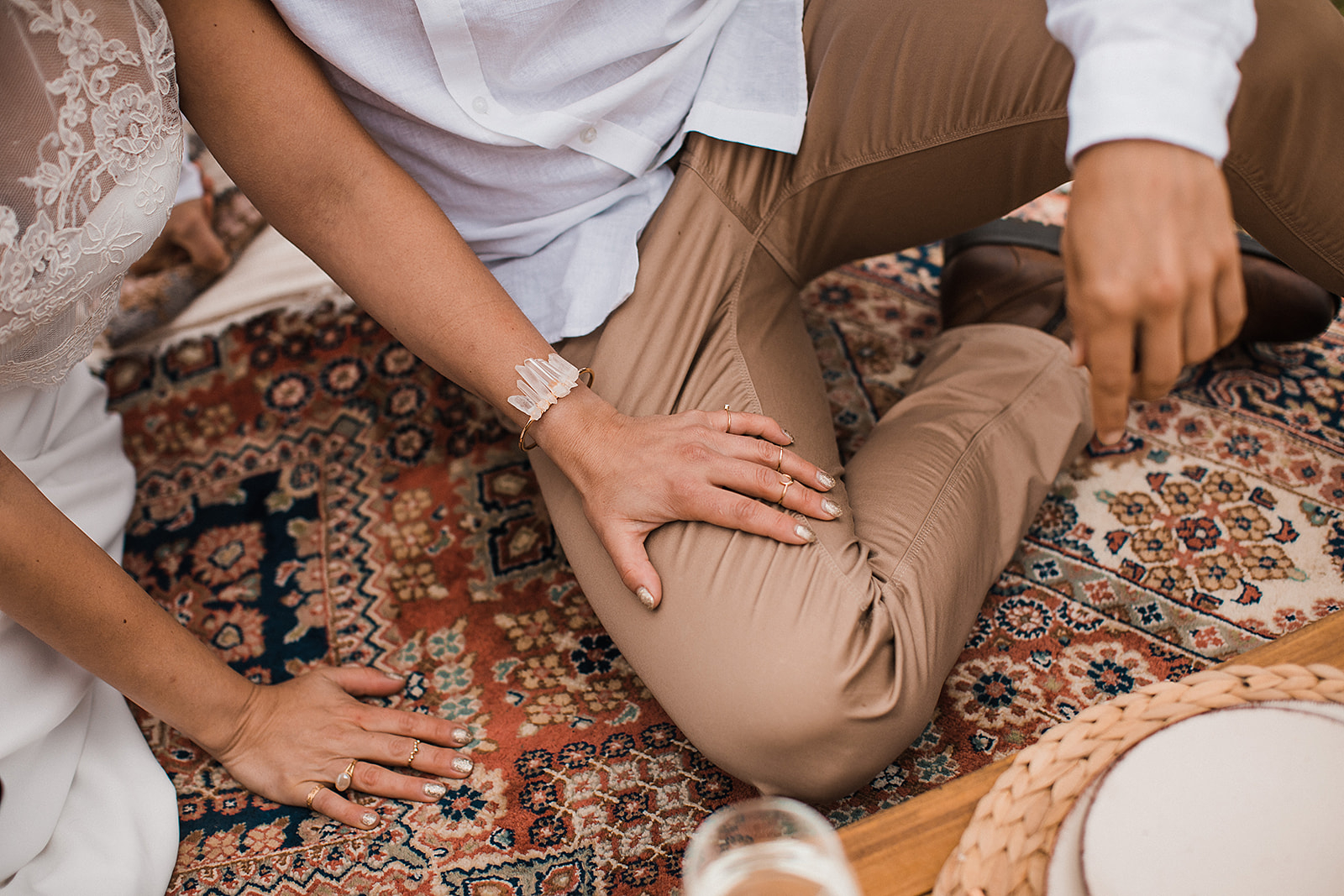 .
The Earthy Boho Florals:
Florist Rita from Das Blumenkind created a show stopper of a ceremony backdrop in the shape of a 'V', displaying a floral color gradient from light to dark, created with elements such as; baby's breath, palm leaf fans, pampas grass and light peacock feathers. This was also reflected in the bouquet and table decorations which also included, dark peach coloured anthurium flowers, orchids, and poppy seed heads. Everything was coordinated beautifully under the keen eye of Mel's Wedding World with the stunning location and the team's inspiration mood board in mind.
.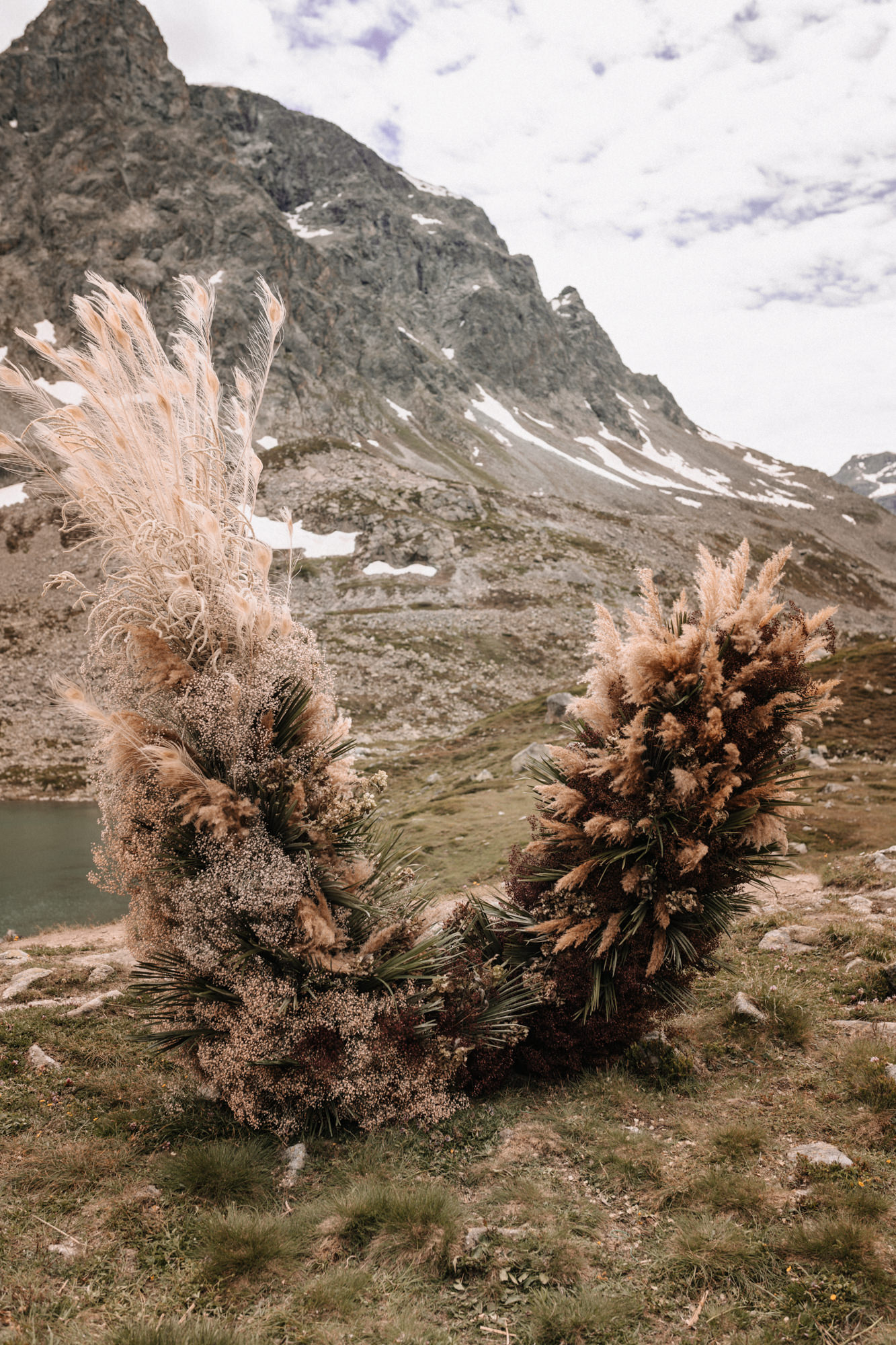 .
.
.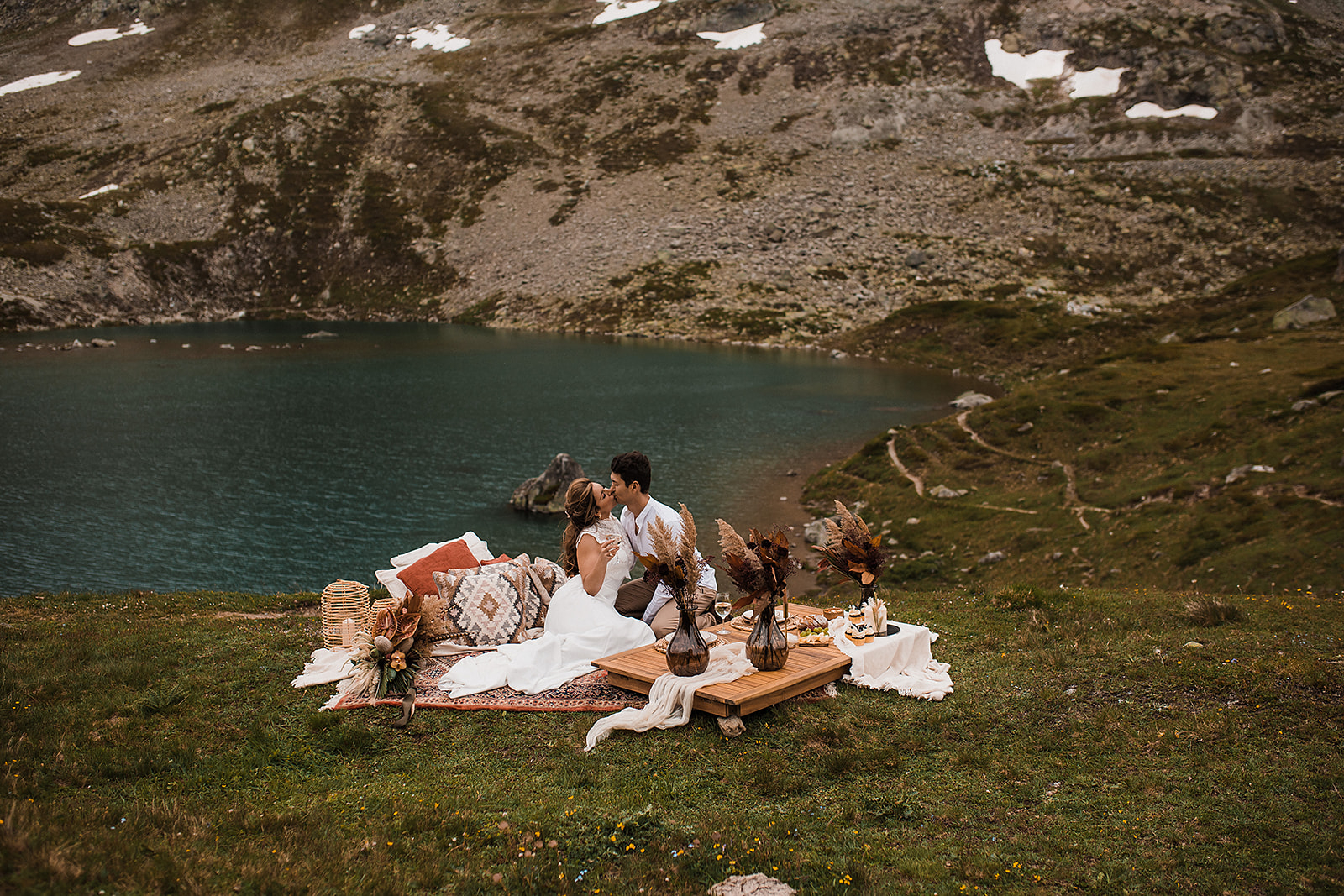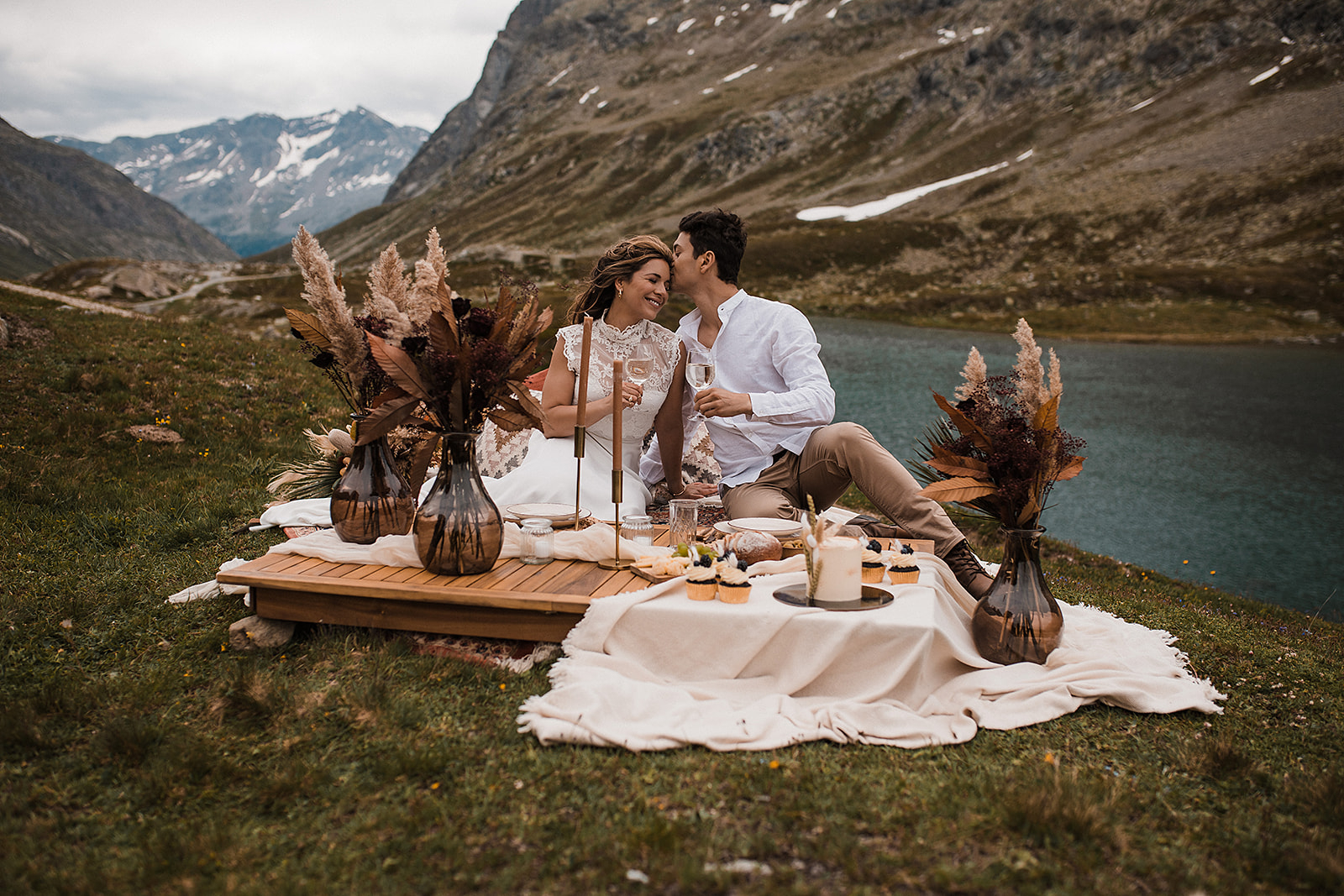 Celebration Picnic in the Outdoors
What better way to celebrate your elopement together than an outdoor picnic enjoying your tranquil surroundings. This beautiful set up used an earth colour palette and natural tones throughout of soft furnishings, a large vintage rug and wooden table all supplied by Kreativ Ruum, to create a relaxing space to enjoy their picnic full of culinary delights!
.
.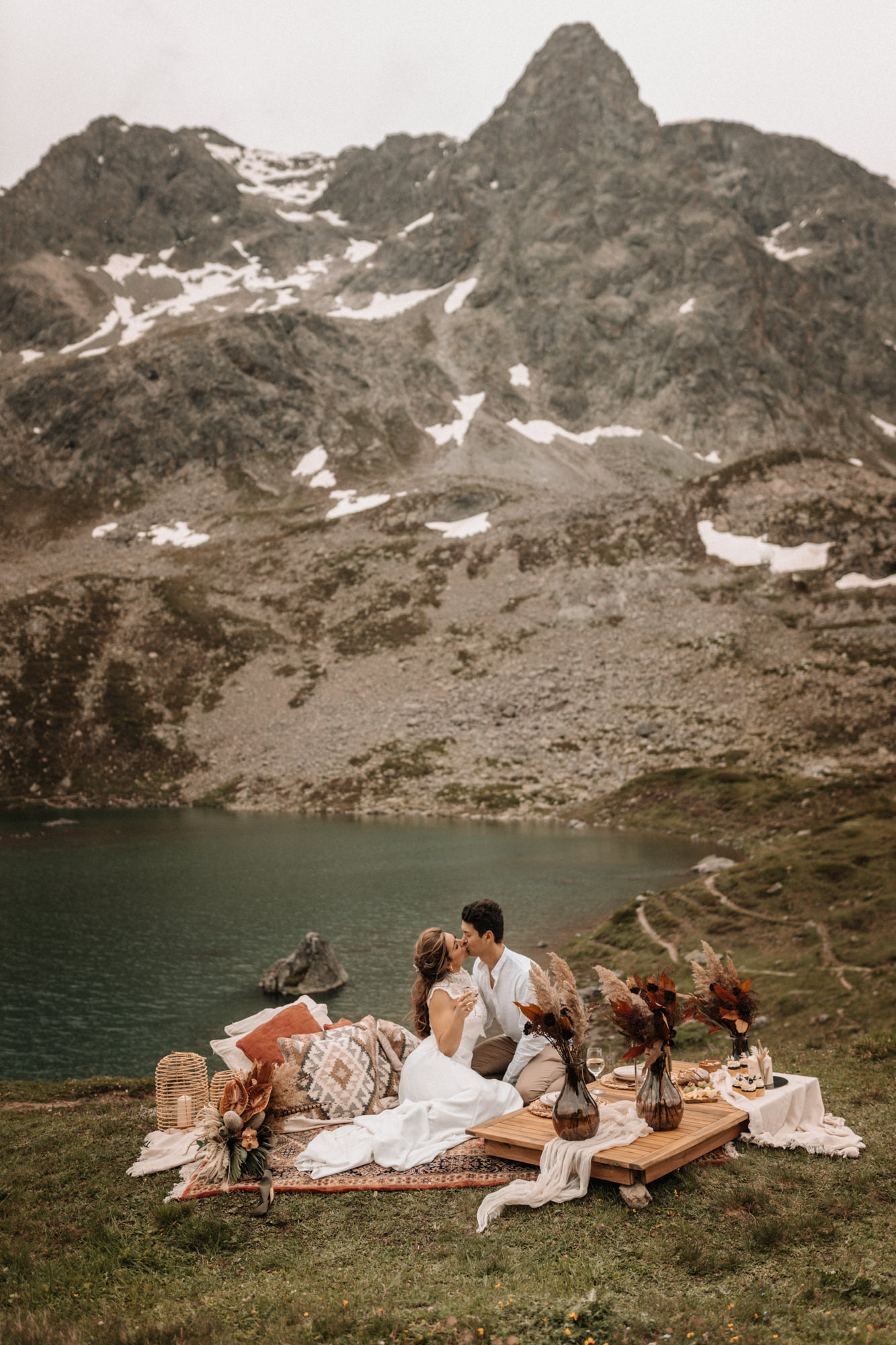 .
.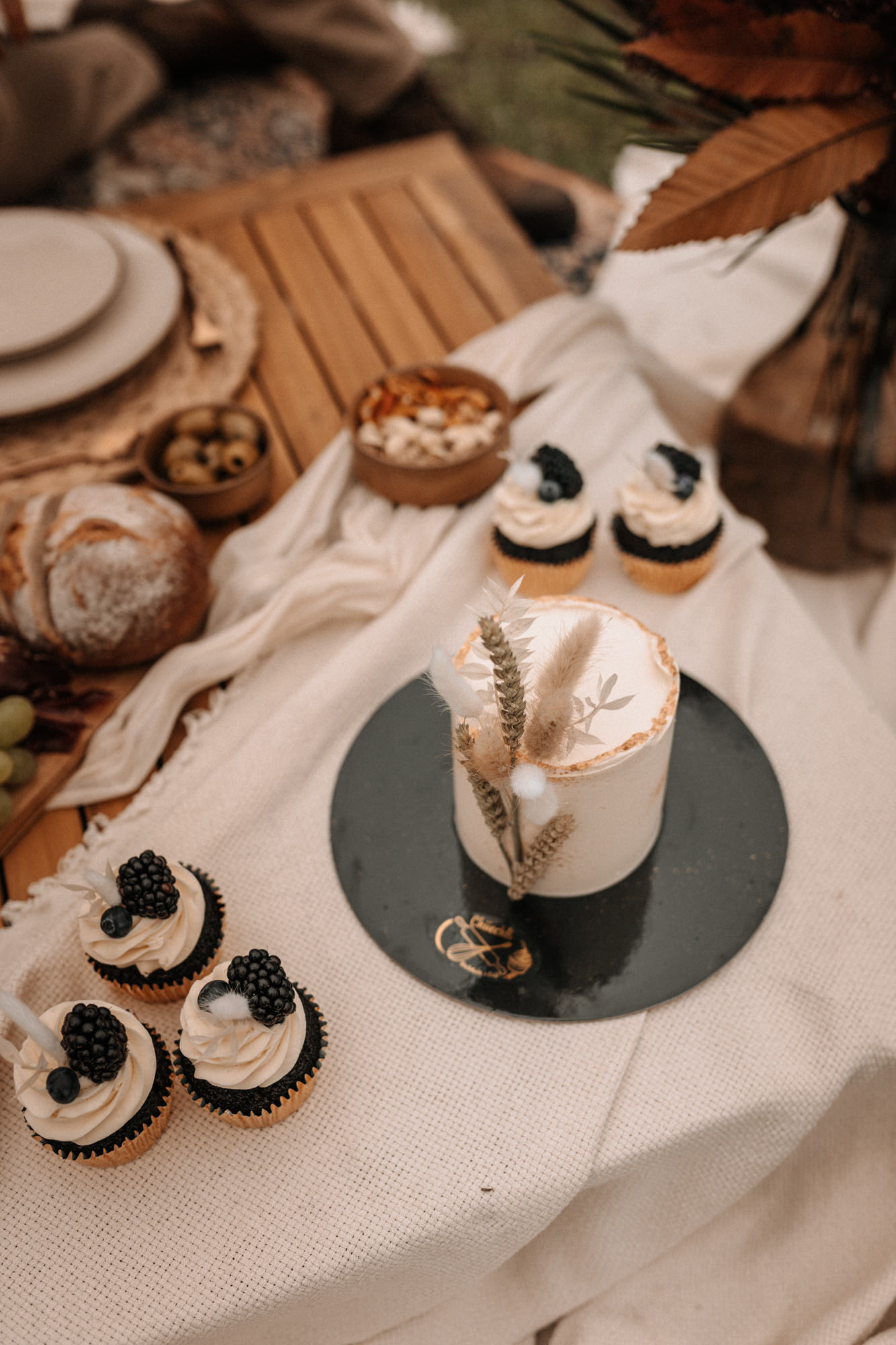 The Elopement Cake
The cake was kept elegant and effortless, and catered for about 6 people. In terms of taste, Lucia from Chüechli Bakery & Café chose a vanilla sponge cake with mango quar cream, passion fruit and raspberries. It was accompanied by Double Choccolate cupcakes. Yum!
.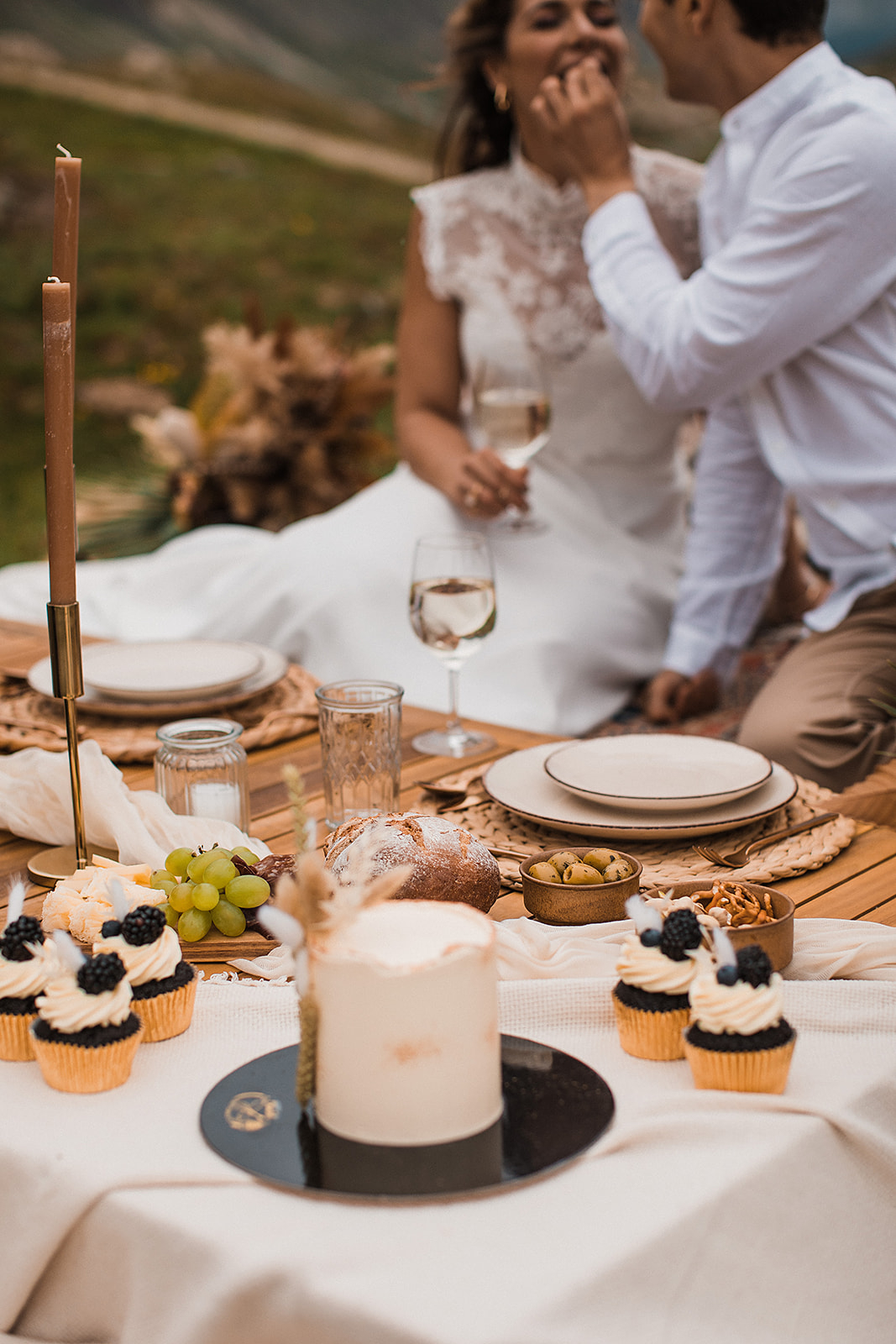 .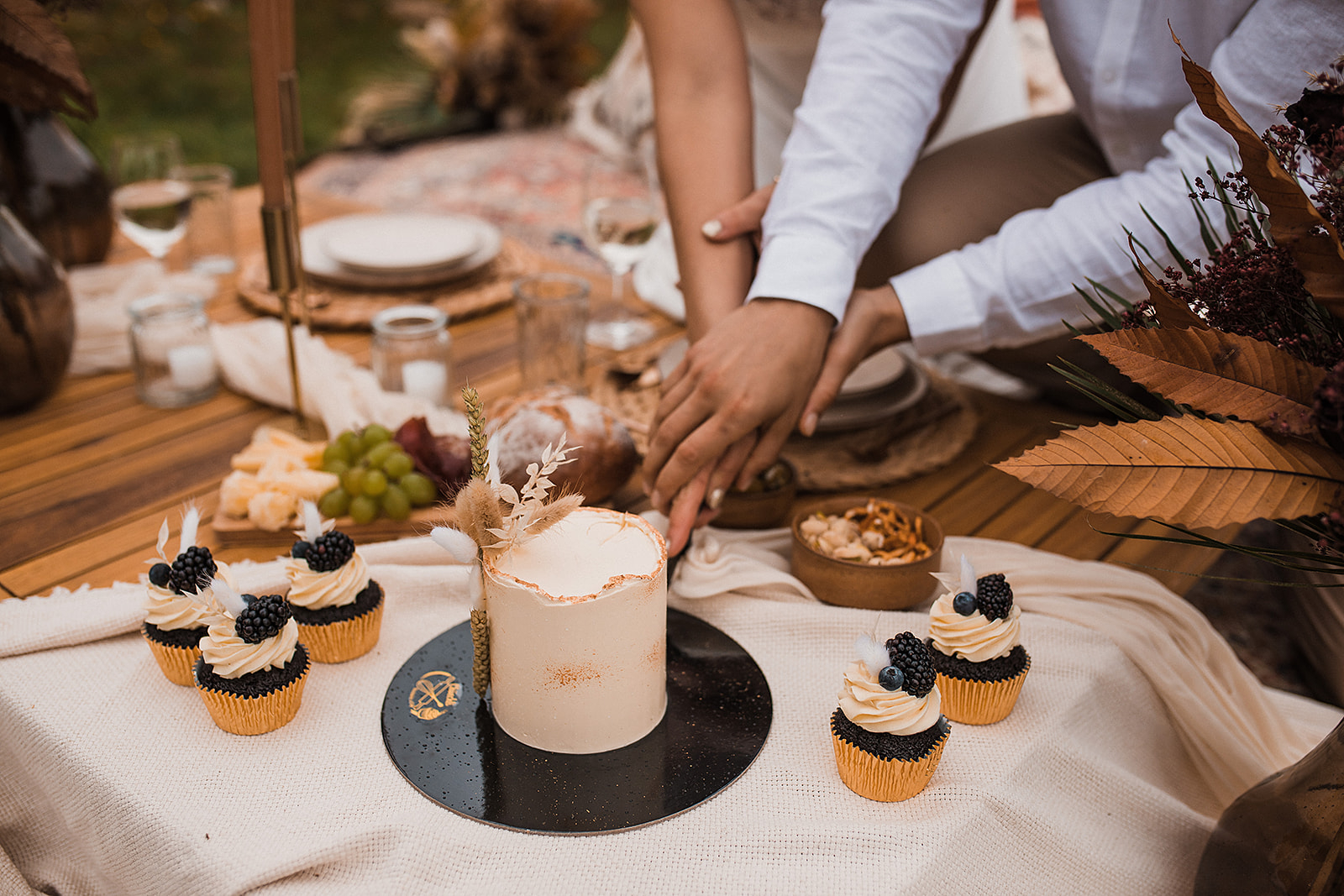 Textured Wedding Stationery:
The romantic vow cards and wedding stationery for this shoot was caringly designed and created by Julez Lettering adding soft and natural textures to match the theme and beautiful mountain landscape of this shoot. Such a beautiful keepsake to treasure for all time.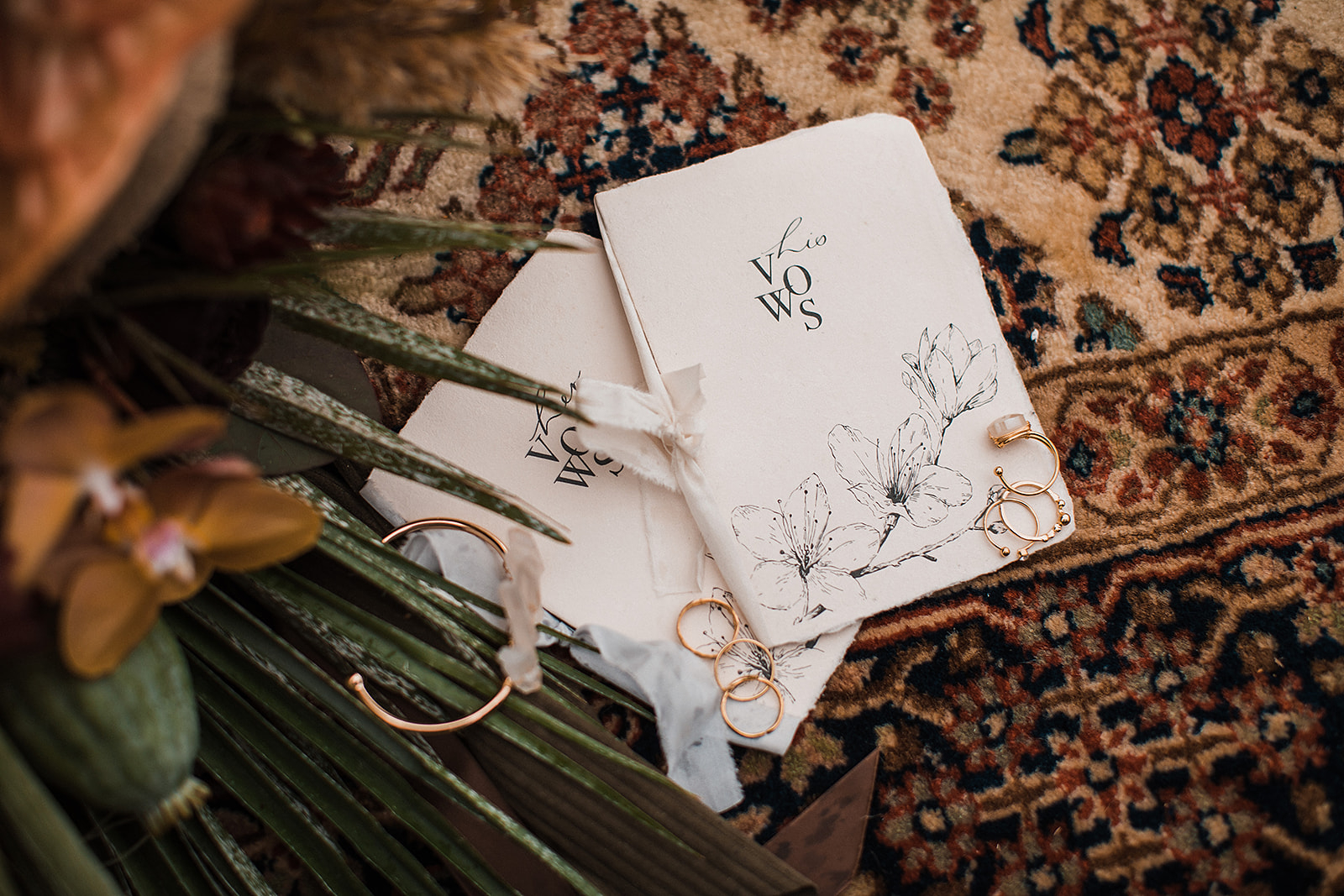 .
.
With its rugged landscape and breathtaking mountain views, it's no wonder why Laura and the talented team chose this sensational elopement location for their editorial elopement. It truly is a magical place for tranquliltiy and togetherness, and hope this blog has inspired you to think more about how you wish your wedding day to plan out, and whether an adventurous elopement is actually what you have been looking for all along,,,
Looking for more inspiration to plan your intimate elopement? Then check out this post on A Destination Wedding in the Scottish Highlands
Lots of love,
Jess
VA and Resident Blogger at The Boho Bride Guide
The dream team of suppliers involved in this shoot:
Laura Seitz Fotografie - Photography
Miri Roth Photography - Photography
Mel's Wedding World - Planning
AllAroundYou - Wedding Dress
Julez Lettering - Stationery
Das Blumenkind - Florals
Nina Morin - Hair & MUA
Kreativ Ruum - Rentals & Decor
Chüechli Backstuba - Cake
Refined Bohemia - Jewellery
Erik Denz & Claudia Aerni - Model Couple
ON 4th April 2022 / BY Jessica Tetstall
Leave A Comment