A cosy winter wonderland coated Hillfields Farm for this absolutely stunning Christmas and cocktails inspired styled shoot. We are so ready to welcome in the festive period, so grab a cup, or glass, of something festive and feast your eyes on this beautiful shoot.
The inspiration behind this shoot concept by Rhoda Louisa Floral Events, was a hot chocolate bar for an intimate event, with a focus on white chocolate and gingerbread that reflected the overall colour scheme and details. The addition of gentle snowflakes was a way to incorporate Christmas-y elegance into this shoot and we think Rhoda and the team have created a truly remarkable setting.
The textured tablescape and special wedding details were a focus for this shoot and we think this is so refreshing to see, as this is such a huge part of your wedding overall, which can make things that little bit more personal and unique, especially for a more intimate occasion.
Keep reading to find out more.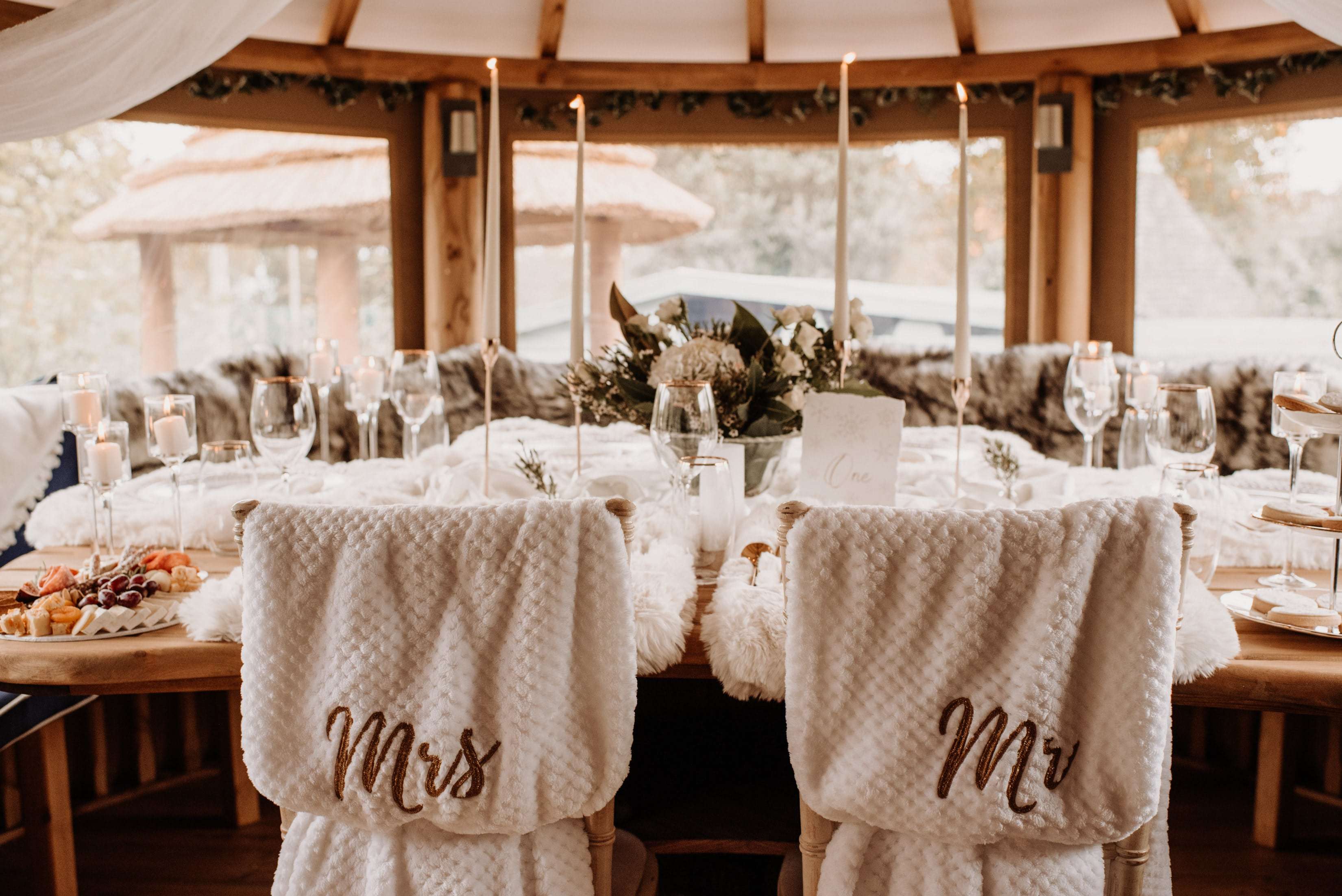 .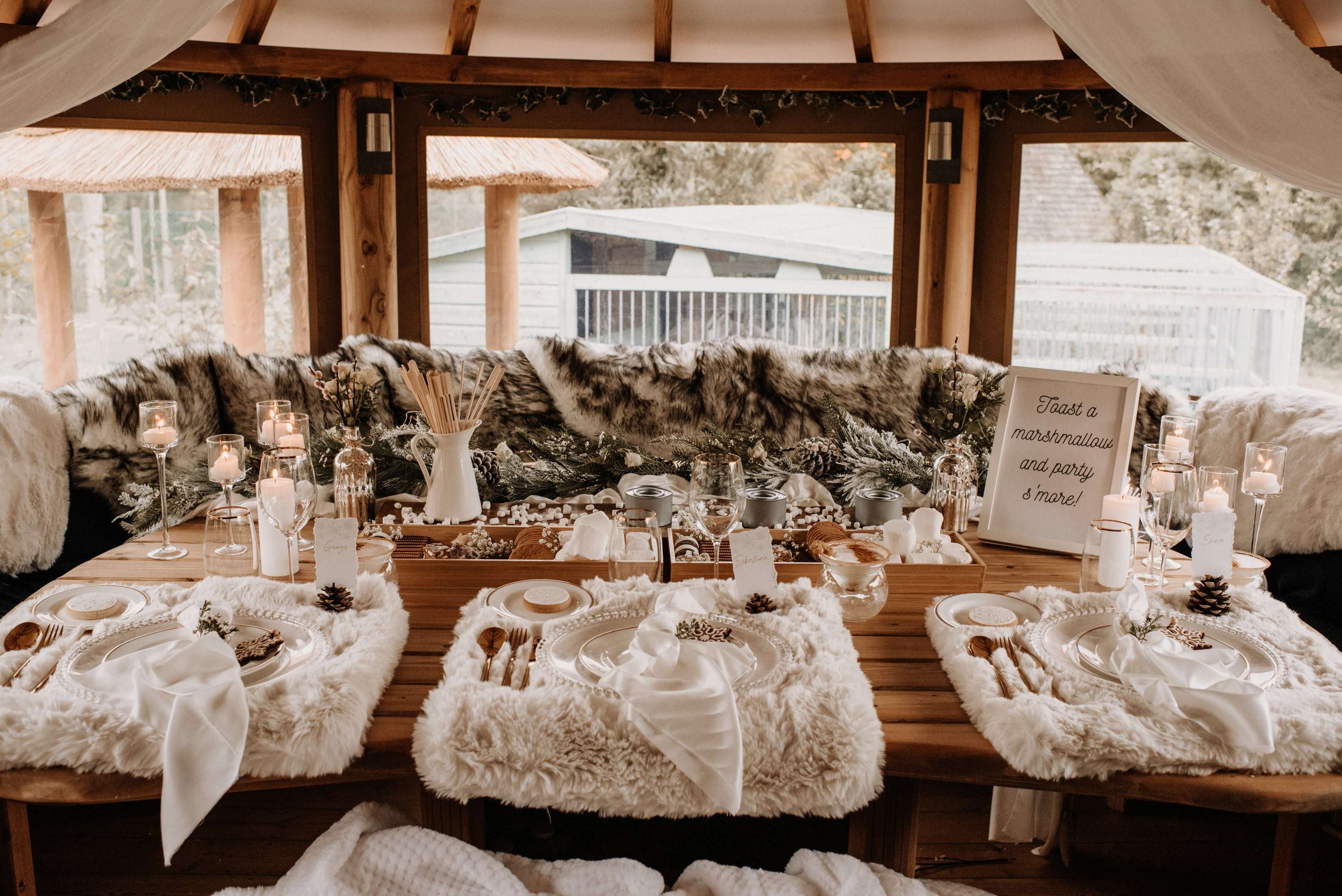 The Intimate Wedding Venue
The shoot took place at the gorgeous Breeze House at Hillfields Farm, which is the perfect place to cosy up for an intimate occasion. Seating up to 16 people, we love this spot for a decadent elopement, pre-wedding rehearsal dinner or brunch the following day.
Lucia from Celebrating Love by Lucia, a surrey based wedding planner, helped to organise and style the set up alongside the rest of this fabulous team.
.
Elegant Christmas Wedding Invitations
For this shoot, Lauren from Coastal Wedding Co, one of our fabulous approved wedding suppliers here at The Boho Bride Guide, really wanted to design something refined that still had a softness to it. Lauren used details like hand torn edges, more relaxed typography, delicate snowflake detailing with gingerbread colours. This helped to create a warm, elegant look, which paired perfectly with other details in the shoot (like the faux fur backdrop). Lauren opted for black outer envelopes for an element of contrast to keep it visually interesting and elegant.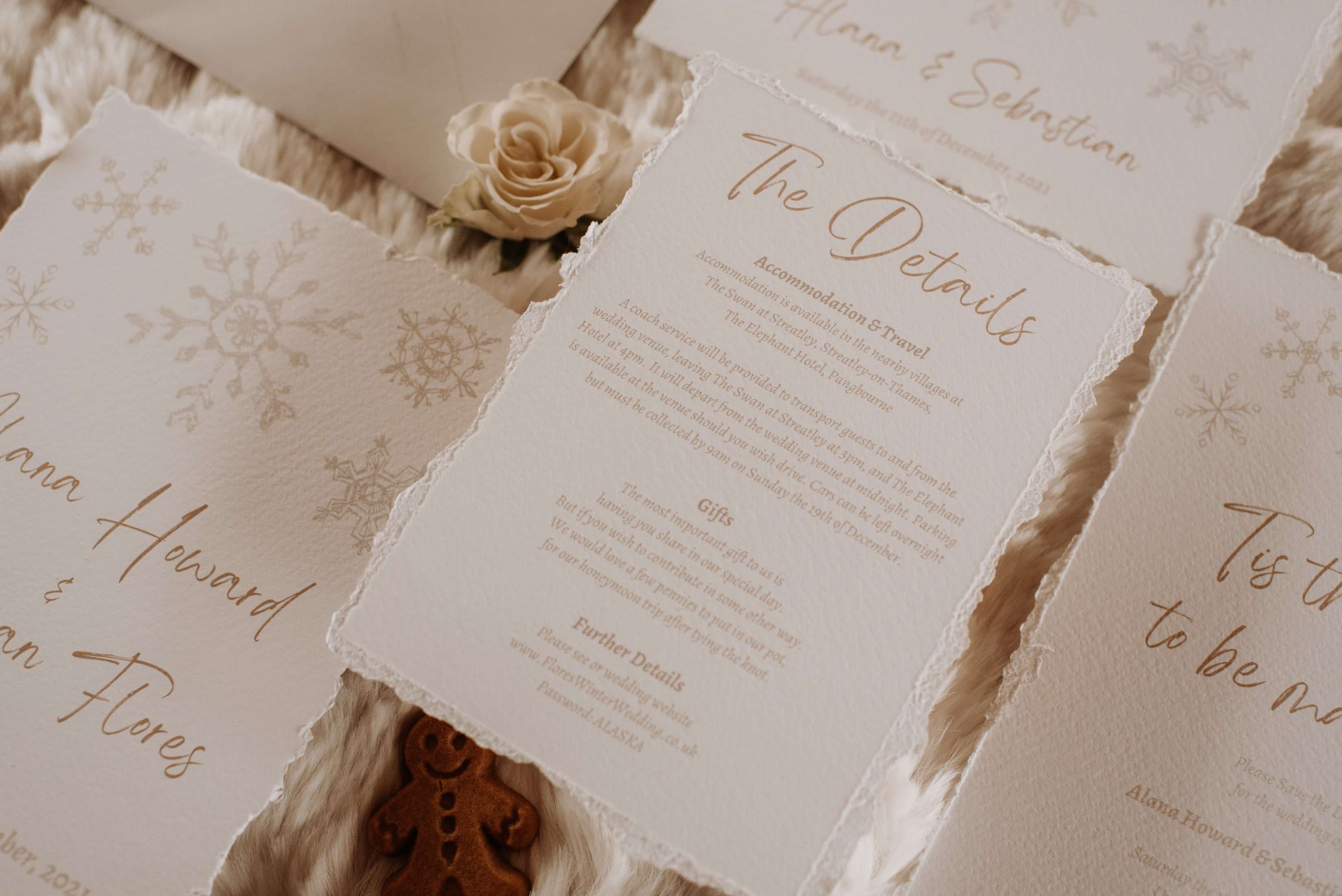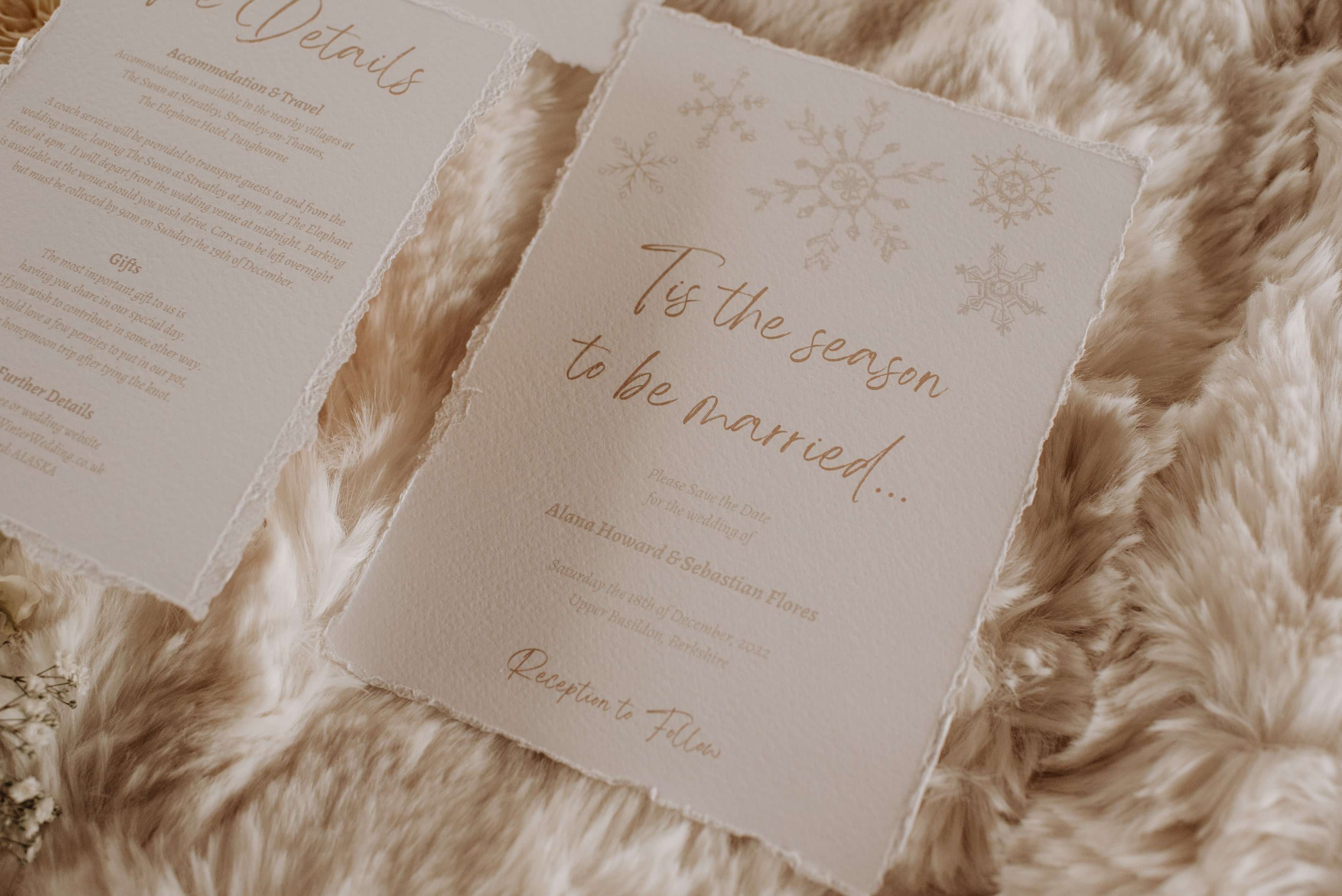 .
Textured Winter Table Decorations and Table Names
This tablescape looks absolutely stunning and defines an elegant winter wonderland. We loved how the team used glass charger plates which work so well with the faux fur placemats, allowing the guests to see the textures under the plate. The chargers instantly add a touch of luxury to the table, along with the sophisticated accents of gold from the use of cutlery and glasses. The fabulous tableware and props were supplied by AB Event Hire. The limewash chivari chairs are a classic item for any wedding and work well with the Mr and Mrs embroidered blankets made by I Needled It.
For the table, Lauren from Coastal Wedding Co, added pinecone place cards. It added a height that you don't normally get with place settings, and really complimented the other details, whilst adding to the winter theme.
The table Linen was provided by by Willow & Ribbon, all their linens are naturally dyed using botanical products, making them a more eco-friendly alternative for your wedding, which we love!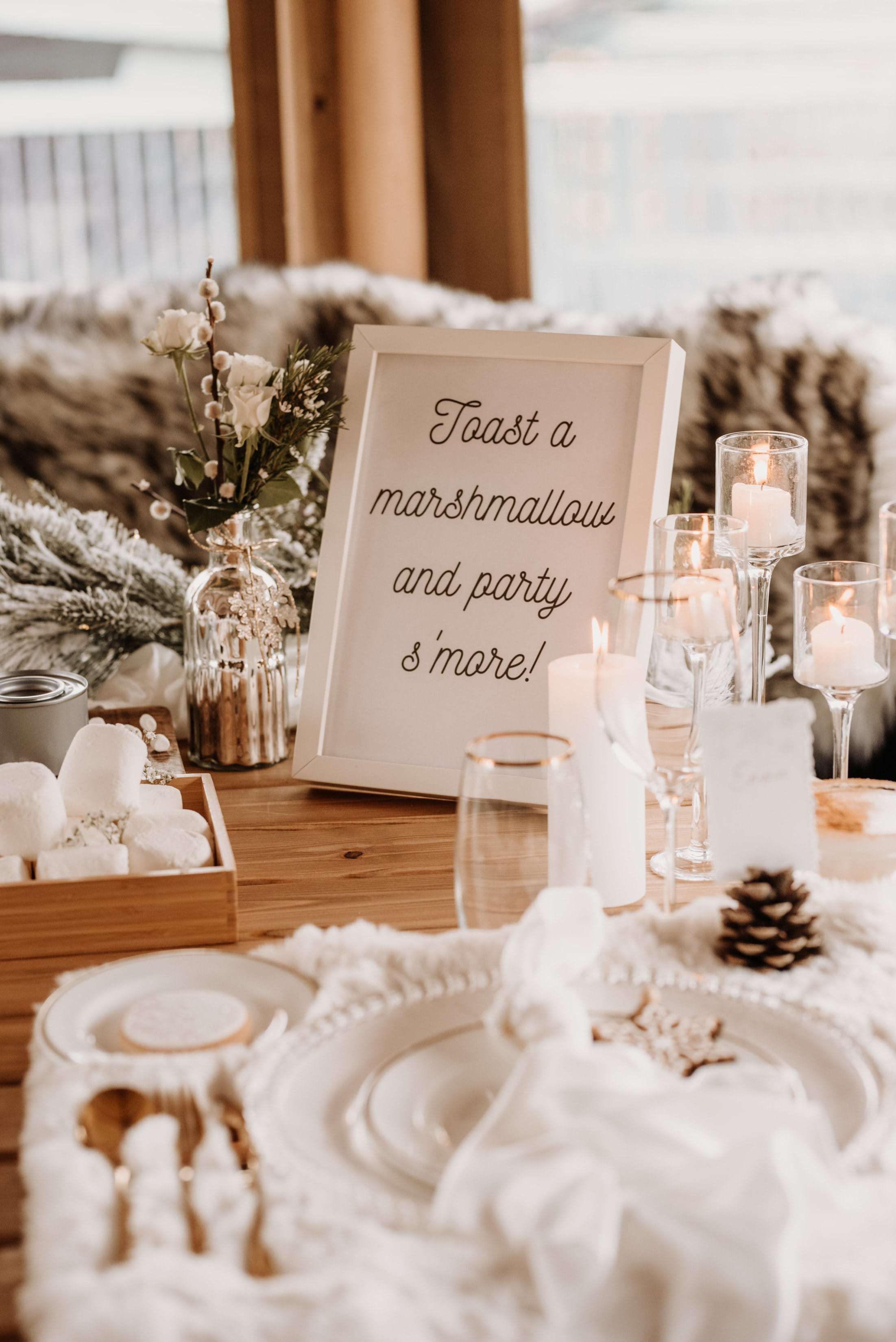 .
.
Winter Wedding Flowers
Rhoda Louisa Floral Events created the flowers for this shoot that linked together all the tiny details like using "snowflake" white spray roses to match the details of the exquisite stationery, cake and biscuits, along with the aptly named snowflake cocktail. She chose tiny touches of pussy willow as a seasonable touch to accent the soft cosy atmosphere they were trying to create. Rhoda adds, "I think it is the tiny details and almost unseen but important links that made the white hot chocolate theme work so well." We couldn't agree more!
.
Wedding Grazing Platters
The team opted for these delicious grazing platters which work perfectly in this intimate cosy setting. Grazing platters can be customised to include whatever kind of food you would like, on this occasion the team chose cold meats, cheese, crackers and fruits, yum!
.
.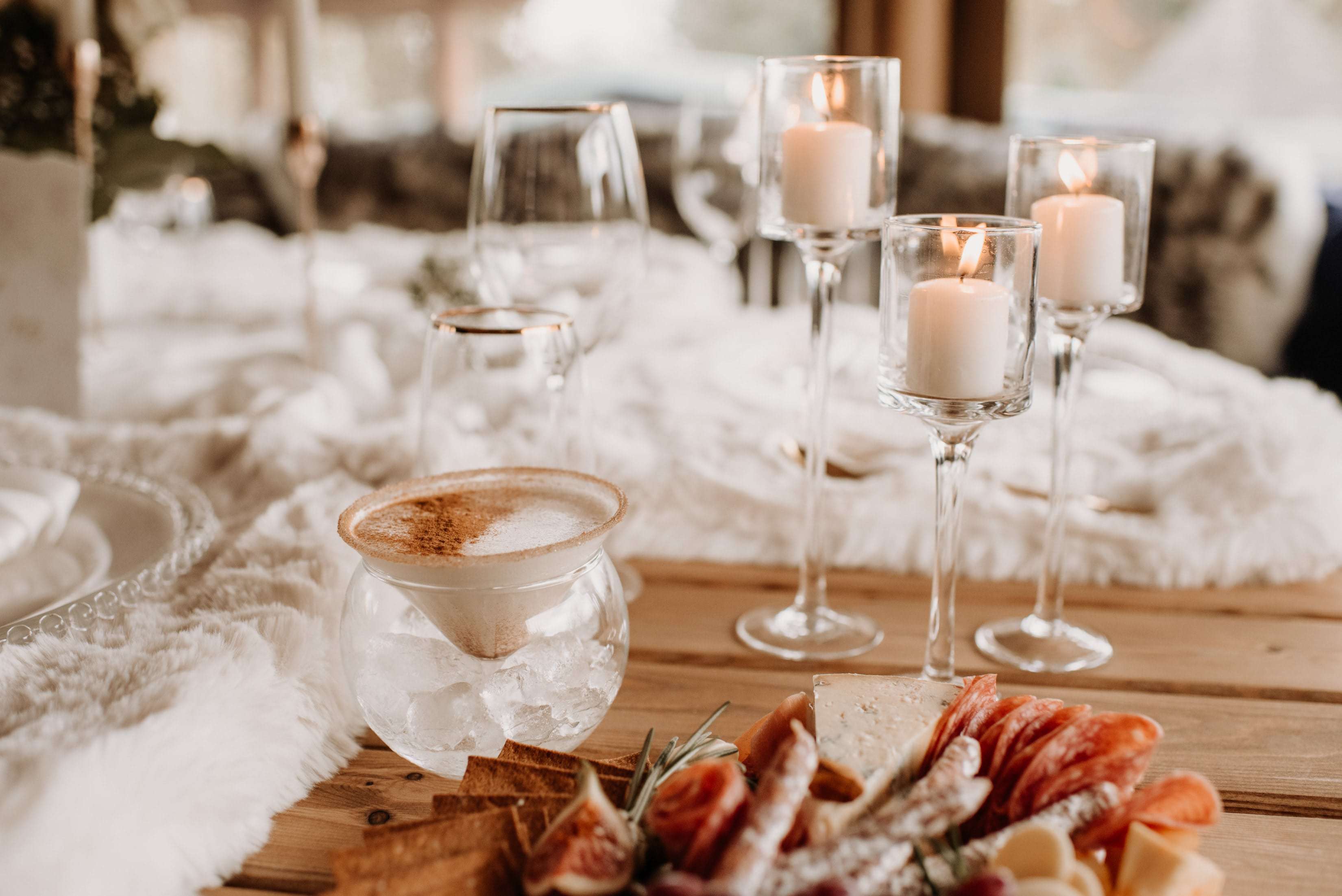 Christmas Wedding Dessert Table
We love this DIY smores wedding dessert table idea, it is perfect for an more intimte setting allowing you and your guests to bond over something fun and yummy.
.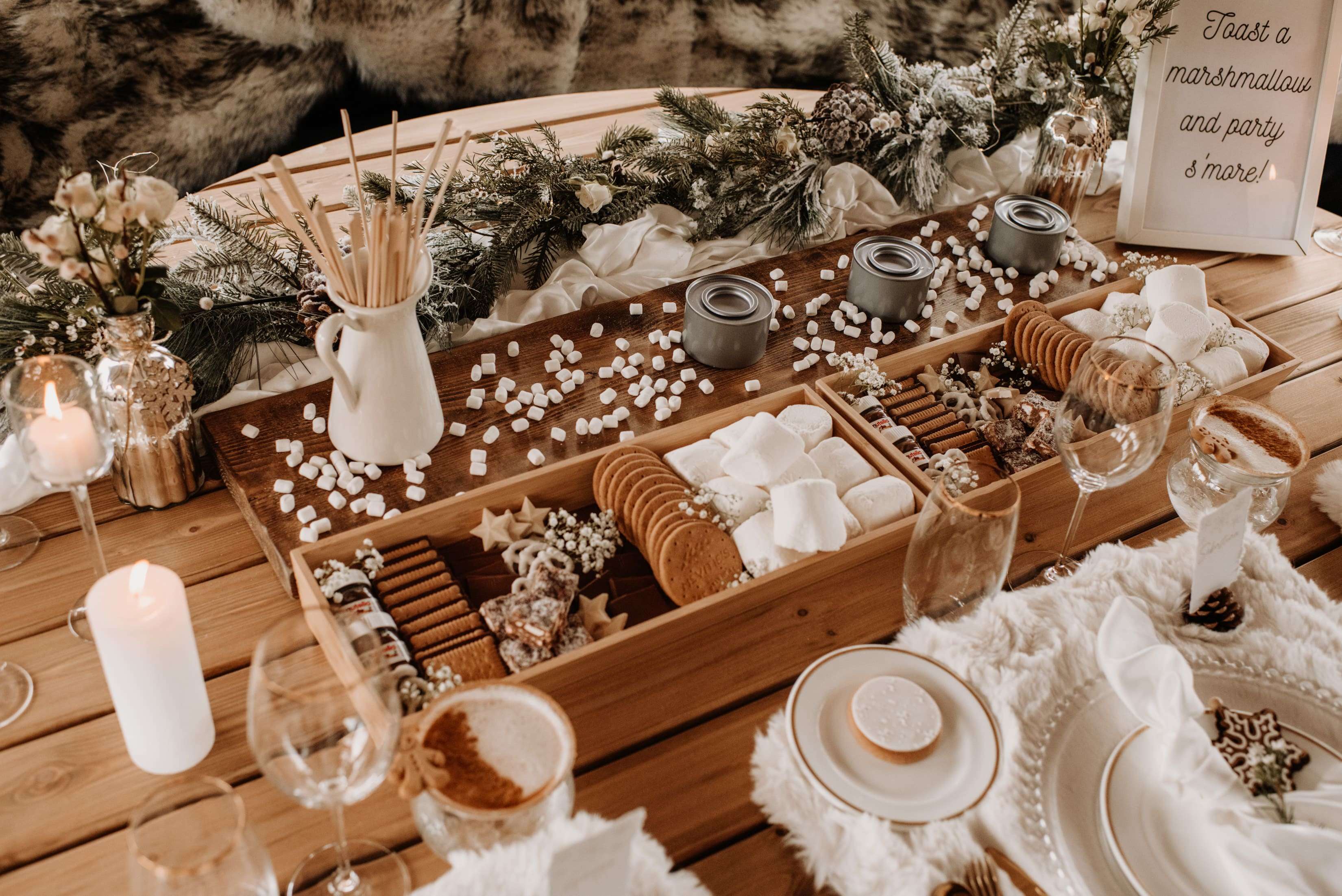 .
Christmas Wedding Ginergbread Cocktails
These fabulous festive gingerbread cocktails were supplied by Bitter Sweet Bartenders and makes the perfect addition to this winter wonderland styled shoot. Hiring a mobile bar is perfect for a more intimate wedding, allowing you to make personalised drinks and really wow your guests.
.
.
Elegant Winter White Wedding Cake
This gorgeous elegant white winter wedding cake was created by The Willow Tree Bakery, we love the festive addition of snowflakes and the cranberry holly bush just tops it off, quite literally!
.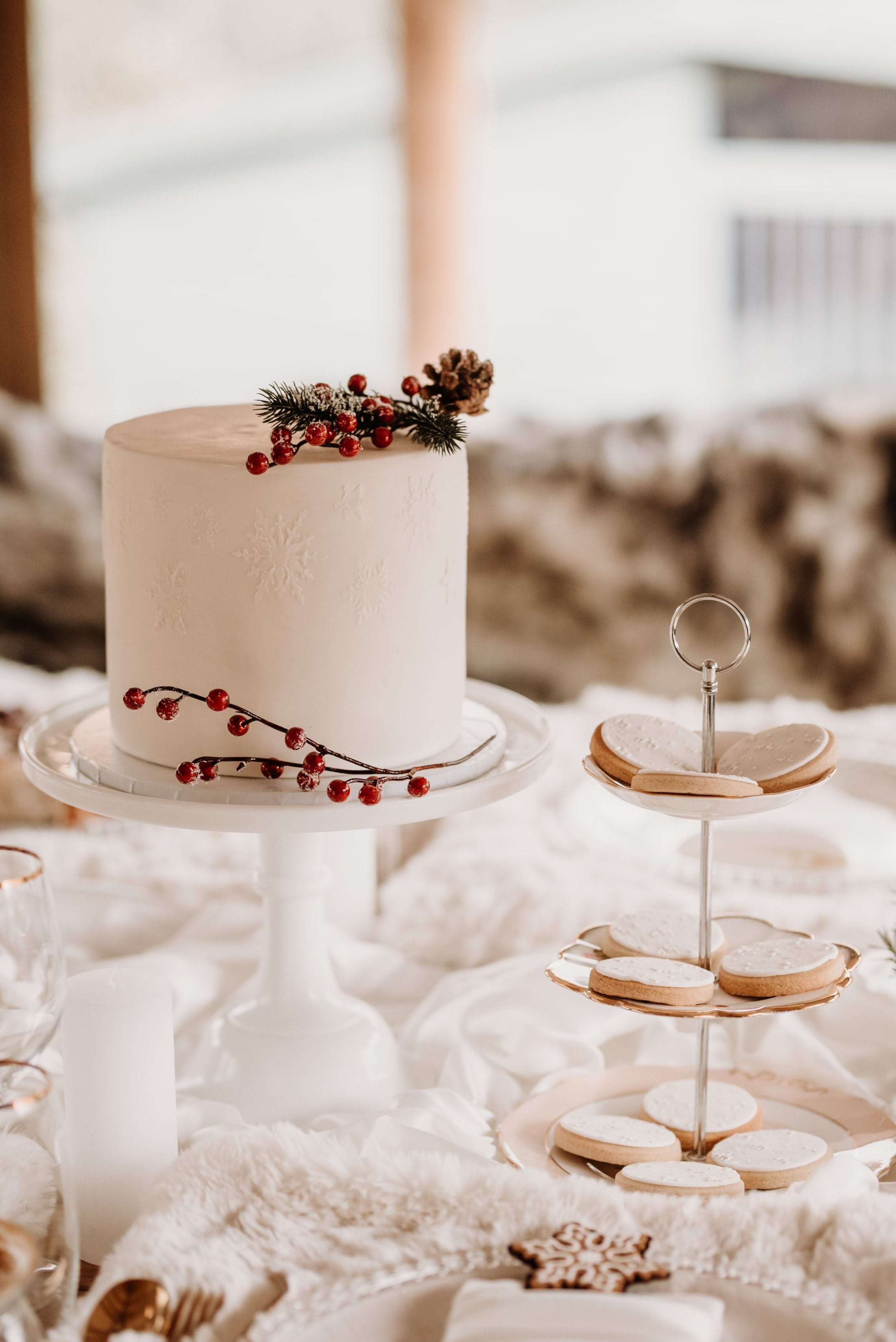 .
.
Wedding Photography
This magical setting was beautifully captured by Cotswolds based photographer, Char Cook Photography whose style is relaxed, fun and creative. I dont know about you, but we are just obsessed with the outcome.
.
.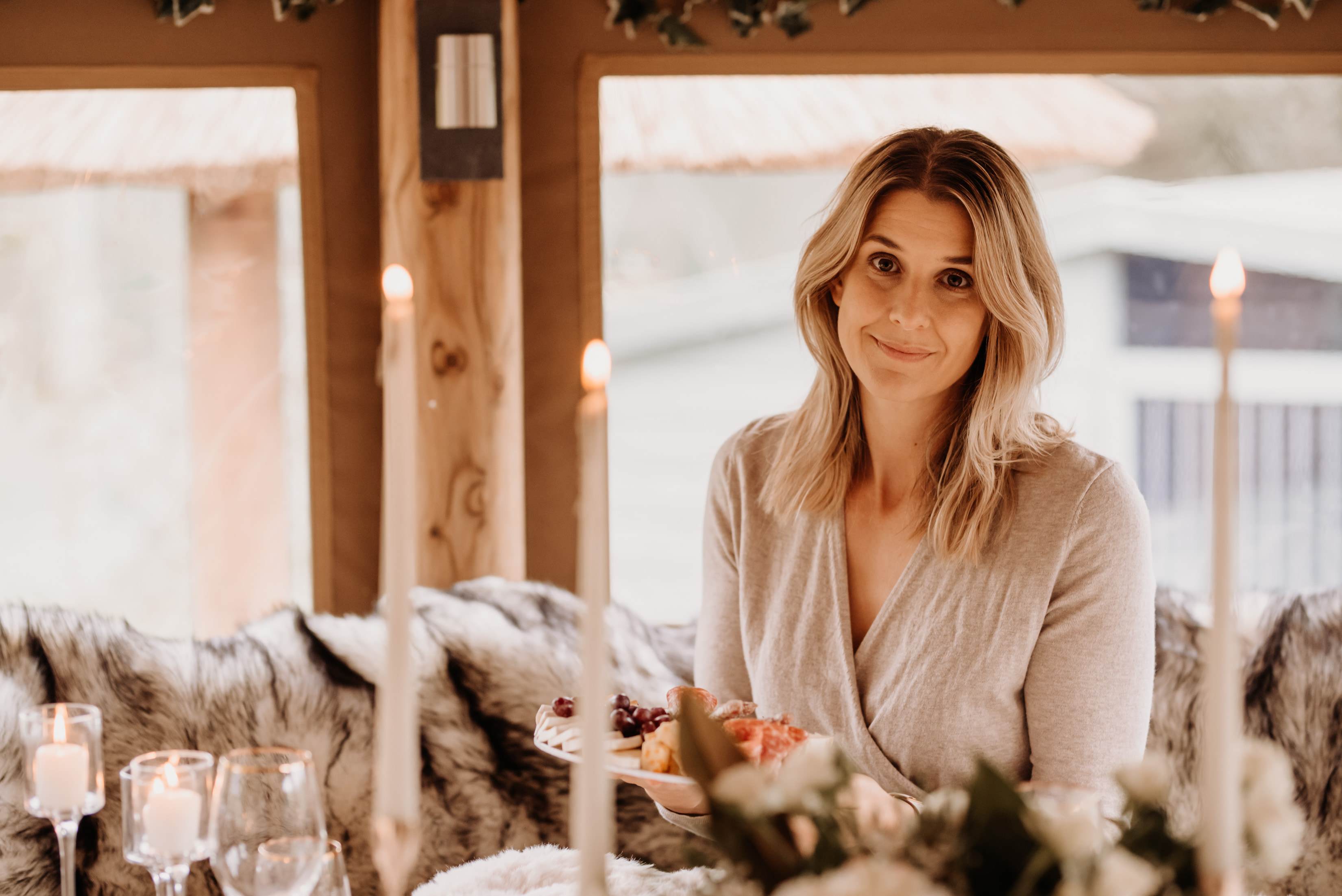 We hope you have enjoyed reading all about this gorgeous Christmas inspired elegant styled shoot and hope this has given you some major inspiration for a winter wonderland wedding.
Now we are definetly in the Christmas spirit and off to try and recreate some of these yummy festive gingerbread cocktails. See you next time!
Lot's of Love,
Jess
The Team of Wedding Suppliers:
Rhoda Louisa Floral Events - Concept & Florals
Char Cook Photography - Photography
Hillfields Farm - Venue
Celebrating Love by Lucia - Wedding Planner
The Willow Tree Bakery - Cake
Coastal Wedding Co - Stationery
AB Event Hire - Tableware & Props
I Needled It. - Embroidered Blankets
Willow & Ribbon - Table Linen
Bitter Sweet Bartenders - Mobile Bar Hire
ON 30th November 2022 / BY Jessica Tetstall
Leave A Comment