Colourful modern weddings have been huge already this wedding season and we are hoping to see alot more of this over the next few months and hopefully years to come too!
Break through tradition, go bold or go home and seek inspiration from this stunning colour clash styled shoot. From unique venues to alternative fashion choices, modern weddings are evolving into vibrant shade of creativity and expression.
The concept of this styled shoot, brought together by our super talented approved supplier Tide The Knot Wedding Planning, was 'colour clash', using orange and pink as the primary colour theme throughout. This super talented team of UK wedding suppliers wanted to create a contrast; with something loud, but complimentary of the beautiful coastal and rustic wedding venue that prides itself on sustainability.
In this blog post, we delve into the world of colourful modern weddings, where brides dare to break convention with alternative wedding outfits, and bright and bold blooms.
.
.
The Rustic Quirky Wedding Venue
A wonderfully wild venue tucked away on th cliff tops or Porthtowan Cove. A rustic, outdoorsy set up, surrounded by rolling meadow fields and a cheeky seaview, Eco Park Cornwall was the perfect venue for this shoot.
The team wanted rustic to clash with quirky, capturing the quirky elements of the venue and complimented them with bright shades of orange and pink. Let's embrace nature in all its colour!
All of this gorgeous styling was created by the fabulous approved supplier Jess from Tide The Knot Wedding Planning, as well as supplying the arch backdrop & bespoke table runners.
.
Modern Colourful Table Decorations
Out of the Ordinary Event Hire supplied the jewel toned glasswear and table props to create this dreamy tablescape masterpiece.
The funky bold wedding invitations and menus matches this tablescape and overall theme perfectly, providing pops of pink and hints of blue, designed by Roots Press Cornwall.
.
.
.
.
.
.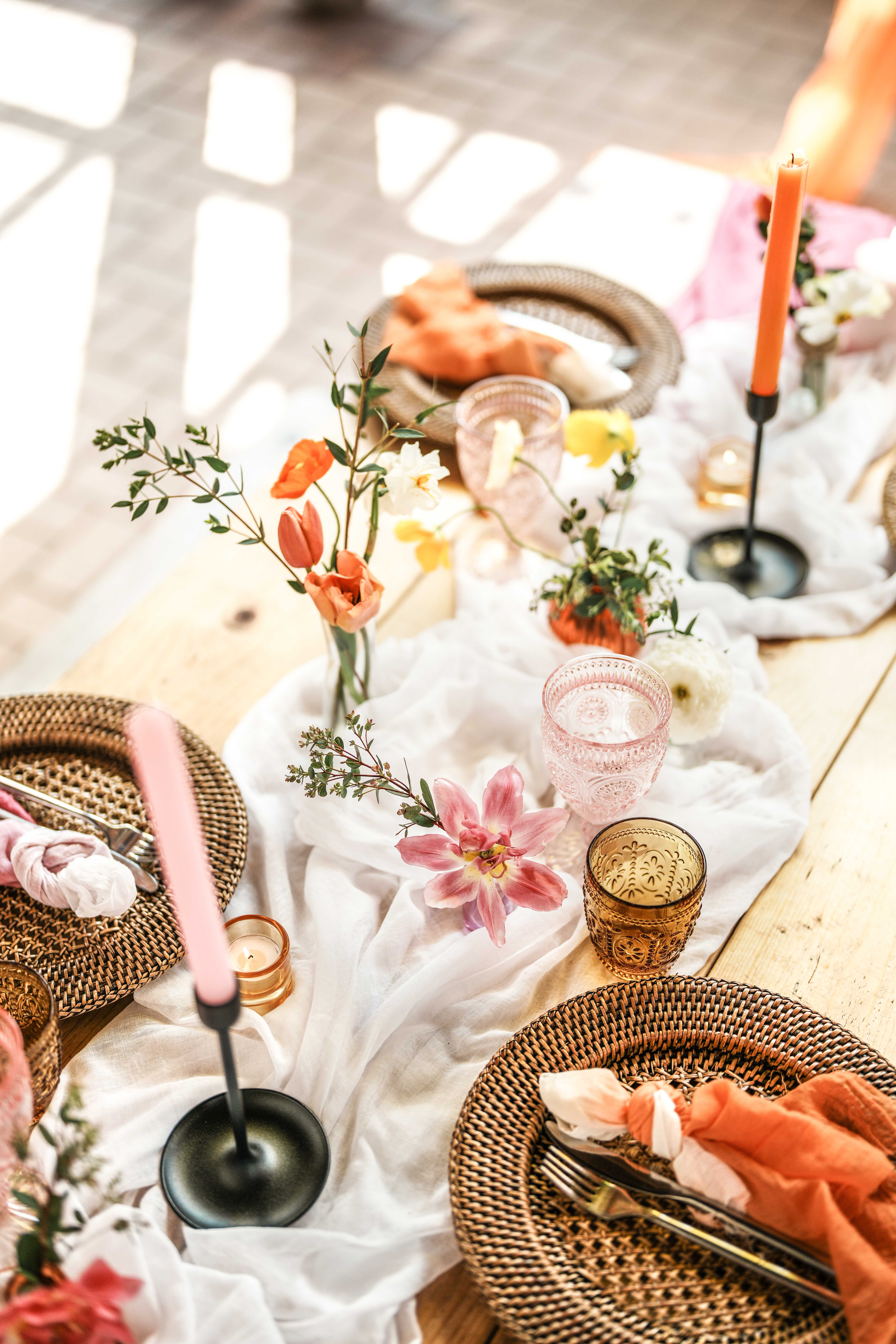 Pink Wedding Cake
A pink wedding cake can be a stunning centerpiece that adds a touch of quirkiness, romance, and personality to your special day and we are just a little bit obsessed with this sunning wedding cake masterpiece by Pink Peach Cake. A colourful watercolour effect showcasing those bright pink and orange tones that run throughut this shoot really makes this cake a show stopper!
.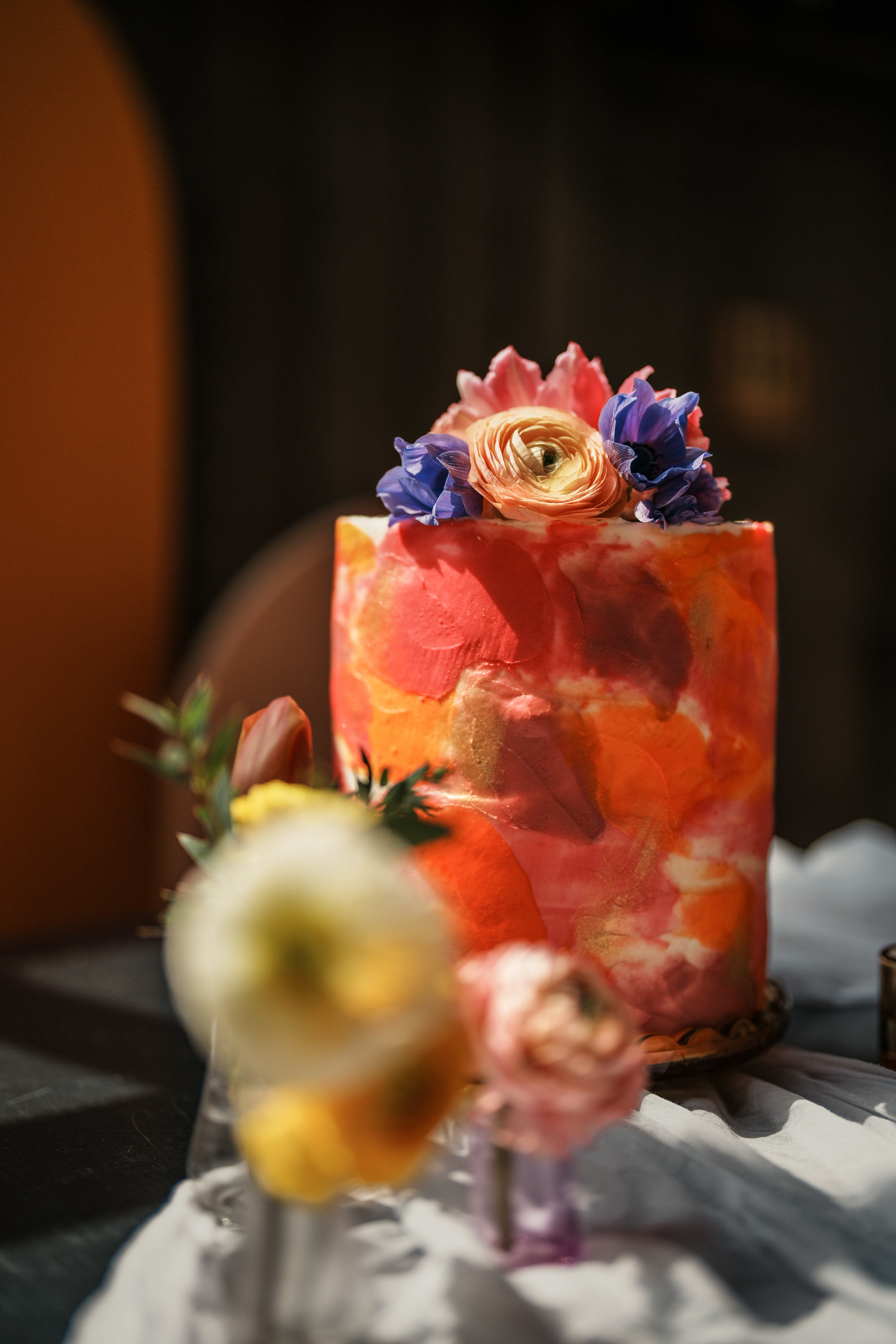 .
.
.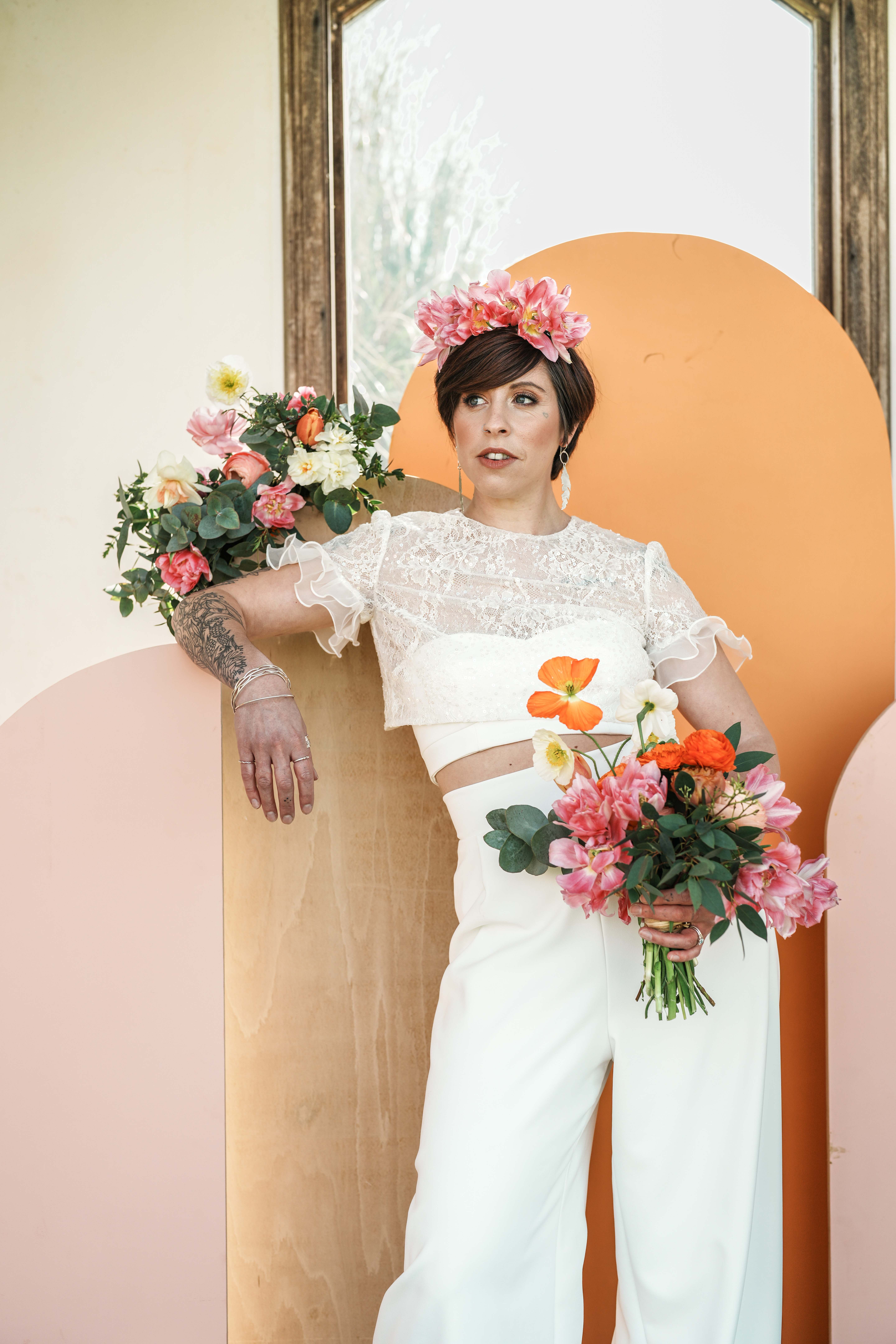 .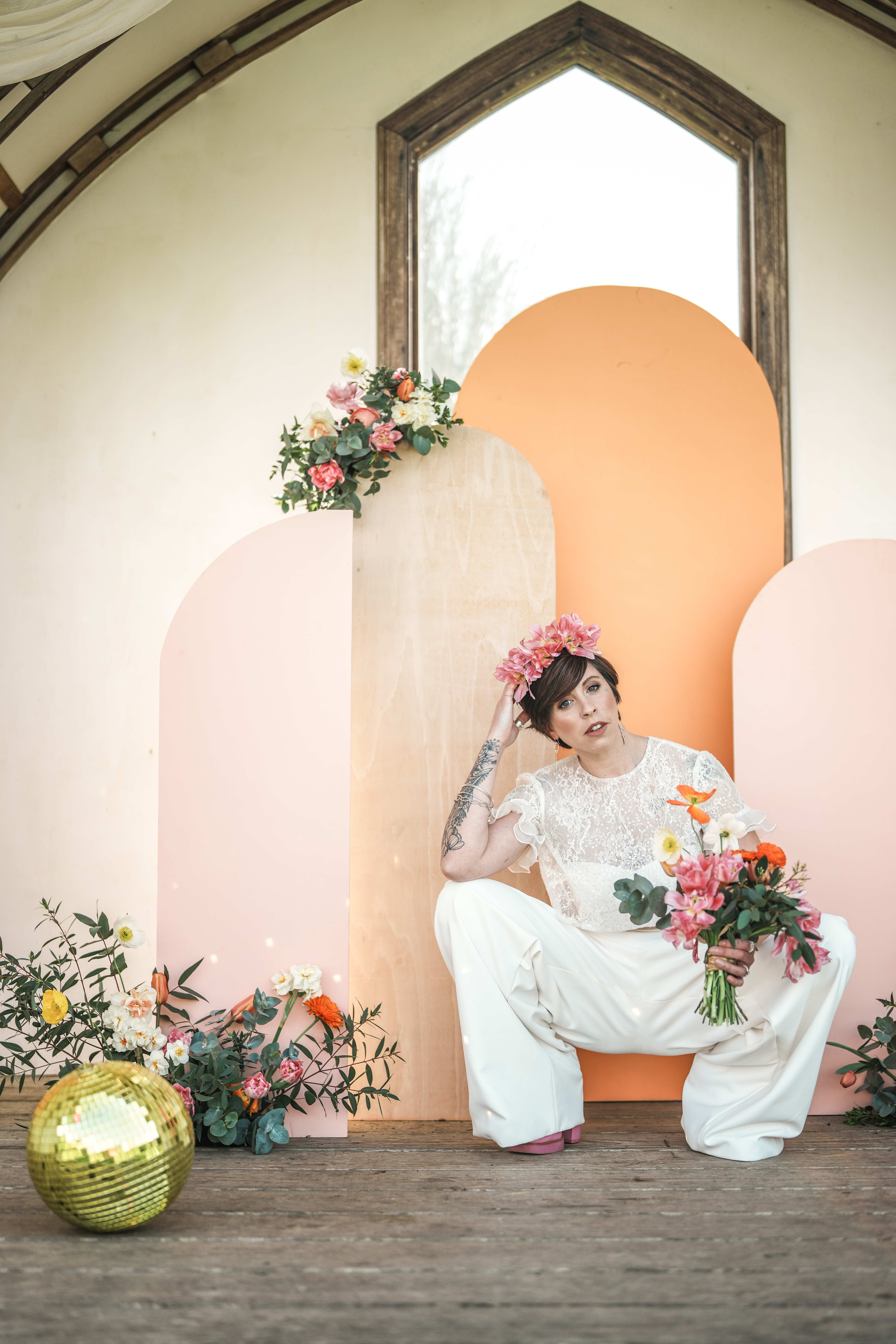 Alternative Wedding Outfits For Brides
Gone are the days when wedding dresses were limited to white or ivory princess vibes. Brides today are embracing a kaleidoscope of colors and styles, allowing their personality to shine through in their outfit choices. For the modern bride seeking alternative options, here are a few ideas to consider that are featured beautifully in ths shoot.
1 - A stunning trouser two piece set with lace crop top, partnered with some bright pink chunky heels and pink flower crown
2 - A satin skirt two piece with puff polka dot sleeves, obsessed!
3 - A gold metallic jumpsuit with a stunning star printed veil skirt.
Bridal two-pece sets are a perfect choice for the bride who wants the freedom to mix and match different elements, offering endless possibilities. Combine a lace crop top with a tulle skirt, or pair a tailored blazer with a flowing maxi skirt. A bridal two-piece provides the opportunity to create a look that is uniquely yours, allowing you to showcase your personality and style.
Jumpsuits offer a cool and comfy alternative to a wedidng dress, or make for a fab after ceremony party outfit allowing you to boogie al night.
All bridal outfits provided by the super talented Lyndsey from Dandelions & Pearls who specialises in luxury bespoke bridalwear.
Bridal make-up and hair was styled by LJP Bridal Hair & MUA and the bespoke bridal jewellery was provided by Chloe Michell Jewellery which really added to the edginess of this alternative bridal look.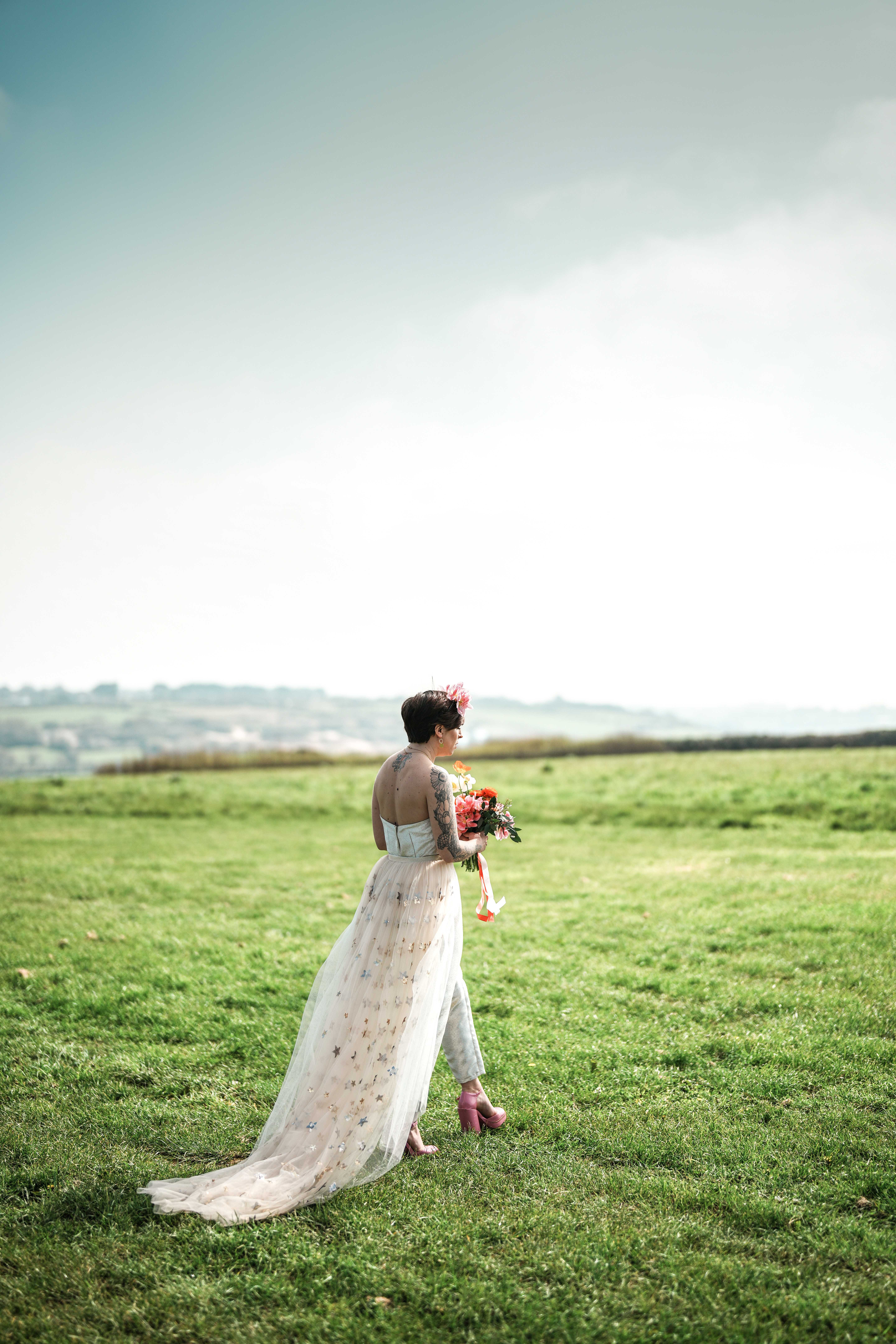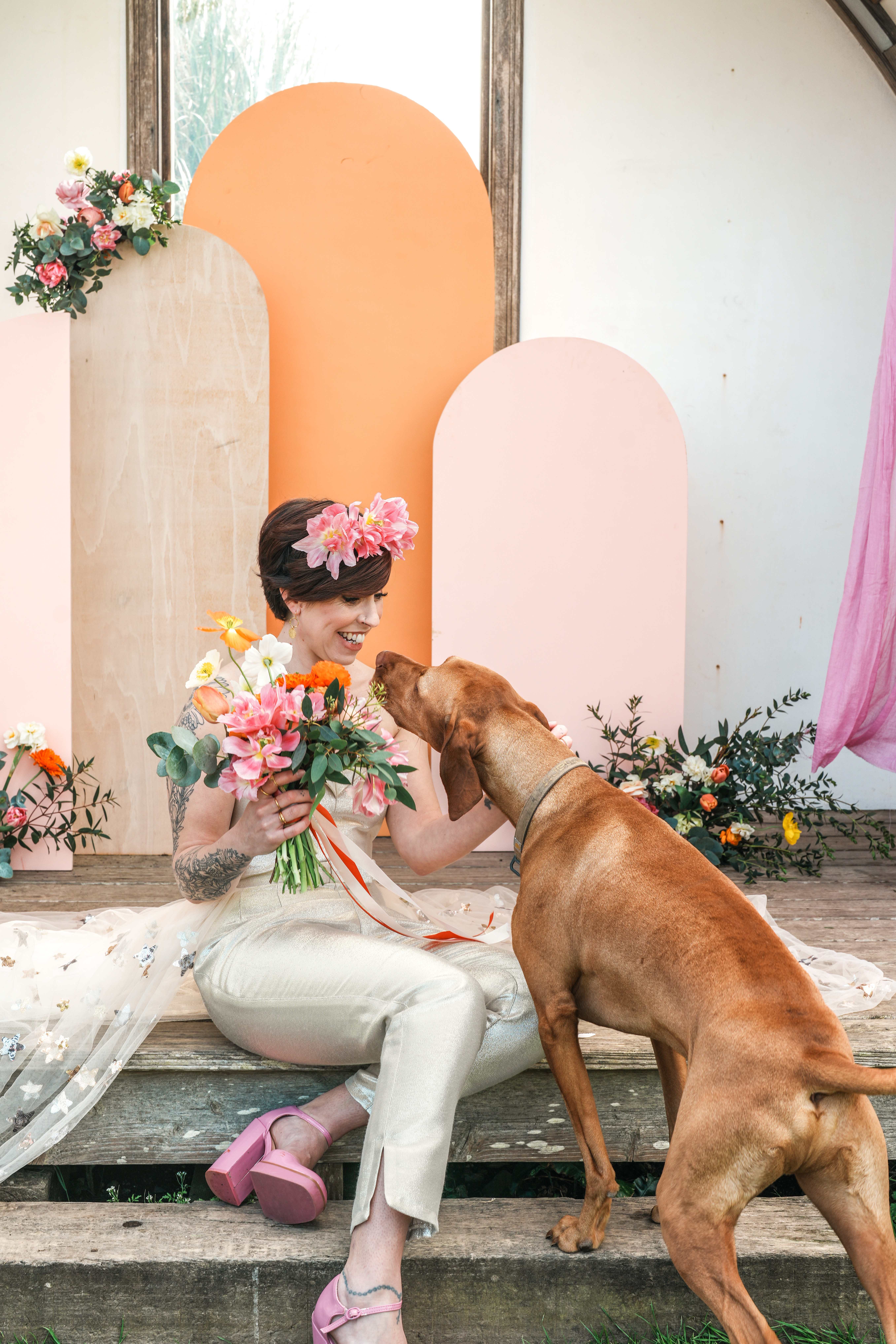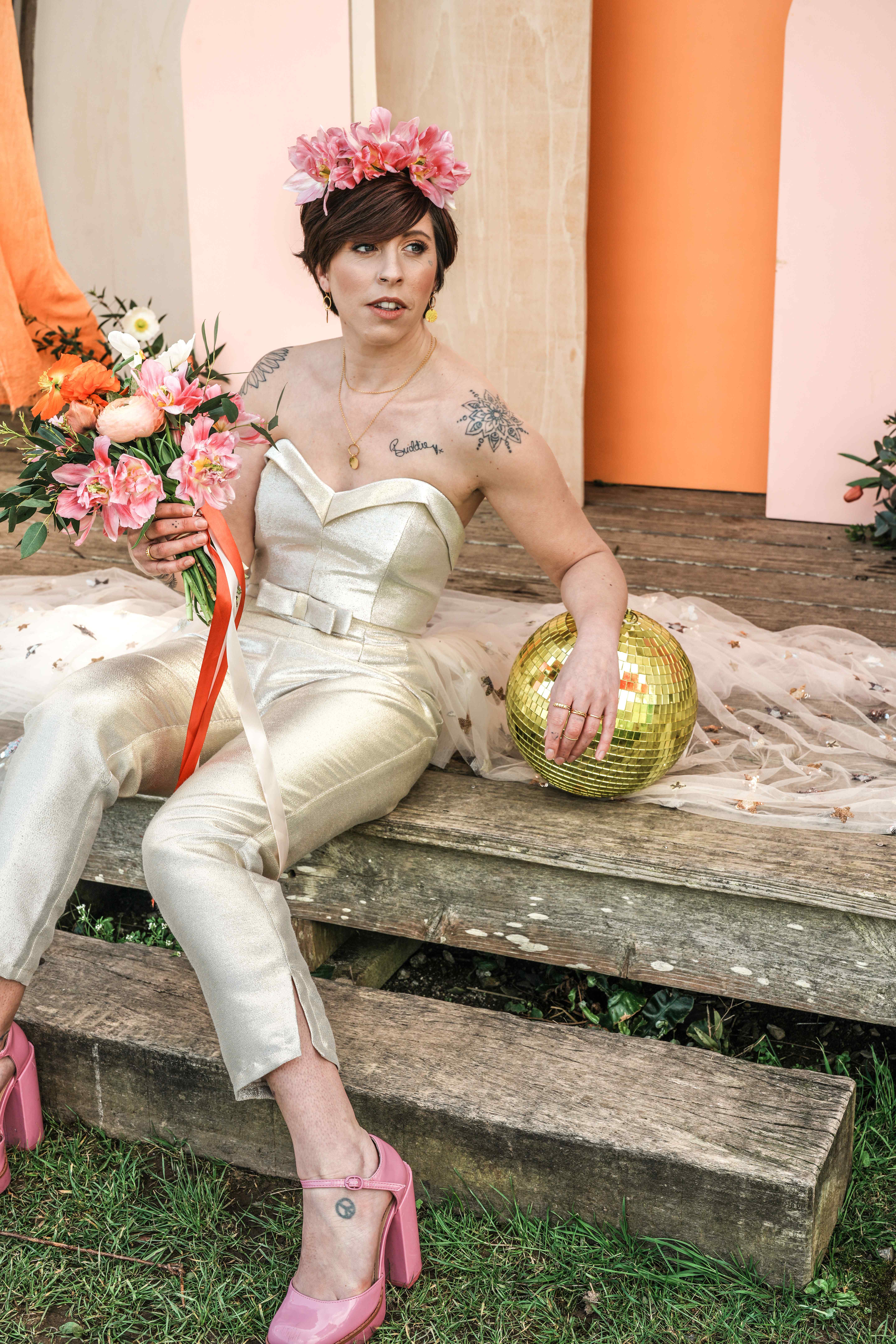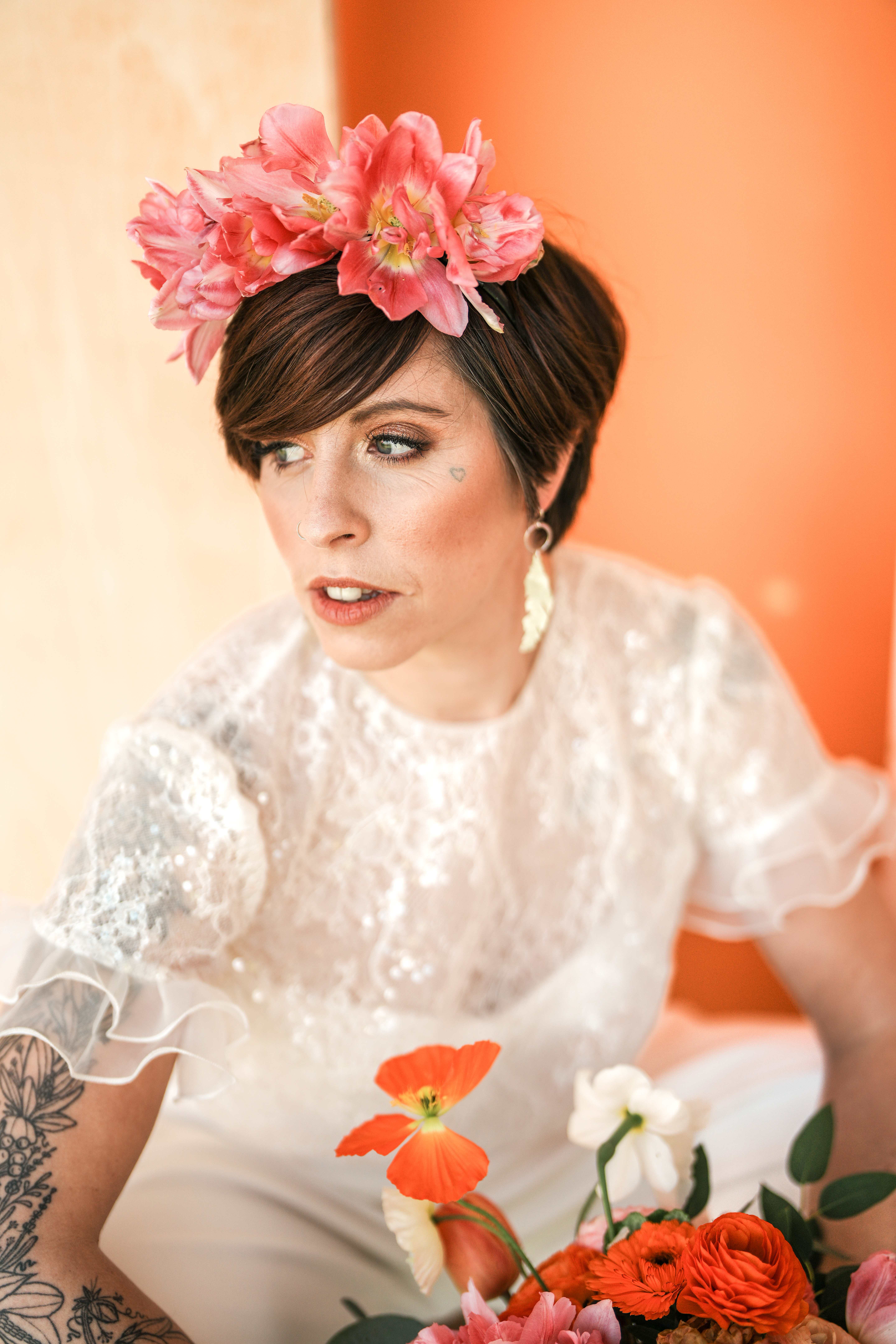 .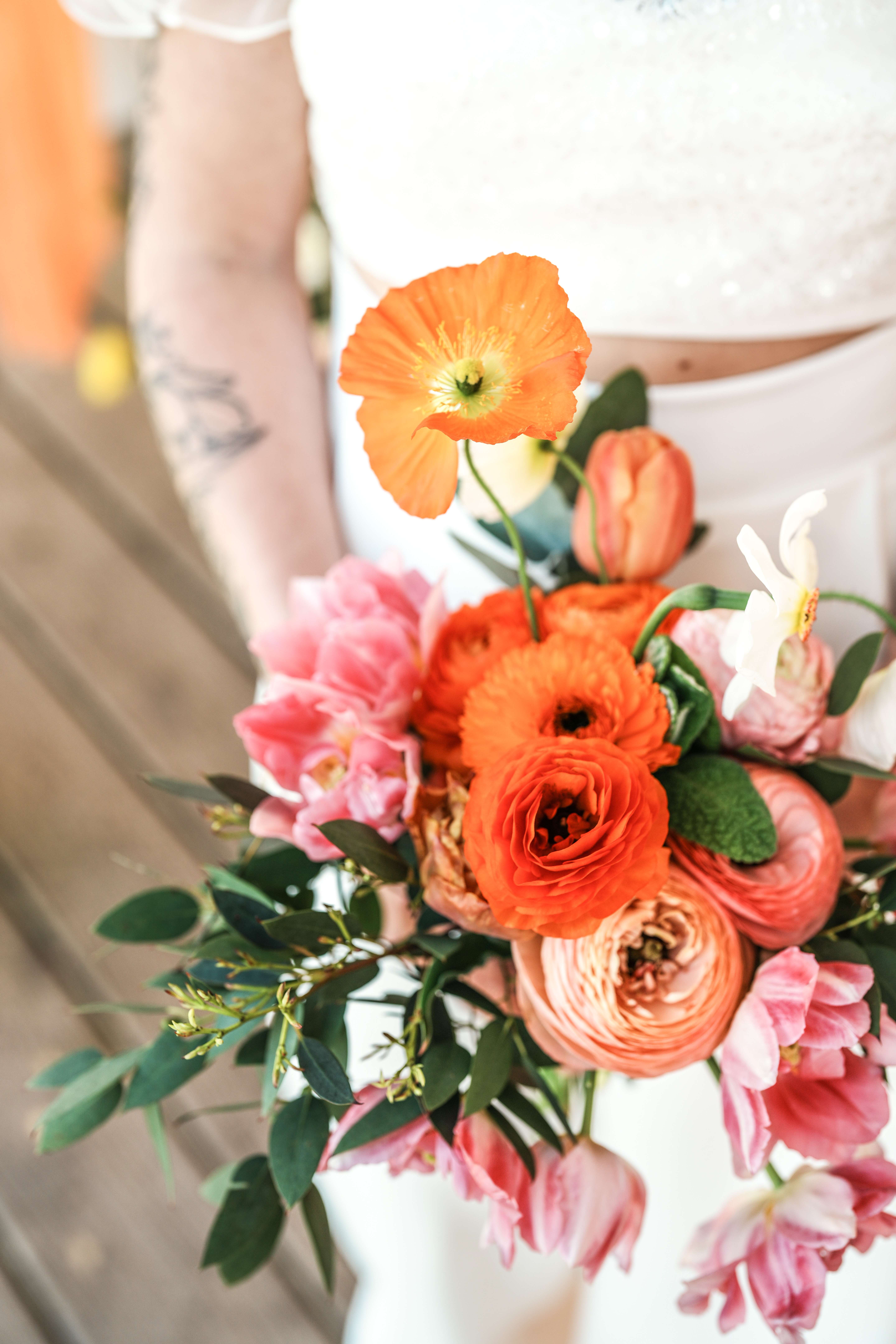 Bright and Bold Wedding Flowers
The vibrant color palette of this styled shoot extends beyond the bride's outfit to the floral arrangements. Instead of traditional white blooms, bold and bright flowers inject fun, energy and excitement into the celebration which is showcased in these images.
The bright and bold bridal bouquet, table centrepieces, flower crown and floral installations were supplied by Cornwall based florist, Rose Valley Farm Flowers.
.
Sally from Roaming Souls captured this colurful modern wedding vibe perfectly through her beautiful photography & videography work.
A colorful modern wedding allows couples to break free from traditional norms and embrace their own unique style. By choosing alternative wedding outfits and incorporating bold and bright flowers into the celebrations, couples can create an unforgettable experience that truly reflects their personalities and love story.
Whether it's a vibrant jumpsuit, a mix-and-match ensemble, an explosion of colorful blooms, or all of the above, let your wedding day be a celebration of love, individuality, and the joy of breaking free from convention.
Lot's of love,
Jess
Digital Marketing Manager at The Boho Bride Guide
The Wedding Supplier Dream Team:
Tide The Knot Wedding Planning - Concept, Styling & Planning
Eco Park Cornwall - Venue
Roaming Souls - Photography
Rose Valley Farm Flowers - Flowers
Dandelions & Pearls - Wedding Bridal Outfits
Out of the Ordinary Event Hire - Table Decor
Roots Press Cornwall. - Stationery
Pink Peach Cake - Cake
LJP Bridal Hair & MUA - Hair and Make-up
Chloe Michell Jewellery - Jewellery
Aprez Drinks - Spritz Drink (Favours)
ON 24th May 2023 / BY Jessica Tetstall
Leave A Comment