I am so excited to welcome to the show Sara Duchovnay, from Songbrid Sara Jewellery. Sara is a professional opera singer who has managed to turn her obsession with fine antique jewellery into a profitable jewel career.
The two sides for professional life worked together in perfect harmony, While performing major roles with the up with opera companies around the US and travelling alongside her opera singing husband, Sara is able to resource jewellery pieces from all over the world. This unique opportunity allows her to offer her customers some of the most unique and exquisite vintage and antique Fine Jewellery pieces available today. From her worldwide online shop, Songbirds Sara Antique Jewellery
.
On the blog today I'm going to interview Sara about her passion for Fine Jewellery and how she got into the industry. What to look out for if you want vintage or antique, an engagement ring, and what advice you would give to brides out there that already know what kind of vintage or antique engagement ring you want, and how to get your partner to get that ring of your dreams. We're going to talk about how to create the perfect wedding date jewellery look and how to give your bridesmaid gifts that they will truly love and treasure always. So welcome Sara!
When and where did your passion for antique jewellery begin?
My grandmother loved jewellery and actually, her mother and mother in law. Were both jewellery fiends and
jewellery connoisseurs. The women in my family kind of gravitate to this sort of thing, and when I was young, I loved hearing stories about where each of the pieces came from.
Whether it was a piece that my grandfather bought for my grandmother for a special anniversary, or to celebrate a special occasion, or whether it was something that my great grandmother brought over to America from Poland, something with a story associated with it. I think for me, vintage and antique jewellery is more than just something that's beautiful, it's something that that has a story attached to it and that's why I really gravitate toward that kind of jewellery. 
I also love the idea of having something that no one else has. I think a boho style really speaks to that, you want something that's unique and very you and not something that you could just buy off off the shelf, something that's really individual. 
I love that too. When you google bohemian as a term, it comes up with things like, the wanderer, the trailblazer and the adventurer. It's about that story and doing your wedding day in the Bohemian ethos, making it unique to you. Including a family heirloom or something with history behind it, you're then carrying on that story, It's very exciting.
Yeah I recognise that too, not everyone has family jewellery but I do love the idea of creating your own heirlooms and your wedding day is such a great way to start that family tradition. Then generations down the line, we'll be able to have that heirloom, I think weddings are so, so special, because you really are creating traditions, history and just these wonderful things that you can enjoy for generations to come.
How did your passion for antique jewellery for it develop into a business today?
Maybe 15 years ago I became really, really obsessed. My grandmother again, bought me my first vintage piece when I was 16 and that was more than 15 years ago. She asked me what I wanted for my 16th birthday and I thought I wanted a very old ring, so she bought me this little art deco, white gold box ring and it had a little diamond in it. I took it to the jeweller to be sized and he said, Oh, this is a beautiful, old European cut diamonds, which was a phrase a term that I had never heard before. Then I started seraching old European cut diamonds and I learned about old European cut and old mine cut and the fact that old cut diamonds are cut in an entirely different way than the modern round diamond.
They were cut to sparkle by candlelight and lamp light before electric light and incandescent light existed, so they're entirely different and very unique and very rare. Because, you know, they don't cut.
.
Is that the era that we're talking of when you could get mine cut?
Yes old mine cuts is the Victorian era, Edwardian era into art deco. Then in the turn of the century, into the 20s and 30s, there's the old European cuts. There's some overlap between old mine cut an old European cut, then I would say when we really start to see a transitional cut in the 1940s. But in the late 40s 50s and 60s, that's when we start to see the early modern, Round Brilliant, so it's still a vintage cut, but it's just closer to the modern Round Brilliant than it is to the old European cut.
And so 40s 50s 60s. would that be more machine based?
Yes we're getting much more into that. And of course, now with modern run brilliance, we have amazing computer imaging and technology has come such a long way. Now, cutters are able to use computer imaging to get the perfect percentages and ratios. So modern run Brilliant stuff today is different than what you would find in the 60s. 
I don't limit myself to an era when I'm sourcing I truly love them all. I would however say my personal favourite is like turn of the century, that magical place between Edwardian and Art Deco. I love mid century, I love 50s and 60s and then 40s are really really cool too, because it looks very modern, there's something that you see in the 40s that could be something now.  So I don't play favourites. I really I truly love them all. I think they're all so beautiful. And I think that's what's really special, when people come to me looking for something that matches their style, I'm able to find something that appeals to them from all eras. So it's not just what I would choose, it's what works for you and what works for your style.
This gives a really good context, it's not just diamonds, there's all sorts of vintage and antique jewellery out there. So whatever you're looking for, it is definitely worth having a browse.
Exactly. Right now a lot of brides prefer a coloured antique stone, a coloured stone engagement ring like a sapphire or ruby. It has been seen throughout history that styles reappear, actually sapphires and rubies are wonderful options for engagement rings because they are very durable stones and they're great for daily wear.
I also see some other gemstones that are beautiful, but you have to be more mindful of not smacking your hand into a countertop or into a door because they'll get damaged. But for those brides who love a coloured gemstone sapphires and rubies are amazing choices and sapphires come in every imaginable colour.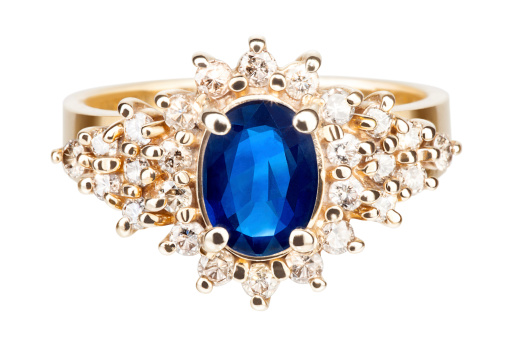 .
Sapphires are just so beautiful and they're exquisite and perfect for engagement rings. If you go to my website, you'll see that I I am a great lover of sapphires and I have a lot of them on my site because they really speak to me. 
So when you are travelling the world, whatever speaks to you, you buy?
Yeah. This ties back into how I turned this into a business, because I am a professional opera singer, my husband and I travel a lot. One of the ways that I have always enjoyed getting to know a new area is by shopping, going into antique stores across the US and the world and going to different state sales, I enjoy really getting to know the people I buy from. 
As a freelance classical musician, I couldn't afford to just buy every beautiful piece of jewellery that spoke to me. So I started thinking, okay, if I can turn this into a business, I can rescue these pieces, and then I can find them homes and I can still enjoy them. I can keep them in rotation. About two years ago, I took the plunge and I decided I was going to invest in five pieces that I loved, I was going to see how well they did, and best case scenario, I would start this business and worst case scenario, which was not that bad, I would have five beautiful new rings. E
ither way, I was a winner. So I started and they sold out,
I kept reinvesting and growing my inventory.
Through the time that I've been doing this, I've built up a lot of really great contacts within the estate, jewellery community, different wholesalers, and coordinators, my travel has really helped me do that. 
I saw a beautiful gold snake ring on your instagram, tell me a bit more about that? I love it. 
So the snake ring is 1960s kind of enamel over gold, which was really popular. at that time It really reminds me of my grandmother even though she hated snakes, but she loved that like green enamel, it was very much her style. So when I saw that, it really spoke to me and snake jewellery has been really, really symbolic and important. From the dawn of time, Cleopatra loved her snake jewellery. I believe Queen Victoria's wedding ring or engagement ring was a snake. Snakes have always symbolised rebirth because they shed their skin, and eternal love. 
I know you have mentioned before about not being afraid to also mix match from different eras?
Definitely don't feel limited by eras. I really advocate for a great mix of vintage and modern jewellery, all different eras and everything in between, because they truly look beautiful together. 
So I suppose it's just having the confidence to just go for it. If you like it, wear it, that's sort of our ethos here at The Boho Bride Guide. That on your wedding day, you wear what makes you feel confident and empowered, and if that's your heirloom, or your snake ring, or your 80s banners, do it.
Absoluetly.
If someone reading this today is early on in their wedding planning journey still thinking about the engagement ring, the the major piece that you  wear forever, what advice would you give them? If they want a vintage or antique piece, what have they got to consider?
I think the first thing is, don't assume that your partner will understand what to look for or what you like. Now we do see that couples are shopping for their ring together, so that makes things a lot easier, you can guide the search. However, if you think that maybe there will be a surprise proposal, or you're not part of the ring choosing process, I always tell people to tell your close friends and family or anyone that you think your partner might come to for advice, that you really want a vintage or antique ring. That will really guide the search for him or her and that will totally change where you go to look for this ring.
Once you've done that, I love the idea of having a Pinterest board, so you can send examples to your friends or family of some examples of styles that you're interested in. For me, I knew that I wanted a vintage or antique ring, I knew that I wanted an old European cut diamond or an old mine cut diamond, I would have been happy with either. So that means that I would have been overjoyed with a ring from the Victorian era, all the way up until the 30s. And there are a lot of different styles within there. I wanted something old, I wanted something unique and with history. My husband was rightfully intimidated by this, but  I had a folder of dream engagement rings which my friend knew about and sent it to my boyfrined, now husband, at the time. 
I suppose that helps the partner out a lot too, as there can be quite a bit of prssure on choosing the perfcet ring as there are so many options out there. So to narrow it down for them subtly is a great idea and it can still be a surprise. 
Absolutely, yes. And I have never spoken to anyone who wasn't so relieved to get hints and guidance. I can't imagine the amount of pressure that it is to choose special jewellery, like an engagement ring, for someone. I actually have a feature on my website called drop a hint and it sends a very cute little postcard that just says, "Hey, thought you might want to know that so and so loves this piece of jewellery."
I have heard from so many partners, like "Oh, thank goodness, I got this email. The weight of the world was lifted because I didn't know what she wanted."
So someone can go on your website, basically find their dream engagement ring, and then you can send a discreet email to their partner? Thats amazing.
Yes, or a friend. Send it to your mom, send it to your partners. Just Yes, just send it out.
We hope you enjoyed reading this interview all about antique and vintage jewellery and how choosing certain jewellery pieces can bcome an heirloom in your family. 
ON 14th January 2022 / BY Jenny Maynard
Leave A Comment