When it comes to saying 'I do' in a memorable and extraordinary way, eloping has become an increasingly popular choice for couples seeking a unique and intimate wedding experience.
If you're dreaming of a magical setting that combines history, stunning landscapes, and a touch of enchantment, Scotland should be at the top of your list. With its picturesque castles, rugged mountains, and mystical lochs, Scotland offers an ideal backdrop for a romantic elopement.
We have teamed up with our fabulous approved supplier Aga from Mint and Jasmine to bring you this comprehensive guide to eloping in Scotland.
In this blog post, we will delve into the attraction of eloping in Scotland and explore some main things to consider when planning your Scottish elopement adventure with tips and advice from wedding and elopement photographer Aga.
Don't forget to save this to your Pinterest elopement wedding board - Enjoy!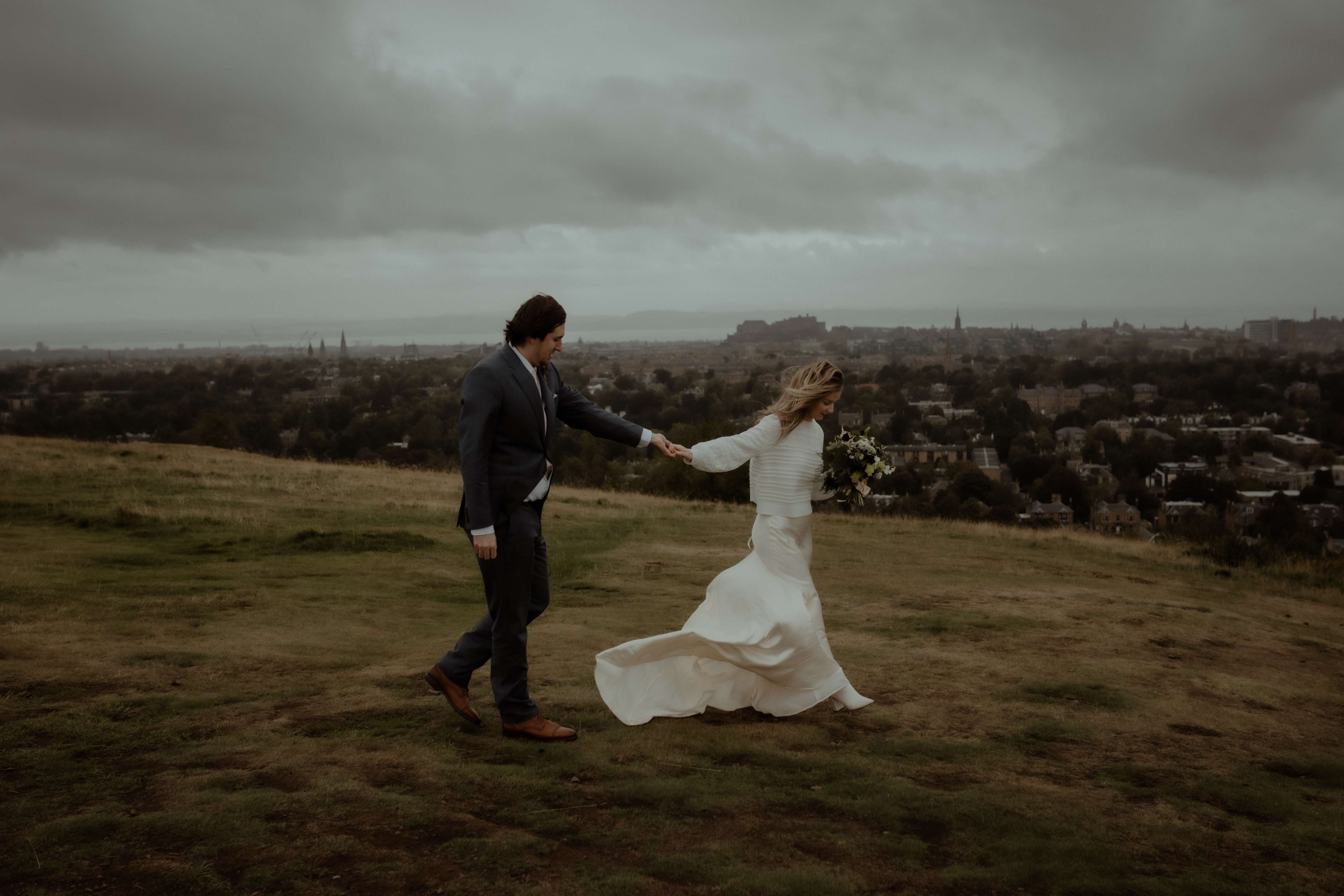 .
Hi, I'm Aga a Scotland wedding and elopement photographer with a passion for illustrating love stories all over Scotland and beyond. Elopements and small weddings are intimate, romantic and personal. As a photographer I have seen many elopements and I worked closely with my couples to make their vision to a reality. I understand that every love story is unique, and I strive to capture those special moments that make your day truly unforgettable.
Eloping in Scotland can be a truly magical and unforgettable experience. From the stunning landscapes to the rich history and culture, Scotland offers endless possibilities for a romantic and intimate elopement. The best thing about eloping in Scotland is that you can get married literally anywhere you want as long as your ceremony is conducted by a registered celebrant.
Here are my 15 top tips to help you plan your dream day:
1 - Choose the Perfect Location
Scotland has so much to offer where it comes to choosing your perfect location.
I might be biased but you can find some of the most breathe taking landscapes in the World. From the Scottish Highlands to the Isle of Skye, and everything in between. Take some time to research different locations and find the one that speaks to you as a couple. Maybe something that holds sentimental value or simply a place you've always wanted to visit, make sure it feels special. Do you prefer a dramatic coastline, a secluded forest, a historic castle or maybe a city elopement? The options are endless.
Some of my favourite locations are The Isle Skye and Glencoe. I'm happy to help you to research your perfect location, just drop me a line here.
.
2 - Pick the Right Time of Year
Consider the time of year when planning your elopement, taking into account Scotland's unpredictable weather patterns.
Summer months (June-August) offer longer days and milder weather, while the shoulder seasons of spring (March-May) is filled with beautifully blooming trees. Autumn (September-November) is my favourite season as it offers stunning landscapes, autumnal colours and fewer crowds. Winter (December-February) can be cold and dark, but also incredibly romantic if you're willing to brave these elements.
.
3 - Find the Right Celebrant or Registrar
In Scotland, you have the option of getting married by a celebrant or a registrar. A celebrant can offer a more personalised ceremony, while a registrar can handle all the legal aspects of your marriage. Do some research and find the right fit for you as a couple.
You might want to check out The Boho Bride Guide Directory ... The Celebrant Directory or Humanist Society Scotland to find your celebrant.
4 - Legal Requirements and Paperwork
If you're planning to elope in Scotland, there are certain legal requirements that you'll need to fulfill. The paperwork needed to elope in Scotland includes:
Marriage Notice: Both parties need to submit a marriage notice to the local registrar at least 29 days before the date of the marriage.

Documents: You will need to provide original documents such as your birth certificate, passport, and any previous marriage certificates.

Witness details: You will need to provide the names and addresses of two witnesses who will be present at your ceremony.

Marriage Schedule: You will need to collect your marriage schedule from the registrar's office no earlier than seven days before the date of your wedding.

Return of Marriage Schedule: After the ceremony, you will need to return your completed marriage schedule to the registrar's office within three days.

If you're a Non-UK national, You will be required to complete and submit a Declaration of Status by Non-UK Nationals (pdf) and provide evidence in support of your declaration with your marriage notice form. It's important to note that if you're coming from overseas to elope in Scotland, you may need to provide additional documentation, such as a marriage visa or proof of residency. It's always best to check with the appropriate authorities and a wedding planner or celebrant to ensure that you have all the necessary paperwork and that it's submitted in a timely manner.
You can find more info on how to legally get married in Scotland here.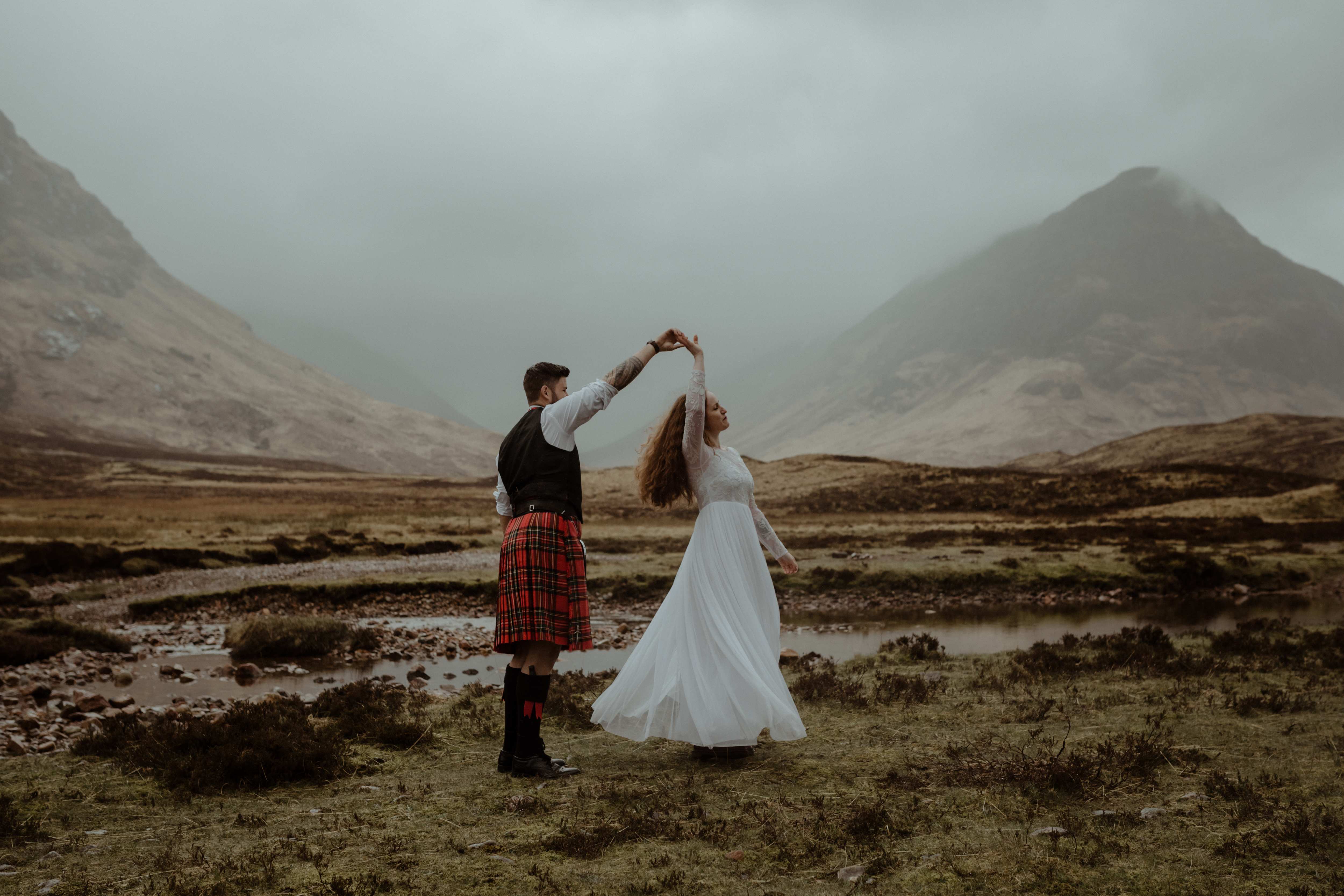 .
5 - Incorporate Celtic Traditions
Incorporating Celtic traditions into your elopement ceremony can add a beautiful and meaningful touch to your special day. Here are a few Celtic traditions you may want to consider:
Quaich Ceremony: The Quaich is a traditional Scottish cup that symbolises sharing and trust. During the ceremony, the couple shares a drink from the Quaich, demonstrating their commitment to each other.

Handfasting Ceremony: This Celtic tradition involves the binding of the couple's hands together with ribbons or cords to symbolise their union. It's a beautiful way to include a physical representation of your commitment in your ceremony.

Oathing Stone Ceremony: In this Celtic tradition, the couple places their hands on a stone and makes their vows to each other. It's a powerful way to connect with Scotland's landscape and history and can be incorporated into a beautiful outdoor ceremony.

Celtic Blessing: Consider incorporating a traditional Celtic blessing into your ceremony. A blessing such as "May the road rise up to meet you" can add a beautiful touch to your vows and can connect you to the rich history and culture of Scotland.

When incorporating Celtic traditions into your elopement ceremony, it's important to work with a celebrant or officiant who is familiar with the traditions and can guide you through the process. They can help you choose the right traditions for your ceremony and ensure that everything runs smoothly on your special day.
.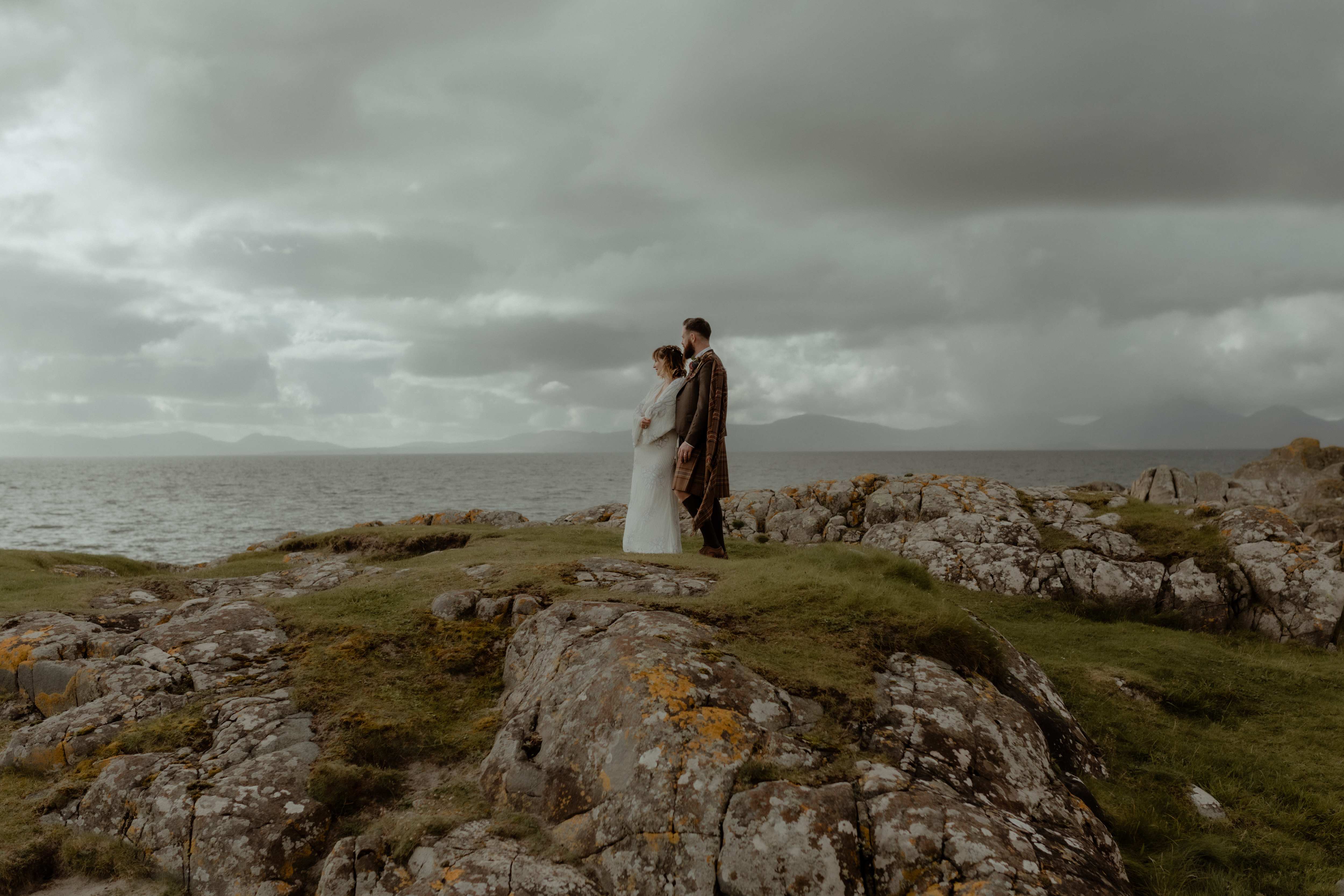 .
6 - Personalise Your Vows
Create a meaningful and personalised vow exchange that reflects your love and commitment to one another. One of the main benefits of eloping in general is the freedom to make your ceremony truly personal. Personalising your vows is a beautiful way to make your elopement ceremony more meaningful and special. Whether you choose to include traditional vows, personal anecdotes, or promises for the future, your words will be a reflection of your love and commitment to each other. Take the time to write your own vows or include special readings or rituals that reflect your relationship.
.
7 - Choose the Right Accommodation
Whether it's a cozy cottage, a luxury hotel, castle or a glamping site. When booking your accommodation for your elopement in Scotland you might want consider:
Location: If you're planning to elope in a specific area of Scotland, it's a good idea to choose accommodation nearby to minimise travel time and make logistics easier.

Budget: Your accommodation is likely to be one of the biggest expenses for your elopement, so it's important to consider your budget and find options that fit within your price range.

Amenities: Depending on your preferences, you may want to consider what amenities are offered at your chosen accommodation. For example, if you're planning a winter elopement, a cozy cottage with a fireplace may be a perfect choice, while a summer elopement may call for a glamping site with outdoor activities.
Style: Your accommodation can also set the tone for your elopement, so it's important to choose a place that reflects your personal style and vision for your special day. Whether you prefer a luxury hotel, a rustic cabin or a Castle, there's an option for every couple.
Overall, the right accommodation can provide a comfortable and memorable base for your elopement adventure, allowing you to relax and enjoy the natural beauty of Scotland without worrying about logistics or travel.
.
8 - Plan for Transportation
Depending on your chosen ceremony location, you may need to arrange for transportation to and from the ceremony site. Consider renting a car, hiring a driver, or even arranging for a horse-drawn carriage or boat ride to add an extra special touch to your day.
9 - Factor in Travel Time
Scotland's landscape can be vast and remote, so it's important to factor in travel time when planning your elopement. Make sure to give yourself plenty of time to get to and from your chosen location, especially if you're traveling through winding country roads or taking a ferry to a remote island. Rushing to your ceremony or feeling stressed due to unexpected travel delays can take away from the magic of your elopement day.
10 - Consider a Wee Adventure
Why not turn your elopement into a mini-adventure? Scotland is known for its outdoor activities like hiking, kayaking, or a boat tour. Make the most of Scotland and it's natural beauty.
.
11 - Make it a Weekend Elopement
Elopements don't have to be one-and-done affairs. Consider extending your stay in Scotland and making it a multi-day celebration. Book a romantic cabin or castle, explore the local area, and save your time together as newlyweds.
12 - Consider What to Wear
Scotland's weather can be unpredictable, so it's important to dress for the occasion. For your Scottish elopement, consider layers and comfortable and suitable footwear if you're planning to explore the outdoors. You may also want to incorporate some traditional Scottish elements into your outfit, such as a tartan scarf or kilt.
.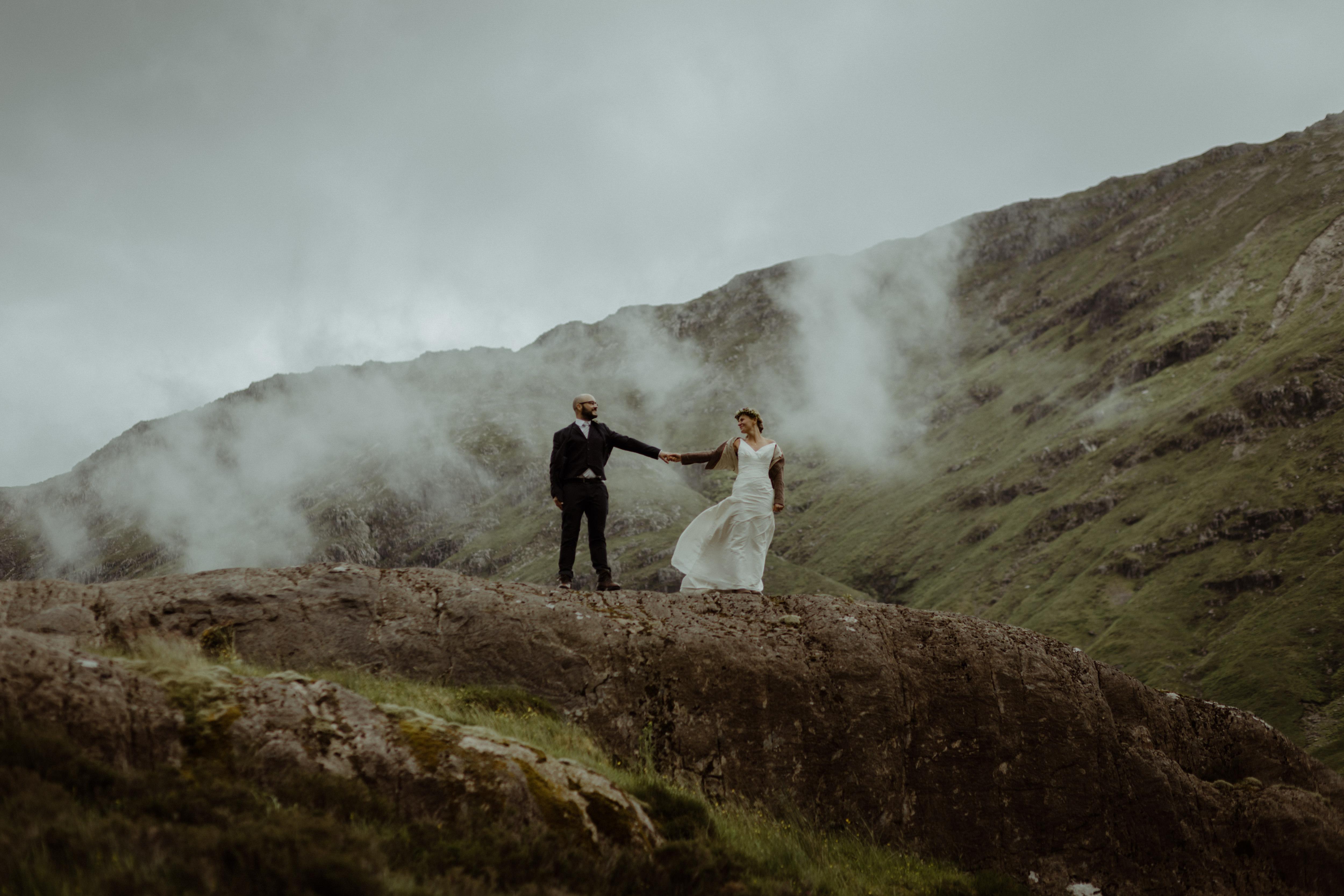 13 - Enjoy the Moment
Take time to enjoy each other's company and the beauty of Scotland, whether it's by spending a romantic night under the stars, exploring a quaint Scottish village, or watching the sunset over the mountains.
14 - Consider Using Eco-friendly and Sustainable Practices in your Elopement Planning
When planning an elopement in Scotland, it's important to consider the impact your wedding may have on the environment. Scotland is known for its stunning natural landscapes, and by adopting eco-friendly and sustainable practices, you can help preserve these beautiful surroundings for future generations.
Some ways to make your elopement more sustainable and eco-friendly include:

Reducing waste by using recyclable or biodegradable products, such as biodegradable confetti or flower petals, to reduce your impact on the environment.

Leave things as you found them: When you leave your elopement location, make sure to leave things as you found them. This means taking any garbage with you and leaving the area clean and tidy.

Hire eco-friendly vendors: When choosing vendors for your elopement, look for ones who prioritise sustainability and environmentally-friendly practices.

By considering eco-friendly and sustainable practices in your elopement planning, you can make a positive impact on the environment while still having a beautiful and memorable wedding in Scotland.
15 - Get Organised
Research and book your accommodations, transportation, and vendors well in advance to avoid last-minute stress.
Scotland is a magical and unforgettable destination for couples looking to elope in a breathtaking and meaningful setting. Remember, the key to a successful elopement in Scotland is to stay true to yourselves as a couple and create a day that feels authentic and meaningful to you. I hope that you found my 15 tips to elope in Scotland helpful.
I'm always happy to help my clients to plan their elopements. Get in touch if you feel connected with my work and you're looking for a photographer who can capture your special day.
Lot's of love,
Aga
Guest Blogger for The Boho Bride Guide
ON 5th June 2023 / BY Jessica Tetstall