When it comes to choosing your wedding hairstyle and make up look for your special day, it can feel a little overwhelming and you most likely have alot of questions running through your mind. How do I pick my hair and makeup for my wedding? What hairstyles are best for a wedding? Should I wear my hair up or down for my big day?
This is why we put together this blog full of top tips and tricks from the experts on how to choose your perfect hairstyle and make up look to suit you on the day, taking it to account your wedding theme and overall bridal look.
On your wedding day, you want to look and feel like the best version of yourself, enhance all of your natural beauty to feel confident and comfortable. Most importantly, you want to feel relaxed ahead of the best day of your life.
Keep reading to find out the answers to your wedding hair and make up questions.
.
1 st Image credits Galia Lahav |. 2nd image credits Photography by Feather & North
How to Choose Your Wedding Hairstyle
'In order to feel comfortable and relaxed on your wedding day, choose a style not to different from how you would normally wear your hair on a daily basis. If you usually wear your hair down, don't go for a structured updo, you won't feel comfortable or like yourself. If you usually wear your hair up, go for an updo, even if it's a textured bun, waves/loose curls or a simple ponytail', says Rachael from Rachael Smith Hairdressing, one of our super talented hairstylist wedding suppliers.
'You want your bridal look to work in harmony to look and feel like the best version of you!' and we couldn't agree more!
When looking for wedding hair inspiration, try to look at styles that are the same colour, length and texture as your own hair, it will give you a better idea of what your hair could look like on your special day. Social media platforms are a great way to get inspiration, especially Pinterest .
.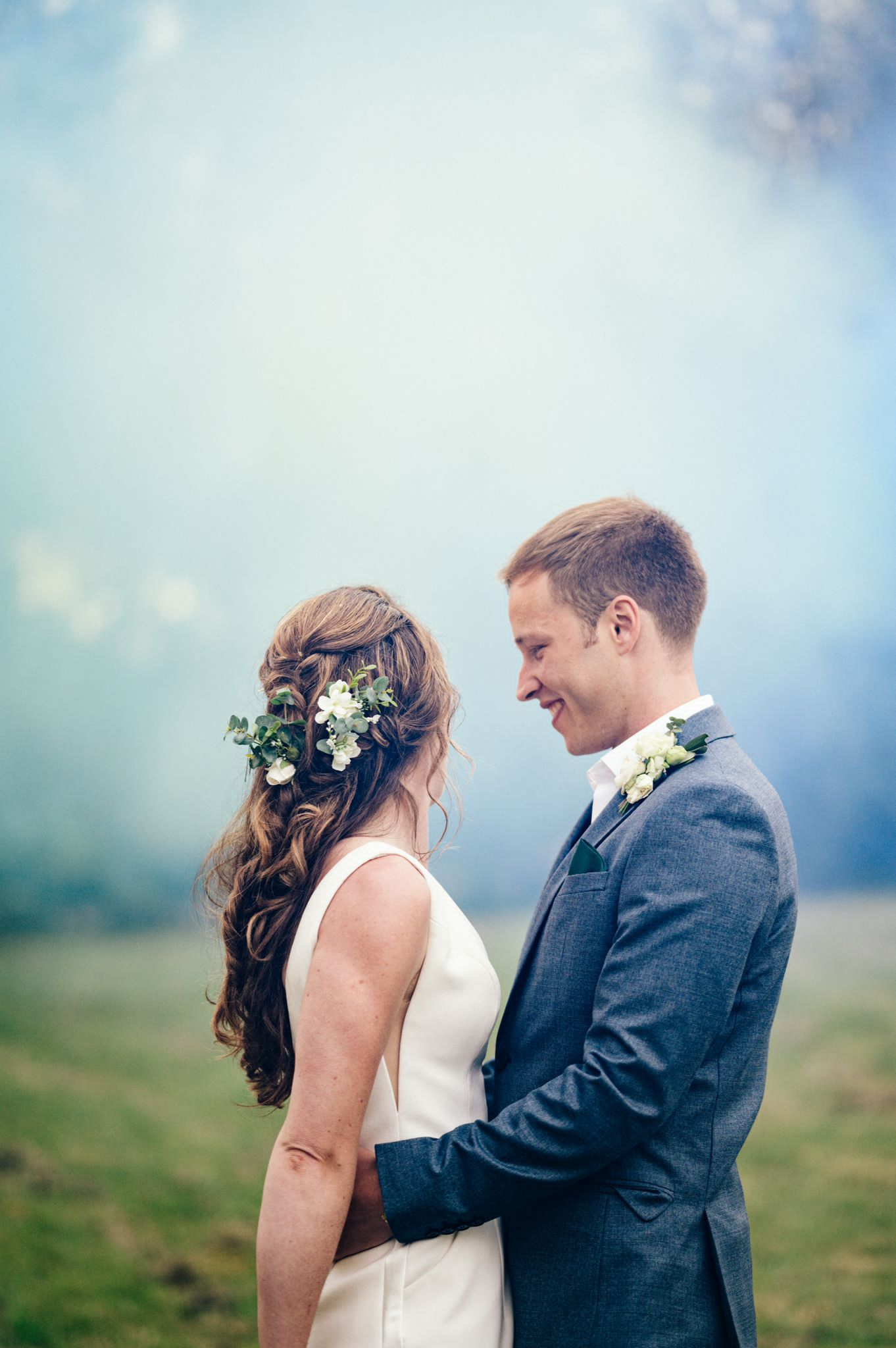 1st image credits: Hair by Rachael Smith Hairdressing | Photography by Robin Goodlad Photography | Florals by Belles in the Woods
2nd Image credits: Hair by Rachael Smith Hairdressing | Makeup by Made Up Wedding Makeup | Photography by Toby HP Photography
'Take some inspiration from your wedding dress, what kind of style is it? What is the neckline like? If your dress is backless or has detailing at the top you are going to want to show that off, so an updo style may be best. Pick a hairstyle that matches the style and design of your dress', says Claudia from Linnie Me & Beyond, one of our valued approved suppliers.
How to Prepare your Hair for your Wedding
'Understand your hair type, have a discussion about your chosen style with your hairstylist, but be open minded to what can or can't be achieved with your hair. You may not be able to have that small sleek bun if you have all the hair in the world, or have a flowing half up look without a little help from some hair extensions', says Claire from Barbarella Bridal Hair.
In order to prep your hair for your wedding, our hair stylists recommend that you start using hydrating conditioning treatments for your hair type a few months before the big day to provide your hair with the nourishment and shine it needs to make it look its best. Do not try anything new on your hair 2 weeks before the wedding just incase it doesnt take very well, and if you need a cut or some fresh colour done, make sure this is done 3-4 weeks prior, as it will give you some time to adjust to the style.
.
1st Image credits Volvoreto. | 2nd image credits Photography by Ivash | Hair by Tymica Martin
How to Choose the right Hair Stylist for your Wedding
When it comes to picking your bridal hairstylist, you will most likely have a budget in mind, but try not to let that be the only thing that determines who you choose. Do some research on social media and see if you actually like the work the stylist has done previously, you can get a real sense of what they are capable of from doing this, and if you follow a few different stylists, you can eventually narrow it down to the sort of thing you prefer.
'Ask yourself questions such as... does your stylist's work suit the style and feel of your wedding? Do they offer a consultation? If so, that's great, as it will give you a chance to get to know them. They'll be spending the morning with you and your wedding party on the most important day of your life, when tensions can be running a little high, so you have to be comfortable with them', adds Claire from
Barbarella Bridal Hair.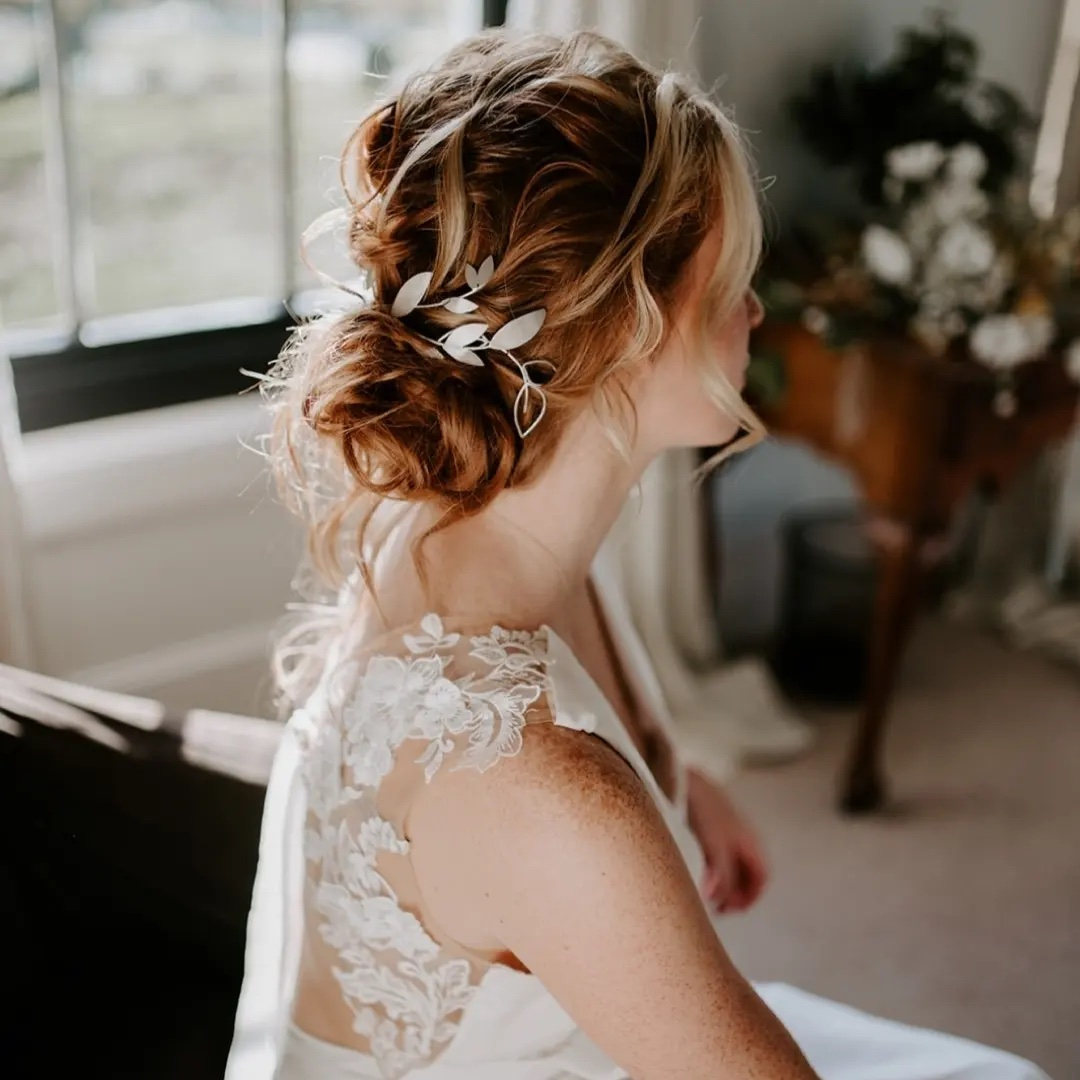 .
2nd image credits Hair and Photo by Barbarella
Wedding Hair Accessories
If you're unsure of adding accessories to your hairstyle, then a trial is perfect opportunity to play around. Your stylist should be able to offer various ideas, have a look together through inspo pictures and they should be able to tell you what will work with your chosen style. They may even have a selection for you to try. If you think you may like flowers why not bring some along too. They don't have to be the same as the flowers for your day, but they with give you an idea on placement and the final look, mentions Claire from Barbarella Bridal Hair.
Don't be afraid of hair extensions either, they don't have to be permanent, or make your hair longer than you want, however, they do offer hold and structure for waves and give more volume/thickness. So if there is a specfic look that you want, consider hair extensions to make this look work best for you.
How to Choose your Make Up Look
'Decide on your style, natural, glam, soft glam. This is not a time to be creative and try something different, you will most likely be influenced and represent how you like to wear your make up day to day - don't be afraid to be yourself you don't have to follow bridal trends', says Rowenna from Make Up by Rowenna, one of our fabulous approved MUA suppliers here at The Boho Bride Guide.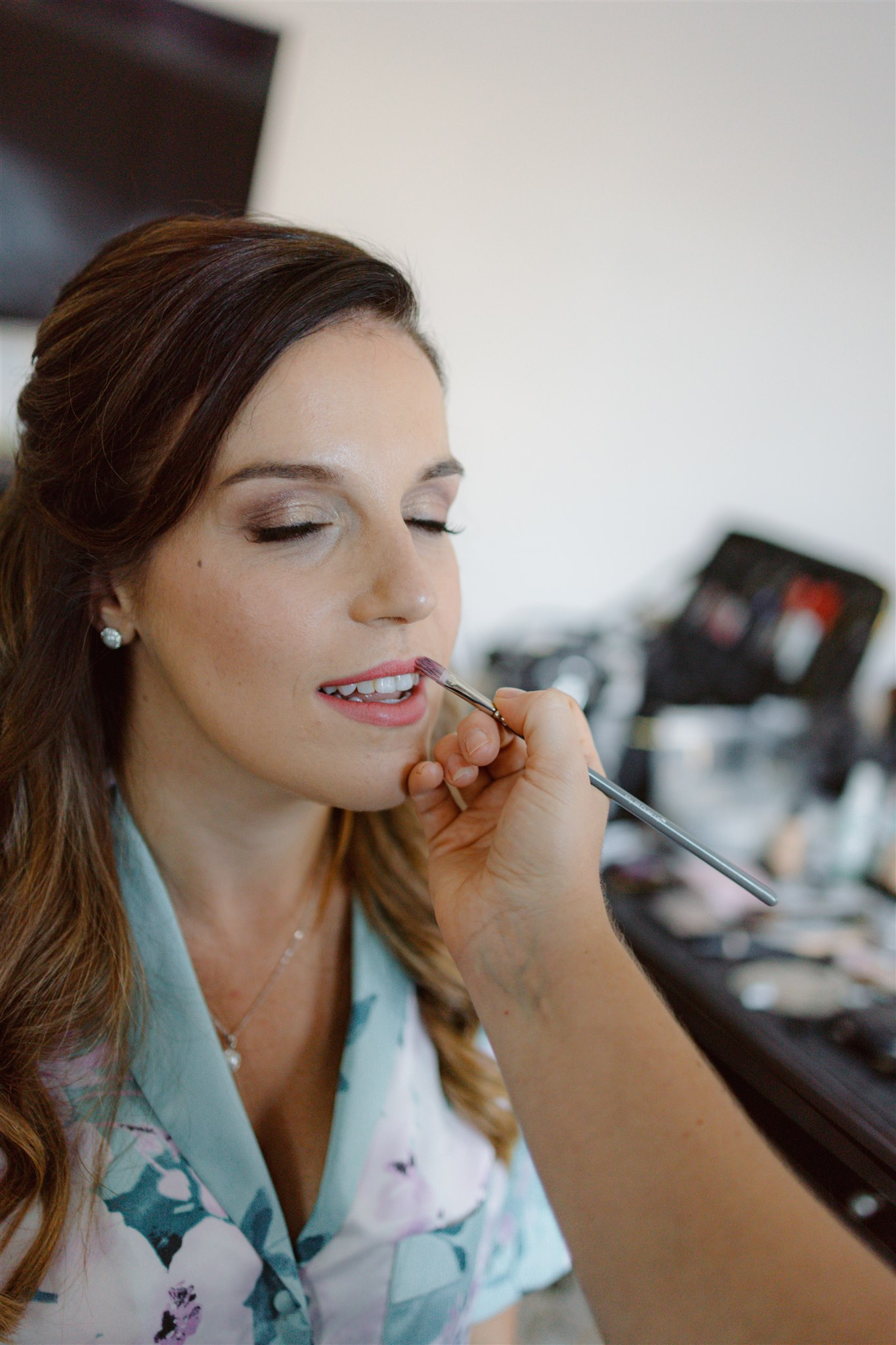 .
1st image credits Make-Up by Make-up By Rowenna | Photography by Yana Nova Photography
2nd image credits Make-Up by Make-up By Rowenna | Photography by GS Wedding Photography
'Do some research and look at some styles that you like, consider your hairstyle, hair colour, and skin tone when choosing your bridal make up, and your wedding style as a whole, because you want everything to compliment each other perfectly. Just like your hair, makeup, dress, venue and the flowers you choose are all relevant.
When you go for your trial, a great piece of advice is to book it in the same day as your bridal hair trial. This way you will get an overall feel of your look as a whole. If you are wearing your hair up, this can also change the way your make up looks so its best to see your hair and make up together, says our approved supplier Romi from Make Up by Romi.
ON 4th November 2022 / BY Jessica Tetstall