Who said you had to go to Las Vegas to have a Vegas wedding. Bringing bright, bold and a whole lotta colour to the Hereforsdshire countryside, we have this stunning styled shoot put together by a team on fabulous UK wedding suppliers, proving that weddings don't just come in one simple form, they can be vibrant, edgy and ooze rock n roll.
If you are looking for some fun and funky inspiration for your wedding, then keep scrolling!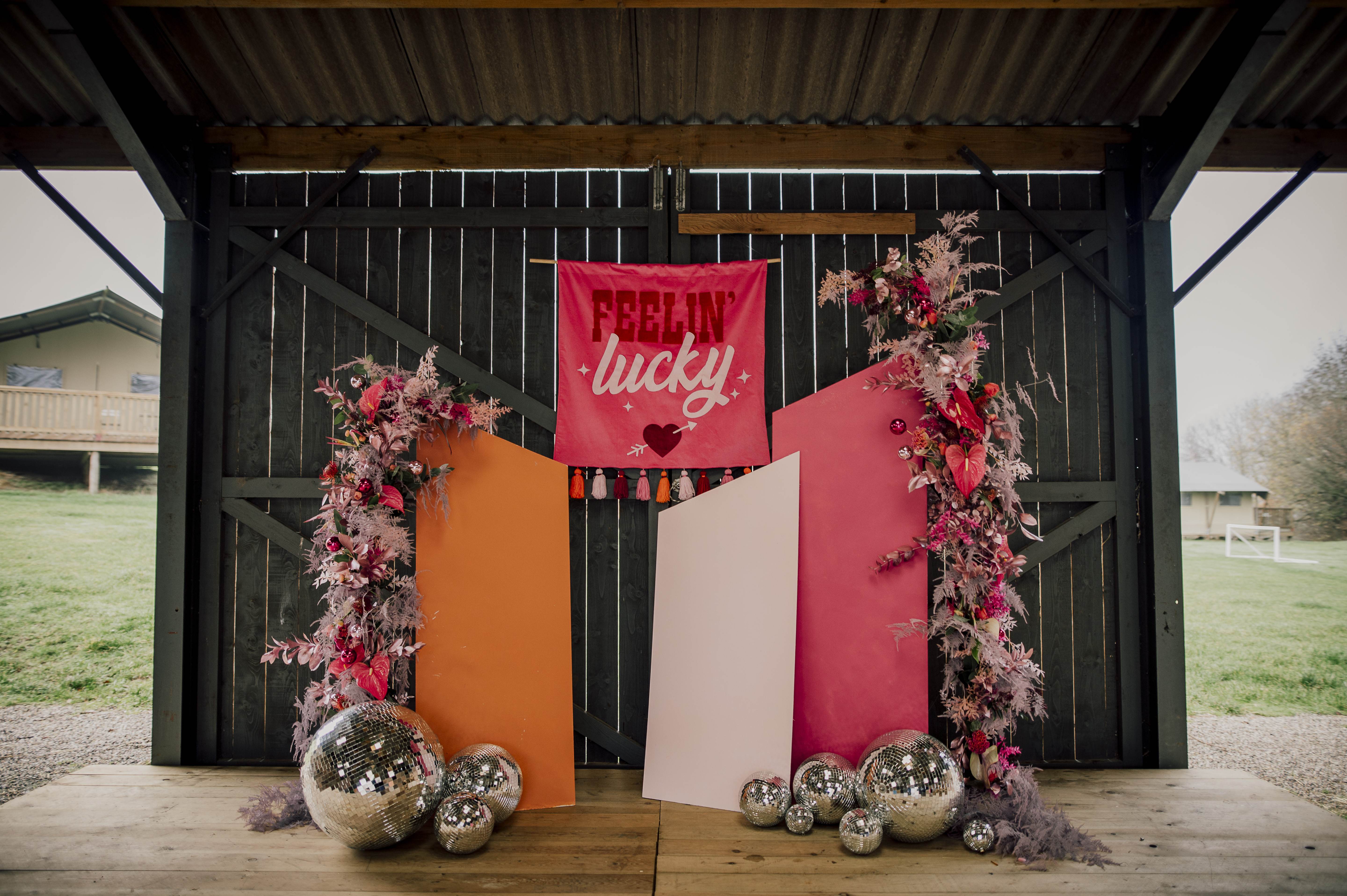 .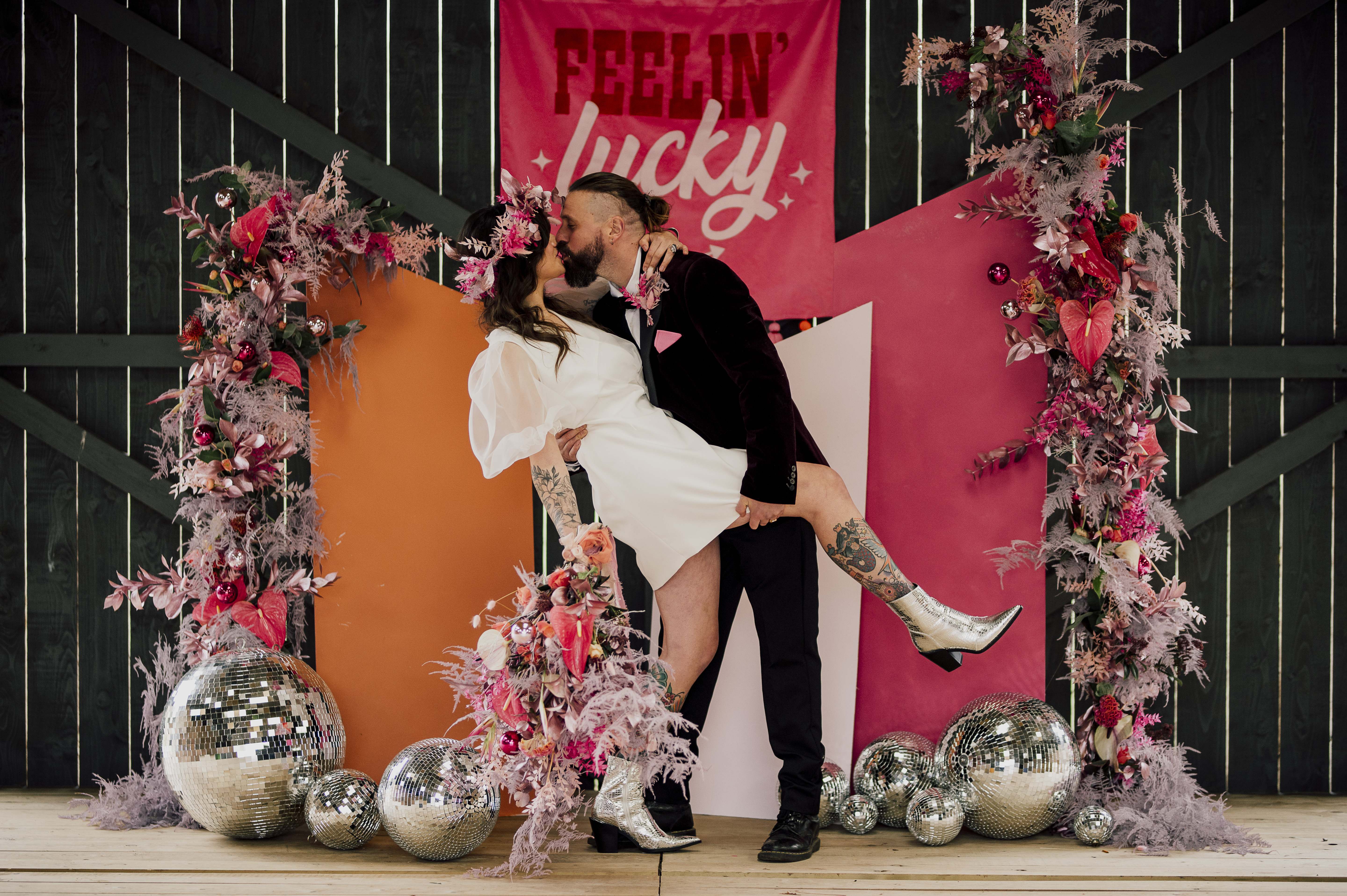 .
.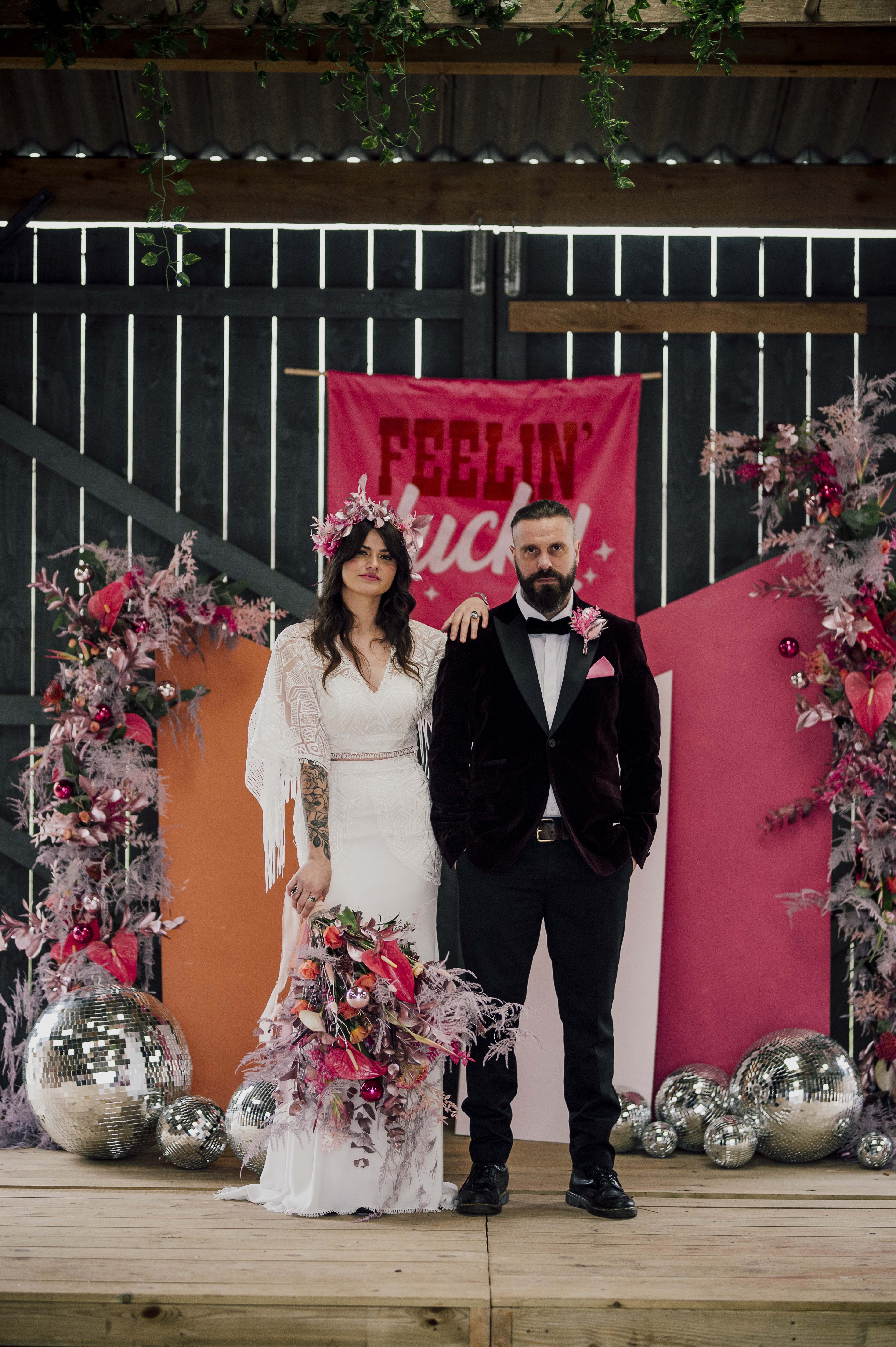 The Shoot Concept:
"We wanted to create a shoot which was bright, colourful, alternative and edgy. The shoot has an Americana Las Vegas theme throughout which we feel is really current at the moment. We wanted to show you don't have to follow the safe route, that bright and bold and rock and roll can be brought into a wedding and it can look EPIC!"
We couldn't agree more!
This shoot was captured perfectly by Dearest Love Photography Duo photographers Jim and Kerri also came up with the concept behind this shoot, along with the help of wedding planner Lindsey, Worcestershire Wedding Planner.

.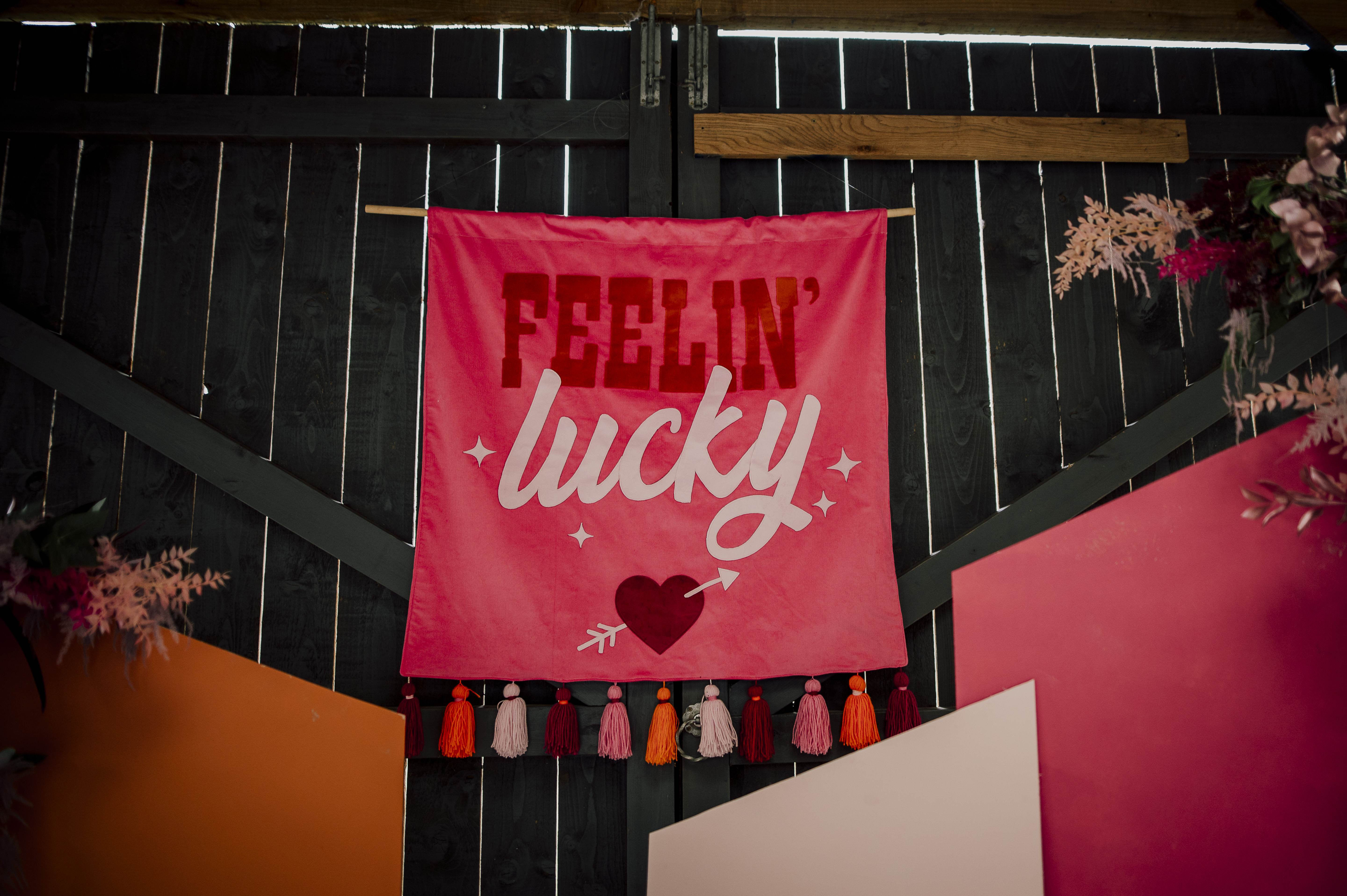 .
Colourful Disco Decor & Cool Retro Tablescape
Las Vegas is the home of extravangant casinos and a bright vibrant nightlife scene so of course the team had to add bright colours to the decor and tablescape.
Think bright bold block colours with disco ball charm and hints of Vegas casino, this was the vibe for the venue decor. The styling was put together by R and R Weddings and Events.
The tablescape was kept minimal but brought all the cool modern vibes with bold candlesticks, mismatch glassware and colourful shades of pink and orange.
The banners which were made by Daydreamer Creative Studio fit the theme perfectly and really added to the decor.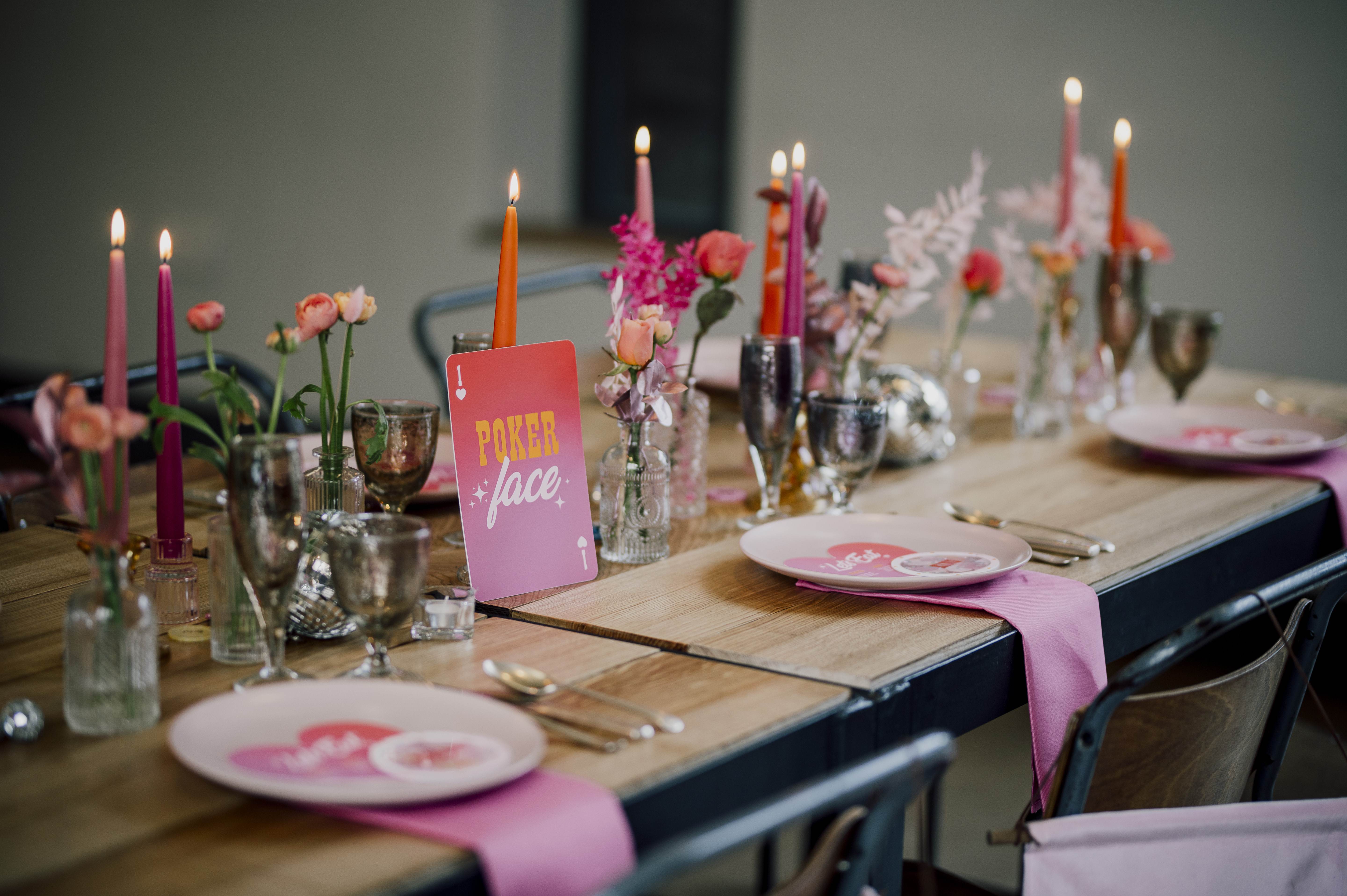 .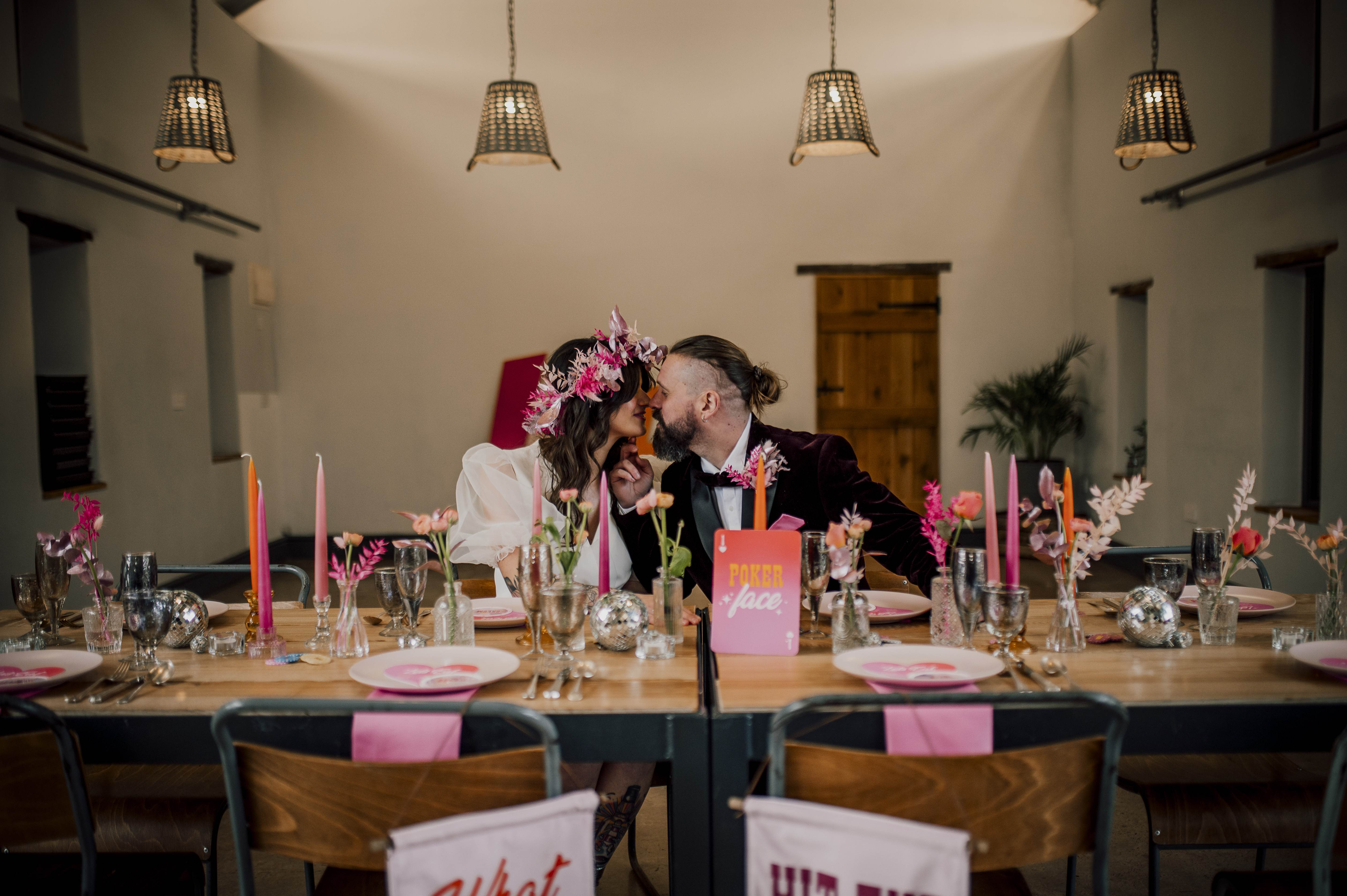 .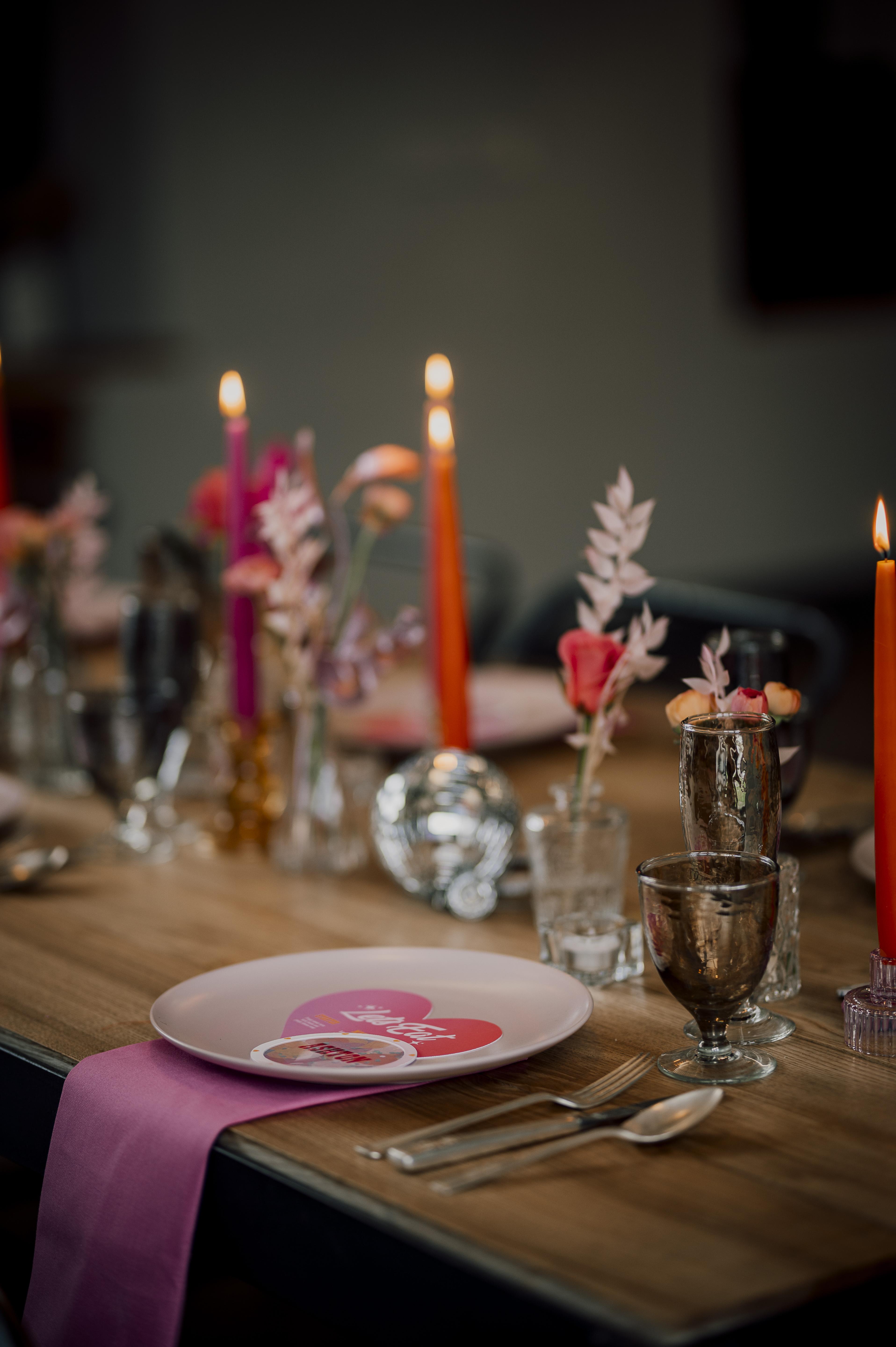 .
.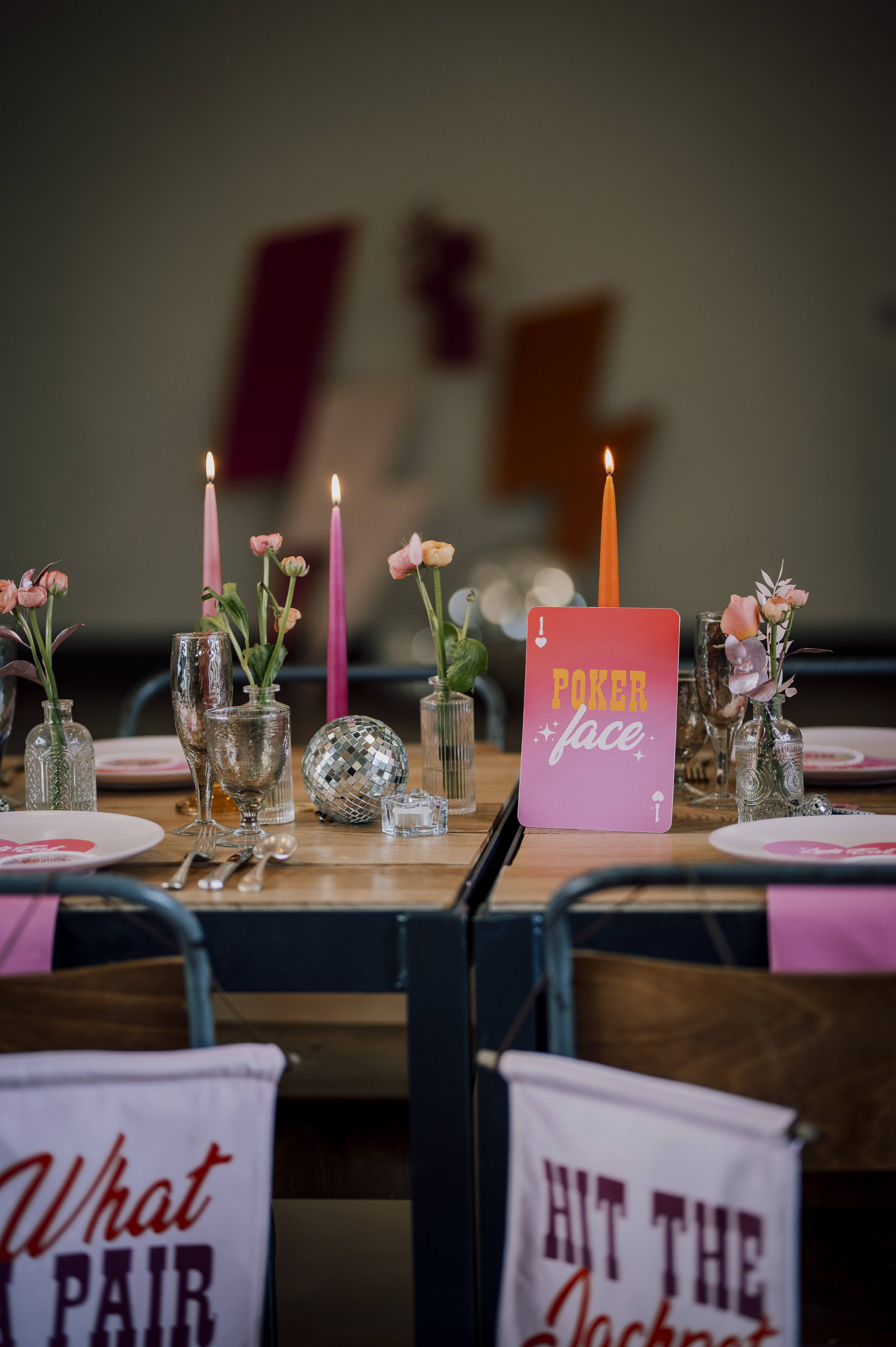 Confetti Invitations and Bold Retro Flatlay
A confetti style invitation is such a fab idea and a great way to get your guests excited and let them in on what to expect on your big day! We love the subtle hints of the Vegas theme in the stationery and the casino tokens are a perfect touch!
This gorgeous bold and vibrant stationey suite was created by You Me Oui
.
.
.
Pink Wedding Cake
Now this hot pink cake is definitely not something you would find at a traditional wedding, but a fun Vegas themed wedding? Absolutely!
We love the unique structure of the cake tiers and it's cool modern elegance, created by Perfect Cakes Co, I am sure it tasted just as good as it looked.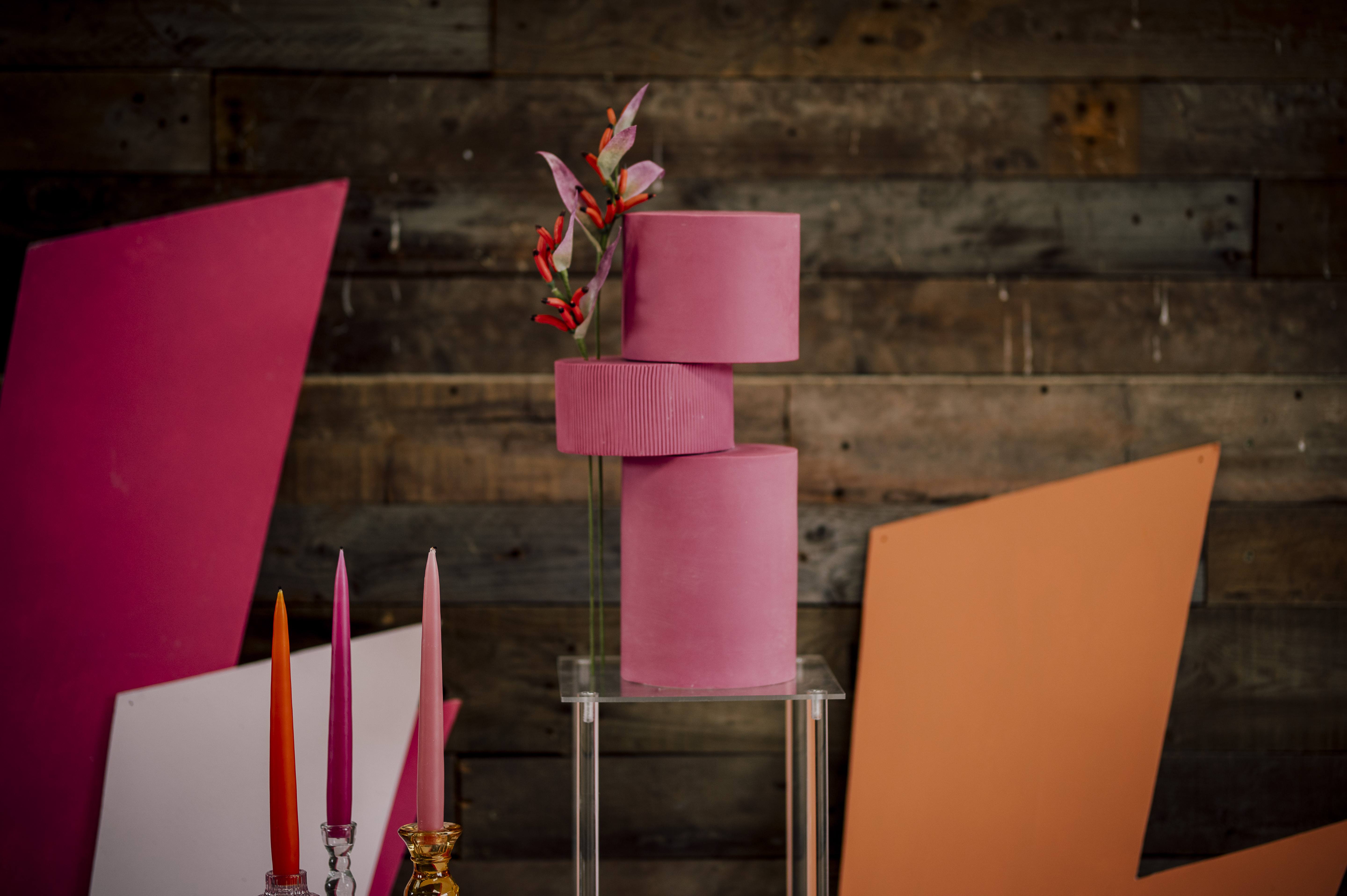 .
.
Colourful Flower Arrangements
These beautiful blooms were created by our fabulous approved supplier Lilia Rose Floral Design and aren't they just the most perfect florals for this edgy styled shoot. From the extravagant bridal bouquet to the groom's button hole, these flower arrangements are sure to provide the wow factor on your big day. Go bold or go home!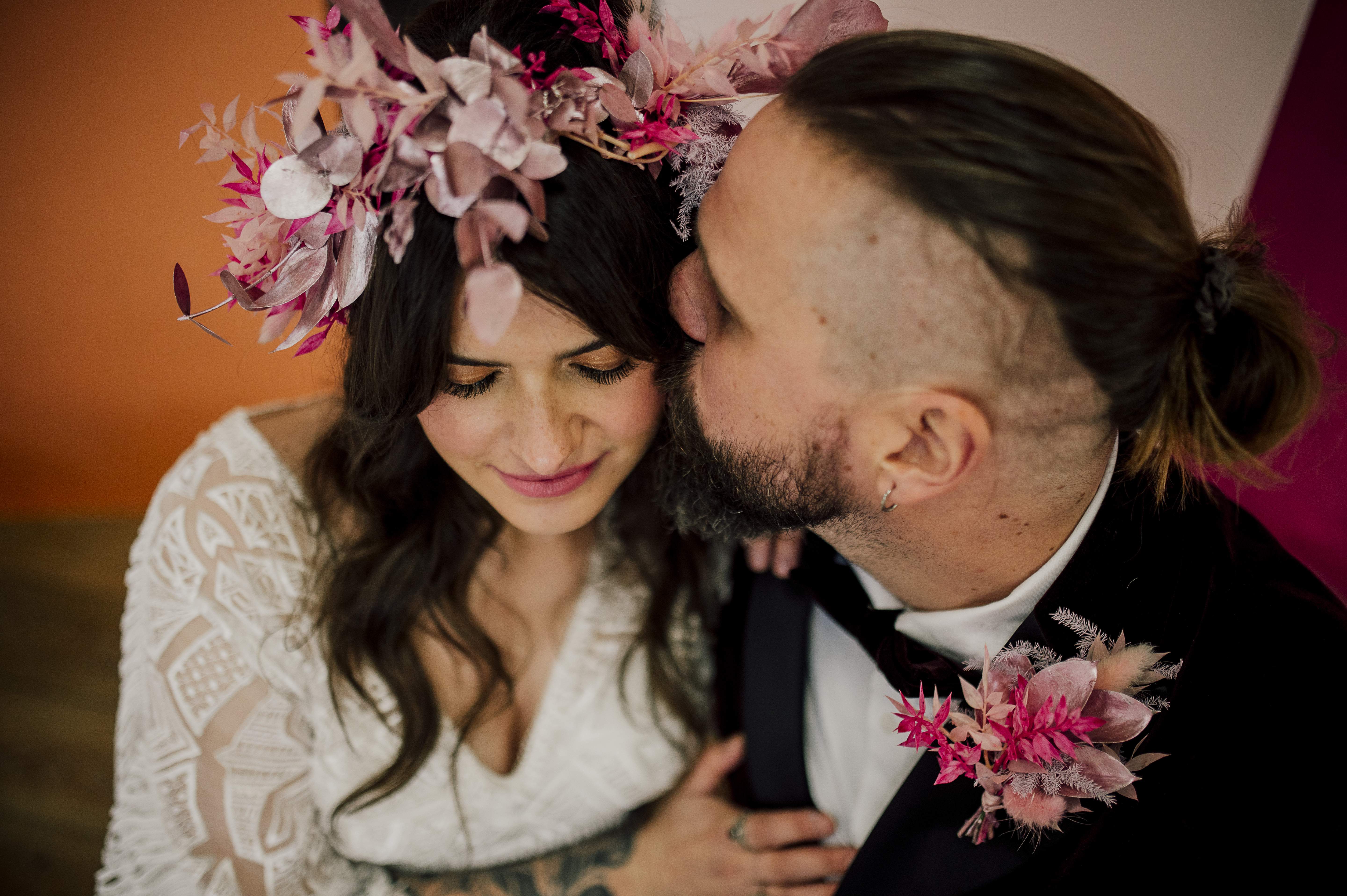 .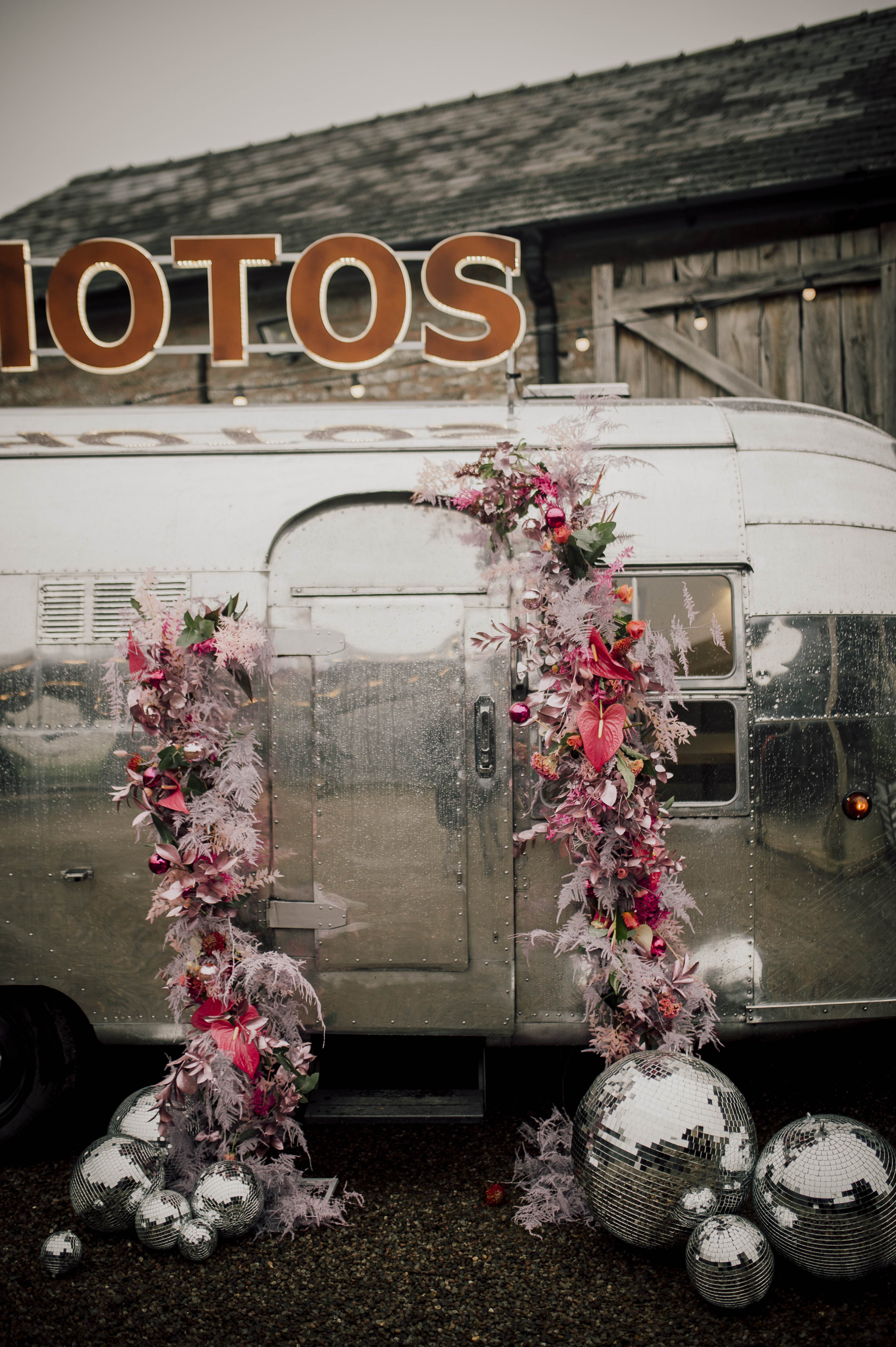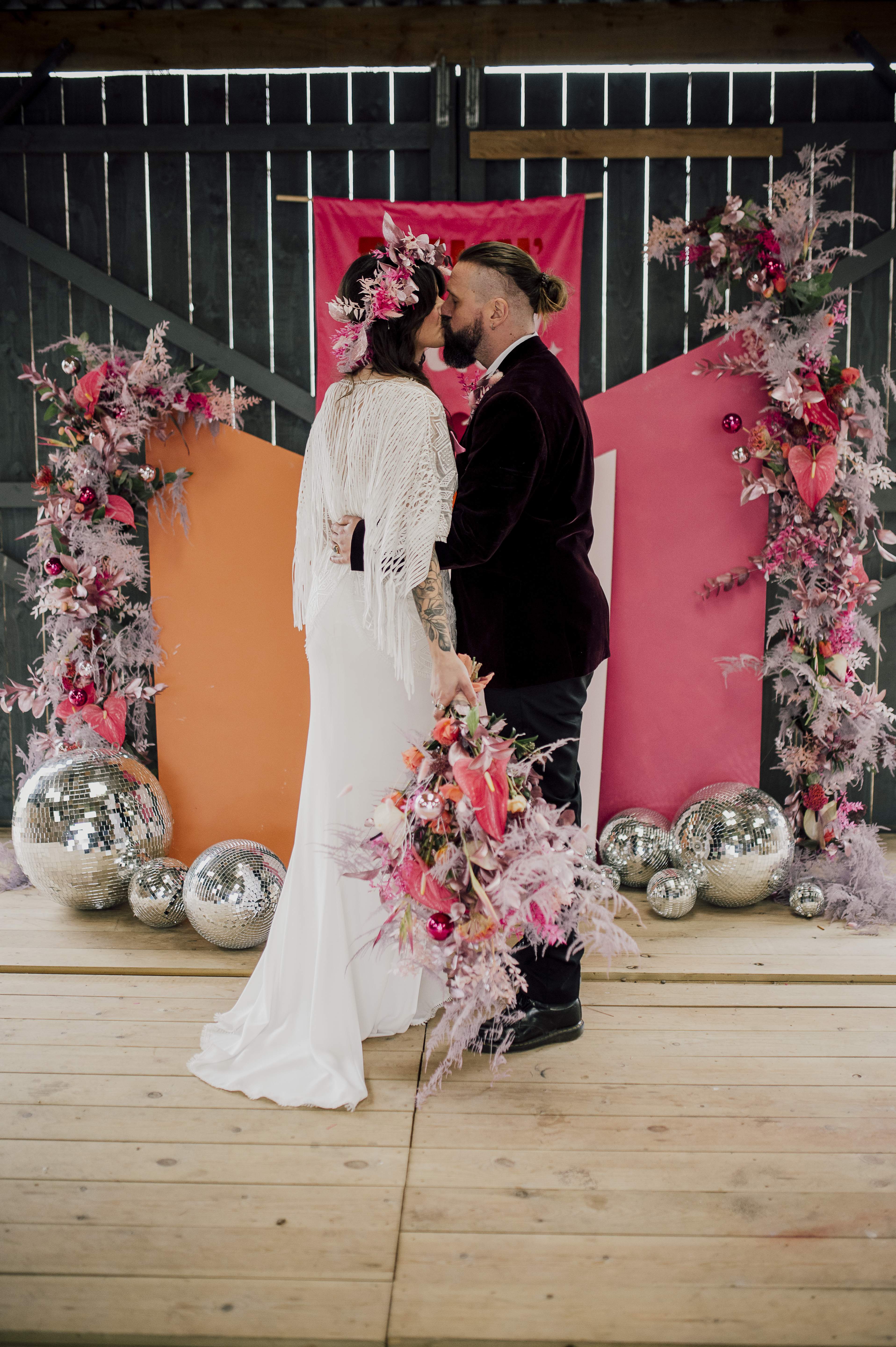 .
Non-Traditional Wedding Outfits
The stunning lace fringed bridal dress was supplier by our approved supplier, Rebel Rock Bridalwear and adds a bohemian elegance to this look.
The casual short wedding dress, also supplied by Rebel Rock Bridalwear, looked fabulous with bride Ebony's shiny silver cowboy boots and really added a cool modern edigness to the first bridal look.
The groom's red velvet tux was from Carter Esquire which oozed elegant rock n roll, partnered with a black bow tie to match the Vegas theme.
.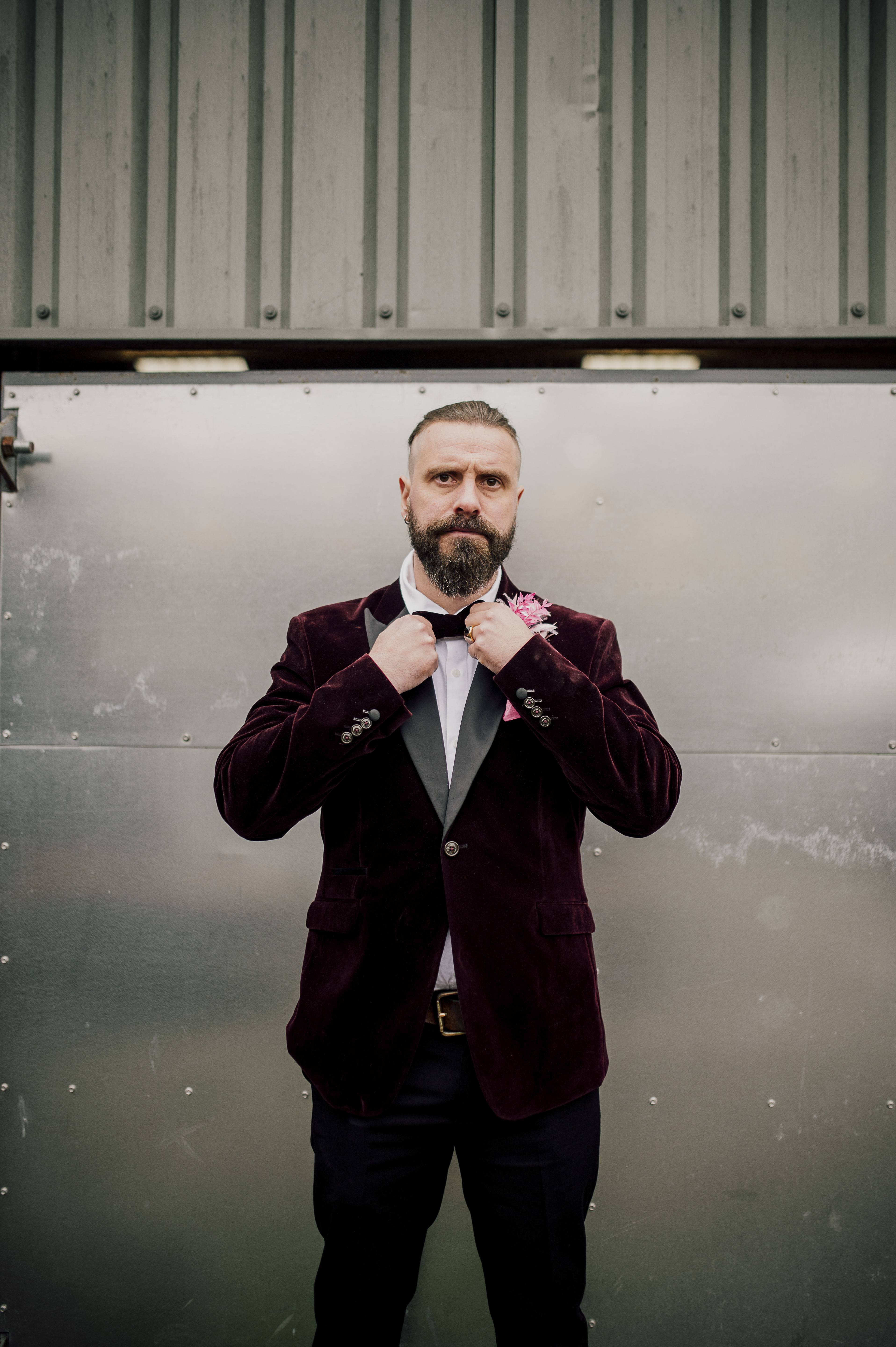 .
.
.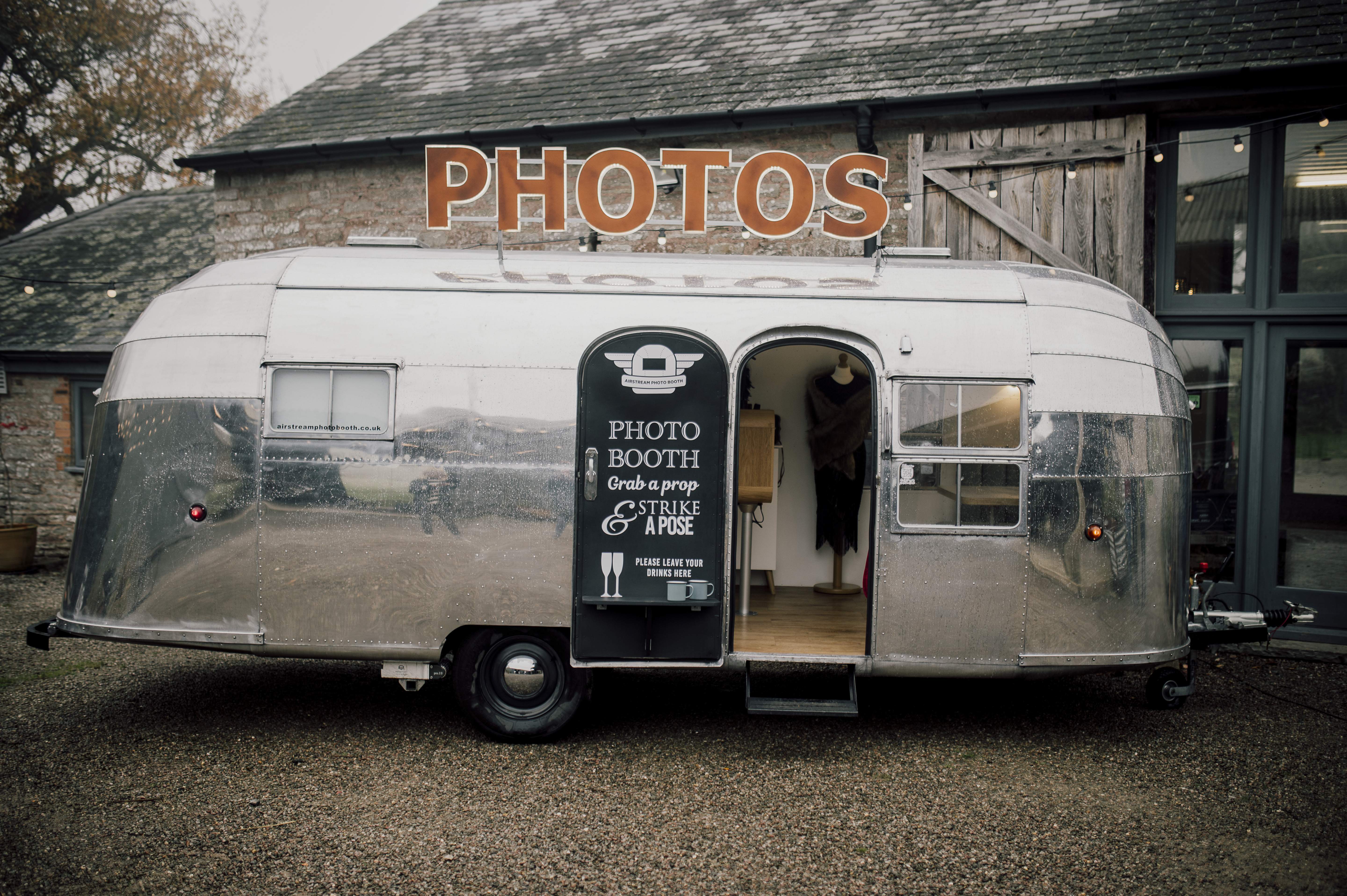 .
Quirky Airstream Photobooth
A fun and quirky airstream photobooth trailer makes for a unique backdrop for your professional photographs as well as some entertainment for you and your guests, we love this 1954 vintage Airstream Photobooth.
The shoot was held at the The Barn at Drovers, a gorgeous countryside venue nestled at the Foot Hills of the Welsh Black Mountains, on the Hereforsdshire and Welsh border.
.
.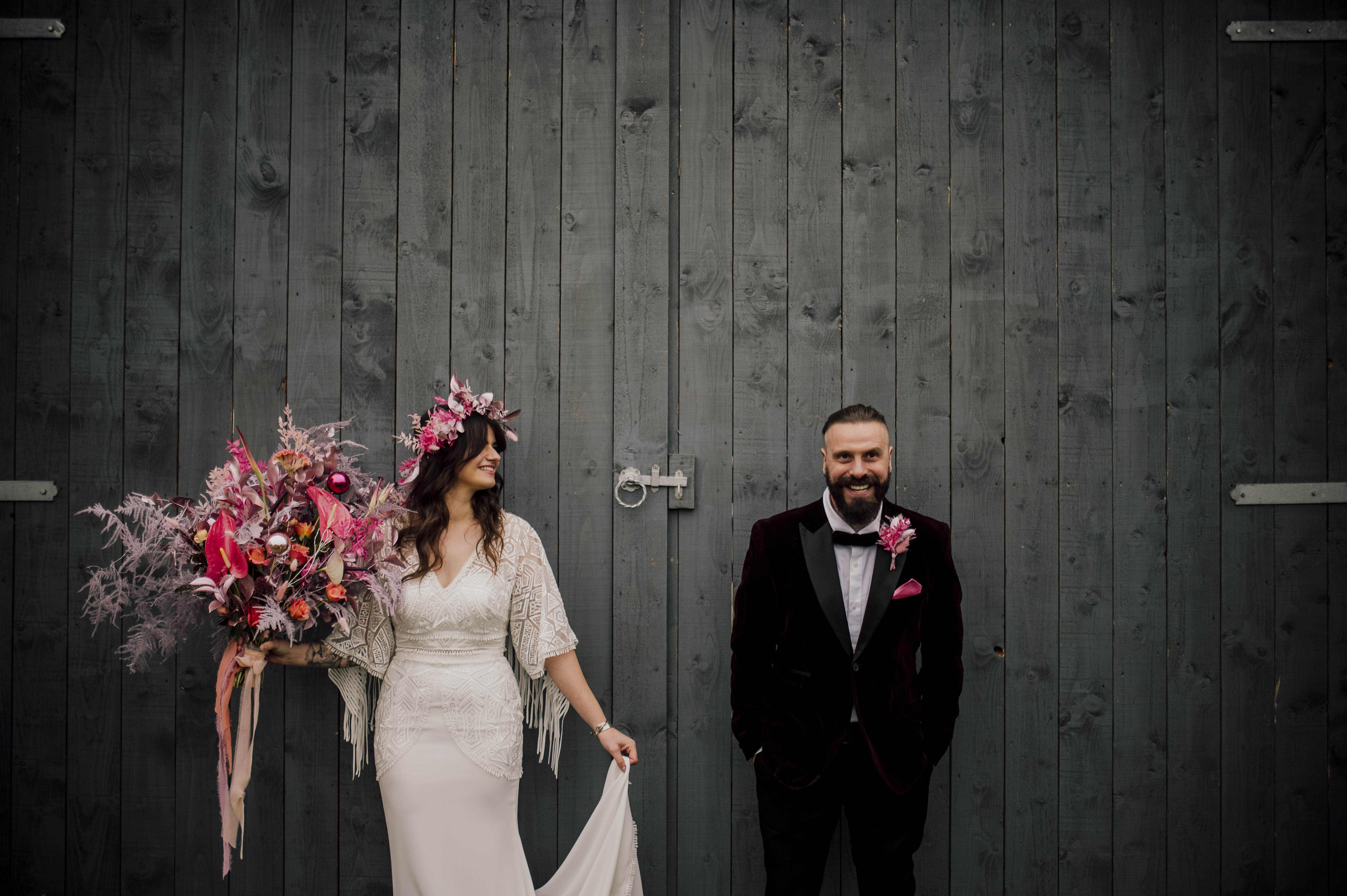 .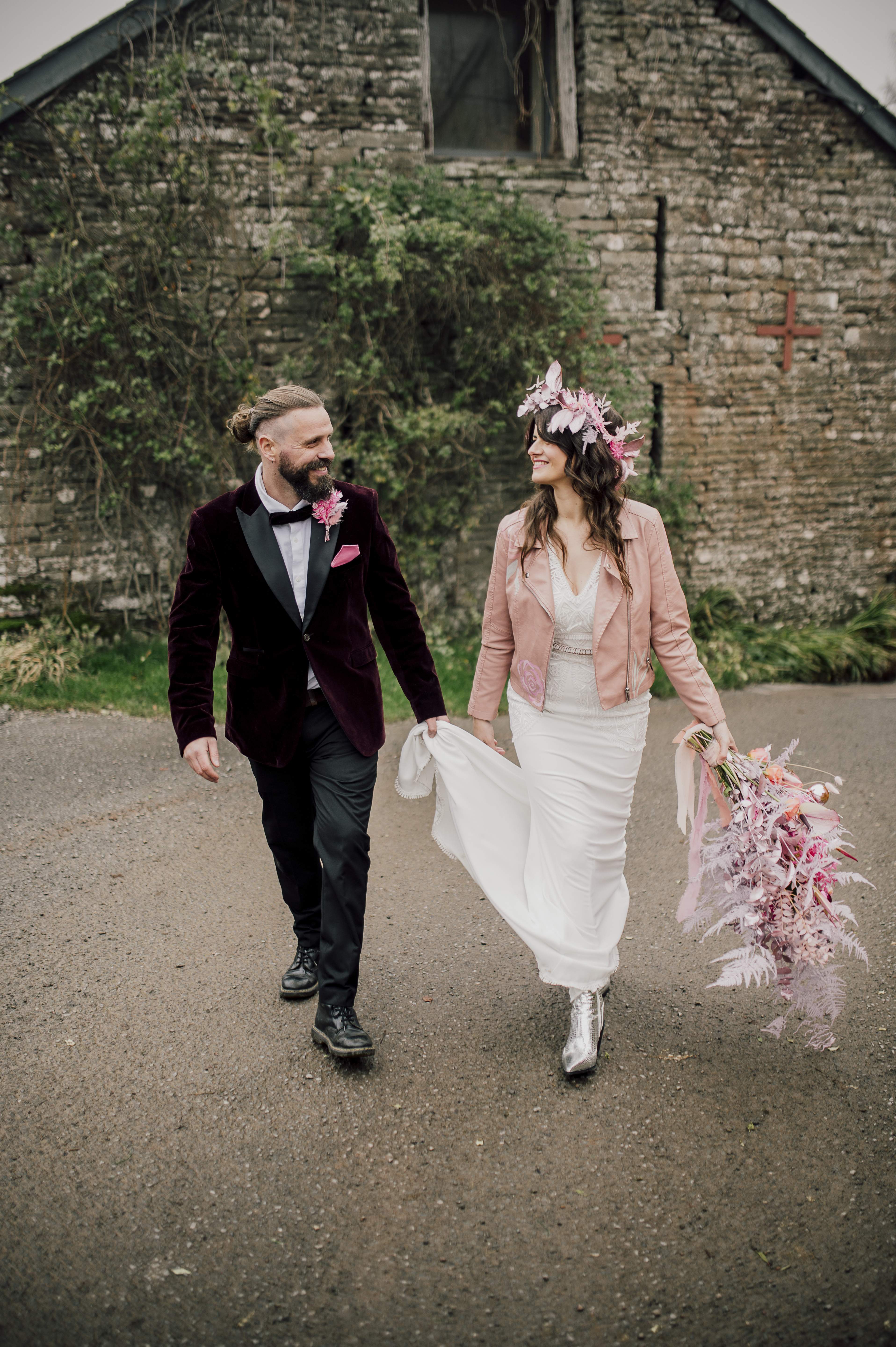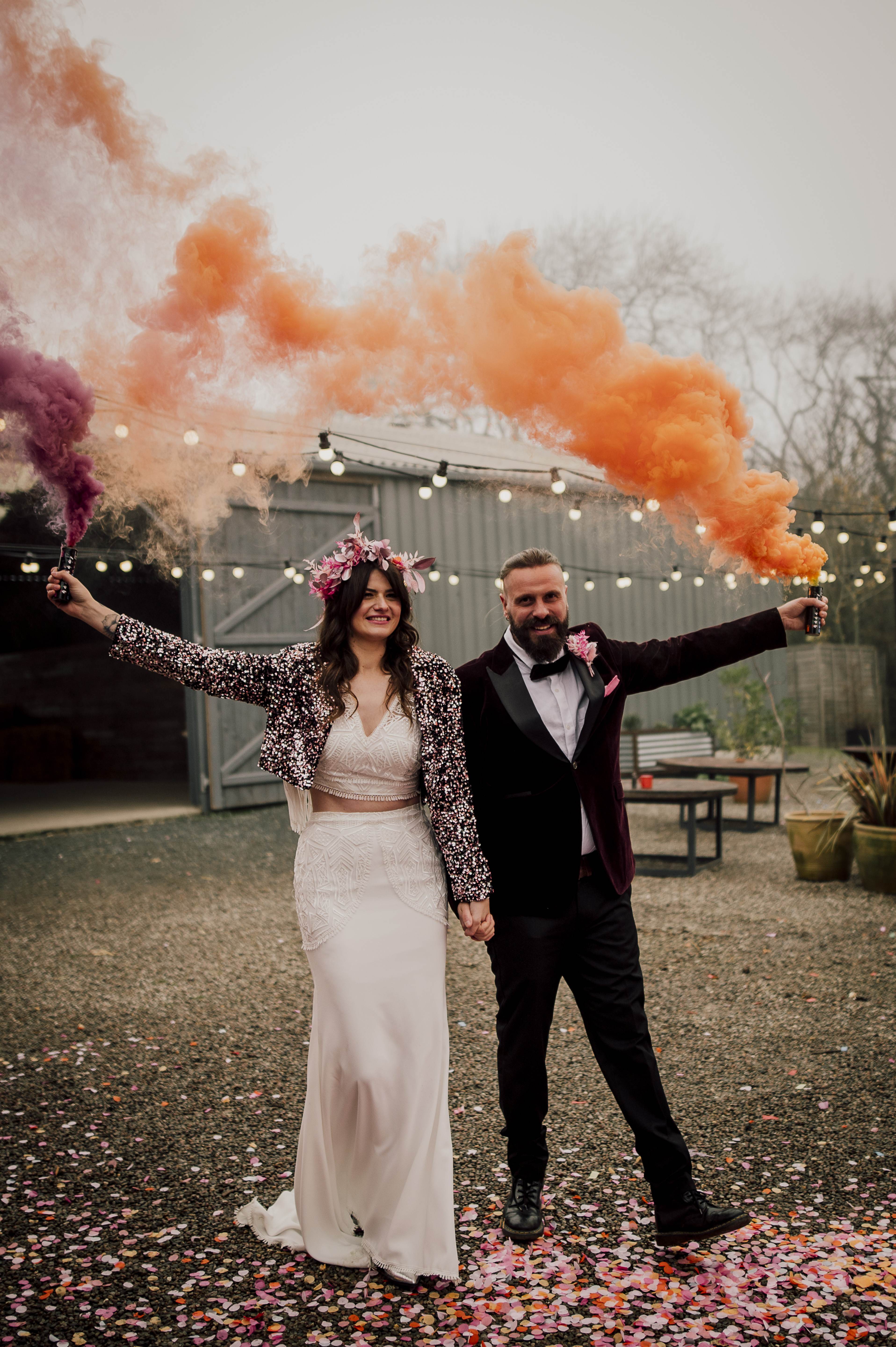 .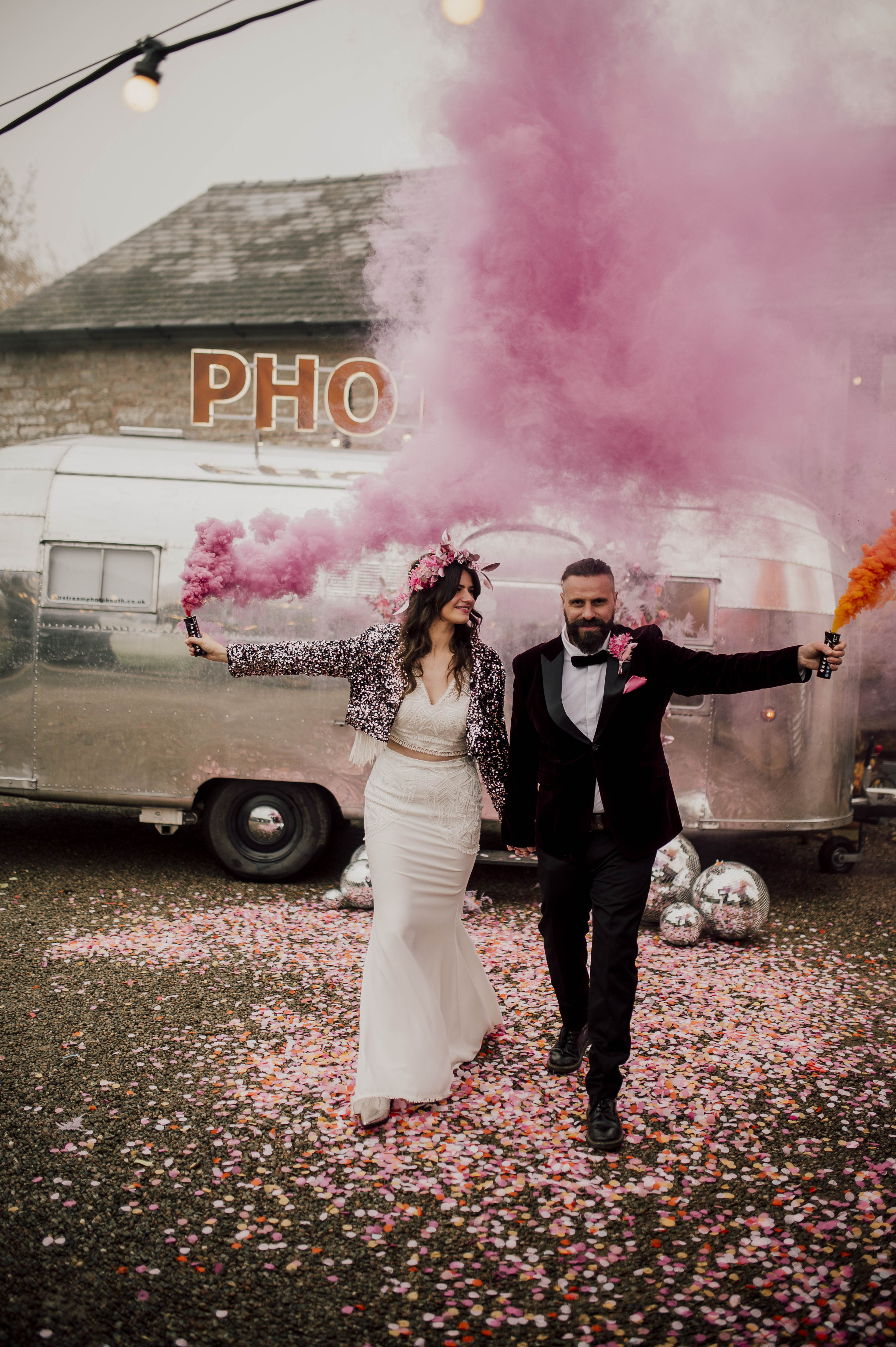 .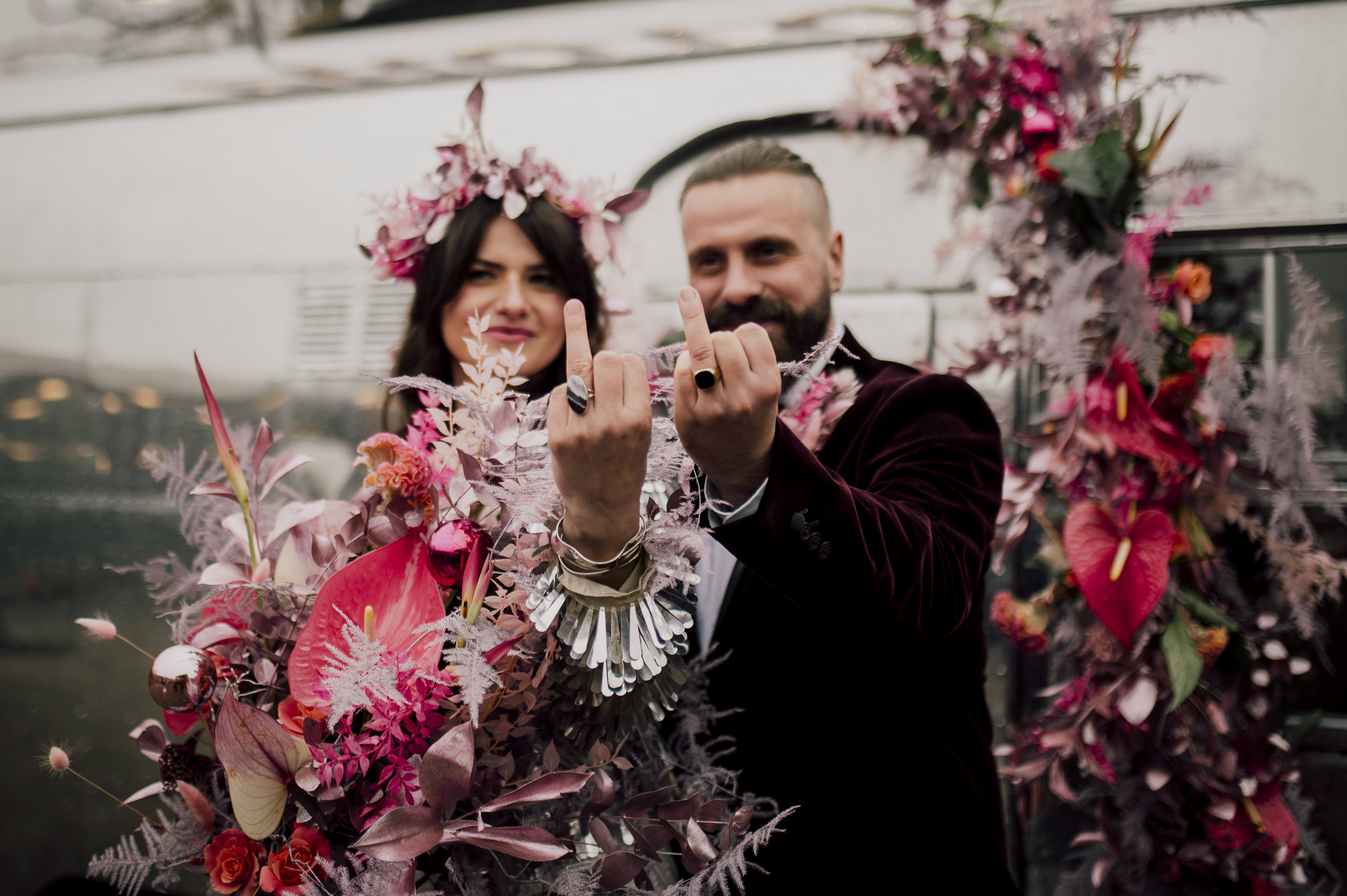 We hope this vibrant Vegas styled shoot has provided you with some ideas and inspiration for your own non-traditional wedding. Adding bright bold colours with a rock n roll vibe will be sure to make a lasting impression on your guests and give you all a wedding to remember!
Lot's of love,
Jess
The team that made the magic happen:
The Barn at Drovers - Venue
Dearest Love Photography - Photography & Concept
Worcestershire Wedding Planner - Planning
R and R Weddings and Events - Styling
Lilia Rose Floral Design - Florist
Daydreamer Creative Studio - Bespoke Banner
You Me Oui - Stationery
Hair Comes the Bride - Hair
Poppy Mae Makeup Artist - Makeup
Perfect Cakes Co - Wedding Cake
Air Stream Photobooth - Photobooth
Rebel Rock Bridalwear - Wedding Dress
Carter Esquire - Suit Jacket & Bowtie
Paper Ink Alchemy - Painted Leather Jackets
Thread Over Heels - Wardrobe Stylist
Your Confetti - Confetti
Ebony & Andy - Models
ON 28th February 2023 / BY Jessica Tetstall
Leave A Comment