A summer wedding full of love, laughter and personal DIY touches. We absolutely loved writing about Emma and Edd's stunning fun nature inspired tipi wedding for our blog feature this week.
Bride Emma shares with us, the special moments and details from her wedding to the love of her life Edd, who have now been together for 12 years and celebrated their 1 year wedding anniversary in July. Due to being stuck at home during the pandemic, Emma and Edd got creative and made alot of personal touches for there upcoming wedding, from upcycling glass jars for their tablescape, to creating homemade petal confetti. We love the environmentally friendly touches they have added and we are thrilled to share this beautiful day with you.
These gorgeous moments were captured by the talented Louise Pollitt Photography. We hope this inspires you to inject your own personal touches when planning your own wedding day, enjoy!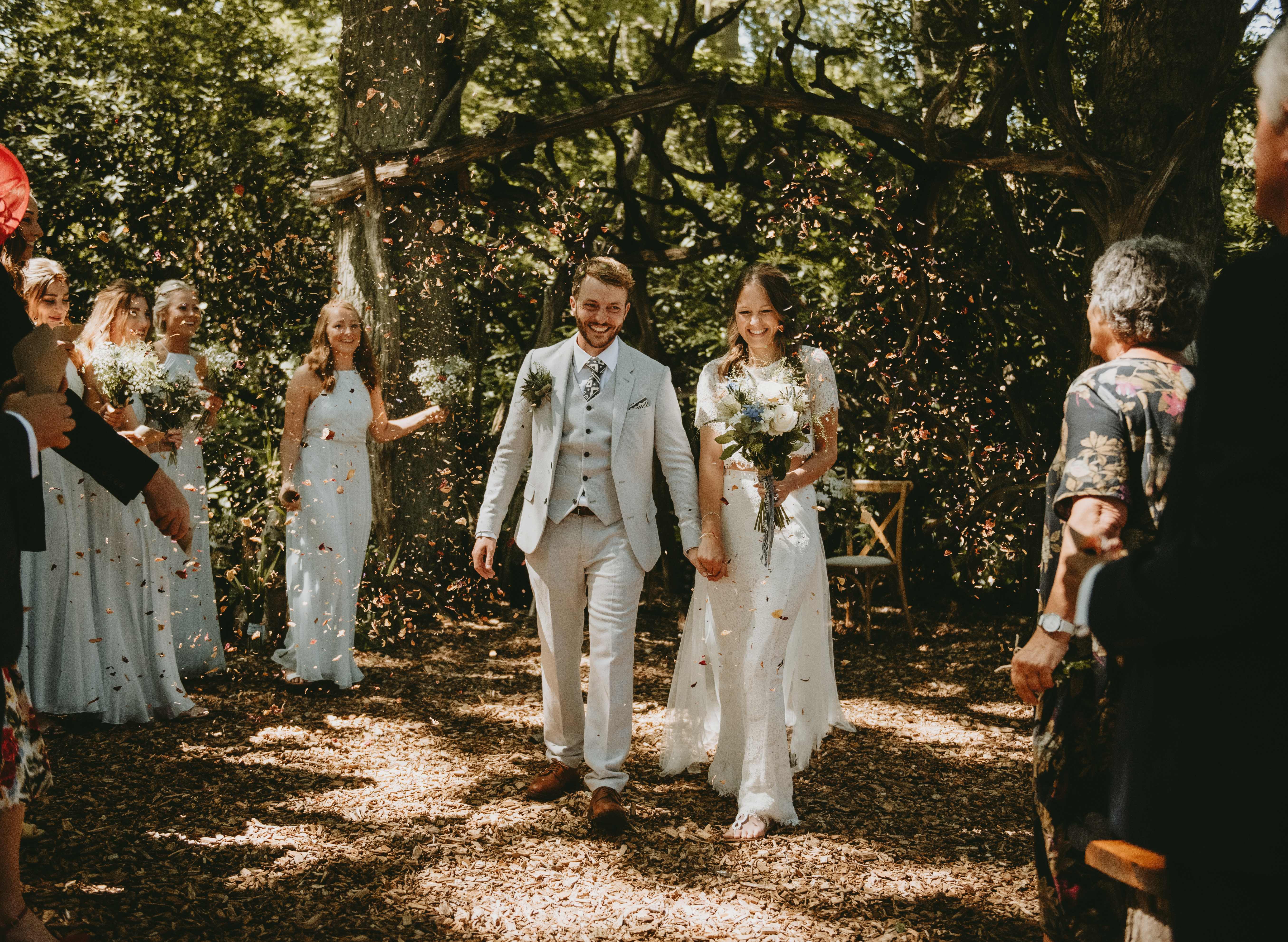 .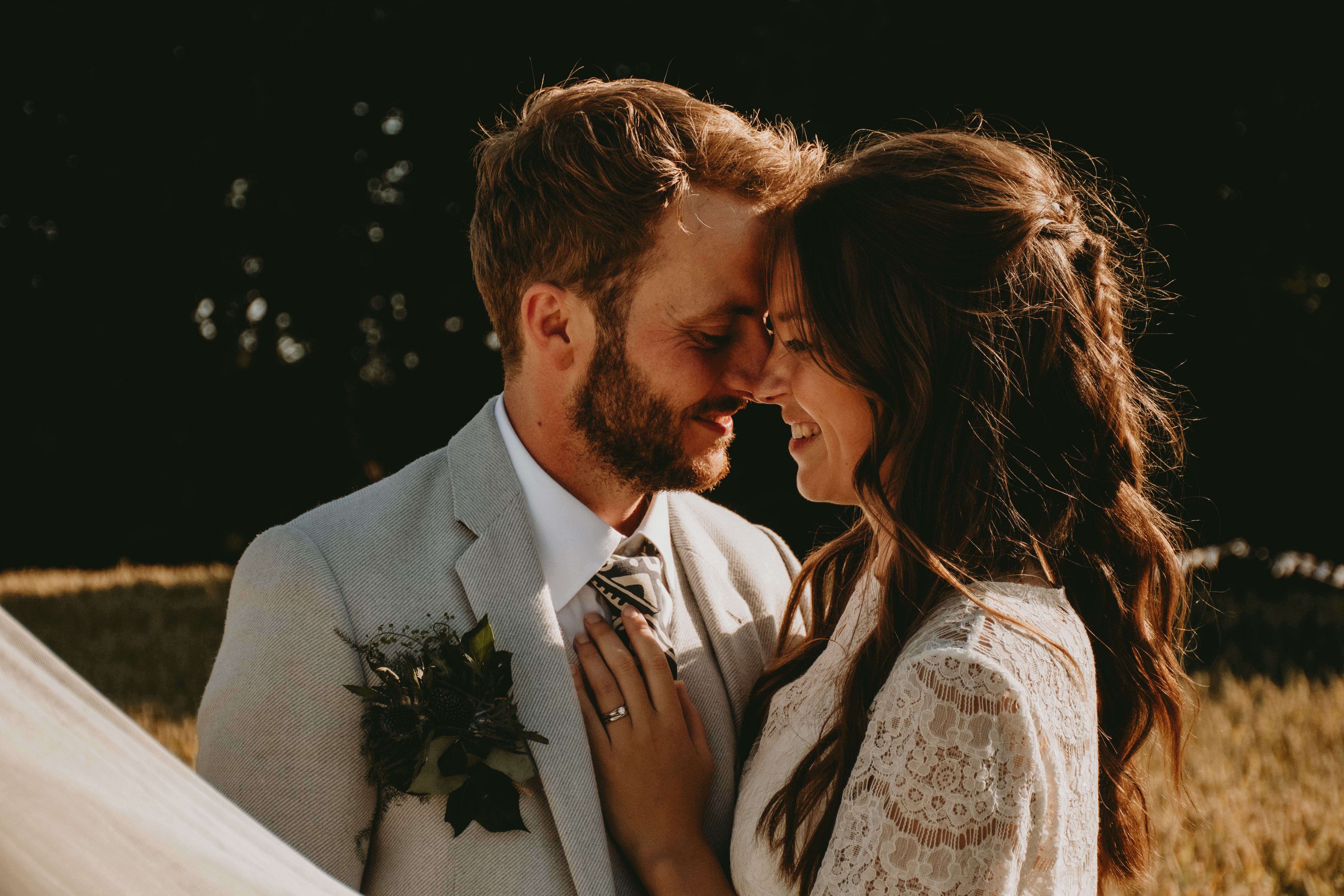 .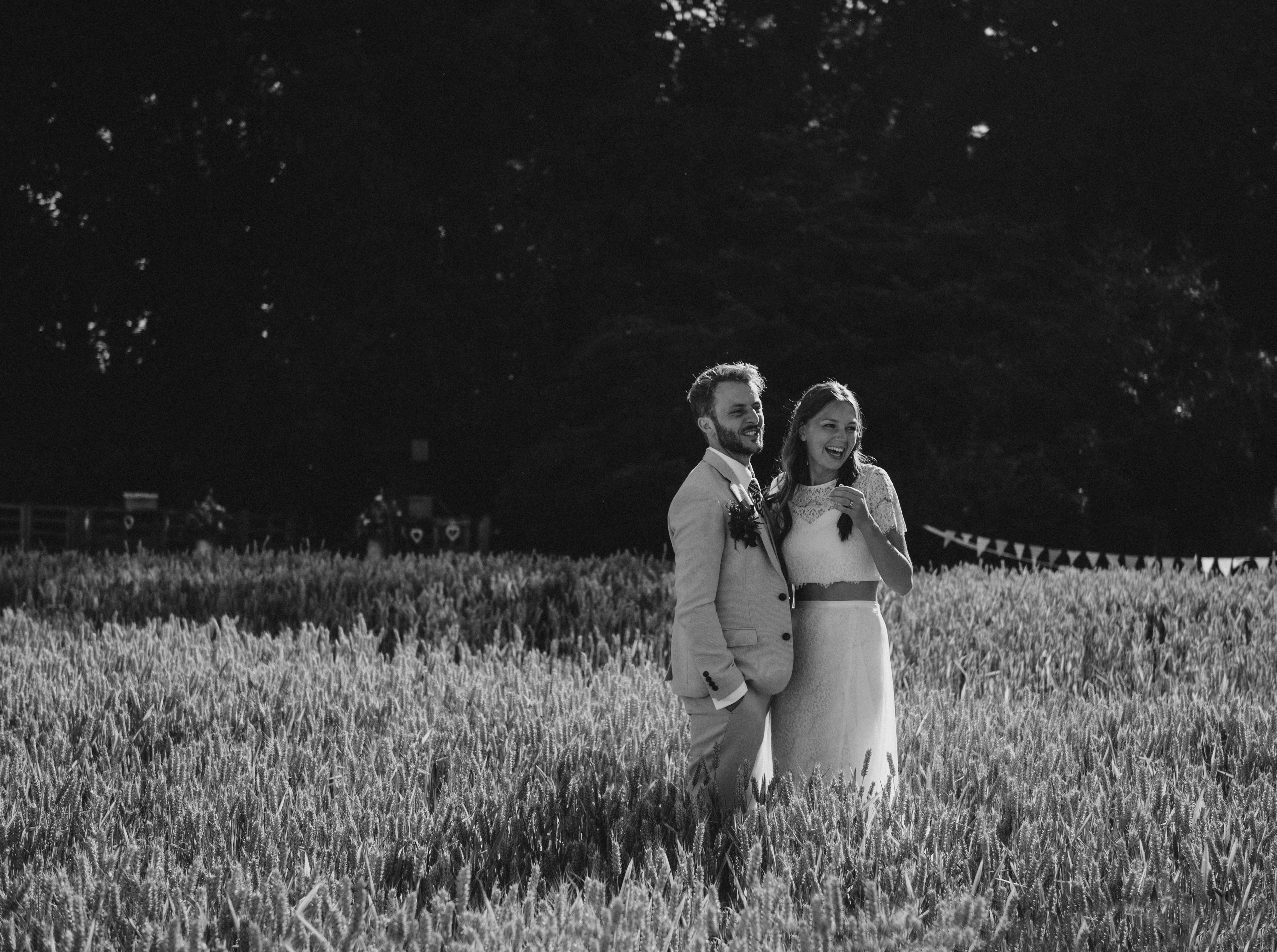 .
The Outdoor Tipi Wedding Venue
Emma and Edd chose to host their wedding at the beautiful Escrick Park Estate in York, as they could have the ceremony, celebration and camping all happen in the same place. Emma also added that the grounds truly are beautiful and the staff are so kind and supportive.
One of the silver linings that COVID provided was people were encouraged to have as much of the service happen outside as possible. Emma shared, 'I was told we were the first couple who were allowed to have all of the ceremony take place in the woods, it used to happen partly inside the little building as that was where the documents had to be signed officially.'
.

.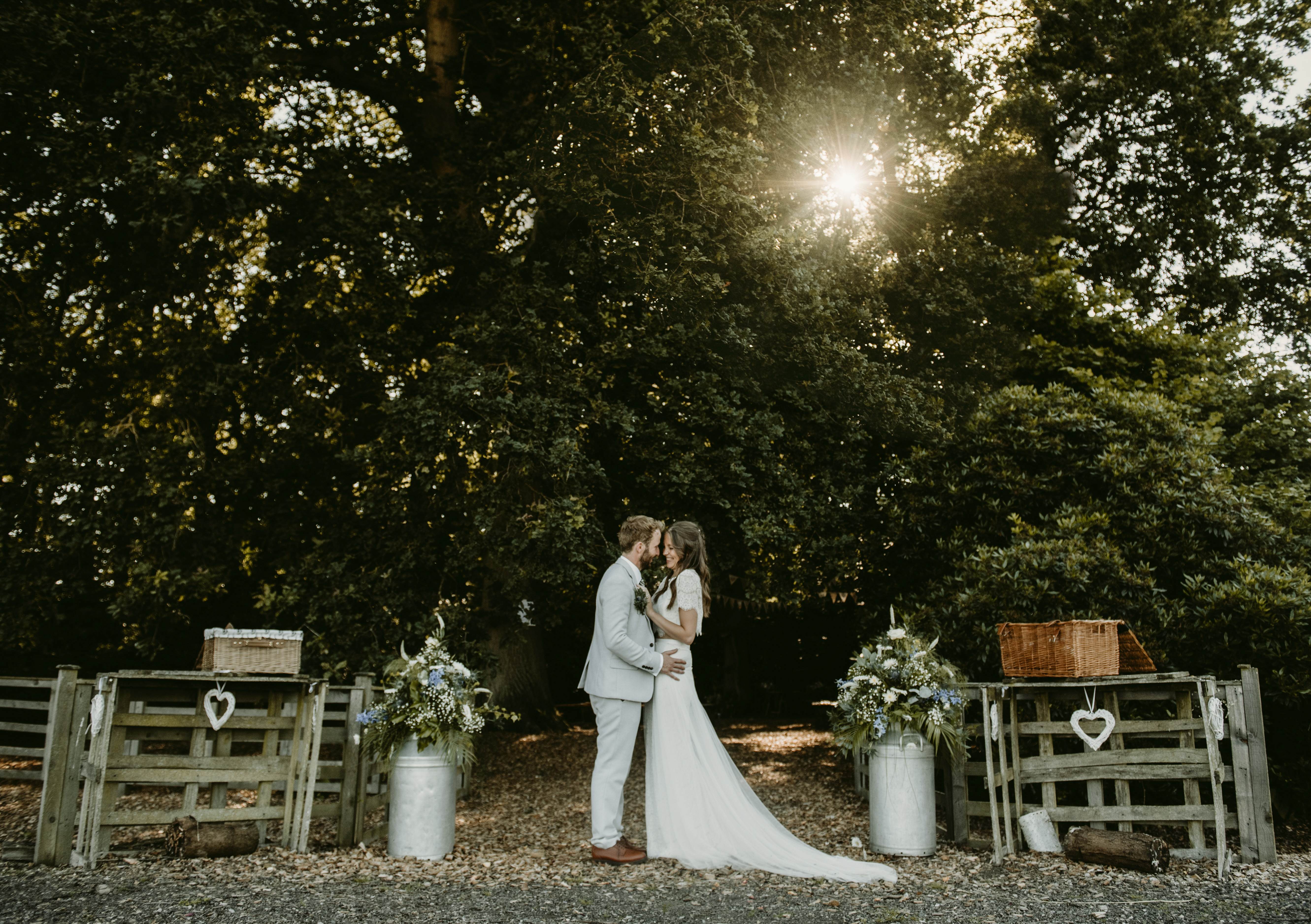 Tipi and Field Hire
The couple hired their wedding tipis from the amazing Serentipi. Emma mentioned that they were very supportive from day one, and bent over backwards to make their day special, allowing them to tweak what we needed in terms of number of tips/tables/chairs etc.
The overnight wedding accomodation came in the form of beautiful bell tents, that were hired from North Sky Yurts, so Emma and Edd could stay on site on their wedding day along with any guests who decided to camp with them. Emma added that the 'Newly Wed Tent' in particular was amazing and came with an actual bed!

Tipi Tablescape & DIY Styling
The couple designed the tablescape themselves, they collected glass jars for a few years before the wedding, decorated them with old clothes fabric and filled them with some wild flowers and some florals from their florist. The name tags were kindly written on by a friend of the couple who has perfect calligraphy style writing.
.
.
The DIY Details
Emma and Edd are both creative and like to make hand made cards, so they designed their save the dates and wedding invitations themselves. The first save the dates came with a small pencil with the date on it so people could add the date to their calendar.
For their wedding favours, the couple got a little logo of their inItials on some shot glsses and individually wrapped them with brown paper and brown string, then were then used to have a little toast with a shot during the speeches. This was a personal touch as Emma told us that they get shot glass as a souvenir every time they go on holiday so they wanted to create one for their wedding favours.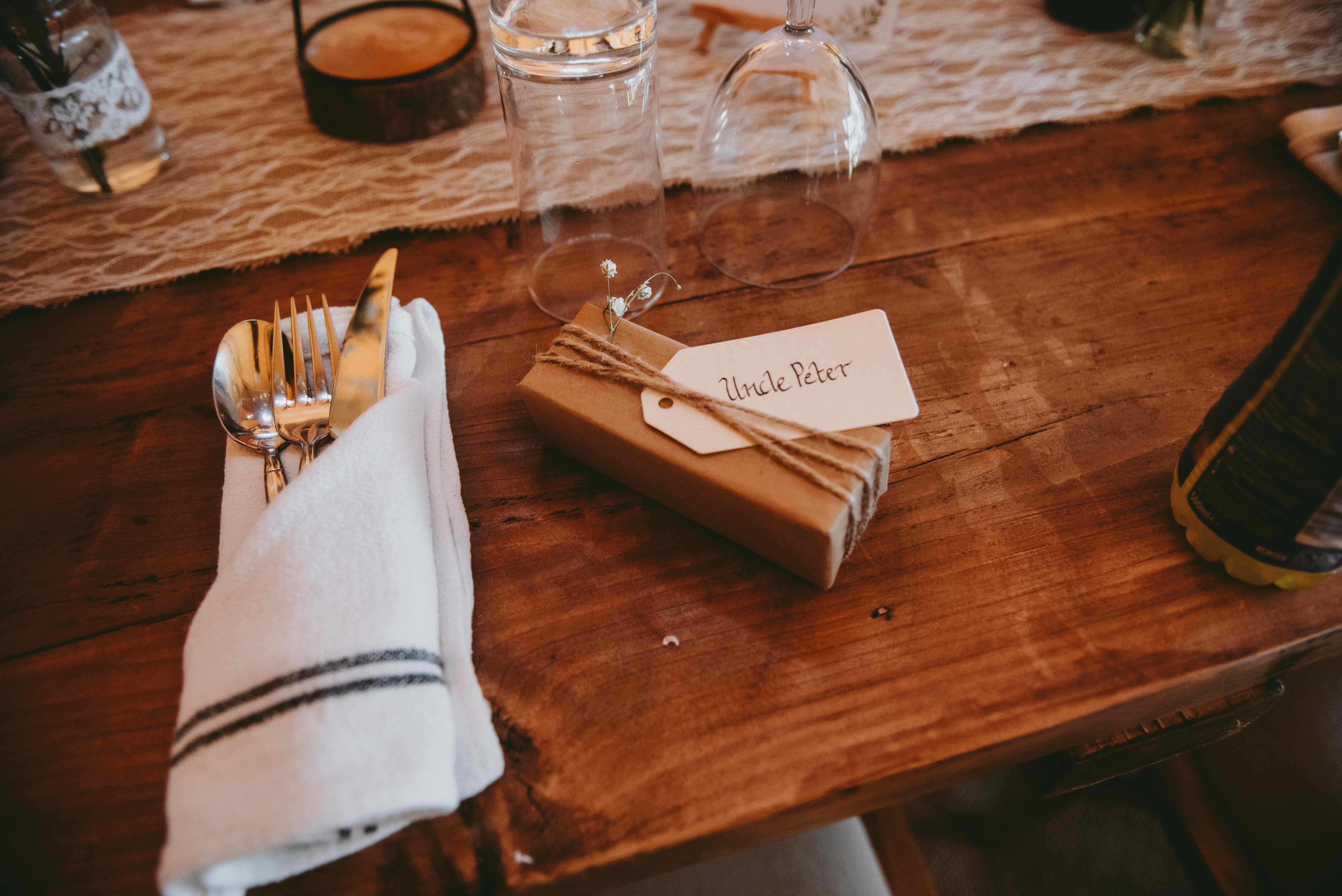 .
.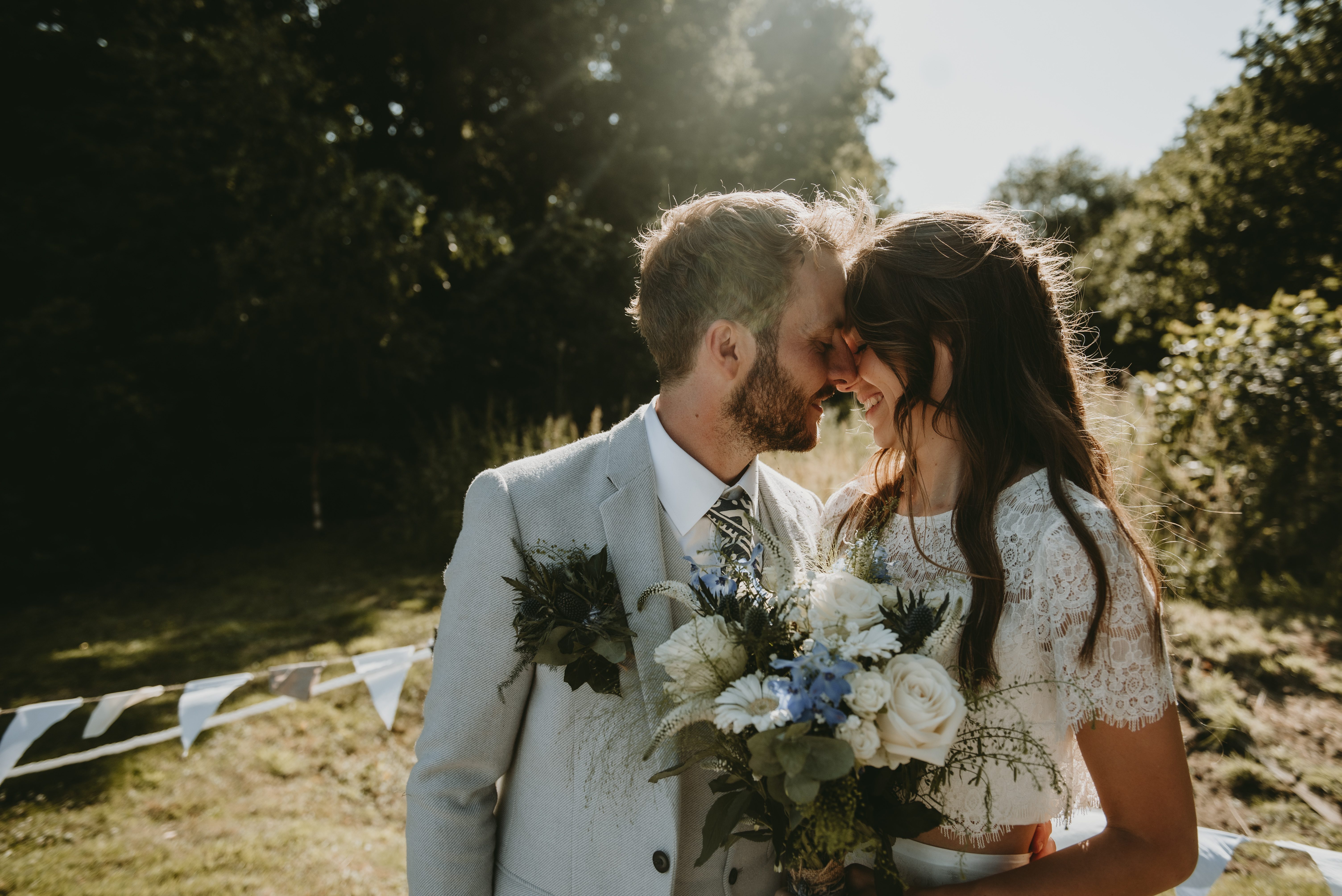 Wedding Wildflowers & White Roses
Emma and Edd also hand picked wild flowers and foliage to decorate the inside of the tipi along with flowers from Floral Elegance.
Floral Elegance created the bridal and bridesmaid bouquets with an elegant white and pale blue colour palette, on a backing of greenery, as well as the greenery mens button holes.
The couple opted for sustainability when it came to their confetti too as it was made entirely from petals that they had dried over the past few years from flowers they had received from lovely family and friends.
.
.
.
Wedding BBQ Food & Drink Hire
The wedding food was a delicious buffet barbeque provided by Spitting Pig offering a hog roast and fresh salads, the perfect food for an outdoor tipi summer wedding.
The wedding drinks were provided by Drinks Now a mobile bar hire company, they provided a great selection of drinks at good prices. The couple also opted for a coffee van, Cute Little Drinks Van, to come in the afternoon to provide tea and coffee for their guests.
Cheese Wedding Cake
The couple both love cheese! So for their wedding cake they went for a fabulous cheese tower by The Hairy Fig.
They also had lots of cupcakes which were made by Emma's Auntie Wendy. Edd and Emma's brother used slices of tree trunks to build the cake stands, providing a beautiful rustic vibe to the display.
.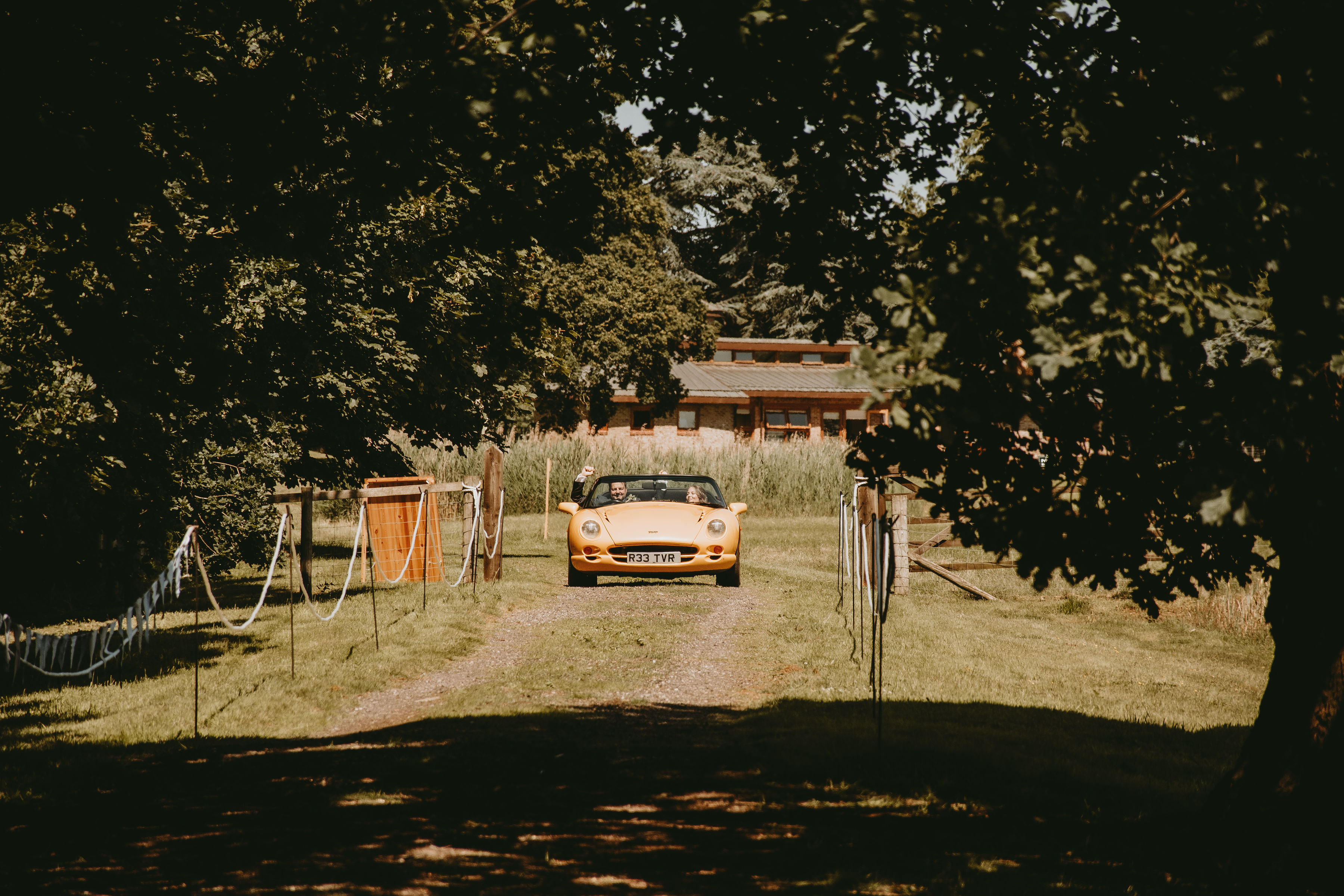 Wedding Transport
Emma's Dad drove her to her wedding venue in his TVR, Emma adds "It was so special to drive down from the hotel and across the field to the woods, just with my Dad."


The Bridal Outfit
Emma got her stunning lace two piece bridal outfit from Bridal Emporium in Leeds, Emma added ' being a bit of a tomboy and not usually opting to wear dresses, I wanted something I would feel comfortable in.'
"When we first went to this shop, my family came and they all picked a few dresses for me to try on. They were nice but nothing really stood out. The lovely lady who was helping me to put them on asked if she could pick one. When she brought it in, I thought it looked a bit strange, but as soon as I put it on it felt perfect."
Emma accessorised her bridal look with a bracelet from her Nanny and an anklet from her Nana, a lovely sentimental addition to something borrowed.
The couple just wanted simple wedding rings, and opted for traditional bands from Goldsmiths.
.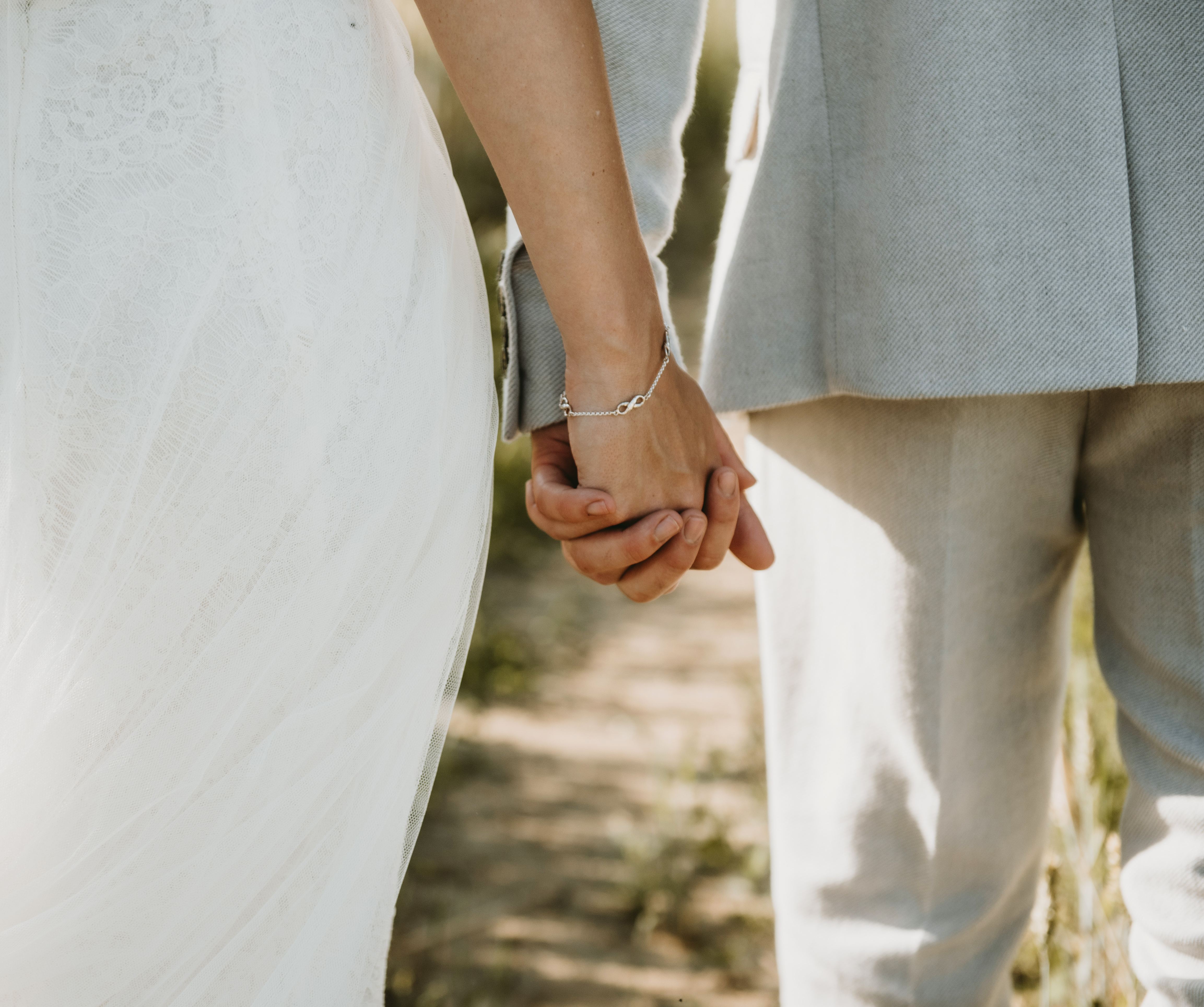 .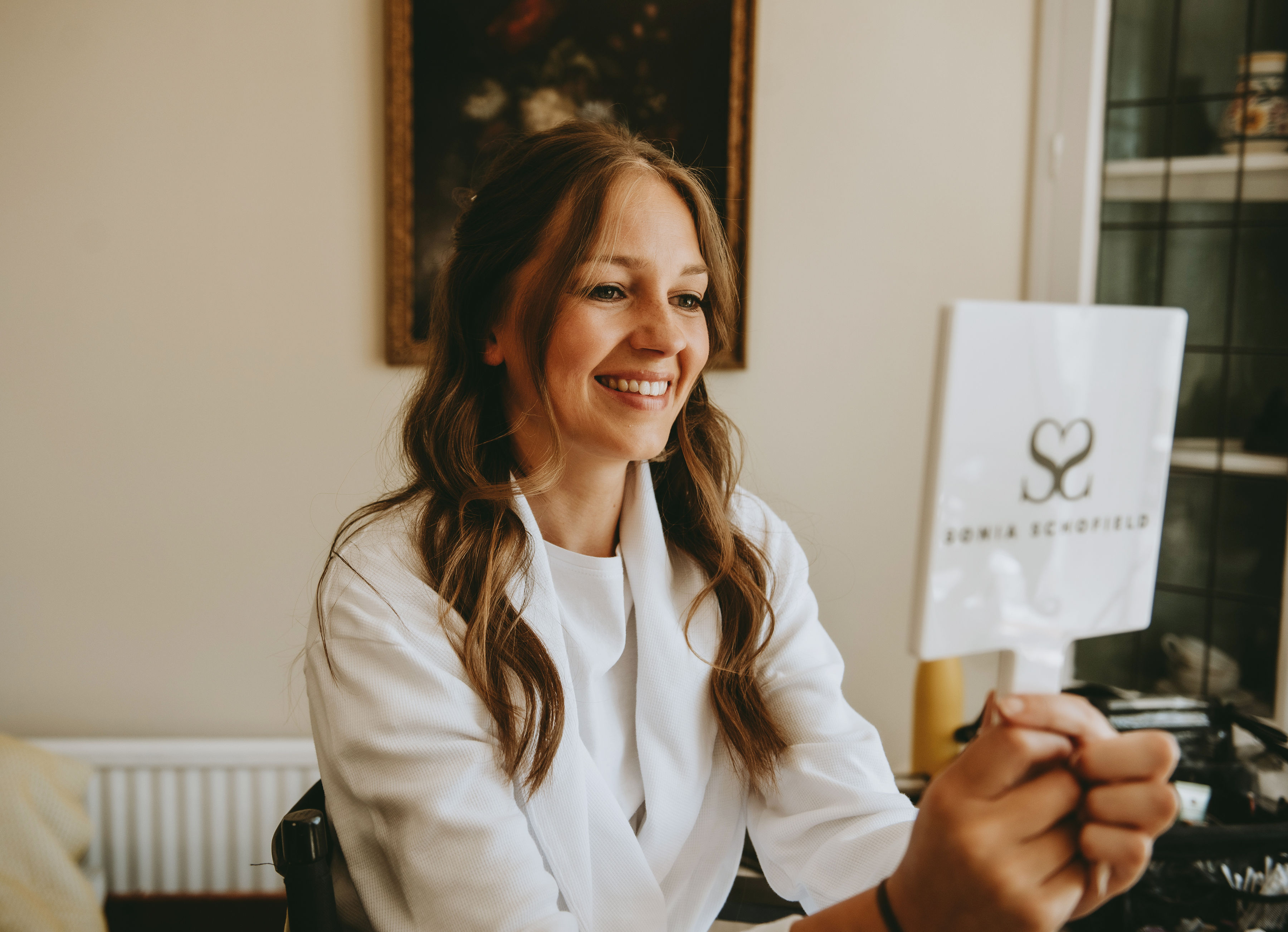 Natural Bridal Hair and Make-Up
The gorgeous bridal and bridesmaid hair was created by Hair by Olivia James, we love the natural soft curls with the gypsophelia added for a rustic boho touch.
The soft natural make-up was created by Sonia Schofield and enhanced their natural beauty perfectly. Emma mentioned that she had a trial with both which made her feel very comfortable.
The bridal party stayed down the road from the venue at a beautiful B&B called Westergate House the night before the wedding, the couple hired the whole place so they could all be together and feel relaxed when getting ready.
.
.
.
Rustic Groom Attire
The Groom and Groomsmen all wore suits fabulous light blue suits from ASOS. Emma mentioned that Edd's father passed away a few years ago and that he used to wear such wonderful shirts with amazing patterns. Emma wanted to create something special for Edd in memory of his father, so spoke with Edd's family. She was given a lovely shirt which she used to make Edd's tie as a surprise. Emma also made a bow tie for their dog Gobi and pocket folds for the groomsmen.
Emma's Grandad also passed away a few years ago too, so she did the same thing for her Dad and brother, also using strips of all of these shirts to wrap around my bouquet of flowers. What a lovely personal touch!
.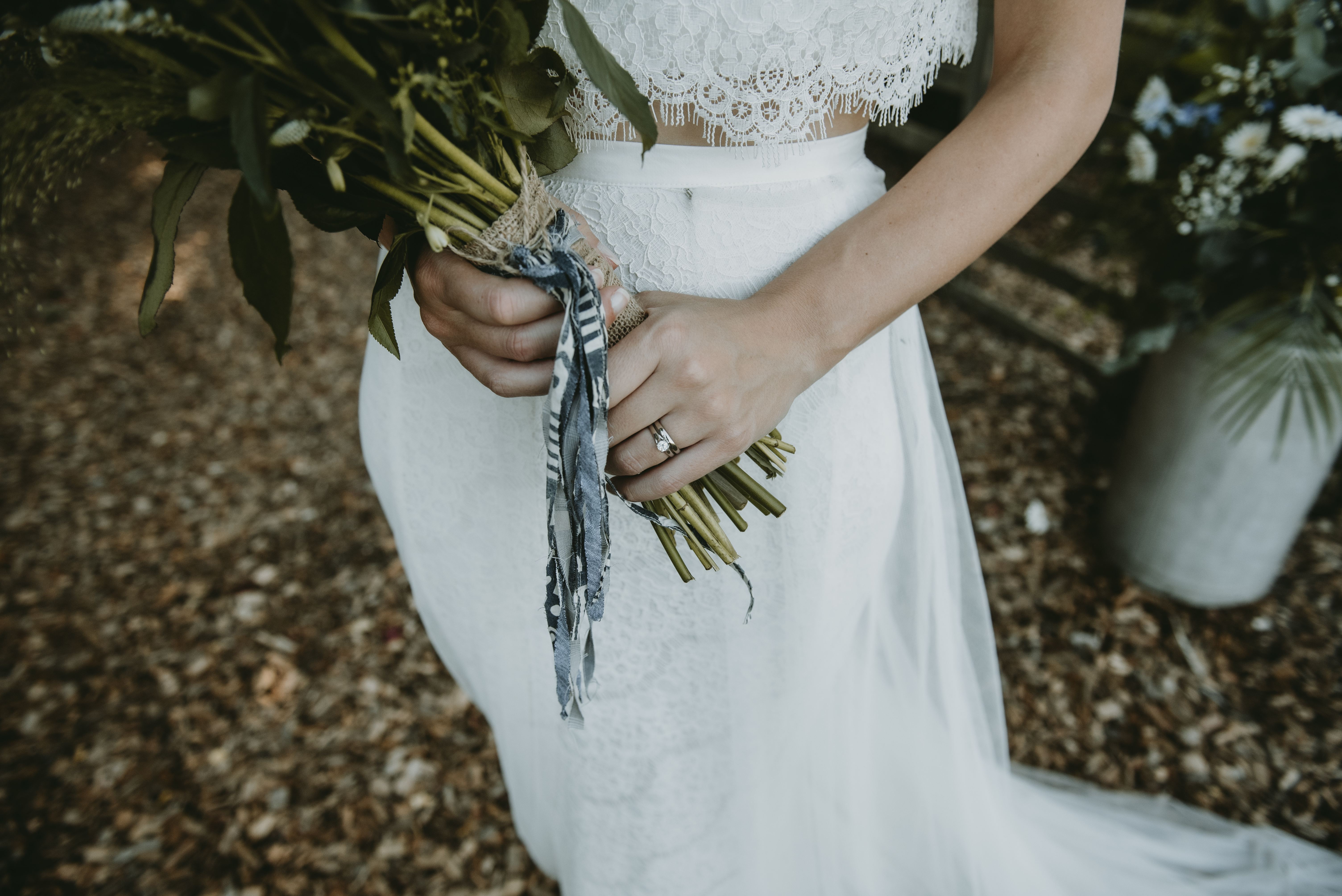 .
Outdoor Summer Wedding Games & Entertainment
As this wedding had a fabulous fun outdoor theme, the couple decided it would be a good ideas to have some outdoor games to play in the afternoon. AMH Entertainment supplied several games and allowed the couple to keep them for the whole weekend.
The evening called for some entertainment from, The Pennies Band, a wedding band providing funk and soul classics, getting everyone up on the dancefloor for a boogie.
.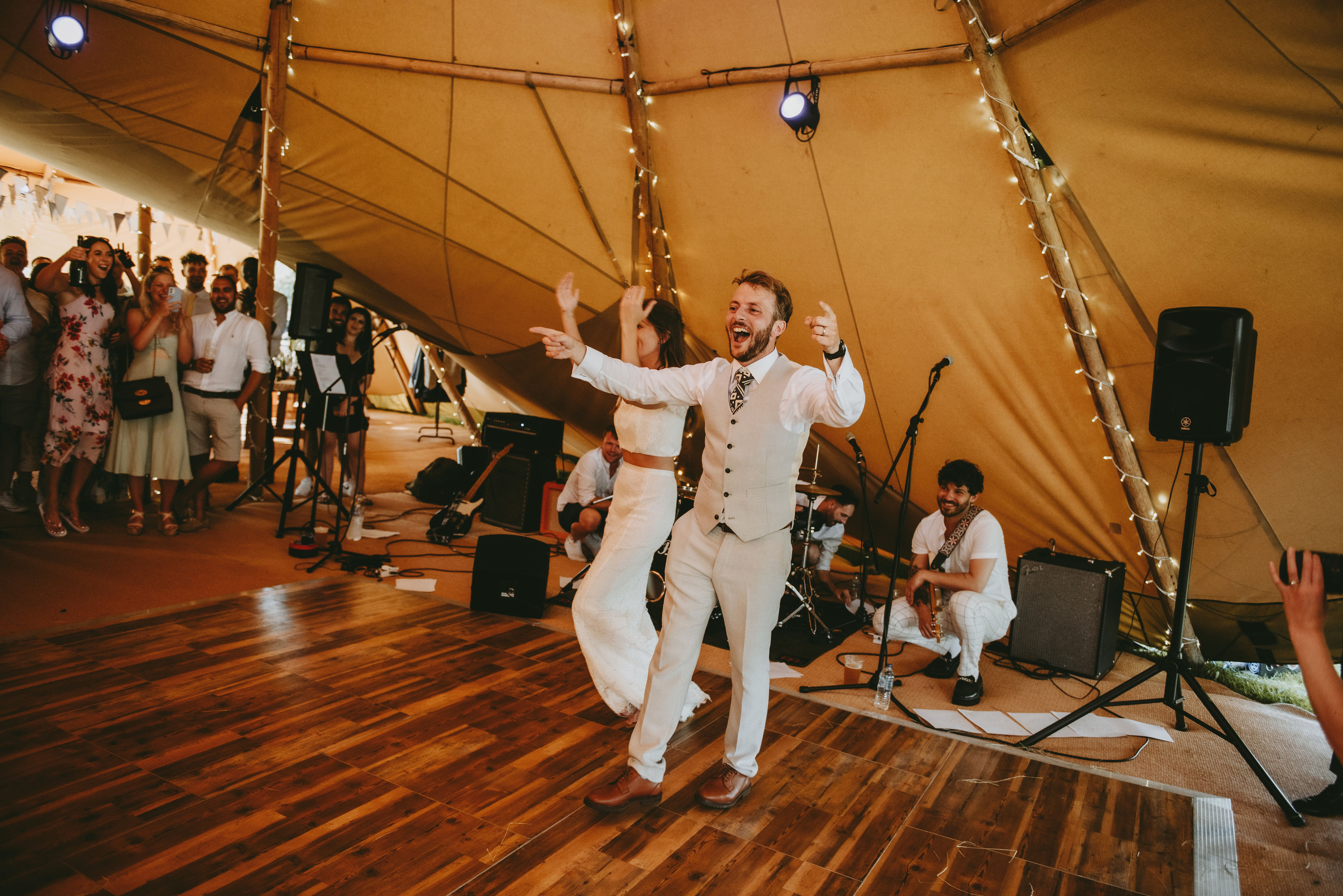 .

Wedding Photography
Louise Pollitt Photography, along with Amy Cawthorne captured the couples day perfectly. Bride Emma mentions that both photographers were very relaxed and social on the day, no one felt under pressure and it is so nice to have lots of natural photos, along with group and portraits. It was very nice to receive a few photos the day after the wedding, so we could share our amazing day with those who couldn't make it.
.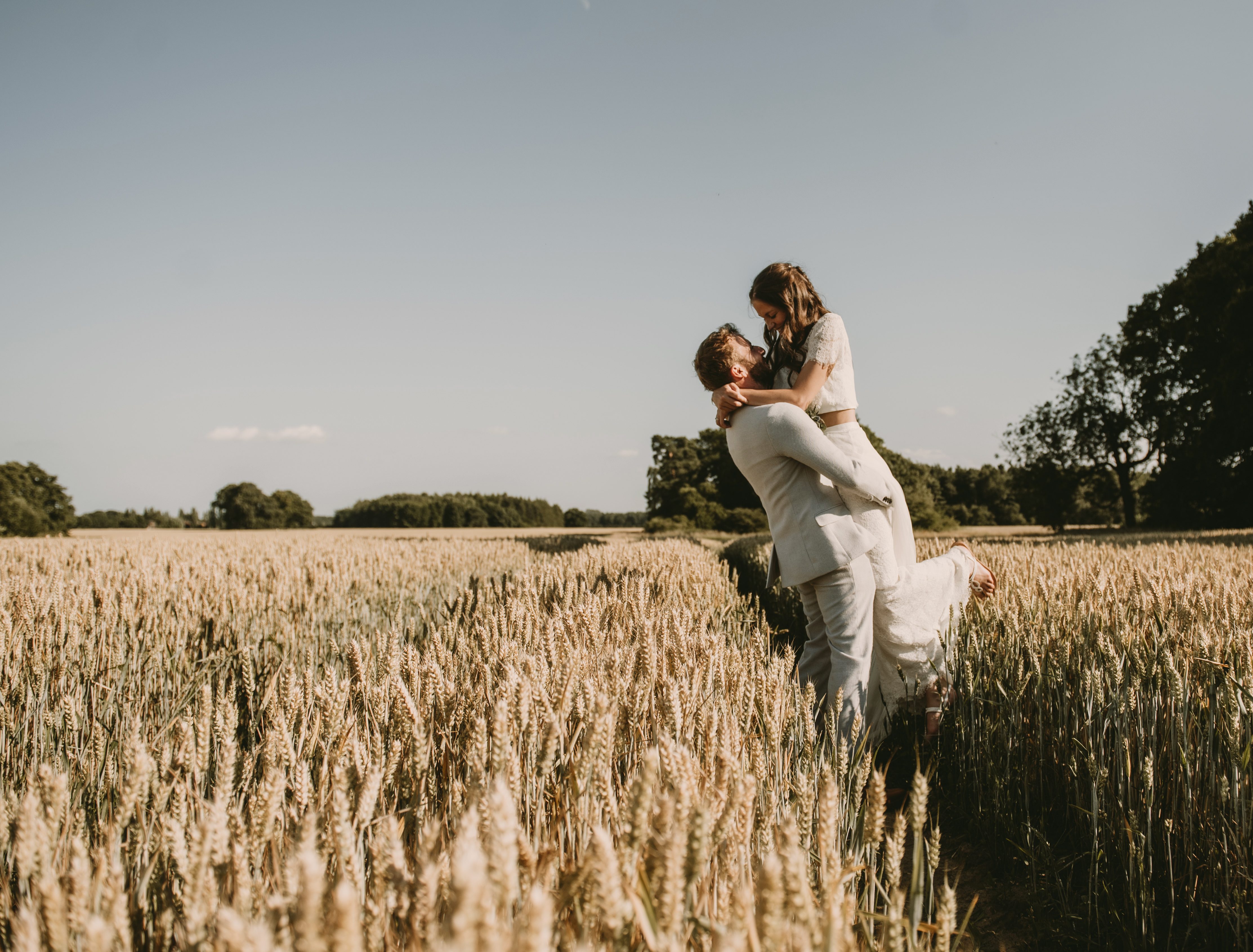 .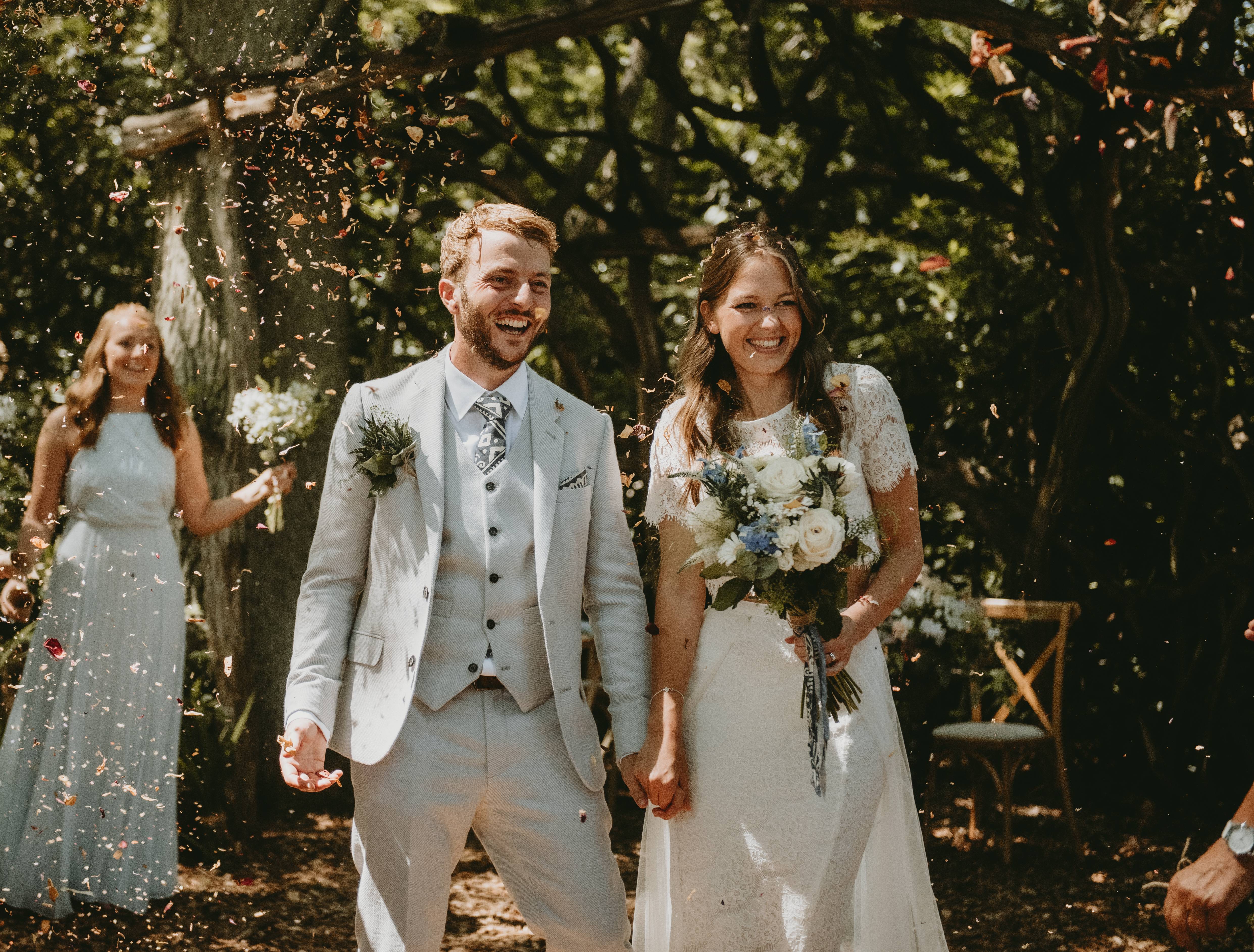 .
Emmas favourite moments from her special day:
"The whole day was special of course! I think the fact that it was a long sunny day outside was really nice as it meant we had good time between the ceremony/speeches/photos etc, to be social and catch up with people who we hadn't seen for a long time. It was really nice that lots of people camped so we had a lovely time with marshmallows around the fire at night too."
Massive congratulations Emma and Edd, and thank you so much for sharing your beautiful day with us! Don't you just love a wedding.
For more real wedding inspiration, why not check out Ellie and Tim's relaxed, sustainable & locally sourced wedding in the British countryside.
Lot's of Love,
Jess
Blogger and Pinterest Manager at The Boho Bride Guide
@digitalwithjess
The fabulous wedding suppliers who contributed to Emma and Edd's special day:
Louise Pollitt Photography - Photography
Escrick Park Estate - Outdoor Wedding Venue
Serentipi - Tipi Hire
North Sky Yurts - Camping Bell Tents
Floral Elegance - Wedding Florist
The Hairy Fig - Cheese Wedding Cake
Spitting Pig - Wedding BBQ Food
Drinks Now - Mobile Bar Hire
Cute Little Drinks Van - Afternoon Tea and Coffee
Bridal Emporium - Bridal Outfit
Hair by Olivia James - Bridal & Bridesmaid Hair
Sonia Schofield - Bridal & Bridesmaid MUA
ASOS - Grooms Suit
AMH Entertainment - Wedding Games
The Pennies Band - Wedding Band
ON 12th October 2022 / BY Jessica Tetstall
Leave A Comment