Embrace the magic of Autumn with this bohemian outdoor wedding bursting with colour. A picturesque outdoor wedding, set against a backdrop of warm reds, deep orange hues, and earthy browns, a celebration where vibrant colours meet natural elegance. You're gonna want to read all about this stunning outdoor autumn wedding, with the whimsical allure of bohemian styling and decor brought to you by a team of talented wedding suppliers.
Concept and styling by H from Lawley Fine Jewellers with a love of mandalas and everything boho; this was a very personal shoot that included all her favourite styles and colours. Being bespoke jewellers, it was so important to her that she used talented local artisans who create one-of-a-kind pieces too, to add originality to the styling. Set in a beautiful nature-filled venue which was the perfect backdrop for the theme.
Grab a cup of something warm and let the beauty of this autumnal bohemian wedding sweep you off your feet. Enjoy!
.
.
.
Outdoor Wedding Venue in Kent
The team chose the beautiful Gardens at Yalding for this shoot; a luxury 12 acre country garden setting with 16 landscaped gardens; the perfect natural autumnal backdrop for their boho vibe.
.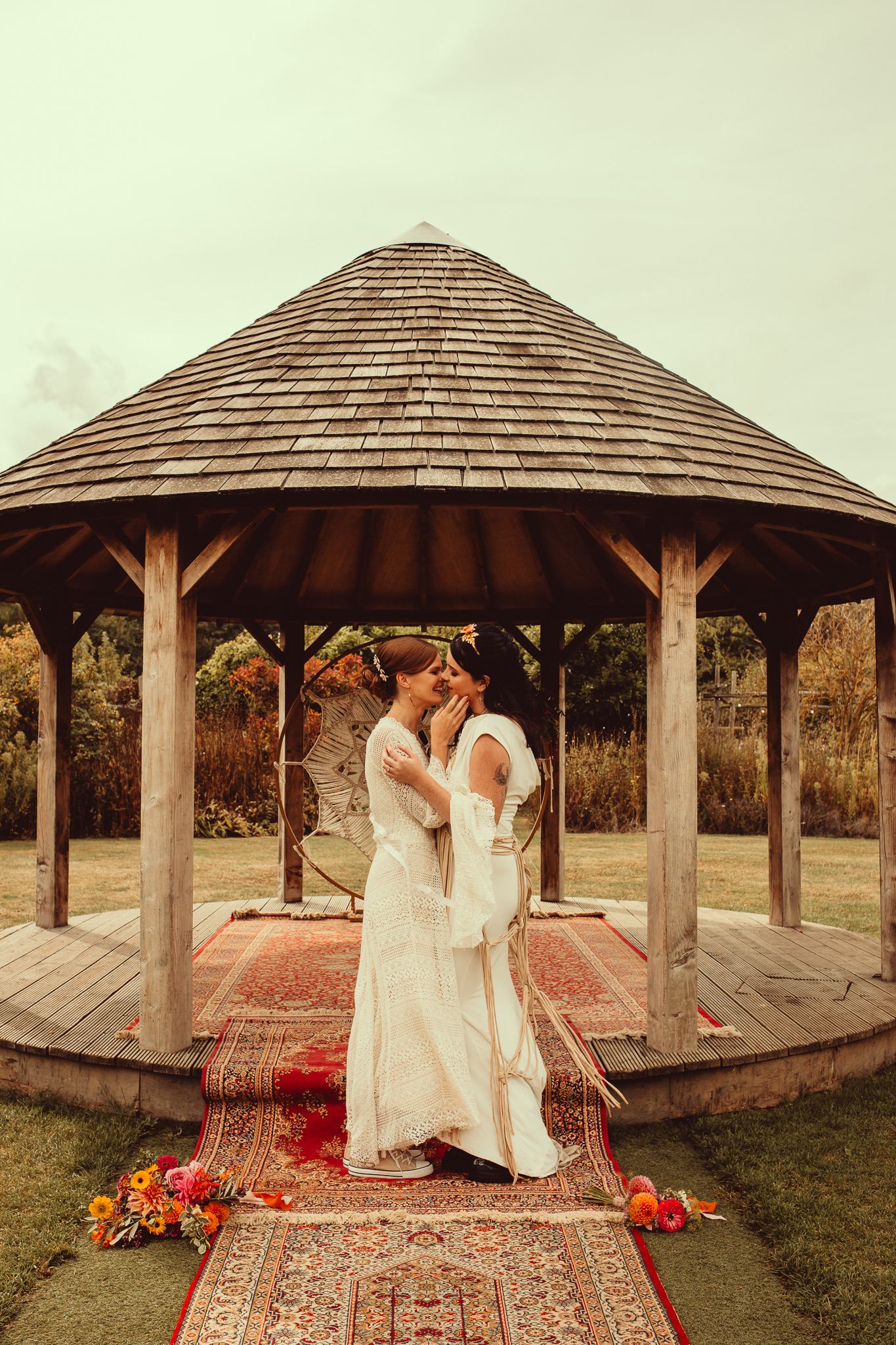 .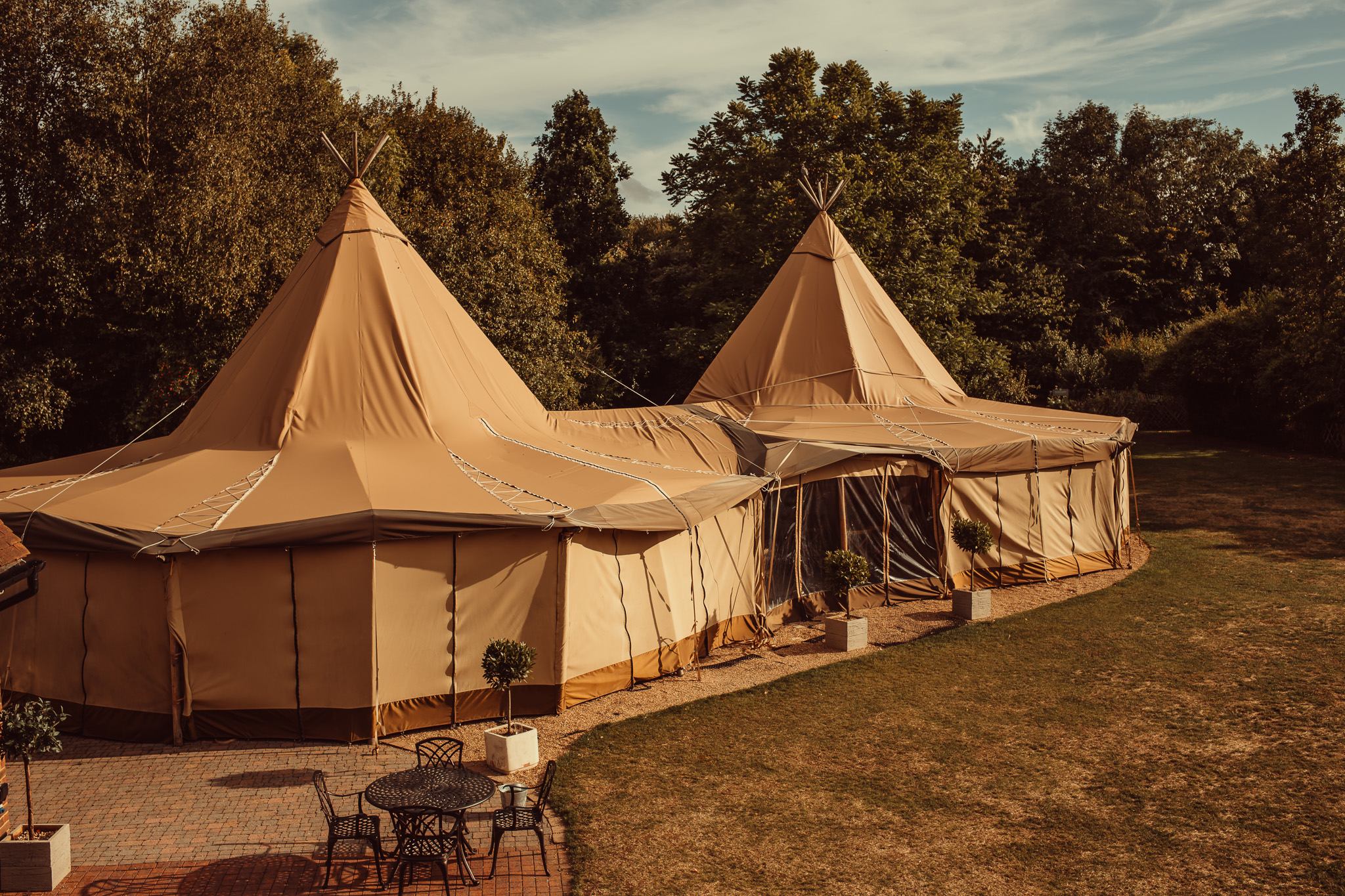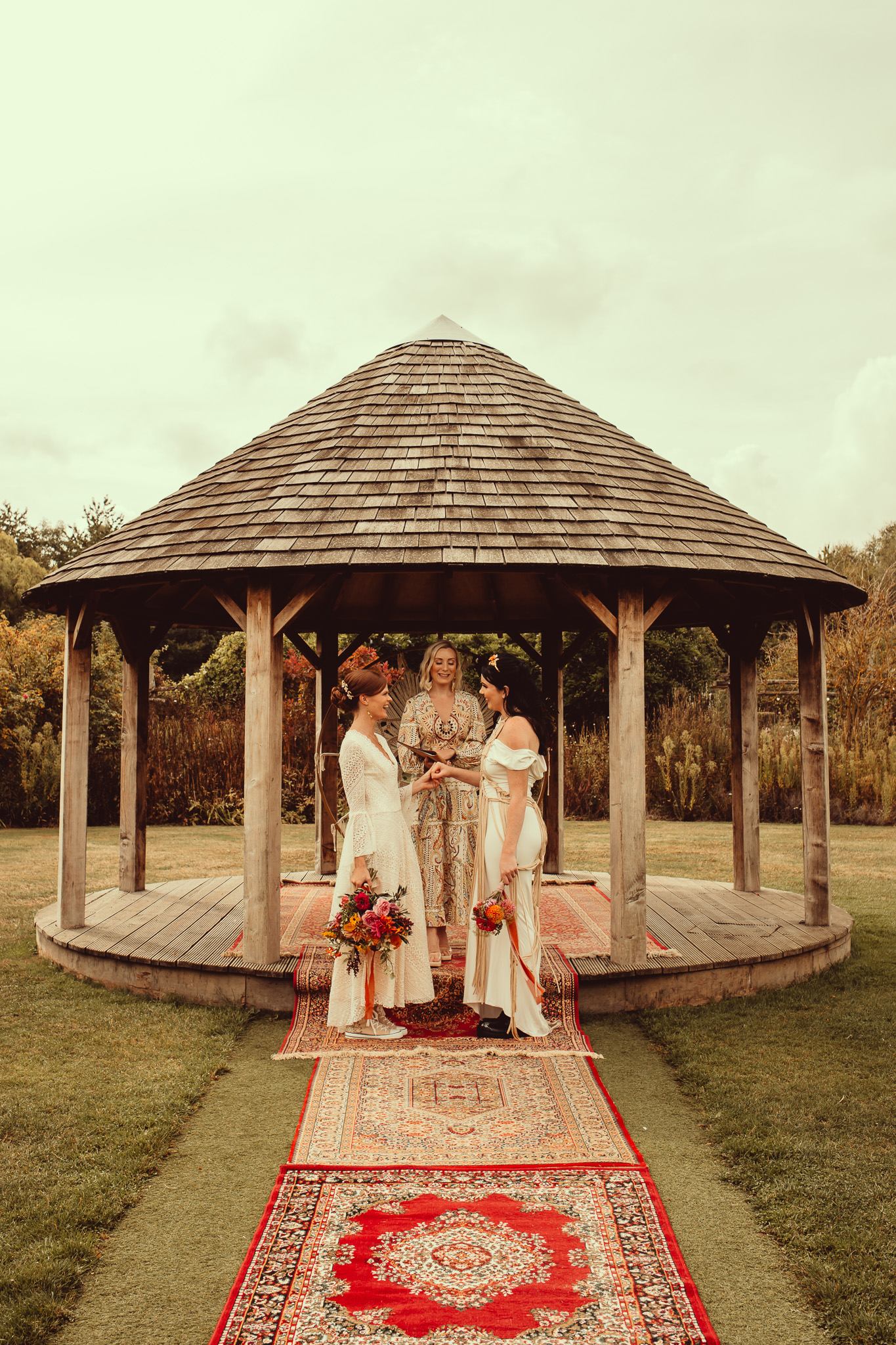 .
An Outdoor Celebrant-led Ceremony
The outdoor cermony was held in the gazebo of which perfectly matched the bohemian theme. Celebrant, Nat, of Rose and Grace Ceremonies was on-hand to deliver a personalised and intimate ceremony, also dressed perfectly in a boho style maxi dress.
.
.
One-of-a-kind Wedding Jewellwery
H of Lawley Fine Jewellers took care of the planning and coordination, with the help of the whole team. The team are well established and have created many styled shoots together; we have them running like well-oiled machines! Everyone pitches in with the carrying and styling the set ups. The whole day was as relaxed as the vibe intended it to be; in fact, we finished ahead of schedule!
The two brides wore one-of-a-kind handmade engagement rings: a rose gold and platinum halo ring set with champagne diamonds and a half carat solitaire set in gold and on a palladium band. We created 2 different pendants for the shoot, each hand engraved with mandala elements to fit in with the theme
.
.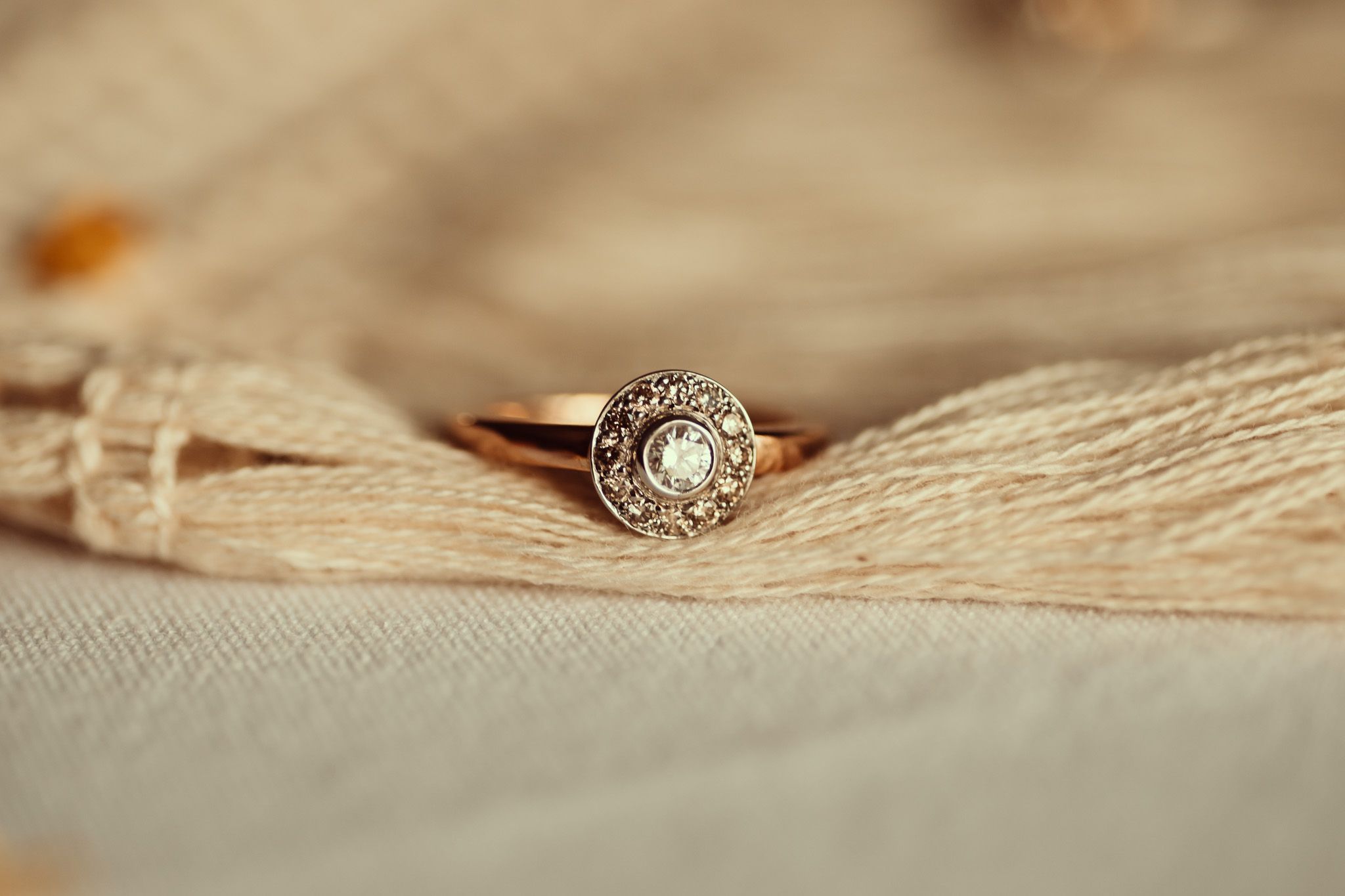 .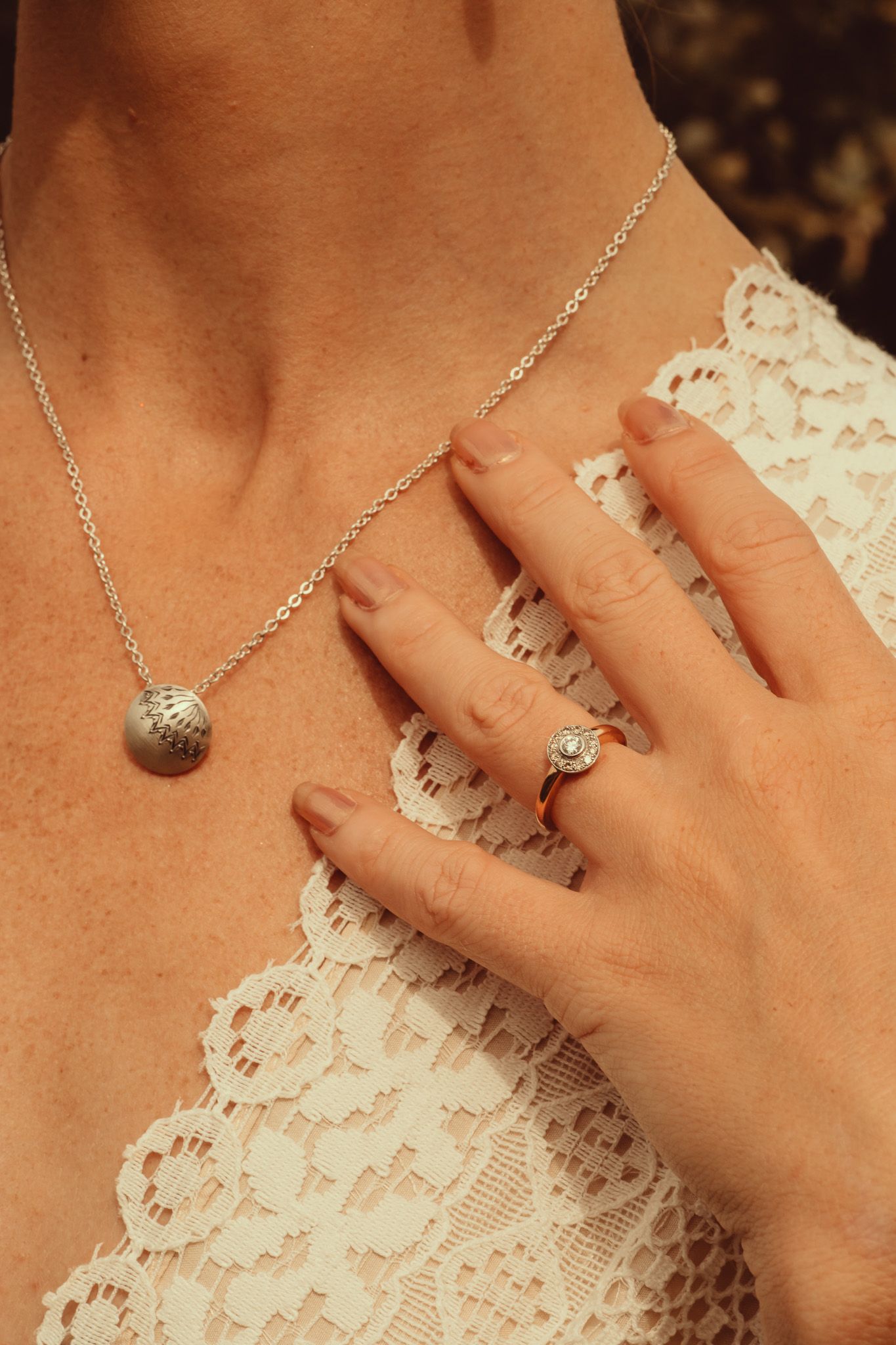 .
Handcrafted Wedding Stationery Suite
Debs Paperleaf Studios designs bespoke stationery suites and provided the team with handcrafted invites, picnic menus and RSVP's, complete with palette knife style splashes of colour and gold, hessian, bunny ears and mini bull dog clips.
.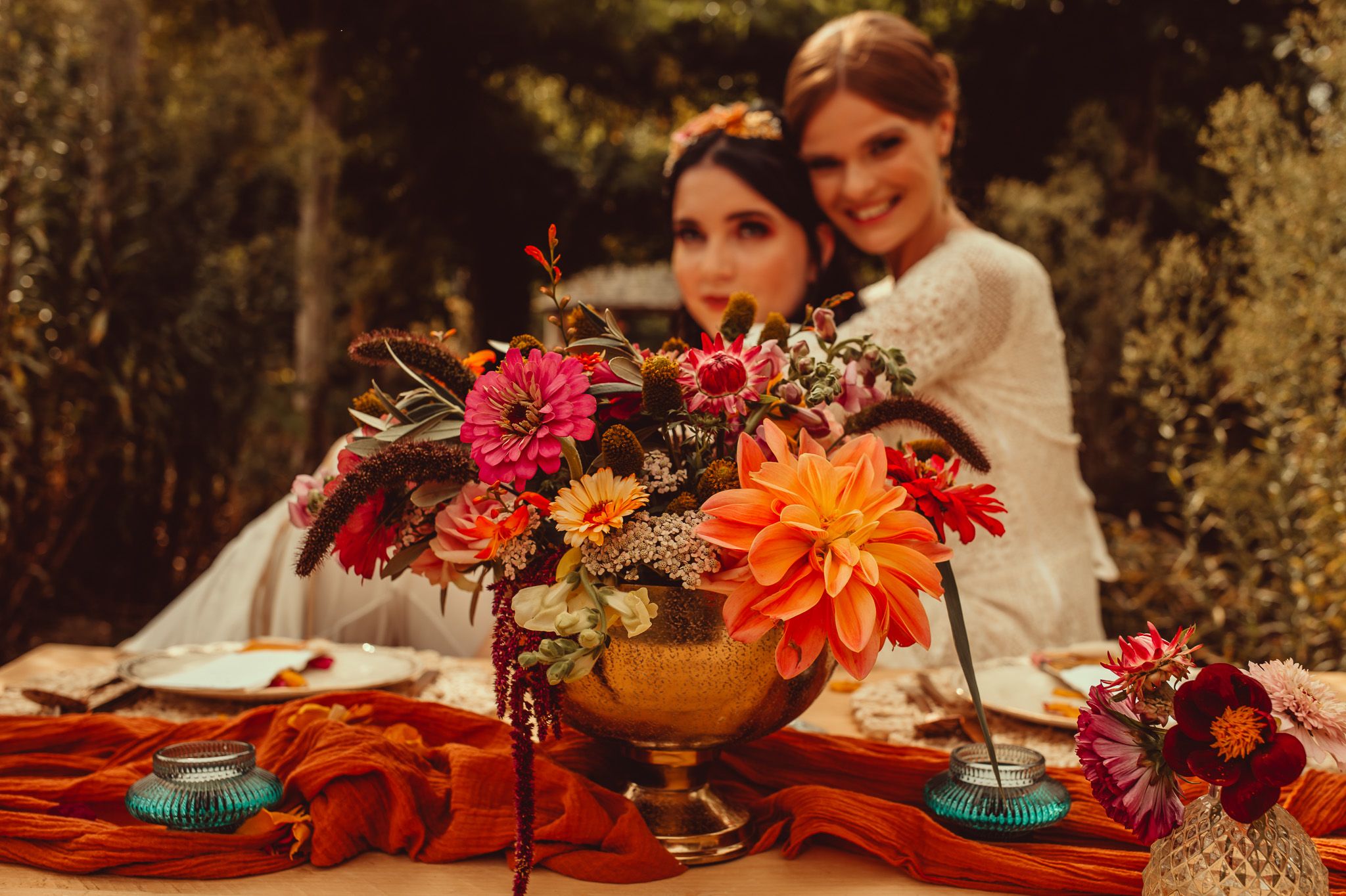 .
Locally Sourced Autumn Wedding Flowers
Forist, Bryony, from Bryony Mae Flowers, creates bouquets and floral displays using locally sourced and British grown flowers. The florals used fo r this shoot complimented the colour scheme by using bright autumnal shades of pink yellows, coral, burgundy and cream in a large and smaller bouquet for the brides.
.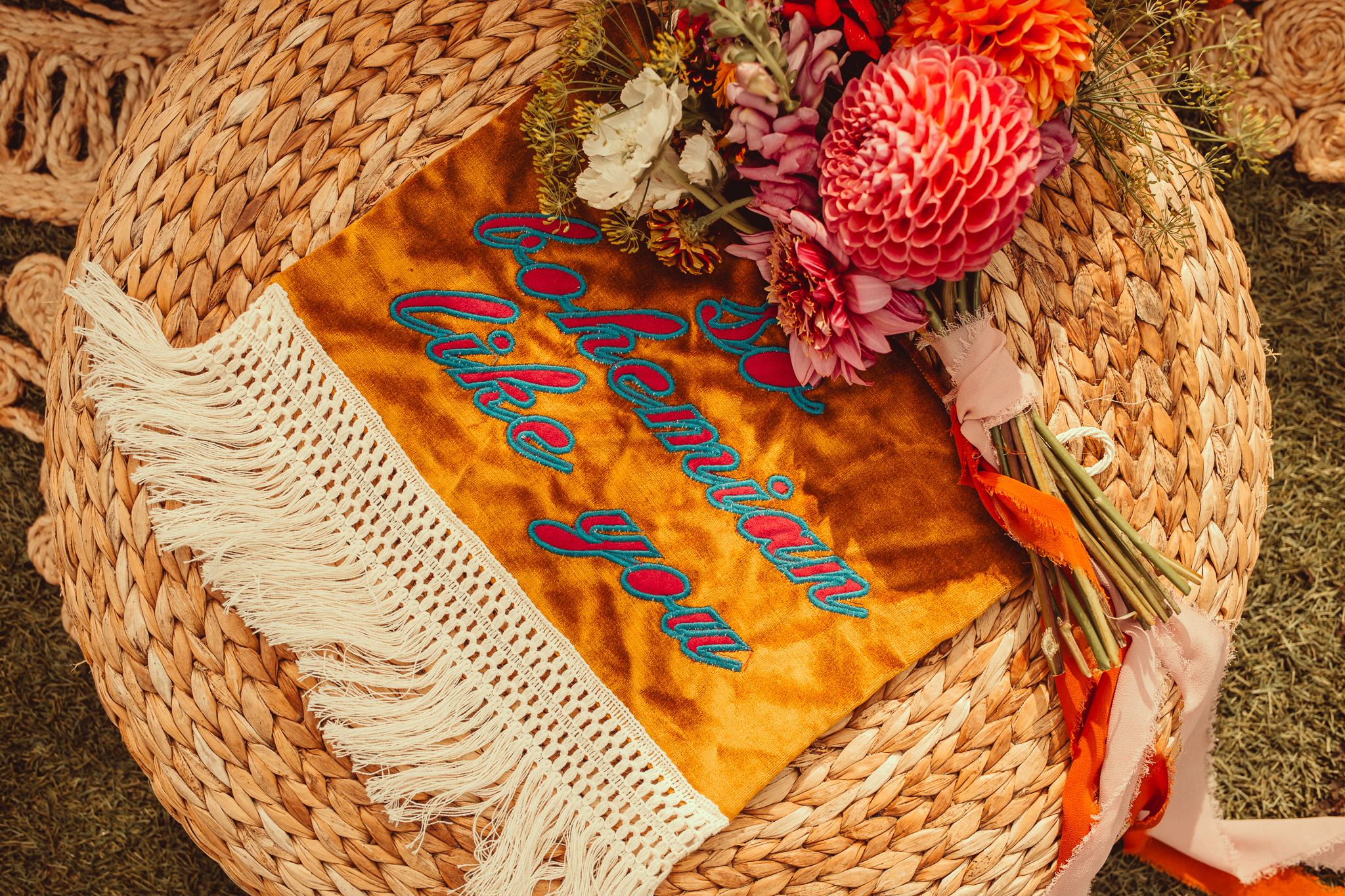 .
Outdoor Autumnal Wedding Decor
Clare and Ronald of Bay Wedding Props provided an amazing macrame mandala suspended on a circular frame which was the perfect backdrop for some stunning photos, they also supplied an array of vintage style rugs to use within the ceremony area.
Clare created a stunning and intimate picnic style tablescape with floor cushions for a relaxed dining experience, accessorised with macrame placemats, a variety of colourful candles and bud vases. Photographer Molly also handmakes biodegradable confetti using real rose petals and provided the team with a colourful mix to decorate the picnic table and for flat lay shots.
Razzle Tassels provided these fabulous unique banners that added to the bohemian decor vibe. A large mustard coloured 'Free Spirit, Wild Heart' banner and a smaller one with the name of the shoot 'So Bohemian Like You'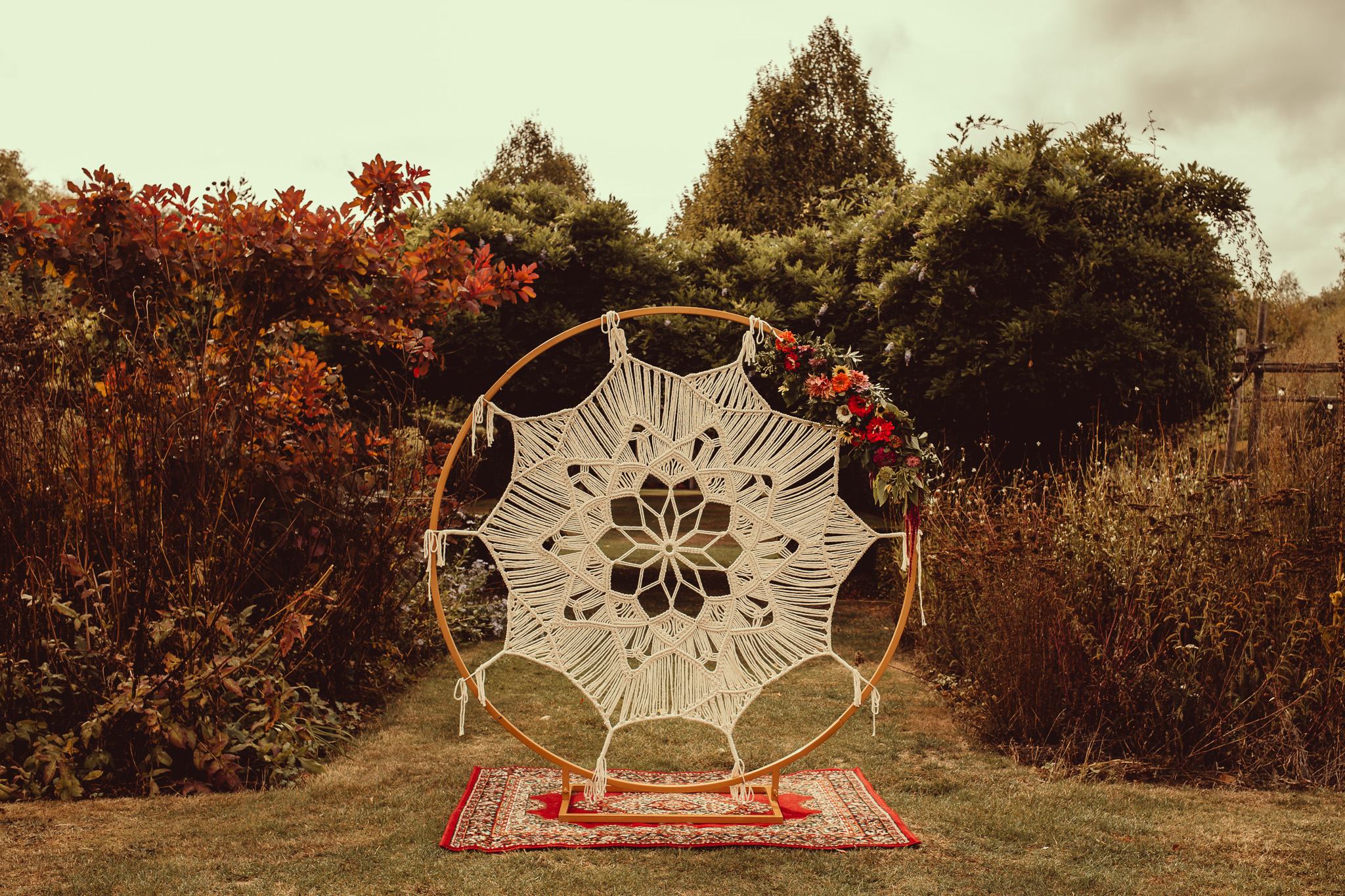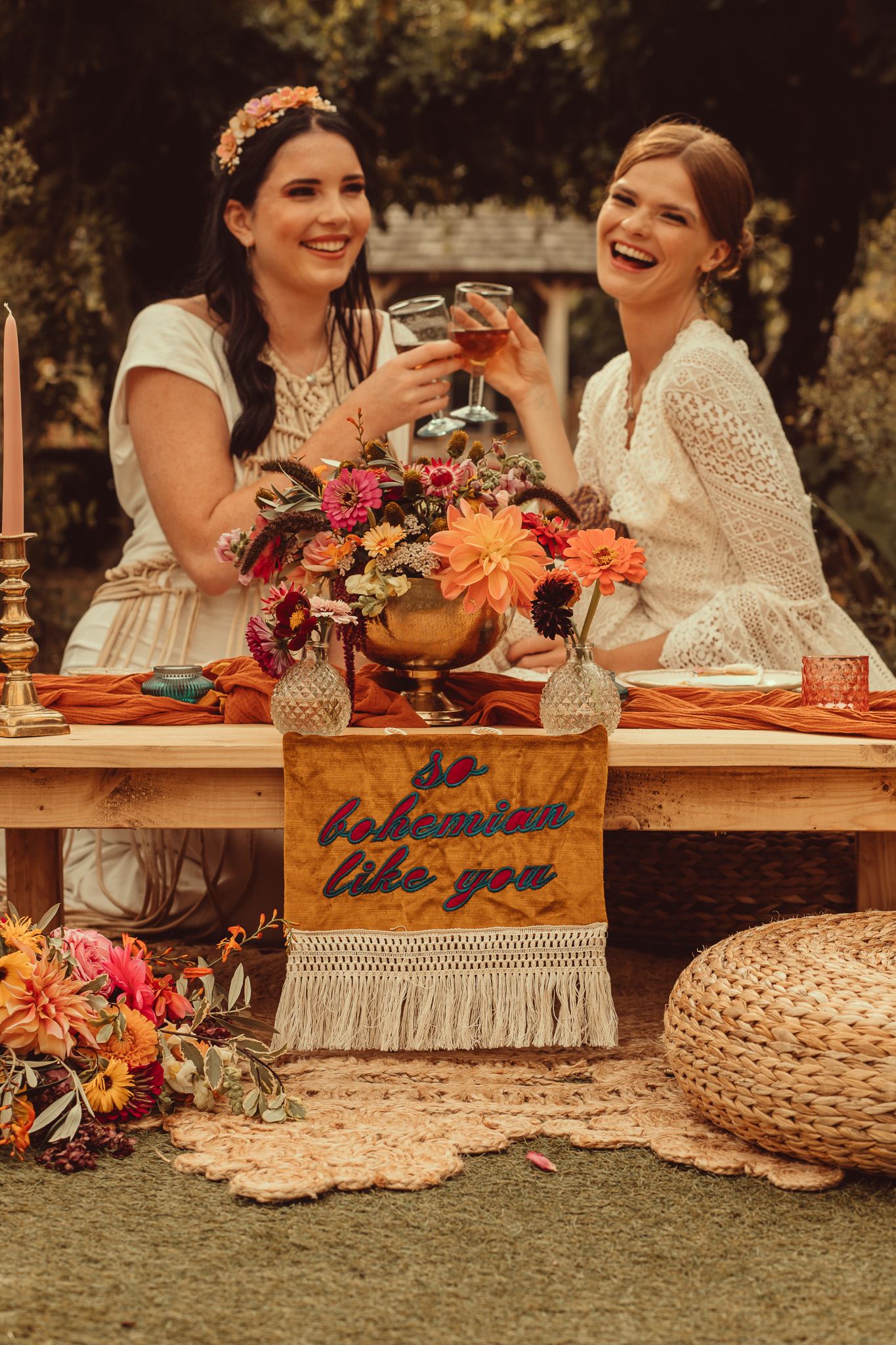 .
.
.
Bohemian Bridal Outfits
Jo from With Love and Lace Bridal creates bespoke bridal dresses and separates from her boutique in Rochester. Elle wore a stunning bell sleeve lace boho dress, while Jasmine was dressed in a fitted cream dress with a unique macrame overlay.
Bunny Loves Evie handcrafts all her hair accessories and chose a stunning coral, cream and pink headband for Jasmine with gold and pearl touches; the colours really popped against her black hair. Elle wore 3 gold and cream moon and flower style hair pins, setting her braided bun off nicely.
Customised by Miss Molly created two separate styles of footwear for the shoot; each hand painted with mandalas. Black DM style boots and converse style taupe high-tops for the brides. A customised denim and black leather style jacket were also painted with mandalas.
Make-up artist, Amy, picked the perfect colour palette for Jas and Elle's eyes; a deeper shade of coral bronze for Jasmine and a lighter gold for Elle, matched with warm burnt orange and pink shades for the lips. Whilst hair stylist, Versastyle By Laura is the Queen of Braiding so the brides were in great hands! Elle's auburn hair was styled in a braided bun complete with a macrame braid. Jasmine's black mane was in a half up style with braid and loose curls.
Sima of Handmade in Bridge specialises in statement pieces using luxurious yarn and a vintage machine. The shawl she provided us with added a lovely splash of colour in Molly's photography.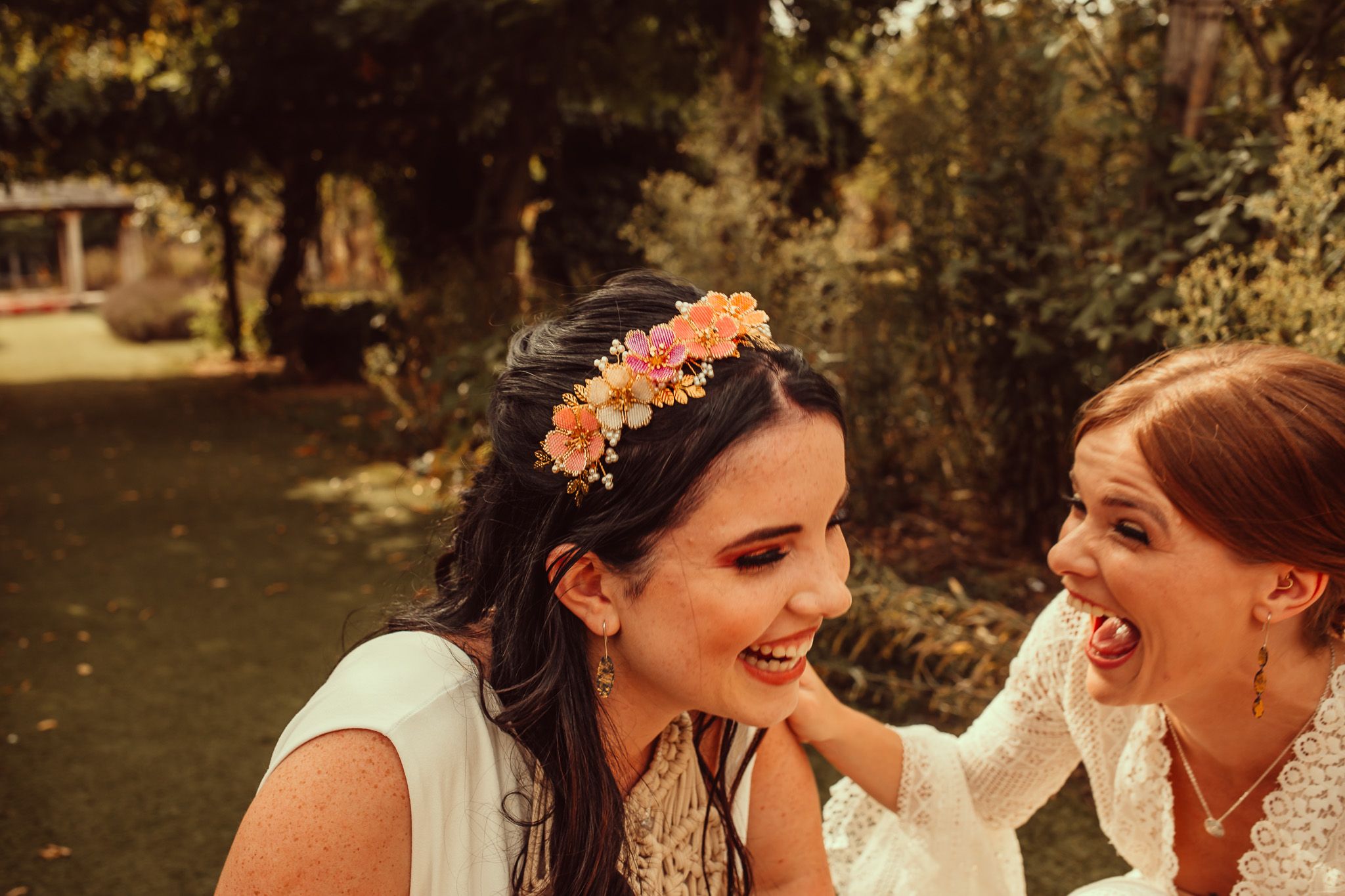 .
.
.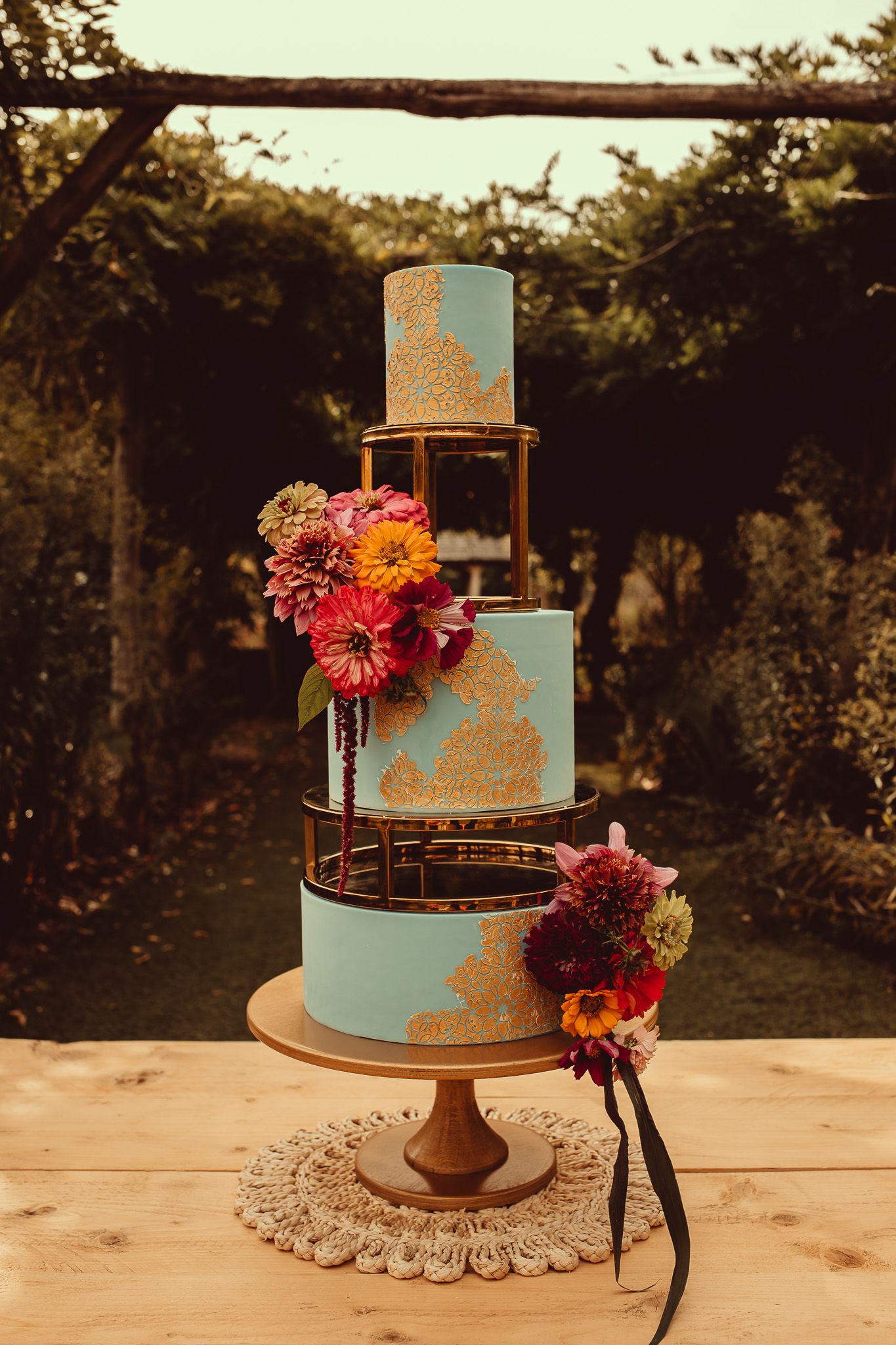 Pale Blue & Gold Unique Wedding Cake
Talented cake designer, Claire of 'Claire de Lune' created a stunning 3 tiered aqua cake, with gold leaf mandalas on a gold stand, styled beautifully with some of Bryony's florals to add a pop of bright autumnal colour, the perfect alternative cake design for a fun, free-spirited couple.
.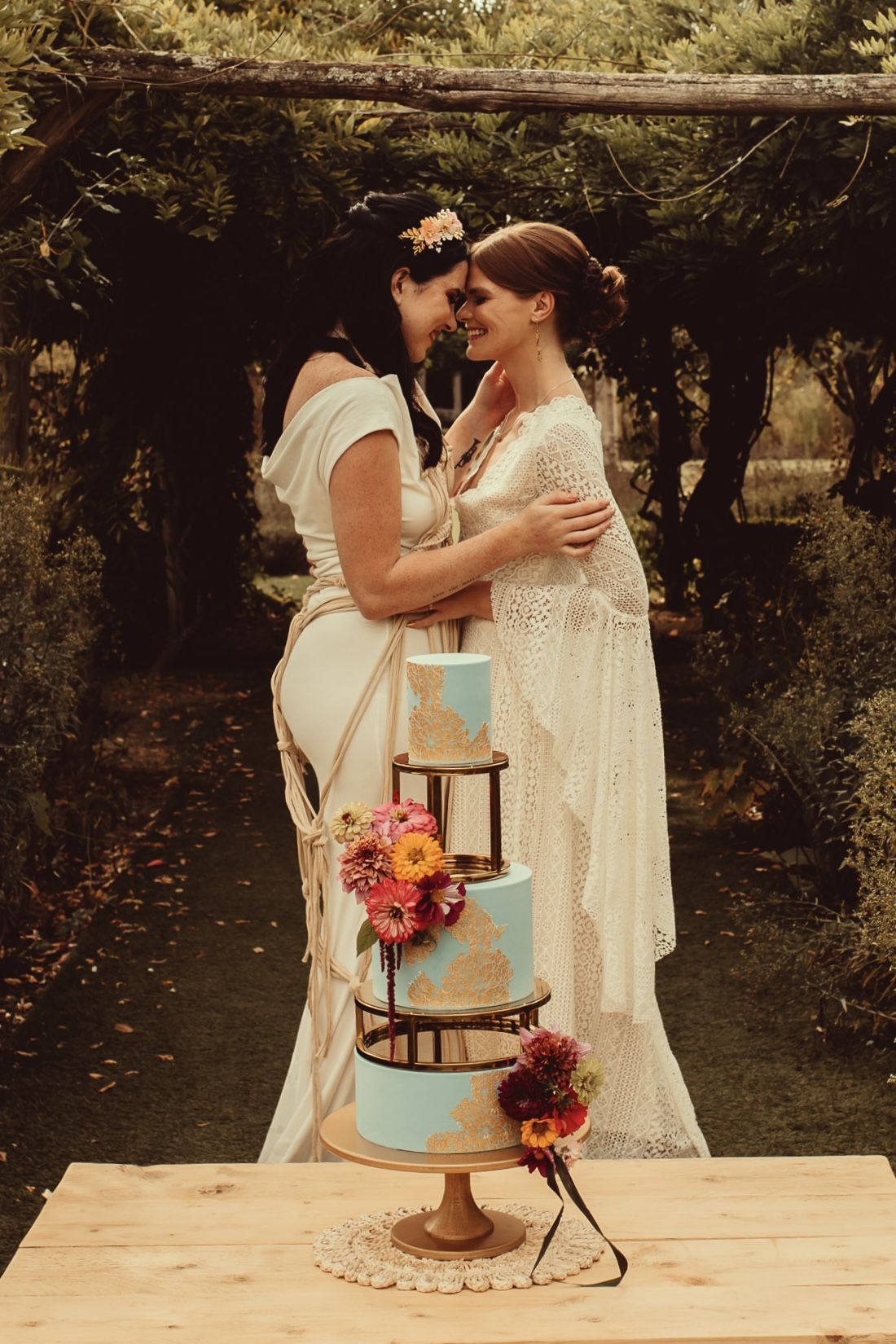 .
Bohemian Wedding Photographer
Molly from Wild Meadow Photography captured this shoot perfectly, her documentary wedding style is relaxed and tells a story. Molly is also a lover of the great outdoors so she was in her element on this shoot and this certianly reflects in her work!
.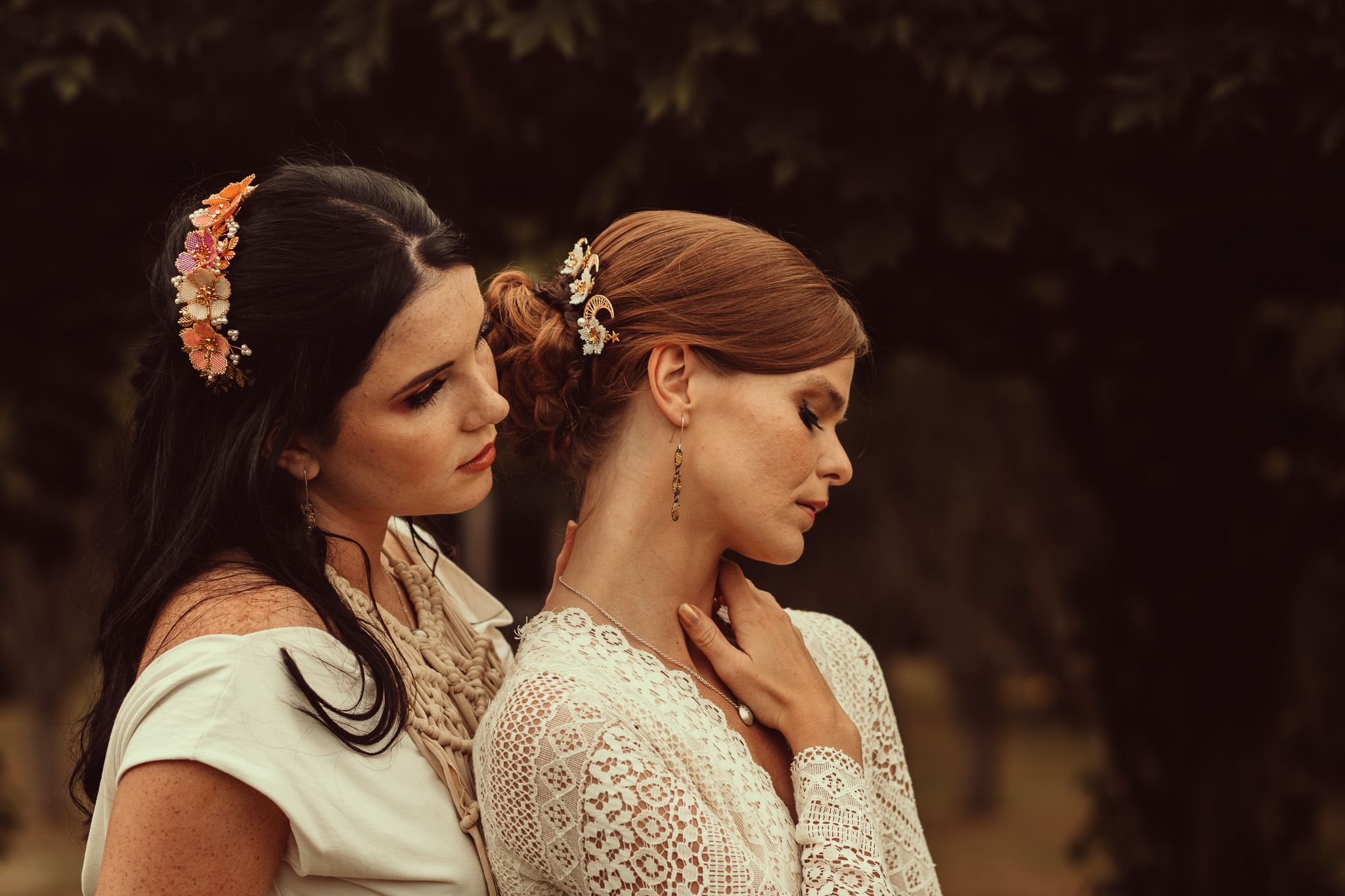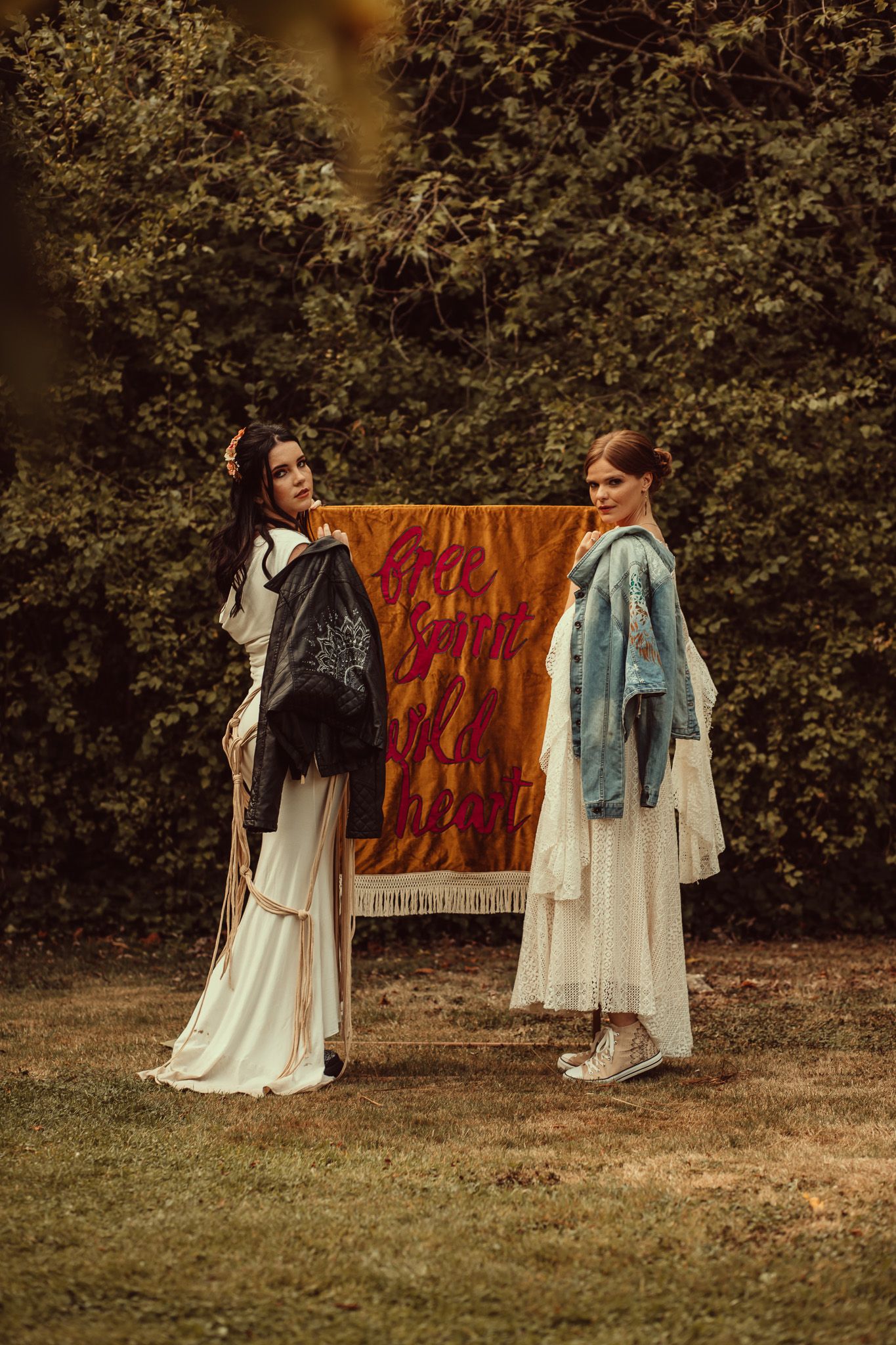 .
Visit The Boho Bride Guide today to browse our SUPER talented approved suppliers who specialise in bringing together your perfect ec-concious, bohemian wedding day!! Or if you are looking for more boho wedding inspiration, check out some more of our blog features and styled shoots here.
Lot's of love,
Jess
Digital Marketing Manager for The Boho Bride Guide
The supplier team:
Lawley Fine Jewellers - Concept, planning + jewellery
Wild Meadow Photography - Photography
Gardens at Yalding - Venue
Bryony Mae Flowers - Flowers
Rose and Grace Ceremonies - Celebrant
Claire de Lune Cake Design - Cake
Bay Wedding Props - Props, Tablescape and Decor
Paperleaf Studios - Stationery
Love and Lace Bridal - Wedding Dresses
Couchman Bespoke - Bridal Suit
Bunny Loves Evie - Accessories
Amy Charlotte Makeup - Make-Up
Versastyle By Laura - Hairstylist
Handmade in Bridge - Shawl
Customised by Miss Molly - Shoes
ON 3rd October 2023 / BY Jessica Tetstall