Feast your eyes upon this whimsical wedding inspiration shoot with tons of bohemian wedding decor and a vintage camper that we're sure you'll want to snag for your own wedding.
This stunning outdoor wild boho shoot was organised by Julie Clarke of Julie Clarke Photography and we are obsessed with the images and overall theme. If you love dried flowers, a golden hour glow, and retro campers then you are in for a treat! Keep reading for more outdoor bohemian wedding inspo.
.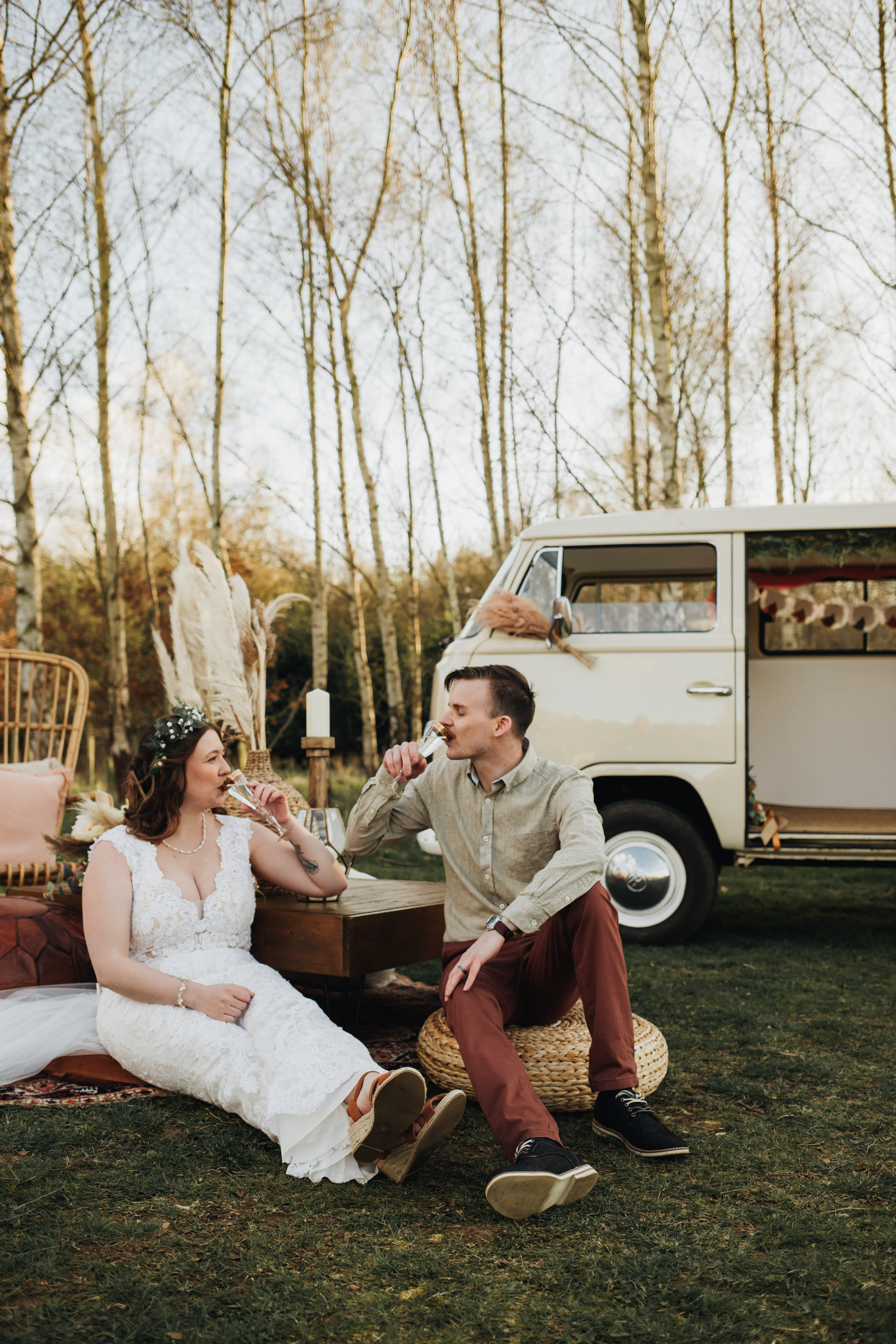 .
.
Boho Wedding Inspiration
The inspiration behind this outdoor whimsical wedding was from the venue itself, Julie saw photos of Wellington Wood on facebook and knew she instantly wanted to arrange a shoot there. A stunning meadow and woodland outdoor wedding venue, Julie wanted to pair her love of earthy neutral tones and boho style to create a shoot that stunned. And boy did she do just that!
Julie recently relocated to England from North Carolina, USA, to pursue her dream job of going full time with photography.
After a rough start to rebuilding her business in the UK, Julie thought she would plan a styled shoot to give herself something to work on, as well as networking with some really fantastic suppliers.
.
.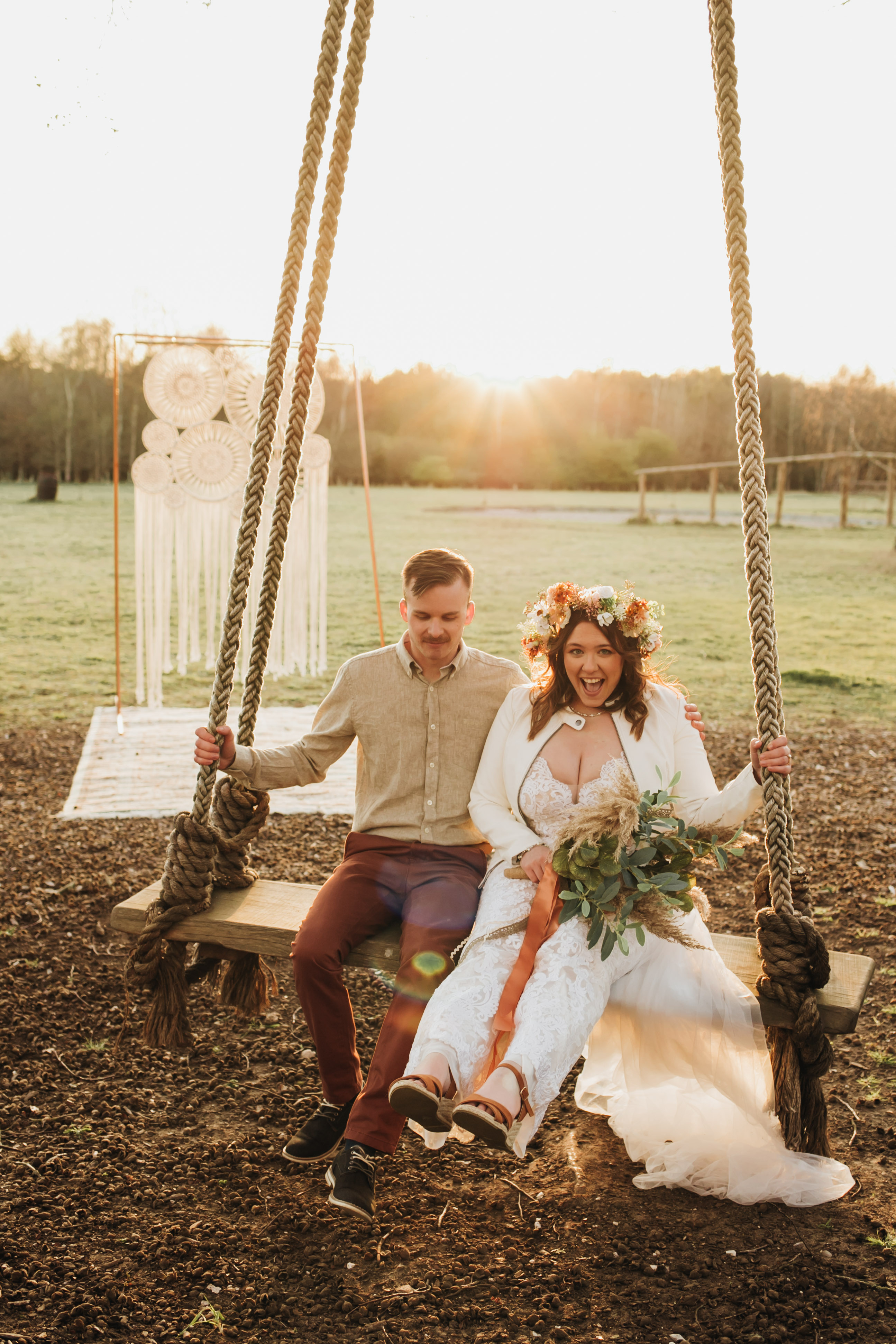 Outdoor Wedding Venue: Wellington Wood, Norfolk
Wellington Wood is an absolutely stunning outdoor wedding venue in Norfolk. Vicky, the owner and her staff are so kind and helpful. They also have a huge focus on sustaiability, and are Earth conscious, eco friendly, dog friendly, and family oriented! If you are looking for something whimsical and boho and a space to put your own stamp on, then this is the perfect venue for you. Whether you want an outdoor wedding ceremony or festival style tipi wedding, the options are endless.
.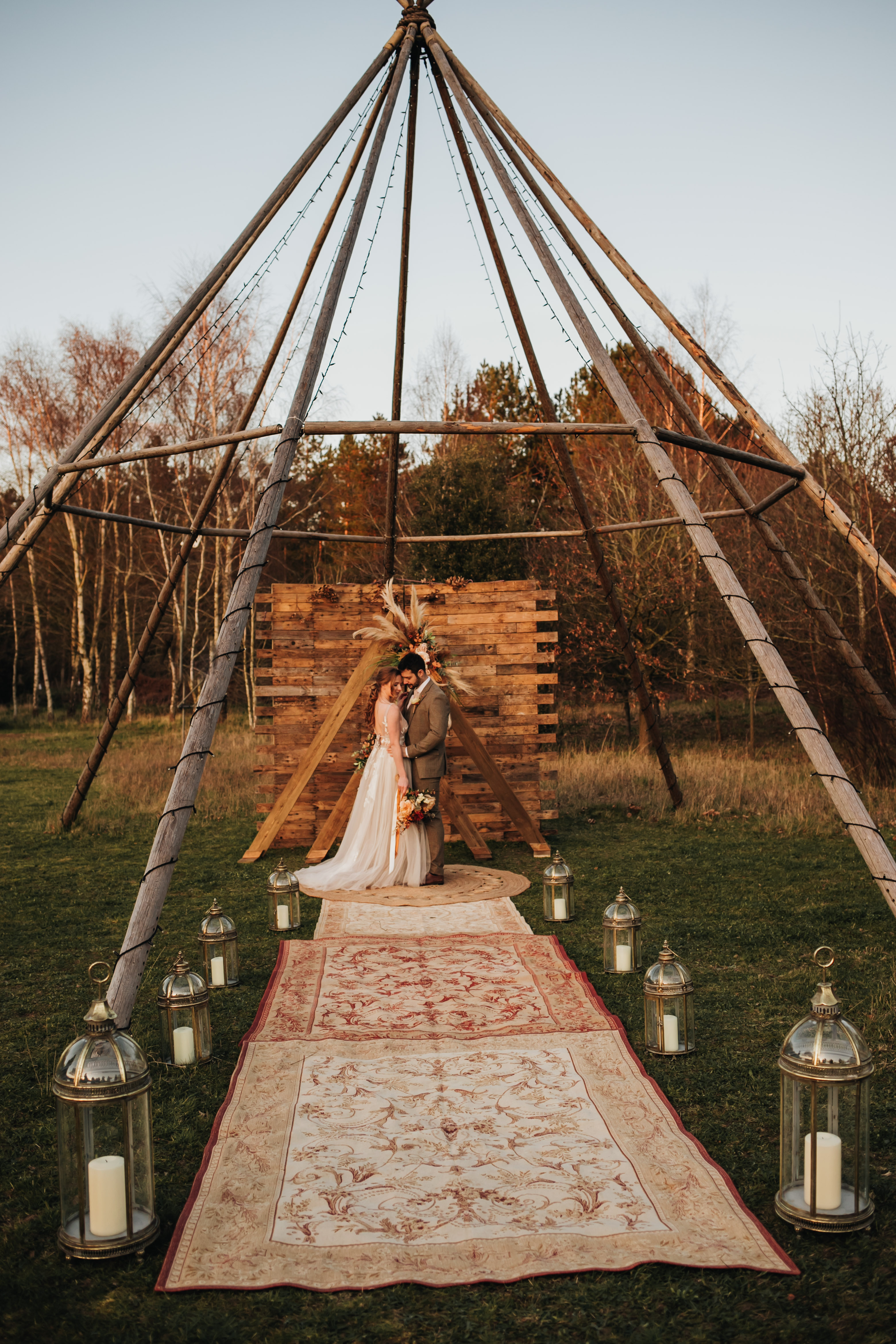 .
.
.
Outdoor Boho Wedding Ceremony Decor
The outdoor wedding ceremony was conducted by Andrea from Your Celebrant featuring two stunning alternative ceremony backdrops. A bohemian macrame arch attached to a copper frame and a triangle wooden structure decorated with boho inspired dried flowers set under a naked tipi.
Valerie from Samphire Vintage Props truly brought the boho vision of the shoot to life with all their beautiful styling options. Samphire Vintage Props, are a local business based in Norfolk, specialising in providing vintage, rustic and boho prop hire for weddings and events at outdoor venues, tipis, barns and country houses.
.
.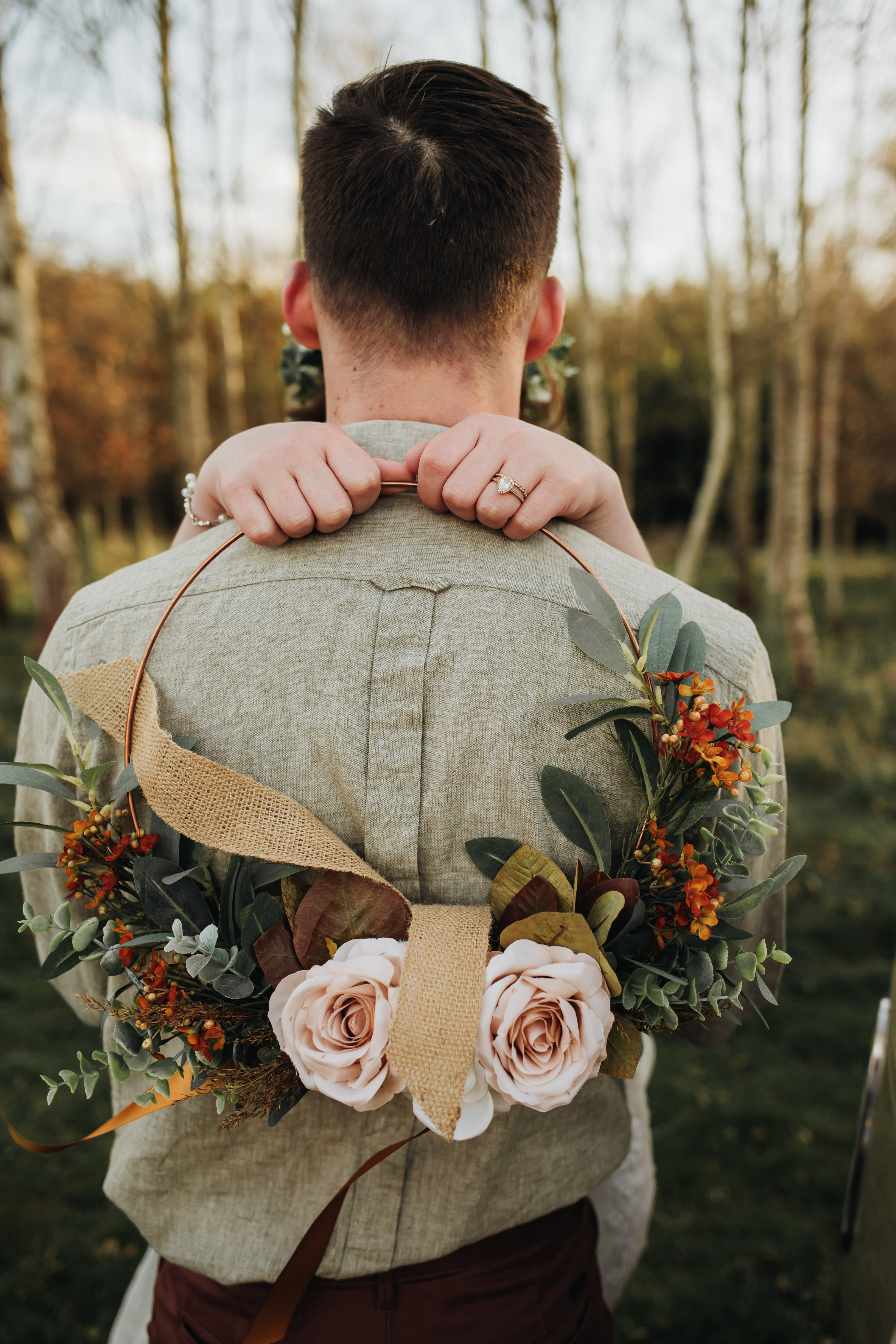 .
.
Boho Wedding Flowers
Moss and Bloom created the bohemian wedding flowers for this styled shoot, using faux and dried flowers in their designs. This makes their floral arrangements unique and 100% reusable, with less wastage. Moss and Blooms have an eye for all things boho and used a mix of dried pampas grass and other boho inspired flowers with earthy tones in the bridal bouquets and floral installments, as well as creating a wedding flower crown to give model bride Jo a wildly romantic boho look.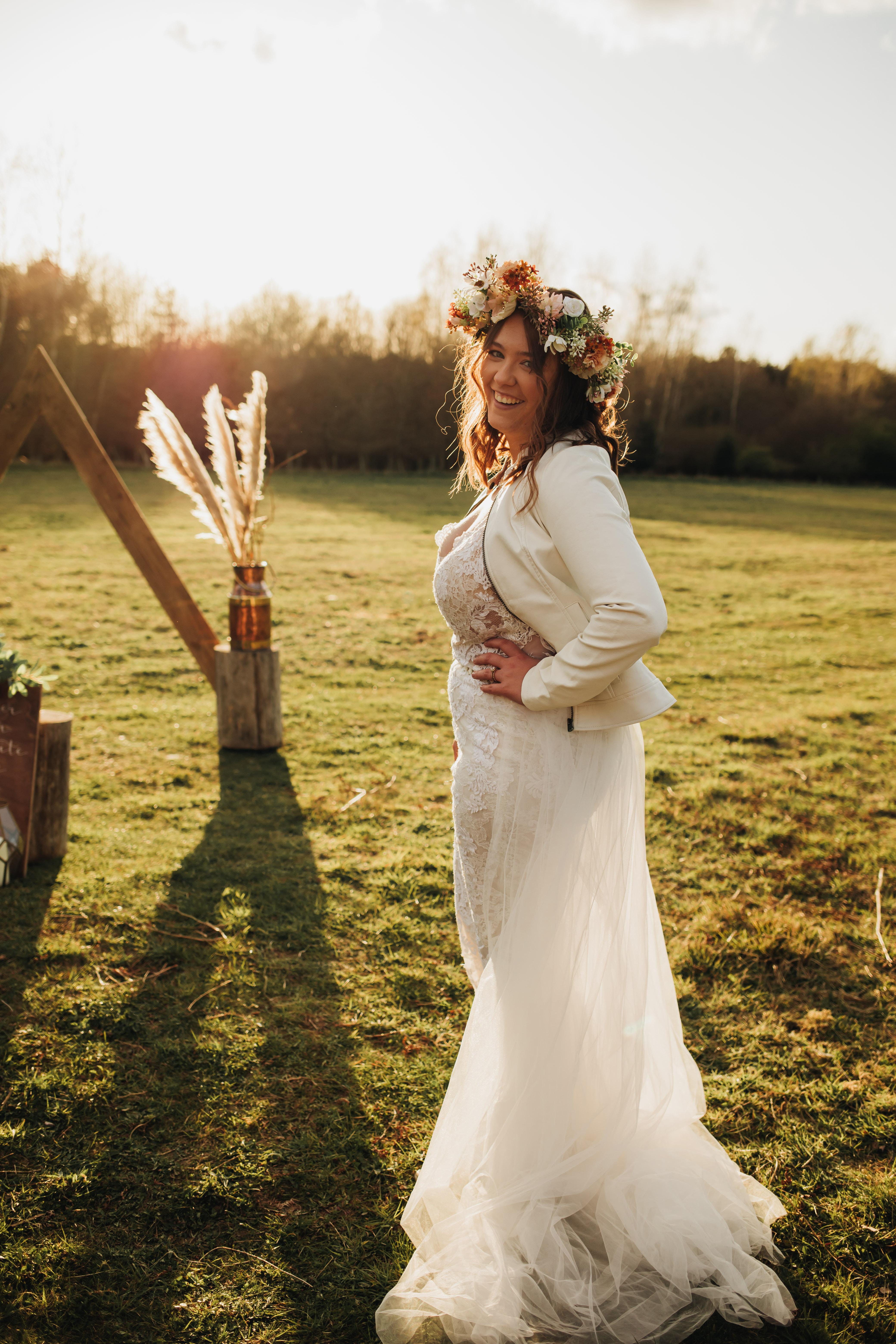 .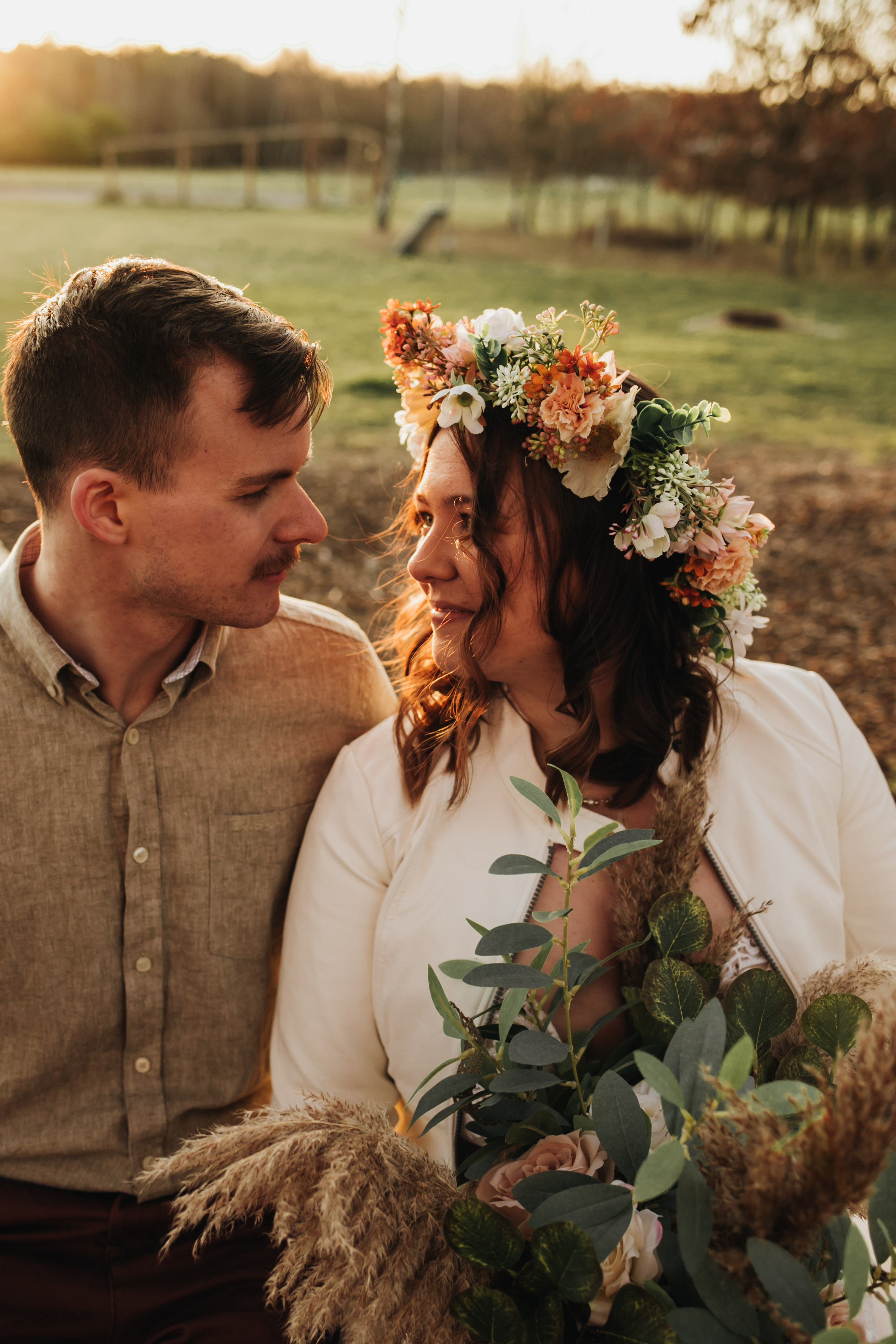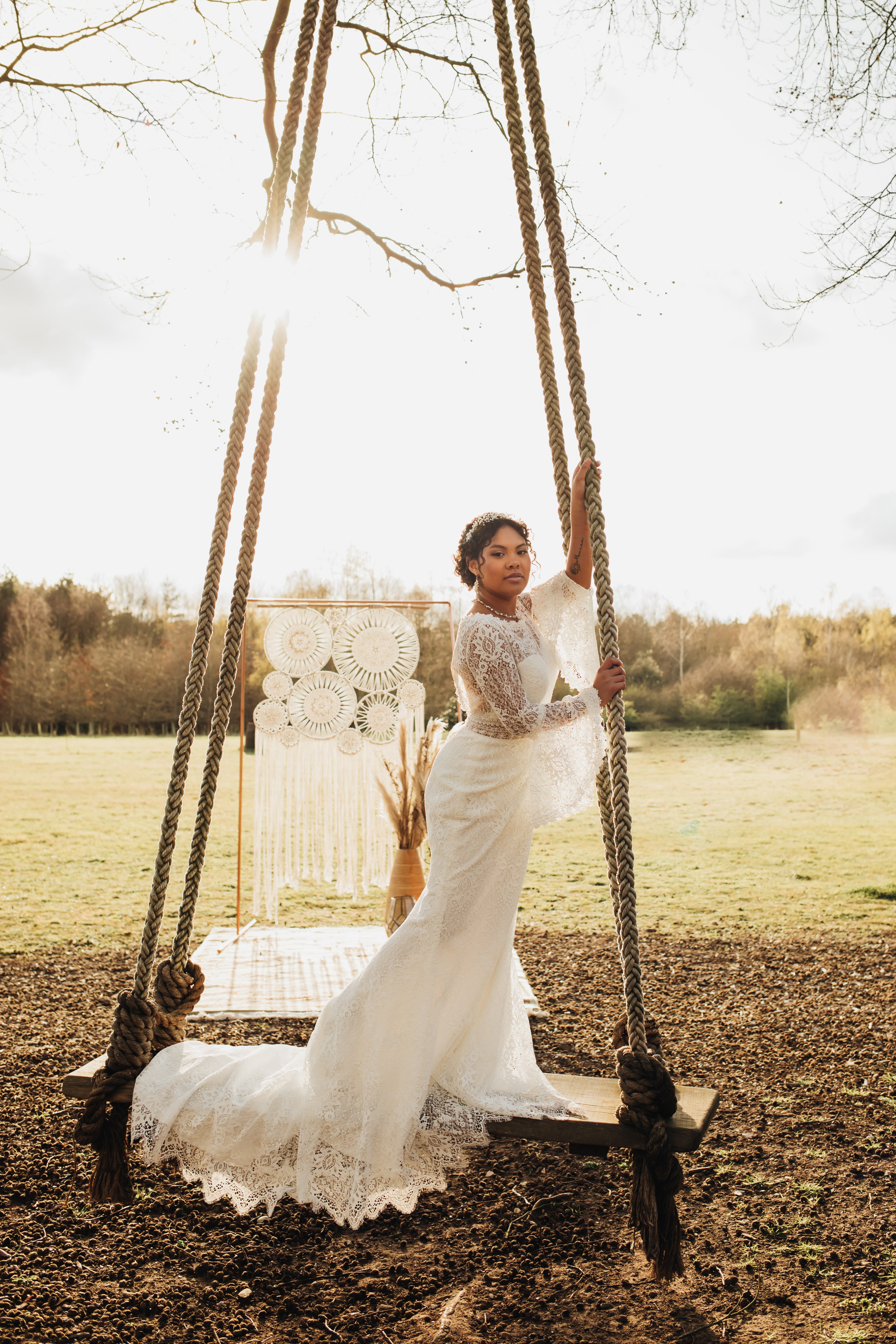 .
.
.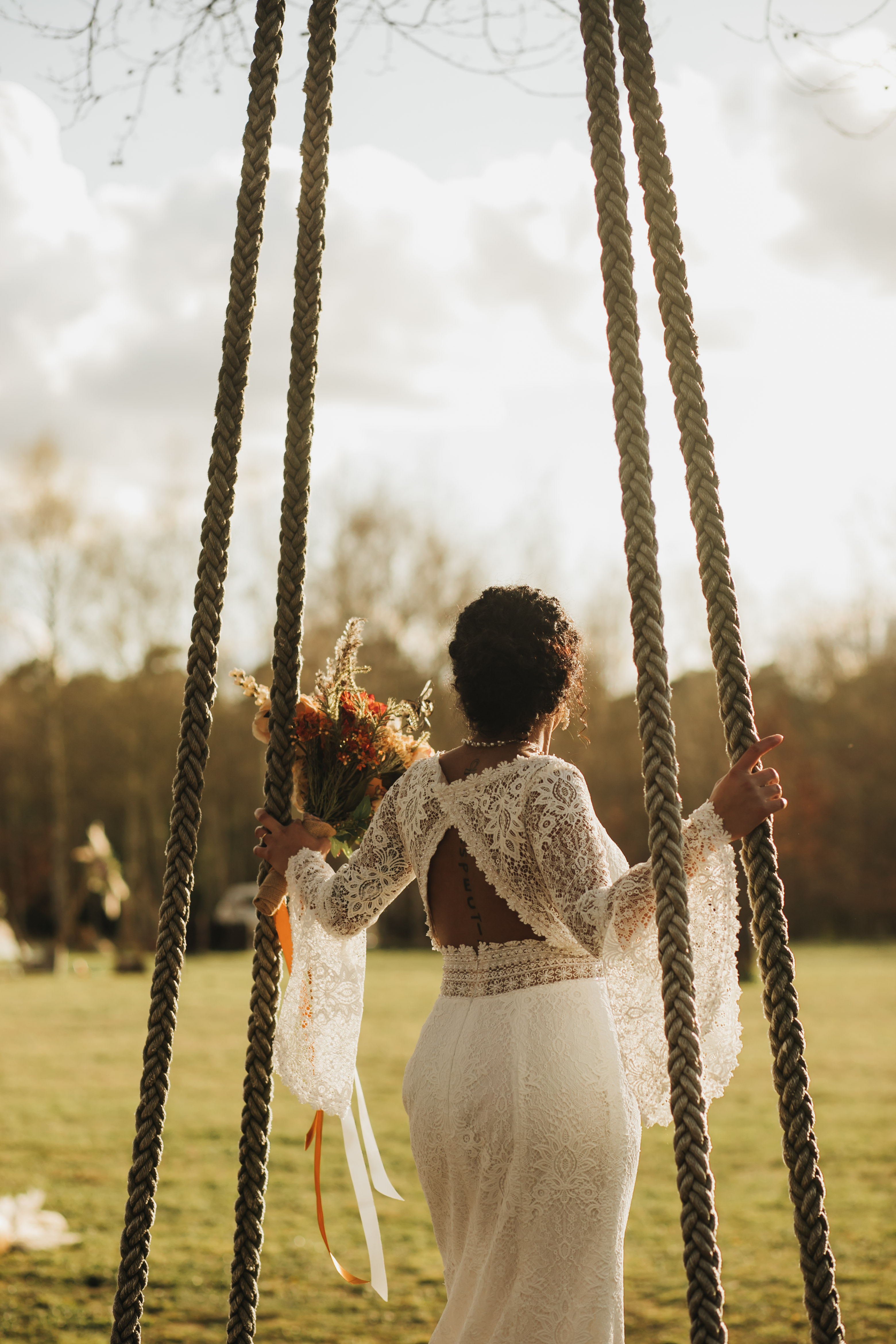 .
.
Bohemian Bridalwear
Aime Moi Encore supplied the stunning lace bridal jumpsuit for the shoot, which had a veil train attached from the waist. They specialise in pre-loved bridalwear, offering brides bargain finds whilst knowing they are helping the world to become more sustainable.
The bohemian inspired wedding dresses for this shoot were supplied by Shades of White, a bridal boutique based in St Ives. A gorgeous long sleeve lace boho wedding dress, and another flowy piece from the wait down partnered with a nude floral embrodierd bodice, we are obsessed with all three of these bridal looks.
The effortlessly cool bridal jackets were created by Niamh Designs Embroidery and offers an edgy bohemian look for your wedding evening when things get a bit chilly.
.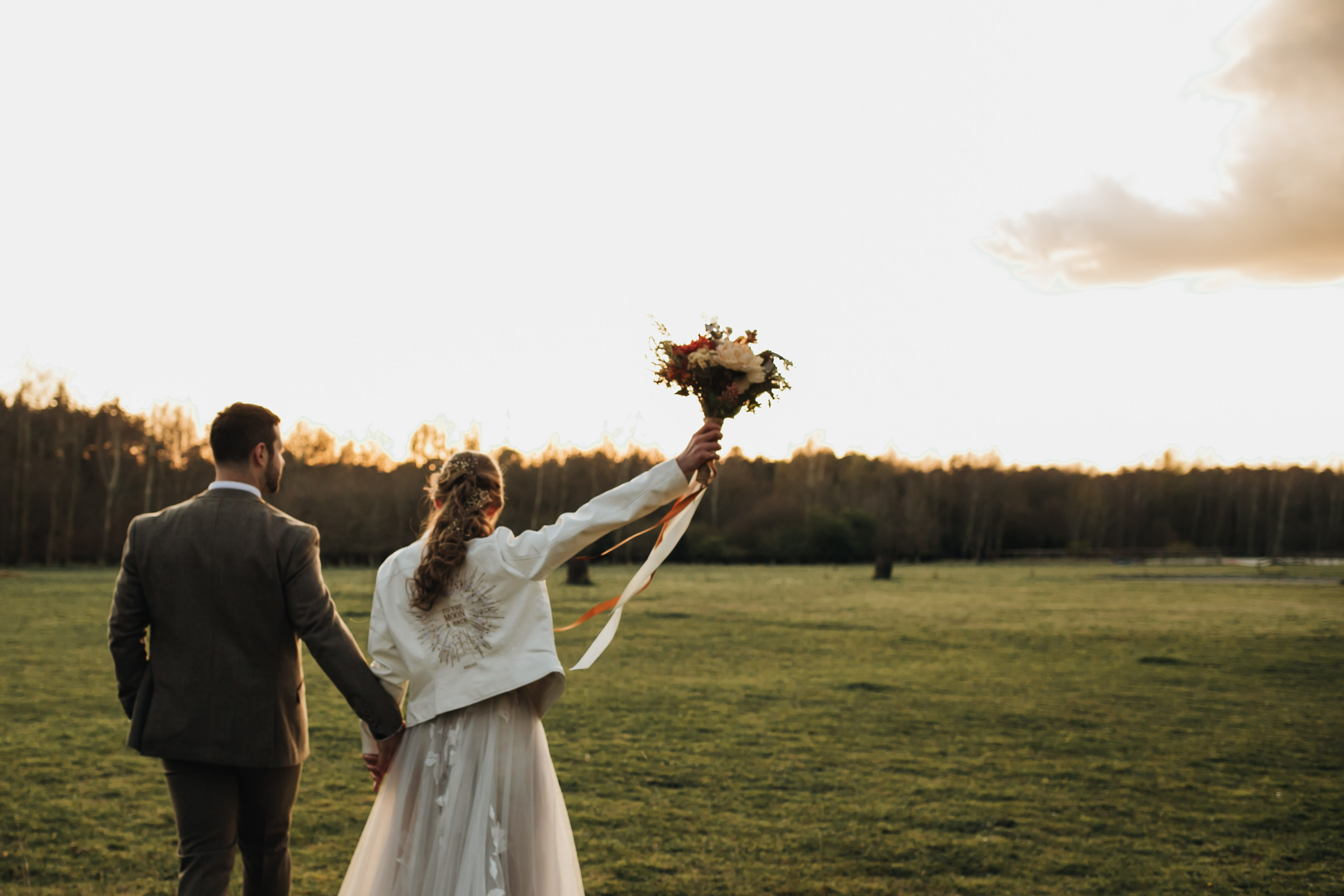 .
.
.
Bohemian Bridal Hairstyles & Soft, Subtle Make-Up Looks
The bohemian inspired wedding hairstyles were created by Charlotte Louise Hair & Beauty for this editorial shoot, a messy braid, effortless loose waves and bridal updo, offering three totally unique bridal hairstyle ideas.
Serena Aris Makeup Artistry created three different bridal make-up looks, which all fit perfectly with the overall bohemian bride vision.
.
.
Handmade Wedding Jewellery
Nu Jewellery by Emma hand makes every piece of jewellery herself. Each piece is unique and really intricately made, like this gorgeous twisted hair vine and gold metal bridal headbandwhich is featured.
Eco Wood Rings is a UK based wedding band company that hand makes their wooden wedding bands both beautiffully boho and eco friendly!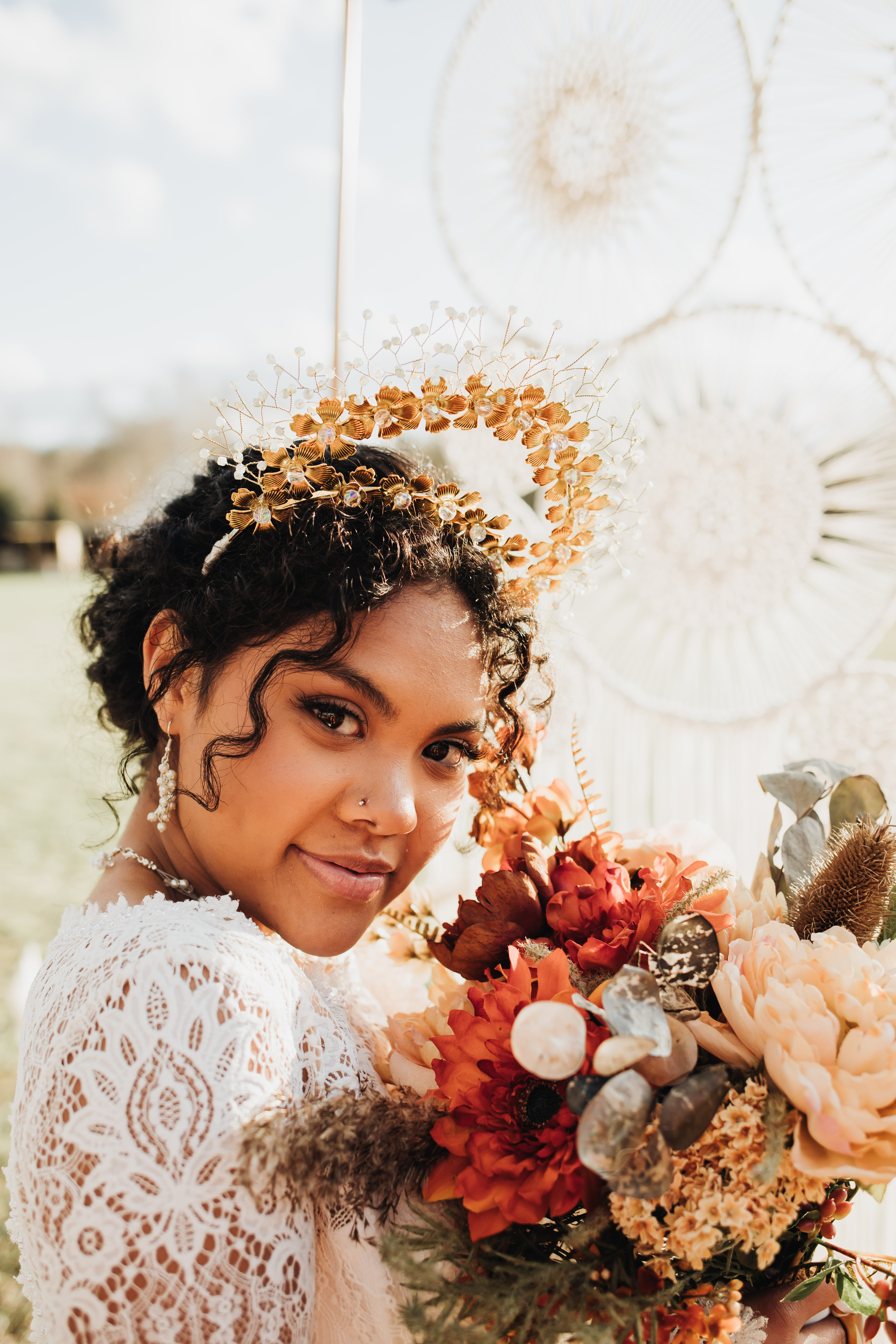 .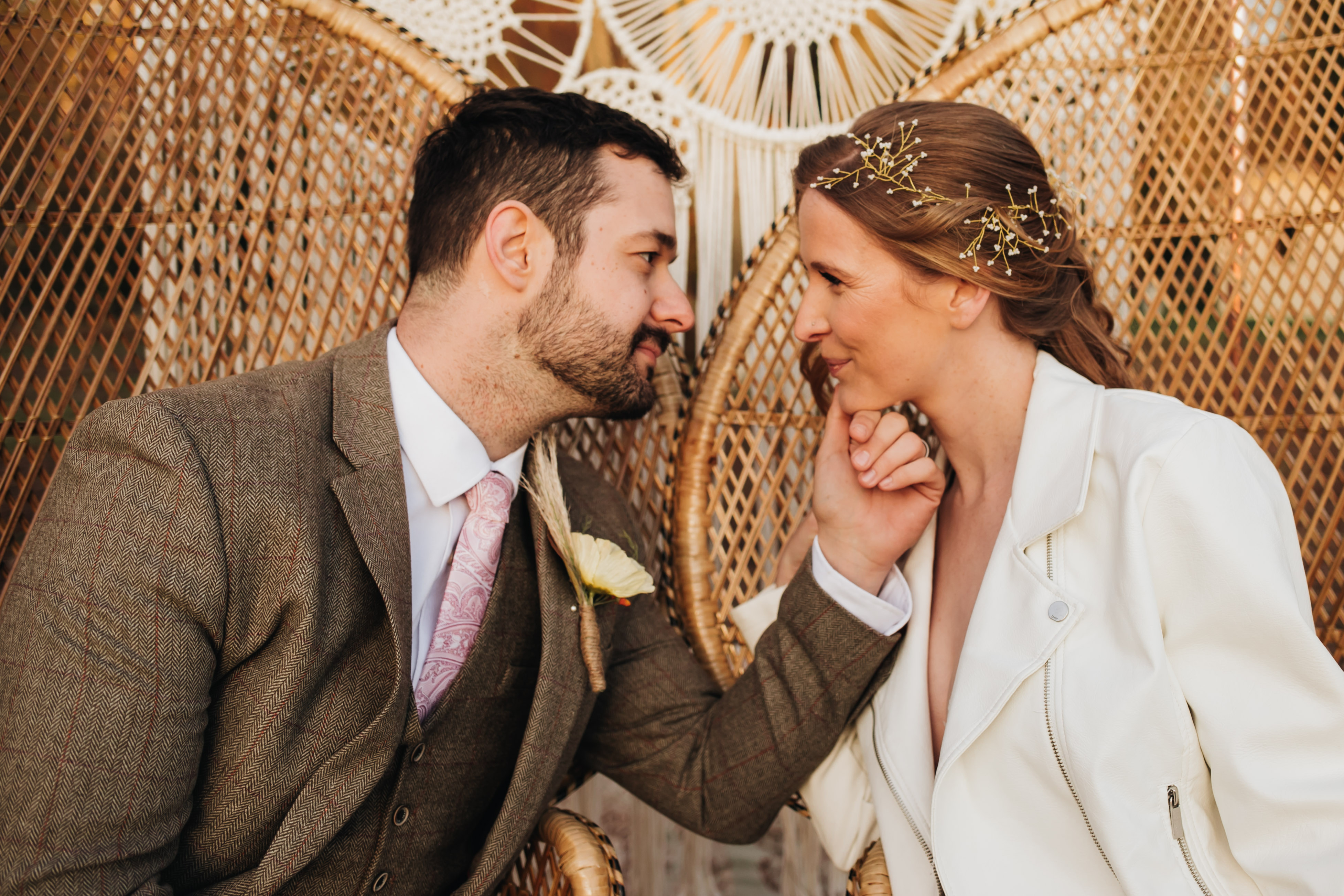 .
.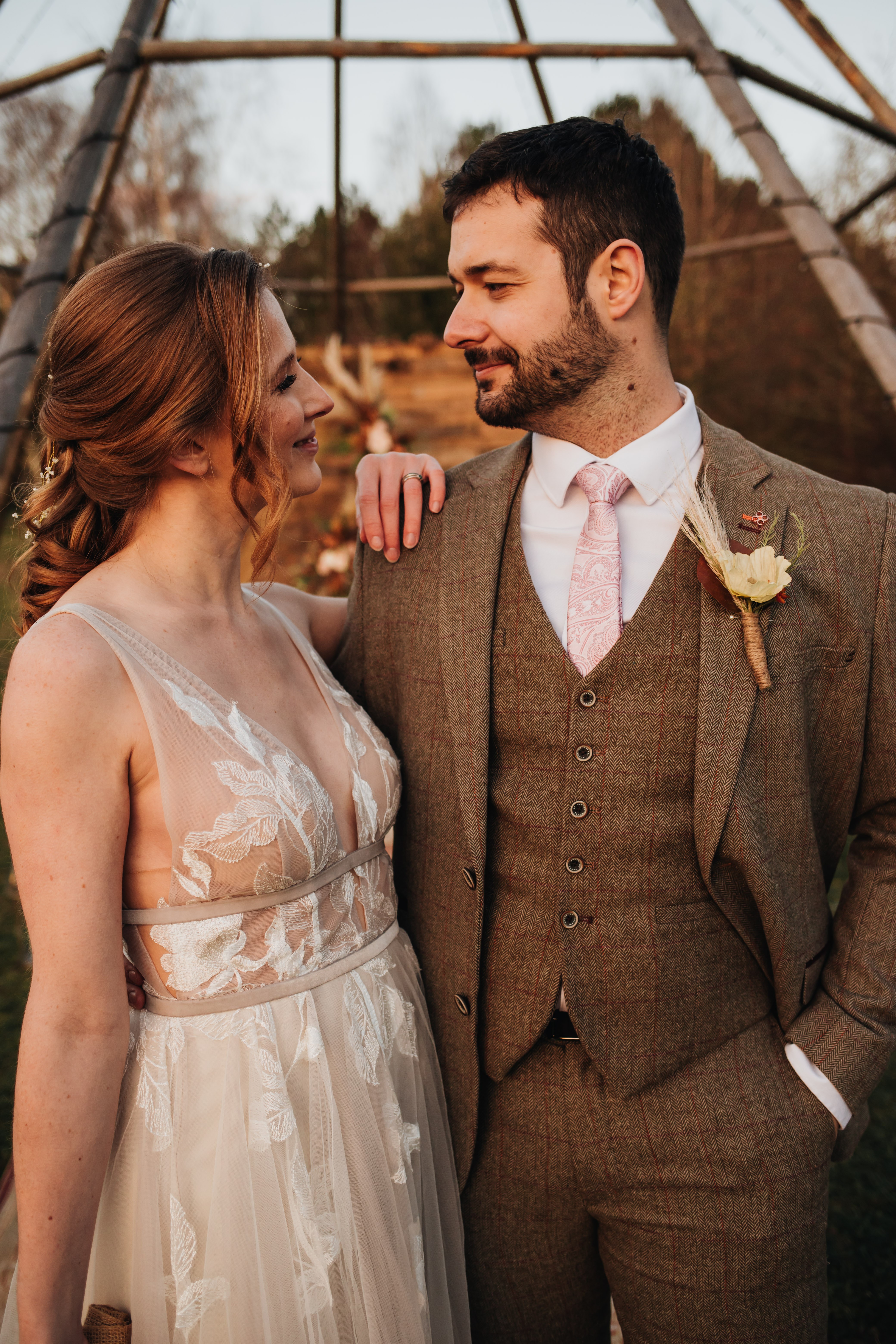 Rustic Groom Wedding Attire
The Groom's sits were supplied by Bride and Bloom of Brandon complimenting the bridal look with a soft rustic feel.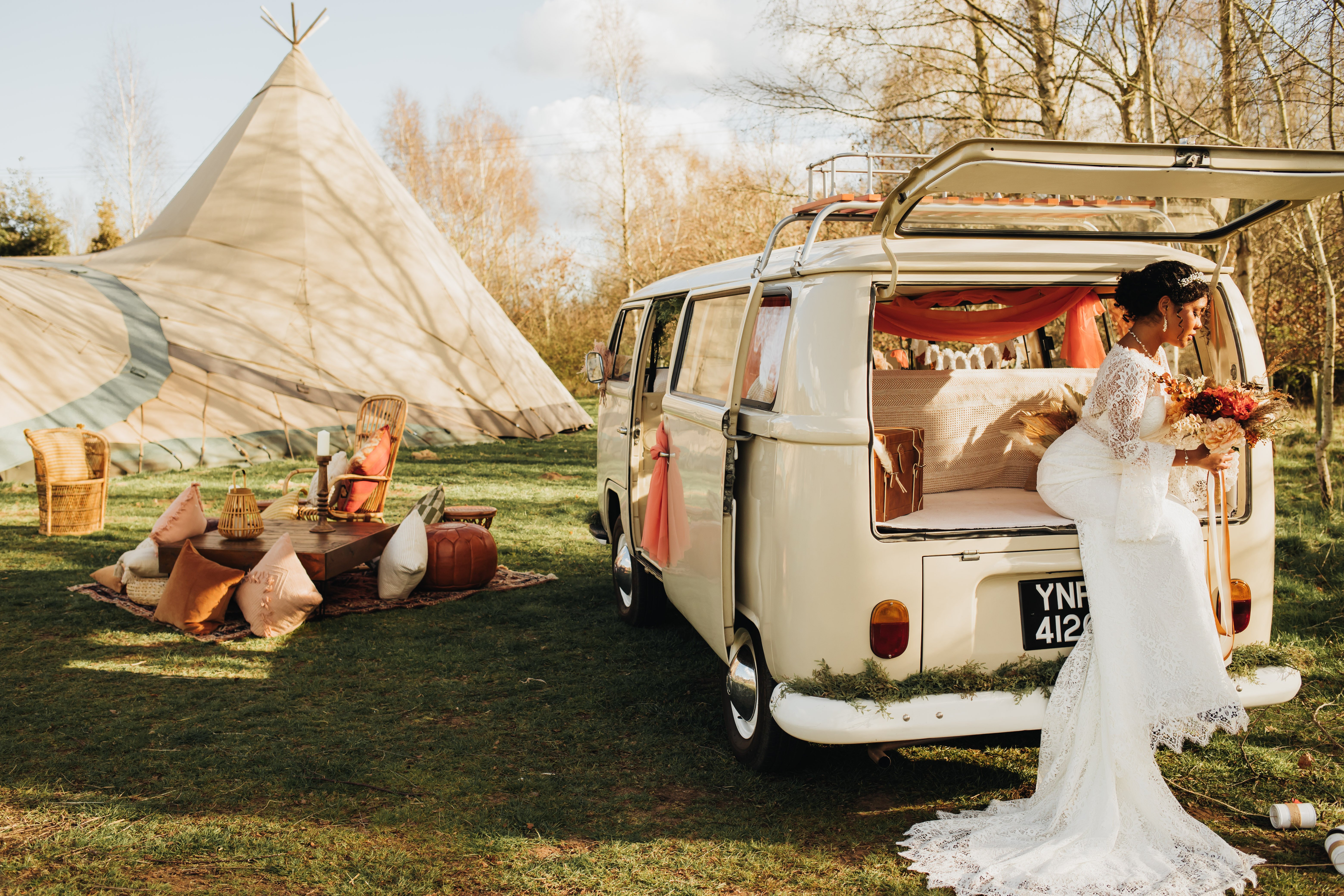 Vintage Camper and other Outdoor Wedding Decor Inspiration:
The fabulous retro VW camper was supplied by the Vintage VW Camper Co and provided epic photo opportunities with a retro bohemian feel. Show up to your wedding in style with this quirky and fun wedding transport idea.
The outdoor bohemian lounge and fabulous peacock chairs were also supplied by Samphire Vintage Props adding rustic boho charm to this outdoor wedding decor setup.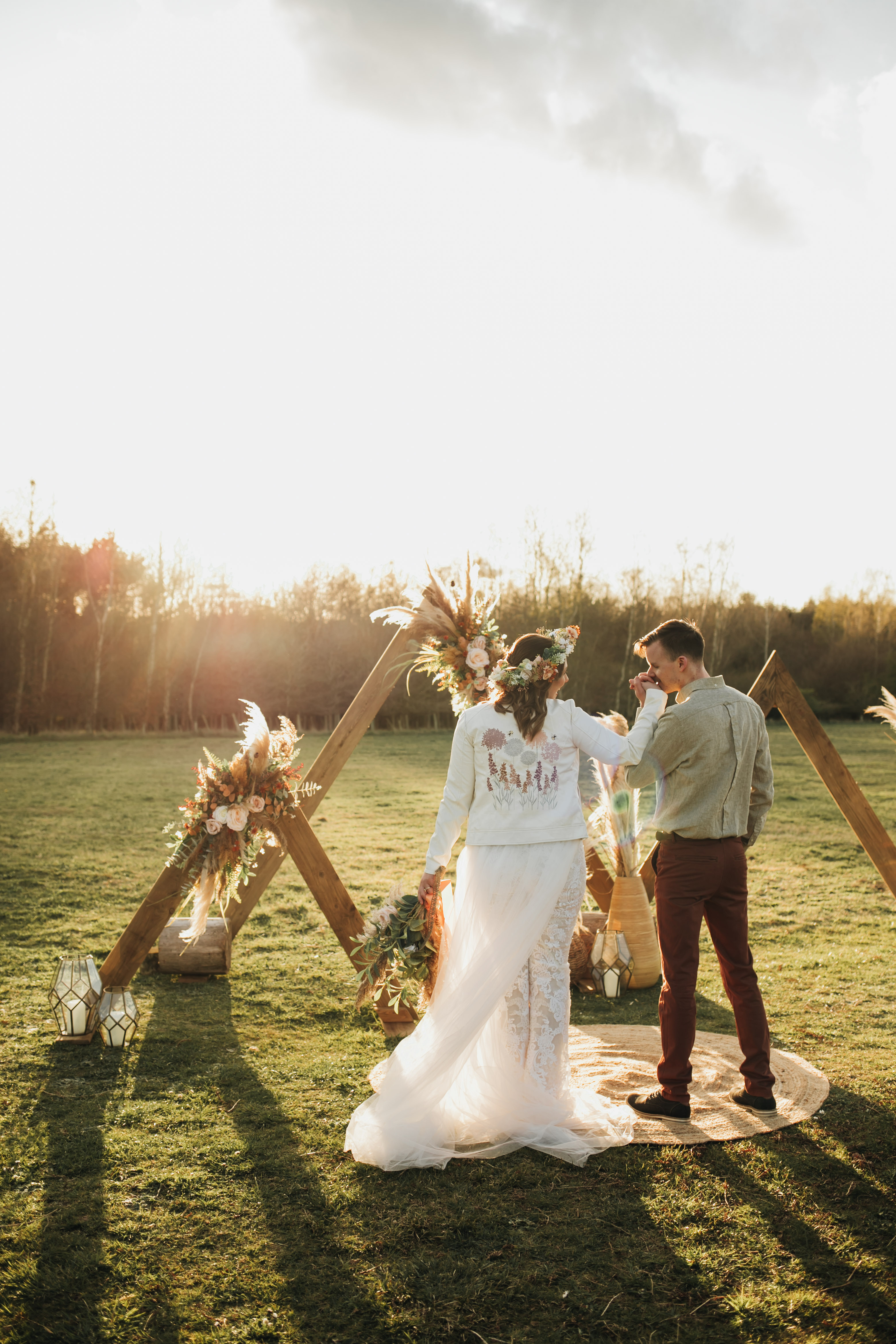 .
.
Boho Wedding Stationery and Signage
Clare Warren Calligraphy has an amazing eye for design and her signs were the perfect addition to the decor for this styled shoot.
Lucy March Design created the beautiful wedding stationery for this shoot, we love the elegant simplicity of the design which has been displayed beautifully on the flatlay below.
.
Elegant White Wedding Cake with Dried Flowers
The beautiful 2-Tier white wedding cake was designed and created by Stacey's Cakey Bakes also based in the Norfolk area. For a bohemian touch, a wedding cake topper made from dried flowers and roses was added.
.
.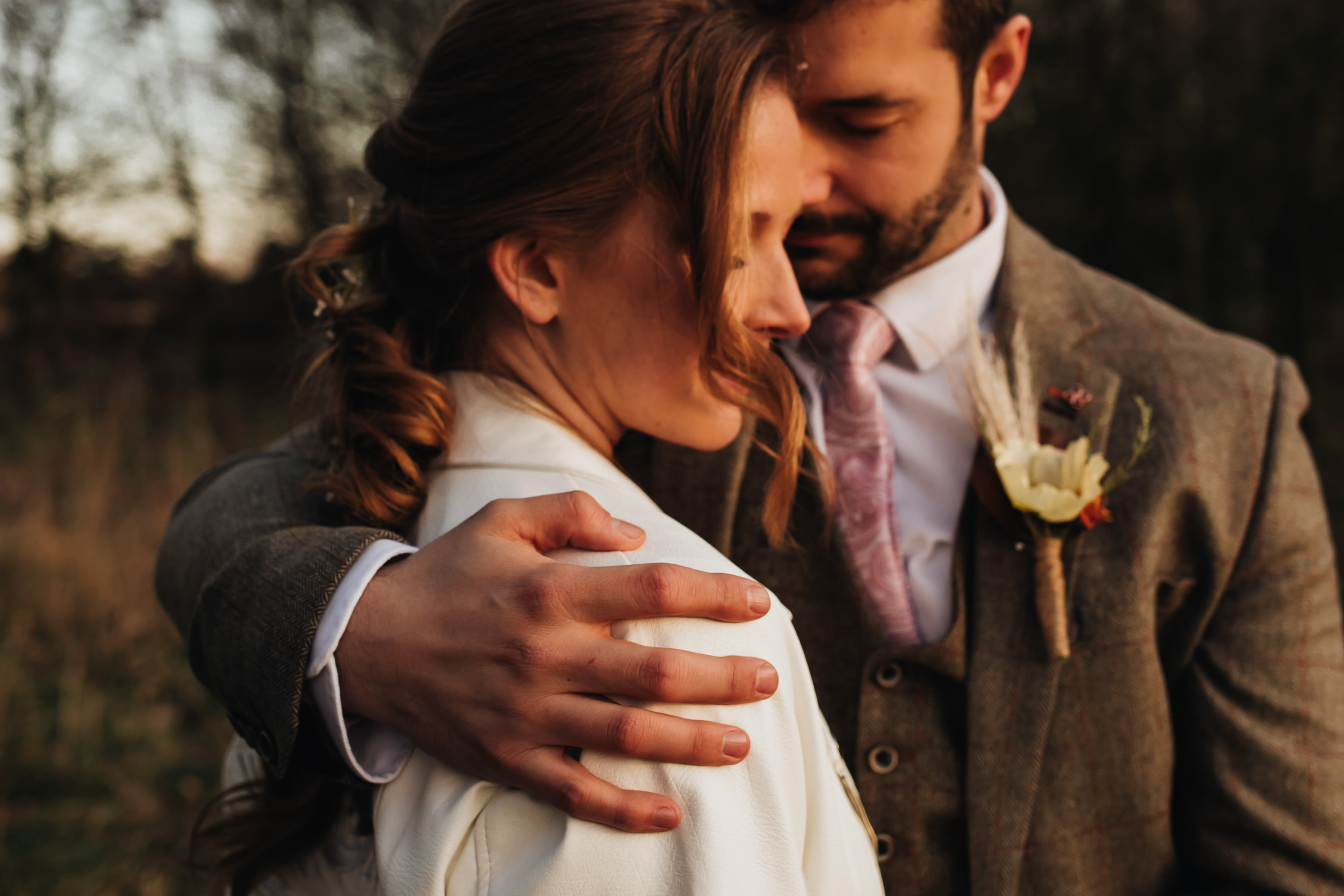 .
Golden Hour Wedding Photography
As the photographer, Julie wanted to showcase what each of these amazing suppliers had to offer! She wanted to offer them photos to use for their websites, and social media. Julie tells us that she has always loved boho style weddings but haven't gotten the opportunity to photograph one yet, so what better way to get that style of portfolio than to plan one herself! So if you are planning your dream outdoor bohemian whimsical wedding, then Julie may just be the photographer you are looking for!
For some more major boho wedding inspiration, check out our latest blog posts where you can find all kinds of inspiration surrounding bohemian weddings from boho insdustrial to romantic tipi decor.
Lot's of love,
Jess
Blogger & Pinterest Manager at The Boho Bride Guide
The Dream Team of Suppliers:
ON 28th June 2022 / BY Jessica Tetstall