Imagine a dreamy outdoor boho tipi wedding set against the backdrop of nature's beauty, where rustic charm meets romantic elegance, well that's exactly what we've got for you on the blog today!
This shoot was a magical collaboration of kindred spirits creating the most beautiful bohemian outdoor wedding, with a woodland ceremony, a stunning lace bohemian wedding dress, dried flowers and natural decor elements.
Concept and styling by the fabulous Urura Moments who have a focus on sustainable and eco conscious weddings without compromising on style or beauty. We know you are going to enjoy viewing this one!
.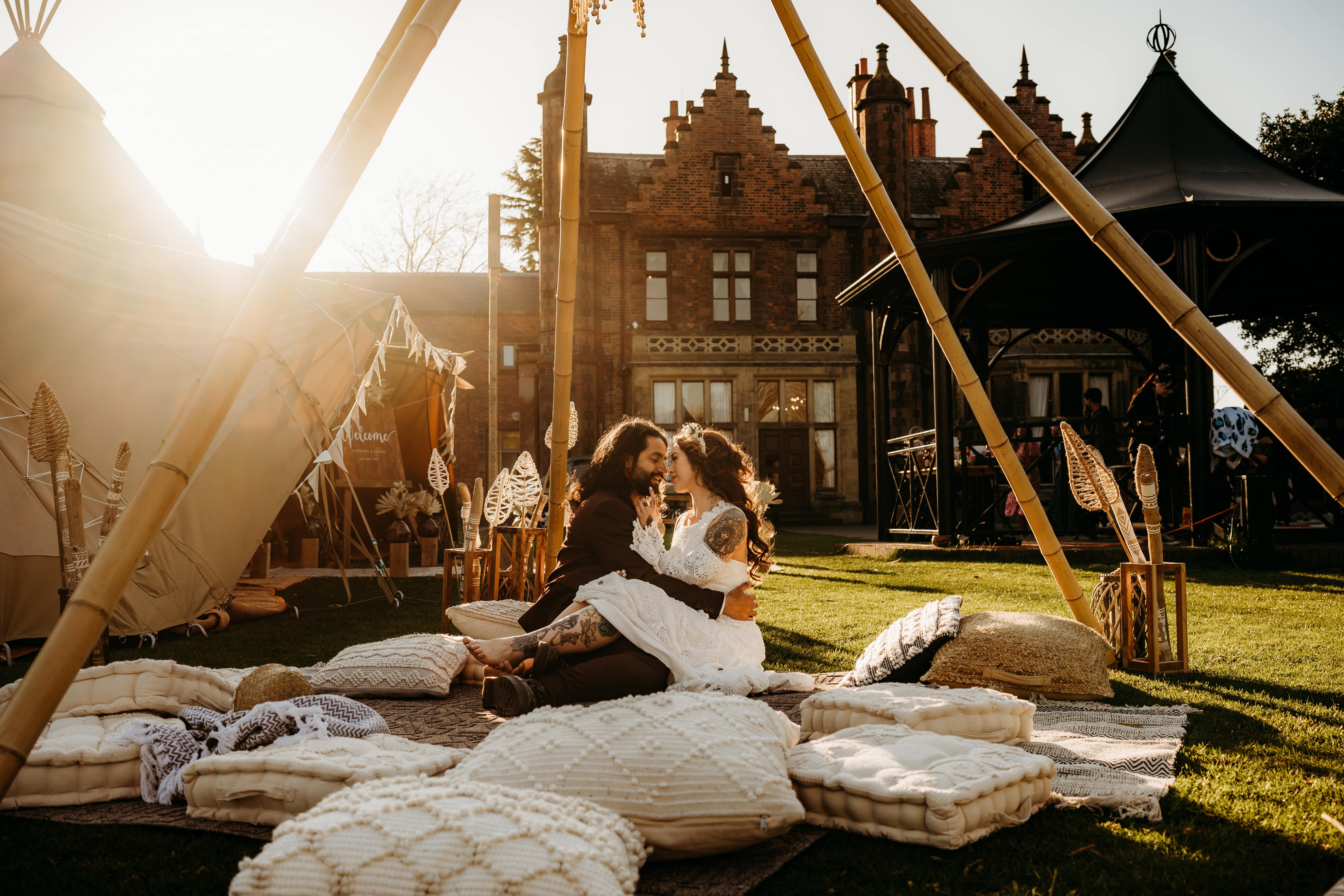 .
The Venue
Walton Hall is an elegant Elizabethan-style building with stunning views overlooking their magnificent estate. From the woodland hideaway to the tipi or the hall itself, they offer a picture-perfect setting for weddings. With award-winning green flag gardens, they offer plenty of choices when it comes to choosing the spot to capture those beautiful memories.
When choosing your wedding venue, we recommend looking for outdoor venues such as barns, meadows, vineyards, or botanical gardens, as these natural surroundings will complement your boho wedding theme beautifully.
.
.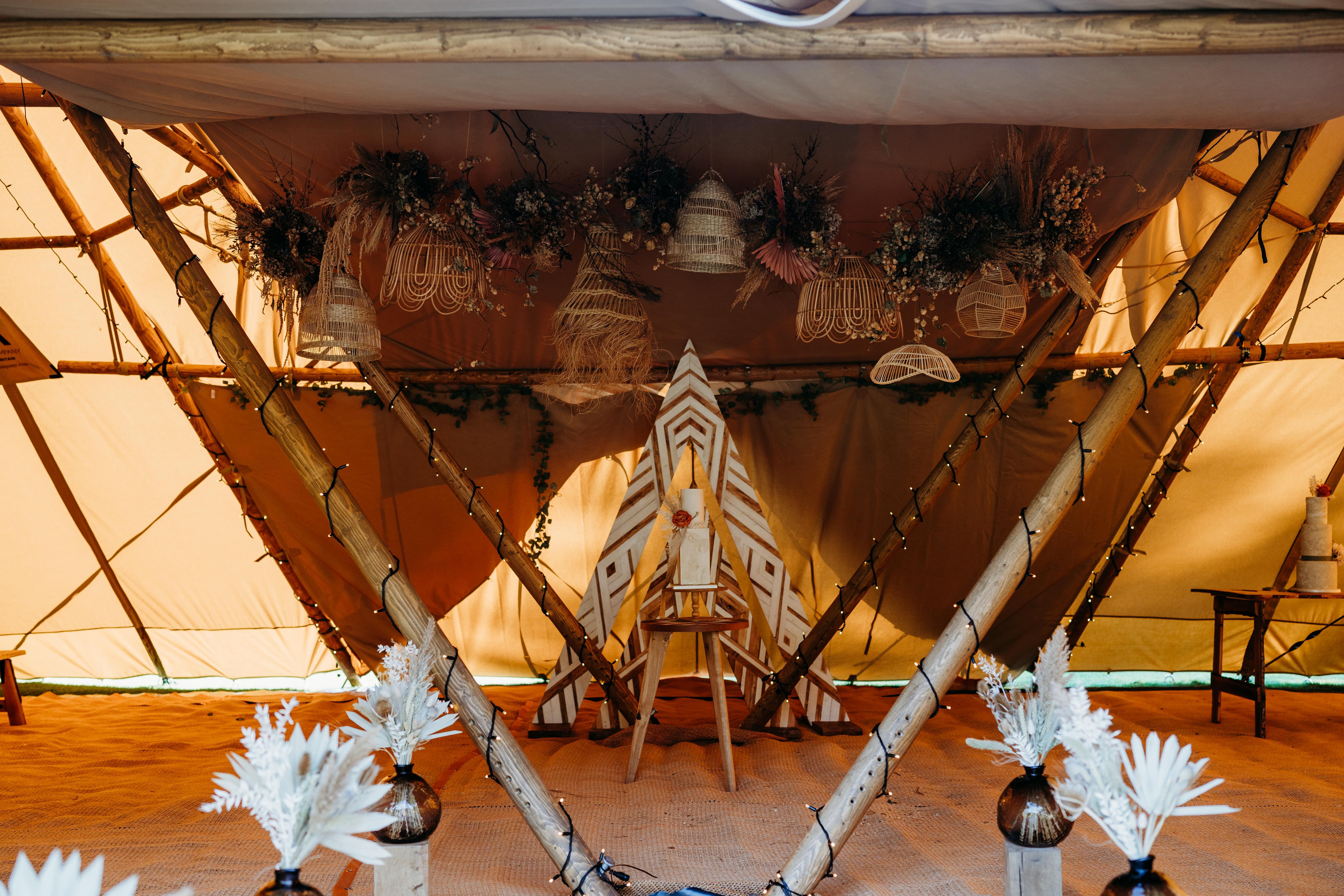 Rustic Decor & Venue Styling
This stunning boho decor from Urura Moments is crafted using natural and reclaimed materials for a stylish rustic look, using reclaimed wood to create one-off pieces, they put sustainability at the heart of what they do, showing couples that it's possible to create something beautiful for your special day, whilst still remaining eco-conscious.
The decor consisted of a unique wedding arch sourced from an early 1800s building that would have otherwise gone to a landfill, handmade wooden vases using reclaimed oak and welcome signs made from old furniture, Urura Moments help to infuse nature into your special occasions making them the perfect choice to style your boho inspired wedding venue.
The beautiful bohemian blooms were created by North and Flower, adding dried flowers, palms and pampas for the ultimate bohemian vibe.
.
.
Boho Wedding Cakes
These simple and elegant boho inspired wedding cakes with dried florals were designed by Lolli & Bean Cakes, and the perfect choice for this bohemian styled shoot.
.
Bohemian Bridal Look
This gorgeous lace flowy boho wedding dress was from The Dressing Room Wigan's new collection Keca Bride, the perfect option for a boho bride. The hair for both bride and groom was beautifully put together by Jen from Wild Flower Hair Company, which perfectly complimented the dried flower crown from Luna and Wild.
The make-up by Sara Aspinall Makeup was flawless, Sara added a subtle smokey eye to add to the boho feel.
.
The yummy buffet style wedding meal was supplied by Feast & Flow Catering, where wholehearted nourishment takes centre stage. Their wedding cuisine strikes a perfect harmony between scrumptious dining, communal pleasure, and nourishing wellness which is the perfect option for a free-spirited bohemian outdoor wedding.
.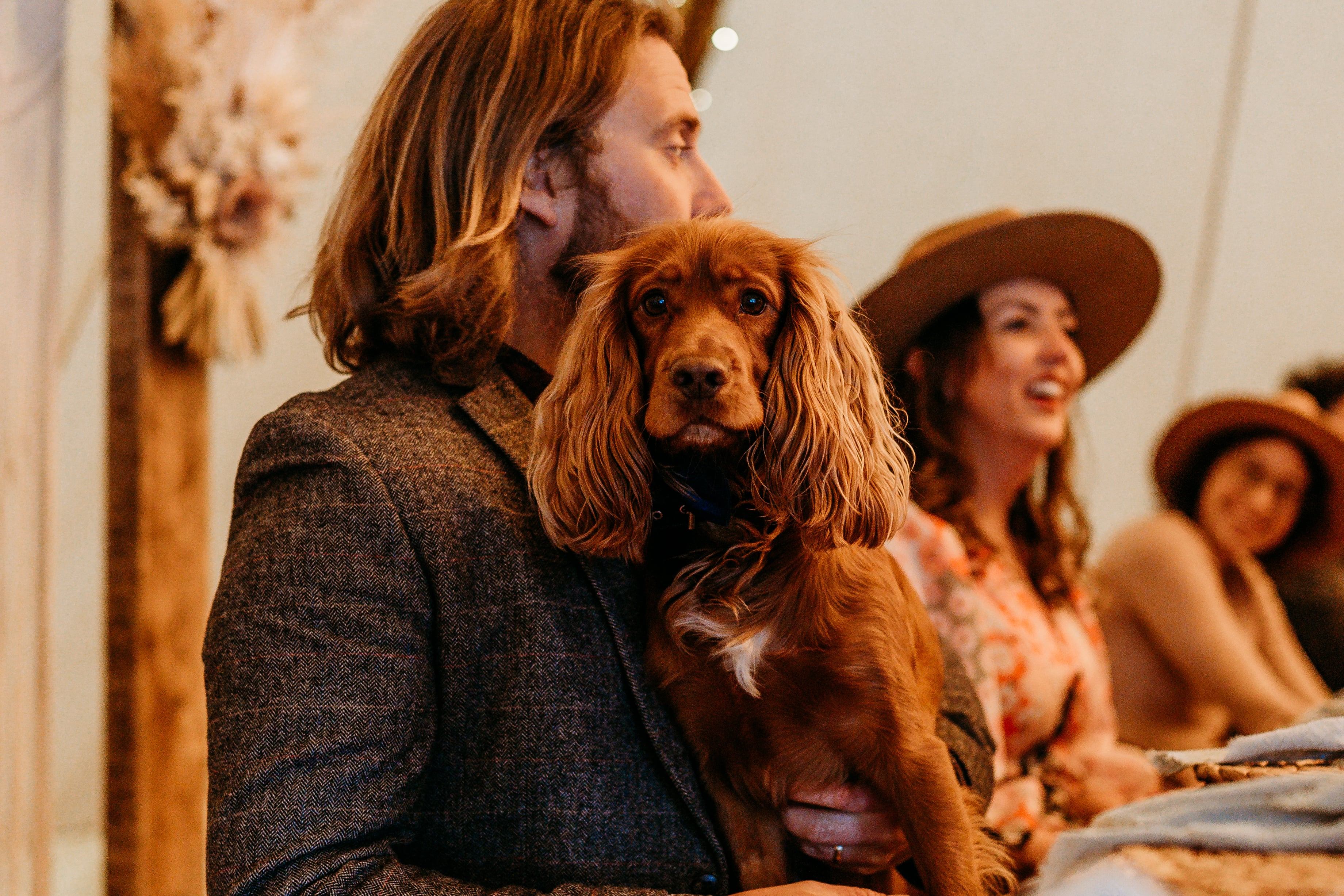 These stunning images were captured by photographers The Taylors Film & Photo and Esther Shea Photography. I think you will agree how they have captured the love, laughter and stunning lighting of this special day will be cherished for all time.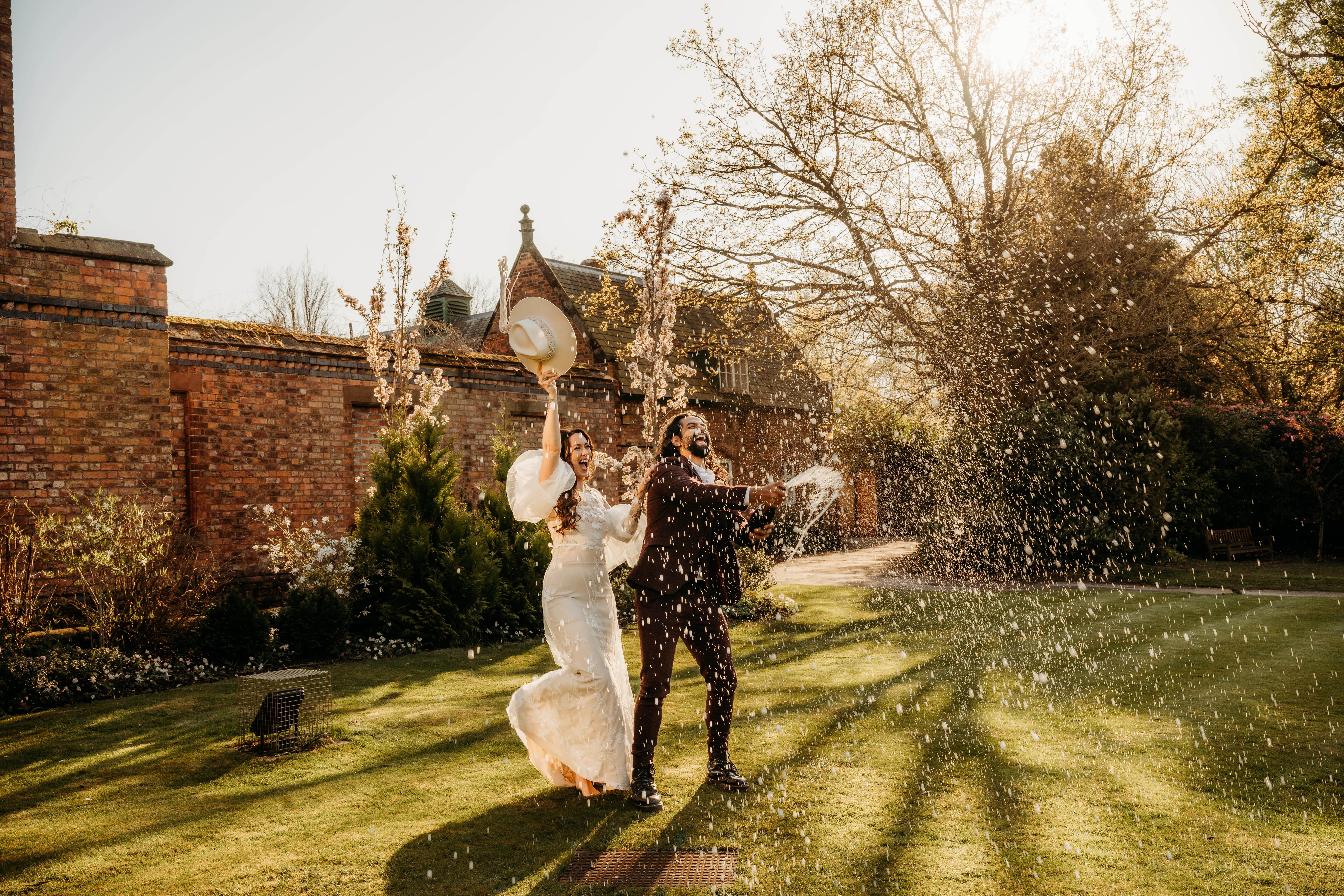 .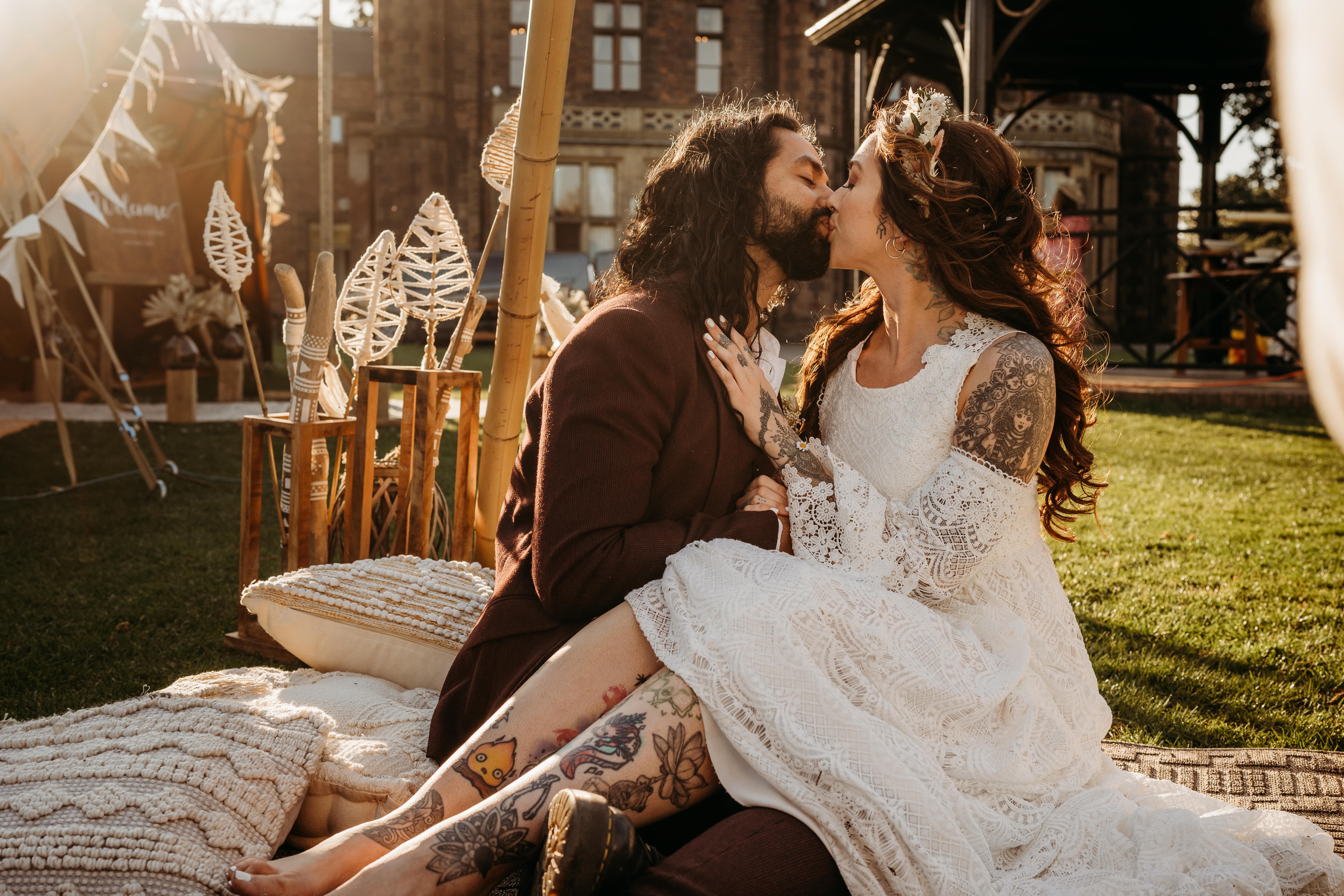 .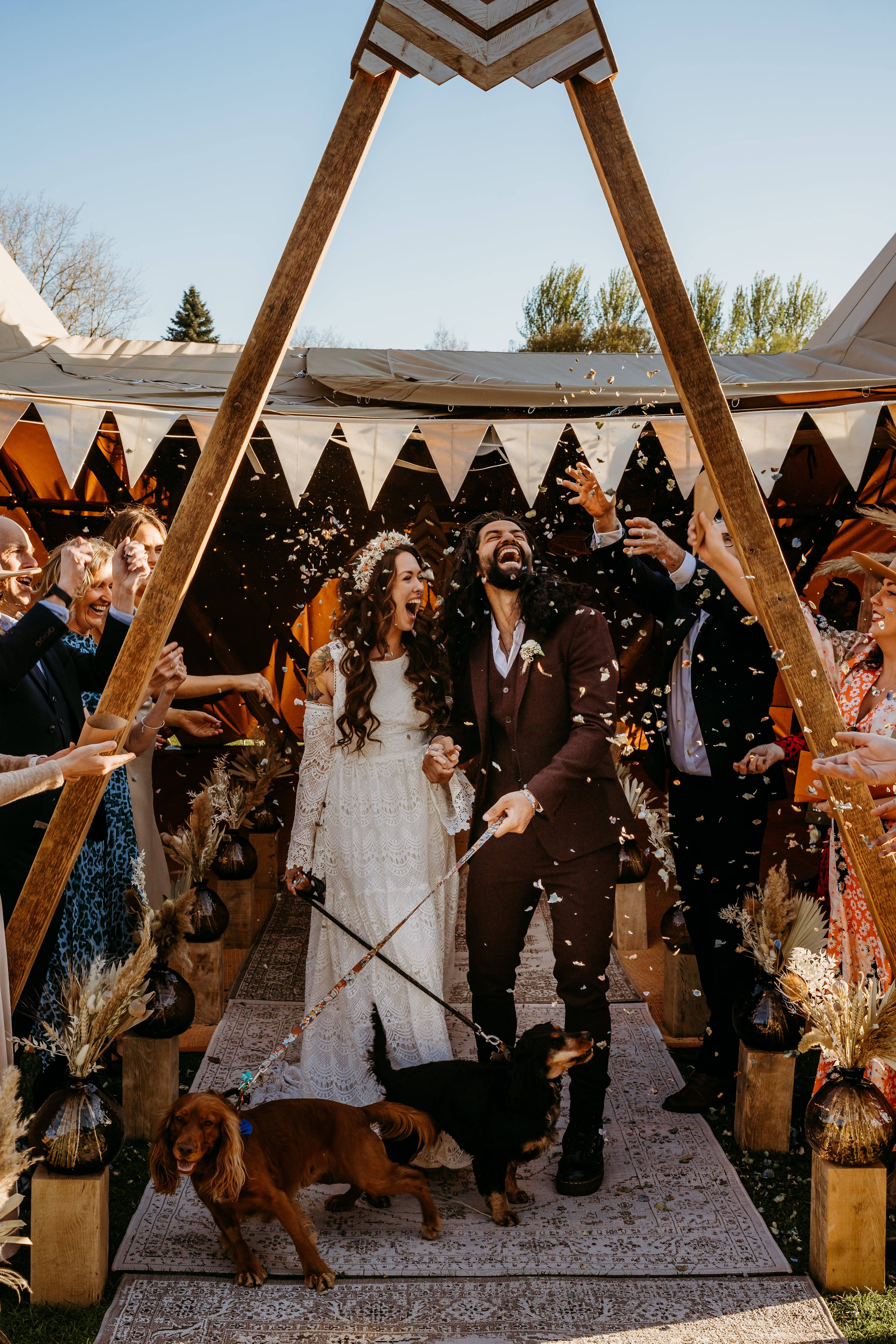 .
We think the key to a magical boho-inspired rustic wedding is to embrace nature's beauty, keep things relaxed, and let your love story shine, whilst keeping things totally unique and indvidual to you as a couple.
Looking for more boho wedding inspo? Then you must check out our other styled shoot blog features here.
Lot's of love,
Jess
Digital Marketing Manager at The Boho Bride Guide
The wedding supplier dream team:
Urura Moments - Concept, Styling & Decor
The Taylors Film & Photo - Photography & Film
Esther Shea Photography - Photography
Walton Hall - Venue
North and Flower - Flowers
Lolli & Bean Cakes - Cake
The Dressing Room Wigan - Wedding Dress
Wild Flower Hair Company - Hairstylist
Luna and Wild - Hair Accessories
Sara Aspinall Makeup - Bridal MUA
Feast & Flow Catering - Catering
Toby and Co Events - Wedding Games
Wild Flower Couple - Bride and Groom
ON 11th September 2023 / BY Jessica Tetstall