If you are looking for summertime wedding day inspiration that includes bright and beautiful, flower filled, festival feels, then this editorial shoot is a must see! Set at the very relaxed and quirky wedding venue, Bennetts Willow Barn, the styled shoot really epitomizes what laid back couples love about weddings at their stunning wedding barn venue, where they are able to transform the celebration space into whatever style they please!
The venue's adorable dog 'Buddy' featured in the shoot too! As they wanted to demonstrate that they welcome all loved ones as guests, including furry family members!
Bright and Colourful Wedding Photography & Videography
Rachel Burt Photography provides bright and colourful photography that really captures the fun of not so traditional wedding celebrations and she did just that with this fun alternative shoot too. Andrew Maguire Weddings created a fabulous wedding film, capturing intimate moments between the couple as well as those fun and memorable moments to enjoy forever. We also loved the classic Fiat 500 'Bambino' chauffered Wedding Car supplied by Fiat 500 Hire that added some real character to the editorial images, so much fun!!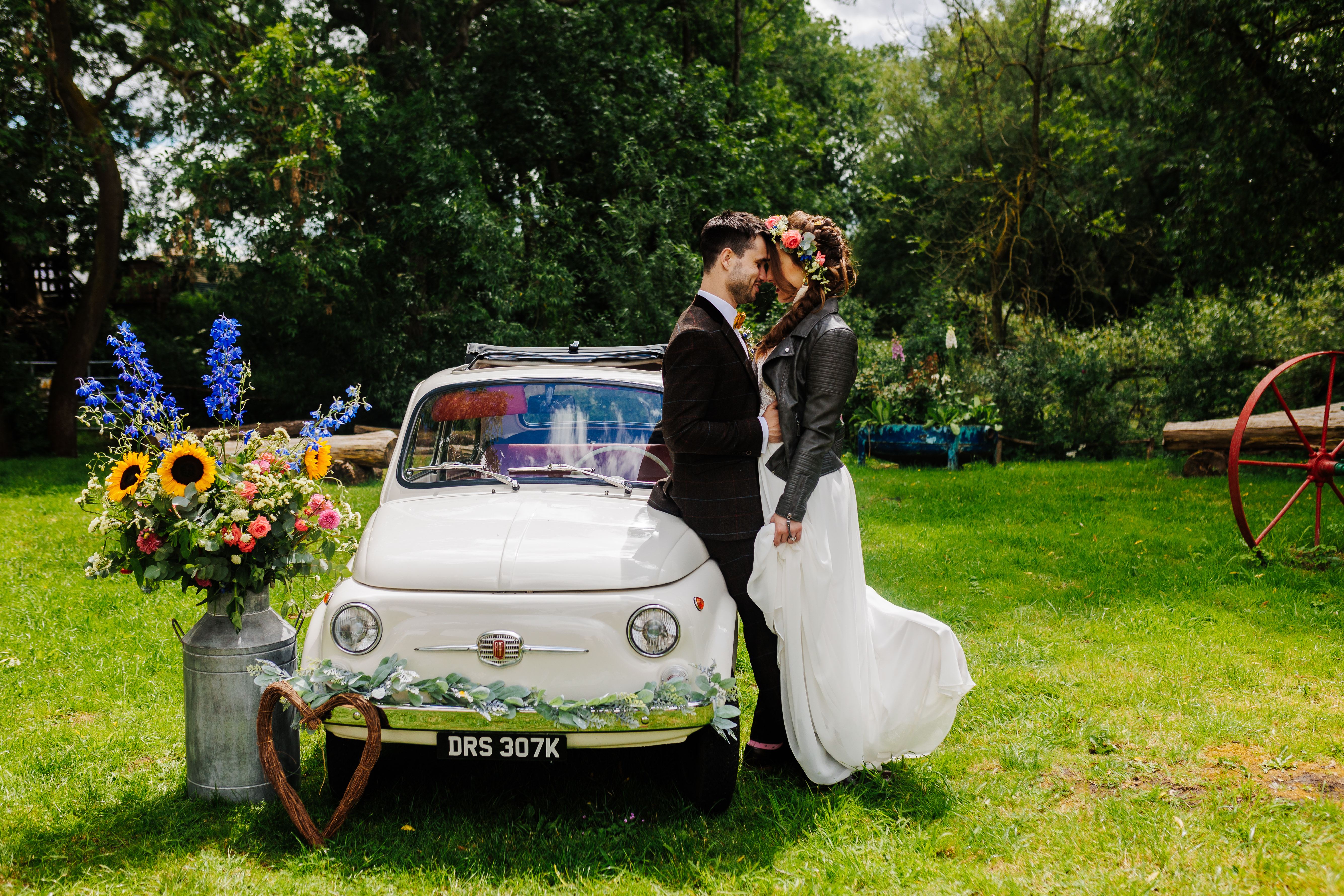 .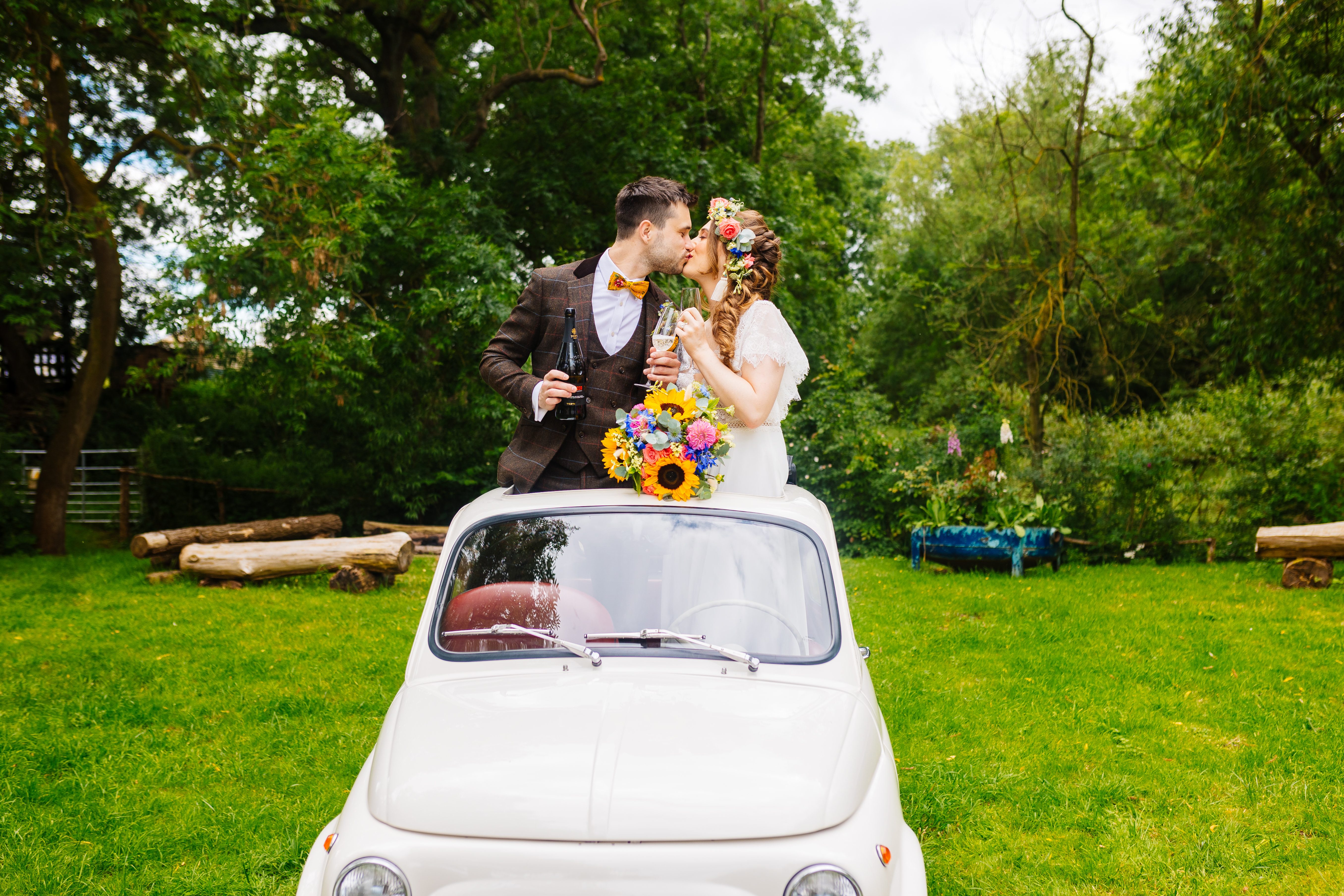 .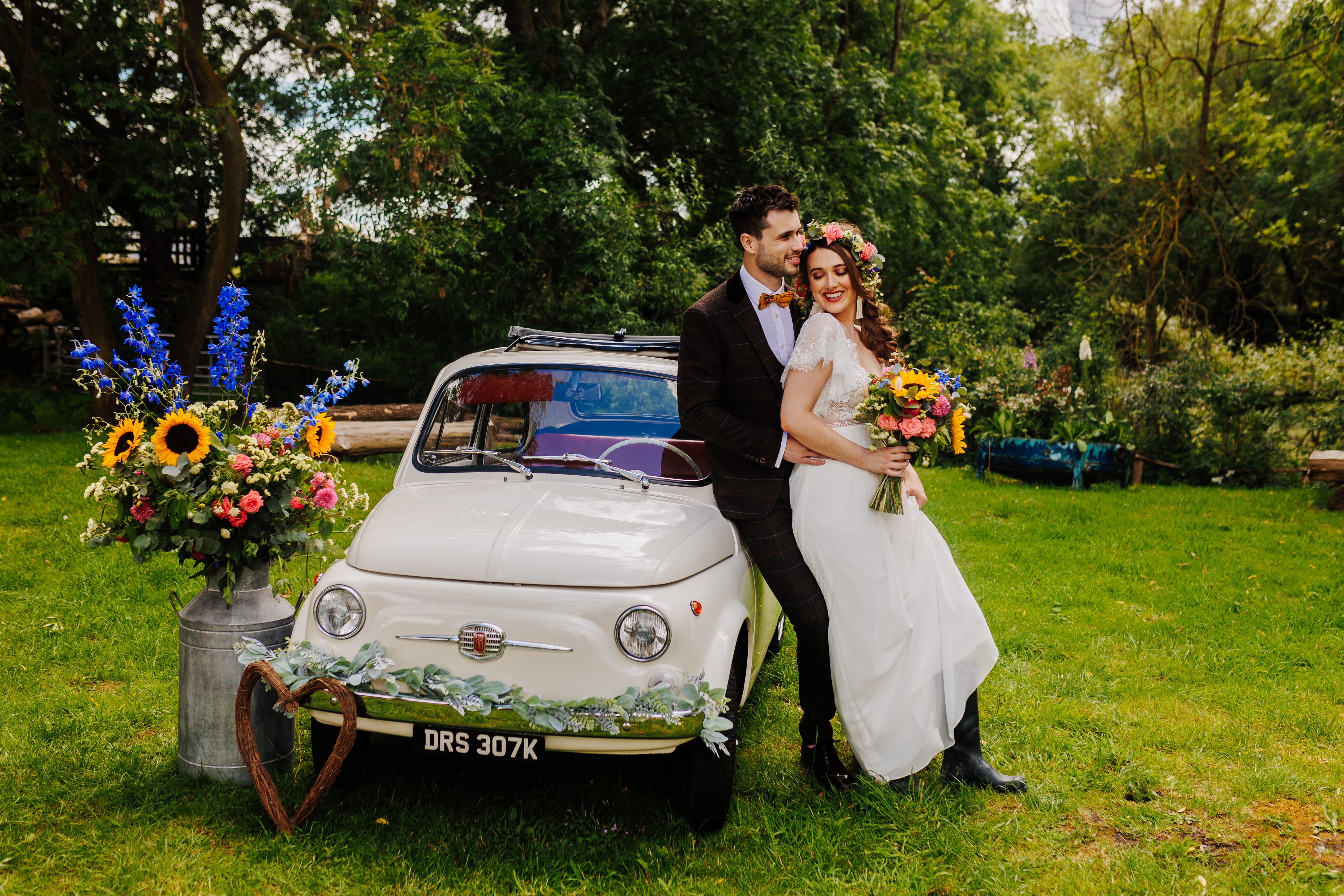 .
Bennetts Willow Barn Wedding Venue
A new outdoor focused wedding venue with a beautiful rustic barn and unique yurt marquee, surrounded by beautiful grounds for guests to enjoy and for couples to create those stunning wedding portraits to look back on for years to come. Based on a working dairy farm on the edge of Worcester, Bennets Willow Barn sits next door Worcester Glamping right next door, perfect venue for a weekend festival wedding.
A beautifully styled outdoor ceremony area was created in the garden outside of the yurt marquee, with portrait photographs taken in front of the venue's feature log walls, vintage tractor and wooded bridge. All stunning backdrops for your wedding pics.
.
.
.
.
.
Vibrant Festival Wedding Decor
The Party Perfectionist took care of all the styling for this colourful and fun festival theme, including the outdoor ceremony and table decor setup. The decor included lots of bright, colourful ribbons and fine detailing down to small glitter balls on the tables and blue glasses to really add something special to make the table styling stand out from a more traditional wedding.
The fabulous chalk boards signs and wedding calligraphy was designed by Rogue Letters and match the rest of the venue decor perfectly.
.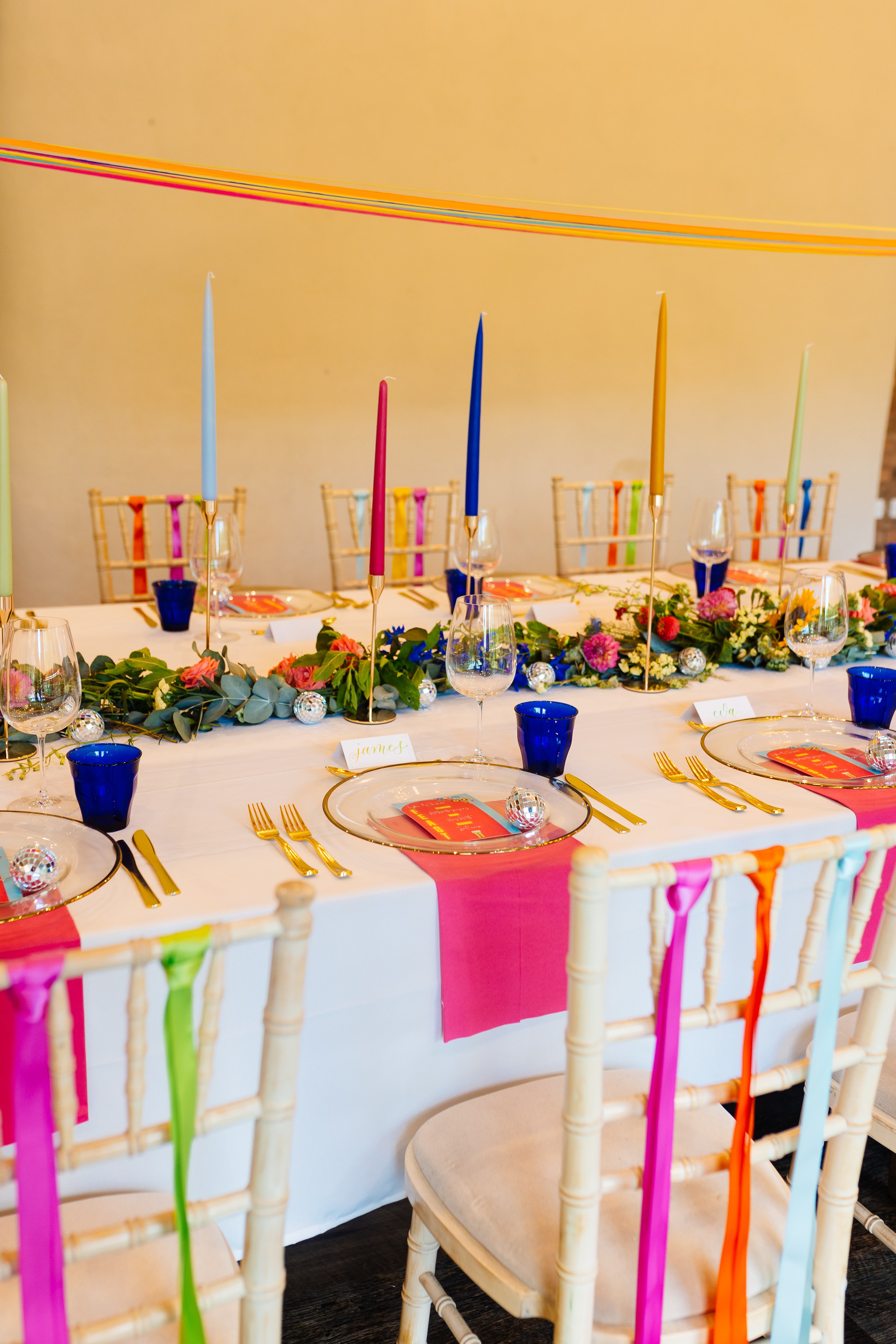 .
.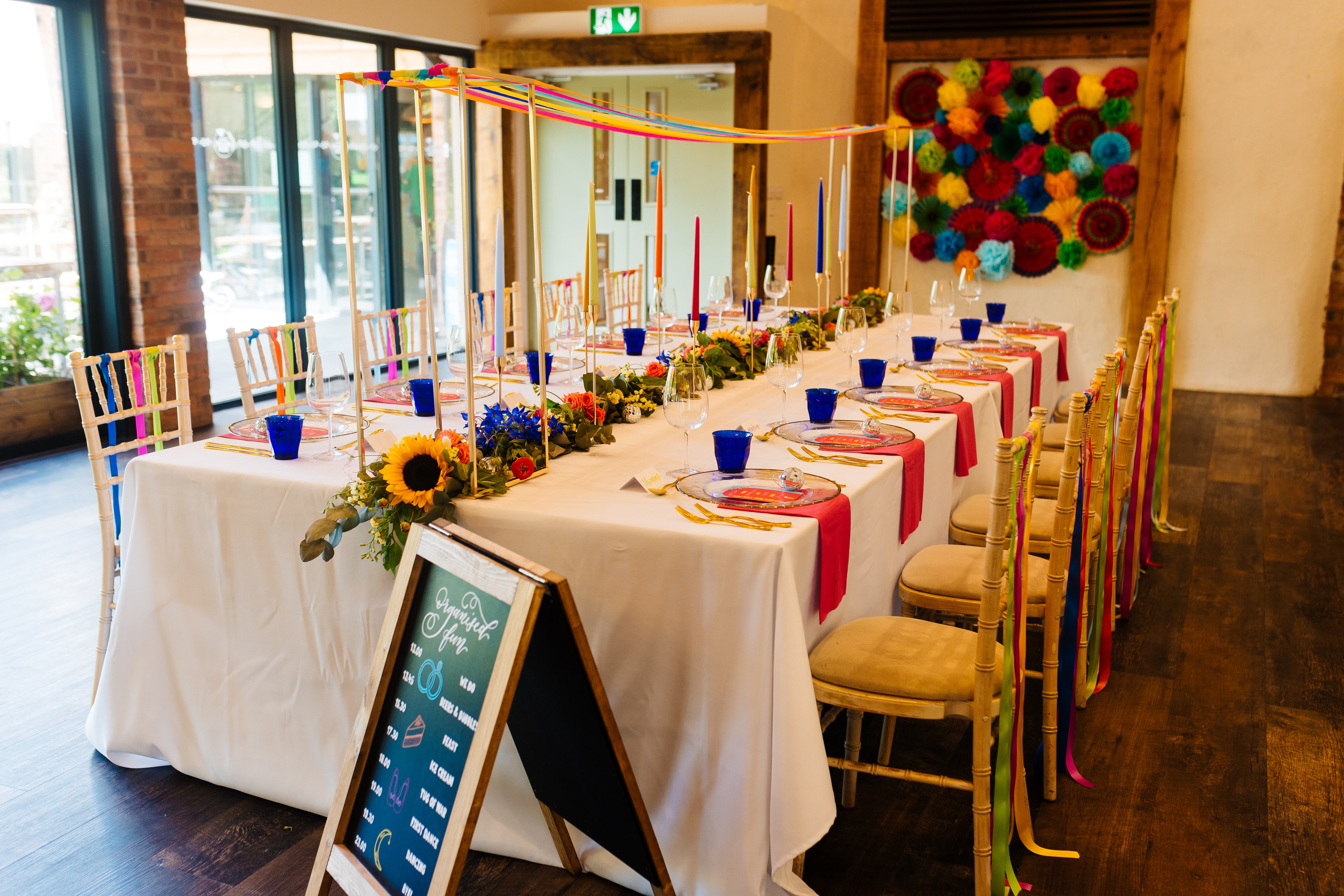 Colourful Wildflower Bouquet and Wedding Flower Arrangements
Our valued approved supplier, Lilia Rose Floral Design, created the stunning colouful wildflower bridal bouquet, flower crown, table flowers and milk churn feature.
Stunning sunflowers, pink dahlias and zinnias with blue delphiniums created a riot of colour in the bride's bouquet, on the tables and in a feature milk churn. The beautiful pink flower crown suited the bride's lace wedding dress perfectly and really captured the free-spirted festival bridal look.
.
.
.
Colourful Buttercream Wedding Cake
This vibrant and colourful wedding cake was created by Crumbs Make Cakes and isn't it just the showstopper! We absolutley love how this demonstrates what an impact a beautiful wedding cake can have on the overall finish of a wedding celebration space, sensational!! Everyone will be talking about this one!
Delicious afternoon tea was produced by the venue, as well as guest ice creams made on the farm using fresh milk from the venue's own herd of pedigree Holstein cows. It was so yum, even the gorgeous pup couldn't resist.
.
.
.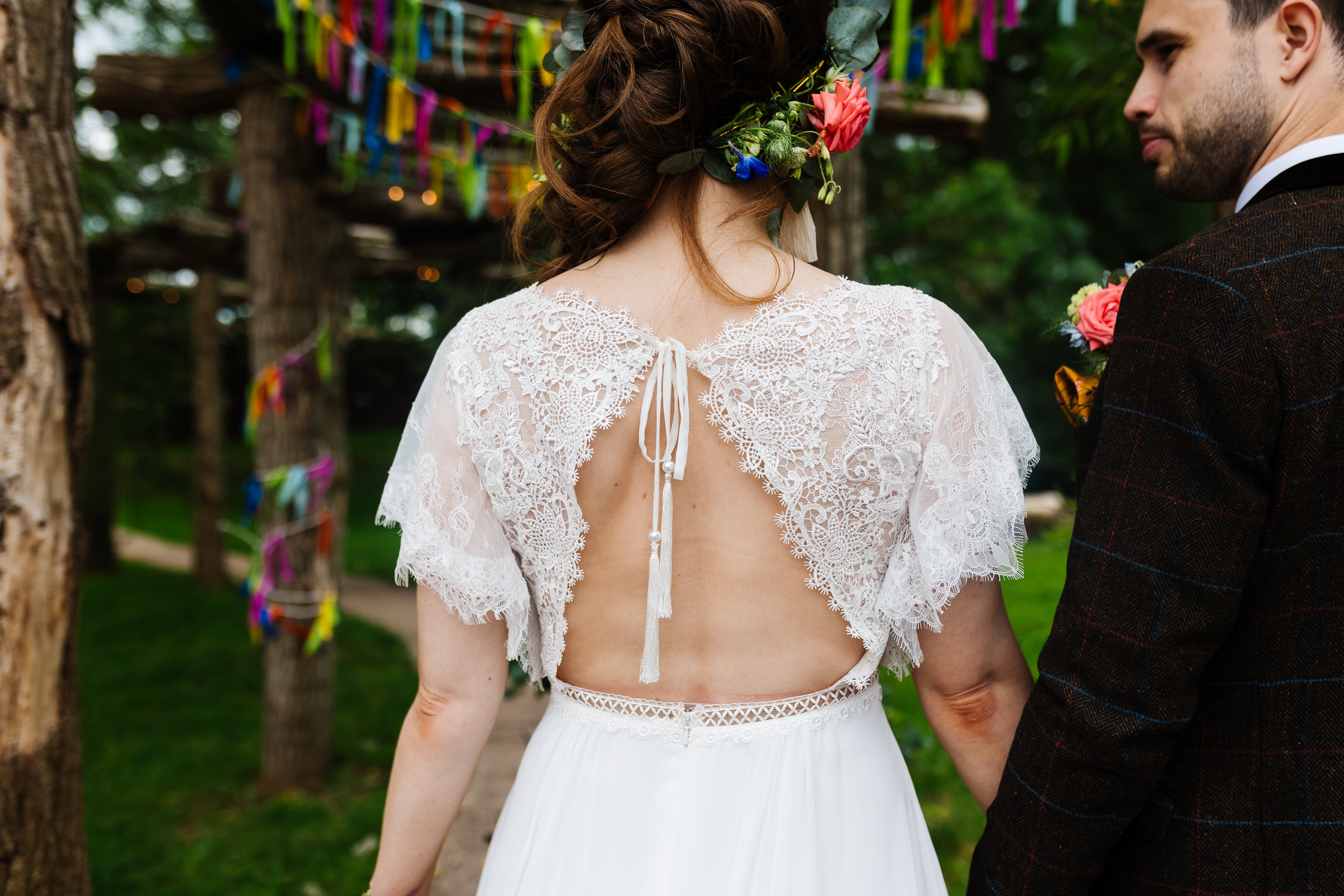 .
.
The Free Spirited Festival Bride Look
The soft and elegant lace that adorned the beautiful wedding dress was supplied by Gatehouse Brides and captured the boho festival bride look perfectly. A hand painted leather jacket with gorgeous detailing was supplied for the evening look by Paper Ink Alchemy, ready for the party to turn up a notch!
The beautiful macrame earrings and bridal accessories were supplied by Lilly Dillys adding more bohemian vibes to the bridal look.
The extravagant, voluminous wedding plait was created by Say Yes Bridal Stylist and accompanied by a flawless makeup look inspired by the pinks and bright colours of the floristry and decor was created by Makeup by Richa K.
.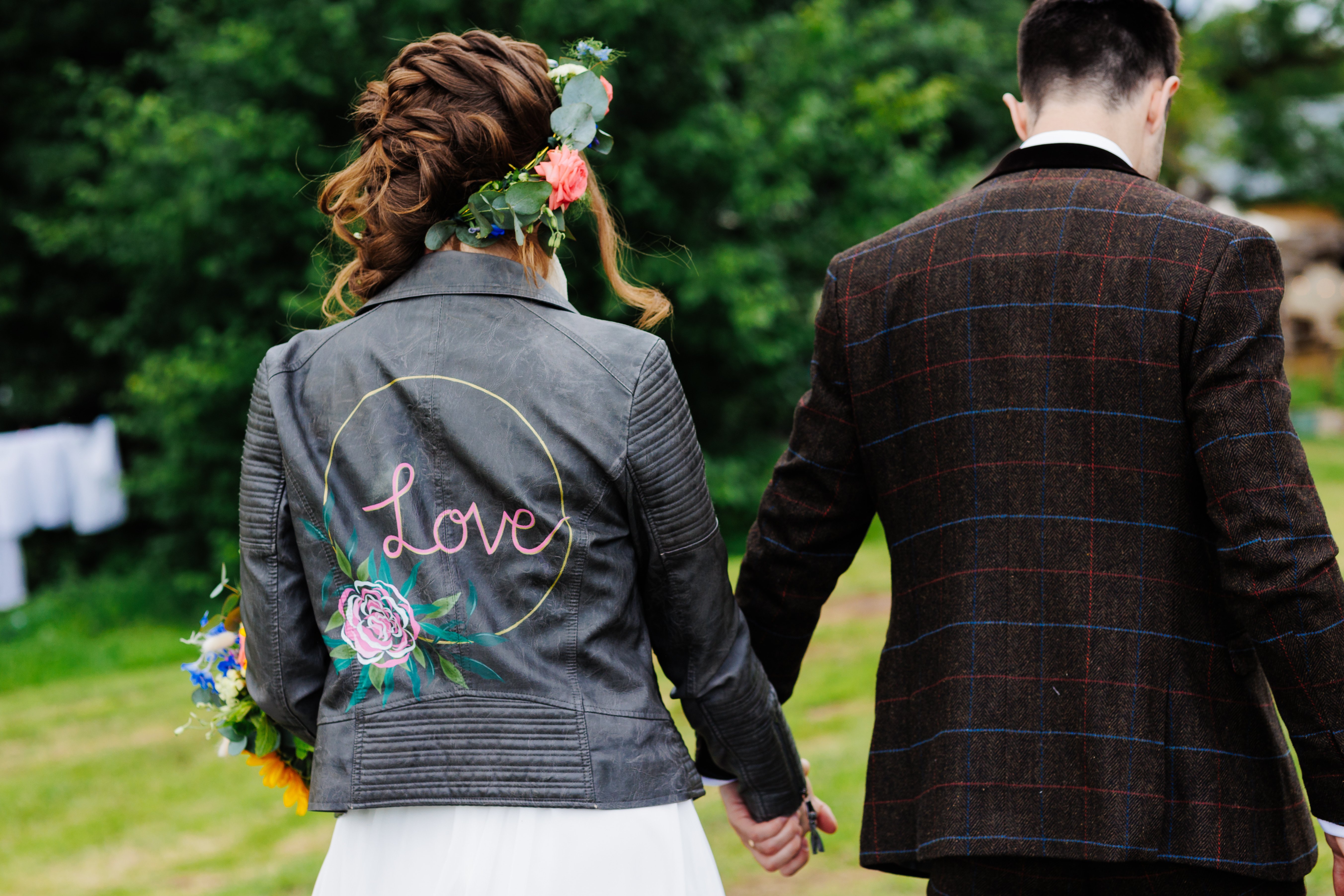 .
.
The Festival Groom Attire
An unique twist on the popular brown tweed suit, was supplied by Carter Esquire. A mustard yellow floral bow tie, pocket handkerchief, cuff links, and fedora were handcrafted by LillyDillys , and accented the bridal sunflower bouquet to add to eye catching colour pop to the groomsmen look. And don't forget the fabulous pink socks and floral collar for Buddy the dog!
.
.
Looking for some more outdoor and alternative wedding inspiration? Check out this Outdoor Whimsical Wedding.
Lot's of Love,
Jess
Resident Blogger at The Boho Bride Guide
The team of wedding suppliers:
Bennets Willow Barn - Barn Venue & Catering
Worcester Glamping - Glamping Accommodation
Andrew Maguire Weddings - Videography
The Party Perfectionist - Stylist
Rachel Burt Photography - Photographer
Lilia Rose Floral Design - Wedding Flowers
Crumbs Make Cakes - Cake
Gatehouse Brides - Bridal Dress
Paper Ink Alchemy - Bridal Jacket
Lilly Dillys - Bridal Jewellery & Accessories
Say Yes Bridal Stylist - Hair
Makeup by Richa K - MUA
Carter Esquire - Groom's Suit and Shoes
Rogue Letters - Stationery & Calligraphy
The Harding Coopers - Models
Classic Fiat 500 - Wedding Car
ON 27th July 2022 / BY Jessica Tetstall
Leave A Comment