Turn down the light and have your boho-luxe wedding at night. Did you know that in the UK you can legally get married any time of the day or night, which means you could, if you wanted to, get married at midnight.
Up until the end of 2012, you could only legally marry between 8am and 6pm. Getting legally married at night is however not a simple affair - You would need to find and book a Registrar who is prepared to conduct your legal ceremony during the hours of 6pm and 8am and you would need to pay the extra 'unsociable hours' fee of about £300 (depending on which area you live in) on top of the fee set for weekdays, weekends and public holidays.
So this is not a budget-friendly option if you would like a legal registrar wedding ceremony at night so what are the alternatives available to you?
I will discuss this in a minute but firstly I bet that getting married at night is something that you hadn't even considered, right? Or even knew it was possible.
Whilst boho-inspired night weddings may be a relatively new thing, they are certainly gaining popularity and in this blog, I'm going to be telling you the reasons why you should get excited to have your wedding in the evening or during a warm night.
So, let's dive in....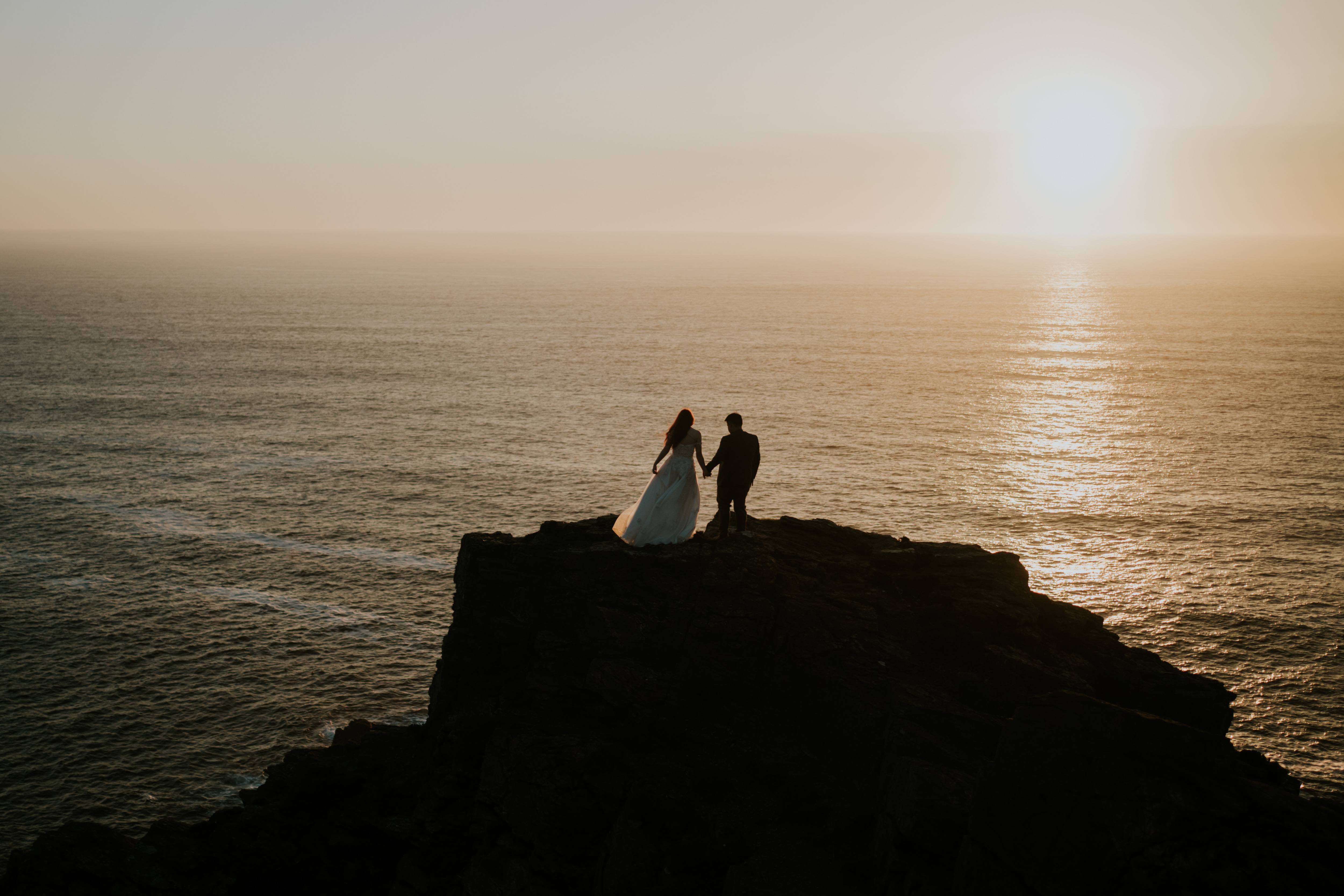 Atmosphere

First, let's talk about the atmosphere an evening wedding can have. Can you imagine how magical it would feel to be walking down a candle or lantern lit aisle in the dewy light of a beautiful sunset. What about saying your vows in a ceremony under a starry moonlit sky.
Nature can provide the most spectacular backdrops for your big day that do not cost the earth. We have been offering sunset weddings and elopements for a few years now in Cornwall. The everchanging weather set against the rugged landscape at sunset has allowed us to capture incredible photographs for our adventurous couples.
Romance
And let's not forget about the romance factor!
Evening Weddings with a boho theme are way more romantic than daytime. When you share your first dance beneath a canopy of stars, it'll be hard to imagine anything more romantic. Just add tons of candles reflecting off your beautiful rustic boho grasses and decor and the romance level will be set at an all-time high.
I couldn't think of a better way to get wed and it's sure to make your wedding truly memorable. Not only can it be a beautifully intimate affair, but a whole new experience that your guests, if you are having any, will not easily forget. No boring ceremonies here!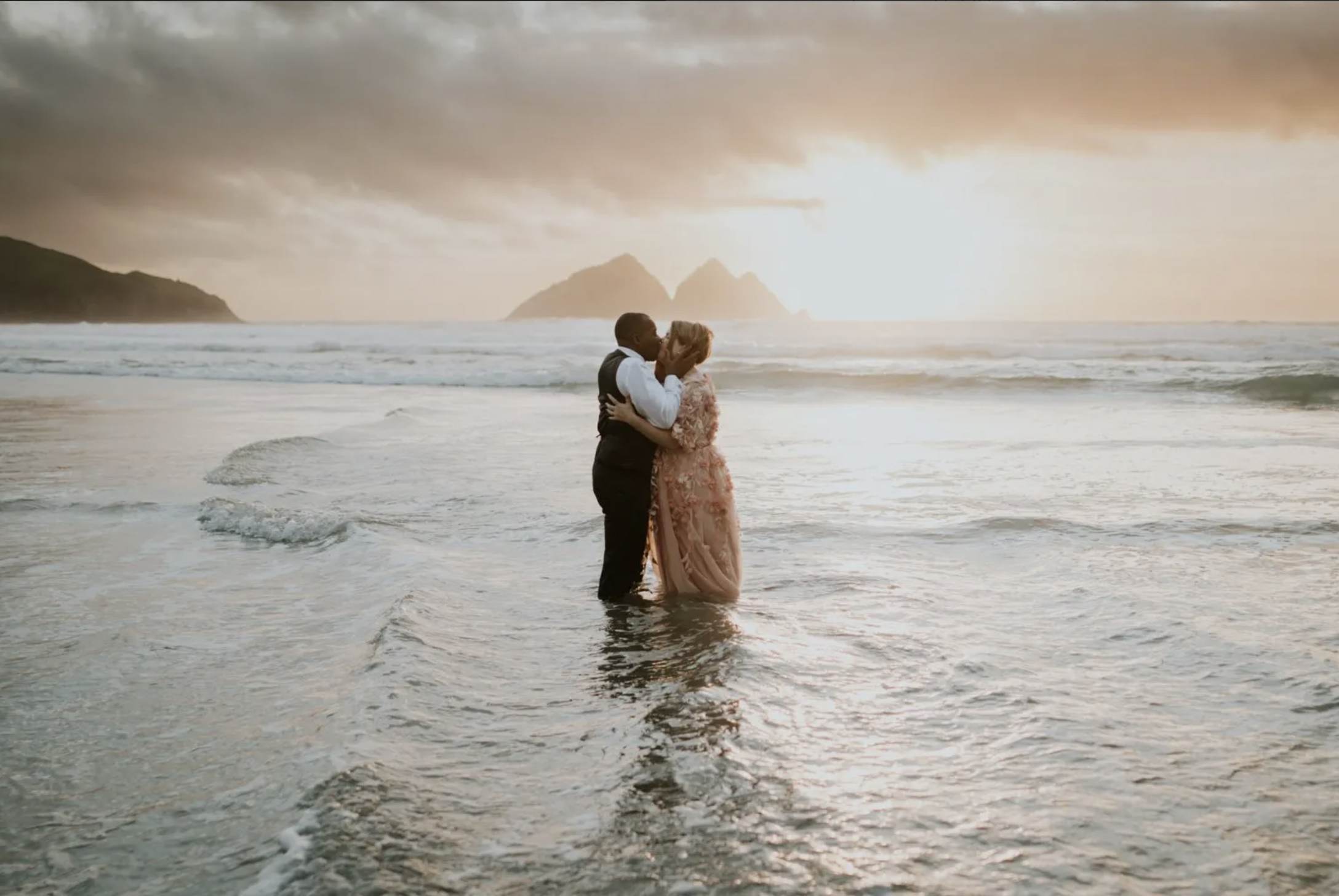 .
Unique Wedding Photos
Let's talk about your wedding photos! Think about how completely magical they will look.
Wedding twilight pictures of couples are a popular choice already, but just imagine how truly stunning all of your images of your whole ceremony would be. There are so many ways you can utilise the low light an evening wedding gives you. Be sure to keep this in mind when you are picking your photographer. Make sure they have previous experience with this sort of thing. These kinds of images possess a completely different feeling to your standard wedding portraits and are perfect for those couples who are looking for something a little different.
My favourite elopement and wedding photographers in Cornwall are Jo and Patrick from Enchanted Brides Photography who are specialist photographers experienced in shooting evening and night weddings. The Boho Bride Guide Supplier Directory also has a list of many wonderful wedding + elopement photographers for you to choose from.
The Golden hour before sunset and the blue hour after sunset are favourites of landscape photographers. The low sun and soft twilight creates a beautiful light for photos and this also works perfect for your wedding portraits. Even in the depth of winter a touch of creative lighting effects can make the darkest winter night come alive with light and love! The beautiful colours of the setting sun will be your background and as the day darkens, the soft lighting will add a magical glow to everything including you, creating romantic, dreamy images.

Great Ambience
It's all about great lighting and no lighting is better than that golden, dusty glow that sets in just before sunset. If you're able to plan your ceremony to take place right around the golden hour, your guests will be in for a real treat as you exchange vows. The time just before sunset is considered the most successful for photographs. The diffused soft light gives photos a beautiful golden glow and visually smoothes your skin - perfect for
photographing you, the happy couple and your guests. It will not be completely dark yet, but at the same time you can already light candles and
turn on the garlands of twinkly lights and lanterns. Their warm light will immediately create a romantic, bohemian and magical atmosphere, emphasising the deep meaning of the special event taking place, your wedding ceremony.
Top Tip - Use lights, lights, and more lights. There are so many ways you can use lighting to beautifully illuminate your indoor or outdoor ceremony and reception space. From fairy lights and festoon lights to curtain lights and net lights, paying a little attention to your lighting can add drama and ambience and is something that can make a huge impact on your wedding day. Lighting can be tailored to suit your celebration to bring extra sparkle to your dancefloors, create a pretty backdrop to your top table, enhance the mood of your event with colour or to subtly light your pathways. The gentle glow that specialist lighting gives in an event space adds warmth and elegance, adding interest and highlighting important
areas.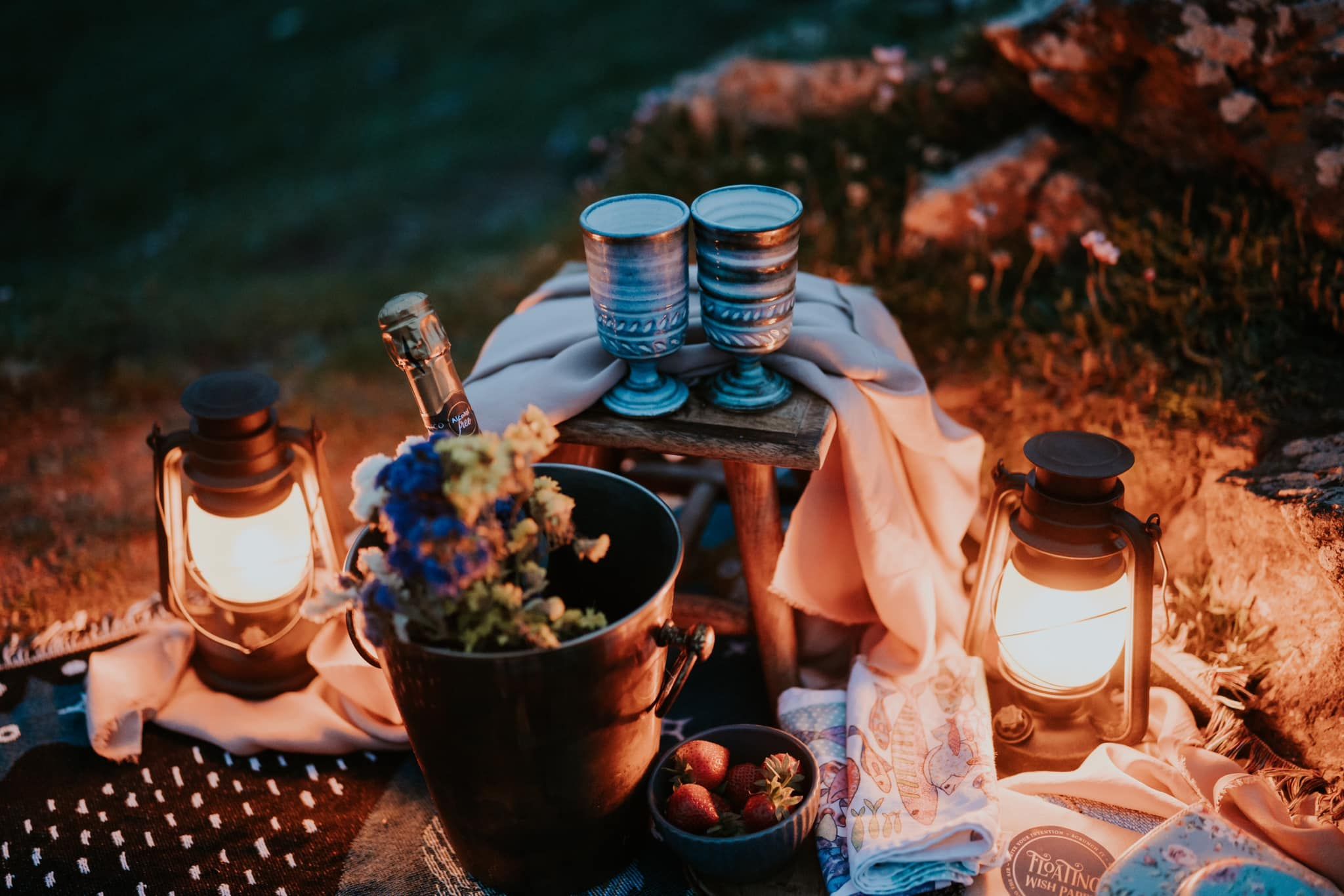 .
Timing
Getting married at night will also mean you have more time to get ready. How amazing is that? You can avoid an early-morning hair and makeup session and instead take things at a relaxed pace, enjoying your day and then have your amazing wedding to look forward to that evening. Win, win!
Not convinced yet? Here are your alternatives and our simple tips to experience your own night time wedding.
Tip 1 - Avoid paying the high cost of having a registrar come to your venue for your legal signing and opt for the no frills signing appointment during the day. It takes about 15 minutes. This alone can save you about £600.
Tip 2 - Find an amazing Celebrant (me) who loves creating unique, unusual and unboring ceremonies and doesn't mind staying up later or getting up at 3am or any other hour for that matter, to give you the ceremony of your dreams outdoors or at your chosen venue.
Tip 3 - Choose the right venue, one that comes alive after dark and one that soft lighting, candlelight and lanterns brings out the beauty of, creating the ambience to set the scene for your romantic, boho-rustic night time wedding ceremony. You can also create a totally wild outdoor ceremony on your favourite beach or beautiful woodland meadow if you don't want to use a venue. Think rustic pole tipi's with fairy lights entwined around the poles, a central twinkling LED candle chandelier, lanterns and a snuggly rug and fluffy textured cushions to sink into after your wedding ceremony. Enjoy your sunset picnic with a few of your favourite loved ones to celebrate with you.
.
Whether you're looking to save money, have a more intimate wedding, or just want to switch things up from the traditional day-time celebration, consider having your wonderful wedding at night. You have nothing to lose and so much more to gain. With all of these reasons to have a night wedding, it's definitely worth considering!
Have you ever attended or been married in a night-time ceremony? If so, what did you like best about it? Let us know in the comments below.
Lots of love,
Jacki
Guest Blogger - Wild Blessing Ceremonies
Photography by the fabulous Jo + Patrick from Enchanted Brides Photography
ON 28th August 2023 / BY Jacki Clement