The creation of your wedding invitations and stationery is often the first chance you have to bring together and show off your chosen style & ethos of your big day with your loved ones. Let your guests know how you wish to celebrate your love for one another as well as our planet, by choosing beautifully designed eco-friendly wedding invitaions or save-the-dates.
Here are 5 super talented wedding stationery designers across the UK that have a focus on reducing their impact on the environment through the work they produce and business ethos. Within this blog, we aim to provide you with tips and inspiration to help you make conscious decisions when it comes to choosing your wedding stationery, without compromising on beauty and style!
To learn more about planning an eco-friendly wedding, read this post on 7 Simple Wedding Day Swaps to Help Heal our Planet.
1 - Lucy March Studio: Boho Minimalist Wedding Stationery
Lucy March Studio specialises in boho and minimalist wedding stationery. Lucy, the owner of Lucy March Studio, runs her business from her home studio based in the North Wales/Chester area.
Since getting married herself and struggling to find the right style of items she was looking for at a reasonable price, Lucy dived head first into designing and offering luxurious style boho minimalist wedding stationery without the massive price tag. She designs, prints and crafts everything in the studio by hand, providing her with complete control over the printing, cutting, packaging and posting, ensuring she can strive to be as eco conscious as possible in all areas and choosing the right materials.
Lucy also works with trusted eco-friendly local printers for large signage items and uses a large refillable ink tank printer herself, meaning they last a long time and she doesn't waste printer cartridges.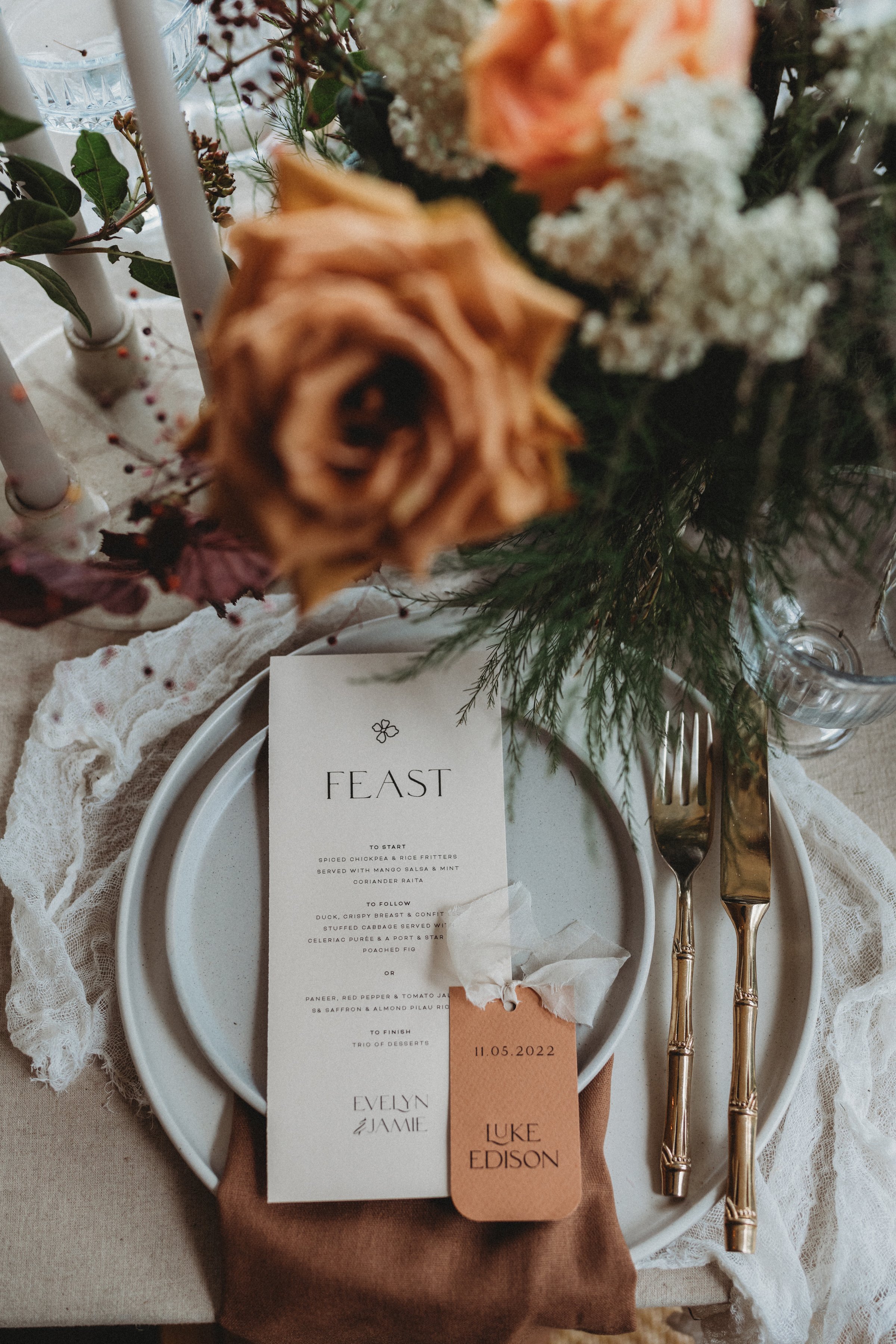 .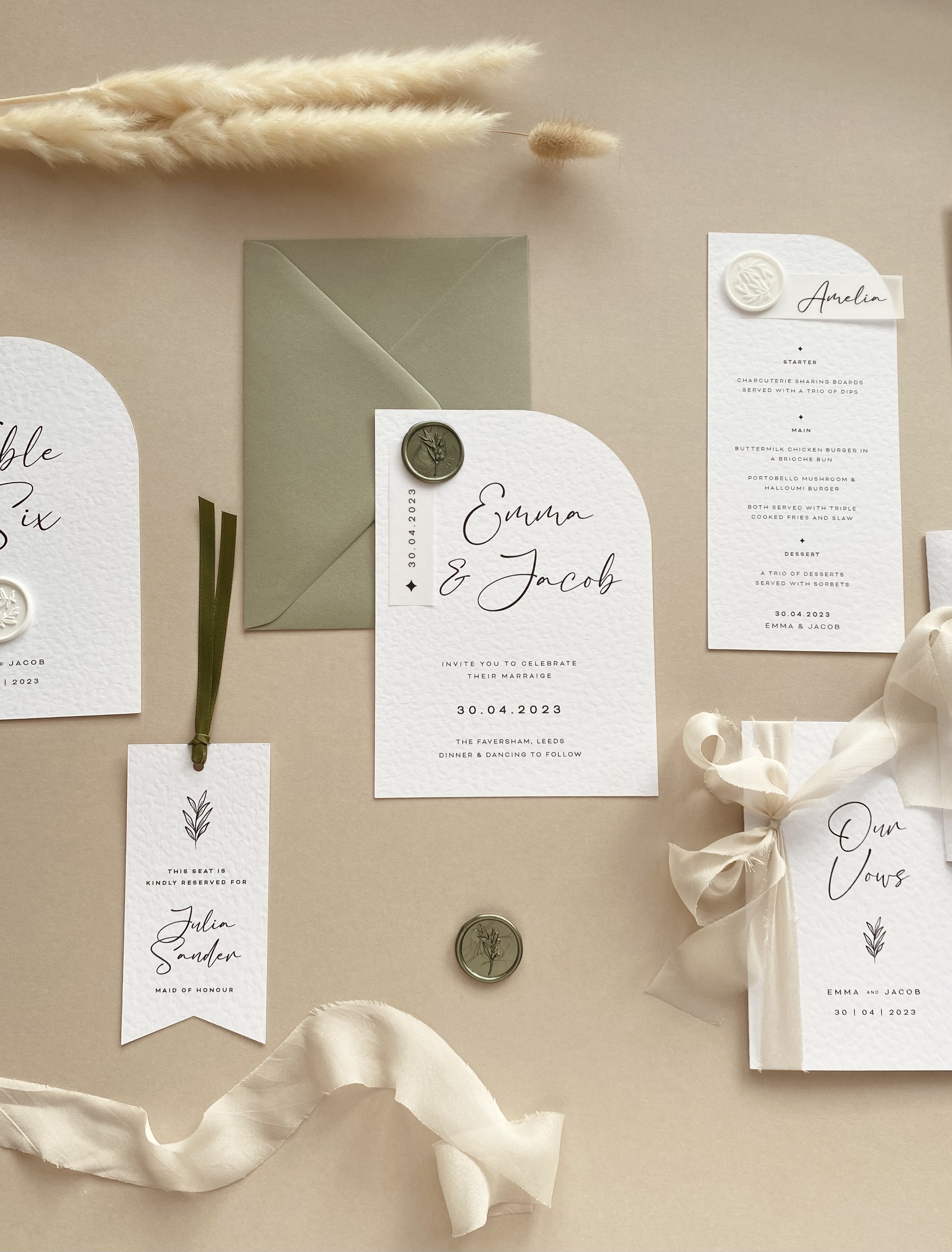 .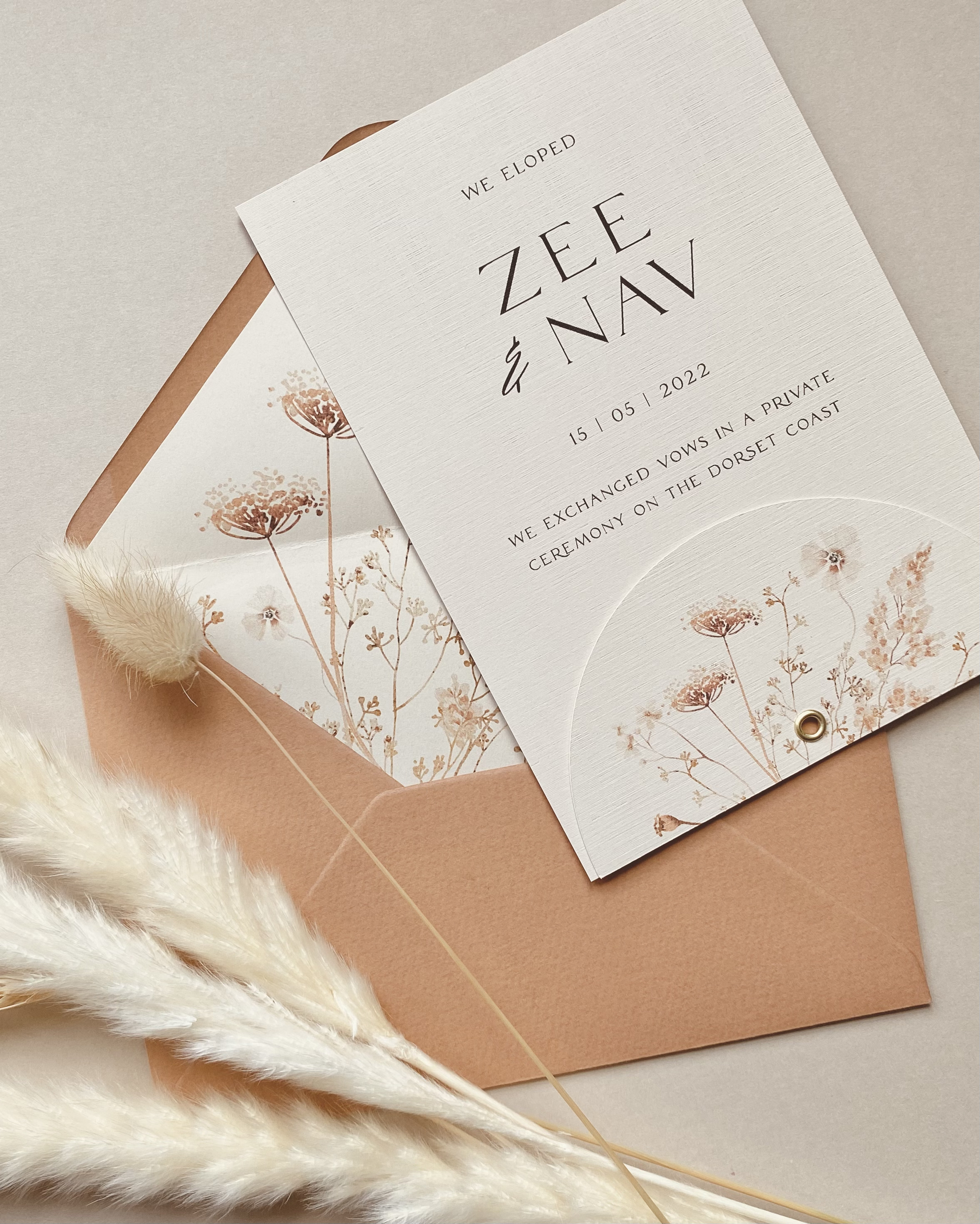 Wedding Stationery Designers Top Tips
Lucy March Studio aims to be as eco-conscious as possible. All of the postal packaging is paper based, from packing paper to cardboard boxes, tissue paper and kraft tape. All of the paper stock they use for the stationery products is FSC certified. FSC certification guarantees that wood, paper and card products come from well-managed and sustainable forests. Lucy also makes sure she recycles everything she possibly can from her studio and all of her paper scraps get recycled - even the tiny little hole punches that seem are permanently scattered across her studio floor!
Lucy's advice to couples looking to reduce their wedding days impact on our earth is to bring eco conscious ideas to their wedding invites, you could have your guests RSVP on a website, meaning that you can reduce the impact of everyone needing to send back individual RSVP cards by post. One thing to note is that older guests could possibly find this a little tricky, so you may need to tailor this idea based on your guests and how tech savvy they are! For on the day stationery, you may choose to incorporate your place names into your wedding menus, creating a lovely keepsake for each of your guests. One of Lucy's favourite items to produce are wedding place name tags which sit in potted plant wedding favours. It means you can combine your place names with your wedding favours, and your guest gets a lovely potted plant to take home!
.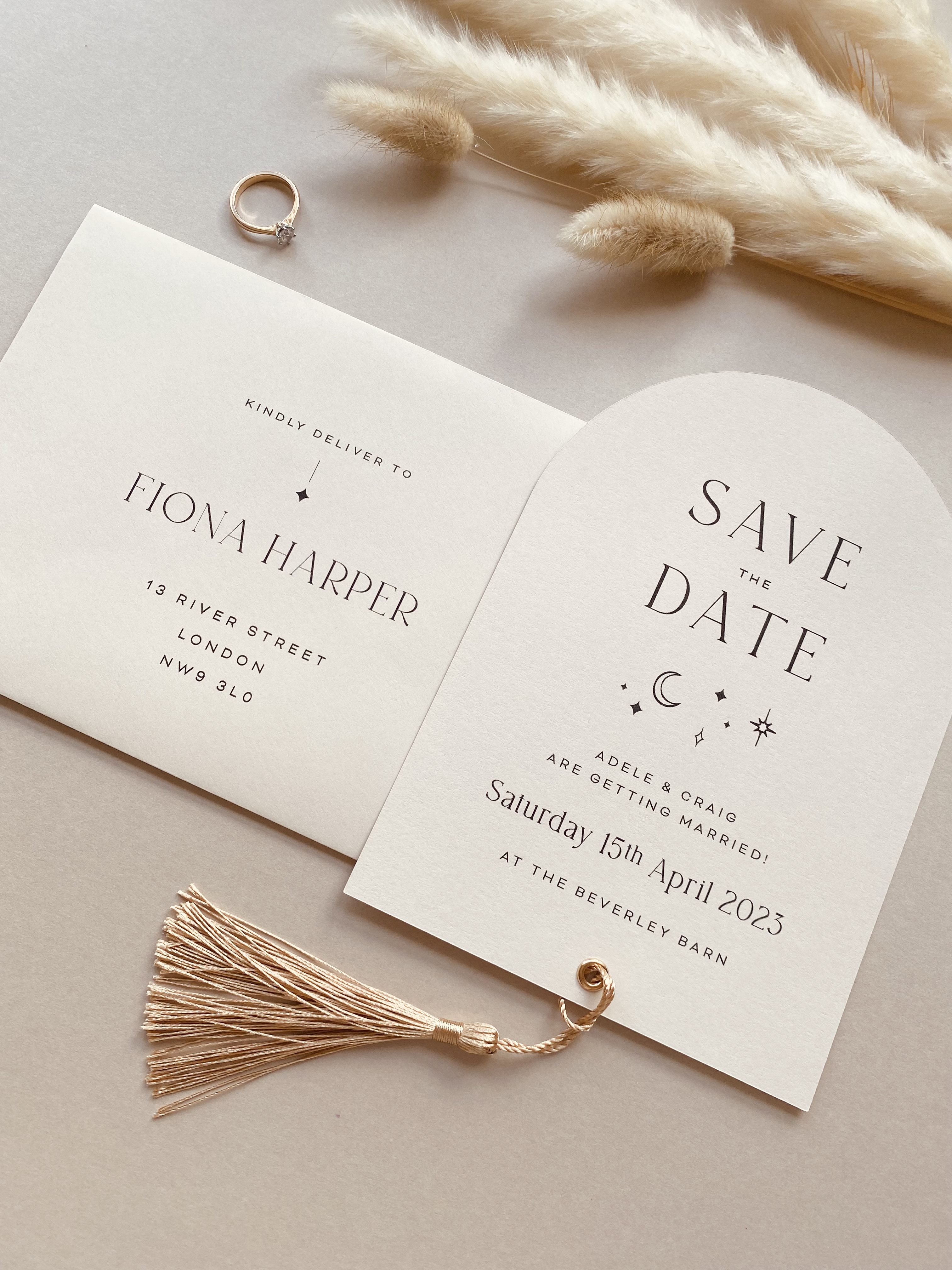 .
2 - Sisterly Stationery: Subtle and Simplistic Modern Boho Stationery
Sisterly Stationery specialise in creating eco-conscious modern boho wedding stationery and signage. As sisters they have a unique bond and share the same creative eye – Sisterly Stationery was formed out of a desire to create subtle modern stationery which was both distinct in its design and high quality, yet affordable and sustainable. Their collection of modern wedding stationery features thoughtful designs that articulate their affinity with art and graphics. With a design-led approach, each collection is carefully curated to offer a subtle, simplistic style which is designed to resonate with the bride. Sisterly Stationery focus on creating well thought out stationery and choose our materials very carefully in consideration of the environment.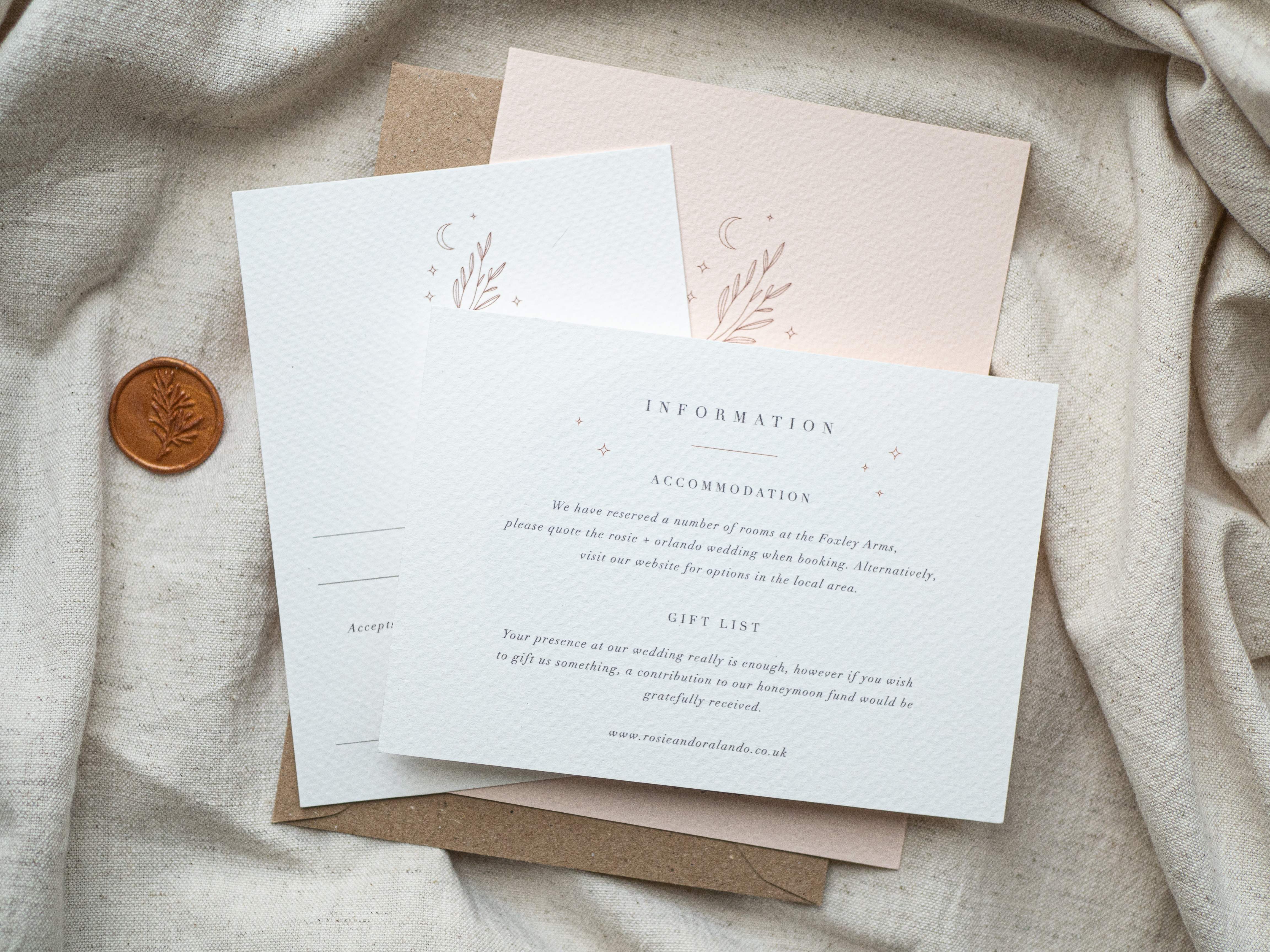 .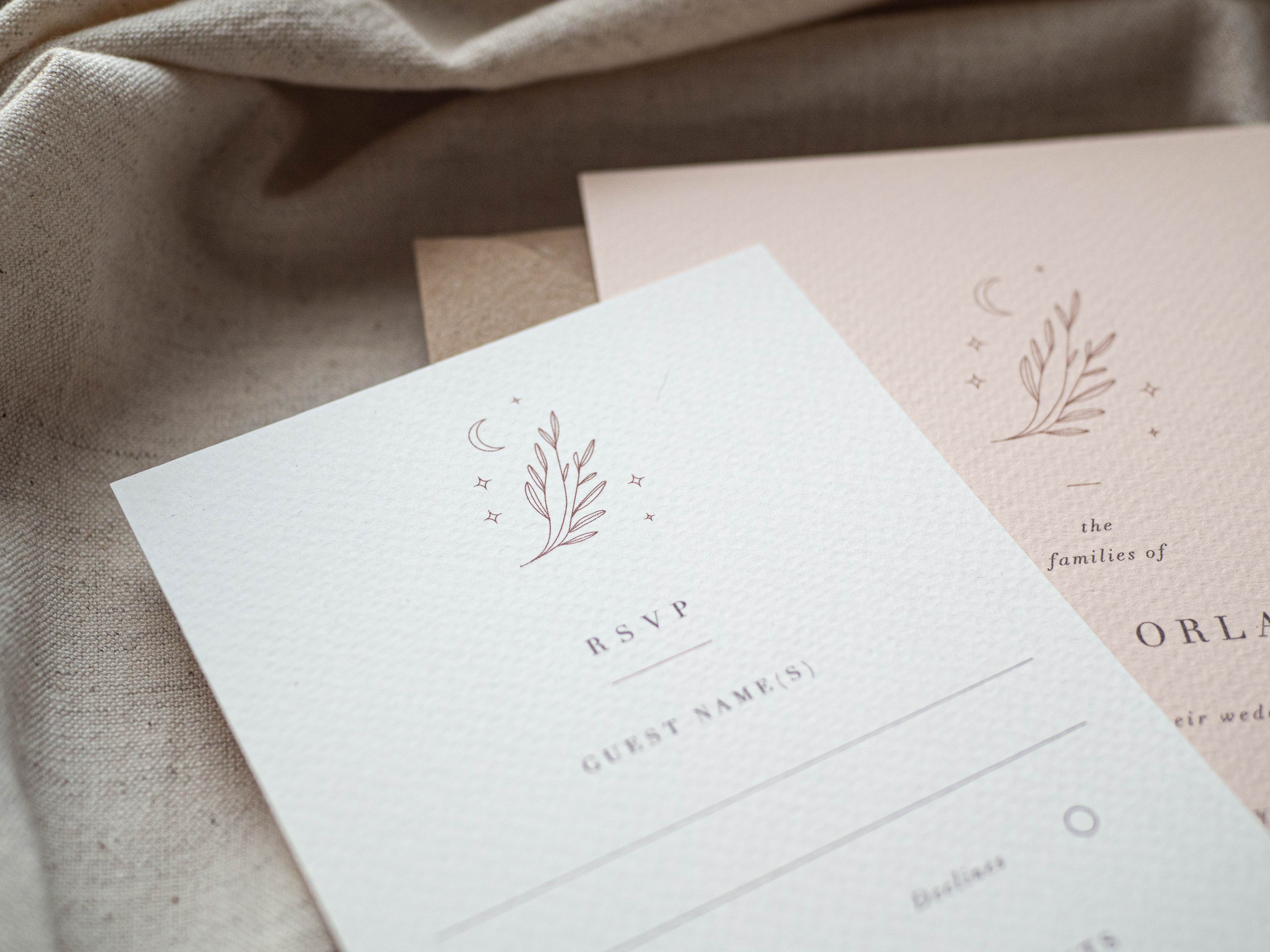 .
All of the stationery at Sisterly Stationery is professionally printed using trusted local suppliers, using FSC certified high-quality card and plant-based inks. They also try to design their stationery with minimal additional elements such as wax seals or items that cannot be recycled. Keeping things simplistic, and really trying to keep the designs as the central focus, whilst experimenting with different shapes and eco-friendly card types.
.
Wedding Stationery Designers Top Tips
Sisterly Stationery advise clients to check what materials and practices your supplier is using and their impact on the environment. Also, try to consider all elements that make up your invitation suites and wedding day stationery and really think about what is important in order to try to avoid additional adornments that may not be able to be re-used or recycled. You can often achieve the style you are looking for with minimal elements if they are very carefully curated.
.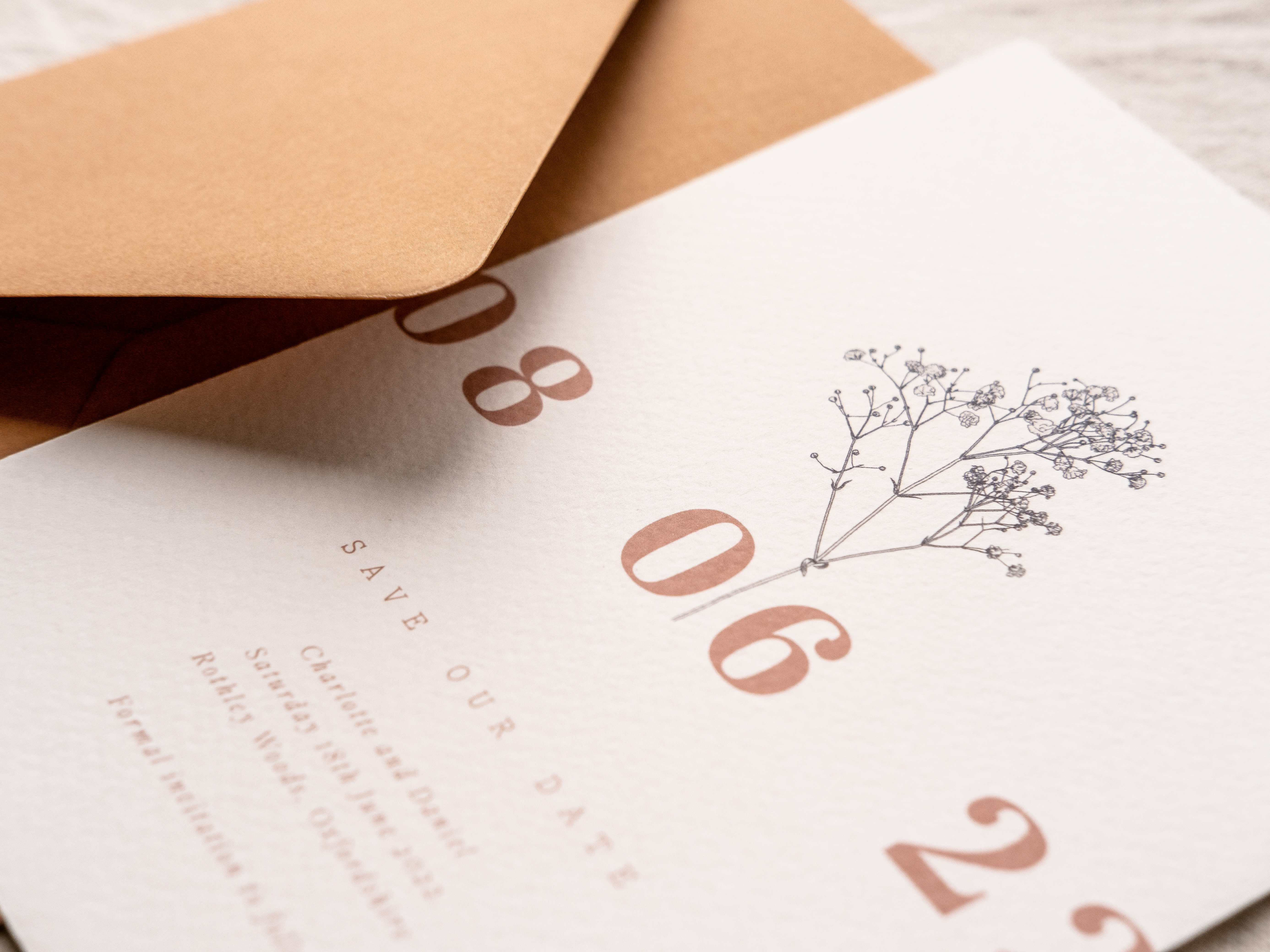 3 - Laura Likes: Sustainable Wedding Stationery inspired by Nature
Laura Likes specialises in creating sustainable wedding stationery that is inspired by nature. Laura creates beautiful floral designs on paper, often working to reflect the mix of flowers that couples are having at their wedding, using images from them or their florist as inspiration. With a love for wildflowers in particular, many of Laura's designs centre around this type of flower. Laura also uses a lot of plantable seed paper, meaning that the floral designs can in turn be grown into flowers, which is such a lovely concept.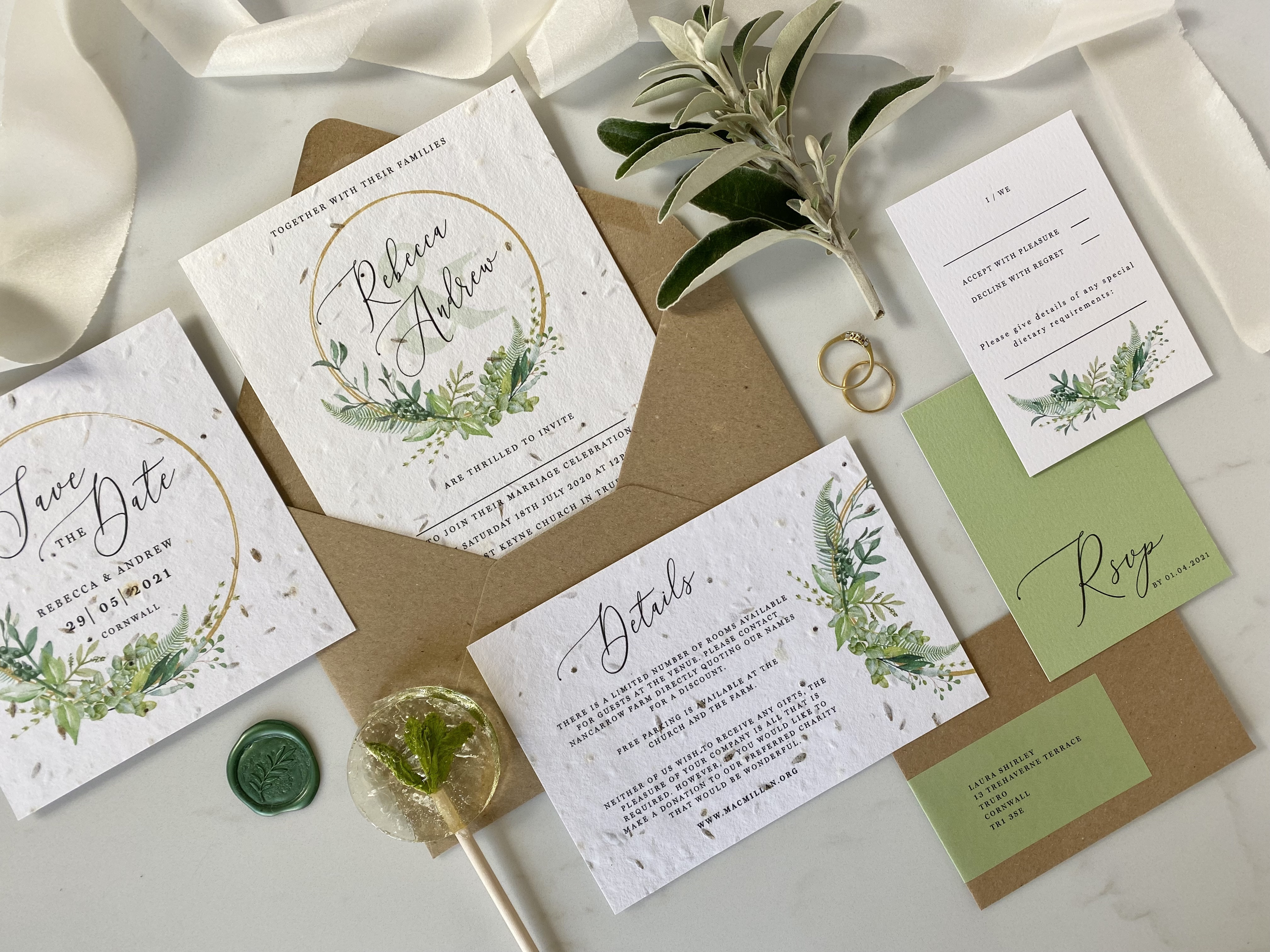 .
.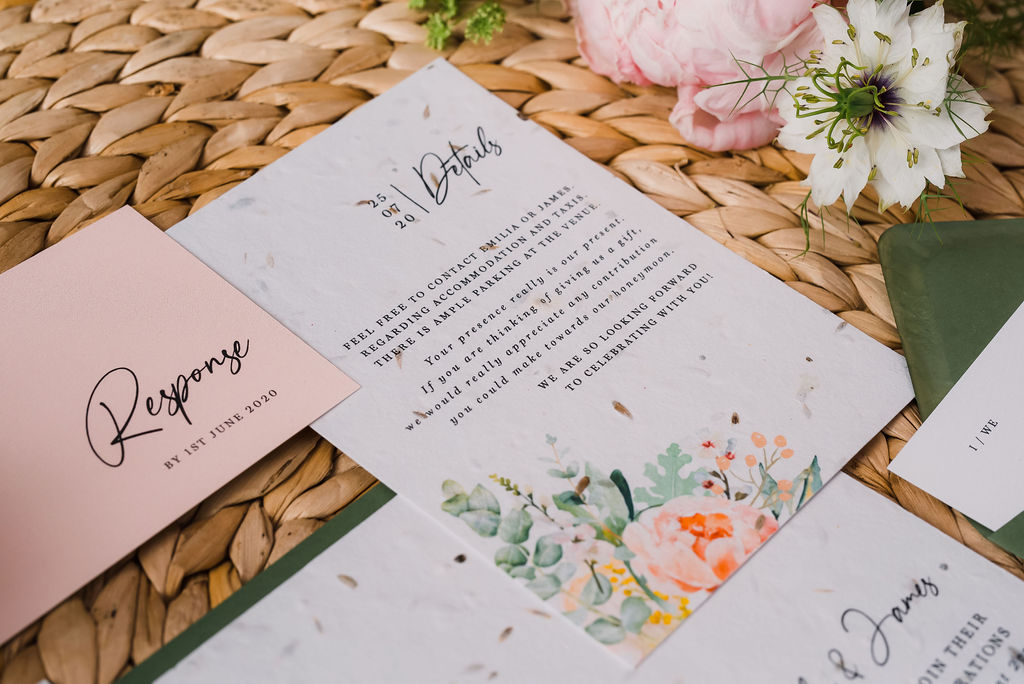 Sustainability is a corner stone of Laura Likes. The 2 card stocks that Laura prints on to are both 100% recycled, also offering recycled kraft envelopes as standard. Laura puts a lot of effort into keeping production waste to a minimum, by recycleing her ink cartridges and ensuring all of her packaging is plastic free. Laura is proud to be carbon positive, offsetting the carbon footprint of her business through Ecologi and has planted 883 trees to date! How incredible is that!
.
Wedding Stationery Designers Top Tips
Laura has provided her top 3 tips to couples looking to reduce their wedding days impact on our Earth:
Don't over order and be concise with your invitation information. I will always advise clients how best to format their text so as to keep waste paper to a minimum - be it printing double sided, linking to a wedding website or offering digital alternatives (ie. Save the Dates to fit the screen of your smart phone). I print all stationery, apart from signage, in house - so small print runs are no problem and if you need a few extras along the line I can always print some more.
Use plantable seed paper for products at your reception. If you are having printed name cards on your tables or individual menus - make them plantable! They double as wedding favors and are zero waste - guests can take them home and enjoy the flowers for months to come.
Hold off printing your wedding signage until 2 weeks before. I like to get the artwork ready ahead of time but will always advise holding off printing as long as possible, reprints are unnecessarily costly to the environment (and reposting them even more so) - printing signage later allows for any last minute changes to the running of your day or (more commonly) your seating plan.
.
4 - Paige & Co: Bespoke Boho Luxe Stationery Design
Paige & Co specialise in creating beautifully unique wedding stationery, all of which is printed and made by hand in their Manchester based design studio. They thrive on making their invitation designs stand out from the crowd, using luxury printing methods such as gold foil emboss, to create an exquisite high-end finish, making each invitation look truly bespoke. Specialising in printing on handmade cotton paper, which adds a beautiful organic touch to all of their designs.
Your wedding invitations are the first little glimpse into your big day that your guests will get to see, and simply set the tone for your wedding and the exciting events that are to come. Paige & Co understand how special planning your dream wedding should be and absolutely love being a part of this precious process.
.
.
At Paige & Co they are very cautious of their use of paper and recycling, and always looking into how to source more sustainable and planet friendly materials.
The handmade cotton paper they use for most of their invitations is made out of 100% cotton rag, which comes from recycled cotton t-shirts. This super thick and textured paper has such a natural look and feel, and each sheet is made by hand. You can sometimes see little threads of white cotton woven into the papers, which just adds to the organic look of the paper.
They also use plantable seed paper which we absolutely LOVE! In their Boho Garden collection they have some pretty place name cards that feature a design with ​delicately pressed flowers. These name cards are printed on plantable paper, which grows into wildflowers when you plant the cards! Each sheet of paper is also made by hand, and during the process a mix of wildflower seeds are added to the pulp, before the sheets are flattened out and left to dry. Each place card has little instructions printed on the reverse so your guests know to take them home to plant as a little memory of your day.
.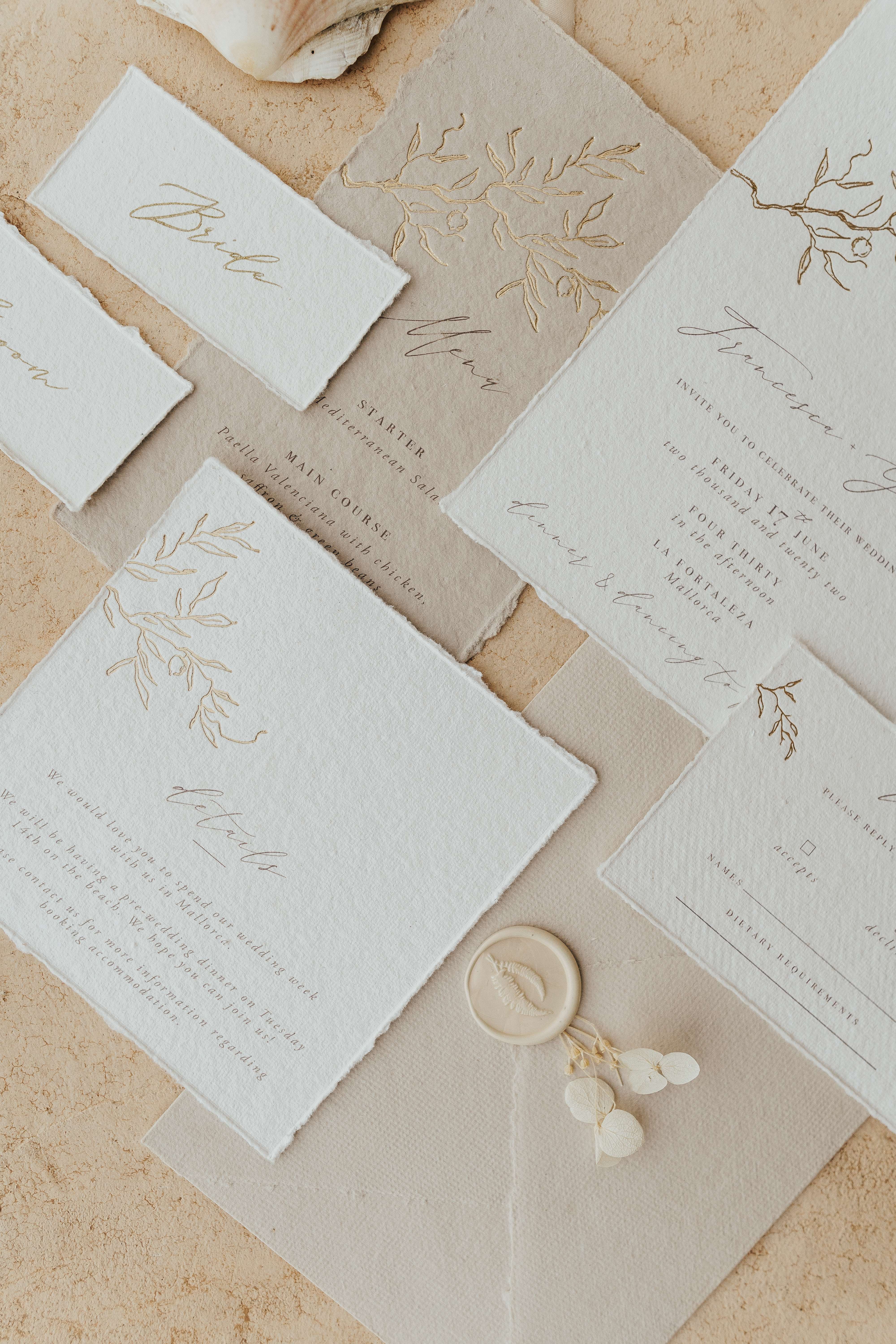 .
Wedding Stationery Designers Top Tips
Paige & Co's advice to eco conscious couples that are looking to reduce their wedding days impact on our Earth:
Our plantable place cards! I have been to countless weddings myself where the table stationery and name cards unfortunately just get left behind on the tables after dinner (which will then just end up in the bin! Eeeek!) so our eco-friendly plantable place cards are the one! Not only do they serve a purpose, but they then turn into something beautiful, meaning they double up as a wedding favour too! (saving you money AND the planet!)
Cut down on paper usage for your invitations by creating a wedding website to hold all your wedding info and for your guests to RSVP at! Sounds daunting (I am no techy either) but there are so many wedding website out there now which basically just do it for you! You upload a few photos and all the details for your guests and it's good to go! That way you don't need to add a details and/or RSVP card in your invites, you can just have your wedding website printed at the bottom of the invite with a little note asking your guests to visit it for more info & rsvp details! Easy peasy!
For on your wedding day, you could have escort cards made instead of having a table plan. Escort cards are basically your place name cards but also include the table number for each guest on each card. You can have these cards displayed on a nice table decorated with your flowers etc, so your guests go up to the table, find their name card and on that is their table number, they take it to their table then voila, they have their place card too! This saves on having to print table plants on the large A1 boards, and if you use the plantable place cards then that's even more eco friendly!
5 - Poppy and Thistle: Eco-Friendly Planatable Seed Paper
The basis of Poppy and Thistle is that it is totally eco-friendly. The paper they use for the invites is plantable seed paper which leaves zero waste and grows into beautiful wildflowers when planted, not only a wonderful memento of your wedding day but also great homes for the bees and butterflies! Their other stationery and envelopes are made from 100% recycled paper. Both the seed paper and recycled paper they use are beautiful and being eco-friendly only enhances the quality of the stationery. Poppy & Thistle also offer a range of customisable and bespoke designs.
.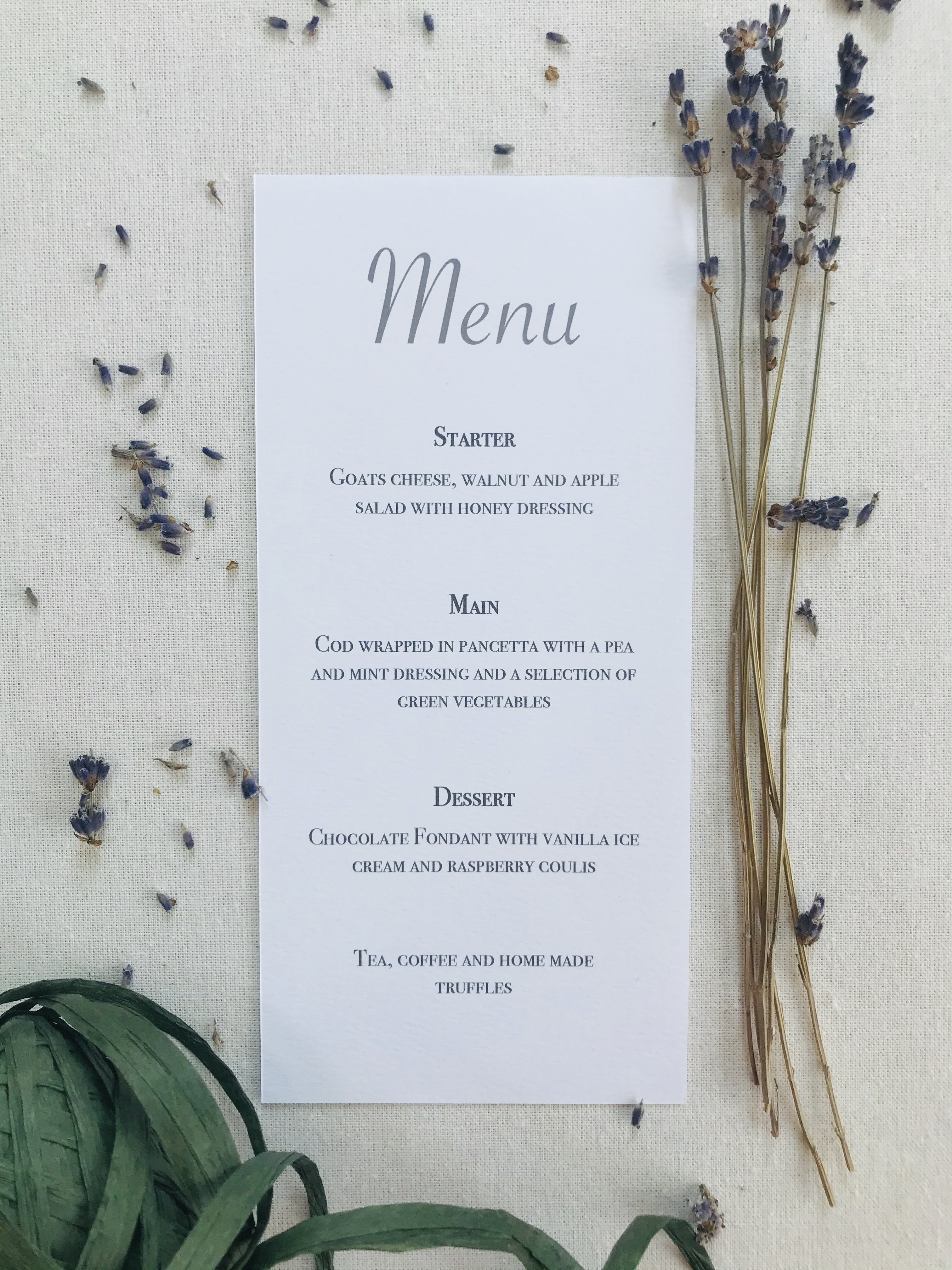 The desire to reduce the negative impact of wedding stationery on our Earth is how Poppy and Thistle was founded.
The plantable seed paper they use is bio-degradable eco paper, made with recycled and sustainably sourced materials which have seeds embedded in it. When the paper is planted and the paper composts away all that will be left behind are flowers. The flowers that grow from the seeds give food and homes to insects, bees and many other creatures, encouraging them to pollinate.
All other card used is 100% recycled and recyclable card, including their envelopes and packaging.
.
.
Wedding Stationery Designers Top Tips
Poppy & Thistle provided us with their advice to couples looking to make more earth conscious decisions when it came to choosing their wedding stationery and signage. They would recommend seed paper for wedding invites as not only does it leave no waste, it grows flowers to help improve our environment for bees and insects. For envelopes, and other stationery, they always recommend using a recycled card as this again reduces the negative impact of creating new paper.
For wedding day signage, a great option is to look at hiring or getting second-hand signs as not only is it usually cheaper, but again reduces negative impact on the environment and wastage.
.
So there you have it, 5 UK based wedding stationery designers that incorporate sustainability into their work and business, providing you with inspiration and tips on how you can reduce the impact your wedding day has on our environment.
It seems that the popular choice for eco-friendly wedding stationery is to use 100% recycled paper or plantable seed paper as a lovely keepsake for your guests too! By making these simple swaps and thinking consciously, you could be saving thousands of trees and reducing unneccesary water usage.
Looking for an eco conscious wedding venue? We may just have found the perfect venue for you! Read more here.
lot's of love,
Jess
VA to The Boho Bride Guide
@digitalwithjess
Found a wedding stationery designer you like? Here are their links below:
ON 24th May 2022 / BY Jessica Tetstall
Leave A Comment