As well as being obsessed with beautiful outdoorsy, boho inspired wedding days filled with love, laughter and togetherness. Here at The Boho Bride Guide, we also feel strongly about raising awareness around reducing the impact wedding days have upon our Earth.
The average non eco-conscious wedding creates around 20kg of plastic waste. When multiplying this by the number of UK Weddings taking place on average each year 278,599, this soon escalates to an eye watering 5,572 tonnes of plastic waste heading straight to landfill - equating to the weight of over 15 x boeing 747 Jet Aeroplanes!!
I believe by 'planning in' more eco conscious simple swaps throughout your wedding planning process and reducing our waste and energy use, collectively we can all make a big difference to turning the tide on climate change and the damage being caused to environments, eco-systems and developing countries around the World.
It is the small everyday positive behaviour changes as consumers of goods that will make the difference in the long run.
So today I am very excited to be sharing our ideas and inspiration around how you can 'plan in' more eco friendly simple swaps when it comes to selecting your boho inspired wedding decor and styling options. Lets go!!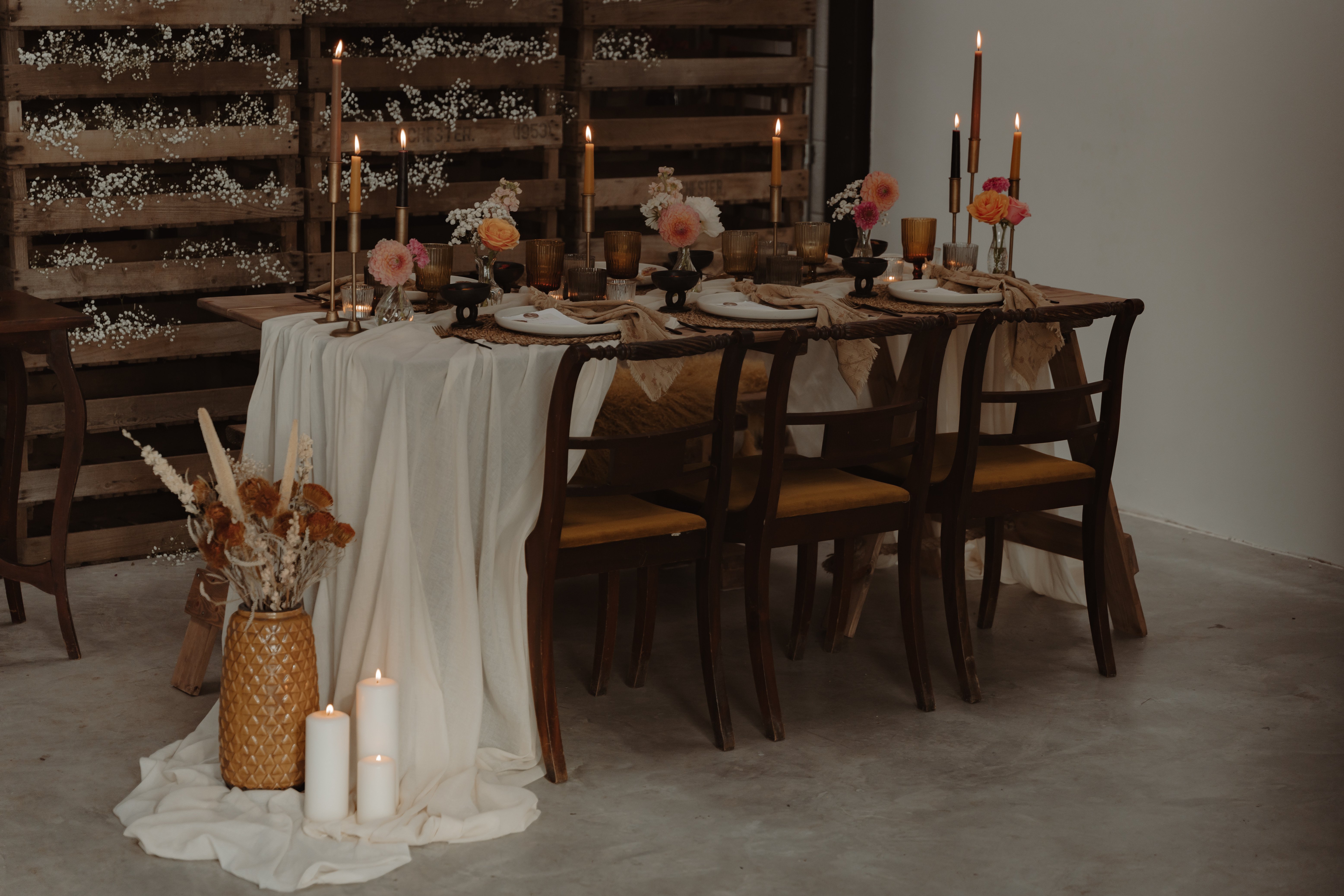 1. Upcycle Your Existing Possessions for Wedding Decor.
It is amazing what decor items you can utilise for your wedding day from around our home!
Often our household possessions already reflect our style, our personality and free-spirited outlook on life. So why not utilise what we already have and incorporate these items into our wedding day decor.
From vintage vases, pots and displayed dried florals, to decorate your cake table and entrance ways, right through to photo frames and candles to remember loved ones that cannot be with you on your special day. Or maybe you are a collector of brass trinkets or have a love for indoor houseplants that could be reused within your plans for your wedding table decor. This idea not only infuses your style and uniqueness into your wedding styling, but it will also save money, and minimise waste after your special day of celebrations.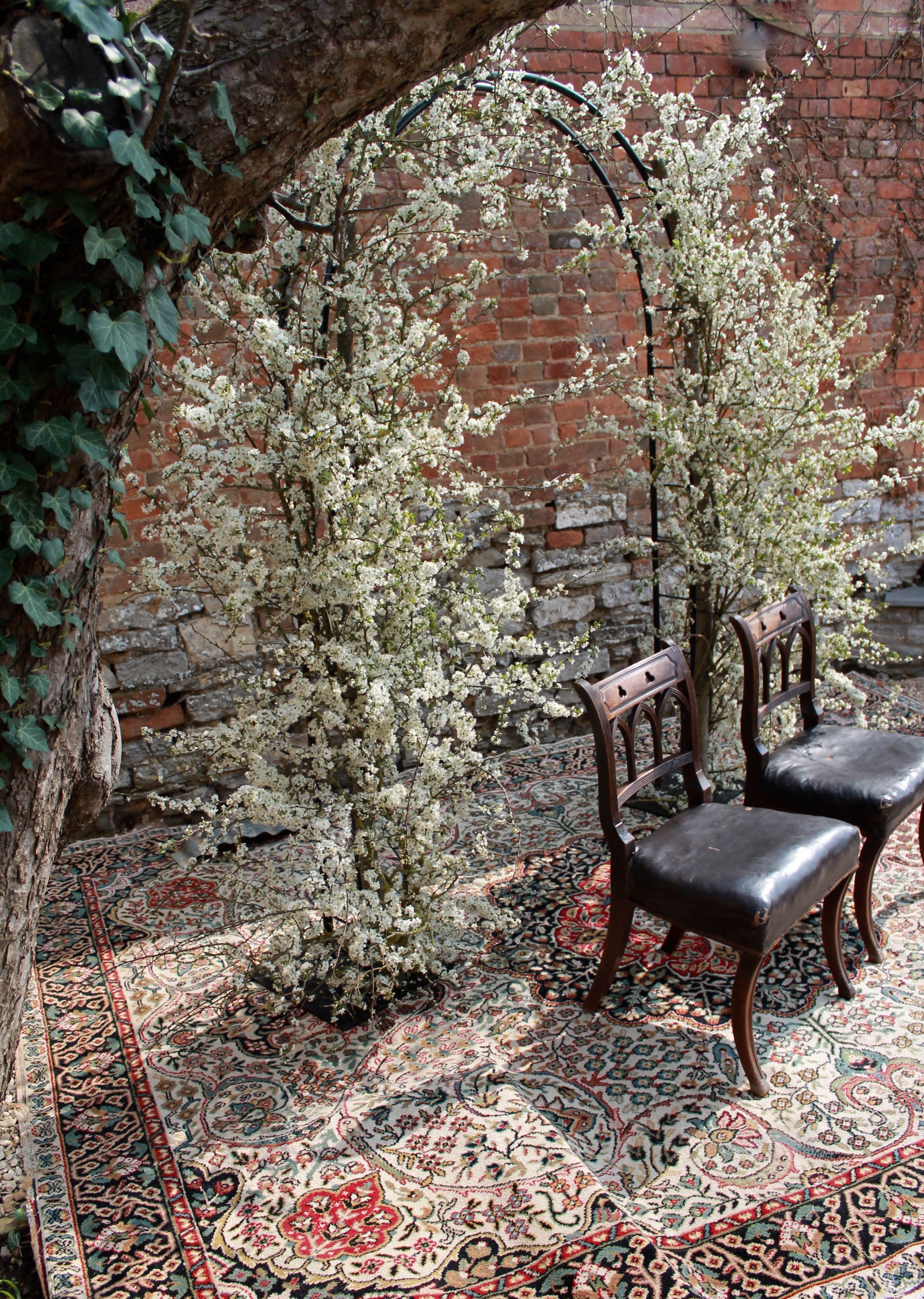 .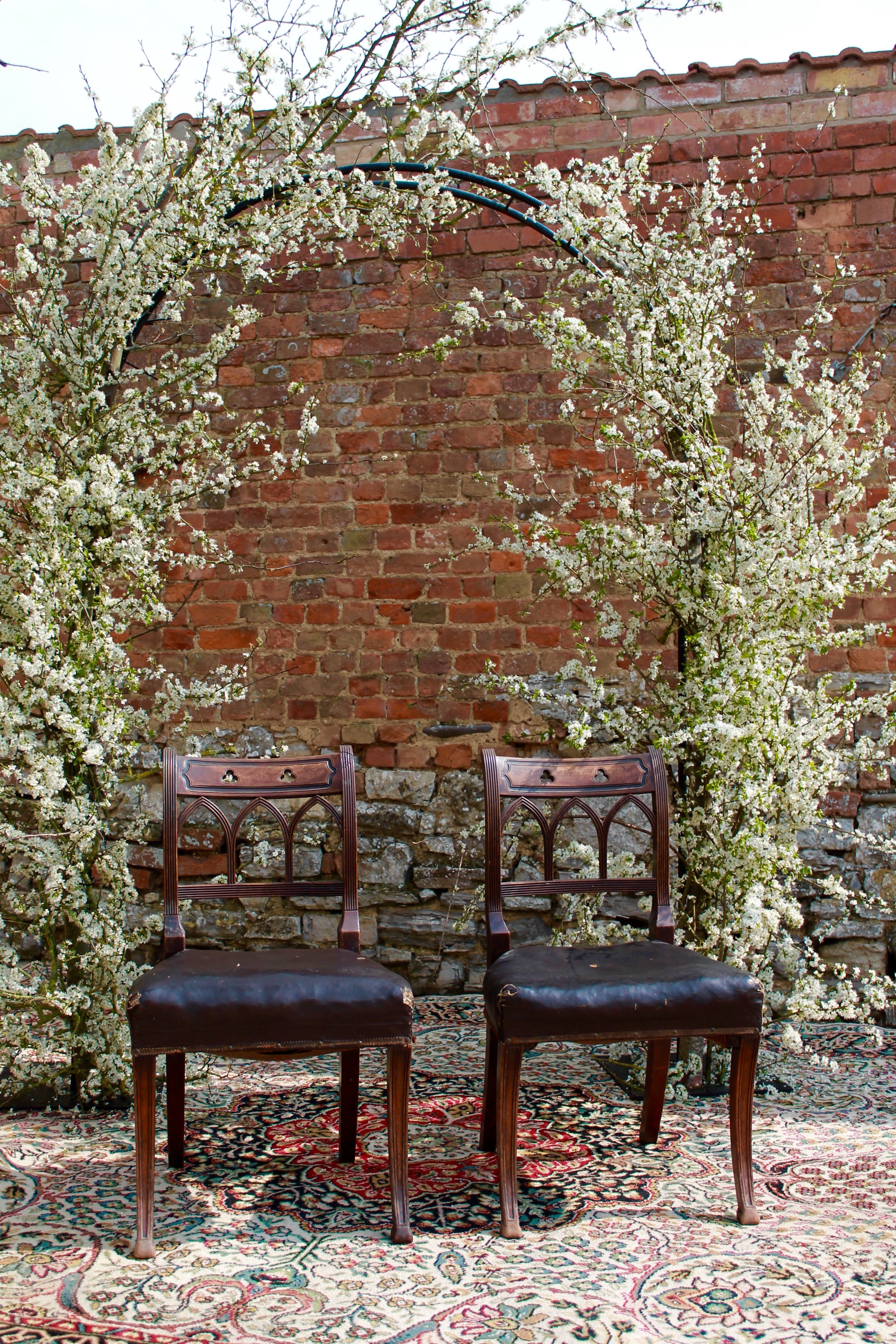 Or have you some larger styling pieces that could be considered to use for your wedding day styling? Do you have any heirloom pieces of furniture that would look beautiful as part of your ceremony backdrop? For one wedding editorial, I used my vintage rug, and my great nan's 150 year old antique chairs that normally sit in my living room, to take centre stage as part of a ceremony backdrop, they looked awesome! Or maybe you have a garden arch, that could be repurposed into your dream ceremony backdrop. Or do you have a macrame hanging that normally sits above your bed, but would look fabulous as part of your top table decorations.
Think outside the box, try and get away from automatically thinking you have to buy new. Reuse your beloved household decor and minimise your wedding waste whilst injecting your unique style into your day!
2. Use a Wedding Decor Hire Company to Reduce Your Waste.
When looking to create your dream boho inspired outdoorsy wedding day, I would highly recommend employing the services of a local wedding decor hire company that specialises in providing vintage and upcycled hire pieces.
From ceremony chairs, backdrop stands, macrame hangings, and aisle lanterns and vases, right through to vintage rugs, peacock chairs and welcome signage. You are able to create your dream boho inspired space ready to WOW your guests and make memories that will last a lifetime.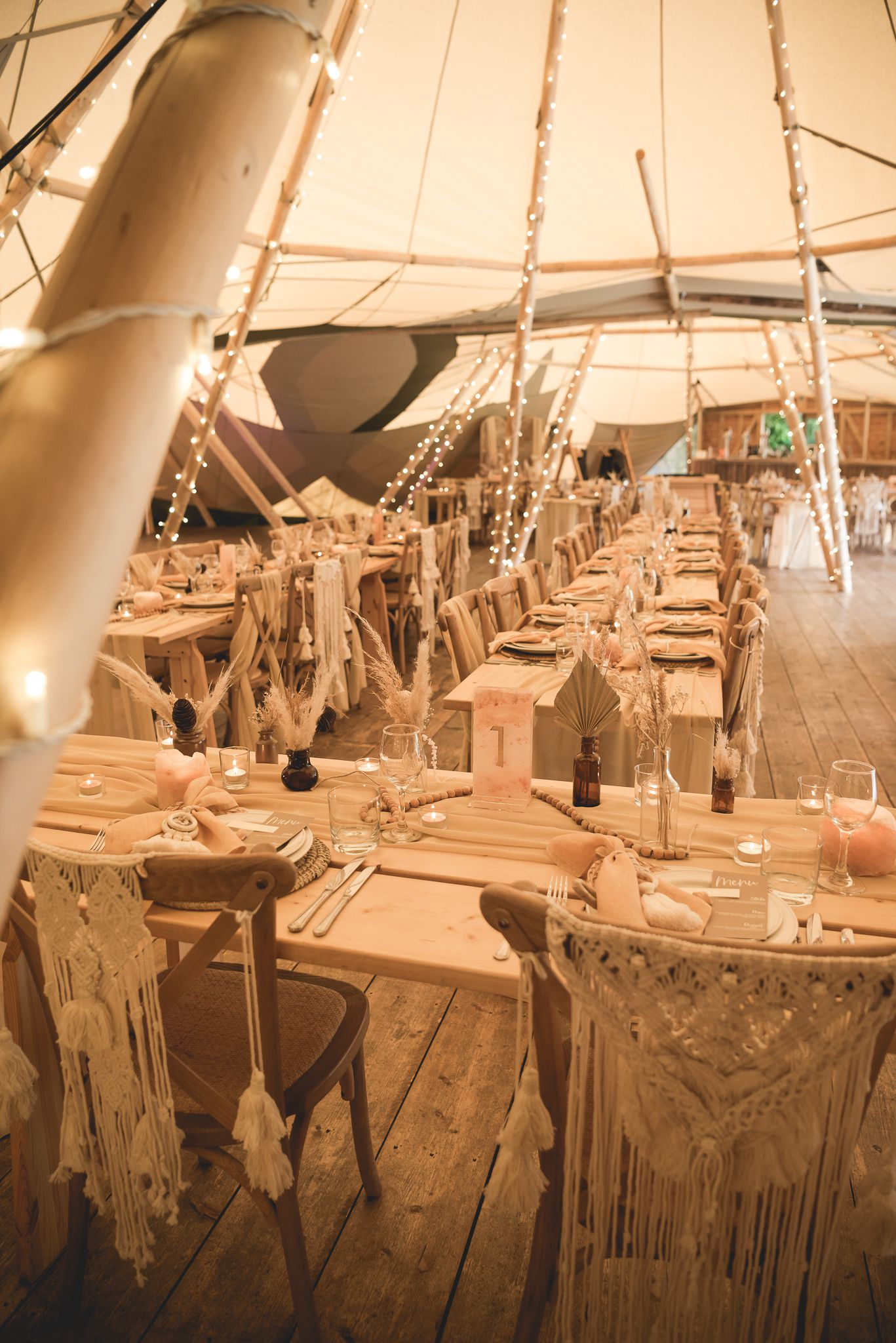 .
Image credits Amber & Boheme | Jeni Lowe Photography | Wonderland Wedding Venues | Claire Taylor Cake Design | Confetti Sweathearts Stationery
Tracie from Hint of Vintage Hire shared with us, 'Hiring from suppliers that specialise in your wedding theme, allows you to have something very unique and different to add to your day which isn't something you would get or find in the traditional 'production line' weddings'. Items supplied our Approved Suppliers here at The Boho Bride Guide, have character, history and quirkiness which adds a talking point, atmosphere, feeling and style to your wedding day venue decor.
Hiring your wedding day decor avoids buying items for one single day and ending up hoarding items following your wedding day, and most importantly gives that sense of bringing new life to an old piece, avoiding unnecessary waste, helping our precious planet and being eco conscious.
.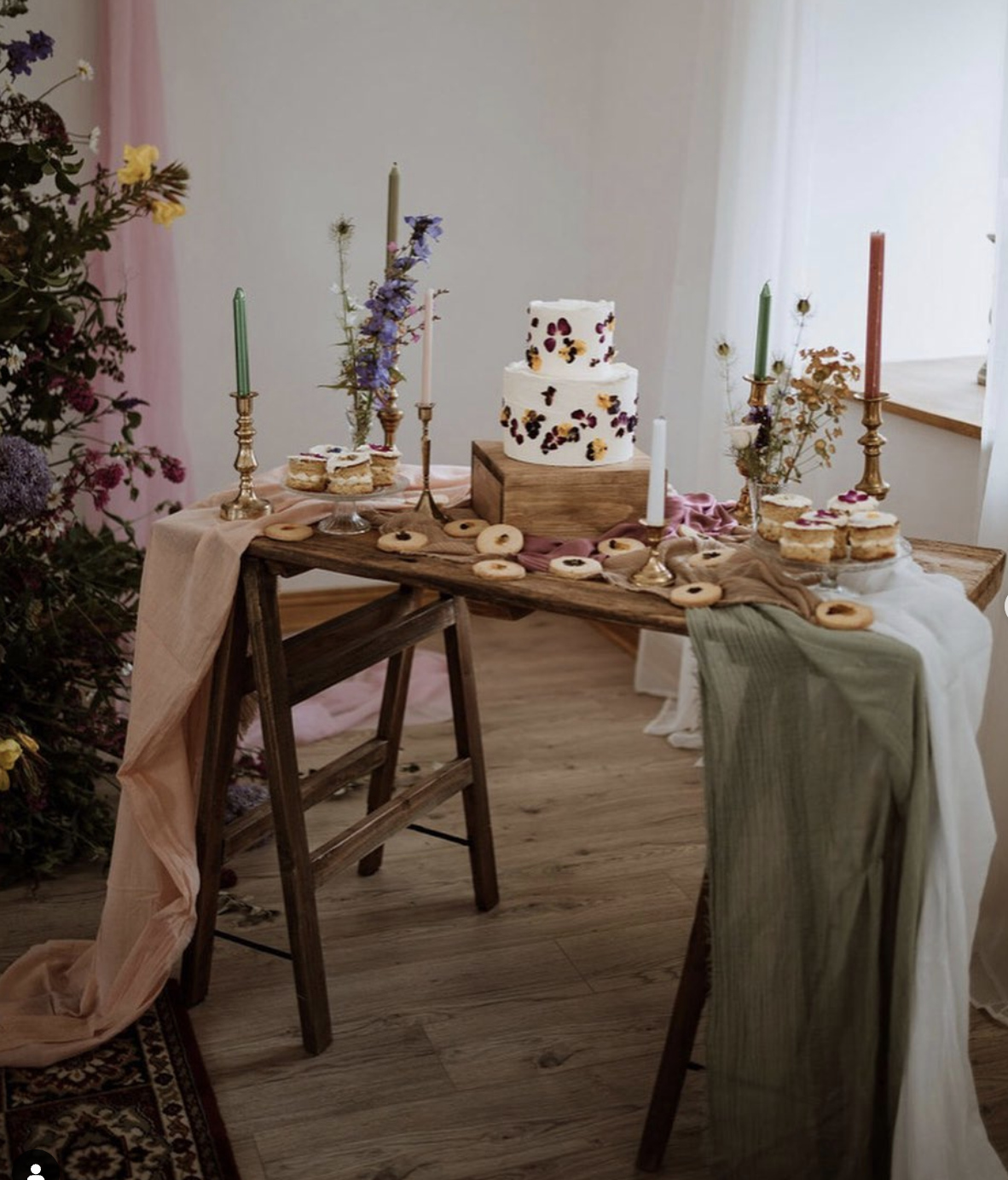 .
Image credits Hint of Vintage Hire | Pix By Vix | Holly Hollows | Baked By Jaz | My Waredrobe By Teresa Jayne | Frankly Beautiful MUA | Adorn By Ashely
You also have the option to have all your hired decor dropped off and set up at your venue to reduce your stress levels, as well as having all the decor taken down after your wedding too! The decor is then stored away, look after and then reused for many weddings to come, minimising waste and maximising the enjoyment out of every hired decor piece!
Image credits Carter & Olive | Katherine Newman Photography
We asked Katey from
Carter & Olive
why she would recommend hiring vintage tableware for a special wedding day, ' Hiring can often be at a similar price point to single use, but with outweighing eco friendly credentials. Hiring vintage crockery, glasses, cutlery and more, will WOW your guests with their own unquie beauty as well as add to their rich story. If they could only talk about where they have been, the stories they could tell!'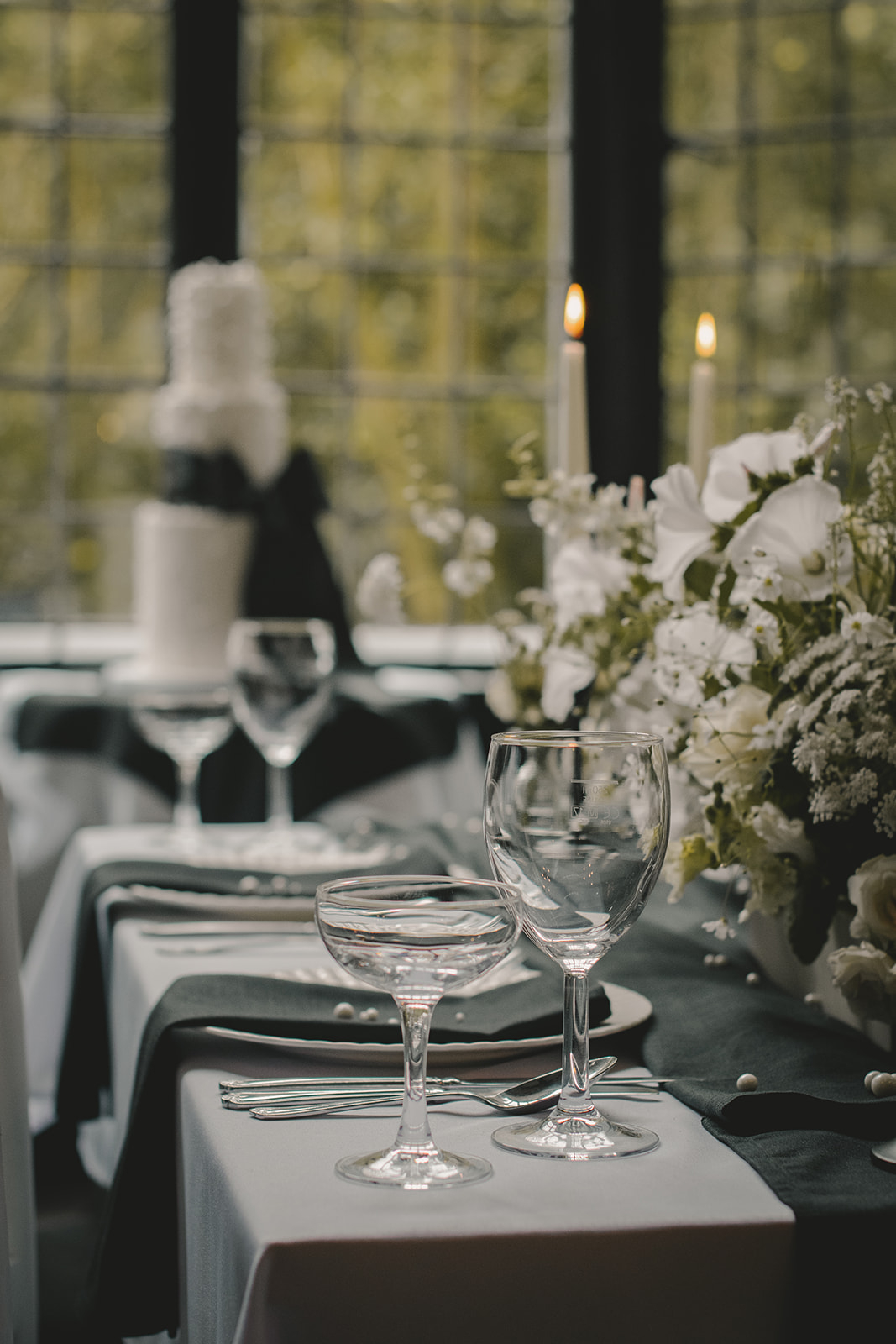 .
Image Credits Fleurs & Ink | Olivia Morgan Photography | Old England Kiosk | Rebecca & Esme | Amy Baker Cakes | Wedding Hair Company | Sarah Sharpe MUA | Willow and Wilde Bridal | Charlotte Berry Jewellery
Abbey from Fleurs & Ink Floristry, shares her thoughts with us, 'by hiring a florist and/or wedding stylist you can minimise your wedding waste with their knowledge and experience of locally sourced flowers, and other local wedding vendors. You can use their reusable vessels and props and their knowledge of what's best to pack a punch for the decor on your wedding day.'

Image Credits Own Your Throne | We Are Found Photography | Wilde Green Studio | Cake Design By Holly Miller | Love Flora Studio | The Orchid Kitchen | Martock Workspace | The Old Mill Furniture | Candle Flair
When working with wedding clients, Claire from Own Your Throne Prop Hire & Venue Styling said, 'I always suggest minimizing 'wedding waste' by reducing quantity over quality. Take some time planning décor and flowers that have a multi-purpose, this way you can truly enhance the aesthetic of the venue. After all, you spend so much time on choosing all the little details, why not re-use and re-purpose. Move backdrops, aisle décor and accessories from the ceremony to the reception, creating a vast variety of photo opportunities. Lastly, share fresh flowers with guests as favours, that way none go to waste.'
3. Wedding Decor that Repurposes into Favours and Gifts.
Rethinking the lifecycle of your wedding decor is super important when it comes to reducing your wedding waste. If you are keen to gift your guests with wedding favours on your wedding day, consider the lifecycle of the favour you give. Some ideas I absolutely love are macrame favours that can be used as keyrings and mementos of the special day. Not only do they look fabulous as part of the wedding table decor, they are eco friendly and guests can reuse them following the wedding day.
Or how about providing your guests with heart shaped seed bon bons, that will look fabulous adorning the wedding table, and also guests can take away and add to the flora of their garden helping wildlife flourish! Love it!
Lizzie from Sow Many Seeds 'Plantable favours are such a thougtful way to add eco-friendly touches to your wedding day that give back to the planet. Not only will your guests enjoy taking a piece of your wedding home to plant, but growing wildflowers positively impacts pollinators and our natural envoirinment too!'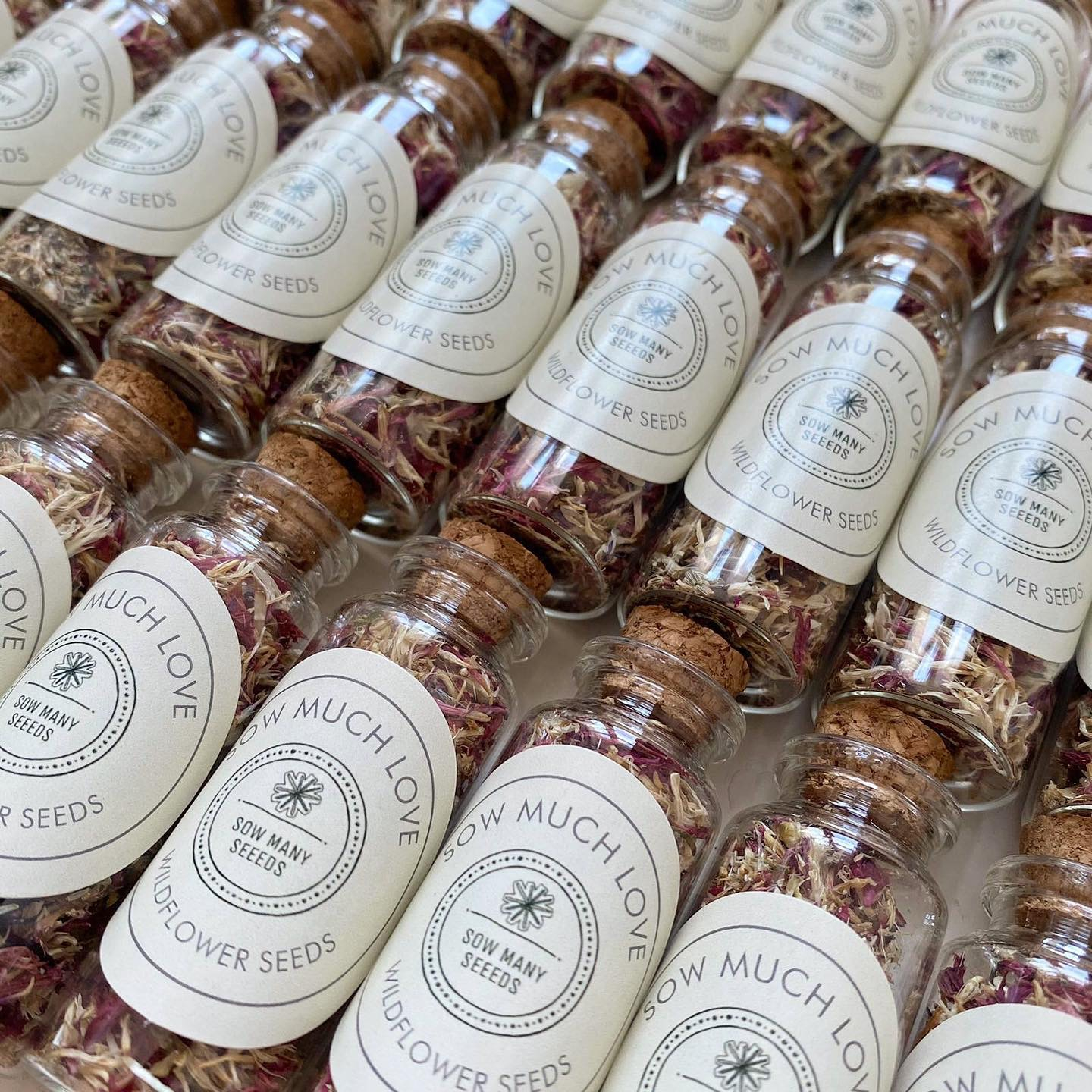 Image Credits Sow Many Seeds
You could consider reducing your wedding table flowers and consider gifting each guest with a mini dried flower posy that sits on each table setting, that way, you still get the WOW factor of the florals, but then each guest then gets to take away their posy and display it in their homes.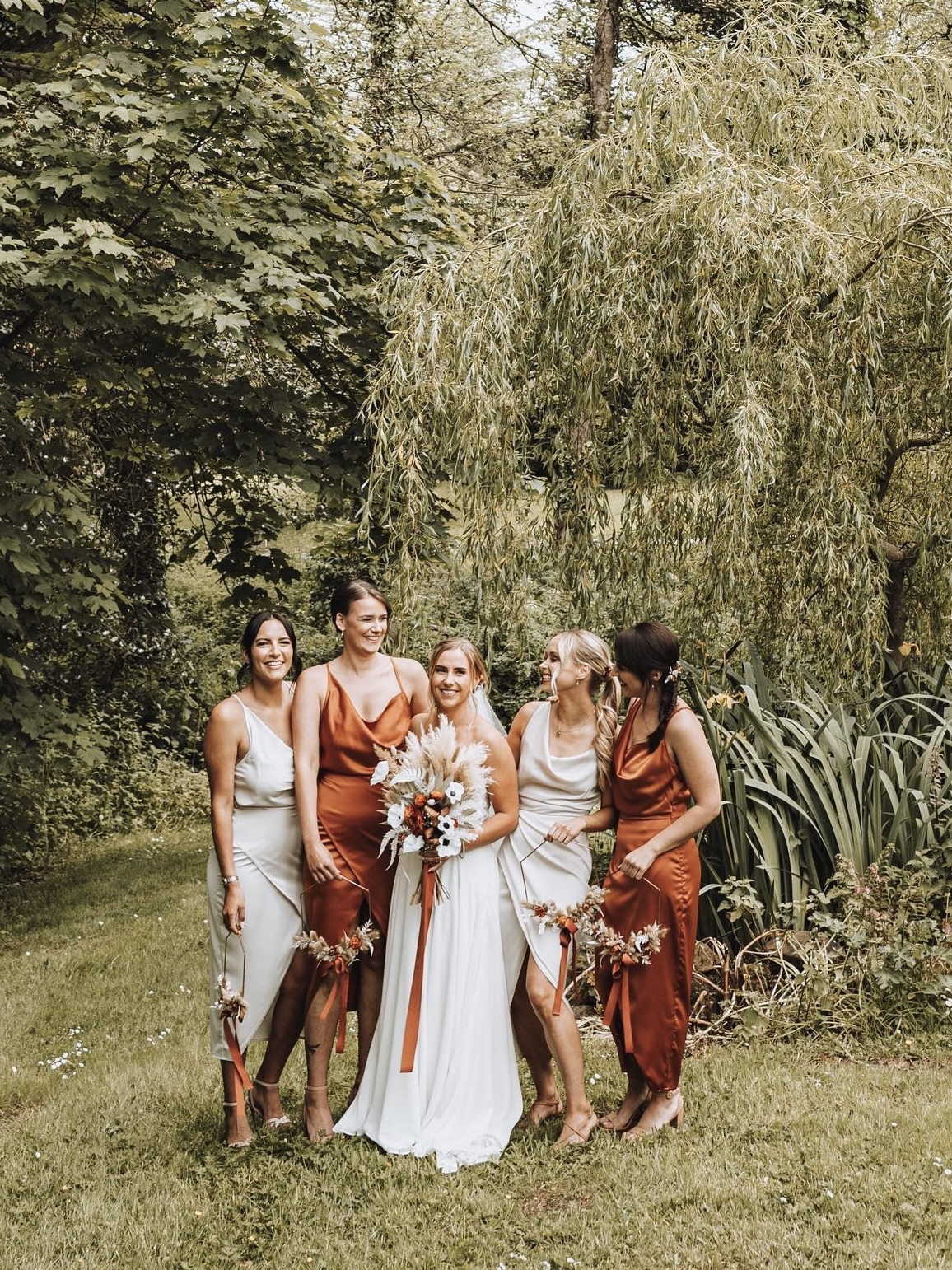 Image Credits Bird and Bear Blooms | Hannah Wilde Photography
I LOVE this idea created by Bird and Bear Blooms for your bridesmaids. A stunning dried flower hexagon posy that looks fabulous in your wedding photos, and can then be gifted to your besties to then display with pride to enjoy as part of their home decor.
Instead of buying candles to decorate each of your wedding guest tables, how about considering, gifting each guest with an eco friendly, elegantly designed candle that brings with it a beautiful scent that they can enjoy on the wedding day, and then take with them afterwards and enjoy in their home.
Image Credits Sophia Grace Gifts | The Smelly Cow Company
Or maybe you are daydreaming of that beautifully made macrame hanging that will be the backdrop of your wedding ceremony vow sharing, and then your top table. Consider having a bespoke hanging created for your wedding day, but at the same time have a special place within your home in mind where you are then able to reuse it as a home decor piece afterwards. Remember to measure this space so the macrame hanging can be used for both purposes, so you can then enjoy the piece as a memento of our day for years to come!
Design your décor with the end sight in mind! If you are just as obsessed with macrame as we are, then speak to a macramé artist who can bring your ideas to life and provide you with tips on how to create pieces you can treasure for generations to come! Just like Rhian from Hooked in Cotton, one of our valued approved suppliers here at The Boho Bride Guide.
'Recently a venue approached me saying their dads old macramé just looked tired and wouldn't suit their venue! I immediately advised them to freshen it up and dye it to go with their new look at the venue - how amazing that the modern macramé they look at today was knotted by their dad's own hands many years ago! How do you feel reading that story! It could be your own story when your future daughter could be freshening up your wedding backdrop for her own celebration! All those memories - that's love and life right there!"
.
Image Credits Hooked in Cotton | Rachel Lambert Photography | Little Rose Floral Design | Rosedew Farm
4. Select a Venue with Existing Wedding Decor Options on Offer.
To minimise your wedding decor waste, select a venue that prides itself on its eco friendly values, as often they will offer onsite opportunities to utilise their own wedding decor options such as wedding ceremony backdrops, photobooths, suspended lighting and decor, signage, locally grown flowers, cake stands, tables, chairs, cutlery, tableware, napkins etc. The more wedding decor you are able to hire, borrow, and upcycle, the less waste your wedding will produce.
You can read all about our top eco-friendly UK wedding venues to find more inspiration and ideas.
5. Employ an Eco Conscious Wedding Stylist to Maximise Your Decor Options
If you find the whole wedding decor arena slightly overwhelming, employing an eco friendly wedding stylist to assist you on maximising the potential of your chosen celebration space will relieve a lot of pre wedding stress.
.
Image credits Bobbi Wren Events | The Flower Room Edwinstowe | Warren Farmhouse Weddings | Laura Jayne Photographer | Tablescapes by Tash | Cakes By Rhiannon | Designs by Daykin | Bears and Butterflies
A wedding stylist will help you transform your celebration space into a bohemian WOW factor, and zone off areas using decor that will welcome your guests to mingle, eat, drink, be merry and boogie! It is amazing how a well thought through wedding space can create relaxing areas to socialise and enable everyone to feel at easy.
Whilst having this in mind, a stylist will also help you take into account all decor options available at your venue, as well as maximising your hired in decor items and minimise waste created from transforming your wedding venue.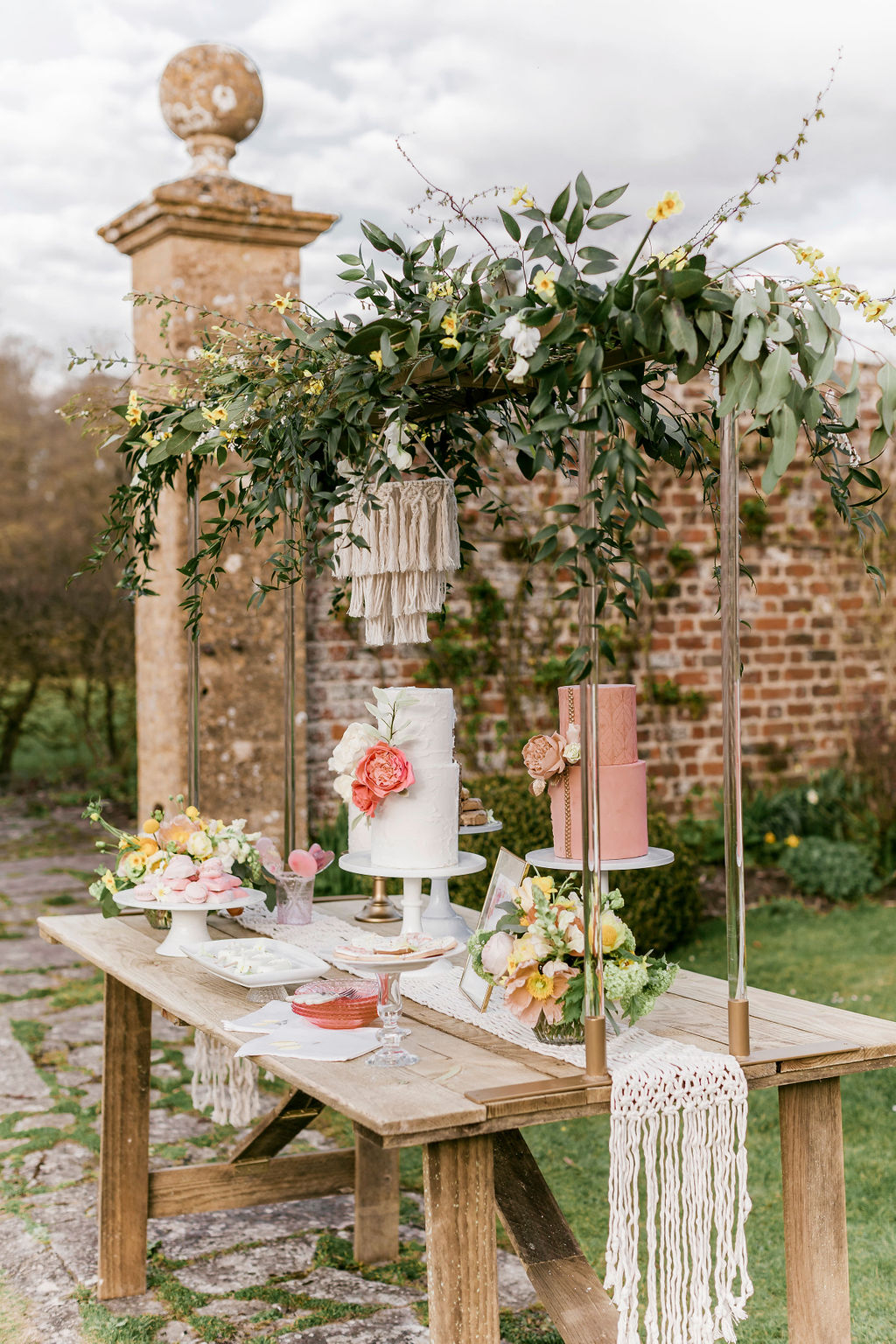 .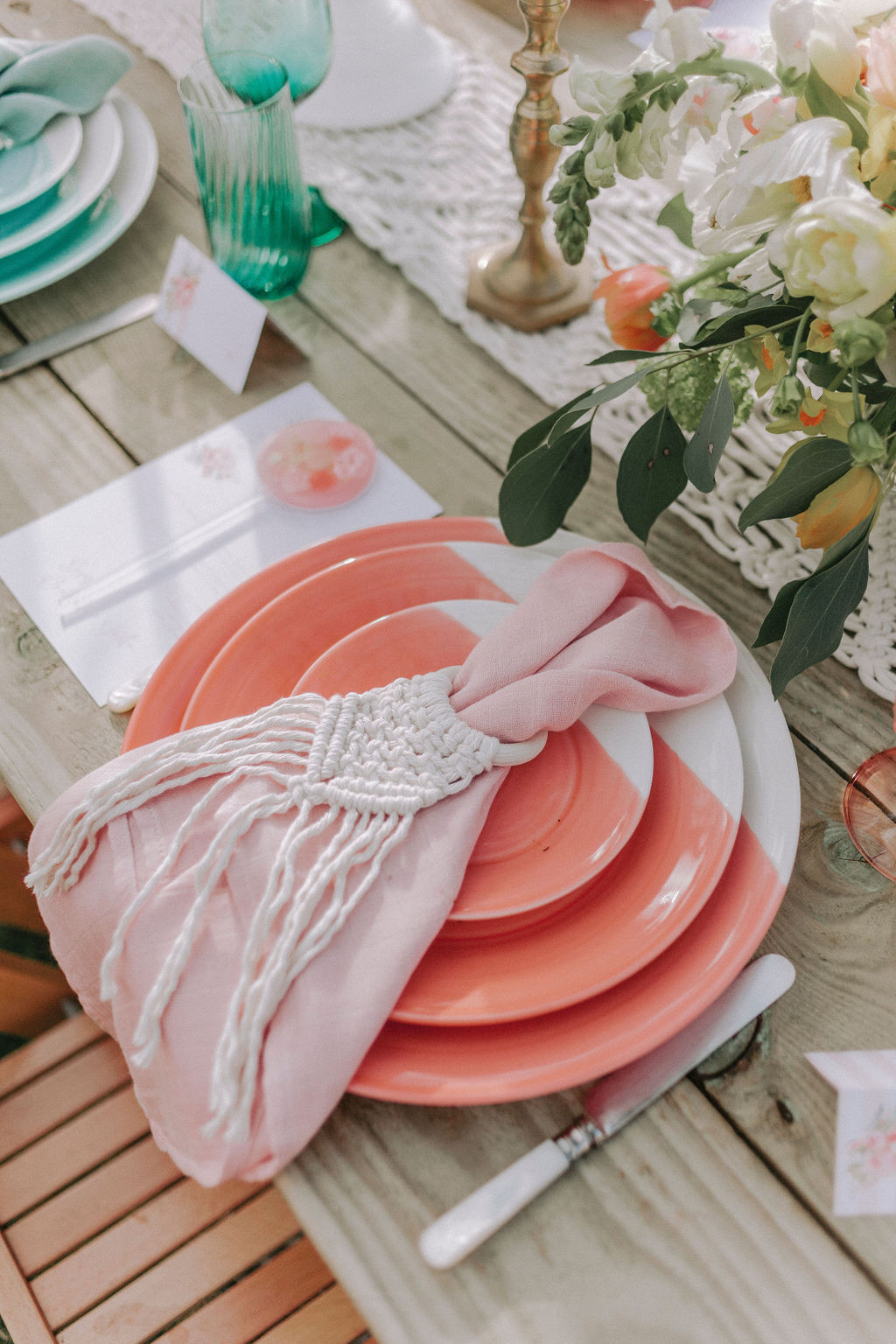 Image credits Knot Again Jill | Naomi Kenton Photography | Kennedy Events | Midelney Manor | Make Me Digital | Angels Kitchen | Goldfinch Floral Studio | Lolly Pops London | The Embroidered Napkin Company | Aylin White Designs | Floral Fabrications | Elsa Rose Boutique
Our approved suppliers Knot Again Jill shared how she minimises her environmental impact through her macrame designs, 'My macrame cords are made from recycled cotton, so couples can be reassured that they are doing their bit for recycling and minimising their waste. I also love to use driftwood collected from walks on the many beaches that we have in North Devon (I know – lucky me!) within the designs I create. The backdrop frames I use to display my wedding day macrame are used time and time again, and in as many creative ways as I can think of.'
I hope this article has left you brimming with ideas on how to reduce your wedding decor waste, opting for more eco-friendly simple swaps, whilst at the same time achieving your dream boho inspired wedding day look! Click here to read more of our 7 Simple Wedding Day Swaps to Heal Heal the Planet.
Much Love
Jen x
Founder of The Boho Bride Guide
Contributors:
ON 12th August 2022 / BY Jen Maynard