Like the fashion industry, the large scale jewellery trade also leaves a large carbon footprint on our planet. However, as slow and sustainable fashion is becoming increasingly top of peoples agenda, we wanted to shine a spotlight on ways in which the jewellery industry is also getting an ethical and earth conscious upgrade.
In this week's blog post we are going to dive a little deeper into the world of ethically sourced, pre-loved and fairtrade jewellery. This stems from last month's post where we discussed '7 Simple Wedding Day Swaps to Help Heal our Planet.'
At The Boho Bride Guide we have a huge focus on sustainability and empowering wedding businesses to become more ethical and earth friendly within their activities. As bohemian souls on your wedding planning journey, by 'planning in' sustainability into your wedding day preparation, we also believe that you can achieve your dream wedding day without it costing the earth and the life on it. Choosing to make more conscious and smarter choices around the consumption of goods, we can all do our part in protecting our beautiful home we call Earth.
Keep reading to find out more about how you can make some proactive decisions when it comes to choosing your wedding jewellery. We have tips and advice from the experts in the ethical, fairtrade and pre-loved wedding jewellery world and provide you with some inspiration to choose a piece unique and individual to you as an engaged partnership.
Let's start by defining a few terms we are going to use throughout this post:
Fairtrade: Trade between companies in developed countries and producers in developing countries in which fair prices are paid to the producers. When you see a product with the Fair Trade Certified seal, you can be sure it meets rigorous social, environmental, and economic standards.
Ethically Sourced: Morally good or correct. Avoiding activities or organizations that do harm to people or the environment. Ethical sourcing is a sustainable and responsible approach to supply chain management and sourcing of goods.
Pre-loved Jewellery: Previously owned jewellery pieces
Justin Duance Jewellery
Justin Duance Jewellery was established in 2000, when Justin, the founder, started making jewellery out of his bedroom after finishing university. The company is now based in the beautiful Cornwall and provide a full range of unisex rings and accessories inspired by the rugged Cornish coastline.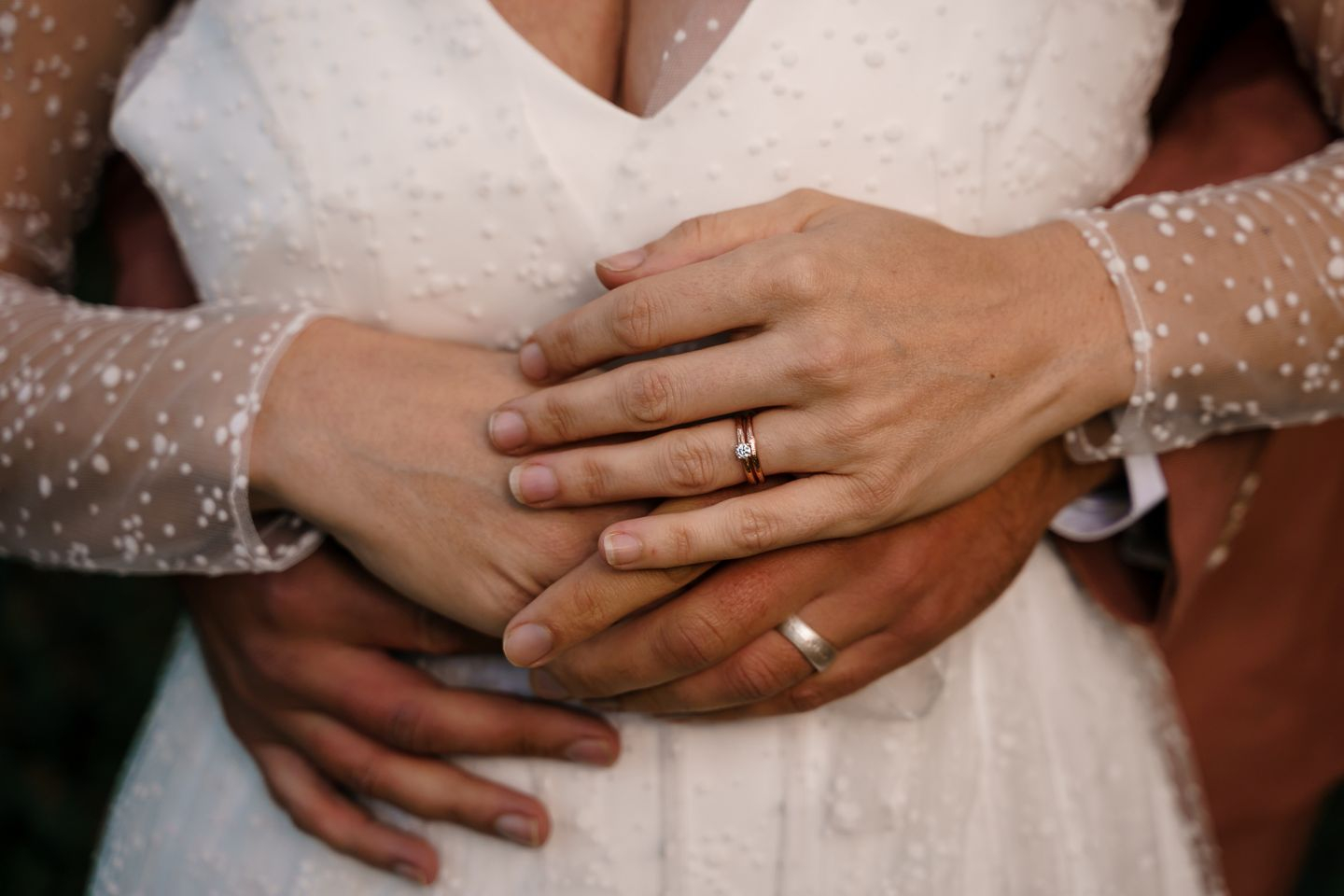 The ethos at Justin Duance Jewellery is to be an ethical brand, not just in materials and the jewellery they make, but for everyone who works there. It's important to them that the business works for everyone's lifestyle choices. They work a 4 day week and have an inclusive attitude to any major business decisions. They run like a big family and are all very good friends.
"I suppose you could say our motto is happy jewellers make better jewellery – as cheesy as that sounds!"
We asked Justin Duance Jewellery a few questions to share his thoughts and advice to sourcing ethical jewellery for your weddingday, what it means to him and what his advice would be for couples looking to minimise their impact on earth when looking for wedding jewellery. Here's what he said:
'It sounds counter productive as we make and sell jewellery – but the littlest impact for anything comes from what we already have. Some people inherit a family members wedding ring and that is such a lovely choice. When it comes to accessories, look through your jewellery box, you may find a necklace or something that would be lovely on your big day. See if you can get away with raiding a family members jewellery box! Someone might lend you a piece to wear which is really special for both of you – and that fits into 'your something borrowed' if you are going for those traditions.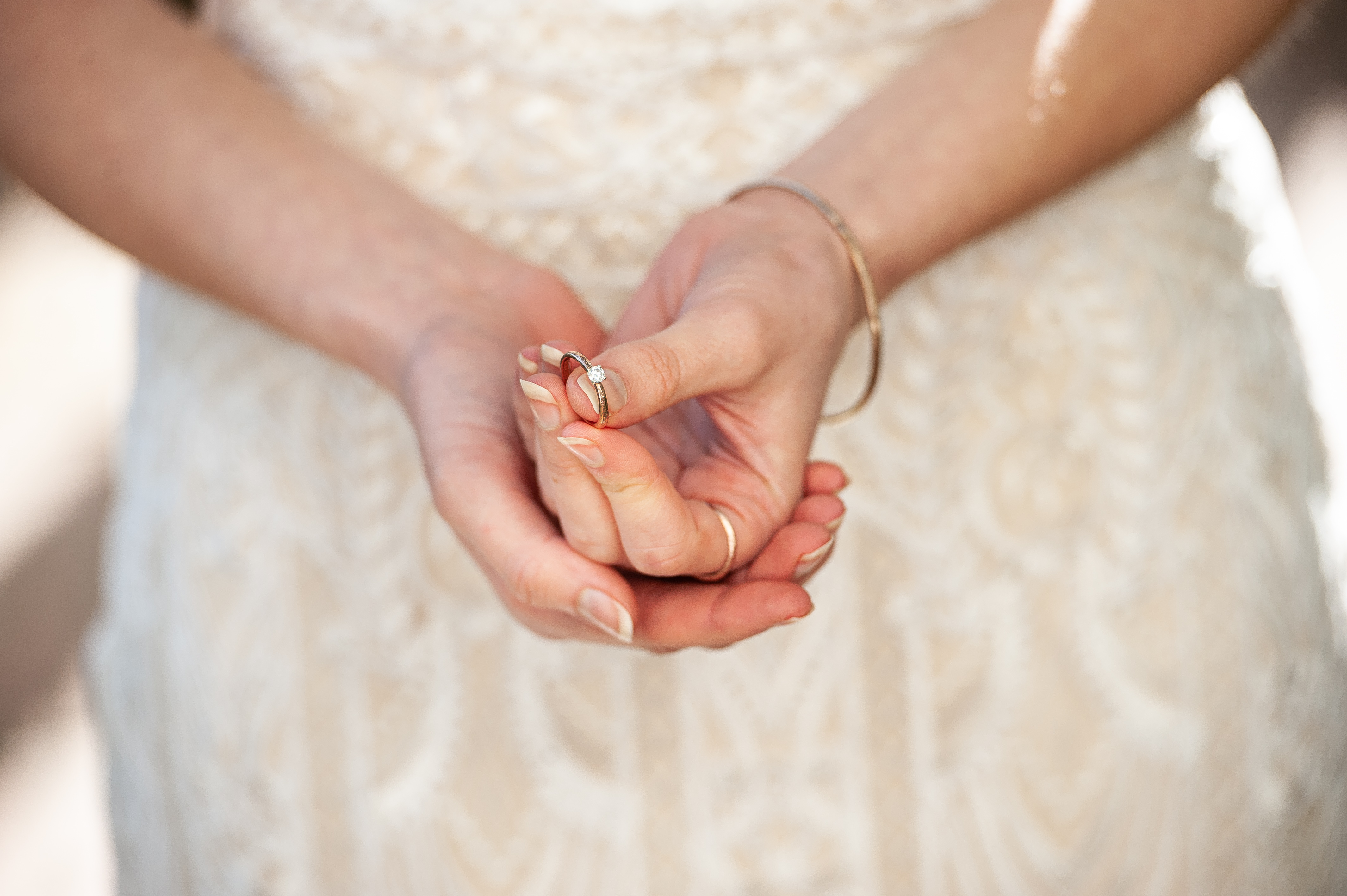 We do a lot of remodelling old jewellery into wedding and engagement rings. Upcycling your gold not only saves you money, its better for the planet and also often results in a more sentimental ring.
Obviously, not everyone is lucky enough to have gold in the family. All of our gold and silver is 100% recycled, and our gemstones and diamonds are fully traced from their mines of origin. We are also very excited that we have a reliable source of vintage diamonds too and hope to find a more 'recycled' gemstones to offer people. We believe in using what is already in circulation over mining new materials is key to minimising our impact on our Earth.
We made a pledge to only use fully traced gemstones and diamonds in our jewellery about five years ago. At the time it was really tricky. We had a solid source for our diamonds, however they were so much more expensive, and so we adapted our profit margins to make them more affordable (if you can even use that term with diamonds!). Finding a source of traced gemstones was trickier. We have had to stop using a lot of stones and had to abandon some designs because we just can't find those stones from an ethical source. But we keep asking and it's really amazing to see how much the industry has changed in the last few years. We now have reliable sources for ethical sapphires and a quite a few other gemstones.
We've built great relationships with a few suppliers that are at the forefront of pushing greater industry change. By spending a bit more and supporting these small suppliers, we are seeing the change filtering through. Talking to our customers is important too. Lots of people know about blood diamonds, but few think about how almost all other stones go through similar situations. As more people ask questions, the industry adapts to customer demand.
So what are the benefits of using recycled silver...
As we said above, we believe that using what materials are already in circulation over mining new. Gold and silver have been recycled as long as jewellery has been being made. When styles went out of fashion, pieces would be melted down and turned into something new. That is still true today. Because we do our casting ourselves, it means we can reuse all our own scraps of gold. We collect what we can't use, like all our filings and dust, and it goes off to be refined and then makes its way back into jewellers workshops all around the country.
The benefits of using recycled silver and gold is that we aren't contributing to another huge hole in our planet. There are a lot of arguments about recycled vs fair trade, and it's a really tricky subject. While we'll use fair trade gold or silver on request, we still feel recycled is best for us.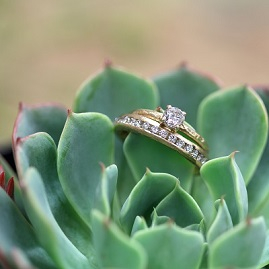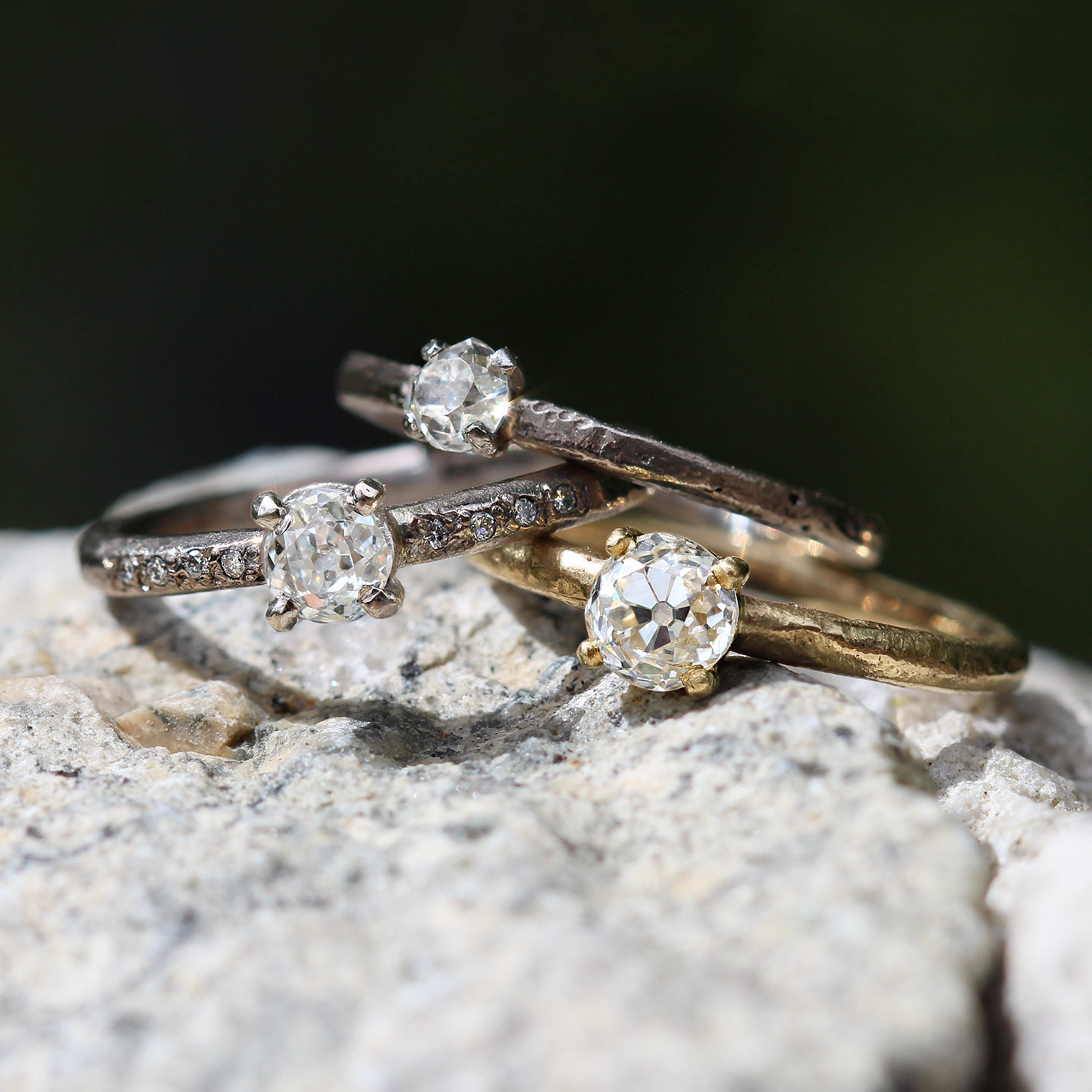 What do you think are the benefits to buying a pre-loved engagement or wedding ring?
Taste certainly comes into it, if you are looking at vintage rings, you might find amazing techniques and styles that aren't as commonly found these days. You might find a piece of treasure or bargain! But it's worth being careful you're purchasing pre-loved jewellery from a reputable source and it is what it says it is. If it's really cheap, it's probably not real. We like turning pre-loved jewellery into new and exciting pieces that suit the personality and style of the wearer. Tastes change, and jewellery carries so much sentiment, it's really special to be able to help customers give a sentimental piece a new lease of life.
I suppose in a way, we sell pre-loved jewellery too. Only the elements start off deconstructed – like a posh dessert! We have a collection of vintage diamonds that customers can choose from. Each diamond is completely unique. They were cut by hand in centuries past and we just love to think of the stories they could tell if they could speak. Old mine cut diamonds twinkle differently from modern brilliant cuts. They have more character and pair beautifully with our sandcast rings, making really individual engagement rings.
Charlotte Berry Jewellery
We also spoke with Charlotte Berry Jewellery, who creates beautiful handmade eco-friendly jewellery and silverware inspired by archaeology, artefacts and the 'romantic' idea of buried treasures. Using traditional techniques, she creates ranges of wearable and stylish contemporary jewellery; which she hopes "will be worn and passed down from generation to generation. One day becoming someone else's treasure with new meaning and sentiment. Part of the beautiful humanity of daily life."
At Charlotte Berry Jewellery, ethics, sustainability and integrity is at the heart of what they do. Charlotte aims to create beautifully hand crafted, timeless and quality fine jewellery to last a lifetime, without a negative impact to others or the environment. She has been lovingly designing and hand making jewellery in her UK workshop for well over a decade using the highest quality materials and traditional craftsmanship; making one of a kind and heirloom pieces for you to treasure and to pass down to future generations. Aiming to offer her customers a truly personal approach to jewellery design with the emphasis on 'one of a kind pieces' and a unique service that you are 100% happy with.
We asked Charlotte what advice she would give to couples looking to minimise their impact on our Earth when selecting their wedding jewellery? Here is what she told us:
We all know that precious metal mining is destructive and has a hugely negative impact on the environment, but did you know that to produce one gold wedding band over 25 tonnes of toxic waste is created? That makes for uncomfortable reading when you think about how may couples exchange rings every year. However the good news is that attitudes towards wedding jewellery are rapidly changing!
Greater transparency and progress within the jewellery industry means that couples are not only looking to show their love for each other, but also their love for the environment by investing in eco-friendly, responsibly sourced and ethical wedding rings and jewellery. The following advice should help you navigate through the process of choosing truly ethical wedding rings, and create a ring that both represents your love for each other and the planet!
Reuse:
By shopping in vintage or antique collections, you are contributing less pollution to the environment as you are cutting out the need for new mined gold and the manufacturing process needed to make it. Alternatively you may be lucky enough to have heirloom pieces in your family that can be passed down. Treasured family pieces are a greener option to buying new and can easily be resized or redesigned. The perfect way to symbolise your love!
Quality pieces:
When buying new jewellery, view this as an investment. Buy quality timeless pieces, which will last years beyond your wedding. This will ensure that your jewellery won't need to be replaced, as cheaper 'fast fashion' alternatives often need to be. Proper jewellery care will also prolong the life of your jewellery for years to come.

Buy handmade:
Buying handmade or bespoke pieces also means that you are contributing to less pollution than when buying mass-produced items. Use your local wedding directories to find independent jewellers who will be more than happy to talk through your options, and don't be afraid to ask questions! You can ask about their green credentials, the provenance of materials and suppliers used. You want your jewellery to have a completely traceable supply chain!
How does your business work towards improving the sustainability and ethical challenges surrounding the global jewellery industry?
My business ethos and values means that I am committed to continuous improvement and positive change within my industry. I want my customers to be able to trace each and every material I use in making their treasures back to their source, so this means time and research put into finding the best suppliers who support and reflect my values.
I have chosen to become a Fairtrade registered jeweller and am proud to be able to offer my customers Fairtrade Gold. For me, creating expertly crafted, timeless pieces that don't follow 'fast fashion' trends is hugely important when designing, and if I can offer my customers ethical and more sustainable options I feel like we are taking a small step towards the whole industry levelling up to this standard globally (although we are a long way off this!).
As an independent jeweller and also a jewellery tutor in local schools, I feel a great sense of responsibility in educating the next generation of young jewellers in the importance of sustainable and ethical practices within the workshop!
So what are the benefits of using Fairtrade Gold...
"Fairtrade Certified Gold is the world's first independent ethical certification system for gold. This is more than just gold, it's gold with heart."
More and more jewellers are becoming part of the Fairtrade Goldsmiths scheme and offer fairtrade gold as an option for your wedding jewellery. By buying Fairtrade Gold jewellery it not only means you are supporting small-scale miners to receive a fair deal for their hard work, but also protecting the environment and making life better for mining communities.
Gold mining is not only a highly polluting industry causing catastrophic amounts of waste and pollution to the environment on both a global and local levels; it also has a devastating impact on small mining communities. Mining operations are often poorly regulated meaning mine workers may be paid very little for working long hours in dangerous conditions, and as gold is often extracted using toxic chemicals such as mercury, local agriculture is negatively impacted meaning that wider communities suffer in poverty.
By choosing fairtrade wedding rings and jewellery you are suppoting Fairtrade certified mines! These mines operate to Fairtrade Standards and receive a Fairtrade Minimum Price for their gold, and also an additional Premium to spend on improving their business or on community projects.
They include strict requirements on working conditions, health and safety, handling chemicals, women's rights, child labour and protection of the environment. Mines must follow local laws to protect their environment and are required to restore their sites once operations have finished.
By choosing Fairtrade rings you are positively changing lives and the impact on the environment!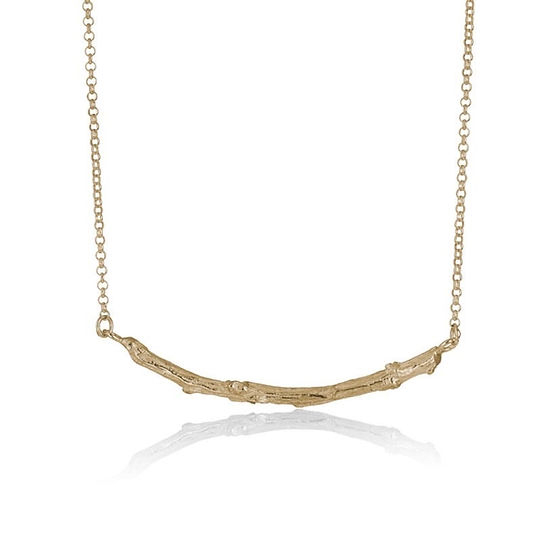 Julia Thompson Jewellery
We asked one of our very own approved suppliers on The Guide Directory, Julia from Julia Thompson Jewellery her advice to couples looking to source wedding jewellery that minimises the impact on our Earth. ur very own ethical jewellery designer as one of our approved suppliers on The Boho Bride Guide wedding supplier directory.
Julia has been making jewellery since 2004, it is very important to her to provide her customers with peace of mind in knowing that there has been no child labour involved and that the miner has been paid a fair wage for extracting the material that she works with.
We asked Julia, how can the consumer check where they're buying their fairtrade or ethically sourced jewellery from? What should they be asking or looking for?
When looking for a piece of Fairtrade jewellery, customers should be looking for the fairtrade foundation emblem on the website of the jewellery company. In regards to gemstones, they can ask the designer where they sourced the gemstones from and if they can trace them back to where and how they were sourced.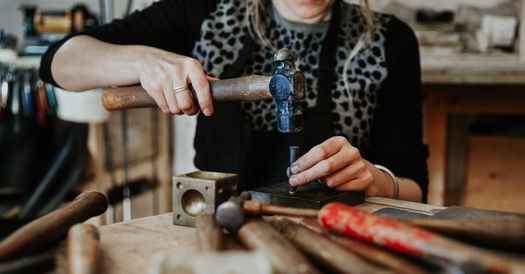 Julia has discussed this subject in depth with us previously, about the importance of opting for ethically sourced jewellery and shared with us her top tips on how to select Fairtrade and ethically sourced jewellery without it costing the earth.
Old Darling Antiques
Old Darling Antiques source stunning antique and vintage rings for someone looking for something totally unique. Alsion Cosier from Old Darling Antiques, shares with us her approach to her pre-loved and vintage jewellery sourcing business, and why she is so passionate about finding new homes for each jewellery piece that finds their way into her possession.
We asked Alison what she loves about preloved, vintage and antique jewellery...
Antique and vintage jewellery pieces each have their own unique life and love stories making them infinitely more charming and interesting . As in art, they are heavy with symbolism and social history, who can resist the romance of antique old cut diamonds glittering under candlelight?!
What inspired you to start a business in the sale of pre-loved jewellery?
I cannot remember a time when antiques weren't part of my life and soul, I grew up surrounded by them so it was a natural progression to share my love through business.
What are the 3 main benefits to buying a pre-loved engagement or wedding ring?
I love jewellery of all ages but my heart lies in vintage/antique pieces, their hidden histories, the symbols of love and life held within them and perhaps now more than ever the sustainability of buying ethical gold, diamonds and gemstones is even more important.
As well as shopping sustainably, buying antique engagement or wedding rings from small independent or local businesses is always better quality and value £ for £. It also encourages more awareness of ethical jewellery. A brand new gold wedding just cannot compare to the glow of old gold, add the romance of previous lives and loves, there's just no comparison. And where do I start on antique diamonds, they are the ultimate gift of everlasting love.
We hope this post has provided you with some insight into the world of ethical, fairtrade and pre-loved jewellery and given you some inspiration to think twice when selecting your wedding jewellery. Considering more ethical and earth friendly options as part of your wedding day, will certainly have a positive impact on the environment, and every positive impact you make, regadless of whether it is big or small, is a step in the right direction.
Let us know in the comments below if you are opting to make a more conscious decision when it comes to choosing your engagement or wedding ring? Or whether you have a family hierlom which has been passed down.
With special thanks to;
Lot's of love,
Jess
VA to The Boho Bride Guide
@digitalwithjess
Photo credits:
Alison Cosier
ON 21st February 2022 / BY Jessica Tetstall
Leave A Comment