Who says you have to have a three course sit down meal for your wedding reception? Not us!! There is no rule book when it comes to planning a wedding, bend the rules and WOW your guests with these 11 fun and unique ways to fill their tummies and be remembered! We have also shared some of our top tips on how to reduce your celebration food waste too, that will save you some £'s, as well as look out for environment in the process!
So, a quick fact for you... our global food system is responsible for around 20-30% of all 'human caused' greenhouse gas emissions, making it one of the biggest contributors to climate change. So not only does wedding food waste hit our own pockets, it attributes to our Worlds major humanitarian issue.
A 2017 study suggests that 10% of all wedding food ends up in the bin. This means if 80 guests attend your big day, and you serve a 3 course meal for your wedding reception, at least 24 of those plates of food would go straight in the bin! And that isn't even including the reception food offering! Ouch! So, let's NOT throw away your wedding budget on uneaten food, and plan your dream wedding menu that minimises waste and works towards planning a more eco-concious wedding day! We got you!
To inspire your totally unique and authentic wedding day, we have compiled a list of informal and unique wedding food ideas to consider when selecting your wedding day menu, and proving that you no longer have to go for a traditional sit down wedding meal to WOW your guests! Whilst also sharing some tips on how to minimise food waste at your wedding along the way. Enjoy!
Warning: this post may cause your mouth to water and for you to head straight to the fridge for a snack!
1 - Grazing Platters / Sharing Boards
Grazing platters have become super popular over the last couple of years and we are loving it! They are a great option if you want your guests want to mingle and 'graze' whilst catching up with loved ones. Or, this option could be served seated, and encourage guests to socialise with other guests on their table - a great way to 'break the ice' with new aquaintences! Working closely with your caterer to get your guest numbers as accurate as possible, and also to manage each portion is key to minimising waste with this wedding food option.
.
Photography by Pix by Vix. |. Grazing Boards by Baked by Jaz
2 - Go Vegan, without Going Vegan
You don't have to be vegan to enjoy vegan food! There is an abundance of amazing and delicious vegan options for you and your guests to enjoy. Plant-based food is not only super nutritious, it is also more environmentally-friendly, needing a much smaller amount of environmental resources for its production, compared to alternative meat based options. If you are passionate about only serving plant based options at your wedding, we say go for it! Let the scrummy food speak for itself, and am sure your wedding day may well be the place where your guests perceptions of ' vegan food' changes for the better!
Artisan Weddings, one of our valued approved suppliers at The Boho Bride Guide, are a wedding catering and venue styling company based in Scotland. Their menus are super flexible and allow clients to really bring their own creativity and vision to life, they also offer amazing and super yummy vegan options and cater for all allergies and dietary requirements. Their food is vibrant and packed full of natural flavours, textures and colours.

.
3 - Food Trucks
Food Trucks are a great way to bring some variety to your wedding food offerings! Parked up, looking super cool at your venue, your guests are able to choose which food options they would like, and individual meals are served upon request. Not only is this a great way to serve exciting, memorable food on your wedding day. This is also a great way to reduce your food waste, as hot food is only prepared upon request, minimising the risk for overproducing.
We had a chat with Poppy from
Papavero Pizza Co
about their fabulous wedding pizza truck business and why it is a great alternative wedding food choice.
'Everyone loves pizza! Pizza is the perfect accompaniment to any wedding party and allows for a laid-back atmosphere to evening catering. By serving the pizza as a buffet, guests can try a bit of everything and keep coming back for more throughout the night!'
Poppy also gave some advice for couples when planning their wedding food. "Trust in the supplier. We love catering and regularly cater at weddings, so let us do the organisation and stressing whilst you enjoy your special day. Time it right. Everyone loves dancing and we find the best time to start evening food is during the bands interval."
.
Photography by Louie Rudge Films
4 -
Dessert Display Tables
Oooow, my mouth is watering already! Having a sweet tooth, the idea of a dessert table is a dream! A few tips from us to bear in mind! Select sweet treats that won't dry out too quickly, this way you can keep it out for guests to graze throughout the day and evening! To make the most of your dessert table, request display cases to be installed to prevent insects gaining access.
Also, don't forget to include your wedding cake! The caterer will be happy to cut your wedding cake into edible slices, and your guests can take away at their convienience. Or consider biodegradable cake boxes, so guests can take their cake home and enjoy when they have more room!
We had the pleasure of speaking with Lorena from
Pasticceria Lorena,
an Italian Pastry chef based in Nottingham, who specialises in dessert tables for weddings and events. Here is what she told us about her fabulous wedding dessert table and pastry business and her tips on how shes keeps waste to a minimum;
'Unlike cake or treat tables that you see other wedding cake suppliers provide, mine consist of fresh Italian Patisserie in bite size portions that offer couples and their guests lots of choice in textures and flavours and they are the perfect size to serve as canapes in an outdoor setting or for guests to help themselves to whilst socialising and drinking. My dessert tables are colourful and eye catching so they make a real feature at any wedding reception and great for photo opportunities too. Dessert tables make a fabulous alternative to a tiered wedding cake particularly for couples who don't like the traditional iced cake, but they can also be the ultimate dessert station as part of a wedding breakfast too! Alongside the mini patisserie I also create traditional Italian wedding cakes such as the Mille foglie or the southern Italian Pan di Spagna for couples who dare to be a bit different.
Wherever possible I always use biodegradable or recyclable packaging in what I create, even down to my piping bags that are fully compostable and I hate food waste! The joy of baking to order means I very rarely see food wasted, I purchase fresh on a weekly basis and I always advise my couples on how to cater for their guests wisely considering what else is on the menu for the day so there is rarely waste. Back at HQ any leftovers are usually demolished by my family and remaining ingredients are utilised in other ways for example fresh fruit is frozen or made into compote/jams. I even use organically home grown fruit in my bakes when in season, such as figs, apples, pears etc.'
.
.
Photography by Helen Howard Photography |. Sara Hazeldine Photography |. Daniel Hughes Photography
5

- Picnic

A wedding picnic is ideal for any venue, it's informal, relaxed and would suit all ages and appetites. We spoke with the lovely Jax and Jill from

Luxury Boho Picnics

to ask what there top tips would be when choosing your wedding food and the benefits of having a picnic style wedding meal.

'Our catering packages are presented as a sharing board for the whole table, guests can take as little or as much as they would like, rather than having a plate put in front of them that may not suit their tastes and that they potential may not finish. All decor is reused and where possible up cycled. We also recycle plastic and reuse containers/platters to display food on.

When it comes to choosing your wedding food, choose something YOU like to eat, it's your day! Think about how your menu fits with your wedding theme, if you have gone for a relaxed boho wedding vibe then a sharing platter picnic is a perfect choice.'
.
.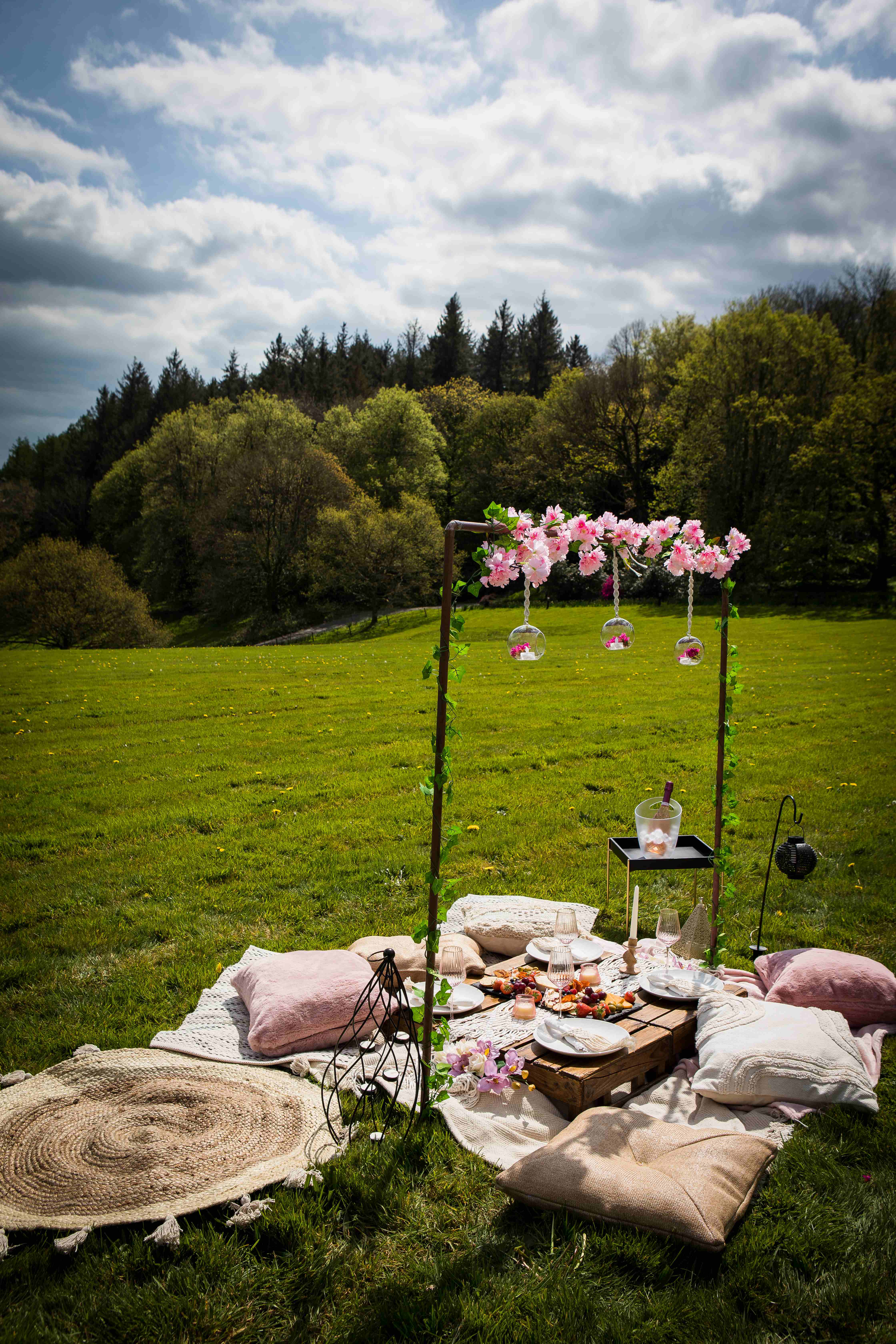 Photography by Freeformimages Photography
6 - BBQ Catering
The smell of a BBQ gets me everytime! It reminds me of summer days, fun times & being together with loved ones. So if you are looking to create a relaxed, outdoorsey vibe where guests are free to roam and socialise, a BBQ is a great option! The menu can be catered to your liking, with yummy veggie options available. By working with your caterer you are able to select a focused menu where the same ingredients can be used in a number of dishes to minimise food waste.
7 - Cheese Tower Cake
Are you looking for something a bit different when it comes to your wedding cake? A cheese tower cake is the perfect choice. If you are already offering dessert or have a dessert table then guests may have satisfied their sweet tooth and a savoury evening choice is always a winner! Plus they look pretty epic and will deffo wow your guests.
The benefits of having a cheese cake tower is there will likely be less wasteage, cheese keeps for a long time and you can enjoy it long after your wedding (if theres any left that is). Cheese is also much more mobile and easier to transport than a traditional delicate wedding cake, it can be easily assembled and looks great on a display table.
.
Photography by Virginia Photography | Cheese Tower: Country Cheeses. Photography by Photographer Daniel Milligan
8 - DIY Food Bars
If you want to keep costs low and have a creative DIY flair, then a DIY food bar is the perfect choice. Opt for simple designs such as a donut wall or buy a good selection of cheese to serve, you could also make your own salads to add to food choices you already have. If you are going DIY, there is some great advice on cutting food waste on the 'Love Food Hate Waste' website and again accurately working out portion sizes is the key to minimising the food waste left over after your big day. I think we can get so worried that there will 'not be enough food' to go around, we opt to order more than needed 'just in case', but this can quickly spiral, and end up costing you so much more money as well as in waste.
So, plan out what will be on your guests plate. If you can imagine this, and then scale up that plate of food to cater for the number of guests you are expecting. The general rule is then to take away 25% of that quantity, leaving you with the optimum amount of food to cater for that number of people, and to minimise waste.
.
Photograhpy Michelle Walker Photography Donut Wall by Merry Thought
9- Wedding Tapas
Tapas dishes are also a great intimate and relaxed wedding food option. Tapas is traditional small savoury dish, snack or appetiser in Spanish cuisine. It might be breads and meat, or a selection of dishes from spicy potatoes, stuffed mussels, fried squid, garlic prawns, to olives, roasted peppers and other vegetables. Essentially, Tapas is a small plate or serving, and it's a great way to share with friends and family and try something new. When combined tapas will create a full and delicious meal.

The benefits of choosing this food style for your wedding is the portion size, the tapas dishes can be displayed on the table and guests can pick and choose as they wish creating a fun and relaxed environment.
Image from Pinterest
10 - Carve Your Own
We came across the fabulous Fossil Food Catering over on instagram and loved their unique concept of 'carve your own'. Sharing boards are ever so popular for wedding catering scene due to variety of dishes and enhancing that guest interaction and Fossile Food Catering wanted to take that to the next level. They created 'carve your own' sharing boards which brings some fun into your wedding breakfast. Your friends and family will be in charge of carving their own food served on their wooden serve boards and carving equipment, how fun is this! When selecting meat as part of your special wedding day menu, consider where it is from and buy local to minimise its environmental impact. Interested to know what meat is the most sustainable? check out this blog from Eco and Beyond that gives you the lowdown.
.
Photography by Laura Dean Photography
11 - Mini Food Platters
Can't decide on a cuisine for your wedding food? No problem! Mini food platters are a great option if you want to spoil your guests tastebuds with many different flavours and textures, whilst giving them multiple food choices. Again we recommend working with closely with your caterer to accuratley plan numbers and food amounts to minimise waste, as well as providing doggy bags, so guests can enjoy later on in the evening or the day after!
.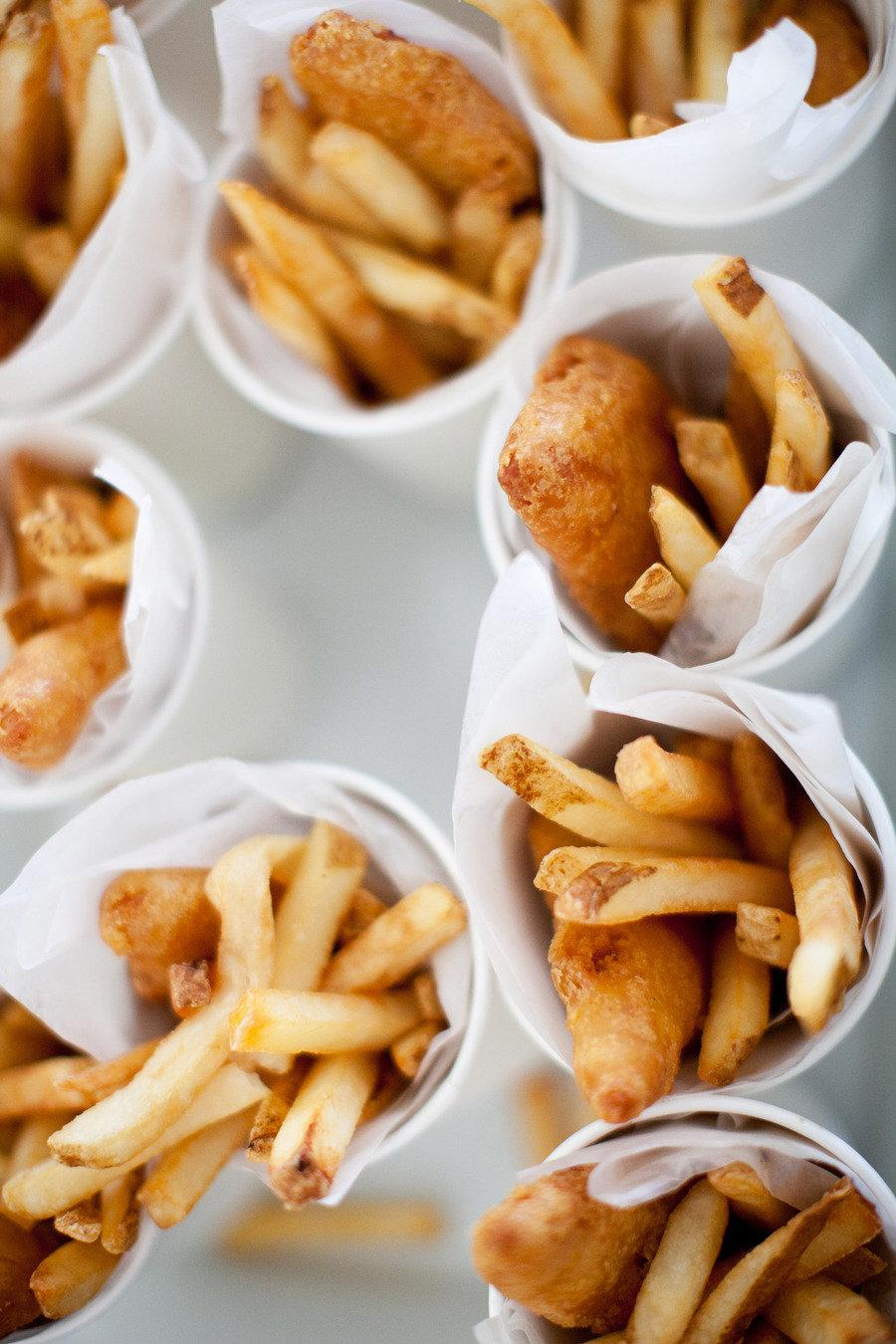 Photography by Olivia Leigh Photographie Photography by Nancy Ray Photography
Found any ideas that you liked? Let us know in the comments below! I think our favourite has to be the grazing boards or tapas idea.
For more tips on how to minimise your wedding day's impact on our environment, you can read our 7 Simple Wedding Day Swaps to Help Heal Our Planet.
See you next time!
Lot's of Love,
Jess
Blog & Pinterest Manager at The Boho Bride Guide
ON 17th September 2022 / BY Jessica Tetstall