Choosing your dream bohemian wedding dress doesn't have to cost the earth and we want to show you that by choosing something affordable you don't have to compromise on style or have a negative impact on the environment either.
It's no secret that the wedding industry produces a lot of waste. Here at The Boho Bride Guide, we try and make a conscious effort to inform our audience of the options they have and the 'simple swaps' they can make to ensure their wedding is more earth friendly.
Finding your perfect wedding dress is of course an important and fun part of your wedding, but doesn't it seem crazy to purchase, likely the most expensive item of clothing you will ever purchase, a dress that you will only wear once and that will eventually end up in landfill in years to come.
Whether you are looking for something completely unconventional or something soft and romantic, we've put together a list of ideas and options of where you can find affordable boho wedding dresses under £1000 that are earth conscious without compromising on style, that will make you feel like a million dollars.
Keep reading to find our top picks!
Conscious High Street Wedding Dresses
Fast fashion high street brands are not really our thing here at The Boho Bride Guide and they are certainly not a sustainable option. However, we have found a few high-end brands that have a focus on using sustainable materials for their clothing and are conscious about the impact they have on our environment. Take a look at some of these options below.
For Love & Lemons
A US based brand, For Love and Lemons offers a few beautiful bridal dress options that are totally unique and will be sure to turn a few heads. Like this Esme Bridal Gown, a gorgeous satin number with detachable sheer sleeves, the dress is also made from several earth conscious fabrics such as ecovero™, viscose and the lining is made form 100% recycled polyester.
You can shop For Love & Lemons in the UK at Revolve, where you can also find a number of other dress designers that offer affordable and individual wedding dresses.
Bridal Gown prices range from £250- £650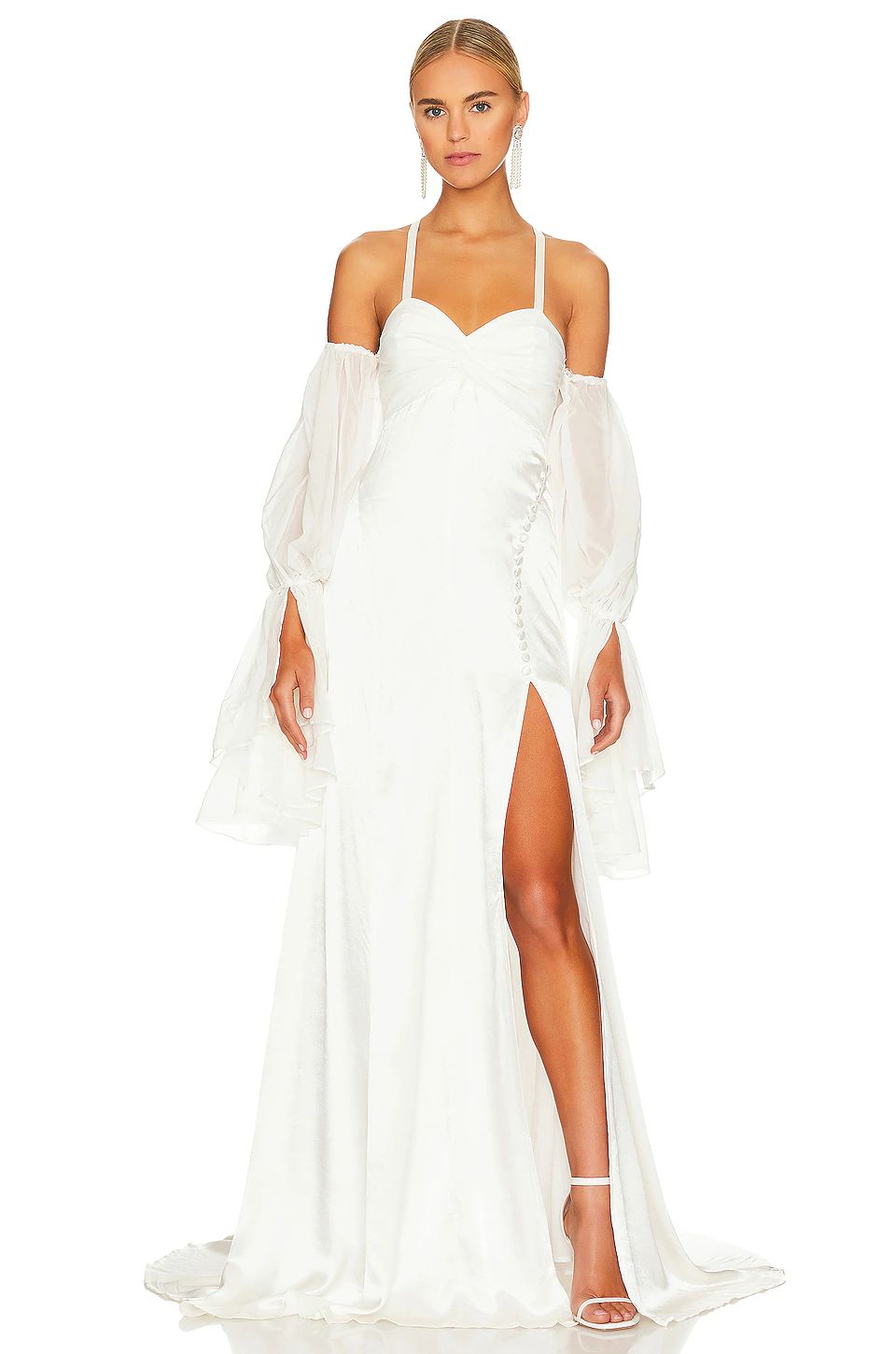 Rat & Boa
If you are looking for a boho beach wedding dress or are getting married abroad somewhere hot, then this stunning silky Rat & Boa number is the perfect choice. This piece is a blend of viscose, a silky plant-based fabric made from wood pulp, and cupro. Viscose is much more sustainable than cotton or polyster and is relatively inexpensive yet still provides a silk-like luxurious feel.
This dress is retailed at £190, which means you have lots of room to partner with stunning bridal accessories.
.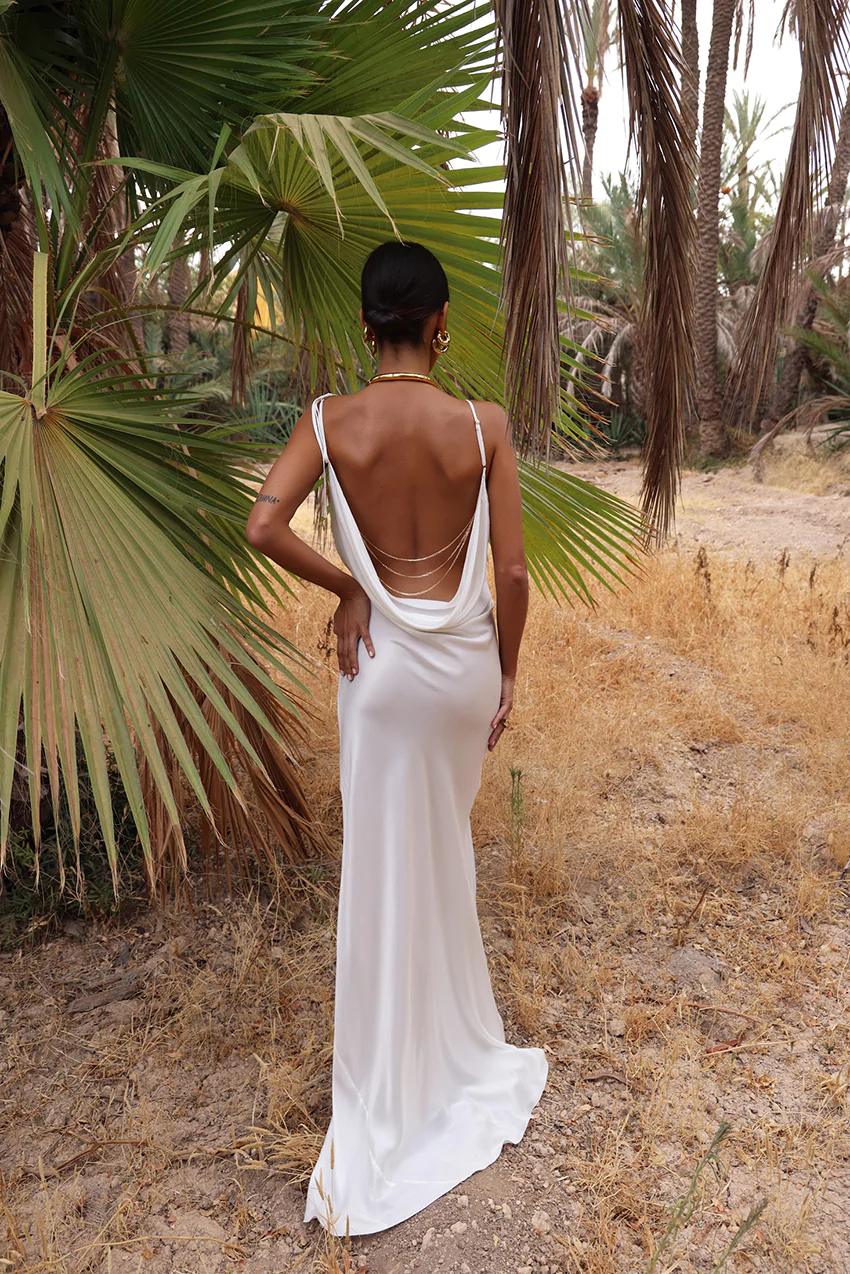 Vintage Boho Wedding Dress
Poppy Perspective
Poppy Perspective creates bridal wear with a classic vintage quality, and a hint of modern cool. They proudly make every dress by hand, and use only a handful of British suppliers and mills, their ethos is to reuse, reduce and recycle, offering brides a sustainable dress option for their wedding day, with a dreamy boho vibe.
Dress prices start from £695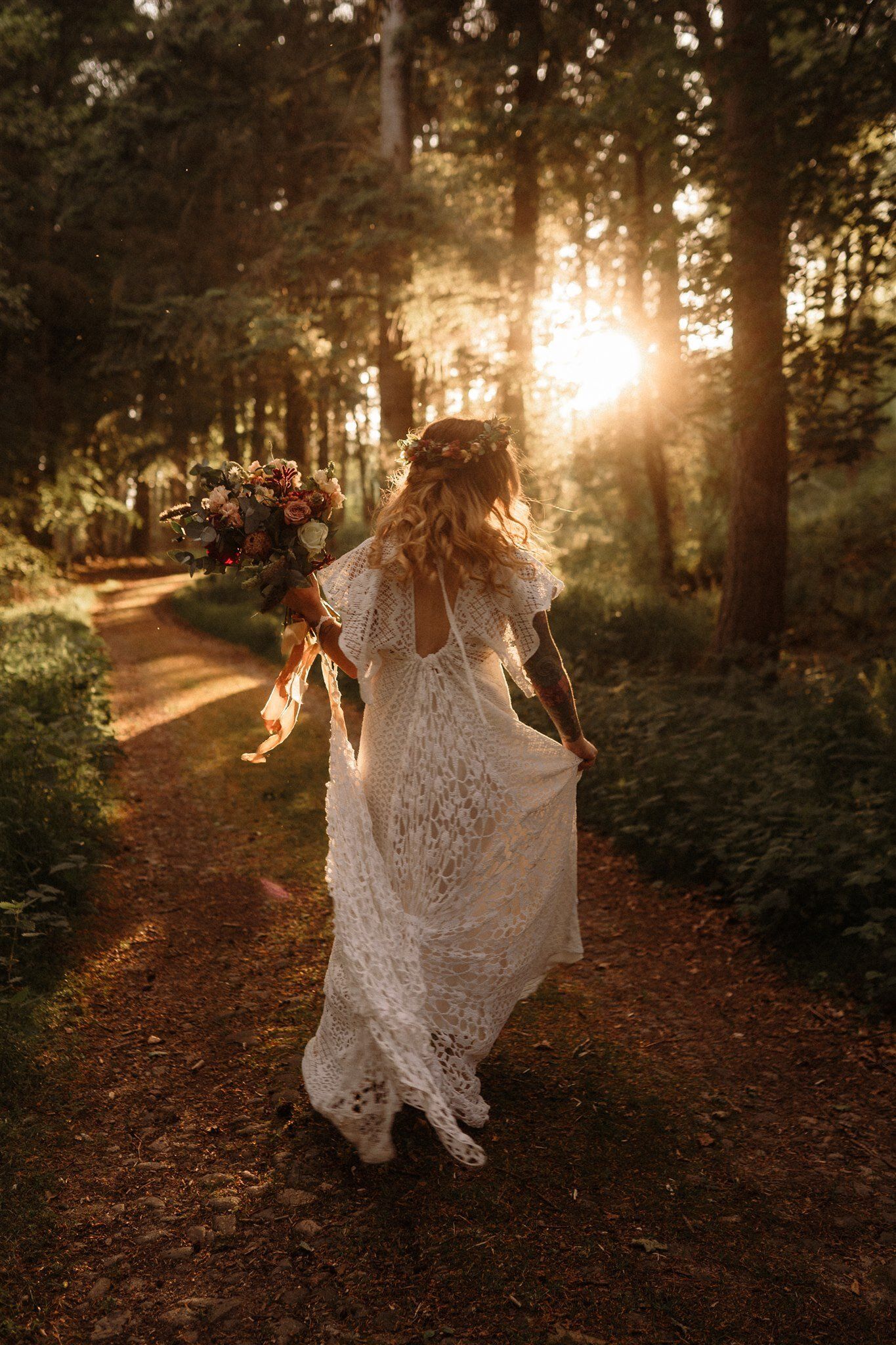 .
.
You can read Poppy's Perspectives top 5 tips on choosing a more sustainable wedding dress here.
Wedding Dress Rentals
One of the best options to minimise wedding waste and for one of the most budget-friendly options, is to rent your wedding dress for your special day. Renting a dress extends the life of the garment, keeps it out of landfills and reduces emissions. Take a look at some options you have below.
Dreamers & Lovers
Based in the US, Dreamers & Lovers, offer 10 of their best-selling dresses to be hired out for brides that are on more of a tight budget. Their gorgeous bohemian style dresses are handmade in their California studio and are the perfect choice for the unconventional bride.
All rental wedding dresses are $900 and they ship internationally for $75.
.
Something Borrowed
For effortless elegant bohemian, we love this dress from Something Borrowed, a pre-loved wedding dress service. Their aim is to make preloved and unwanted wedding-fashion accessible and more affordable for the modern-day bride whilst encouraging a more circular approach.
Rental dress prices start from £200 for 4 days hire. Something borrowed will also take care of the dry cleaning process, so you don't have to. Winner!!
.
If you are not keen on renting your wedding dress and choose to purchase instead, a great option to consider is to donate your dress once you have worn it. There are alot of pre-loved wedding stores, like Something Borrowed, that will purchase your dress off you at a lower cost and use it to rent out to other potential brides looking for their perfect dress who may not have the budget to buy.
Handmade Wedding Dresses
We Are Reclamation
All boho inspired dresses by We Are Reclamation are created, designed and made by owner Trista Smith. They are handmade and made to order which means, less wastage and more individuality. Produced in Victoria, Canada, but available to ship worldwide, these stunning lace wedding dresses embody the true free-spirited bohemian style we love so much.
You can shop We Are Reclamation online or on Etsy. Most dresses available to order are under £1000, custom designs may cost more.
.
.
Shop Wedding Dress Sales
Another great option to save some £'s is to shop the sales or sample sales of your favourite wedding dress designers.
Wear Your Love
US based brand, Wear Your Love 's mission is to provide ethically-made wedding dresses for brides that will make them feel comfortable from the moment they slip on their dress. They make all of their gowns by hand from start-to-finish in their small Northern California studio, and use only the softest stretch laces, luxuriously airy silks, and breathable organic cotton lining.
Most dresses are over £1000 full price, but if you manage to find your dress in their sale or sample sale you can get it for around 40% off, just like this stunning boho wedding dress with lace sleeves.
.
.
Indie Bride London
A sustainable and ethical bridal wear brand based in London, Indie Bride London embody sustainbility as a way of life. It's important for them to not just create beautiful bohemian wedding gowns but also to take our nature's wellbeing in consideration.
At Indiebride London, you will know who made your wedding gown, where the fabrics and laces were made and even where the material for making those laces and fabrics came from as they seek to be as transparent as possible.
Bridal Gowns in their sample sale start from only £200 and are the perfect option if you are looking to be conscious not only with budget, but also with the environment too.
.
What time of the year are wedding dresses cheapest?
January is a great time to buy your wedding dress as you are more likely to get some money off or find a potential sale.
How much do most people spend on a wedding dress?
According to Bridebook's survey of nearly 5,500 UK couples, they found that the average wedding dress cost in 2022 was £1250
We hope you found this post useful and we hope that it gave you an insight into the options you have for your wedding dress, not only affordable options but choosing something that is a little bit more earth friendly too.
Happy Shopping!
Lot's of love,
Pinterest & Blog Manager for The Boho Bride Guide
ON 16th January 2023 / BY Jessica Tetstall