'Bohemian' and 'beach' just go together in the same sentence so perfectly.
A warm salty breeze, sandy toes and glorious golden lighting reflecting off the water, it's no wonder free-spirited couples choose to celebrate their love for each other by the ocean.
Here at The Boho Bride Guide, we are all about outdoor wildly romantic bohemian weddings, which have an element of adventure and close connection to nature. So, as summer gets into full swing, we thought we would put together our top picks for ideas and inspiration when planning your own boho beach inspired wedding.
So whether you are looking at ways to incorporate your love for the ocean into your special day, or planning a celebrant led ceremony and celebrations on the sand dunes, or in a cave! Or you are planning some newly wed alone time into your day to visit a nearby beach and feel the ocean breeze on your face, this blog feature will get your creative juices flowing! Keep reading to find out more.
.
Photography by Pura Vida Cornwall | Photography by Photos By Gayle
Beach Wedding UK Locations
Cornwall, UK
I think most people would agree in saying that Cornwall has some of the most beautiful beaches in the UK. With a coastline of 422miles long, Cornwall has a spectacular diversity of cliff tops, caves, sprawling sandy beaches, and hidden coves to take advantage of when considering where to get wed.
As well as numerous sensational oceanside wedding venues to choose from, Cornwall is a beautiful location to elope for you more adventureous souls that are looking to create a wedding ceremony that reflects your love for the outdoors as well as each other. so why not consider a wedding ceremony on a hidden beach, cliff top or even sea cave!
.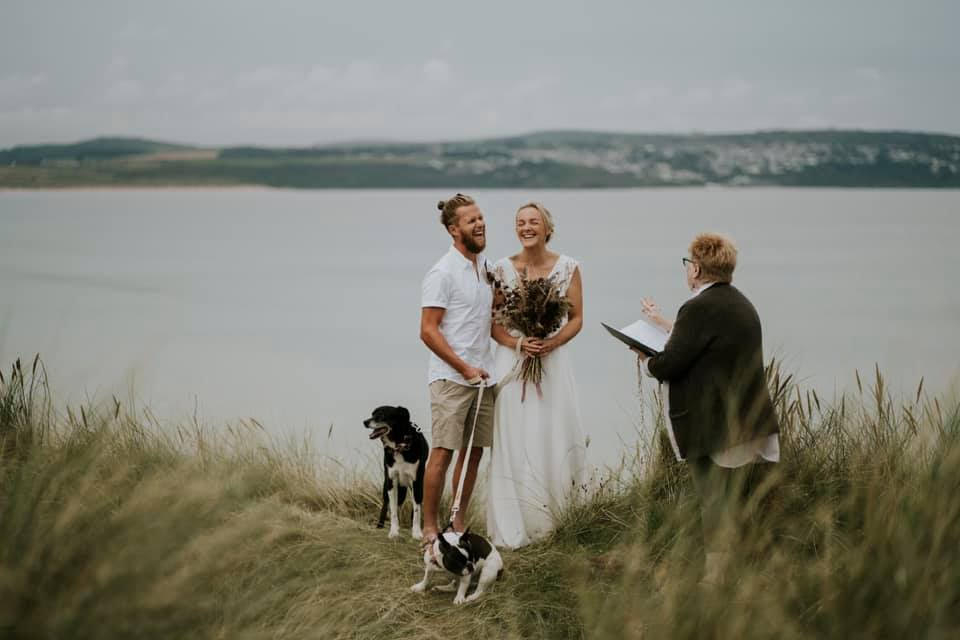 Image Credits from Approved Supplier Wild Blessing Ceremonies | Photography Enchanted Brides Photography
Northumberland, UK
The Northumberland Area of Outstanding Beauty boasts vasts expanses of stunning sandy coastline, peppered with Medieval castles and picturesque lighthouses, making for a perfect backdrop for your wildly romantic couples photography shoot, and a chance to take a breath and enjoy the moment with your new spouse!
Photography by Chocolate Chip Photography
Beach Weddings in Europe
There are so many stunning locations across Europe to hold your bohemian inspired beach wedding, but some of our favourites have to be...
Greece
Greece is made up for its mainland and thousands of islands throughout the Aegean and Ionian seas. Known for it's turquoise waters, warm summer climate, stunningly individual islands and the yummiest food. If you are looking for a destination wedding within 4 hours of the UK with garenteed summer sunshine, then Greece needs to be on your shortlist!
.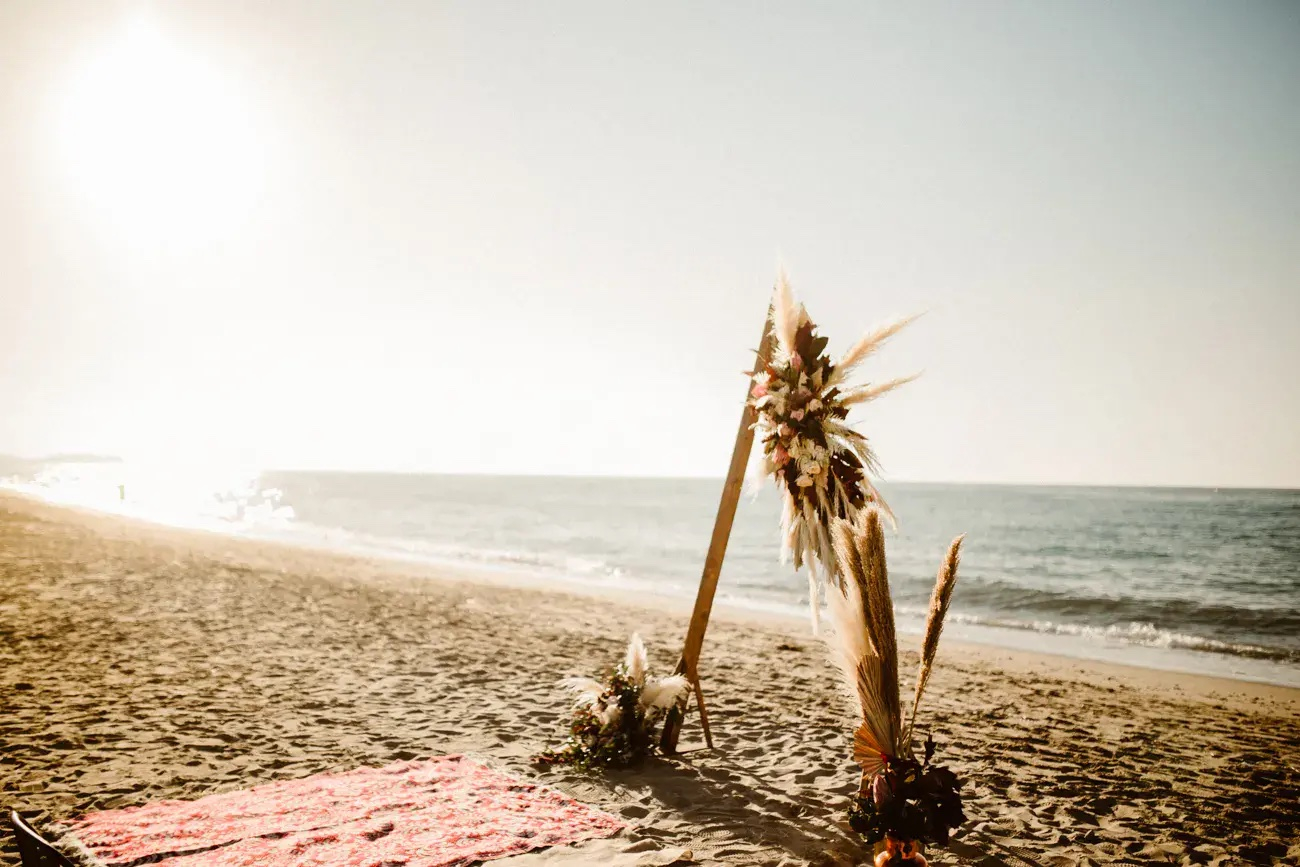 Photography by Wed Pashalis Photography
Tropical Beach Wedding Destinations
Tulum, Riviera Maya, Mexico
Tulum sits on the Carribean coastline of Mexico's Yucatan Peninsula and is super popular for it's beach weddings with major boho vibes, tropical climate and delicious ocean inspired cuisine. If you are looking to go a bit further a field and want to tag on an adventure honeymoon while you are there, Tulum is a perfect option, with its ancient Mayan port to explore, and stunning coral reefs, only second largest to the Great Barrier Reef in Australia.
.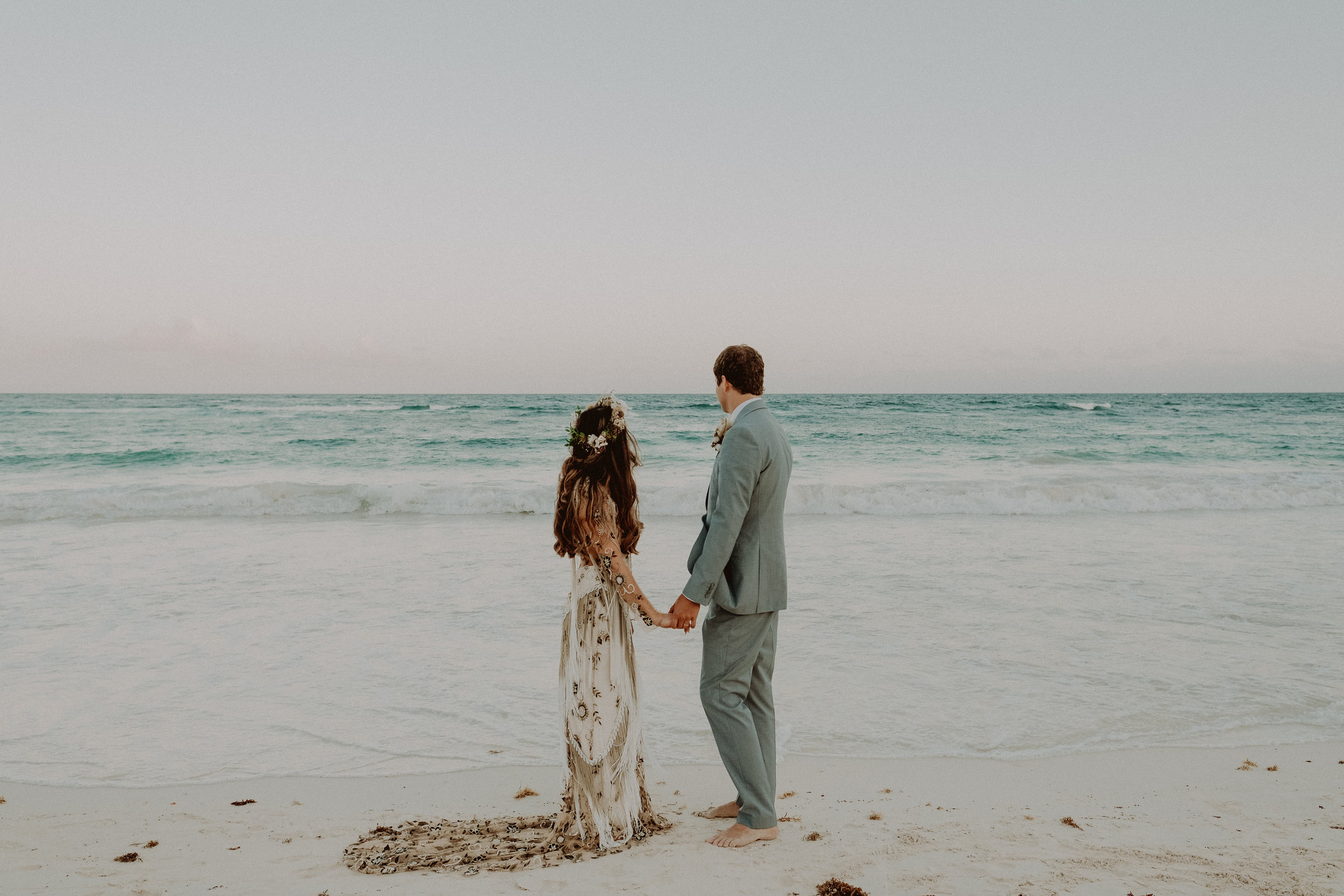 Photography by Edgar Vega. | Photography by Chellise Michael Photography
Boho Beach Wedding Ceremony Decor
Think wooden ceremony arches with bohemian inspired details such as, dried flowers, macrame hangings and natural gauze flowing in gentle breeze. Adding a vintage rug aisle will help when walking across the sand and create a stunning desert boho look, or why not leave the aisle bare and walk across the soft sand barefoot to feel grounded as you approach your loved one.
.
Planning by Joy Wedding Planner Photography by Michael Cosenza and Wed Pashalis Photography
.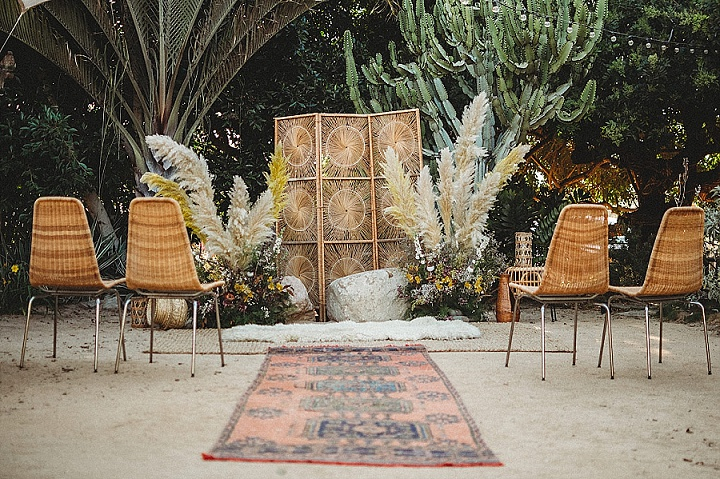 Furniture Rentals by Not My Dish | Photography by Steph Sousa Photography | Floral Design by Hey Clementine Floral
.
Photography by Michelle Agurto and Rachel L'Antigua
Dried Pampas, Palms and Neutral Wedding Flowers
When it comes to boho beach wedding flower ideas, pampas and palms have got to be the way forward.
Dried flowers are a great choice for a beach wedding as you dont need to worry about a water source, and therefore wont require much attention in the heat (or rain, we don't care!). They can then be kept as a beautiful keepsake for after the big day to display in your home.
Or, if you are looking to add more florals to your displays, select more hardy flowers that need less water and will withstand the elements. Flower varieties such as roses, chrysanthemum blooms, dahlias, protea, orchids, or even consider succulents and air plants to add colour and texture. Check out some of these stunning ideas below!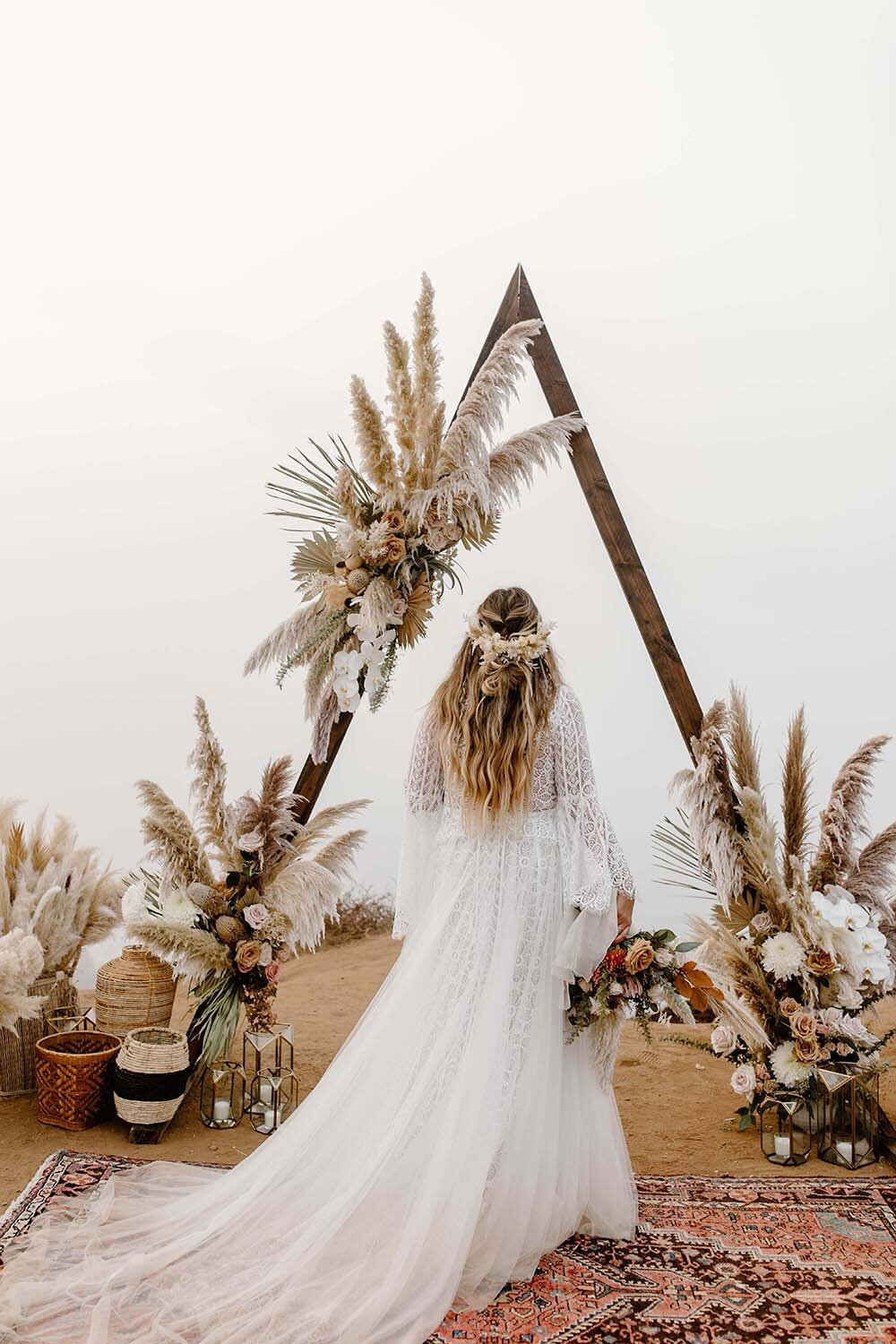 .
Flowers by Flora & Fauna Flower Co | Photography by Kayla Wilmoth Photography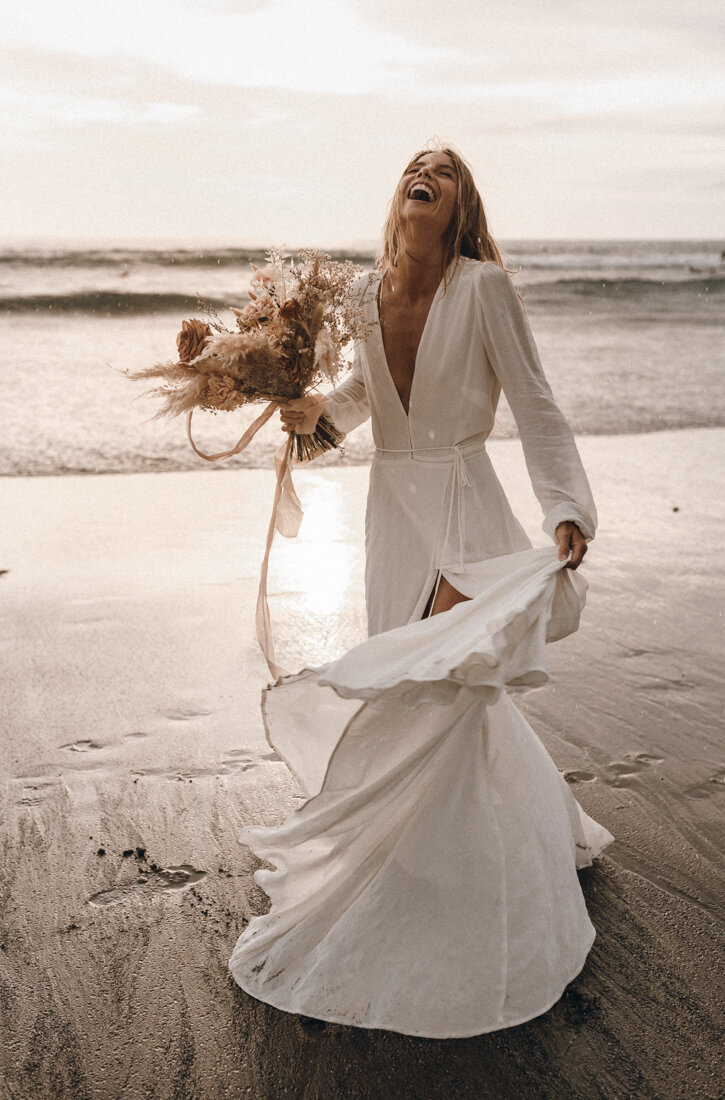 .
Photography by Keira Mason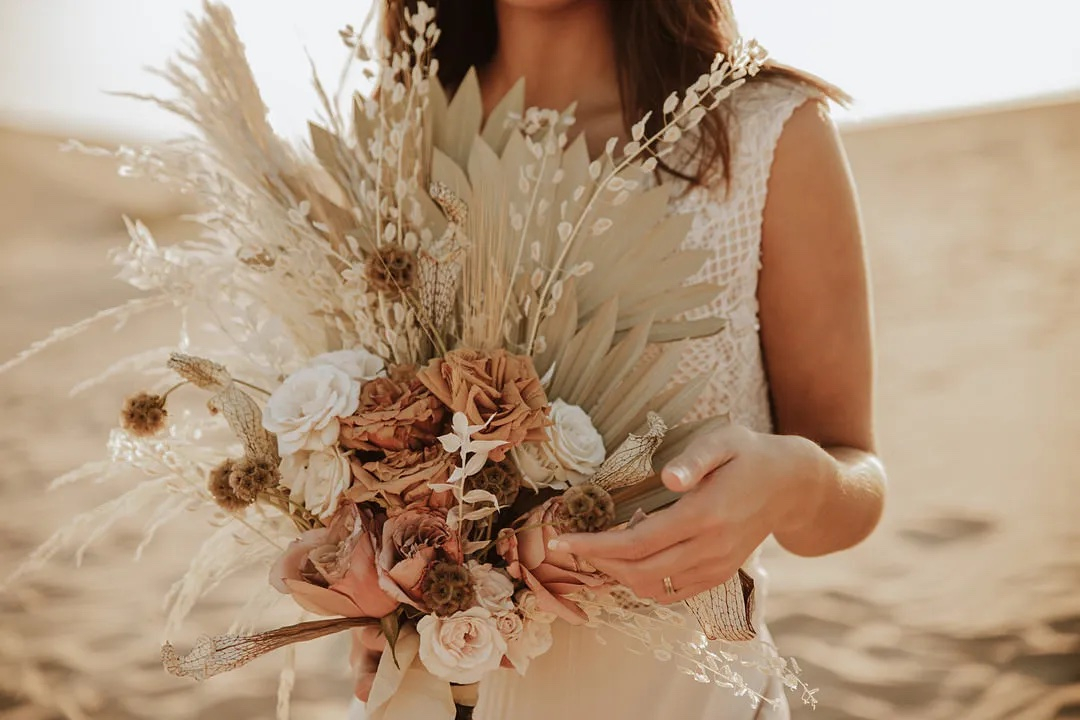 .
Florals & Event Design by Sophia Frances Events | Photography by Photos By Gayle
Boho Beach Wedding Dress Ideas
When planning your boho inspired beach wedding outfit, anything goes! Feeling comfortable and confident in what you wear is first priority. If you are getting married in the heat, consider opting for something light and free flowing where you can feel grounded in your surroundings.
A two piece set is the ultimate beachy boho look with a twist. We adore the below two piece by Grace Loves Lace and the 'Wave Rider' gown by Rue de Seine providing edgy and effortlessly cool bohemian bridal looks.
.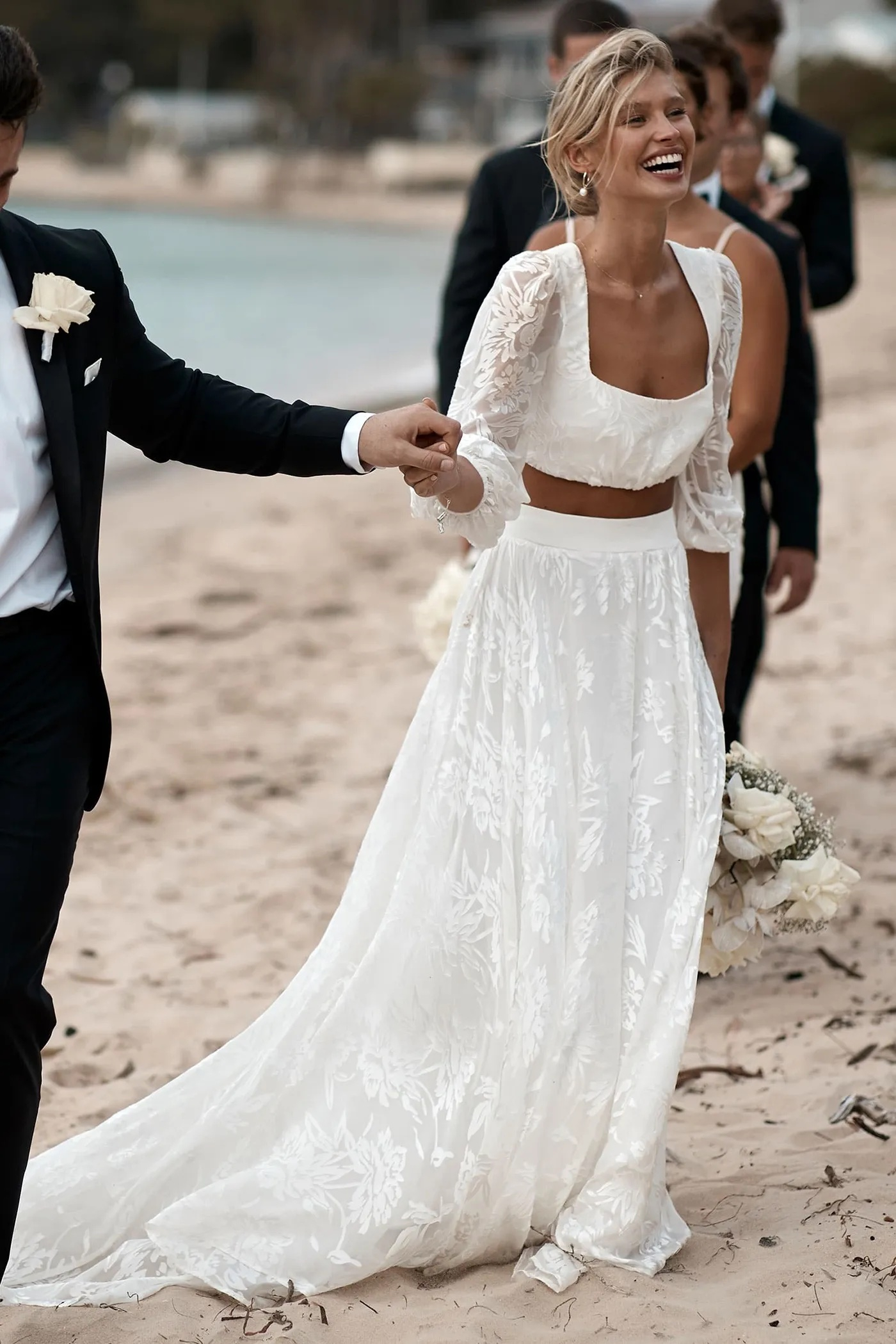 Or perhaps you would prefer to keep it some what traditional boho and opt for a flowly lace number that oozes bohemian goddess. Looking for more wedding dress inspo, then take a look at our blog feature sharing how to discover your dream sustainable wedding dress here.
Bridal Gown by Poesie Sposa supplied by Sara Concept Bride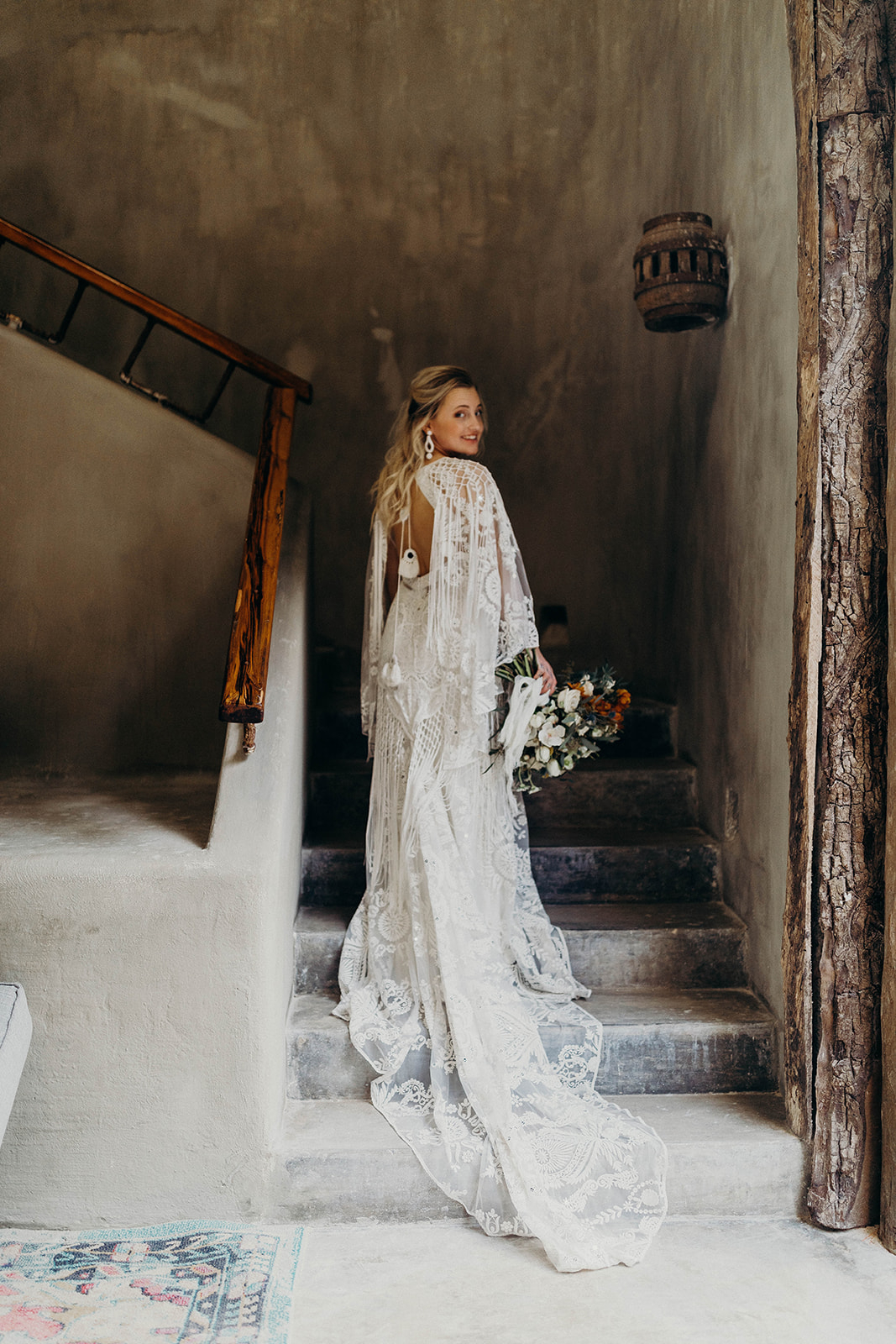 Dress by Rue De Seine |. Photography by Rachel L'Antigua
Boho Wedding Hair Ideas
When it comes to wedding hair, nothing screams boho bride more than effortless loose beach waves and a flower crown. Just like these gorgeous bridal looks below. Go for a natural and light make-up look that will last the day whilst out in the elements. So once it is applied you dont have to think about it again and enjoy every moment making memories with your loved ones!
.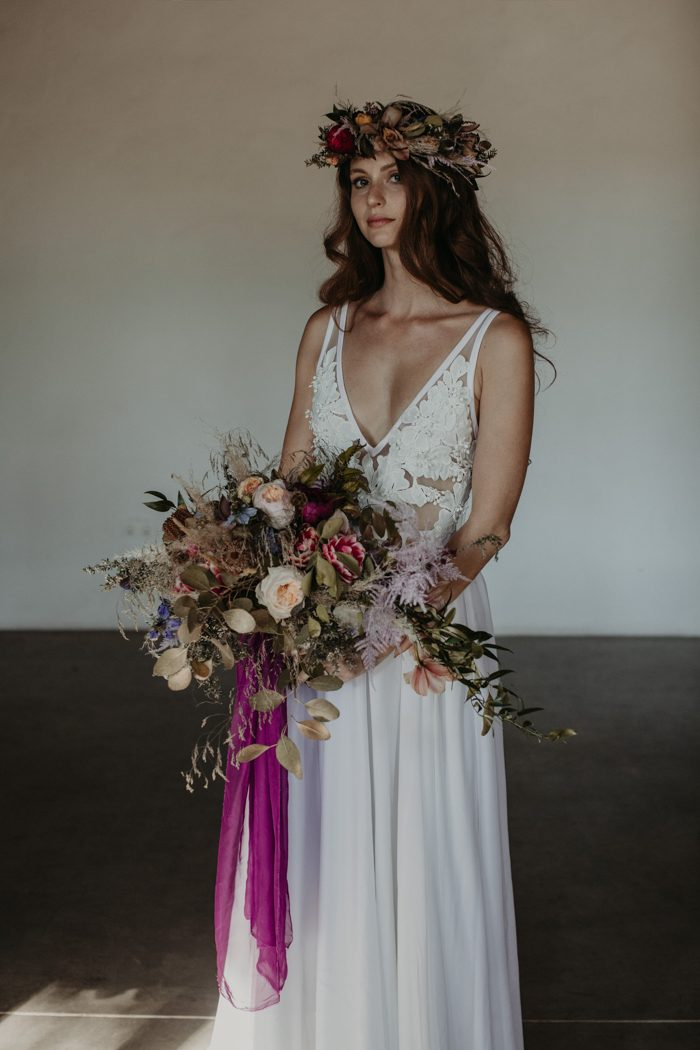 Hair Styling by Eduardo Algaba | Flower Crown by Open the Door Events | Photography by Joy Zamora
Flower Crown Design by approved supplier Bird and Bear Blooms | Photography Valentina Val Photo | Hair Lily of the Valley Hair Design | Makeup Lash n Glow | Dress Lisa Lyons | Venue Legacy Hotel Victoria, Newquay | Couple Bibi Le | Celebrant Sara Price | Cake White Peony Cakes | Signage Daydreamer Creative Studio
Looking for more flower crown ideas? Then check out our recent blog feature 23 Flower Crown Wedding Ideas
Boho Beach Wedding Tablescapes
For table styling your boho beach wedding, think persian rugs, cushions and macrame umbrellas to keep guests cool and relaxed under the sun. Whether you are planning to celebrate on the beach, or wanting to recreate the relaxed boho beach vibe back at your venue. Take the styling elements you love and make it your own is what it is all about!
.
Photography by Vicky Baumann | Event Design by Kristina Höfler | Furniture Rentals Nimm Platz
Or we LOVE this idea for beachside dining, inspired by the ocean, with hints of blue and neutral sandy hues.
.
Photography by Edgar Vega | Wedding Planner Fer Gallegos & Co. | Photography by Karina Leonenko Photography
.
Table Design by Borrow The Moon | Photography by approved supplier Freeformimages Photography | Venue Watermouth Cove Weddings | Florist Fuss Pots | Cake Peboryn | Stationery Scribe Stationery | Hair Enchantment Hair Studio | Hair Accessories Hey Jules Bridal | Makeup Style Sister Devon | Model Poppy | Dress Indie Bride London | Full Feature
Beach Wedding Cake Ideas
For beach and ocean inspired wedding cakes, you could go for an elegant marbled design which creates a wave like effect or a sandy minimalist vibe with boho inspired dried flowers.
Use a light blue, white and sandy beige colour palette to really capture the boho beach vibe an a sophisticated, understated way.
.
Cake by Feathers & Frosting | Photography by Christine Gosch Cake by Hannah Matilda
.
Photography by approved supplier Freeformimages Photography. | Cake by Peboryon | Florist Fuss Pots
Bohemian Bridesmaid Dresses
Mismatch bridesmaid dresses within the same colour hue create a relaxed and elegant vibe where your bridal party are able to select an outfit where they feel confident and the best version of themselves. If you are looking to accent your natural surroundings with your wedding colour palette, think ocean blue hues or sandy champagne tones that will fit perfectly with your rugged backdrop.
.
Photography by Lucas & Co Photography Photography by Kayce Shoffner
Beach Wedding Food Ideas
For a more relaxed intimate beach wedding, why not opt for grazing boards and a picnic vibe, or 'from the ocean' canapes such as shrimp or fish and chips. If you are entertaining more guests perhaps a BBQ style buffet would work best for your beach wedding vibe, and imagine the divine smell as the coals get hot!!!
.
Catering by Event Catering GR | Photography by @manioros_dimitris
.
Photo credits from Pinterest
Ice cream at the beach is a match made in heaven, am I right?! Opting for an ice-cream truck like the one pictured below from The Cornish Ice Trike will satisfy your guests sugar cravings whilst also keeping them refreshed on a hot summers day. This is an original 1930's tricycle named Flora and is the perfect addition to your beach summer wedding.
.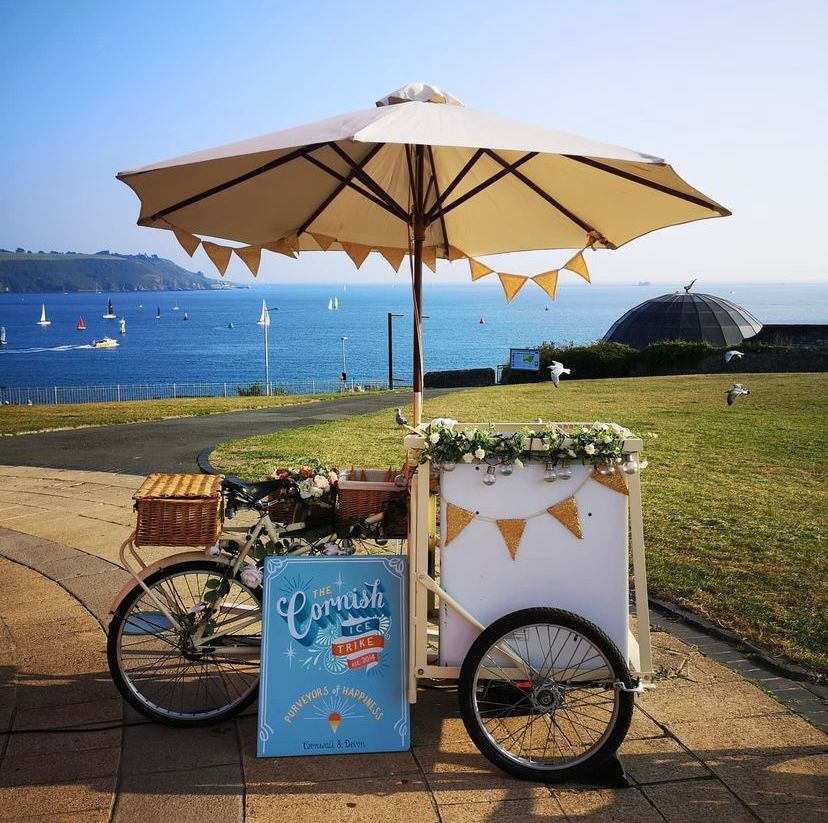 Photography by Take One Photos & Film
So that concludes our boho beach wedding ideas post. We hope this provided you with lots of inspiration and guidance for planning your own boho beach wedding. Let us know in the comments below all about your wedding details, we'd love to hear them!
Lot's of Love,
Jess
Resident Blogger and Pinterest Manager at The Boho Bride Guide
ON 30th June 2022 / BY Jessica Tetstall
Leave A Comment